We use affiliate links. If you buy something through the links on this page, we may earn a commission at no cost to you. Learn more.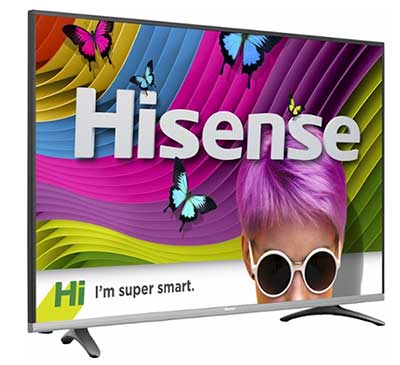 Do you want to upgrade your home theater to a 4K TV, but don't want to pay the price for all those extra pixels? The Hisense 65″ H8 series 4K smart TV is priced less than $900 which may cause some people to not take it seriously. Take it from me, it's a really nice alternative to Samsung and other brands.
What is it?
The Hisense 65″ TV is a 4K LED 2160p smart TV with 4 HDMI inputs and 3 USB ports.
Hardware specs
Resolution type: 4K (3840 x 2160p)
Panel type: 64.5″ Full Array LED Backlight
High dynamic range (HDR)
Backlight type: Edge lit
4K upscaling: Yes
Motion rate 120 technology
Display aspect ratio: 16:9
Connectivity: Wireless built-in, 2×2 Dual-Band, 802.11ac, Ethernet
Ports: VGA (1), HDMI (MHL, ARC, CEC I up to 60fps) (2x HDMI v2.0 / HDCP 2.2 | 2x HDMI v1.4 / HDCP 1.4), USB (3), RF antenna (1), RCA composite, Digital audio output (1 Optical), Earphone/audio output (1)
Audio: Two 15W main channel speakers
Apps: Netflix, YouTube, Pandora, Vudu, Amazon Instant Video, and more
Wall mountable: VESA 400 x 400
Product dimension (without stand): 57.4"W x 33.7"H x 2.4"D
Product dimension (with stand): 57.4"W x 35.4"H x 12.7"D
Weight (without stand): 66.1 pounds
Weight (with stand): 68.3 pounds
When I was offered the chance to test drive a 65 inch 4K TV, I didn't have to think very long to give my answer which was something like "heck yeah!".
I waited several weeks for the Hisense TV to arrive because it had to be delivered by a special freight truck. It came in a huge box that was way too heavy for me to move by myself. But I lucked out and was able to talk the two delivery guys into walking the box around the house to bring it into my walkout basement where I planned to mount it on the wall where I already had an existing 55 inch TV mounted.
I thought I'd be able to use the same VESA mounting hardware that was on the TV currently on the wall, but unfortunately, it wouldn't work, so I had to order a new wall mount bracket kit.
What's in the box?
Hisense 65″ H8 series 4K smart TV
Power cable
Remote control
2 AAA batteries for the remote
4 screws (M4 x 12)
Quick start guide
2 legs
Design and features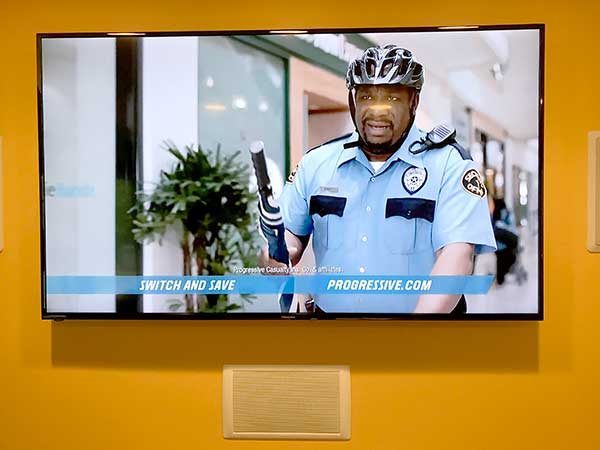 The Hisense TV has a glossy black plastic housing with thin bezels and the Hisense logo printed on the bottom center bezel of the display.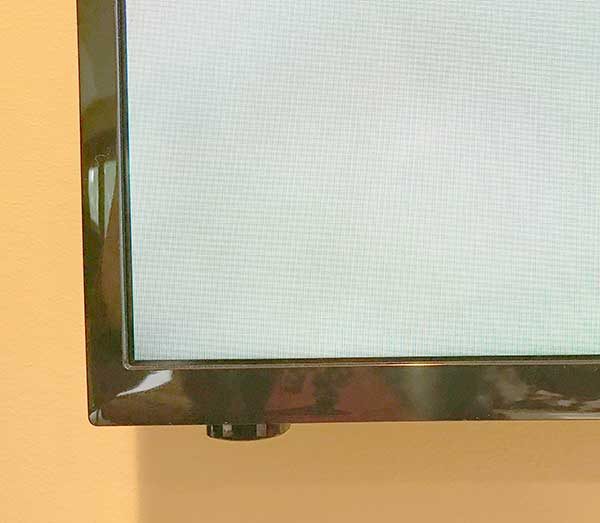 Other than the logo, and the power status LED (which glows bright red when the TV is off) in the lower left corner of the display, the Hisense TV looks like a large framed picture. I like the basic look of this TV because it will blend in with any room.
FYI: I don't have a table or entertainment cabinet to put a TV on, I prefer to mount my TVs to the wall to give the room more of a home theater feel. So I don't have a picture of the TV with the legs installed.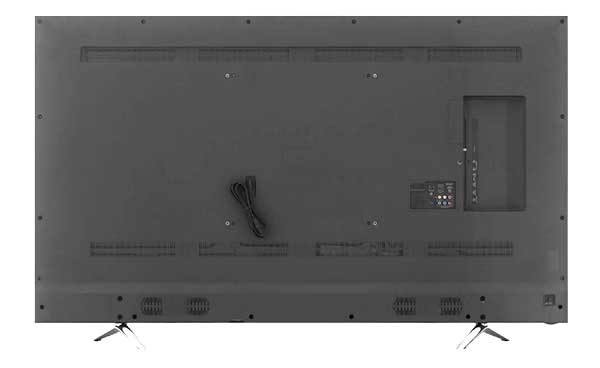 All of the ports and video connections are located on the back of the Hisense.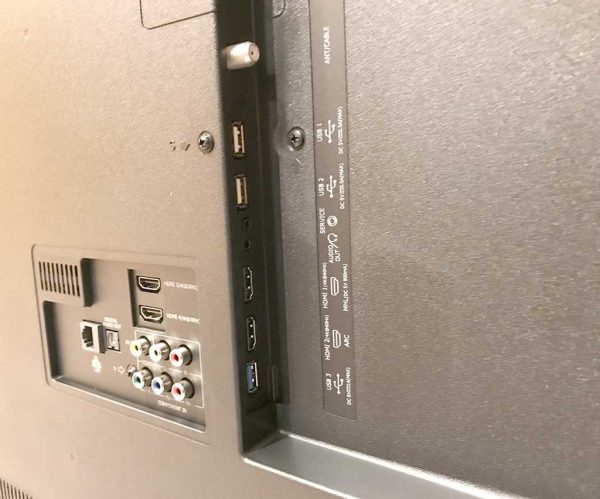 The three USB and two HDMI ports are located in a recessed area. This design is fine if you set the TV on a table, but if you prefer to mount the TV flush to a wall, it makes it almost impossible to access those ports once the TV is mounted.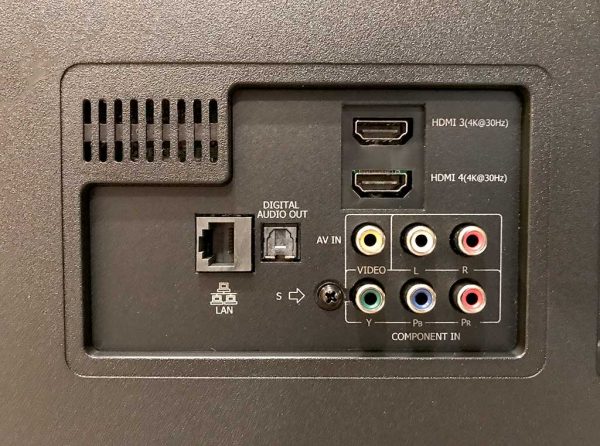 The Hisense has WiFi and an Ethernet port on the back of the TV to connect to the internet for the smart apps like Netflix, Hulu, Amazon, and more.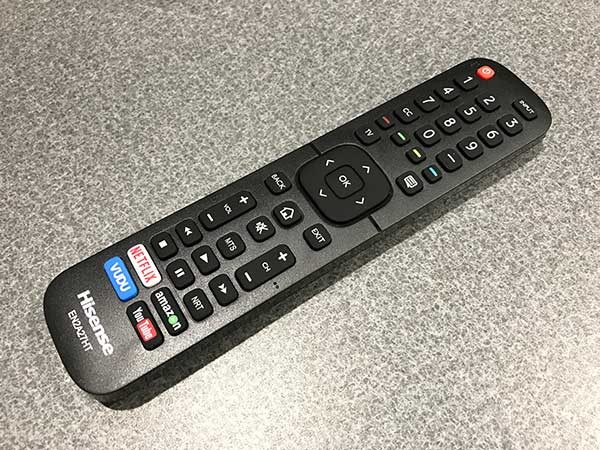 The remote is pretty standard as far as remotes go. This one does have dedicated buttons for Netflix, Amazon, Vudu, and YouTube. I didn't use the remote very often as I connected the Hisense to my AV receiver and a DirecTV DVR box, which is my main video source.
Picture quality
Out of the box, the Hisense 65″ H8 series 4K smart TV has a very "hot" picture. By that, I mean that the colors are too saturated. I noticed this right away but didn't make any tweaks and soon grew used to it.
Only after I had been using the TV for a few weeks and started writing this review, did I stumble upon someone's video where he also talked about how the default picture is too saturated. He suggested some settings changes, which I immediately implemented and was blown away by how much better the picture looked. It was like night and day. What I already thought was a nice TV turned out to have the best picture of any TV I've had so far.
The Hisense has 176° horizontal and vertical viewing angles that let people sitting off to the sides still enjoy a crisp clear picture.
Audio quality
I run my TVs through an Onkyo AV receiver so I didn't do a lot of testing on the built-in audio. What I did sounded fine, but a 5 speaker setup like I have obviously sounds much better.
See it in action
Final thoughts
I have had zero issues with the Hisense 65″ H8 series 4K smart TV. It powers up fast, offers built in versions of the most popular streaming apps, and most importantly, it has a wonderful crisp clear picture with bright, vivid colors. For the price, you can't go wrong.
Source: The sample for this review was provided by Hisense. Please visit their site for more info and Best Buy to order.