We use affiliate links. If you buy something through the links on this page, we may earn a commission at no cost to you. Learn more.
Update 07/20/07: There's a new and improved version of the Kill-A-Watt now. Read the review of the Kill-A-Watt EZ.

Product Requirements:
An electronic device that uses a regular US two or three (grounded) 125V pronged power cord
I don't know about you, but there are some months when I get my electric bill that make me feel like I might pass out from the shock of the displayed total. Granted, we do use a lot of electricity in our home. Between three computers and their peripherals, ceiling fans, air-conditioning, an oven, a microwave, the refrigerator, a freezer in the garage, the hot tub, TV's in most of the rooms, audio/visual devices attached to said TVs, lamps, room lights, porch lights, the alarm system…you get the idea…there is no doubt that if a serious blackout were occur in my town, we would be in deep kimchee. Fortunately, blackouts are few and far between. Unfortunately, it is typical for our electric bill to be in the $250 (and up) range during the summer.
While I realize that a good part of that bill is the fault of our electric central air-conditioning, there is still no doubt that our other electronics and appliances are using their fair share of juice. Until now, I had no way of determining what our costliest devices were, other than the obvious kitchen appliances. That is, until I received the

Kill-A-Watt Electric Usage Monitor from Convenient Gadgets.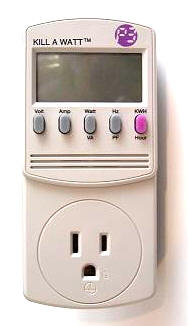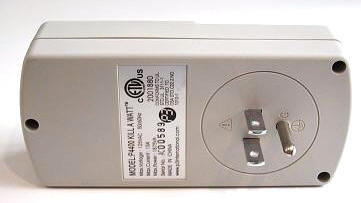 The Kill-A-Watt (KAW), manufactured by P3 International,  is 5″ tall x 2.25′ wide x 1.5″ thick (not counting electrical prongs) and weighs 4.6 ounces. The bottom front portion contains an electric plug receptacle, and the bottom rear has a typical US three prong (grounded) plug. The device is intended to act as a meter, going between the item that draws power and the power source – a typical wall outlet.
In order to determine which information to show from that which the KAW has gathered, there is a 2″ (measured diagonally) LCD screen as well as five rubberized buttons.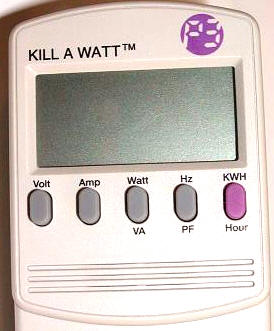 The buttons are marked, from left to right: Volt/Amp, Watt/VA (Vrms Arms), Hz/PF (Power Factor), KWH/Hour
Under the row of buttons is a simple speaker that will chirp when a button is pressed (and the KAW is plugged in).
Never miss one of our posts again. Sent MON, WED, and FRI with the latest gadget reviews and news!
To begin using the Kill-A-Watt, you simply plug it into a wall socket and then insert the plug for the electronic device that you wish to monitor.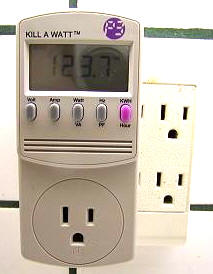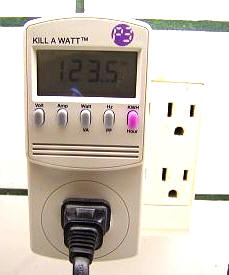 According to the package documentation, the Kill-A-Watt's LCD will display all meter readings: Volts, Current, Watts, Frequency, Power Factor, and VA. The unit will start to accumulate KWH and powered duration time (hour) after power is applied.
For the purpose of this review, I decided to monitor the TV in our kitchen, which is always on when anyone is in there. I figure that except for during the holidays, when cooking can be an all day affair, we probably don't spend more than two hours total in this room per day. So for this review, I left the TV on from 1:30 pm to 3:30 pm. Here are my results…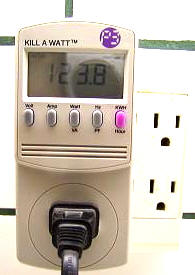 123.8 are the volts shown when the TV is plugged in and turned on. This is a true RMS (Root Means Squared) Voltage display…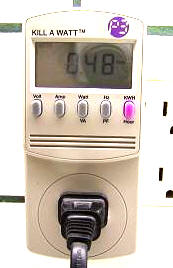 0.48 is the Amps, which is the true RMS output current …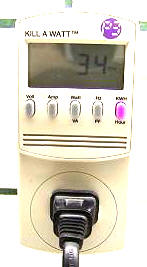 34 is the Watt meter, or active power…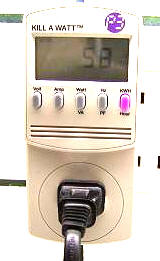 58 is the VA (Vrms Arms), or apparent power…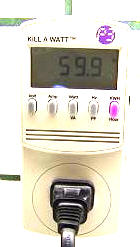 59.9 is the HZ, or frequency of output Voltage…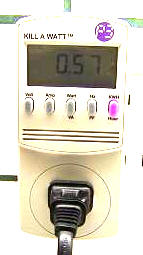 0.57 is the PF, or Power Factor (wherein PF=W/Vrms Arms)…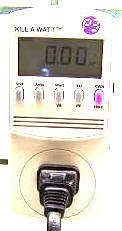 The final button is the money button. This is where all of the factors are figured, and the results are displayed. But before I get into that, I want to mention that when you first use the Kill-A-Watt, time is displayed in minutes and hours (00:00), but after 99 hours have gone by, the display will switch to show only hours (up to 9999). The Kill-A-Watt will start over again at zero when the time limit is reached, and if you would like to reset it and test a different electronic device, you just need to unplug it from the wall outlet for a little bit.
At 1:30 today, my KWH said 0.00, since I had just plugged in the TV. When you press this toggle button once, the "cumulative energy consumption since power was applied to the unit" will be displayed. If you press the button again, the display will show the "cumulative time since power was applied to the unit." Since I am doing a two hour test, leaving the TV on all the while, I will be able to figure out approximately what this TV is costing me to run – either by the hour (by dividing my total in two), by the day (the two hour total), by the week (two hour total multiplied by seven), month (two hour total multiplied by 365 then divided by 12), or the year (two hour total multiplied by 365).
At 3:30pm, my KWH read 0.06 and the cumulative time displayed was  2:00 hours.
So what did I learn today? By cross referencing my results with my latest online electric bill, I found out the following:
Through my energy provider (TXU), I pay an average of 9.17 cents per KWH (excluding taxes and non-recurring charges or credits). At the end of my test period, I found that I had used 0.06 KWH for two hours. At this rate, it costs me 0.002751 dollars an hour, or 0.005502 dollars to run this TV for two hours a day (my average usage). Per week, I pay 0.038514
dollars, per month 0.1673525 dollars, and per year, the total would be  $2.01 – at the rate of two hours usage per day. Obviously, some days may be a little less usage and some a little more, but I now have a good idea of the average cost to use the kitchen television: peanuts, or maybe I should say sunflower seeds. ;0)
Granted, my results were much more dramatic when I monitored our refrigerator for an hour – 0.14 KWH, or 0.012838 dollars per hour to run, which can be multiplied by 24 hours and 365 days to get my true yearly total ($112.46). But the thing about appliances such as those is that you already know up front that they are a big power draw – plus they generally come with a sticker that tells you what their average yearly usage will run. Electronics such as computers and televisions don't, and this is a great way to find learn.
It's very simple to monitor just an hour's usage of any single electronic item or appliance. If you ever want to really know – beyond a shadow of a doubt – what devices are the major contributors to your monthly power bill, then this is the device that can help you answer the question. If you think that worrying about what an hour's usage of any particular item may be costing you is just too nit-picky, then you can always use the Kill-A-Watt for other things. Its packaging also states that you can detect "voltage drops and brownout conditions before they damage delicate equipment." You can also use it to test the outlets in your home to be sure they are working, or you can measure the quality of the power provided by your utility company by monitoring voltage (Volt) and line frequency (Hz).
I would love to have a 220V version that could test things like what my air-conditioner or my hot tub are costing me to run per hour…or maybe it is better that I don't know.
Personally, I found the simple tests I ran today to be eye opening. I can remember how my mom would always say to shut the TV off when I left a room, because it was running up the electric bill. If she only knew….
The Kill-A-Watt Electric Usage Monitor is available from Convenient Gadgets and other retailers.
Price: $39.95
Pros:
Easy to use
Portable
Allows you to pin-point which electronics are sucking the most power
Allows you to figure hourly, daily, weekly, monthly, yearly costs for running an electronic device
Cons:
None – except for the nasty surprises you might encounter as you test various electronics' and appliances' power consumption…
Product Information
Price:
39.95
Manufacturer:
P3 International
Pros:

Easy to use
Portable
Allows you to pin-point which electronics are sucking the most power
Allows you to figure hourly, daily, weekly, monthly, yearly costs for running an
electronic device

Cons:

None - except for the nasty surprises you might encounter as you test various
electronics' and appliances' power consumption...