We use affiliate links. If you buy something through the links on this page, we may earn a commission at no cost to you. Learn more.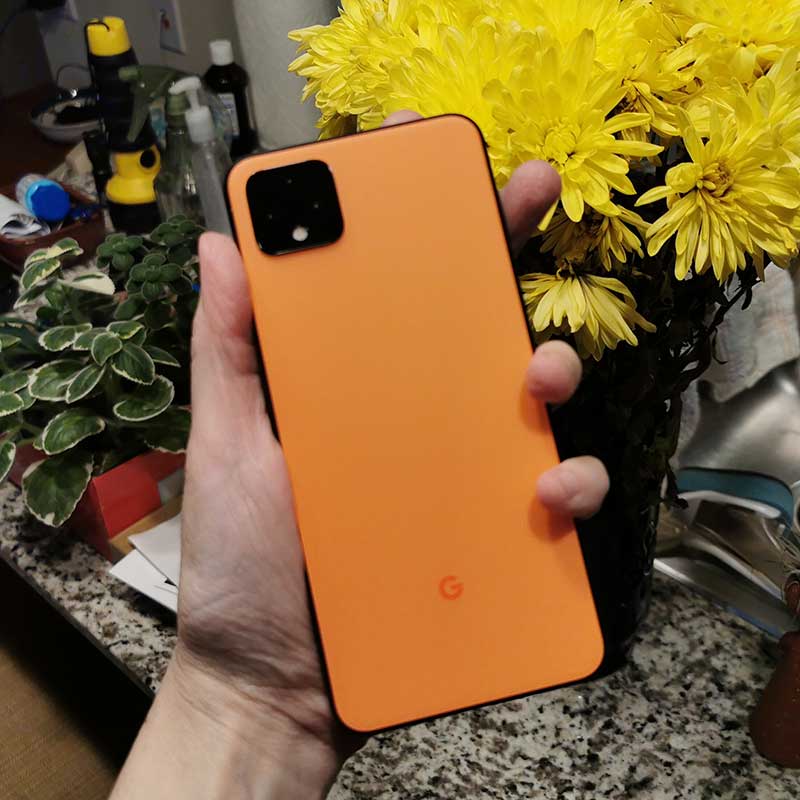 ARTICLE – The Pixel 2 XL was my all-time favorite smartphone for a couple of years and I kept going back to it each time I'd try the newest flagship from various other phone makers. I purchased the Pixel 3 XL last year but promptly returned it because it felt almost identical to the 2 XL and not worth the price of the upgrade. I told myself that I would wait another year for the 4 XL which I felt would definitely be a worthy upgrade.
I ended up getting bored with my 2 XL and bought a Huawei P30 Pro earlier this year from an eBay seller and have absolutely enjoyed using it. But I knew as soon as the Google Pixel 4 XL was announced that I would order one – and that's exactly what I did a few weeks ago.
My shiny new orange 128GB Pixel 4 XL arrived and I immediately ripped open the box, charged it up, and started checking off my list of must-have and favorite features. Wireless charging, check. Squeeze to activate Google assistant, check. Always-on clock display, yep. Music ID at the bottom of the Always-on display, still there – yay! Stock Android software, you betcha. Great fingerprint reader sensor, nope but Face unlock worked just as fast.
But then things started going south pretty quickly. First, that huge bezel forehead. YUCK!. Then, I found out that free Google Photos cloud storage of full-resolution photos was dropped. What has been a really great feature/perk of buying a Pixel smartphone is no more and that really sucks. As a consolation prize, you can save images at the high-quality resolution setting. Oh wait, it's not a consolation prize because that's the same "perk' that every Android user gets for free. What the heck?
And speaking of photos, I use my smartphone as my only camera for personal and Gadgeteer product shots, so my phone has to have an excellent camera. The Pixel has been known for having an excellent camera for several years now, so I wasn't worried, but guess what? The Pixel 4 XL is now behind the curve when it comes to the latest flagship phone camera tech because it doesn't have an ultra-wide-angle lens like the iPhone 11, my Huawei P30 Pro, and the Samsung Galaxy S10 phones.  I use an ultra wide-angle lens frequently when I travel and for day to day pics, so the lack of that feature was the first real stab of buyer's remorse that I felt with the Pixel 4 XL. Oh, but the Pixel 4 can take pictures of the stars. Wheeeeeeeee!
But the hits just kept coming.
Next, there was the battery life or lack thereof. The Pixel 4 XL has a 3700 mAh battery which is small compared to the 4200 mAh battery of the Huawei P30 Pro, the 4100 mAh of the Samsung Galaxy S10+, and the 3969 mAh of the iPhone 11 Pro Max. For the short time that I had the Pixel 4 XL, the dismal battery life was noticeable.
Another disappointment that feels like a kick in the gut is that GSuite users can't use the new Google Assistant features like asking multiple questions in a row without having to continually say "Ok Google". That's right, Google's premier account holders are shut out of Pixel's special features. What the heck?
I guess this really shouldn't have surprised me because I ran into a similar issue when I reviewed the Google Nest Hub a couple of months ago. There are tricks to getting around the GSuite problem on the Pixel, but I don't want to hack around, I just expect all the features to work when I spend a grand on a phone (128GB version of the 4XL). In case you don't know what GSuite is, it's a special type of Gmail account that lets you use your own domain name for your email. So instead of [email protected], my address is [email protected].
Am I done complaining about the Pixel 4XL? Nope, not quite yet. There's more. I was hoping that Google would enable HDMI output by plugging the phone into a monitor as you can do with Samsung Galaxy phones and Huawei phones. But nope… Google wants you to use Cast instead of hardwiring. I was hoping for this feature because was talk that Android version 10 would have a DeX like desktop experience. But that hasn't happened either.
Can you tell that I'm disappointed with this phone by now? There's just no wow factor with the Pixel 4 phones anymore unless you count the orange color option. Yes, I like orange, but that's obviously not a reason to buy this phone. The Pixel 4 XL is just a new model number with a high price tag and everything else about it is meh which as an Android fan, really bums me out.
To add insult to injury, I had to pay a $35 restocking fee to return the phone to Google. Apple doesn't require you to pay them a restocking fee when you return an iPhone. They give you all your money back.
My advice is to skip the Pixel 4 series and wait for the Pixel 5. But don't hold your breath because at this point, Google as a lot of work to do to make the Pixel a relevant choice for stock Android fans.
Am I really going to switch to an iPhone? I bought a used iPhone X months ago and it's sat idle until this morning when I put my SIM in it. It's always good to try "new" things right?