We use affiliate links. If you buy something through the links on this page, we may earn a commission at no cost to you. Learn more.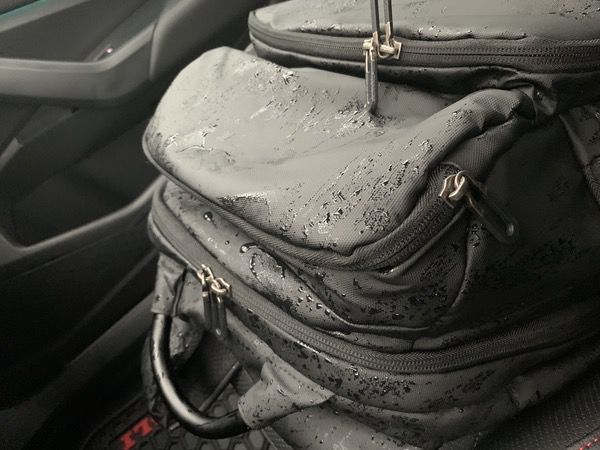 REVIEW – A full-featured, well-constructed travel backpack for under $150? Believe it! I'm checking out the Nayosmart General backpack in this review, and it's pretty amazing. It's got everything you need for light one-bag travel or living your life out of your bag on the daily commute. To the review!
What is it?
It's a travel backpack with 20+ pockets designed for all of your electronics, 3-5 days worth of clothes, and assorted travel gear. It also comes with two organizer pouches.
Hardware specs
18″ by 12.6″ by 6.3″deep.
25 liter capacity.
2.6 pounds
High tenacity polyester.
Waterproof exterior.
Design and features
The General is designed to be your one bag for travel and work functions, with a ridiculous 20+ different pockets to sort out everything you could possibly throw at it. The 25 liter version I am reviewing is designed for for 3-5 day journeys, but there is an even bigger version for longer trips.
The feature set on this particular bag is immense, and we're going to cover every corner. I keep discovering new features on this beastie. Be warned: lots of pictures and words to follow!
Exterior Organization
The bag sports a basic black waterproof exterior with a very functional squared profile. And that's not a bad thing. It doesn't scream high-end style, but every square inch of the layout is designed for function and purpose. And you can still lug it to the office on a daily basis and look smooth. And if you're traveling you'll look great without drawing a lot of attention.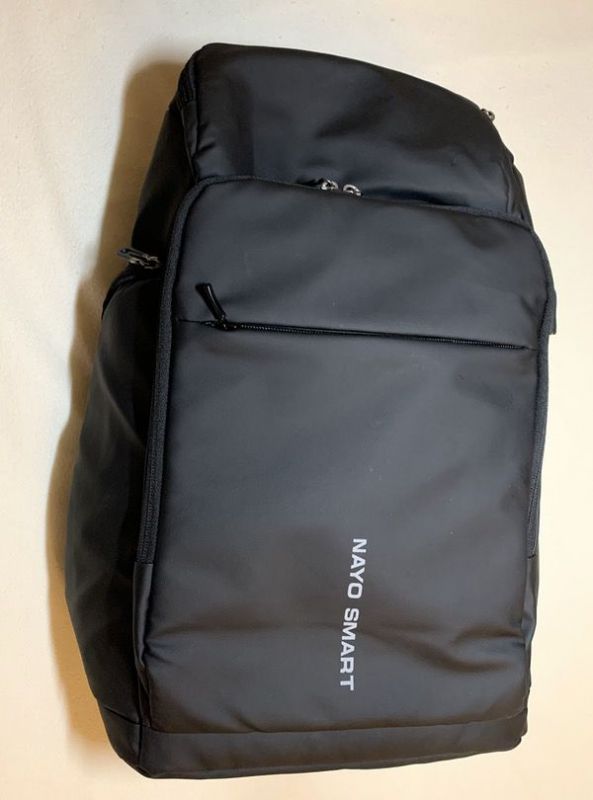 The external pocketing is designed for quick access to just about everything you need while you're on the run. The front face features a large 9″ by 9″ drop pocket lined with a light grey polyester so that you can see what you dropped in there.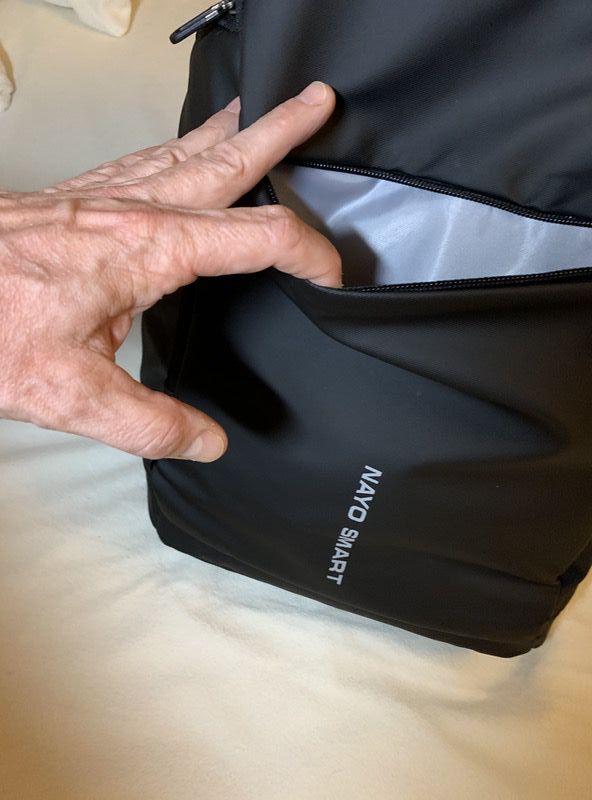 Dual zips behind that pocket reveal a 9″ by 11″ organizer panel with generous pockets for pens, smart phones, and small notebooks. It's also got a removable key clip that snaps into the organizer. Key clips make me me happy. This one pops out easily if you have to make a stop on the drive home at the grocery store.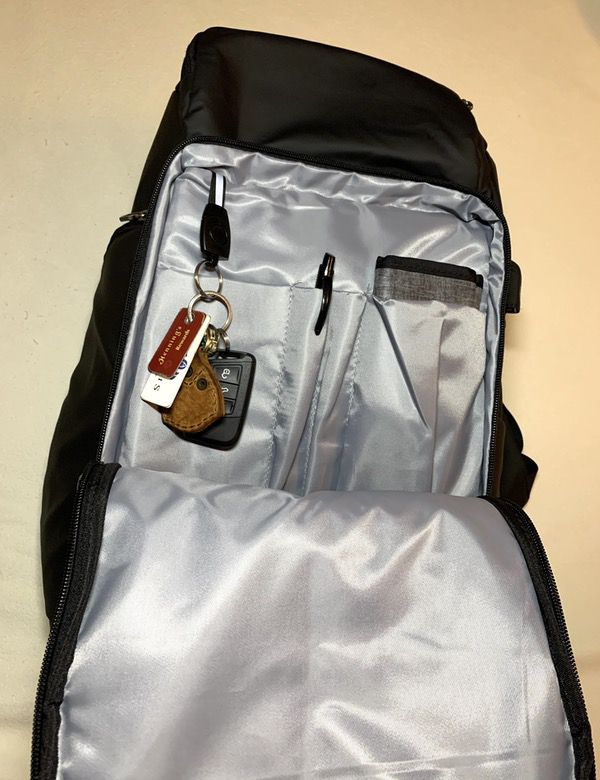 There are two different side pockets on this bag. The left hand pocket is roughly 11″ by 4″' with a taper towards to the top. This pocket is insulated to keep your water bottle cold, and includes a 5″ deep elastic mesh sub-pocket for smaller items like a power bar. The insulation is a bit of an odd choice. I wouldn't stash my ice cream bars in there. But it doesn't inhibit the ability to use this pocket for other things.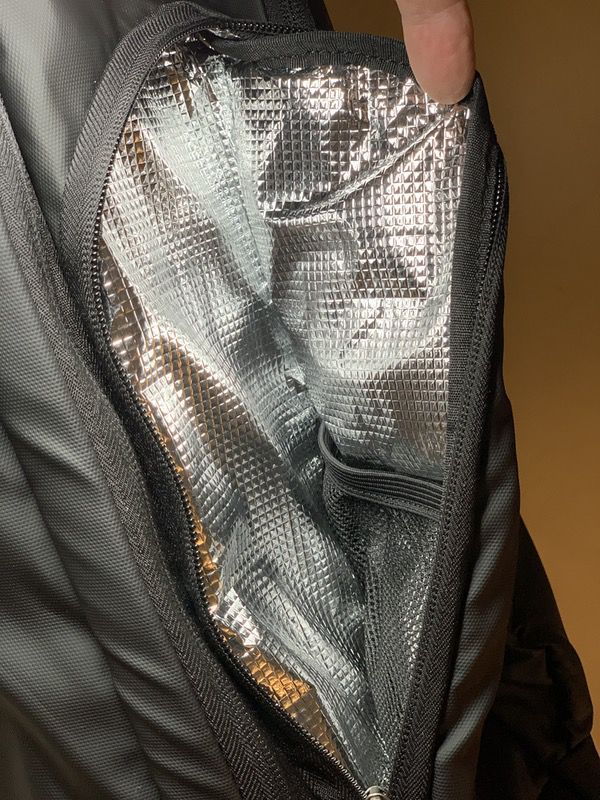 The opposite pocket unzips to expand for bigger water bottles, an oversized hydration bottle, or an umbrella. You can keep it zipped for a tighter pocket for smaller items.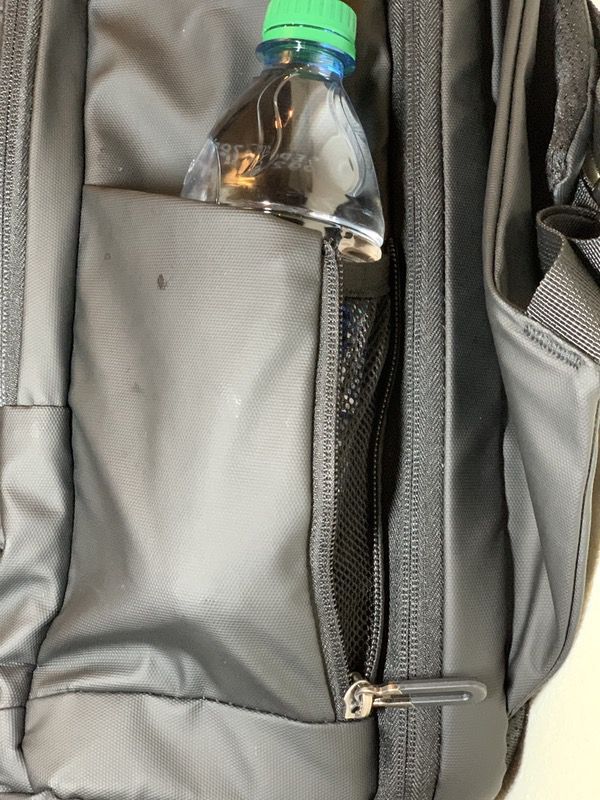 Above this water bottle pocket is a USB charging port, which connects to your portable charger via a brilliant little hideaway cable on the interior. More on that shortly…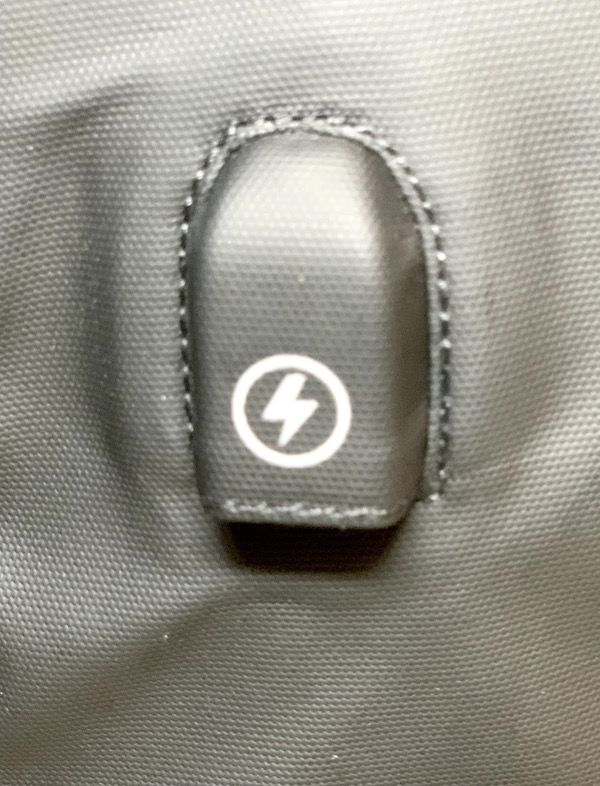 At the top of the bag is another 5″ by 9″ dual-zipped pocket that will hold your sunglasses case and a whole bunch more. You can always stash your sunglasses case in one of the other pockets on the bag and fit a big ol' sandwich in here (or a hoagie if you're from my neck of the woods) for that trip.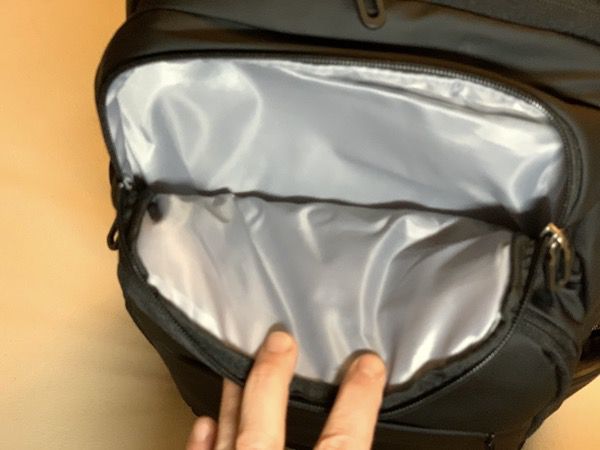 That's a total of 10 pockets and pouches for all of your quick-access gear, with spaces that will adapt to whatever you've got going on. Headphones, snacks, charging cables… it's all got a place. And there are more places for your secure stuff on the back side, which we'll get to in a bit.
Interior Organization
So you have your quick-grab bits sorted out. Now we explore the main storage compartment.
Dual external zips run the perimeter of the bag, enabling you to open up the whole beast clamshell-style to get to 2 different organization areas in the main compartment. That left side is where your electronics reside. That right side holds all the clothes & toiletries you may need for a multi-day trip, or all of your work stuff if you live your day life out of your pack.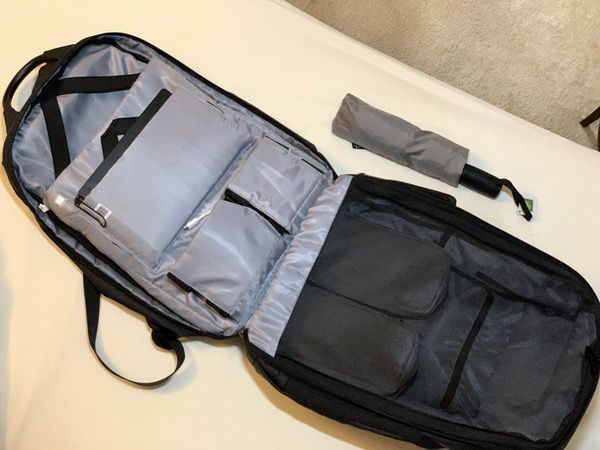 The side facing your back is set up for your tech gear. A 4″ by 4″ and 5″ by 4″ expandable pocket are found at the base, sized for your power bricks and cables. I keep my MacBook Pro brick and cable on one side, and my longer cables on the other.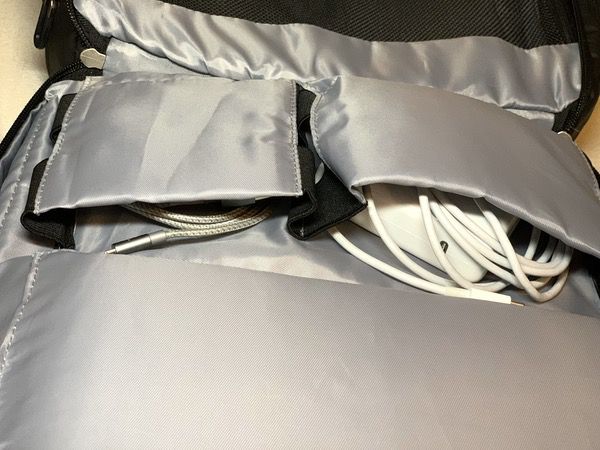 Riding above those spots is a padded tablet pocket. This pocket is sized for 9.7″ tablet without a case; I stash my notebook in there since my iPad case is a bit larger. And behind it is a padded laptop pocket that runs the full height and width of the bag. See those black elastic straps? They're found in both the tablet pocket and the laptop pocket as an extra bit of security to keep your gear from slipping out. The laptop pocket will easily fit a 15″ computer. I have my 13″ MacBook Pro, a document folder, and my iPad in its sleeve in that pocket for reference.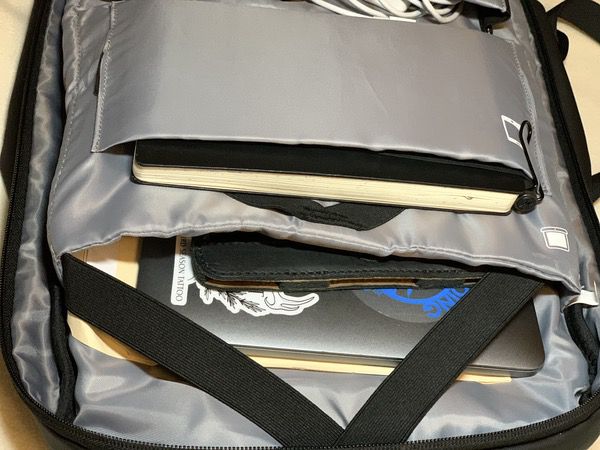 The opposite side of the main compartment holds everything else. A massive 9″ by 16″ by 4″ open space will hold 3-5 days worth of clothes if you're one-bagging it for a trip, with a dual-zip mesh cover keeps your stuff from falling out when you open the bag. I actually think 3 days worth of clothes would be the sweet spot here. Anything more and you need to scale up to the bigger bag in the lineup.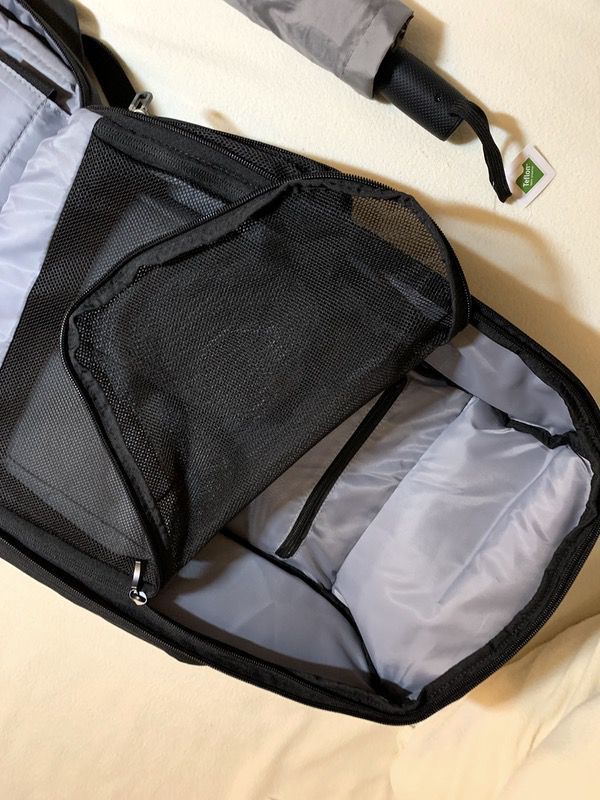 An assortment of organizing options help to keep this space tidy. A 6″ by 8″ zipped pocket will hold assorted small stuff. I've been using this bag for work, and I keep my allergy meds and other lesser-used items in this pocket. I'd probably use this space for socks and such if I were traveling.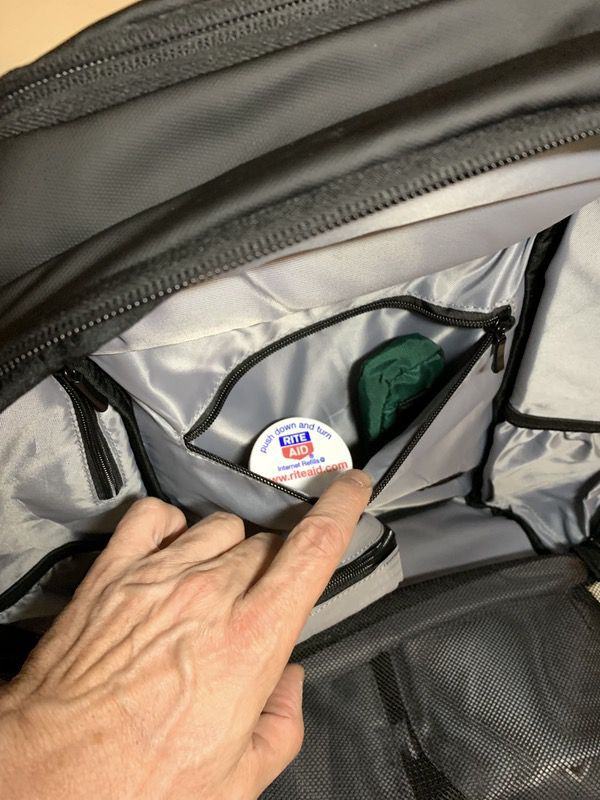 There are twin 4″ by 7″ elastic pockets at the base of this packing area that will hold smaller water bottles & toiletries. Above the left hand pocket is a zipper that reveals a hideaway USB cable. Plug that into your portable charger (stashed in that elastic pocket), and you can use the external port to charge electronics without opening the bag!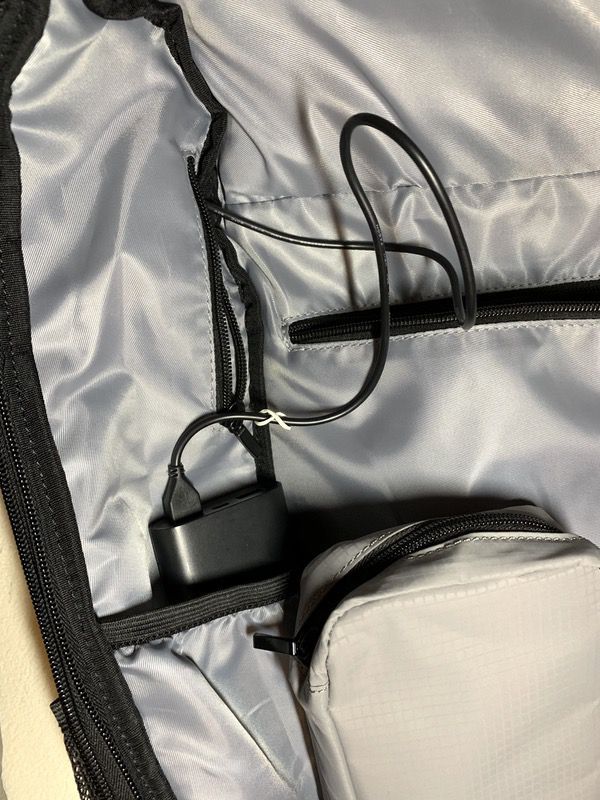 You'll also find a pair of 4″ by 8″ by 1″ organizer pouches included with your purchase that stick to velcro tabs on the back of this compartment at the base. And these pouches aren't just throw-ins… they're fully featured padded pouches with ripstop nylon exterior. The first pouch has a zipped mesh pocket, a drop pocket and an elastic strap. I like this one for assorted little stuff that needs a home like my lip balm, band aids, and things that tends to hide in corners.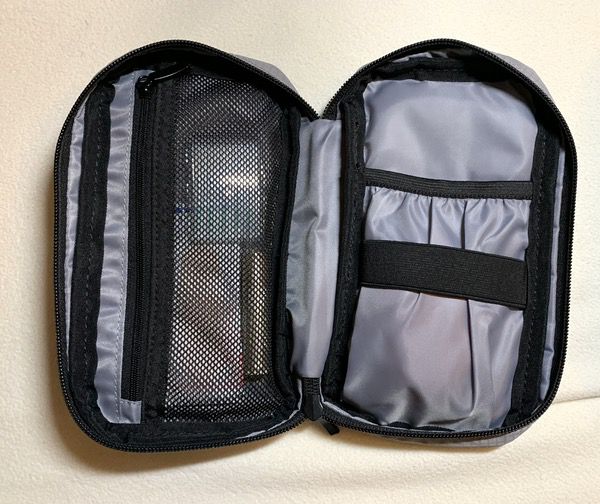 The second organizer pouch is also insulated, and has two elastic loops on one side faced by an open mesh pocket on the other. I use this pouch for cables and connectivity adaptors. Again, the insulation is not so useful in my mind. But this would make a great tool pouch.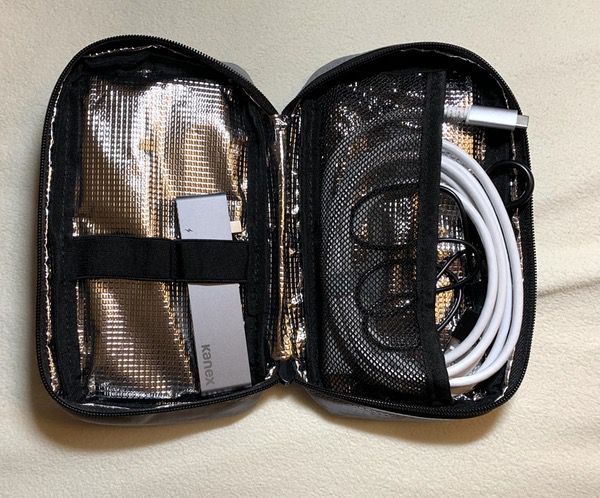 This interior space is super flexible, with an additional 8 pockets and spaces for work and travel gear. That brings us to 18 different pockets & spaces so far, not even including the removable organizer pouches. And we have more surprises coming…
The Carry Harness & Extra Features
So now we get to the carry harness. One of the neat bonus items in this bag is a metal grab handle at the top, which is wonderful for hanging from hooks or hangars.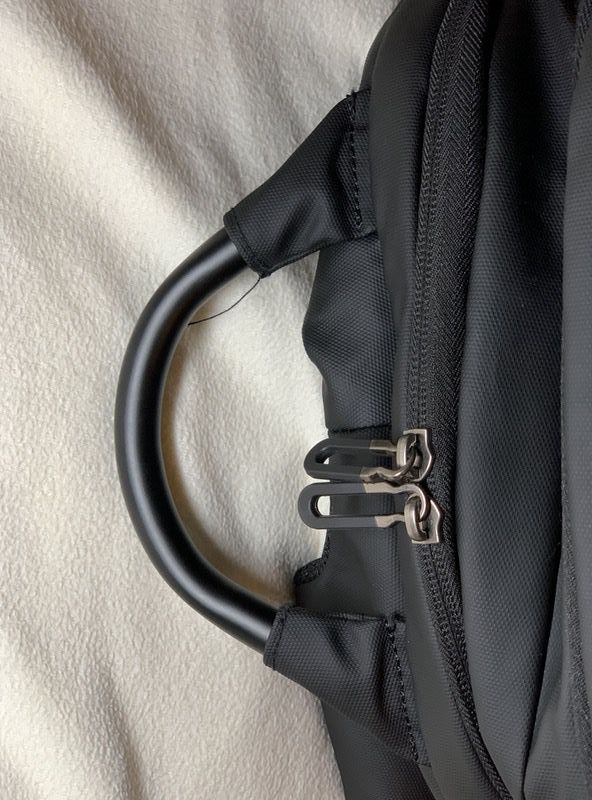 The harness itself really interesting. the shoulder straps are 2.75″ and thin, but well padded to distribute the weight. A generously thick back pad and rugged sternum strap make for extra comfort on the long haul.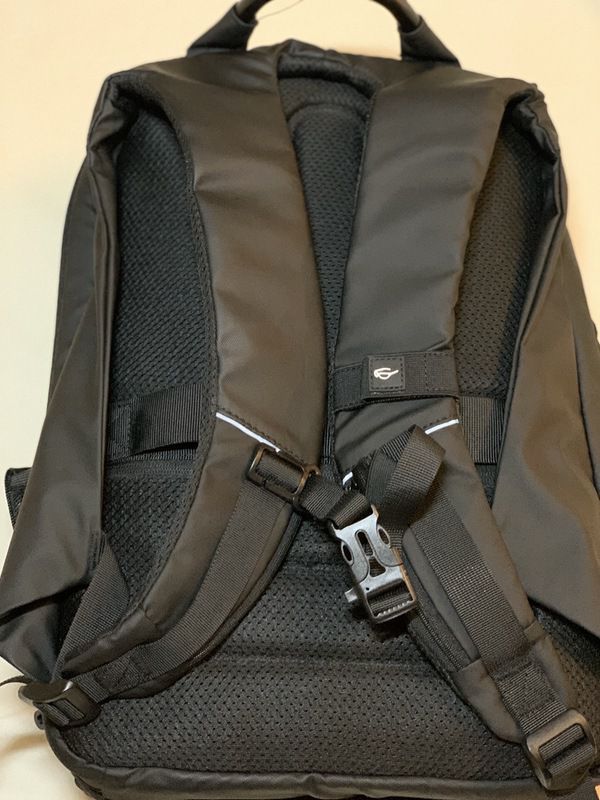 Each shoulder strap has a small zip pocket that you can use for your RFID work ID, cash, or credit cards.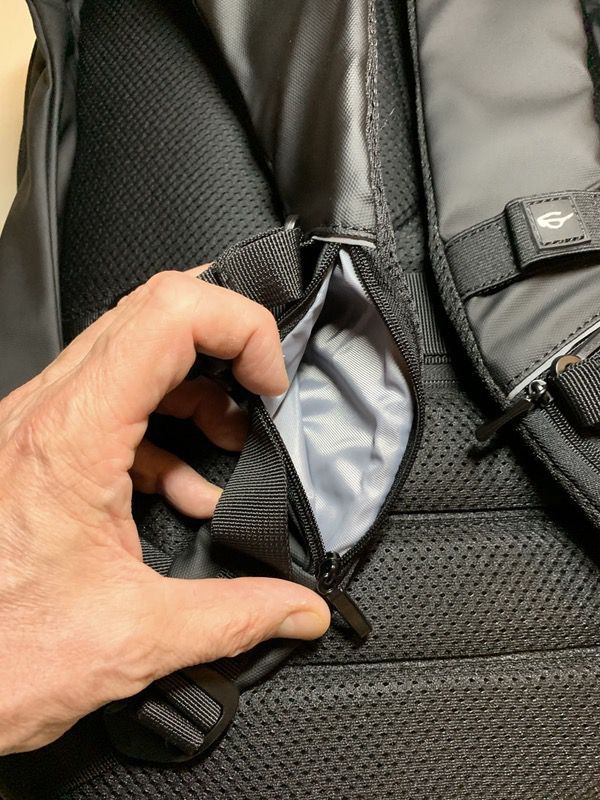 There's even a dedicated loop for your sunglasses on the left hand strap. Pop them off at the airport and slide the arm into that loop while you fish out your travel documents.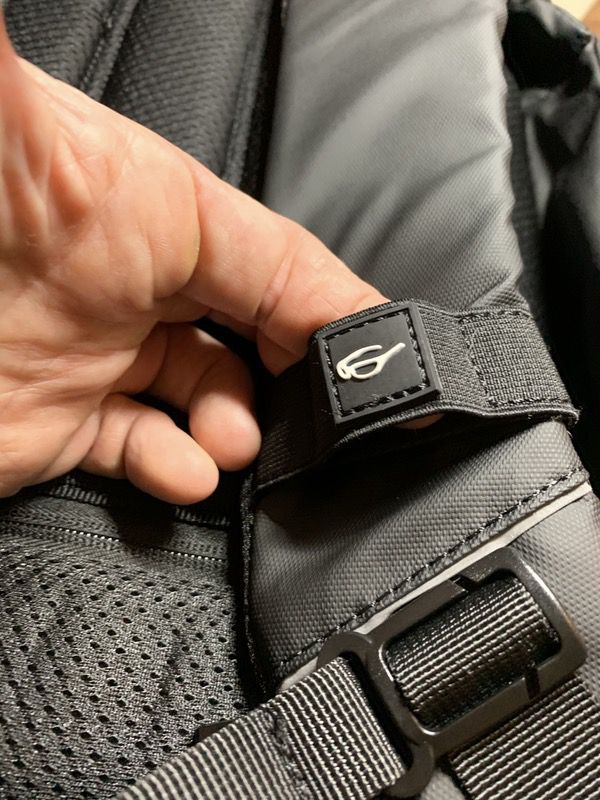 And speaking of travel documents, there's a hidden 11″ by 5″ pocket behind the padding, under the luggage pass-through strap. This pocket is big enough to boarding passes, your passport, your wallet, and all of that stuff that you want to keep away from prying hands.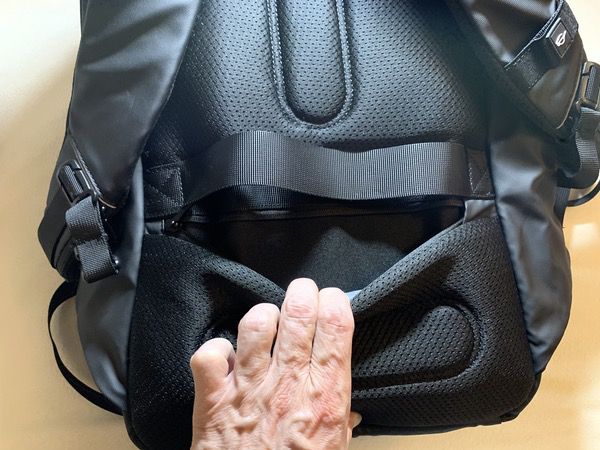 And here's that interesting bit about the harness. The shoulder straps don't attach directly to the body of the bag, There's a form-fitting yoke-and-wing rig that wraps around your sides, and has some elastic "springy" material that hugs you like an amorous stingray. It shifts and moves with your body, making for an absurdly comfortable carry even when fully packed out.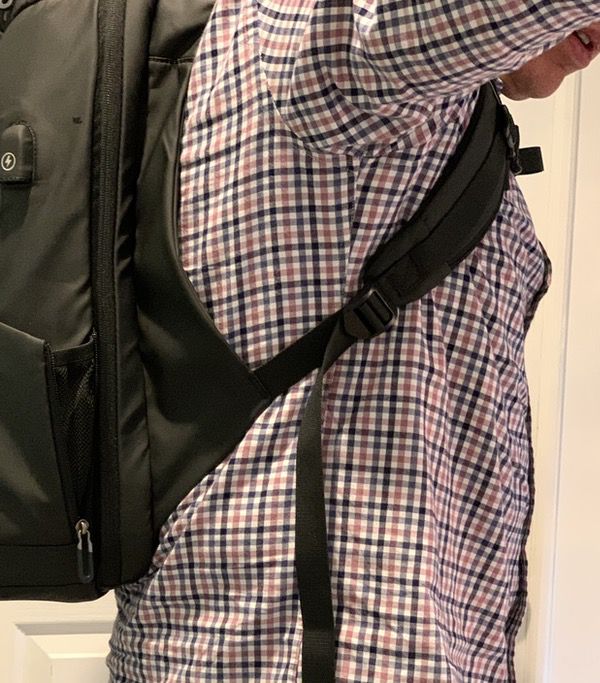 The rigging design is ideal for two-shoulder carry as it snuggles into place but can be a bit awkward if you're tossing it over one shoulder. Generous strap adjustments coupled with the flexible rig enable the bag to fit just about any body type, but I'd like to see a way to wrangle that extra strapping if I were being picky.
Performance
So I count at least 21 different pockets and spaces for all of your gear in the General. I'm finding it hard to find a use case where you couldn't put this bag to good use. One bag travel, the daily commute, weekend trips… if you need a bigger bag, there's a place for everything you could possibly drag along with you.
Here's a side profile shot for reference. Despite the 25 liter capacity, it's pretty slim for a daily commuter. They even make a 32 liter version if you're doing some serious one-bag traveling.
The carry harness is absurdly comfortable, and doesn't have the chunky look that would make it awkward for office visits.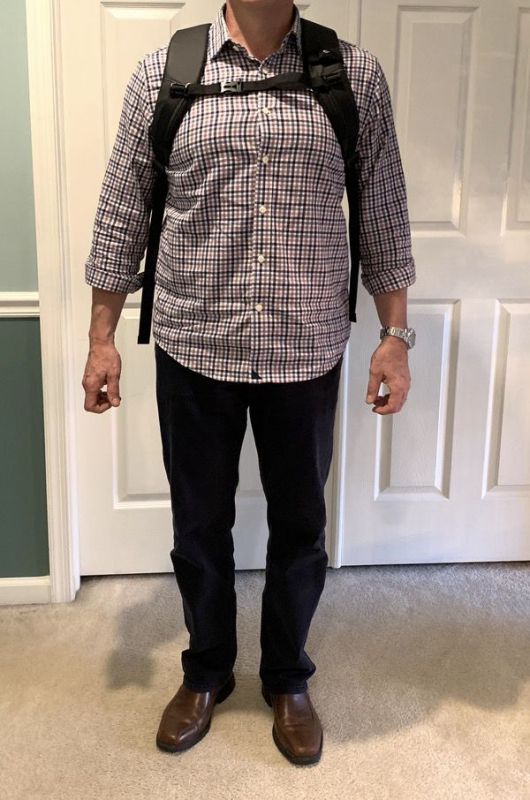 Here's a back view. It's not as small or nimble as a typical "essentials" daypack. But if your commute involves public transport, you'll love all that space in a comfortable package. I can load up my work gear, an umbrella, a hydration bottle, lunch, a jacket, and all my accessories with room to spare.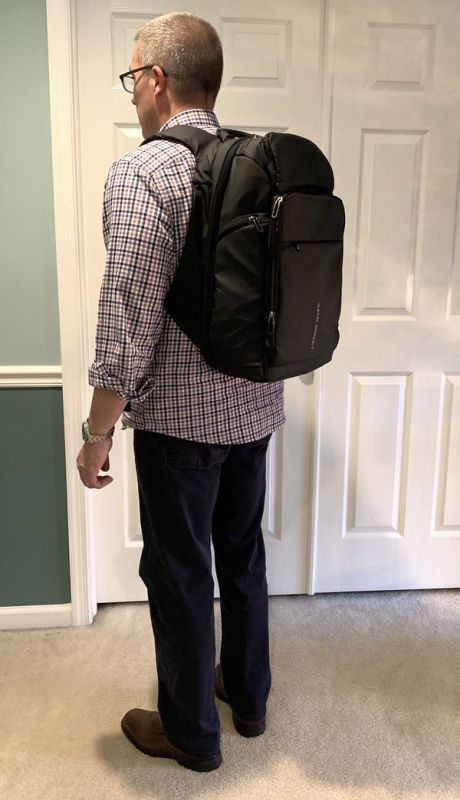 The layout is key to balancing work/travel duties, with separated areas for everything. You'll be able to keep your electronics, clothes, and quick-grab items for the airport in completely different zones that don't interfere with each other. And the ability to charge electronics on-the-fly without opening the bag is really handy for commuting and waiting in the terminals.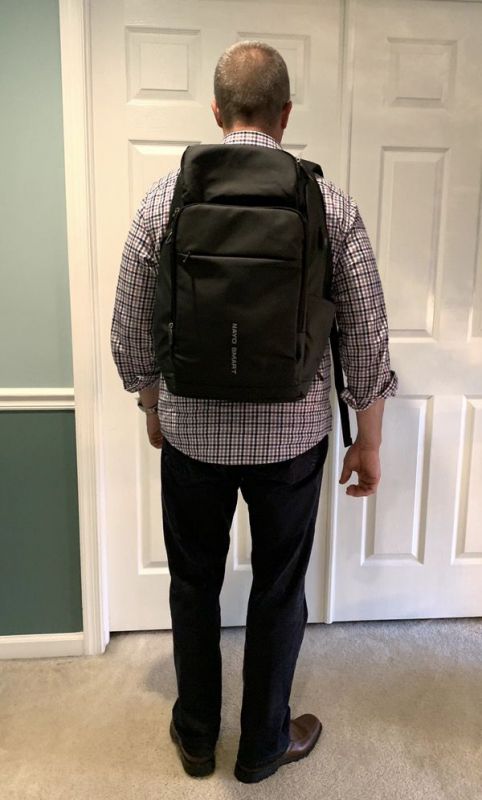 I also really like that they didn't get cute with the bag layout. Every space is generously sized so that you're not fighting to stuff gear in odd places. Despite all those pockets I never feel like I have lost stuff. It's really well done from a usability perspective.
The other big surprise here is the build quality at this price point. You won't find the high-tech materials and premium hardware that you'll see in bag makers like Mission Workshop, Tom Bihn, or Bellroy. But the build is so good that I have no reservations about the quality so far. I'd put it in the same range as bags like Incase from a quality perspective… and it retails for under $150! We'll see how it holds up over the long haul.
What I like
Excellent carry system that's well-cushioned, springy, and completely adjustable.
Organization for everything you can think of, with a layout that separates your gear based on frequency of use.
Truly waterproof.
Comfortable and maneuverable for it's size.
Bonus organizer pouches that are equally well designed.
What needs to be improved
A little awkward for one-shoulder carry.
I'd like to see some strap management solution for those long shoulder strap adjustments.
Final thoughts
The Nayosmart General backpack has made its way into my daily rotation. I'm not traveling much these days, but I do carry a lot of stuff on a regular basis. I'm struggling to find a detail that's missing for the traveler or commuter in the build, all wrapped up in a package that has excellent usability and organization for days. And the price for this kind of feature set is hard to beat. If you're looking for a larger full-featured bag at a great price point, you'll really want to take a hard look at this one.
Price: $89.00
Where to buy: Nayosmart
Source: The sample of this product was provided by Nayosmart.