We use affiliate links. If you buy something through the links on this page, we may earn a commission at no cost to you. Learn more.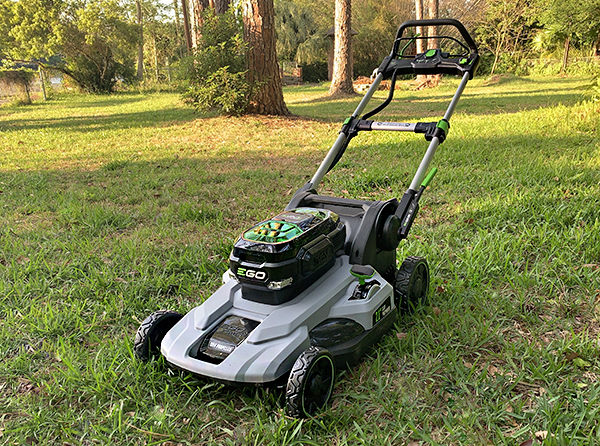 REVIEW – Since EGO sent me their Power+ 530 CFM blower, I've become a fan of EGO and more importantly, an advocate for clean battery-powered lawn equipment. I'm no tree hugger, but I do appreciate the advantages of yard tools that use no gas, have no fumes and are even quieter! You don't appreciate the genius of cordless tools until you use one. EGO has now incorporated battery powered tech in the new EGO 21″ Self-Propelled mower with Peak Power. 

What is it?
The EGO 21″ Self-Propelled mower with Peak Power is a dual-battery mower that rivals any home gas powered lawn mower. Its two batteries allow for longer run times with increased efficiency. It features push button starting, is self-propelled with speed control, uses any EGO battery and is water resistant if caught in the rain while mowing.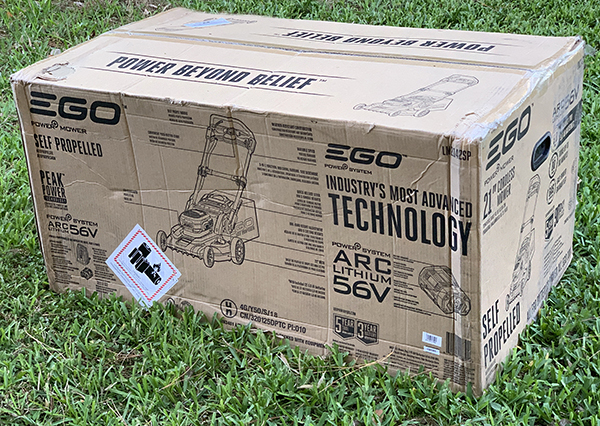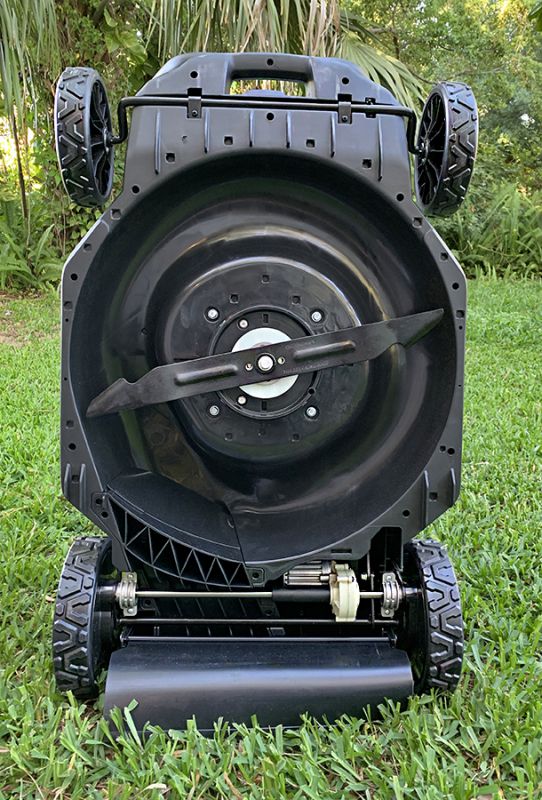 Specs
21″ Deck
Brushless motor
Weather Resistant (ipx4)
LED Headlights
Mulching, bagging, side discharge functions
3 position handle heights
One handed height adjustment
Maximum cutting height: 4 inches
Minimum cutting height: 1 ½ inches
Grass bag capacity: 2 bushels
Rear wheel size: 9 inches
5 year warranty

Design and features
The EGO 21″ Self-Propelled mower's lightweight outer shell may be made of plastic, but it's high-grade, tough and water resistant. The handle folds down and the mower can be stored upright taking up less valuable garage space. 
The motor that drives the EGO mower is brushless. Why is this important? The oversimplified explanation is that brushed motors use carbon (which wears with age)  and brushless units use magnets to generate power resulting in less generated heat and more efficiency.
All wiring on the mower is protected by plastic tubing. My Honda doesn't even have this feature.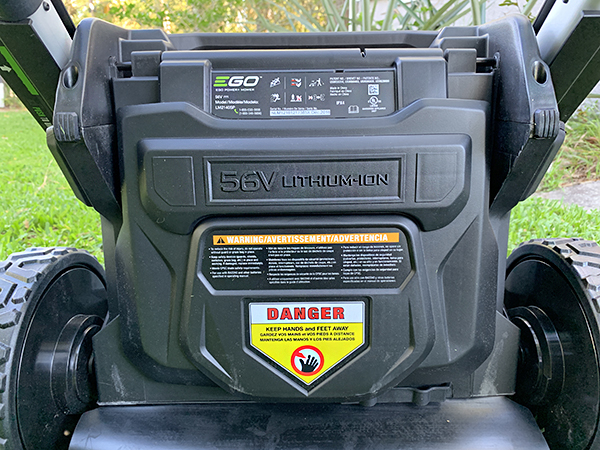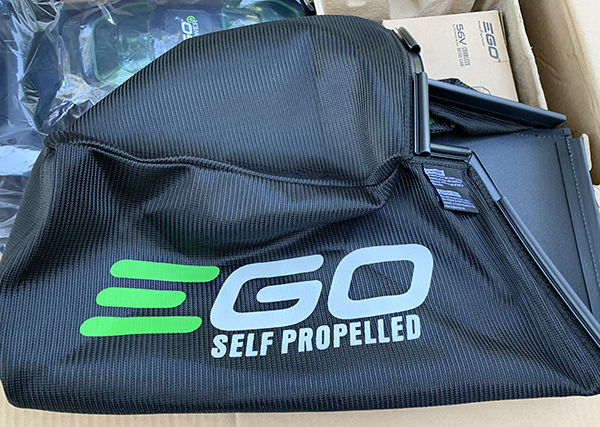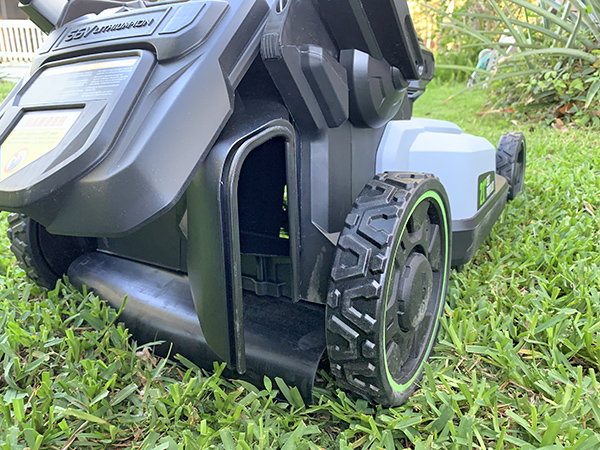 Three methods of grass discharge are available: Side, rear (with bag) and mulching. I only use rear bagging if I have a thick area of grass that leaves clumps. Otherwise, I always use the mulch setting. Attaching the rear bag is simple: just lift the rear flap and place the bag into the slots. Side discharge is technically rear discharge with a curved attachment directing grass to the side. It's an awkward solution at best.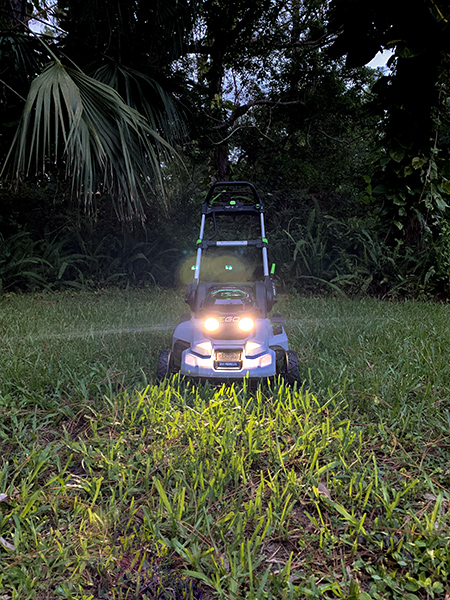 One cool feature on the EGO mower is useless to me: headlights! The lights come in handy if you get caught mowing as the sun sets and want to finish before dark. Unfortunately, this is useless where I live in Central Florida because dusk is when the bugs come out to feed on flesh.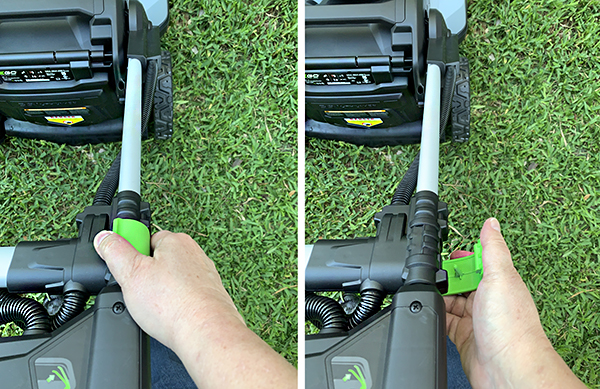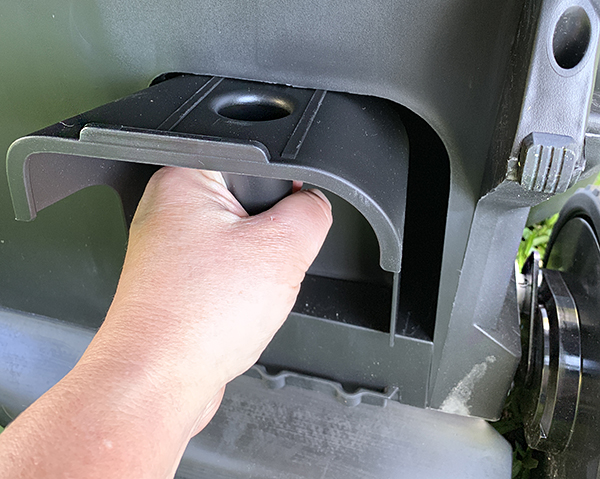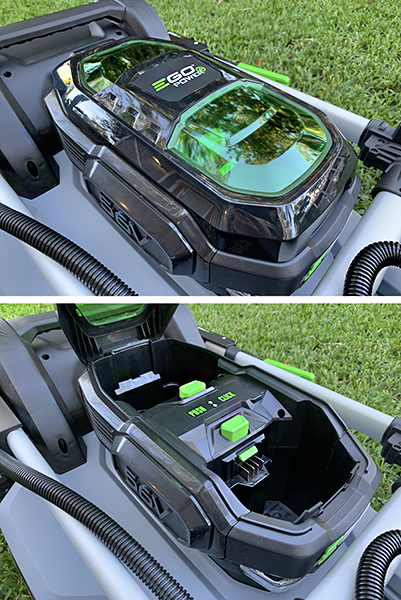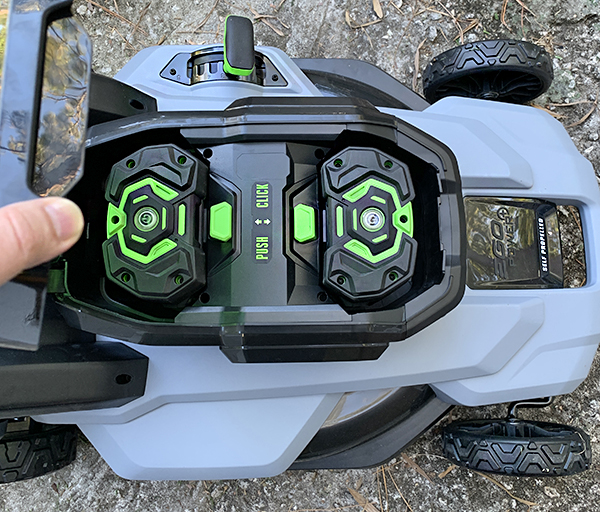 Setting up the EGO mower could not have been easier. There's really nothing to do except unfold and lock down the handles, plug the rear discharge with the included attachment (if using mulch mode) and insert the two included 56-Volt 5.0Ah batteries. That's it. There are further adjustments to be made, but those are set after you've been mowing to see what works best.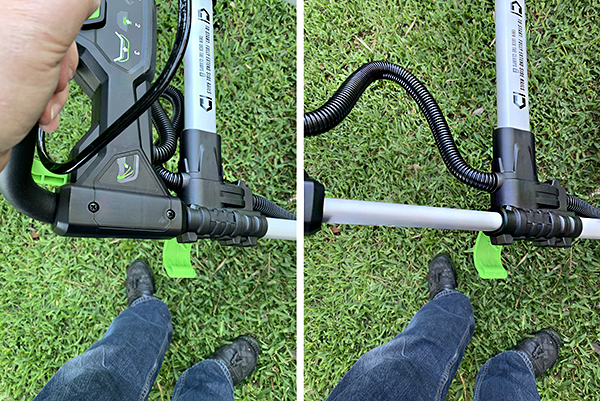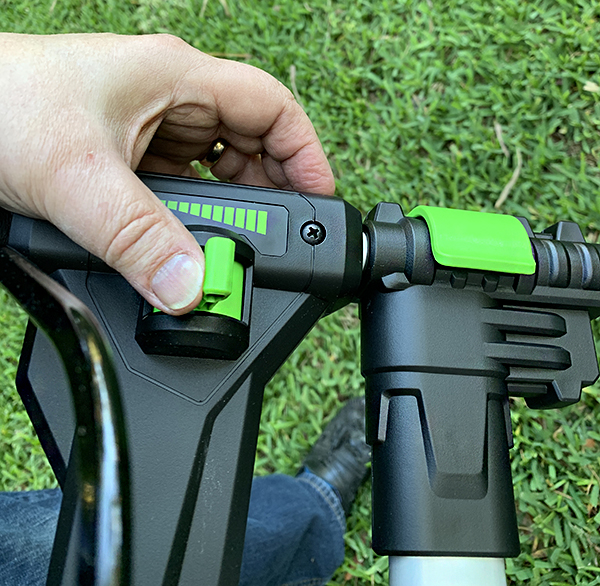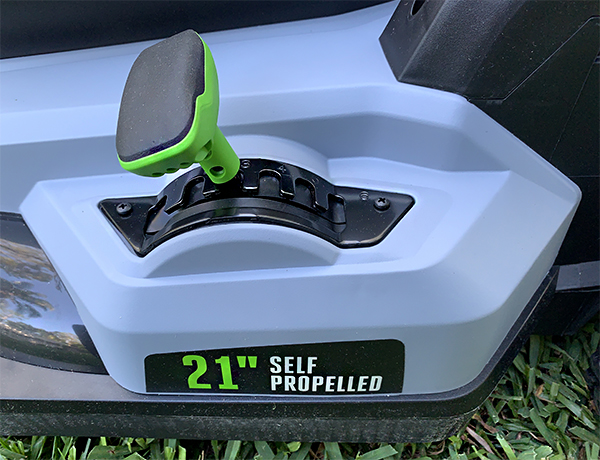 You will want to adjust the mowing height. Again, it's easy to do. The EGO mower has one lever that raises and lowers the mower. This is so much easier than adjusting each wheel independently as on my trusty Honda gas mower. The handle can be lowered and raised depending on your height. I'm average height and the regular setting works fine. There's also a speed lever for determining how fast the self-propelled function will go. This setting is a bit touchy. Even though the lever covers a wide range of speed, the middle part alone can go from "too slow for my walking speed" to "ludicrous mode." I would have preferred more fine-tuning over a wider range.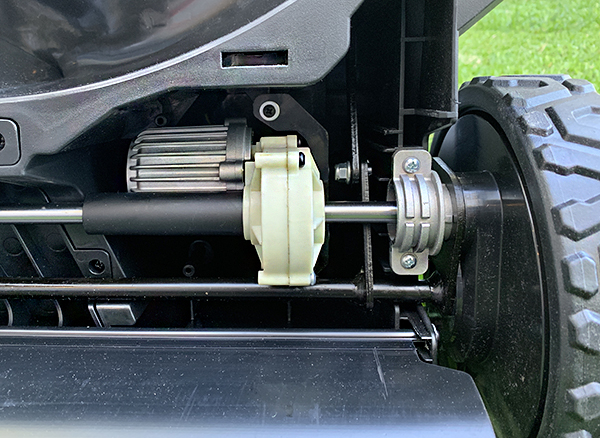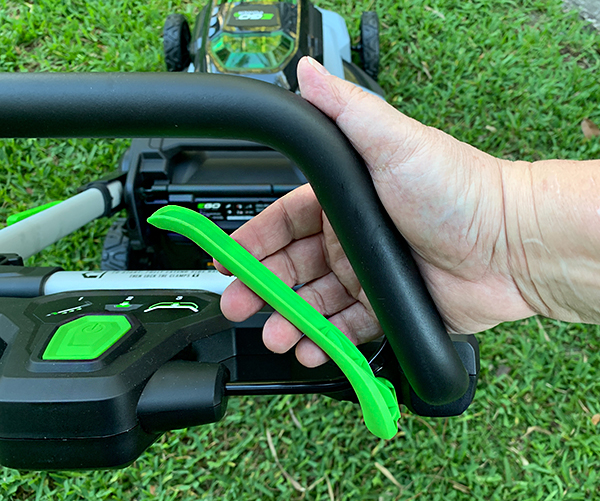 There's another minor issue I have with the self-propelled function. The accelerator is a lever on the right side of the handle bar that's controlled by your thumb or four fingers. You squeeze it sideways to operate. That's easy to do (if a bit odd feeling), but when I come upon an obstacle and forget to let go of the accelerator, there is so much power in the wheels wanting to go, go, go, that the rear of the mower will start hopping until I let go of the lever. Granted, it's me not doing it right, but I can't help but feel that a better design might help this.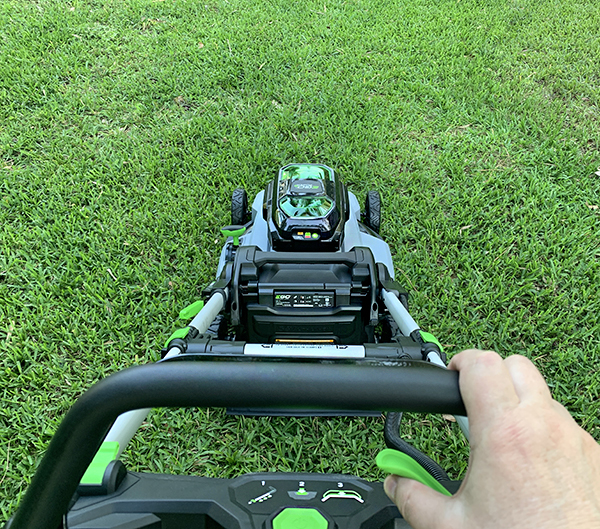 My lawn situation requires the need for the self-propelled function. I have a large back yard and I will never own a mower I have to manually push. The speed adjust lever can be used on-the-fly as you're walking, but I found it works a bit better if the speed is adjusted as you stop for a turn before proceeding. I also have to continually play with the lever depending on grass thickness and if I am going uphill or mowing on flat ground. Note that the self-propel function will work without the mower even running—as long as a battery is inserted. This is very convenient if you need to take the mower to another part of the yard or over concrete and don't want the mower blade spinning.
EGO has managed to make mowing much easier. For instance, before using my Honda gas mower, I would have to check the gas level. Then I would check the oil dipstick (I once seized the motor of an almost new Toro mower by not checking the oil—lesson learned). Then I had to remove and shake out the air filter. Then I pulled the string hoping the motor would catch—it's a Honda, so it usually did. Then I would have to press button 1, then button 2  and then pull the safety bar to get the blade to spin. Get the picture?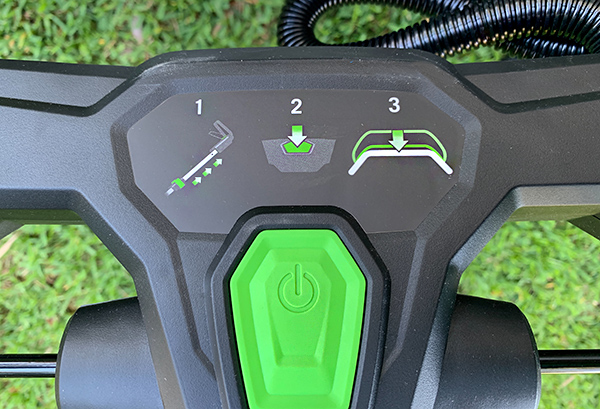 With the EGO, I insert the batteries (if they aren't already inserted). Then I pull the safety bar and push the big, green button. No gas. No oil. No filters. No carburetor. No fumes. It's mind-blowing when you think about it. But wait, that's not all. The EGO mower is much quieter than the Honda ever was. You can have a normal conversation while the EGO is running. Hearing protection is not needed while mowing. Actually, I still wear earphones while mowing, because I'm addicted to audio books, but I digress.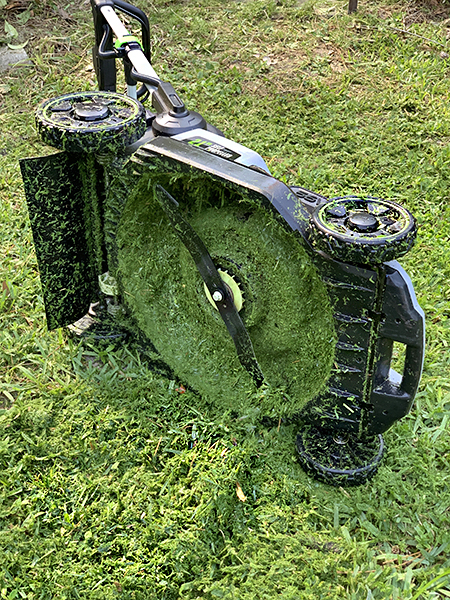 The Ego mower also feels as powerful as the Honda. It cuts through just about any grass—damp or dry—except when it doesn't. Let me explain. While the mower seldom refuses to cut, I managed to cause it to shut down when mowing too-tall grass in the morning. In Florida's humidity, grass is usually wet (not damp) in the morning hours. This wet grass would clump under the mower and causing it to stall. I would have to turn it on its side to clean it out before it would restart. There's both bad and good news here. The bad news is that the EGO won't plow through wet grass—to be fair, the Honda won't either. The good news is that I can just turn the mower over and scrape it clean. Turn a gas mower on its side and you run the risk of flooding the engine or starting a fire if it's too hot. Once the underside was scraped, the EGO started right up. No fuss, no muss.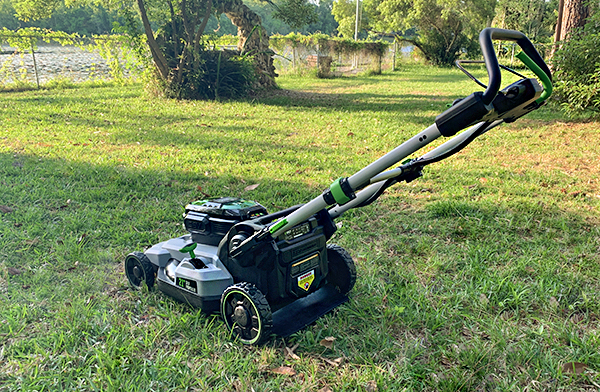 Mowing through "normal" grass with self-propelled activated is a breeze. The mower is light and easily maneuverable. My back yard is over an acre and I wanted to see if the extended range of having two batteries would allow me to mow the yard without the batteries dying. Sadly, the mower stopped before I could finish. However, my yard is much larger than a typical suburban yard, so this mower should mow most yards with power to spare. Also, the EGO mower came really close to finishing. I just had a small section left to do. It was impressive because I didn't expect to get as far as I did. 
Note that the EGO 21″ Self-Propelled mower with Peak Power ships with two 56-Volt 5.0Ah batteries. If they had been EGO's 56-Volt 7.5Ah batteries, I could have completed the yard with no recharging.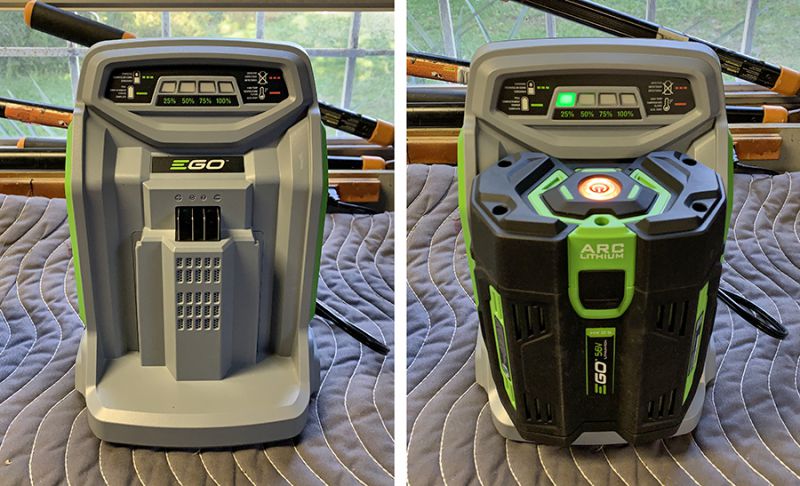 I got about an hour and 20 minutes life from a single charge to both batteries. Battery life is dependent on different factors, like if the grass is high and thick, wet or dry or even how much the self-propelled mode is used. Unfortunately, there's no battery life indicator on the batteries, so when mowing, the battery is lit green until it's spent—then it turns red. Not very useful. However, EGO has a new battery available with a built-in fuel gauge. This newer battery did not ship with the mower.
Each included 5.0Ah battery completely recharges in about 40 minutes with EGO's included rapid charger, which charges in half the time of EGO's regular charger. A single recharged battery would have been enough for me to finish the back yard, so at most, I would have been delayed 40 minutes. Lemonade break, anyone?  
The EGO 21″ Self-Propelled mower with Peak Power is expensive. But when you consider EGO's long warranty and factor in the cost of gas, oil, upkeep as well as the price of a good gas mower, EGO's price looks more justified. 

What I like
Extremely easy to use
Mows as well as a gas mower
Long-life batteries
Quiet
Long warranty
Easy storage
What needs to be improved
Expensive

 

Self-propelled setting could be fine-tuned
Side discharge is awkward

Final Thoughts
I could go on and on about how much fun it is to use the EGO mower, but I won't because it's not. Mowing is still mowing and in Florida's summer heat and humidity, it's still a chore. However … EGO has turned something I dread doing into almost—but not quite—a pleasure. To me, that's a big, big win. 
Price: $749 US
Where to buy: Home Depot
Source: The samples for this product were provided by EGO.