We use affiliate links. If you buy something through the links on this page, we may earn a commission at no cost to you. Learn more.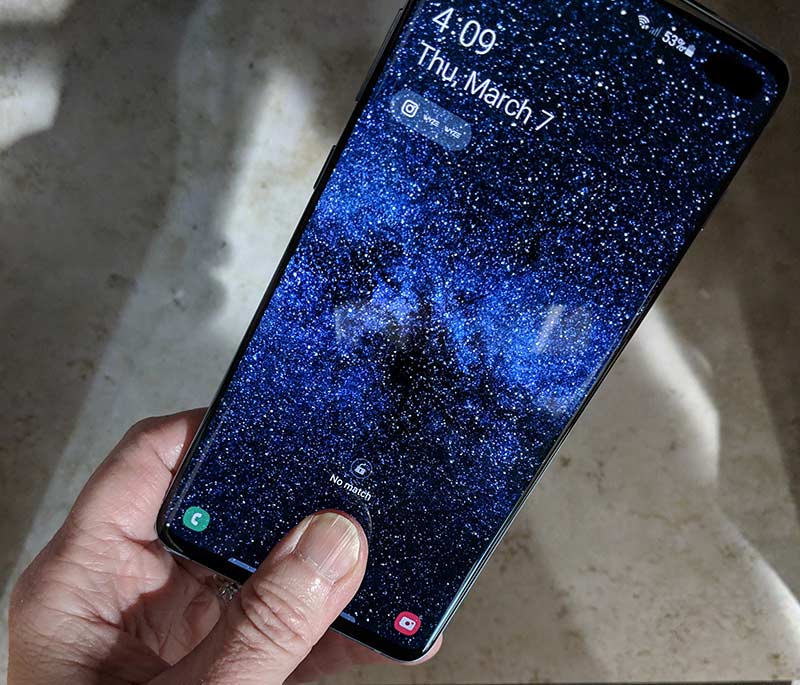 ARTICLE – I feel like I'm Bill Murray in the movie Groundhog Day. Every time I want to upgrade to a new phone, I get all those exciting newphonia feelings until I actually get the phone in my hand and something spoils it for me. That's what's happened with the Samsung Galaxy S10+ when I received Wednesday.
Let me back up and remind you all that I pre-ordered the Samsung Galaxy S10+ a couple of weeks ago and wrote about it in another gadget diary post. I talked about how I was really doing the deed this time and was even trading in my Pixel 2 XL for a $300 rebate.
I was able to get the phone early because it arrived at my local FedEx office and was being held there until today. But drove there and picked it up yesterday afternoon and played with it all night.
Love the display (mostly)
First of all, the edge to edge screen is absolutely gorgeous. It's bright, it's crisp, and it's vivid as heck. The only complaint that I have about the screen is the curved edges. I'm not a fan. It's not a deal breaker for me, but I don't like that the sides get a weird shadow on them when you tilt the screen from side to side.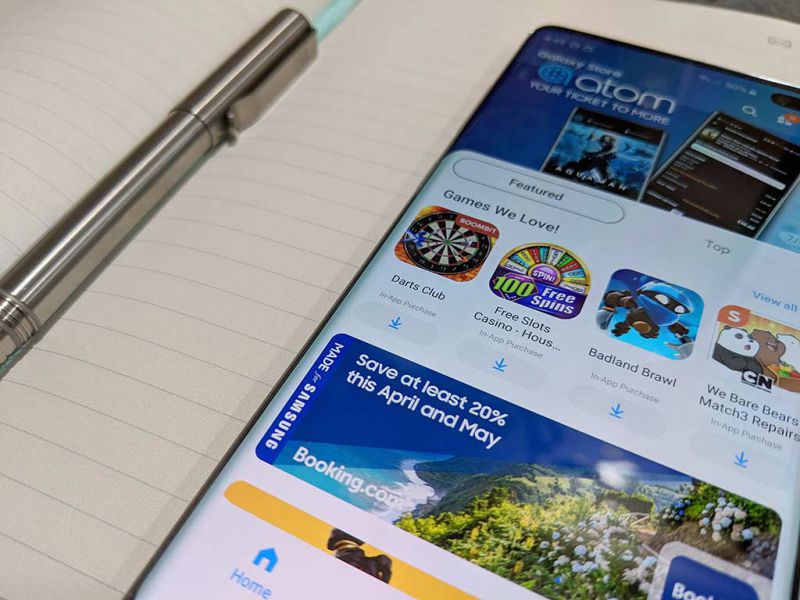 See the blue "bar" on the left side of the display? Little things like that tend to annoy me. But no, that's not the reason why this phone is letting me down… Let's continue.
The S10+ has a new user interface that's named Samsung One UI. I still prefer stock Android and all the stock Google apps on the Pixel, but the One UI definitely is an improvement over Samsung's TouchWiz skin from their previous phones. Since I bought the unlocked version of the S10+, there wasn't a bunch of junk apps installed on it that I'll never use. Well except for the Samsung versions of the main apps… But it's easy enough to go to the Play store and download/install all the stock Google apps and then hide the Samsung variants in a folder. So that's wasn't a deal breaker either.
At first, I thought the signal strength was significantly worse on the S10+ compared to my Pixel 2 XL, but it was just that the signal strength bars at the top of the display aren't comparable to what I've been used to on the Pixel. My Pixel might show 50% full bars while the S10+ shows just 1 bar, but if I use an app like Network Cell Info Lite on both phones with both phones using a T-Mobile SIM card (actually the Pixel has a Mint SIM but that's T-Mobile so…), the S10+ is only slightly worse. Those readings are in my basement office, so they are pretty low but even so, I rarely if ever have a dropped call. So again, not a deal breaker.
Bonus points go to the Galaxy S10+ because the WiFi doesn't disconnect all the time as it does on my Pixel 2 XL. I'd say that most of the time I check the Pixel, the WiFi is disconnected and shows as disabled and won't connect no matter how many times I try. It's super annoying. The S10+, on the other hand, does not have that problem.
Bonus points also go to the S10+ because it has Smart View. Smart View lets you mirror your phone wirelessly to a larger display like my 65″ Vizio M-65 TV. I had to use the ScreenBeam Mini2 wireless HDMI adapter to do it but it worked flawlessly, letting me watch full-screen Netflix, YouTube, and Hulu on my TV from the couch with no wires and no extra network traffic like Chromecast. I've been using the Azulle Byte3 Mini PC to watch Netflix on the TV and although it works fine, using the Samsung Galaxy S10+ instead of a Windows 10 PC with a wireless keyboard and a touchpad is infinitely easier.
The Samsung Galaxy S10+ might replace your desktop or laptop computer
More bonus points go to the S10+ for DeX. This was one of the features I was most looking forward to playing with. In case you're not familiar with Dex, it turns an S10 series smartphone into a desktop-like computer when you use an HDMI adapter and plug it into a larger display. Here it is with my 27″ BenQ PD2710QC DesignView monitor.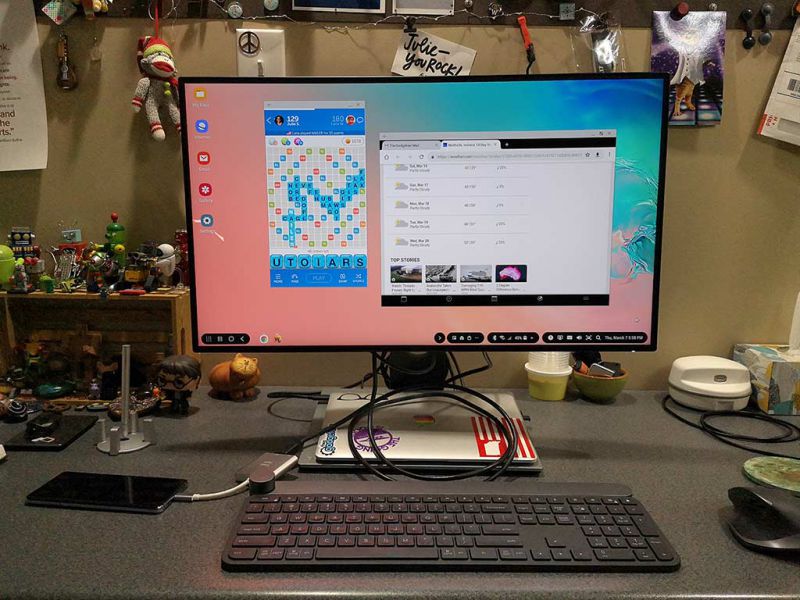 Using your phone as a desktop computer is pretty geeky so of course, I wanted to try it and DeX is really cool. It comes super close to my one device to rule them all dream that I have of using my smartphone as my only camera (check), as my phone (duh, check), and my only computer (DeX comes pretty close). I see the future and it's with features like DeX.
The camera
I just mentioned the camera, so let's talk very briefly about that. From my limited time with the S10+'s camera, I have no complaints there either. Here are just a couple of quick shots.
The camera does well in low light and close-ups. I haven't really had time to put the camera through the paces, but my quick impression is that it does the job very well and there haven't been any obvious reasons that would keep me from using it as my only camera just like I've been using the Pixel 2 XL or Huawei P20 as my main camera.
Build quality
Now let's talk build quality real quick. First of all, I opted for the S10+ over the S10 because the S10+ is very close in size to my Pixel 2 XL. The only notable difference is the width. The S10+ is slightly skinnier. I already mentioned the curved screen edges. Again, I'm not a fan because I don't like the way things look on it when you tilt the screen from side to side. I think it's hard to protect the screen without putting the phone in a big ugly case with raised bezels. Yuck. One
The S10+ feels solid and it has no problems withstanding my patented Gadgeteer squeeze test without flexing or creaking. This is a very good thing because I pinched the screen with my thumb about as hard as I could. Which brings me to the reason why this phone is letting me down. The fingerprint scanner.
The new in-screen fingerprint scanner is my new nemesis
If you've been reading my smartphone reviews for any length of time, you've seen me complain about fingerprint scanners before. Problems with them have been an issue for me since phone makers began adding them to their devices. I pretty much resigned myself to the fact that it would be a lifelong affliction. But then I got my Pixel 2 XL and it's like the clouds parted and the angels began singing. Newer LG phones work for me too. But iPhones not so much and Samsung is another nope.
But then I read that the new S10 series was going to have new ultrasonic scanning tech and I was excited. I figured new tech would have to be better than the current tech. I was sure my fingerprint scanning woes would be history. Yeah, not so much. 🙁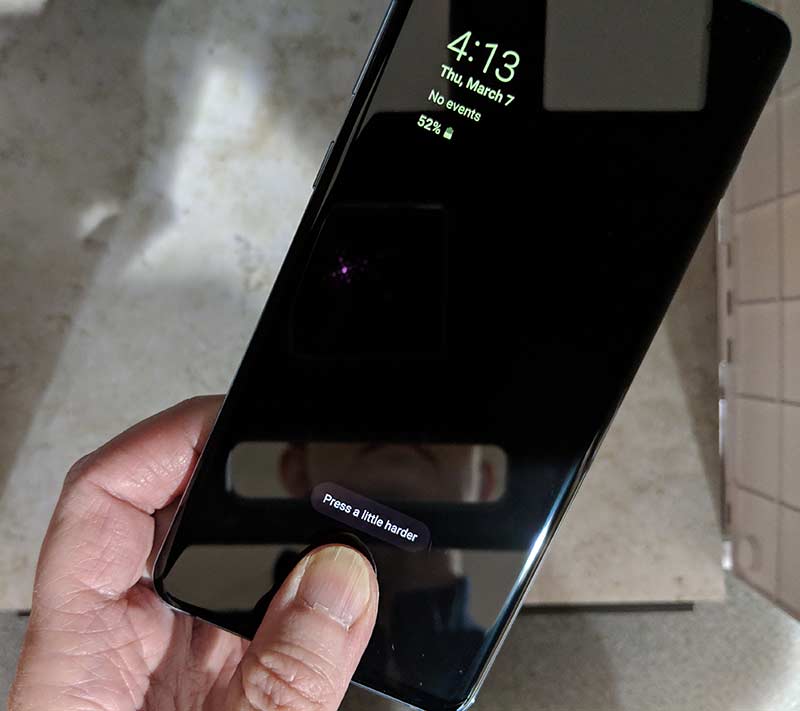 It took me about 5 minutes to program one finger and once I finally did that, actually using it would result in No match, Make sure you have the sensor covered with your finger, and Press a little harder messages over and over. It was crazy frustrating and disappointing, to say the least. So much for the new tech.
But no worries, I decided that I'd just use Face ID instead and it worked great. Unlocking with my face is fast and easy. I was happy. Until I wasn't. What changed? My first inkling that all was not right with the world was when I installed LastPass (my password manager of choice) and it asked me if I wanted to use my fingerprint instead of typing in the master password. I was like oh-oh… But I said yes because I didn't want to type in my 22 character master password each time it's needed. Of course, that's exactly what I kept having to do because the #$%@ fingerprint scanner can't recognize my fingerprints.
But I still held out hope. Until that hope was dashed when I setup Samsung Pay (another big reason why I was excited to switch to the S10+) and found that it doesn't allow the use of Face ID to authenticate… it uses… wait for it… a fingerprint. UGH.
The thing is that I use my phone (Pixel 2 XL) to pay for stuff everywhere I can and the thoughts of trying to buy something with the S10+ only to stand in the checkout line trying to get it to read my fingerprint over and over again sounds like a nightmare.
I said I would be switching phones for sure this time and now I am eating those words. Argh! Lesson learned.
Is the Samsung Galaxy S10+ a bad phone? Not even close. It's the premium smartphone to buy right now and has every feature I could wish for except for one. It's the best phone for most people unless you have fingerprintdystrophy syndrome like I do. I think I need to find a support group or something. Instead, I'll just stick with the Google Pixel line of phones for a while longer.
Update 3/8/19
I've decided to keep testing the S10+ through the weekend to see how much the fingerprint sensor problem annoys me when used for unlocking and using it with LastPass. I'm taking Samsung Pay issues out of the equation for now because I could live without that feature. More updates as I have them.
Updates 03/12/19
I boxed up the S10+ with the freebie wireless earbuds and shipped them back to Samsung yesterday for a refund. I'm still a little bummed about it. I tried over and over again to get the fingerprint scanner to work consistently for me and was never able to get it to do so for more than a couple hours at a time. So it's back to my Pixel 2 XL for now and to tell you the truth I'm not really that heartbroken over it because the Pixel is a terrific phone. At this point, I'm looking forward to the Pixel 4 XL this fall but I'm sure I'll have the opportunity to try many more new phones to keep me from being bored.
Price: $999.99 unlocked
Where to buy: Samsung and Best Buy
Source: I purchased this phone with my own funds.