We use affiliate links. If you buy something through the links on this page, we may earn a commission at no cost to you. Learn more.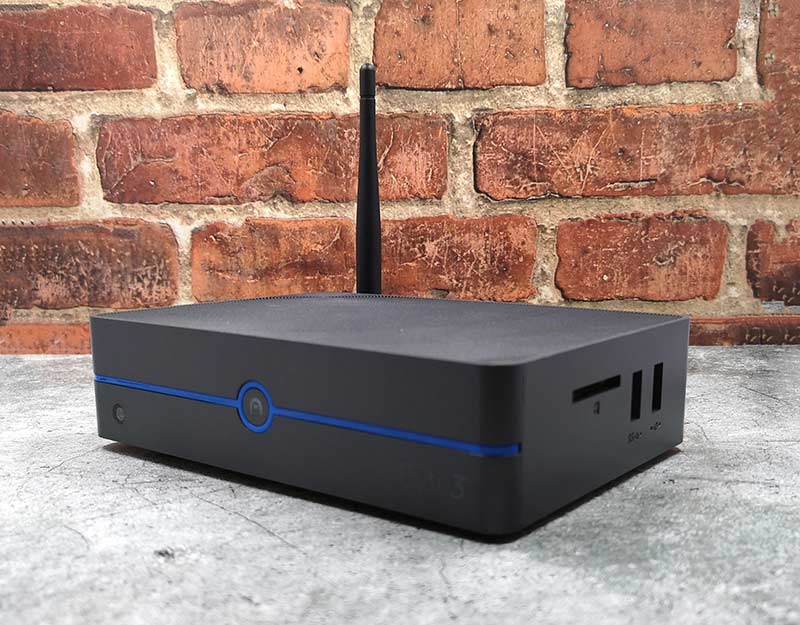 REVIEW – Desktop PCs don't seem to get the love that laptops get these days. Most people want a small laptop that they can carry around with them where ever they go. But what about people who don't need a portable computer setup and want a Windows PC that has a small footprint and one that's ultra quiet? Let's take a look at the Byte3 fanless mini desktop PC from Azulle.
What is it?
The Azulle Byte3 is a Windows 10 PC that's small enough for almost any desk and quiet enough for any home theater.
Hardware specs
Processor: Quad-core Intel® Apollo Lake N3450
Operative System: Windows 10 Pro or Ubuntu Linux
Bios: Wake ON LAN / PXE / BIO Reset
RAM: 4 GB / 8 GB
Storage: eMMC 32 GB / 2.5" SSD Supported or M.2 Supported
GPU: Intel HD Graphic 500
WIFI: Dual Band 2.4 Ghz / 5.0 Ghz
Ethernet: 1 Gigabit
Bluetooth: Bluetooth 4.0
VGA Output: VGA Port x1
HDMI Output: x1 Port, 4K @60fps
USB: x3 3.0 Ports/ x1 2.0 Port / x1 Type-C
SD Card Slot: Up to 256 GB
M.2 Slot: AHCI (SATA)
SATA: Yes
3G Support: Via dongle
IR: Yes
Audio Output: 3.5 mm Jack
HDMI Output: 4K @60fps
Power Supply: 12V
Dimensions: 5.6 in x 4 in x 1.5 in
What's in the box?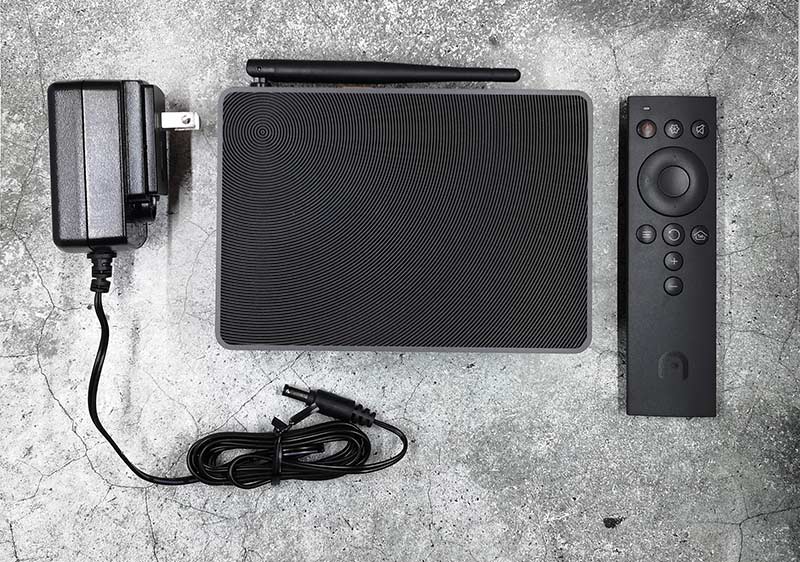 Azulle Byte3 PC
AC power adapter
Remote control
Quick guide
Design and features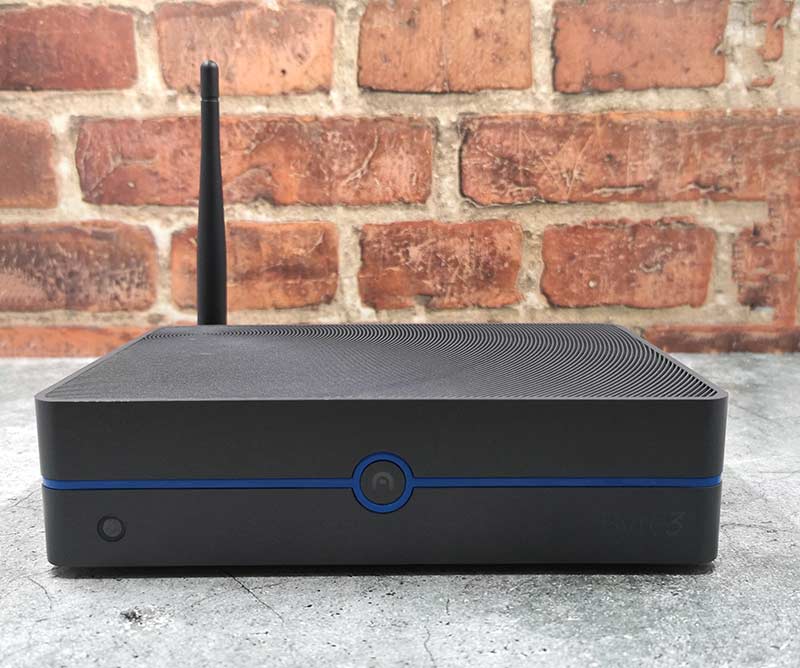 The Azulle Byte 3 has a black plastic housing and a compact form factor that's about 6 x 4.25 x 1.25 inches. It's a sleek alternative to a traditional tower PC.
The front of the computer has a small power button with the Azulle logo that doubles as a status LED that glows red when the unit is connected to power but not actually powered on and blue when powered on. In the bottom left corner is an IR receiver that is used to receive commands from the included remote control.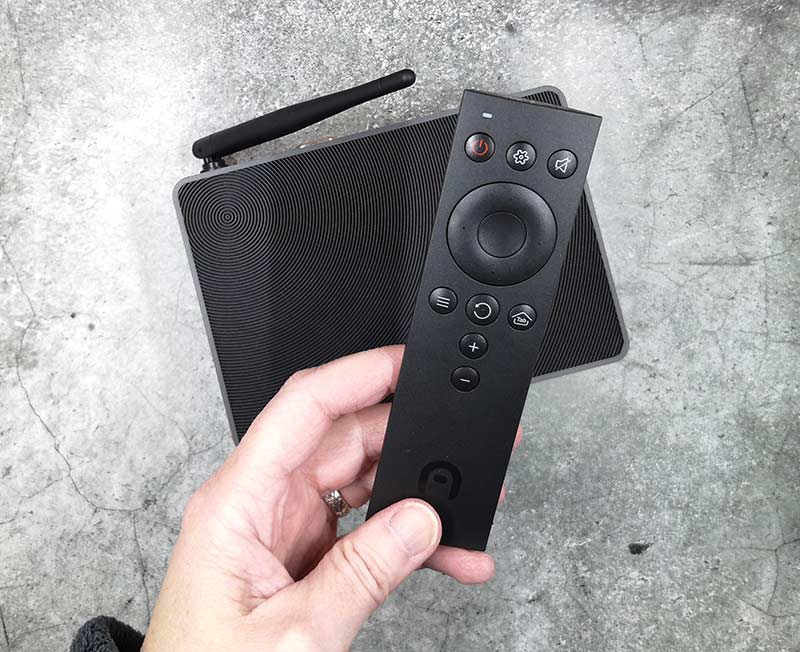 The basic remote that is included with the Byte3 has dedicated buttons to toggle power, adjust volume, mute volume, launch Windows settings, go back, and switch tabs. There's also a 5-way nav button in the center that you can use to navigate fields but it does not let you move the mouse pointer around on the screen.
Azulle sells a more advanced remote called the Lynk controller which has extra features including a small keyboard on the back of the remote and an air mouse feature that lets you wave the remote in the air to move the onscreen cursor/mouse. The remote even has backlight feature but it's only for the buttons on the top of the remote and not for the keyboard on the back.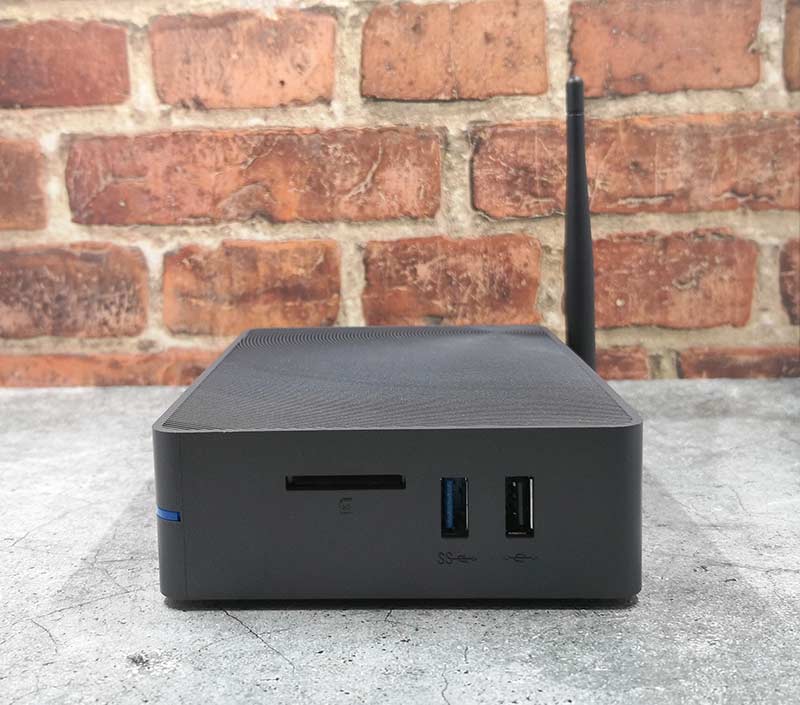 On one side of the Byte3, you'll find an SD card slot and 2 USB ports.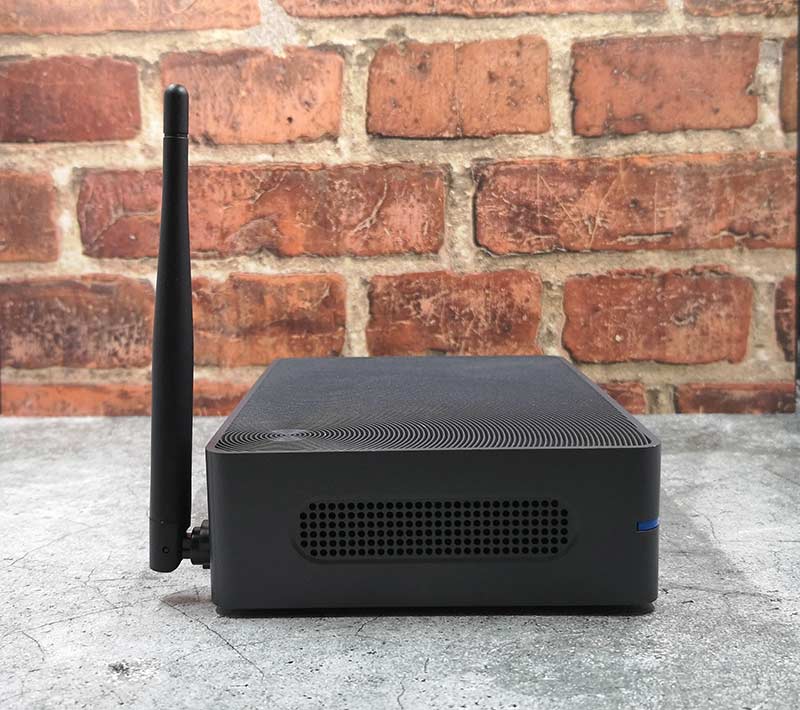 The opposite side has a speaker grill / air vent.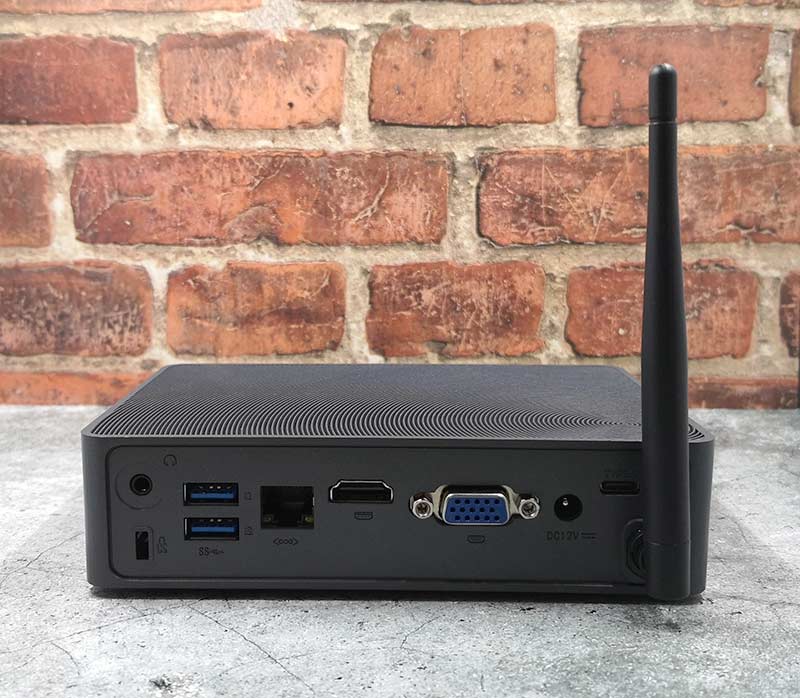 The back of the computer has a 3.5 mm headphone jack, a Kensington lock slot, 2 more USB ports, an Ethernet port, HDMI port, VGA port, power port, a USB Type-C port, and a wireless antenna. I have to say that I was pleasantly surprised by the abundance of expansion ports on the Byte3.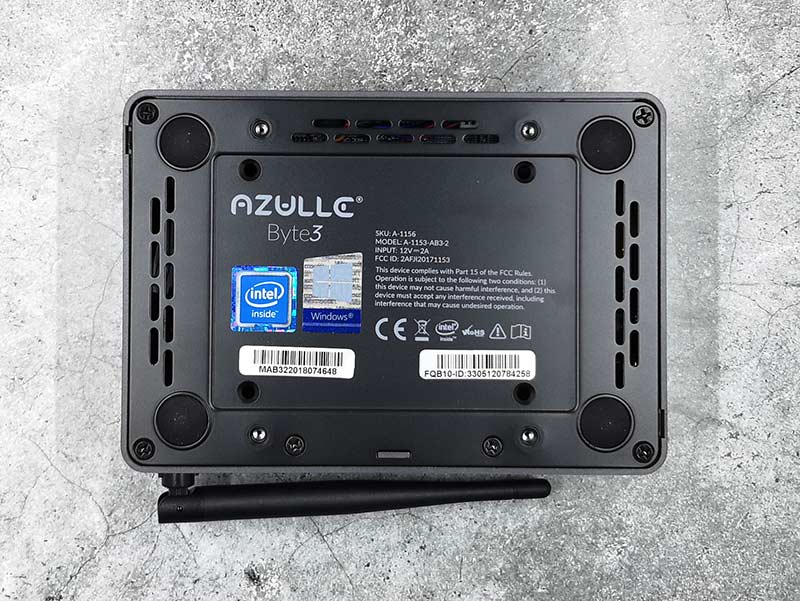 The bottom of the Azulle Byte3 is vented and there are 4 holes that will allow you to mount the computer on a wall or under a desk if you so desire.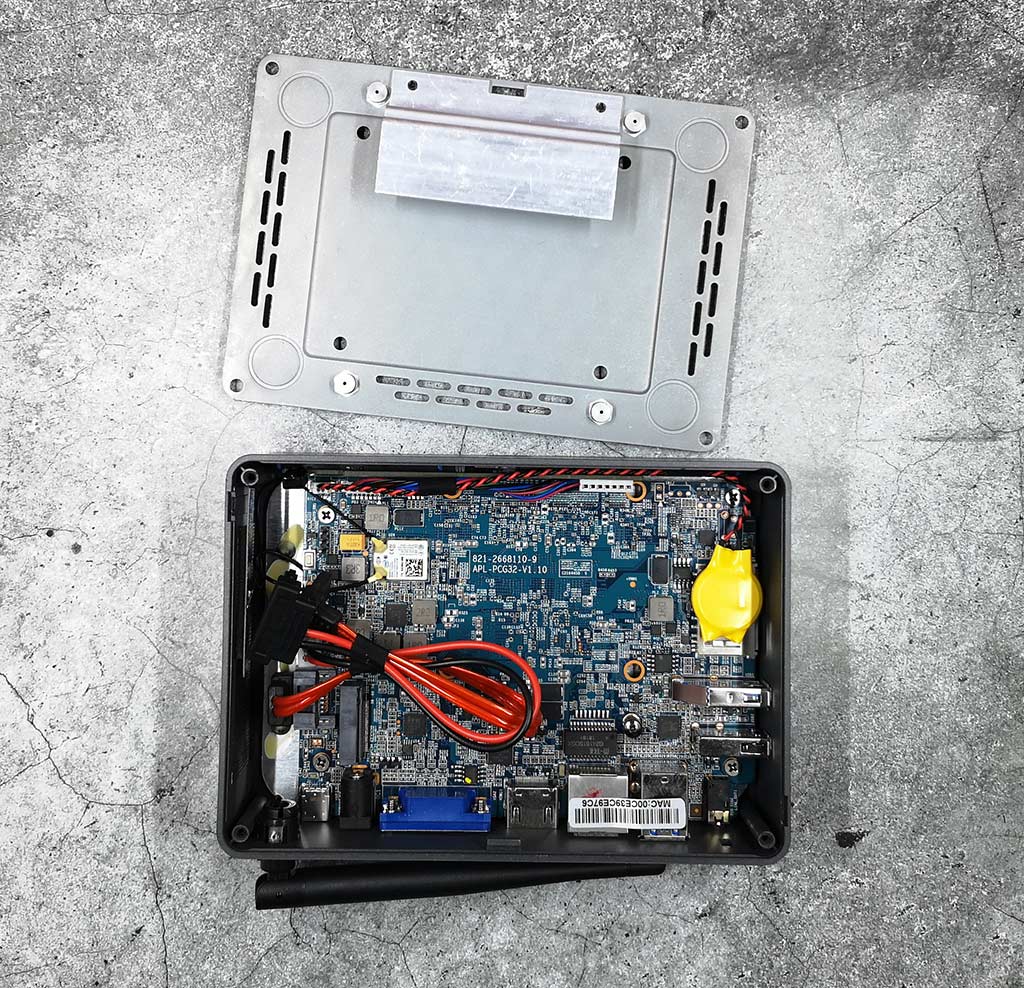 If you remove the bottom plate, you'll find an M.2 SATA port and a SATA cable for adding a 2.5-inch drive which is something you'll probably want to do at some point since this PC only comes with 32GB of built-in storage which Windows 10 takes a big chunk of.
Setting up the Azulle Byte3
I was sent the 4GB Ram Quad-Core Apollo Lake J3455 configuration of the Byte3 which comes preinstalled with Windows 10 Pro. My idea for testing the Byte3 was to connect it to my Denon AV receiver to use for streaming Netflix, Hulu, Amazon Video, and other content on my 65-inch Vizio TV in my basement living room.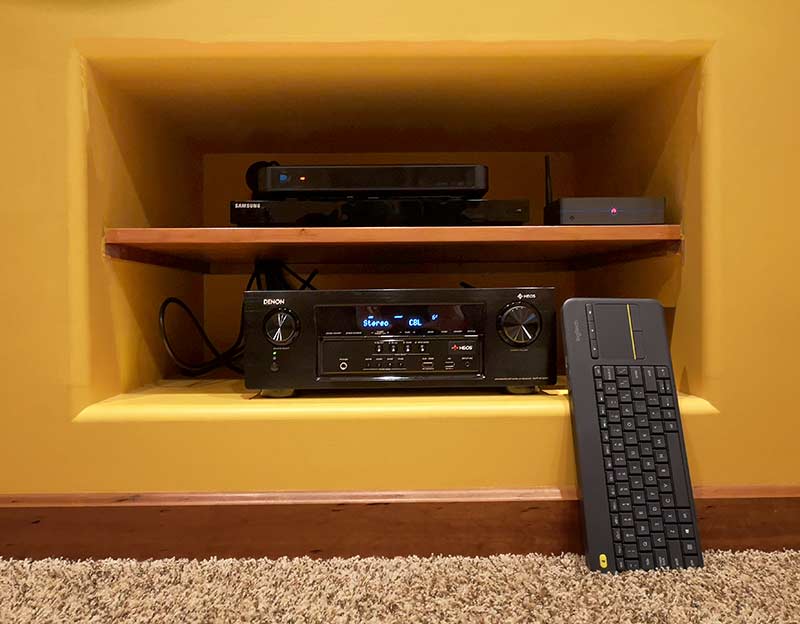 I was able to easily connect the Azulle to my AV receiver using an HDMI cable (not included). It shouldn't come as a surprise that also not included with the Byte3 is a mouse and a keyboard. Since my plan was to review the Byte3 as a media player/streaming device, I decided to order a small wireless keyboard. I settled on a Logitech K400 wireless keyboard mainly because it was really cheap and had a built-in touchpad which I hoped would make it easier to navigate Windows from the couch.
The first time I powered the Byte3 on, I was impressed by how quickly it booted up and has booted up since then. Granted, it is Windows 10 we're talking about, but the experience using this operating system hasn't been painful on this little PC at all. Note that if you don't want to run Windows, you can get a Byte3 with Linux or with no OS installed at all. I wish it macOS was an option 😉
I was also happy that the Byte3 doesn't have a fan, so it is completely silent, just the way I like my computers to be. I'm such an anti-fan girl (see what I did there?), that I returned a brand new 2018 MacBook Air that I purchased several weeks ago just because I didn't realize that it had a fan in it. Yes, I'm weird about noise.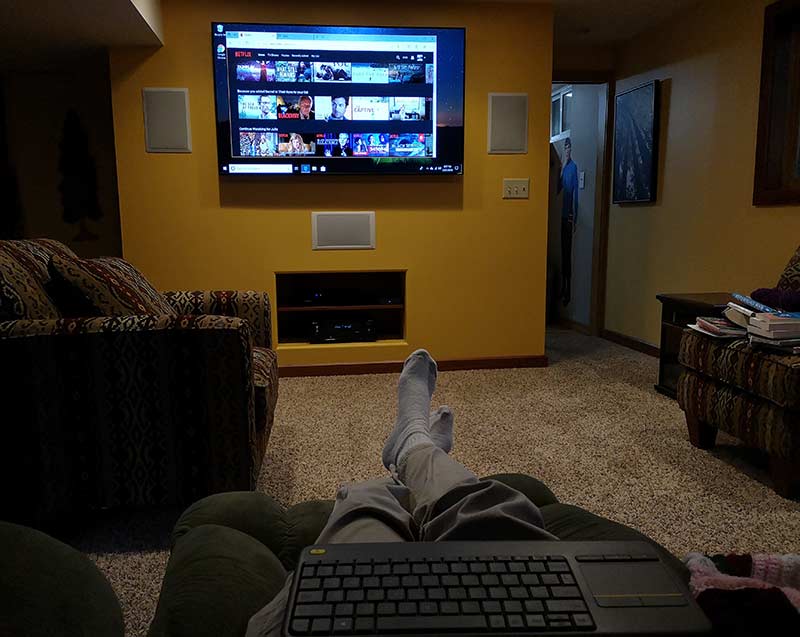 I tested the Byte3 while surfing websites using Chrome and other browsers, as well as watching Netflix, Youtube, Hulu, Philo, and other streaming services. All in all, I was really impressed. This little computer handled media streaming via WiFi very well to my 65-inch Vizio TV.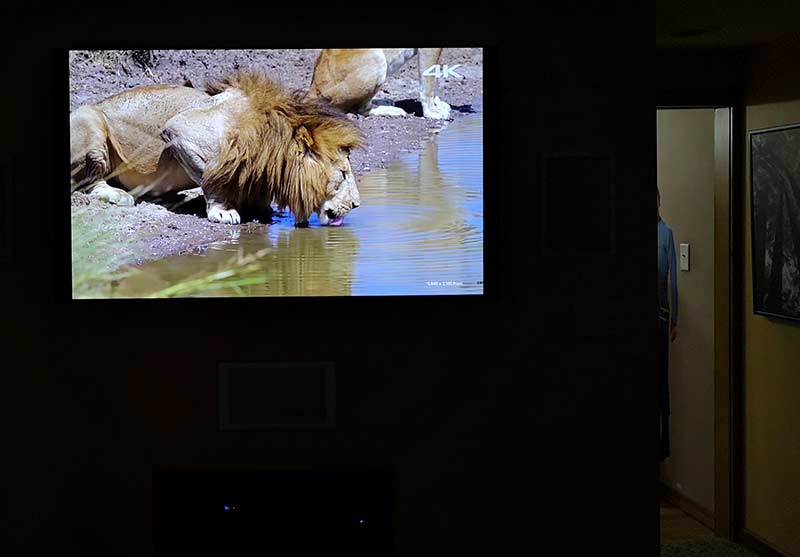 The Azulle even handled streaming 4K video content which was a nice surprise for such a small PC like this one.
I didn't run any speed tests on the Byte3, so if you want that kind of technical information you can find other reviews that include all sorts of charts and data that usually make my eyes glaze over. I also didn't test this PC with any high-end games because it's not designed for them and I'm not a gamer.
What I like
Fanless
Small footprint
Decent array of ports
Works well as a streaming computer hooked to a large display
What needs to be improved
Final thoughts
The Azulle Byte3 PC is a capable and affordable Windows 10 Pro desktop computer that you can hide almost anywhere given its small form factor. I found that it works great as a media player/streaming device hooked up to a large display and as such, it's earned a permanent spot next to my AV receiver and may just be the device that will finally make me cut the cord for good.
Price: $239.99 as configured
Where to buy: Amazon
Source: The sample for this review was provided by Azulle.