We use affiliate links. If you buy something through the links on this page, we may earn a commission at no cost to you. Learn more.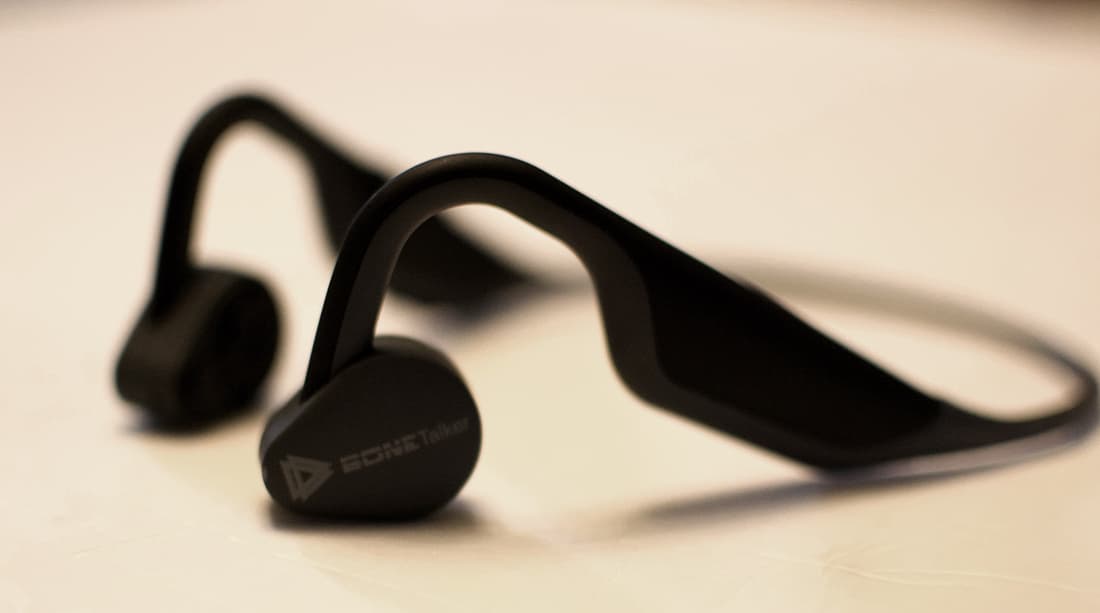 REVIEW – I love music and podcasts, and I like to experiment with all kinds of headphones: over the ear, in-ear buds, noise canceling… but up until now, I had never experienced bone-conduction headphones. The Bonetalker Adder headphones promise quality sound and open-ear design. How did they fare?
What is it?
The BoneTalker Adder is a lightweight wireless headset utilizing Bluetooth 5.0 for a strong audio signal and bone conduction technology for listening to music without blocking ambient sounds.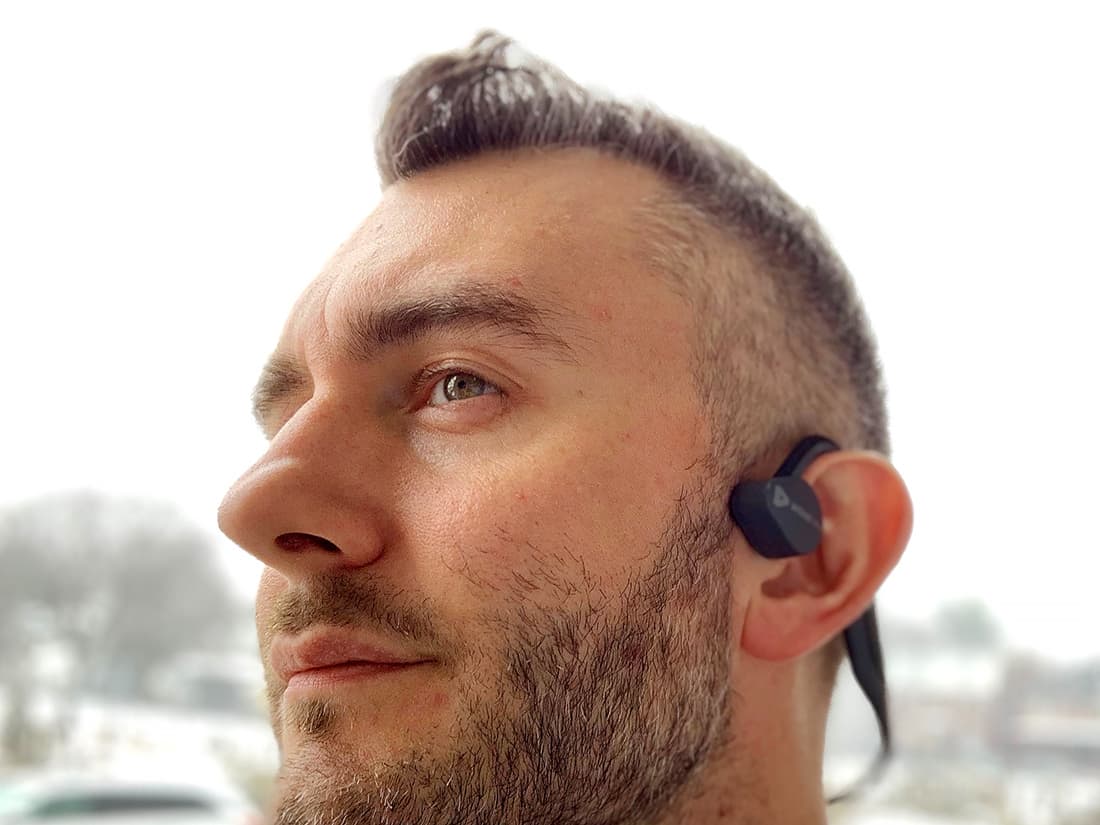 Hardware specs
Speaker type: bone conduction transducers
Frequency response: 20Hz20KHz
Sensitivity: 100 ± 3dB
Microphone: -36dB ± 3dB
Bluetooth version: 5.0
Wireless range: 15 m (49 ft)
Battery: rechargeable lithium ion
Playback time: 4 hours
Standby time: 15 days
Charging time: 1.5 hours
Weight: 35.5 g (1.24 oz)
What's in the box?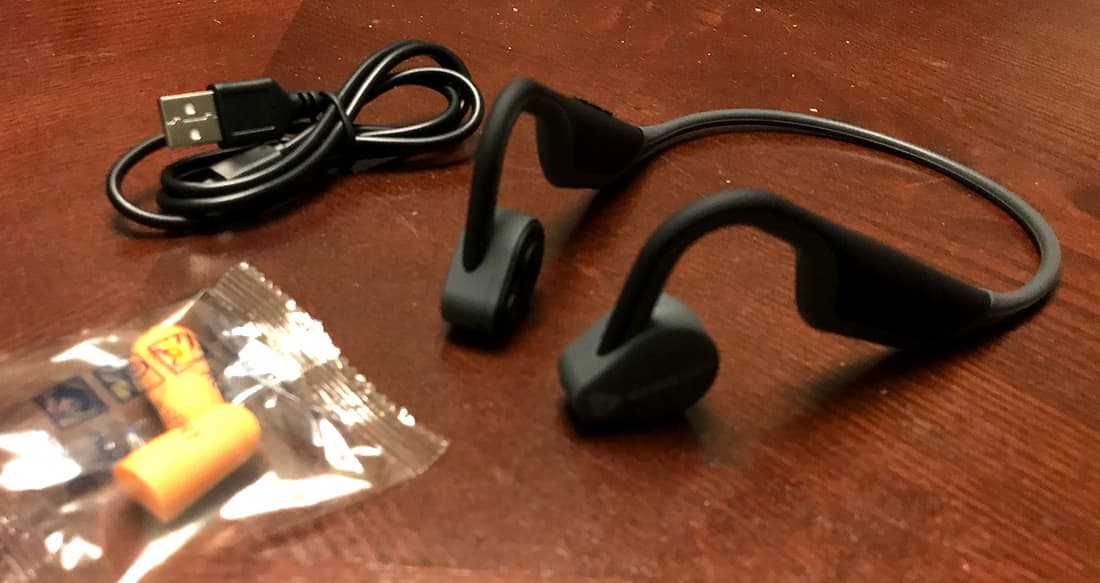 BoneTalker Adder headset
micro USB charging cable
foam earplugs
Design and Features
At first glance, the BoneTalker Adder (I'm just going to call them the BoneTalkers for the rest of the review since the Adder is the only headset they currently make) looks a lot like a typical behind-the-neck style sport headset. Instead of earbuds or small over-the-ear receivers, there are bone-conduction transmitters that rest on your cheekbones, just at the base of your ears. The speakers transmit the sound through the bones of your cheeks and cartilage of your ears instead of pumping it directly into your ear canals.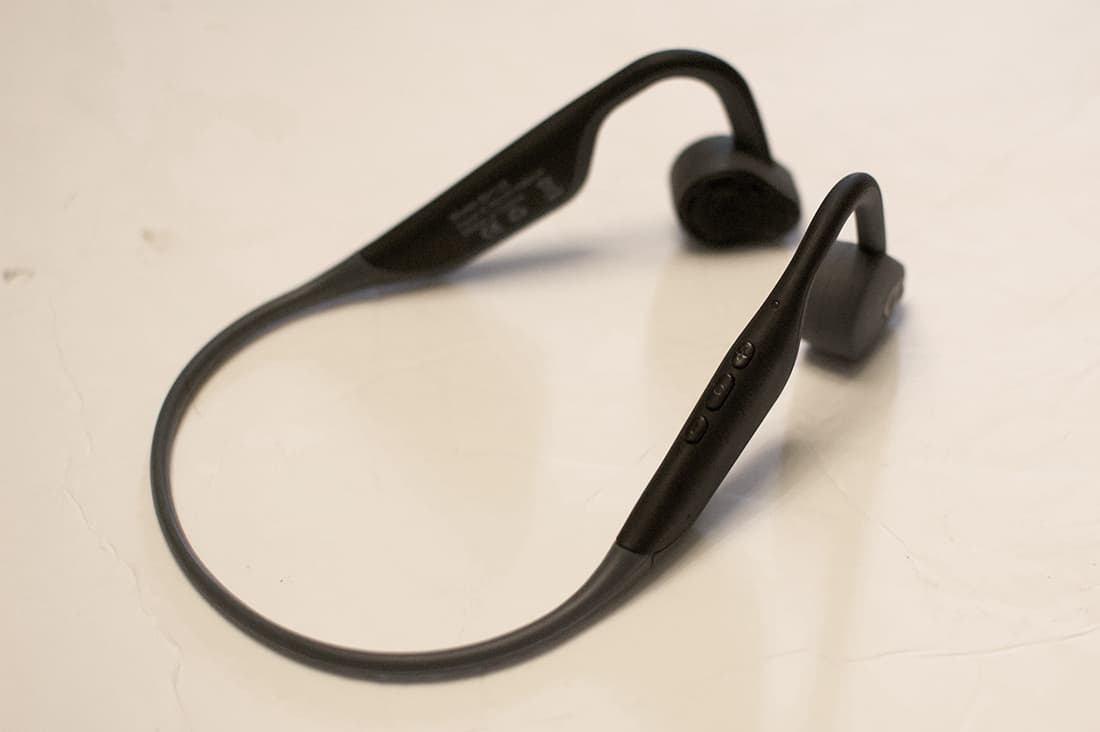 The BoneTalkers feature a flexible, durable band that rests slightly above the neck, behind the head. This band didn't really land right on my neck, exactly, but seemed to instead curve around and bump into high shirt or jacket collars. Unless I just had a t-shirt on, I seemed to hit that band against collars and hoods quite a bit and it made me self-consciously hold my neck still. Your mileage may vary.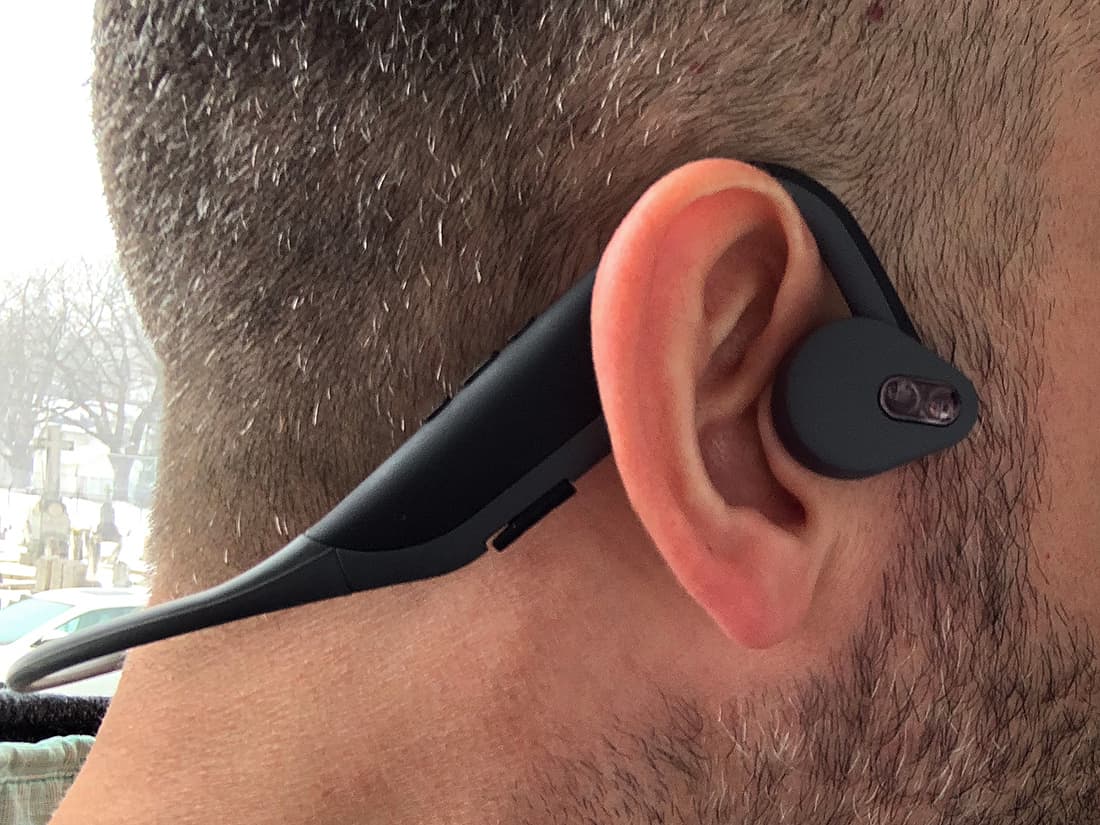 The headset has all the normal controls you would expect: volume, play/pause, and forward-reverse. The placement of these buttons are great. It also includes a small rubber cap on the micro-USB charging port for added water resistance. Lastly, there is a microphone built into the headset which features noise cancellation. I got a chance to test the call functionality out and it seemed to work just fine. I could be heard fine on the other end. Overall, the construction of the headset is excellent.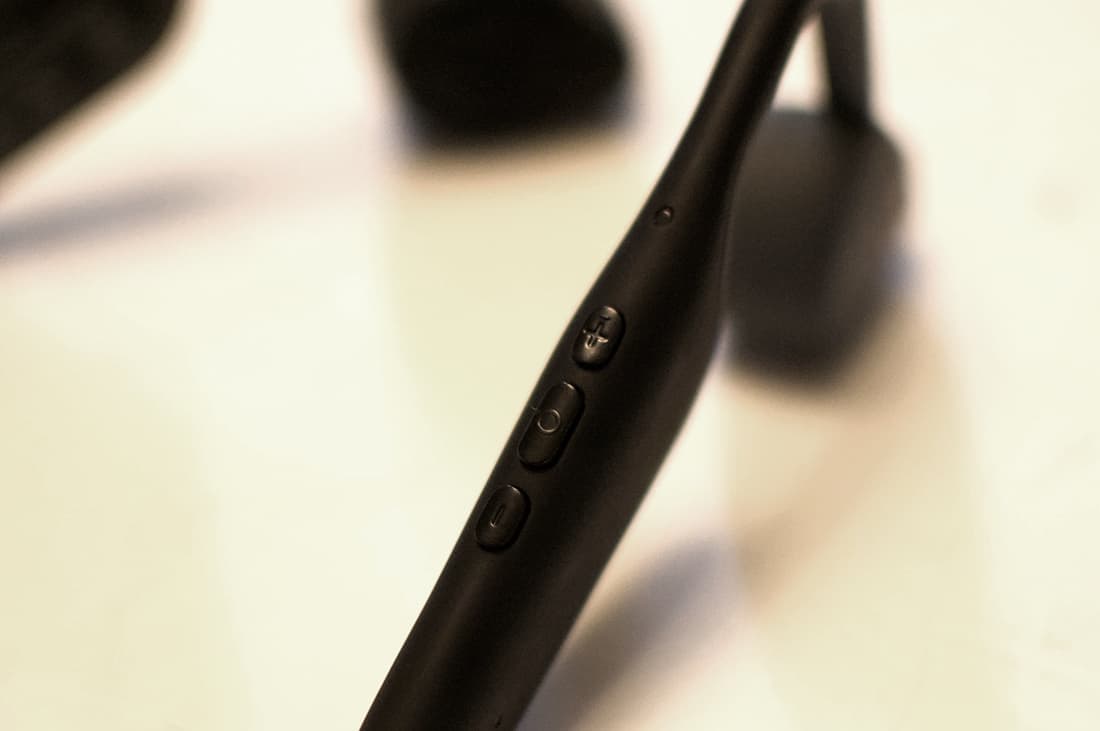 Bluetooth pairing and charging are what you would expect from any other Bluetooth headset. It utilizes the latest version of Bluetooth for fast pairing, low power consumption, and good signal.
Usage and Sound Quality
As mentioned, I was excited to try out the BoneTalkers to see how they would sound while keeping my ears completely open and free of obstruction. Like, the actual sound quality.
The sound is similar to hearing headphones being played very close to your ears, but not inside or on them, allowing other sound to enter your ear canals. I wondered sometimes if I was using them properly, but no matter how I positioned the transmitters, I just couldn't get a loud, solid sound. Only if I pressed them against my cheekbones at the base of my ear, the sound seemed to work well, but I couldn't keep them tight enough in normal use.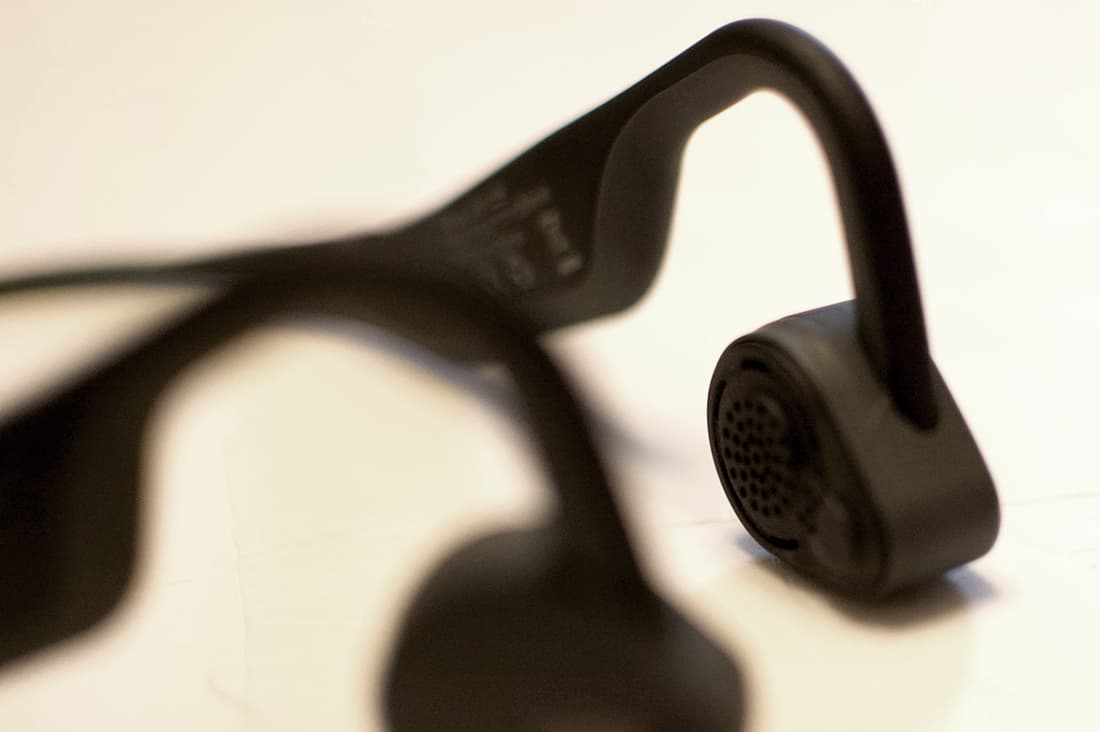 Considering this placement to be normal, I felt like the audio quality as below what a normal ear-enclosing headset could provide. That is, of course, a huge concession. The sound is tinny and far away. Bass is almost nonexistent. You get used to the sound, sort of like getting used to a cold pool, but it's not enjoyable. Merely serviceable.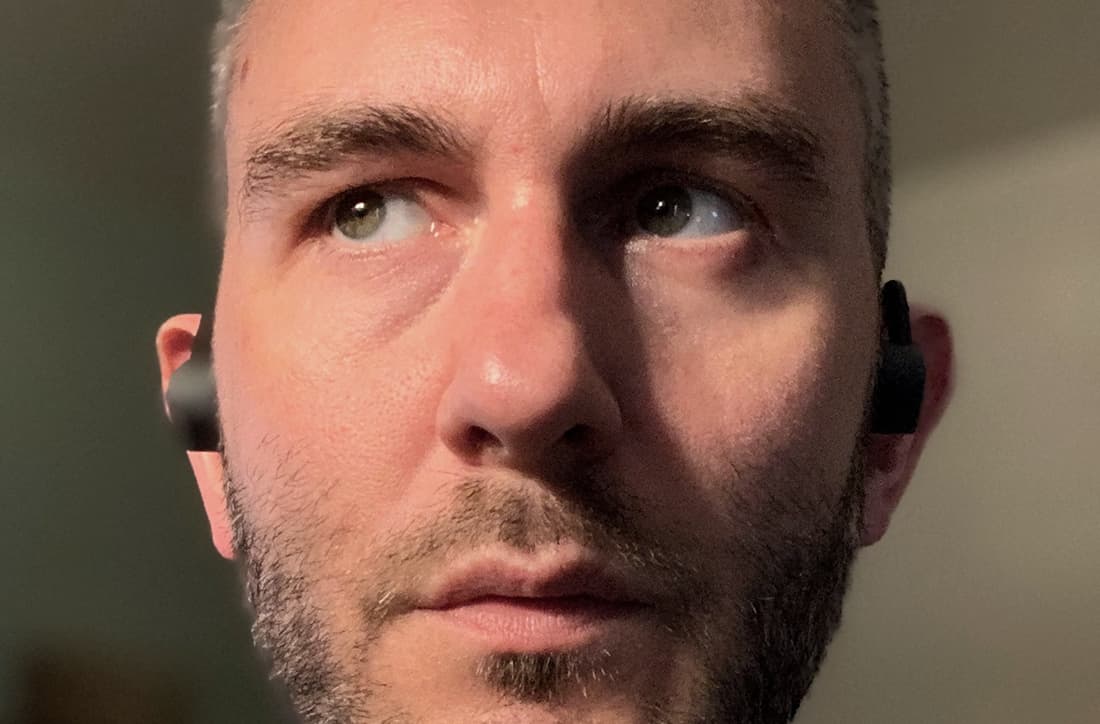 The BoneTalkers do come with foam earplugs, which made me chuckle. It's like, here's this thing that allows sound to get into your ears in exchange for poor audio, but also, here's earplugs so you can't hear anything but the poor audio. Or instead of all that you could use the headphones that came with your phone and be better off.
Maybe It's The Right Situation…
Providing good sound is kind of the only job headphones have. So to accept that sort of sacrifice in audio quality, I can imagine a couple of scenarios where these open-eared headphones would be ideal. For instance, if you worked in an office space that required constant interaction and interruptions. I know I hate to have to take off my headphones every 10 minutes because of phone calls or drop-ins, so the BoneTalkers would simply continue to pump in audio while you engaged in a quick conversation.
There could also be people who are sensitive to having earphones inside their ears, or who feel sort of "claustrophobic" with earplugs, over the ear cans or noise canceling headphones.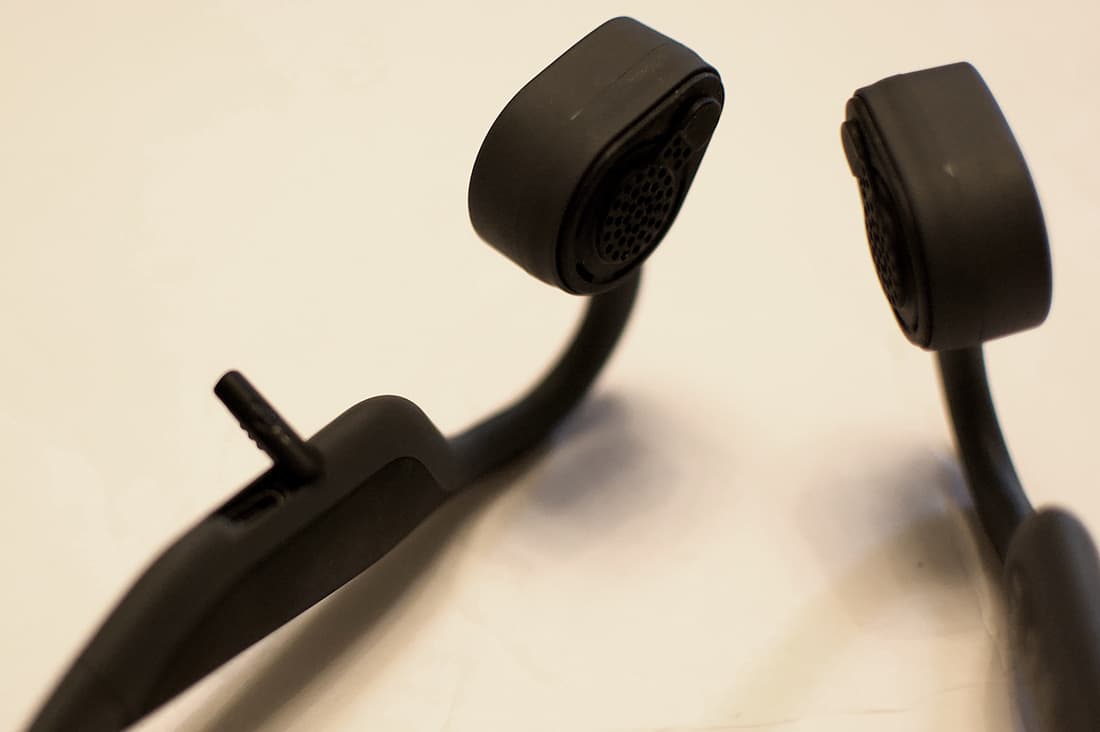 The other situation would be where you simply must be aurally aware of your surroundings such as riding a bike in busy city street traffic or working in a potentially dangerous place like a warehouse or construction site. Having full use of your ears would be a good idea if a forklift could speed around a blind corner. However, I have to wonder if headphones are allowed in situations like that.
Personally, every minute I wore the BoneTalkers, I missed having the music or podcast I was listening to completely envelop my hearing. I love music. I love spoken word. And missing a sentence or two because a truck drove by while I was out for a safe stroll on the sidewalk was annoying. Perhaps that's where the earplugs come into play, but there are many more times I'd rather block outside noise than letting it in, so I'd rather use in-ear headphones in those cases anyway.
What I like
allows ambient noise in, as advertised
comfortable to wear for extended time
What needs to be improved
blocks zero ambient noise (yes as advertised) but audio gets drowned out easily outdoors or in other noisy environments
optimal position of earphones is hard to keep in place
audio quality is very lacking in bass and volume
placement of rear neckband rubs against collared shirts/hoodies
Final thoughts
Bone conduction is an interesting technology to bring into a headset, but while there are a few niche situations where keeping your ears open would be beneficial, I feel they're too far and in-between to recommend these over a regular set of earbuds. And for $100, you could get some pretty great high-end cans and simply pop them out when you need your ears.
Price: $99.00
Where to buy: You can pick up the BoneTalker Adder headphones directly from their website.
Source: The sample of this product was provided by BoneTalker. You can find out more about their headphones and bone conduction technology on their website.