We use affiliate links. If you buy something through the links on this page, we may earn a commission at no cost to you. Learn more.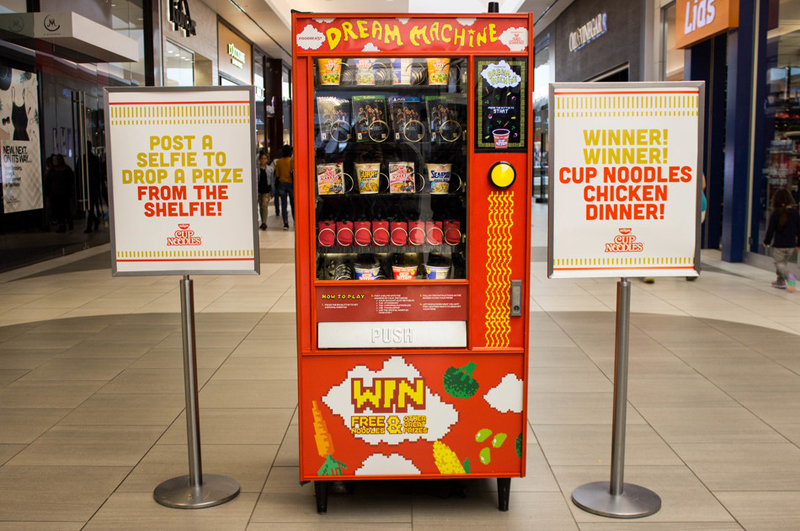 NEWS – If you live near Los Angeles or Las Vegas, go take a selfie and get some free noodles! FOODBEAST, a digital media house that covers food news and also produces food experiences has debuted a new type of vending machine.  In a clever collaboration with Nissin Cup Noodles, FOODBEAST placed the machines within Del Amo Fashion Center (near Lids) in Los Angeles County starting March 1, and Las Vegas Premium Outlets South (near Volcom) starting March 6.
Rather than cash, credit or Bitcoin, the Dream Machine uses Instagram posts as currency. When you press the big button on the machine, it generates a unique hashtag for you. Take a selfie with the machine and post it on Instagram with that unique hashtag and tag @foodbeast and @originalcupnoodles. The machine will instantly dispense a Nissin Cup Noodles for you to enjoy.
The build is a fun mix of old and new tech:
Two retrofitted 1970s-model vending machines bought off Craigslist & eBay
Internet connected 'Raspberry Pi' computer installed within that virtually controls all aspects of the machine
Hashtag session authentication system to verify posting and the active user
Vending Machine Motor API to turn spirals and control at-random vending
Web server running multiple sets of signals between Instagram API, vending machine API, and the cloud
Private VPN connectivity to encrypt data across the open web
Custom interface atop newly affixed instruction screens
Initially tossed out as a joke in an idea session, the folks at FOODBEAST recognized the potential power in social media influence and decided to put the build together. For Nissin, it is a way to directly target their consumers, who tend to be younger, connected consumers.
You can follow @foodbeastdreammachine on Instagram to see where the FOODBEAST #DreamMachines is scheduled to go next.