We use affiliate links. If you buy something through the links on this page, we may earn a commission at no cost to you. Learn more.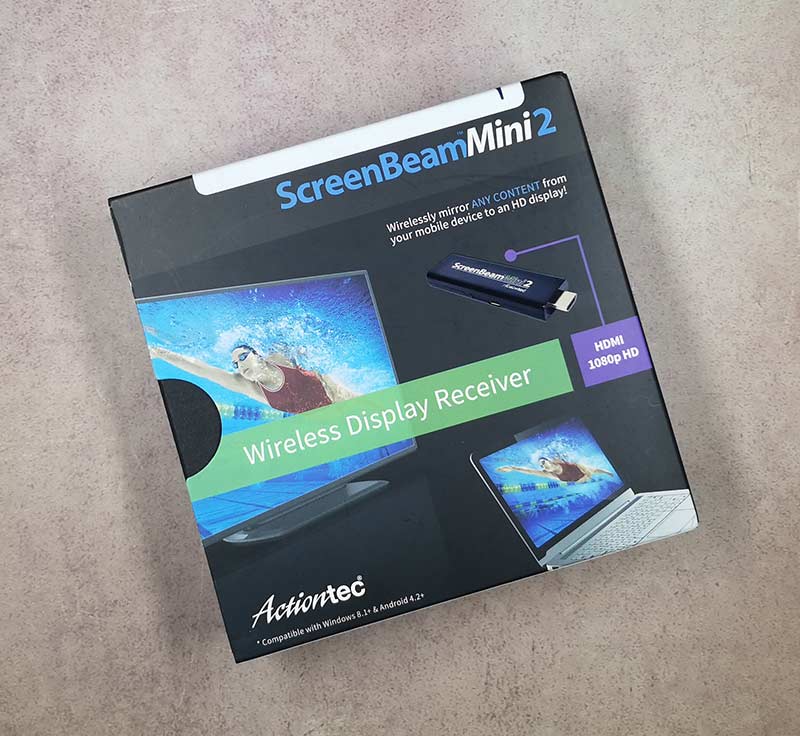 REVIEW – Have you ever wanted to display content from your smartphone, tablet, or laptop wirelessly to a TV or monitor without bringing your home's WiFi to its knees? Actiontec has a solution for Windows and Android devices called the ScreenBeam Mini2. Let's take a look.
What is it?
The ScreenBeam Mini2 is a wireless display adapter that plugs into an open HDMI port on a display/TV and receives streaming video from a Windows laptop, Android smartphone, or Android tablet through the WiFi network created by the ScreenBeam Mini2 adapter and not your home's wireless network.
Hardware specs
Supports up to full 1080p30 HD video and 2 channel stereo
Dual Band: Supports both 5 GHz and 2.4 GHz Wi-Fi frequencies
Compatibility
Windows device running Windows 8.1 or newer AND supports WiDi
Android device running v4.2 or newer AND have native Miracast, Smart View, or Mirroring support.
What's in the box?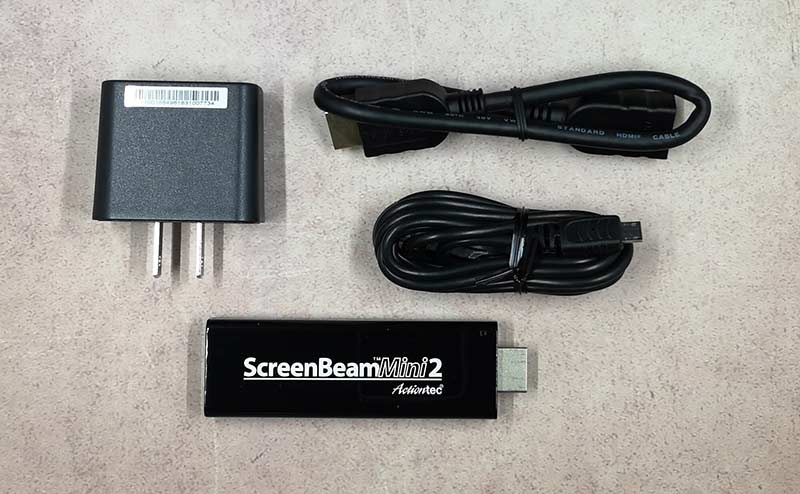 ScreenBeam Mini2 wireless display adapter
HDMI extender cable
Micro USB cable
AC adapter
Instructions
Design and features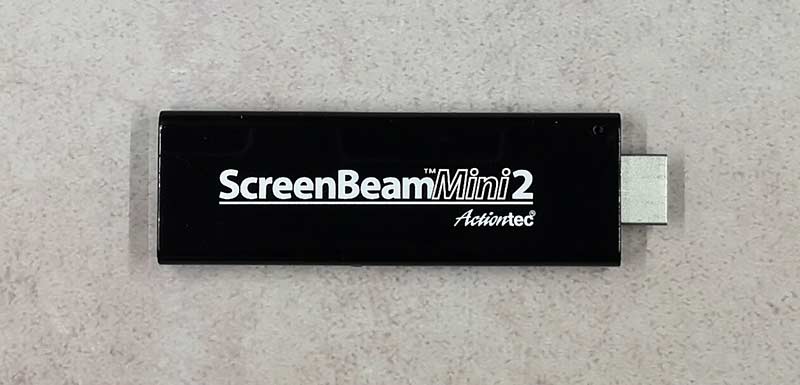 The ScreenBeam Mini2 looks like an oversized USB thumb drive, but instead of a USB-A connector on the end, it has a full-sized HDMI connector.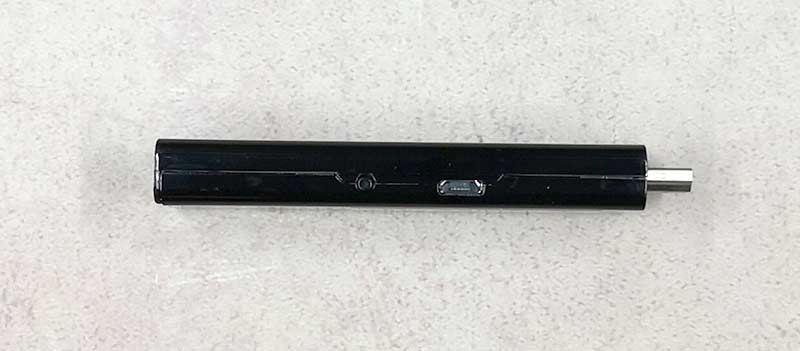 On one side is a reset switch and a micro USB port which is used to power the adapter.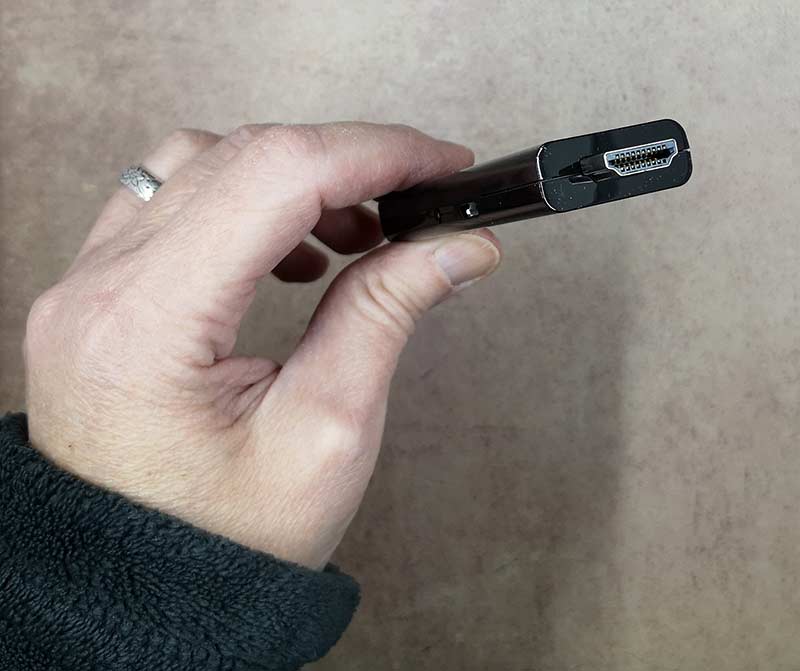 Installing the ScreenBeam Mini2 adapter is simple as long as you have a TV or monitor that has an available full-sized HDMI port.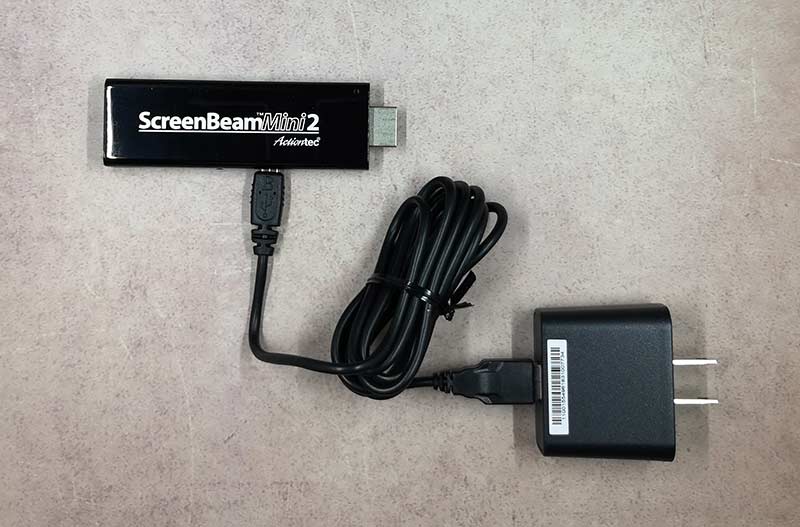 All you have to do is plug the adapter into the HDMI port and also connect the included micro USB cable to the power adapter and plug it in. If you don't have an outlet near the TV or monitor, you can do like I did and plug the micro USB cable into a USB port on my Denon AV receiver or even one on your TV or monitor.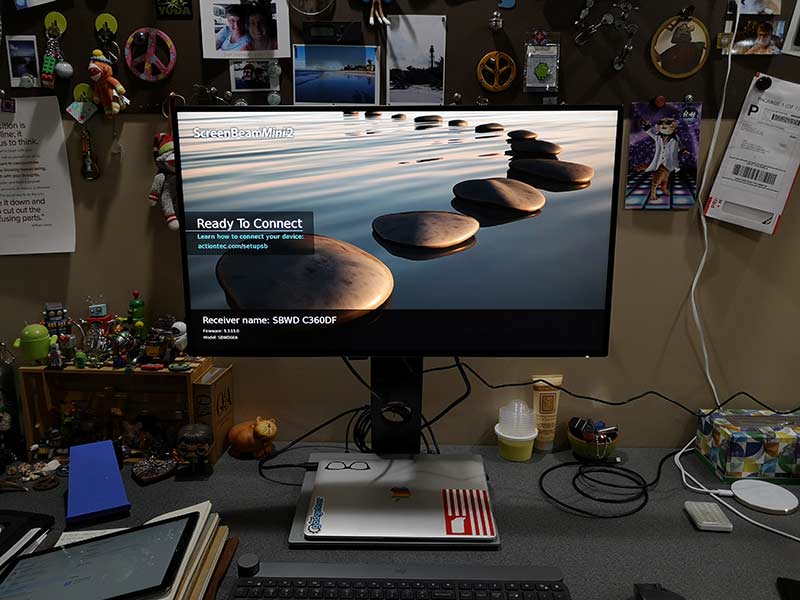 I tested the ScreenBeam Mini2 with two different displays and four devices. The first test was with the BenQ 27 inch PD2710QC monitor and the Huawei MediaPad M5.
After plugging in the ScreenBeam Mini2 adapter, I switched to the HDMI input with the ScreenBeam Mini2 adapter and was greeted by the screen you see above.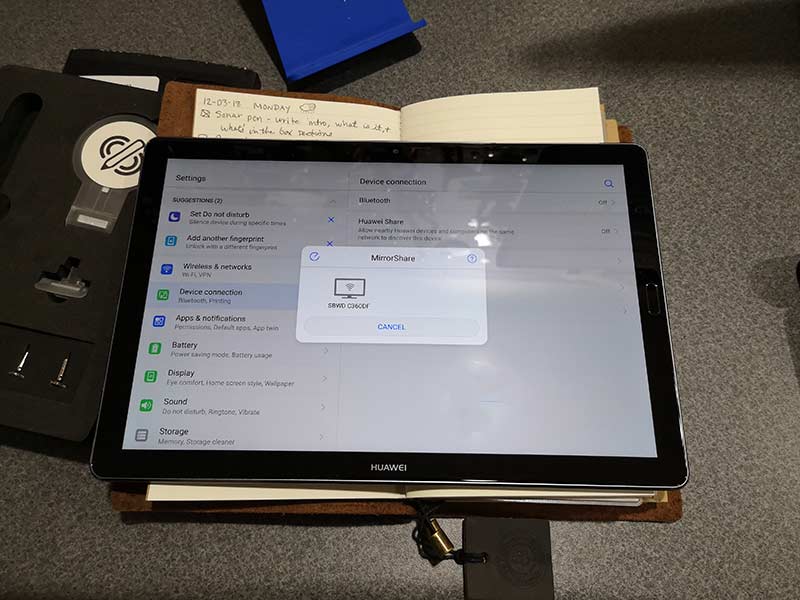 The next step was to go into the MediaPad's settings and start MirrorShare which is a built-in feature of this tablet. As soon as I enabled it, it started scanning for available devices and displayed the ScreenBeam Mini2 as an option.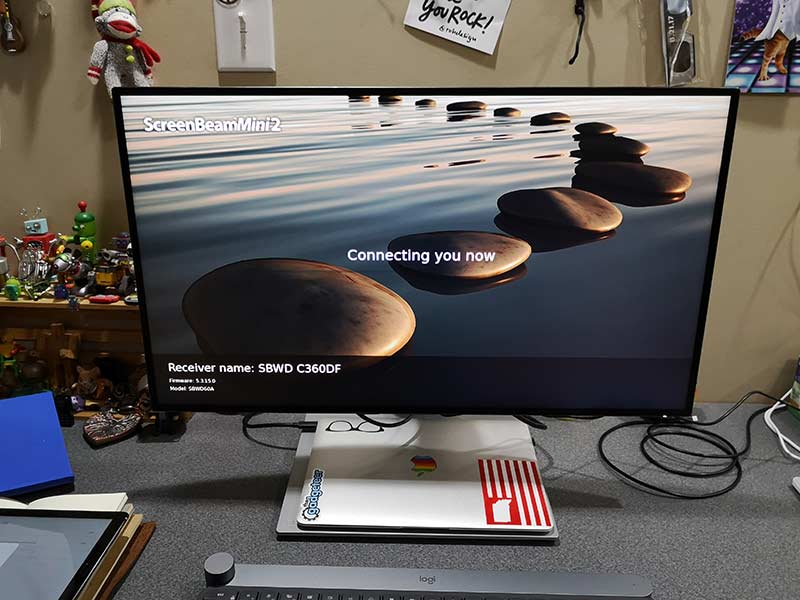 Tapping the icon on the MediaPad changed the display on the monitor to show that it was connecting to it.
Just as a reminder… Unlike Google's Chromecast dongle, the ScreenBeam Mini2 does not require that you have a WiFi network in your home or any internet connectivity at all for that matter. The adapter itself uses its own WiFi to connect the two devices without any need to configure, type in login IDs or passwords.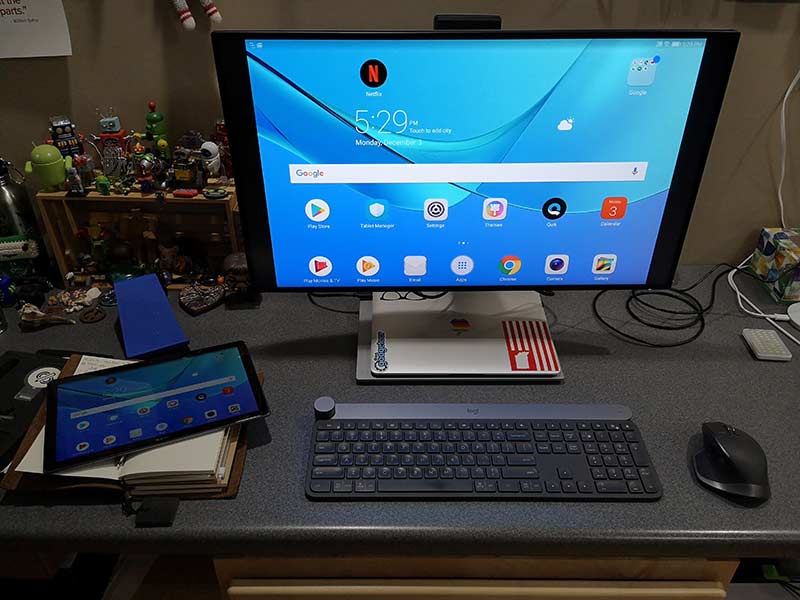 Within seconds, I was viewing the same thing on the monitor that was displaying on the tablet. I was able to see a mirror of the Android tablet's display while running apps, browsing the web, viewing pictures from the image gallery, videos I'd recorded, etc.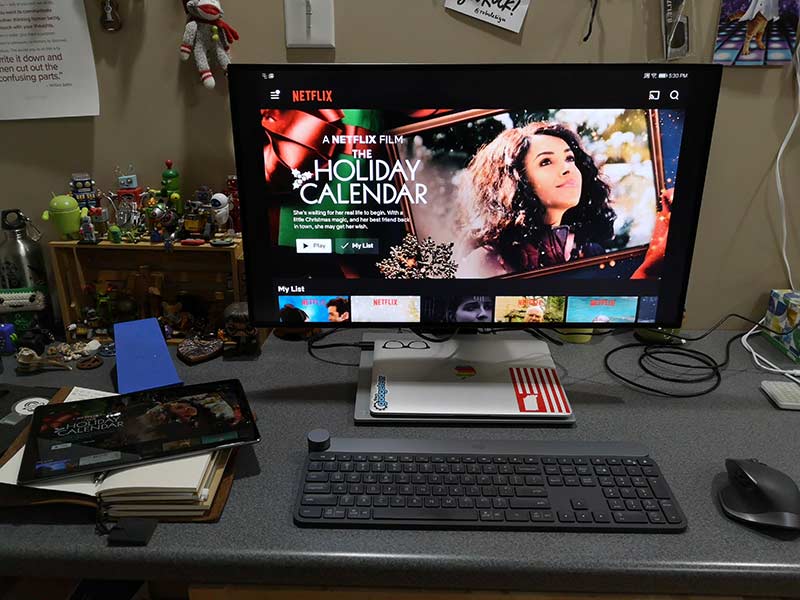 But within minutes I ran into some issues worth noting. Although the Netflix app launches and displays the interface on the mirrored display, as soon as you begin watching a video, the mirrored display turns black. You can still hear audio though. I then tried the Hulu app and had the same disappointing results.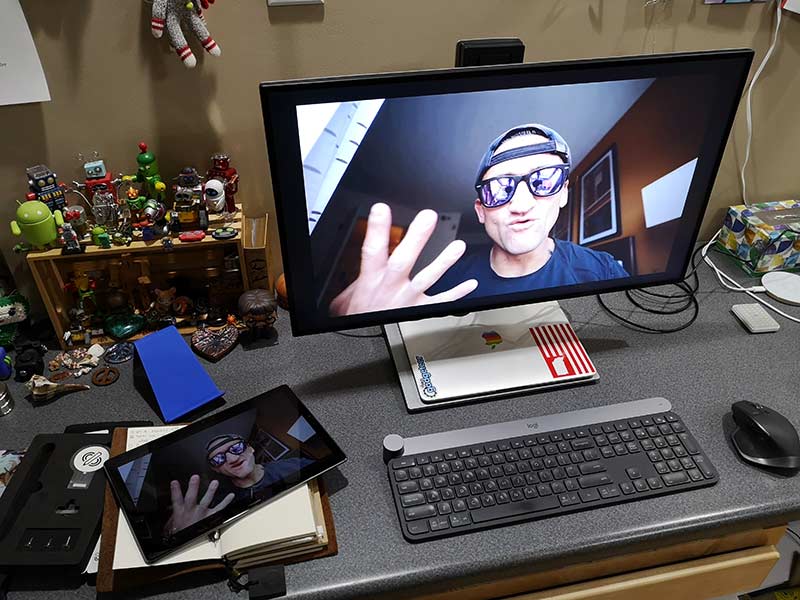 But when I tried YouTube, I had success. Videos played fine and looked great. Look, it's Casey Neistat. Love that guy!
One other thing to note is when I turned off the display on the tablet, the connection between the two devices was broken.
I then tested the Huawei P20 with the ScreenBeam Mini2 and my VIZIO M-Series (M65-F0) 4K HDR Smart TV by plugging the ScreenBeam Mini2 into the AUX HDMI port on my Denon AV receiver.
As expected, the setup was pretty much identical to using the MediaPad with the BenQ monitor as the P20 also has the MirrorShare feature.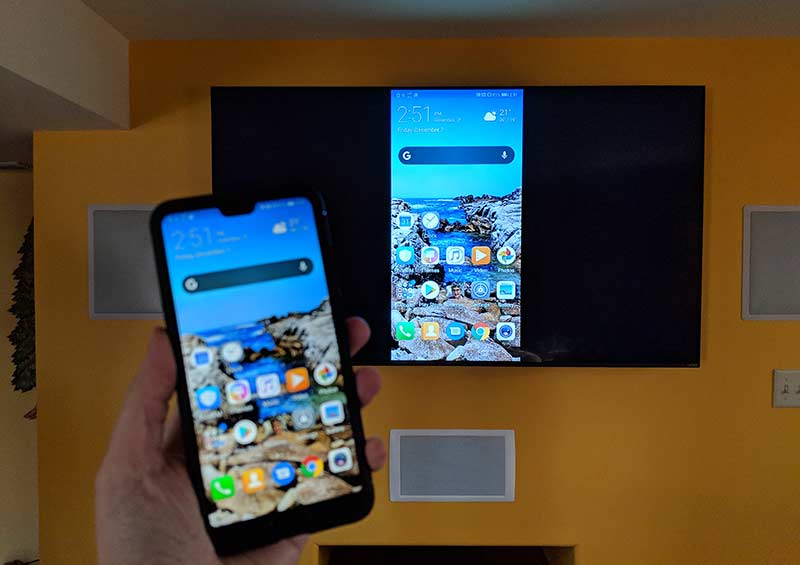 One thing to keep in mind is that for best video and audio results, the source device (in this case the P20 smartphone) should be placed within 30 feet of the receiver (in this case, the Denon AV receiver connected to the Vizio TV).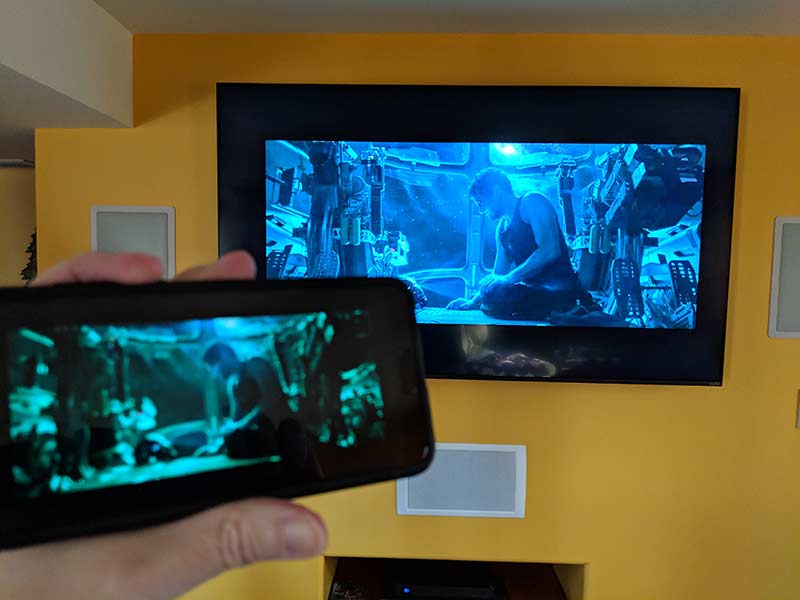 Just like with the MediaPad, viewing my pics, local video, apps, browser, and YouTube all worked fine and turning the phone to landscape view would cause the video to go full screen – or almost full screen. You can see that there is a big "frame" around the video on the Vizio TV.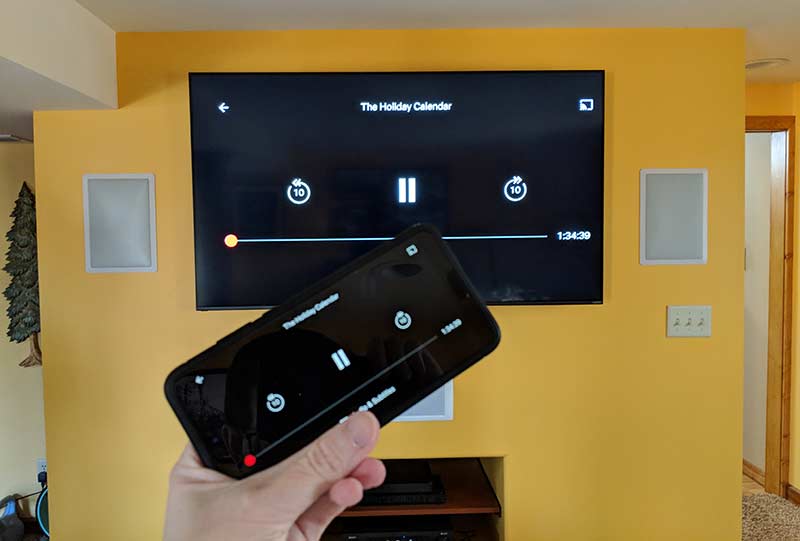 But as soon as I tried to play a Netflix flick, I was denied…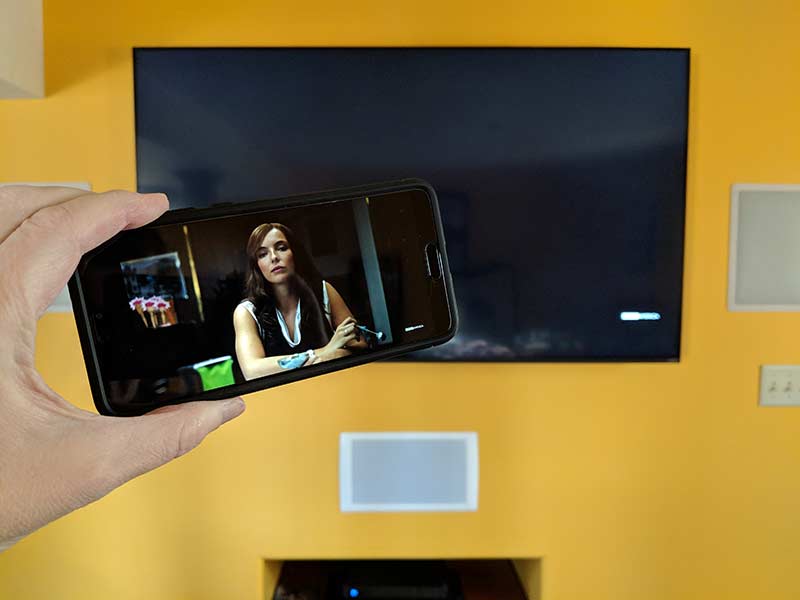 Hulu fared the same. 🙁
My third test was with my Pixel 2 XL and I had even worse luck with the previous tests because good ole Google removed screen sharing features like Miracast from Pixel devices because they want people to buy their Chromecast. Grrrrrrrrrr… Google, you're not my friend right now.
For my fourth and final test, I tried my Samsung Galaxy Tab S3 and whaddya know, it was the best combo yet!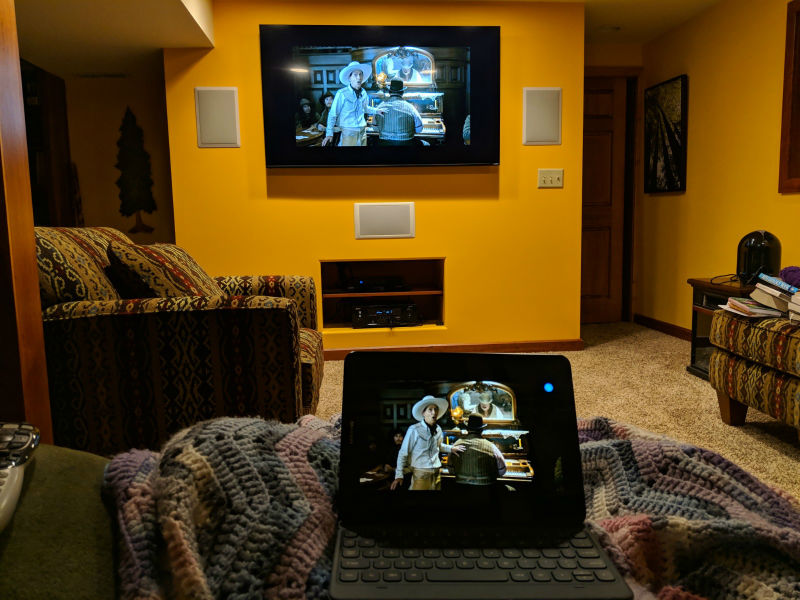 Samsung's mirroring feature is called Smart View and it works wonderfully in a couple different ways. First of all, Netflix works perfectly, no black screen of sorrow!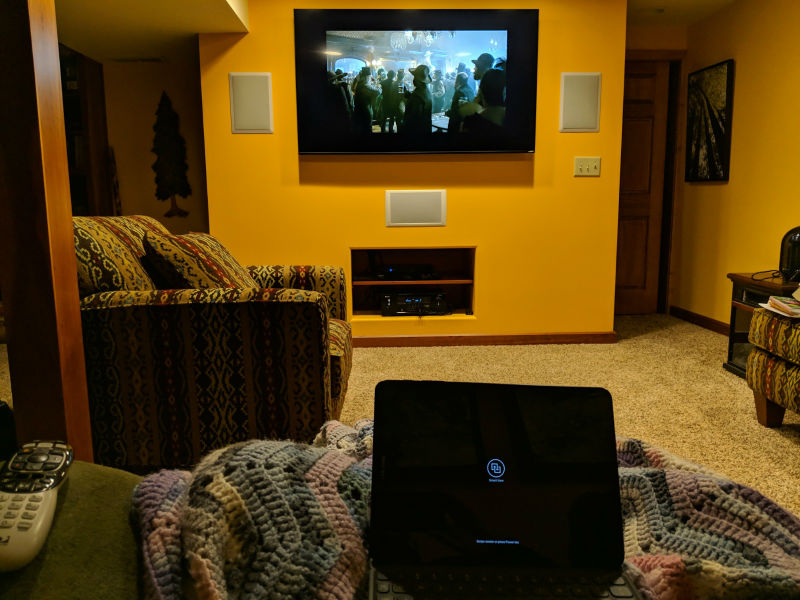 And second of all, the screen will blank out on the tablet to conserve battery life. Yay!
What I like
Easy to install
Doesn't require an existing network
What needs to be improved
Needs support for Apple devices
Needs to be able to work with Netflix, Hulu, and other popular streaming services through all mirroring types
Needs to support streaming 4K Ultra HD videos.
Final thoughts
If you're looking for a dirt simple way to mirror your Android or Windows screen on a TV or Monitor without using your network or wires, the ScreenBeam Mini2 might be the perfect solution for you. That is if you have an Android device that supports Miracast, or a Windows device that supports WiDi AND you don't mind potentially not being able to use it for Netflix or Hulu depending on your device. Yes, there are a lot of caveats to this product, but I think it will be an easy way to bring my favorite shows with me when I'm on vacation and want to watch them on a larger screen.
Price: $49.99
Where to buy: Amazon
Source: The sample for this review was provided by ScreenBeam. Please visit their site for more info.