We use affiliate links. If you buy something through the links on this page, we may earn a commission at no cost to you. Learn more.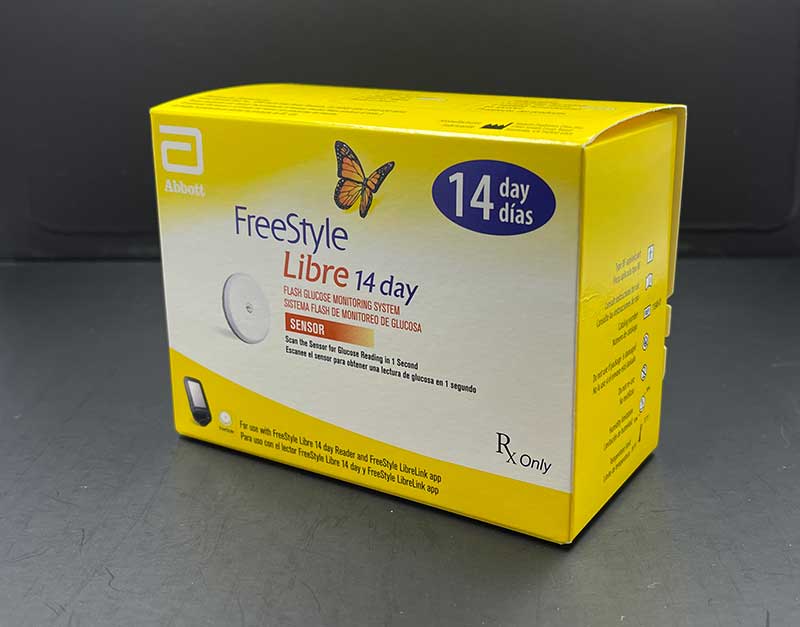 REVIEW – All diabetics know that they have to keep an eye on their blood glucose levels. They can do this with a blood glucose meter which requires a finger stick to draw a drop of blood. You can imagine how much of a hassle and pain it is to use this method several times a day. Another way to keep track of your glucose levels with a glucose monitoring system that uses a sensor that you stick on your body. Today I'm going to tell you about the FreeStyle Libre 14 day flash glucose monitoring system from Abbott.
What is it?
The Abbott FreeStyle Libre 14 day is a flash glucose monitoring system that uses a wireless sensor that is inserted into your arm and wirelessly transmits your blood glucose level on demand to your phone or a dedicated FreeStyle reader device.
A little history about me
After a routine physical in 2004 showed that I had a fasting blood sugar reading of 102, I was given an A1C test that came back with a 6.9% result which meant that I was a Type-2 diabetic. The American Diabetes Association and the CDC say that an A1C 6.5% and higher means that you're diabetic. A reading of 5.7 – 6.4% means that you're pre-diabetic and anything below 5.7% means that your blood glucose level is in the normal range.
A1C is a reading that is a person's average blood glucose level during the past 3 months. It's a better way to track overall trends instead of just doing finger sticks because a finger stick only tells you the blood glucose reading at that exact time and can make a diabetic feel like they are on the right track when in reality their readings can be spiking really high the rest of the time.
The word diabetes wasn't unknown to me or my family. My grandma on my mother's side died of complications from the disease, my mother died of complications from it at age 58, my niece became a Type-1 diabetic at a very young age, and my dad developed Type-2 diabetes in his 70's.
The moment I found out that I was diabetic, I immediately quit eating sugary foods and drinks. Let's put it this way, my diet back then was crap. My idea of breakfast was a cinnamon sugar pop tart and a regular Coke. Lunch wasn't much better. I often ate a candy bar, a bag of chips, with another regular Coke.
Since I had grown up watching my mom struggle with the disease which ultimately took her life after multiple amputations and strokes. I did not want that for my own life so I kept a good handle on my diet and didn't require any drugs to manage my diabetes. In fact, my A1Cs after the first one, have never been back into the full-blown diabetes range again, but I've remained in the prediabetes range all these years.
Then COVID hit and with my working from home restrictions, I found myself adopting some bad habits of having sandwiches, chips, and some type of sweet treat with every lunch. During this time I also was not checking my blood regularly. I still had a yearly (I should have been doing a quarterly) A1C test which remained below full diabetes. But with my bad habits, I decided to start testing my blood again and I was worried when I was seeing some higher than normal (for me) fasting glucose ranges. So I called my doc and asked for an A1C and found that it had gone from 5.7% from the year before to 5.9%. .2% might not sound like a huge jump, but I'm motivated by data and that was enough for me to get strict with my diet once more. AND, then my health care provider said that I could have a free FreeStyle Libre system and I was super excited about it for 2 reasons. The first reason was that my day job covered all the charges, and the second reason is that I wouldn't have to stick my fingers again!
What's in the box?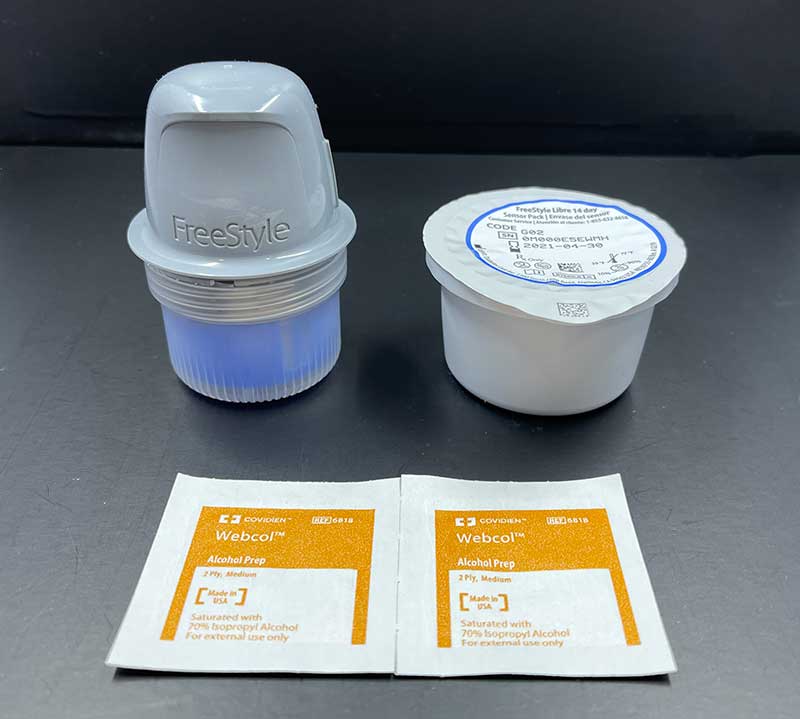 FreeStyle Libre 14 day sensor
Applicator
Alcohol wipes
Instructions
Design and features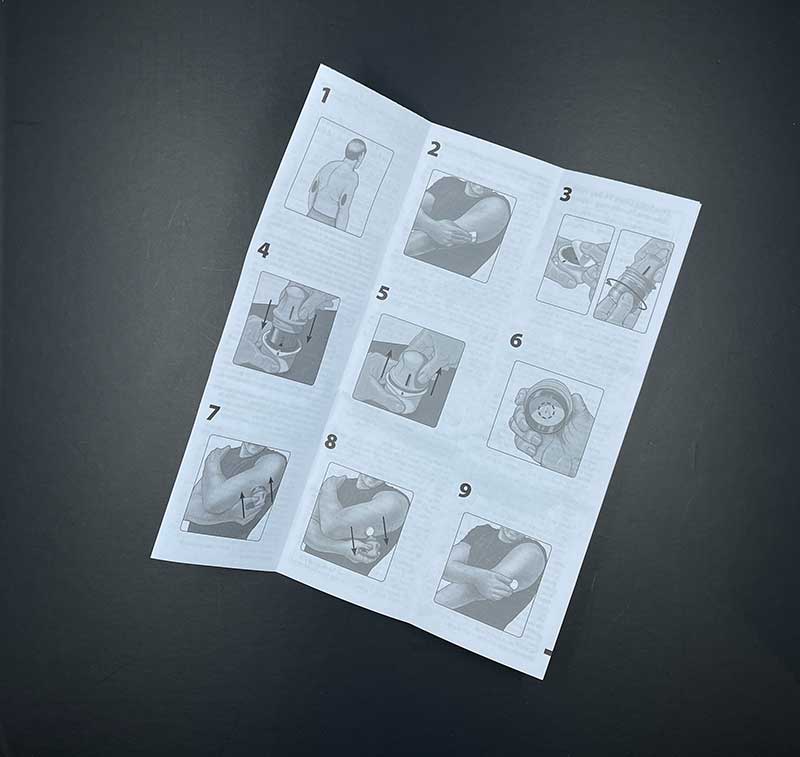 To use the FreeStyle Libre system, you have to insert/install the sensor on the back of your arm. The kit comes with a pictorial guide that is easy to understand. Basically, you make sure your arm is clean (I scrub it in the shower first) and wipe it down with the included alcohol wipes.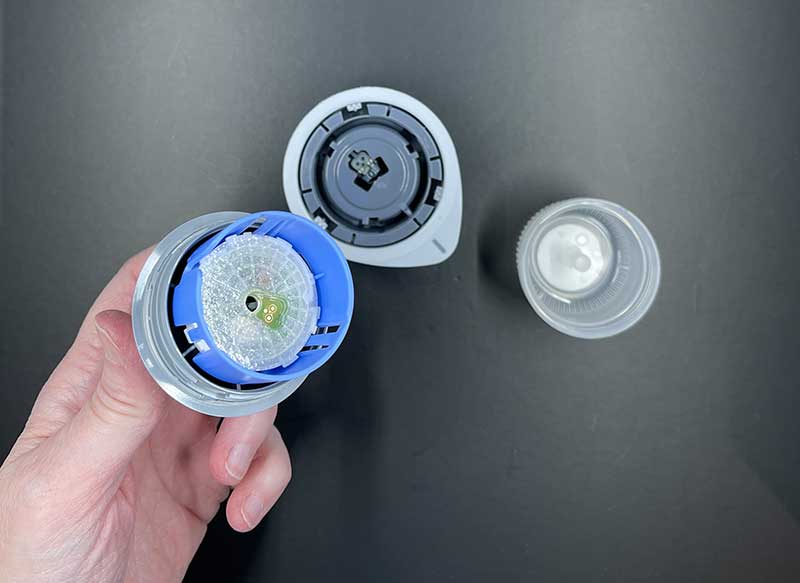 Then you open the sensor packet and remove the applicator.
You can then snap the applicator into the sensor container.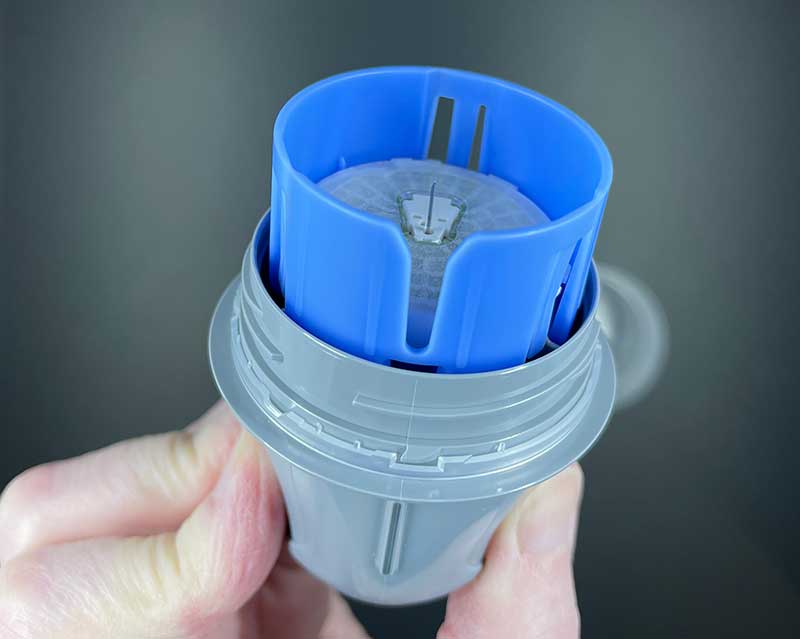 When you remove the applicator, the sensor is in position and ready to be inserted into your arm. The first time I looked at the sensor I immediately got a little nervous seeing the 1/4 inch long needle poking out of it. I thought "is that thing going in my arm?!" I was a little anxious but I told myself that I am tough and that no little needle is going to get the best of me! I pushed the applicator to the back of my arm and the spring-loaded mechanism did its job and placed the sensor.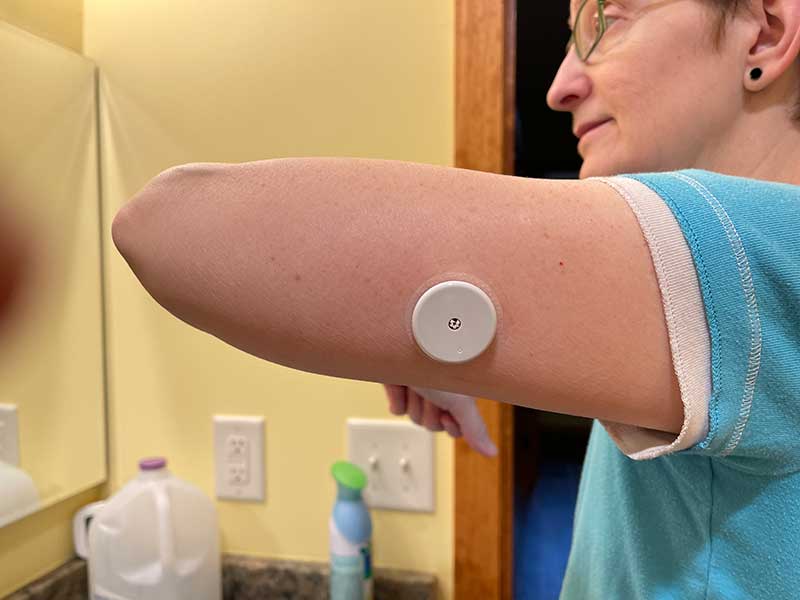 After it was done, I was relieved that it wasn't that bad. I won't say that it was completely painless because it did feel like I was given a shot. It stung a little bit but not bad at all. If you get a flu shot every year, it probably felt half as bad as that.
As you can see in the image above, the sensor is a little larger than two stacked quarters. Abbott suggests that you put the FreeStyle Libre sensor on the back of your arm because it's out of the way and shouldn't get knocked off by accident.
Note that the sensor has strong adhesive around the sensor and under the sensor that allows it to stay firmly on your skin even when you're showering, exercising, etc. I was concerned about the adhesive because I've had issues with different types irritating my skin. If you have similar issues, there are different things you can do to minimize skin irritations.
Let's scan!
FreeStyle has a reader device that you can use to scan the sensor for your glucose readings, but you can also use your phone and the FreeStyle app, which is what I did.
Whenever you install a new sensor, you have to scan it with the app before it can be used. Actually, you have to scan it and wait 60 minutes before you can do your first scan. During the first hour, the sensor is "warming" up.
After that first hour has passed, you can start scanning the sensor with your phone anytime that you want to see your blood glucose % reading. You just tap the scan button in the app and then place the top edge of the phone up to the sensor on your arm and you'll hear a tone and a vibration to let you know that the scan scan is done. You can then check the reading.
It is important that you understand a few things about readings from the sensor. Unlike your blood glucose meter which reads your glucose level from a drop of blood, the FreeStyle Libre gets is info from interstital fluid. This is the fluid that surrounds the cells of your tissue below your skin. Glucose moves from your blood vessels and capillaries first and then into your interstitial fluid. This means that the readings from the FreeStyle Libre sensor can be 10 – 15 minutes behind the readings of a finger stick reading. So you can't get a reading from a blood drop and immediately expect to see the same reading when you scan the sensor on your arm.
If you look at the 2nd image above on the right, you'll see a list of scans and you'll see a magnifying glass with a blood drop icon. You can expect to see this icon for the first 12hrs or so after you install a new sensor. I think the sensor is calibrating during this time. I know that I stopped seeing those icons the next day.
The Freestyle LibreLink app will show you a graph of your blood glucose readings over the past 8hrs. It's important to scan at least once every 8hrs because if you forget, you'll see gaps in the graphs like the small break that you see in the image above on the right.
The app isn't quite as robust as I'd like. Although the sensor is recording a reading every few minutes, you can't get the exact readings list. All the app will let you see is a graph. It does offer info about trends, averages, time, in goal range, low readings, high readings, and how many times you've scanned.
Removing the sensor
The FreeStyle Libre has to be replaced every 14 days. Removing it is like trying to remove duct tape which means that you probably should shave the area where you want to install it or it's going to be ouchy when it's time to remove it due to the adhesive.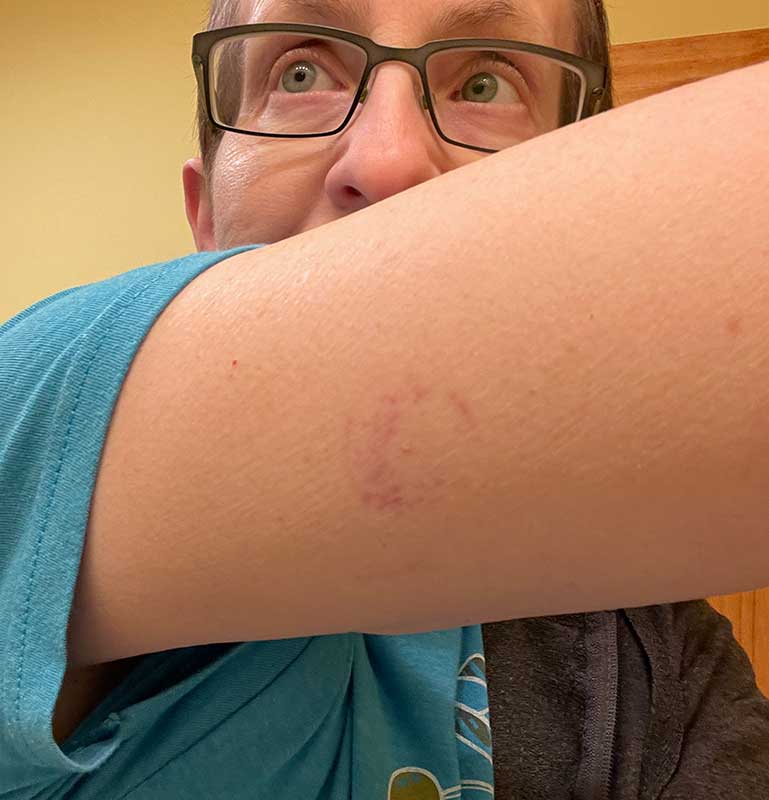 If you've read this far, you'll remember that I said I was a little concerned about the adhesive causing skin irritations, I was happy to see that the irritation was minimal.
It's important that you apply the next sensor in a different location that where the previous one was applied. So you can switch to the opposite arm or place it above or below the previous location.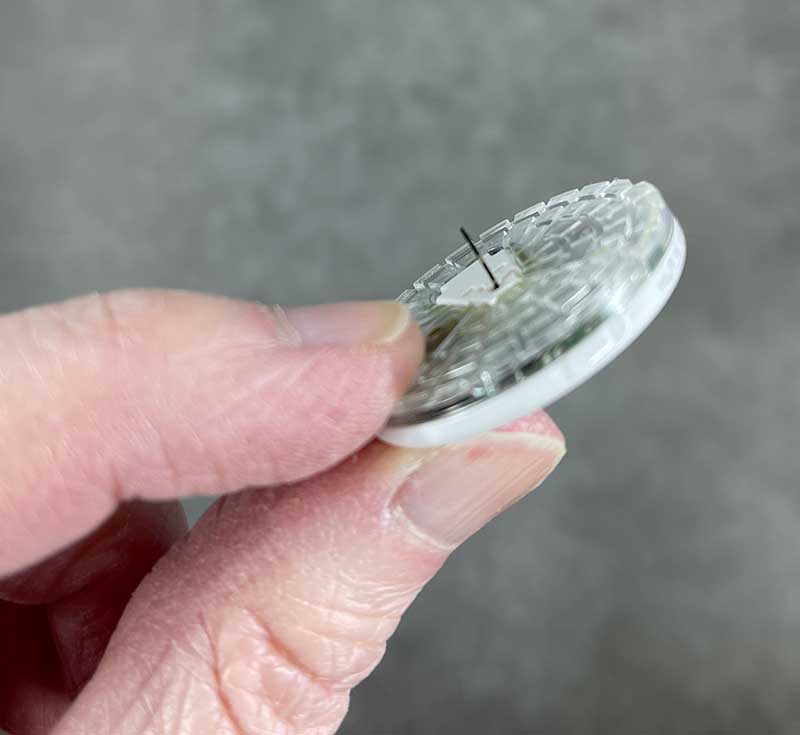 When I removed the sensor I looked closely at it and was surprised that the needle wasn't there. I thought that the needle was in my arm the whole time and in reality, only a very thin and flexible filiment was in my arm.
What I like
No more finger sticks!
Sensor doesn't need to be charged
Don't need to carry around a separate device because I can use my phone as the scanner
What I'd change
Add more detail to the app or allow a full download of readings
Last longer than 14 days
Make a permanent one that I can embed under the skin!
Final thoughts
The FreeStyle Libre 14 day flash glucose monitoring system is a game-changer for diabetics. It has allowed me to understand which foods spike my blood sugar. I will test my blood before I eat something, 1 hour after I finished eating to see if the food spiked my glucose, and then once more 2 hours after the meal to see if my glucose levels are heading back down to the pre-meal level. It's really eye-opening when you see how a cheeseburger, fries, ketchup, and a cookie can cause a blood sugar spike when you're insulin resistant like I am (see that 246 reading above!). The FreeStyle has helped me keep my levels in my target zone of 70 – 180. I know that my next A1C will be significantly lower and maybe even in the non-diabetic range if I keep up my low carb eating habits.
Price: Talk to your doctor
Where to buy: Through your doctor and pharmacist
Source: The sample for this review was provided by Abbott.