We use affiliate links. If you buy something through the links on this page, we may earn a commission at no cost to you. Learn more.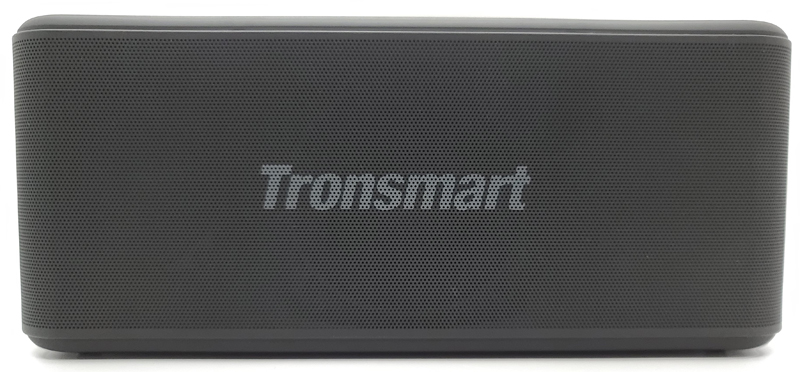 REVIEW – Bluetooth speakers are everywhere.  We've reviewed a bunch of them here at The Gadgeteer.  In fact, back in April 2019, I reviewed the Tronsmart Element Force and found it to be a capable speaker. I jumped on the opportunity to take a look at the new Tronsmart Mega Pro to see if it improves on the Element Force.  Is it really a "Mega Pro", or just a "Minor Amateur"?  Let's take a look.
What is it?
The Tronsmart Mega Pro is a battery-operated portable Bluetooth speaker that also supports 3.5mm audio input and microSD/flash drive playback.
What's in the box?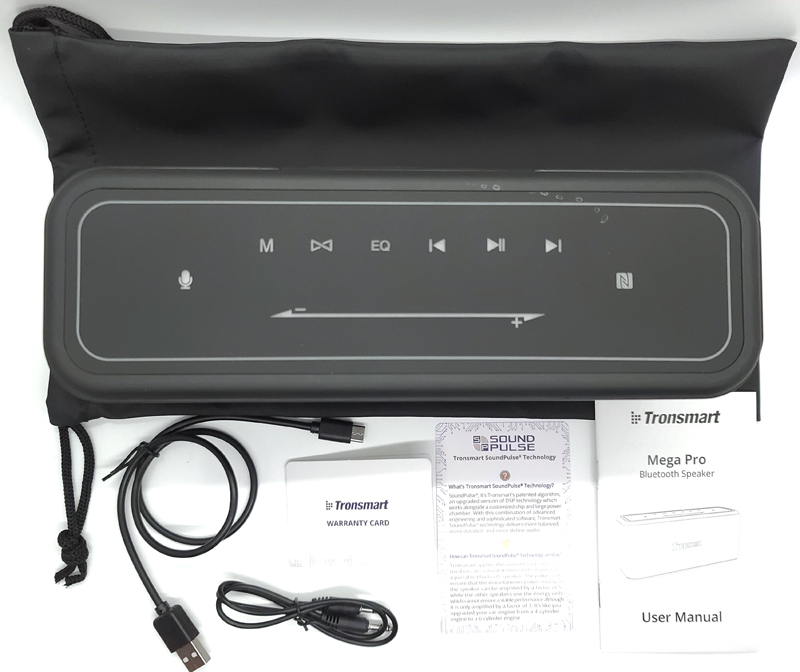 The speaker
Carrying case
USB-A to USB-C charging cord
3.5mm to 3.5mm mini headphone jack audio cable
User manual
Sound Pulse tech info card
Warranty card
Hardware specs
Dimensions: 9.84 x 3.23 x 4.09 inches / 250 x 82 x 104 mm
Weight: 1780 g / 62.78 oz
Output: 60w rated
Bluetooth version: 5.0
Transmission distance: Up to 20m/66ft (open area)
Water resistance: IPX5 (protected against low-pressure water jets from any direction)
Battery capacity: 10400mAh
Playtime: Up to 10 hours
Charging time: About 4 – 5 hours
Frequency range: 20Hz – 20000Hz
Connectors: USB-C charging port, 3.5mm aux-in port, TF/micro SD card slot
Design and features
The speaker is designed to sit with the speaker grills facing out and the control panel facing up.

It's hard to see in this photo but the control panel lights – the buttons, volume slider, and ring around the edge, up when the speaker is on.  It is visually very pleasing. The buttons are all touch-sensitive.
From left to right:
Voice assistant access – configurable for your specific voice assistant
Playback mode
TWS pairing
Sound equalization
Skip back
Play/pause
Skip forward
NFC pairing
The line under the buttons is a volume up/down tap/slide  control
When you are playing music, the play/pause button lights blue.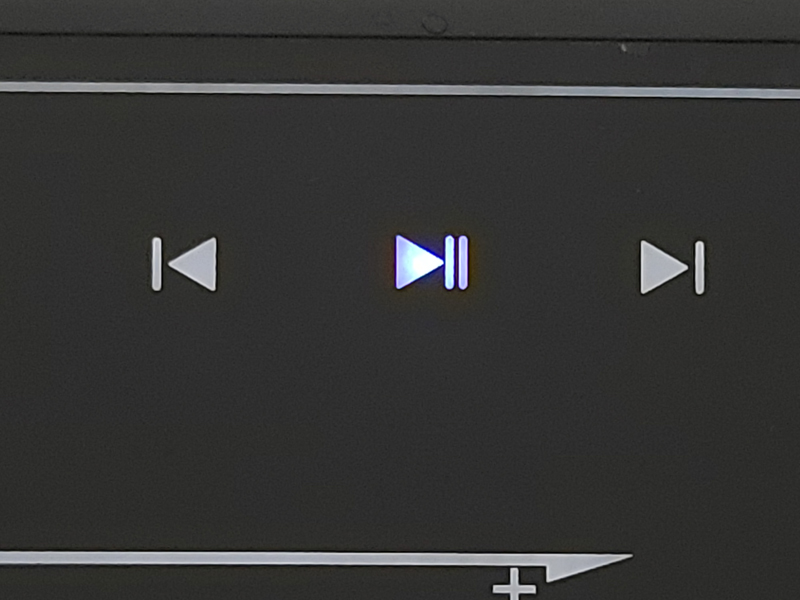 Pressing the EQ button cycles as follows:

Off – mega bass (default)
Green – voice
Blue – surround sound
On the bottom, opposite the control panel, we find four rubberized non-slip feet.

The front (pictured at the top of the article) features the Tronsmart logo.  The back is where we find the power button and input ports.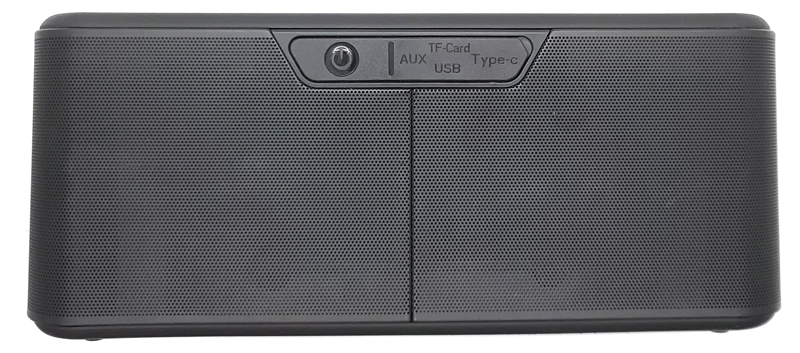 The power button is on the left. Hold it down to turn the speaker on/off. The input ports are labeled on a fold-back rubber flap.

Folding back the flap reveals the ports. The USB-A port is new with the speaker. It supports charging for your devices as well as flash drive playback.

Setup
You start by charging the speaker.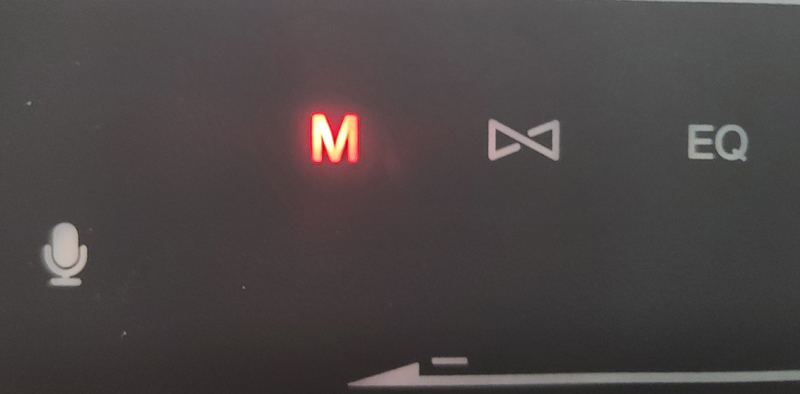 The "M" on the control panel glows red when charging and then goes out once fully charged.
Pairing is pretty standard for Bluetooth devices and worked as expected.  Like the Element Force, the Mega Pro also supports NFC pairing as long as your device supports it.  That process also worked flawlessly, just by tapping my phone to the NFC icon on the control panel.
Performance
Let's start with the sound, specifically the volume.  With a larger speaker like this, you'd expect it to deliver more sound than a smaller speaker, and, the Mega Pro definitely delivers.  In my review of the Element Force, I used a sound meter app on my phone to get a rough estimate of the sound intensity at about 24-inches from the speaker.  The Element Force was able to kick out 75.1dB of sound pressure.  For the Mega Pro, I again went with Fleetwood Mac's Rhiannon on Amazon Music, turned up the volume as high as it would go, and put the phone about 24 inches from the speaker.

I took several readings and it peaked at 81.2dB – a 6dB increase.  As I mentioned in the previous review, a 6-10dB increase is generally regarded as a doubling of perceived volume.  Suffice it to say, this thing can get loud.
The other thing I noticed was a significant improvement in perceived bass.  It was deep without being excessive boominess.  The improved sound quality is a result of Tronsmart's new Sound Pulse system. (Sorry about the cruddy graphic)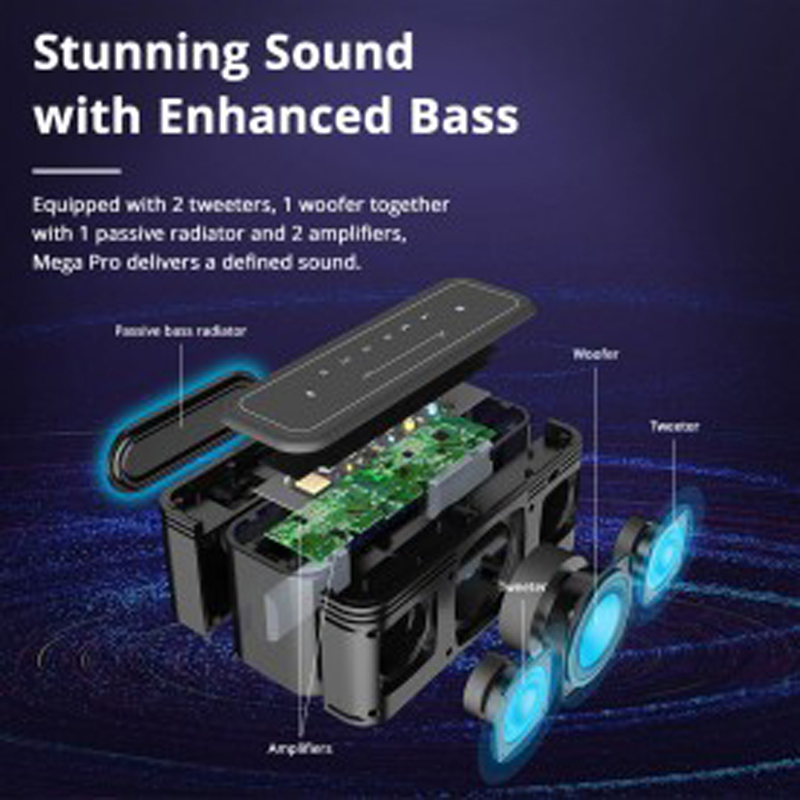 With two amplifiers and a passive radiator, it does deliver a sound quality improvement over their smaller speakers.
I mentioned the three equalization modes – mega bass, voice, and surround.  Mega bass certainly increases bass response, but never got too thumpy for my taste.  The voice setting brightened up the sound in the mid-ranges where voices normally fall.  This would be great for audio conferencing or phone calls.  But…I tested phone calls and wow – it didn't go well.  I went into a quiet location and called my wife.  At first, she was really impressed and couldn't tell I was on a speaker, and then – a "whooshing" sound took over the call and it sounded like I was in a wind tunnel.  We couldn't get rid of it.  That's unfortunate.  As far as the surround sound goes, to my old and tired ears, I don't get much of a 3D surround effect from it.  It does lower the bass response a bit, though, so depending on what I'm listening to, it might be a preferred mode.
This speaker also supports TWS – true wireless stereo.  I was hoping I could link my Element Force and this Mega Pro, but it wouldn't connect.  It makes sense that you would need matched speakers, but I thought I'd give it a shot anyway.
The one thing I didn't care so much for was the volume slider.  I got varied results with it.  You can tap the + or -, or, slide your finger along the line in either direction.  For me, it seemed a little flakey at first, working sometimes and not working at other times.  I think, perhaps, you need to develop a "touch", as it seemed to improve as I used the speaker.  Still, sometimes, there is something to be said for physical buttons.
One more note – remember the ports?  Which of these seemed out of place?  The USB-A port?  Yes – that's a new thing.  The Mega Pro can also double as a charger, providing power for your phone.  Interestingly, though, the manual says not to charge your phone from the USB-A power while also using the speaker.  That seems a little short-sighted, but at least you can still top off your phone in a pinch. The USB-A port also supports flash drives.  You can put some MP3s on a flash drive and play them back on the Mega Pro.  Nice, with a caveat below.
Finally, I had two improvement suggestions from my review of the Element Force.  First, I want a shuffle option when playing from a memory card.  Sadly, that still isn't available for a memory card or flash drive. Second, I complained about the design of the memory card slot as it was incredibly difficult to extract the card without getting tweezers.  Happily, that is much improved on the Mega Pro as there is no longer a lip over the slot blocking your fingers.
What I like
Solidly built
Decent sound quality
Solid bass output
Loud enough for outdoor use
What I'd change
I still want a shuffle-play option added for memory card playback
Fix the sound quality for phone calls
I'd still like Tronsmart speakers to include a battery meter rather than just rely on looking at the Bluetooth settings on your phone to see how much charge you have
Make it so you can charge your phone and play music simultaneously
Final thoughts
I think this is a terrific speaker.  It's portable enough to take just about anywhere.  I say that because, at nearly four pounds, this isn't something you just toss in a backpack for a hike. But, if you're planning an outdoor gathering, like many of us are during these crazy COVID-times, this baby packs enough of an aural punch to deliver good-quality sound for the entire socially distanced group.
We show movies in our driveway.  I plan to stop using the gaming speakers I currently use and try this little speaker instead.  With its great sound output, it might be just the solution I've been looking for to provide that driveway-filling sound.
Price: $86.99
Where to buy: AliExpress
Source: The sample of this product was provided by Tronsmart.