We use affiliate links. If you buy something through the links on this page, we may earn a commission at no cost to you. Learn more.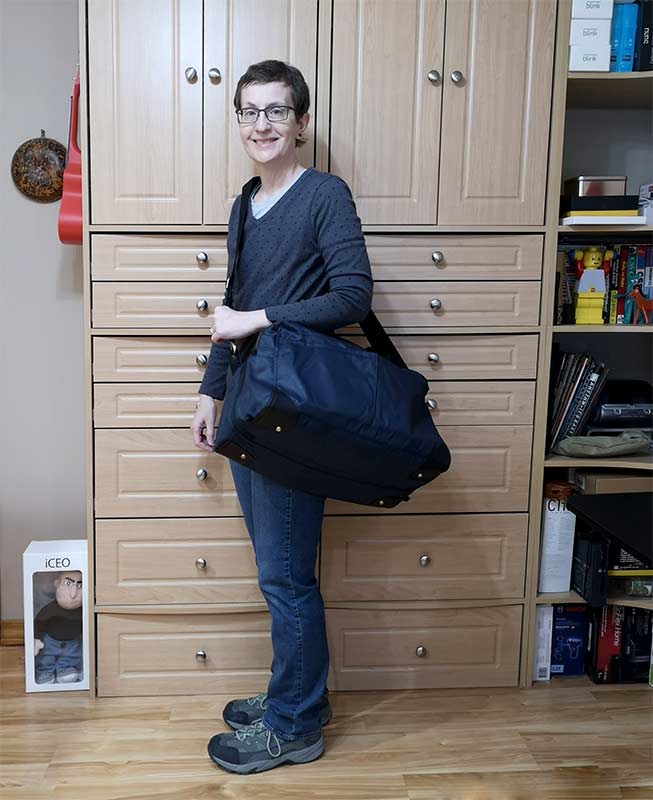 REVIEW – If you're an avid traveler who likes to keep the task of packing for trips as simple and as organized as possible, I have a bag that you'll want to consider for your next one-bag travel trip. It's the Pakt One carry-on travel bag and it is as feature packed (see what I did there?) as possible without being overly bulky or complicated to use. Let's take a look.
What is it?
The Pakt One is a duffle style shoulder bag that has been designed with frequent travelers needs in mind.
Design and features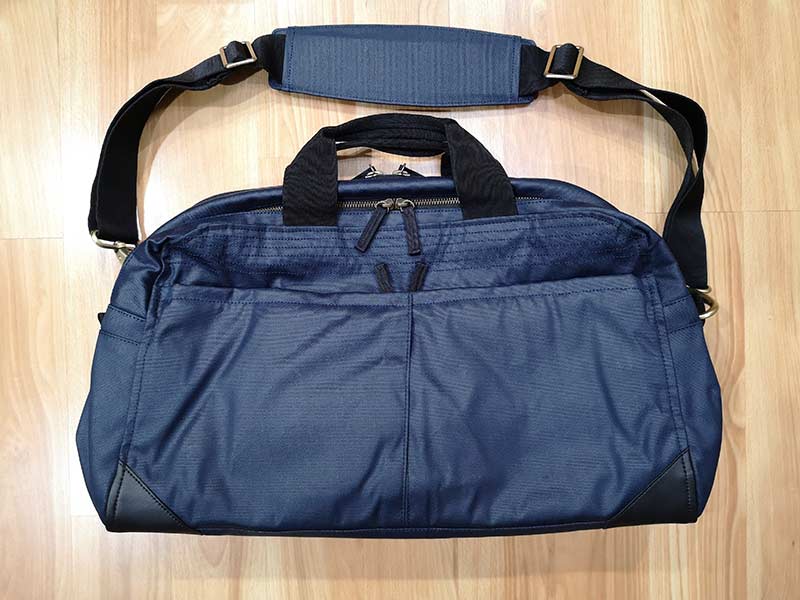 The Pakt One is a 35-liter capacity coated canvas bag that is available in navy which you see here, as well as grey and black. The bag is 20″ (50.8cm) long by 10″ (25.4cm) wide and 11″ (27.9cm) tall. The bag is pretty beefy and weighs in at 3.25 lbs when it's empty. One side has 2 zippered pockets that are approximately 7″ x 7″.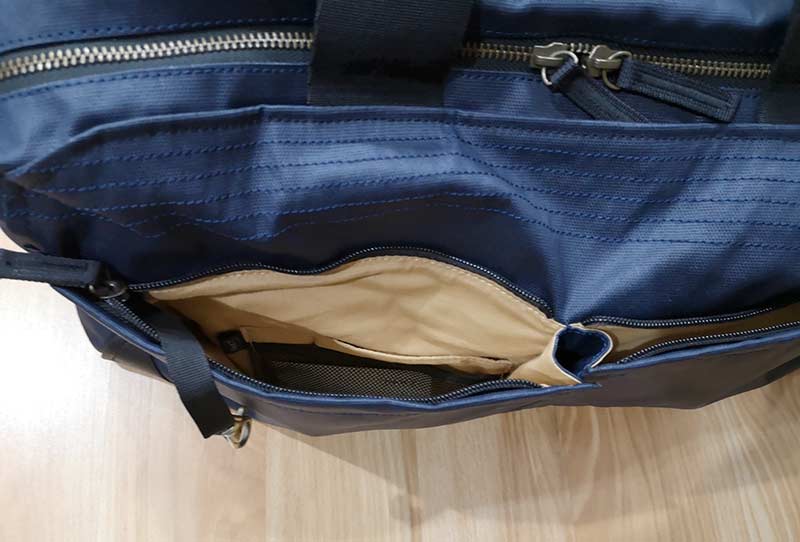 The pockets can expand to accommodate bulkier items. The pocket on the left side of the bag has pen slot with an open topped slot next to it and a small mesh pocket in front of those pockets.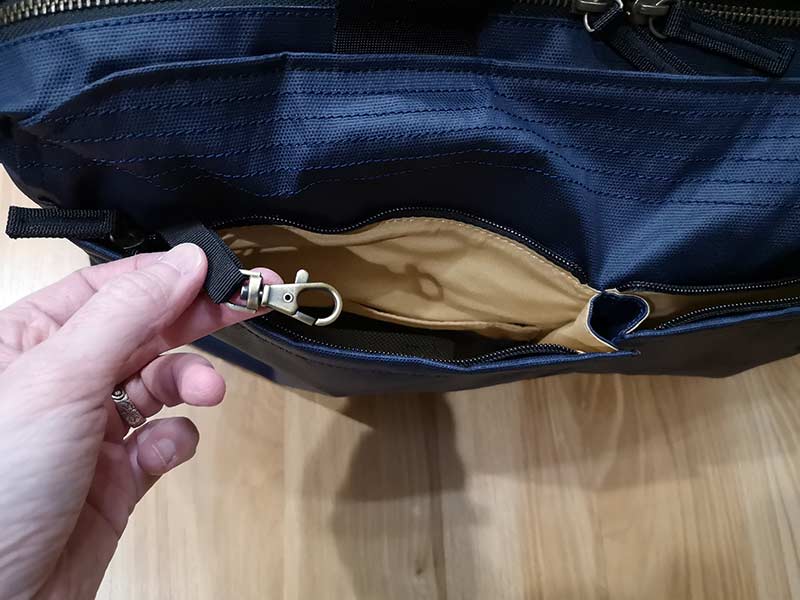 There's also a tether with a clip sewn into that pocket that you can use to clip your keys so you'll always know where they are.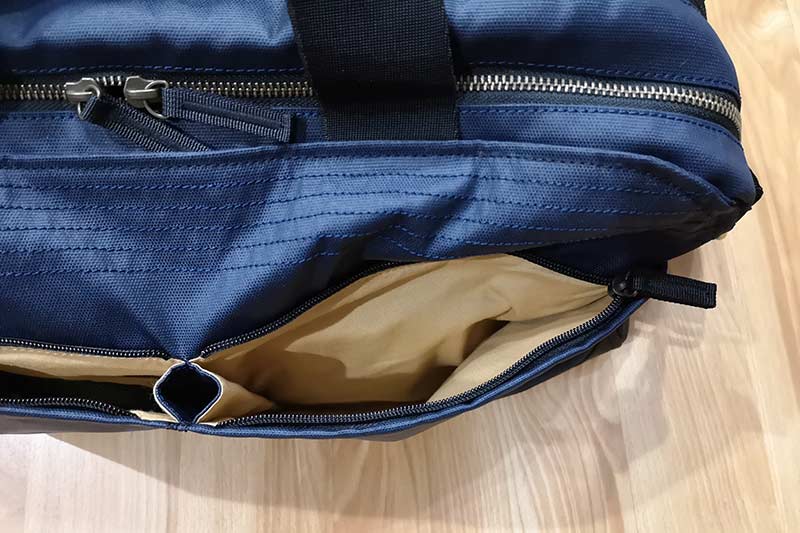 The right pocket is an open compartment without any extra organization in it.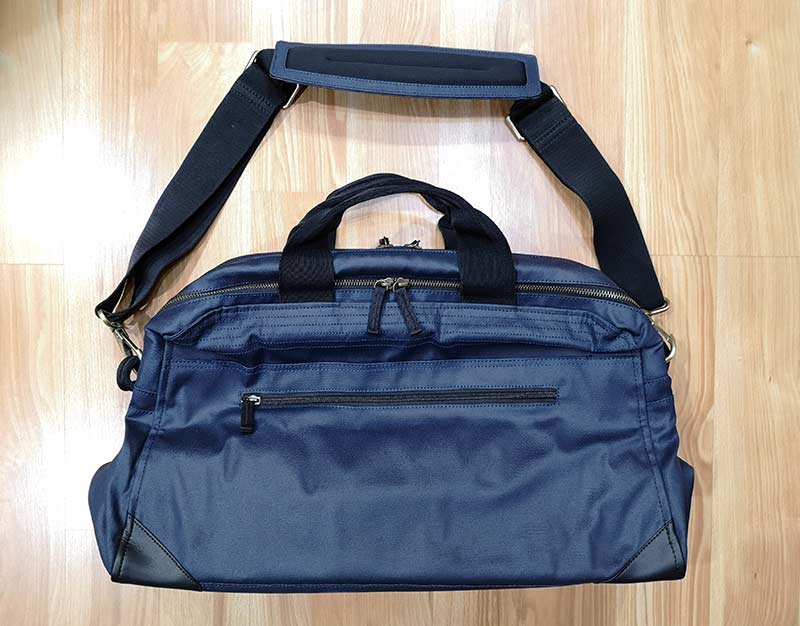 When you flip the bag over on the opposite side, you'll find another zippered pocket which is 11″ x 6.5″ with an open-topped pocket located behind it.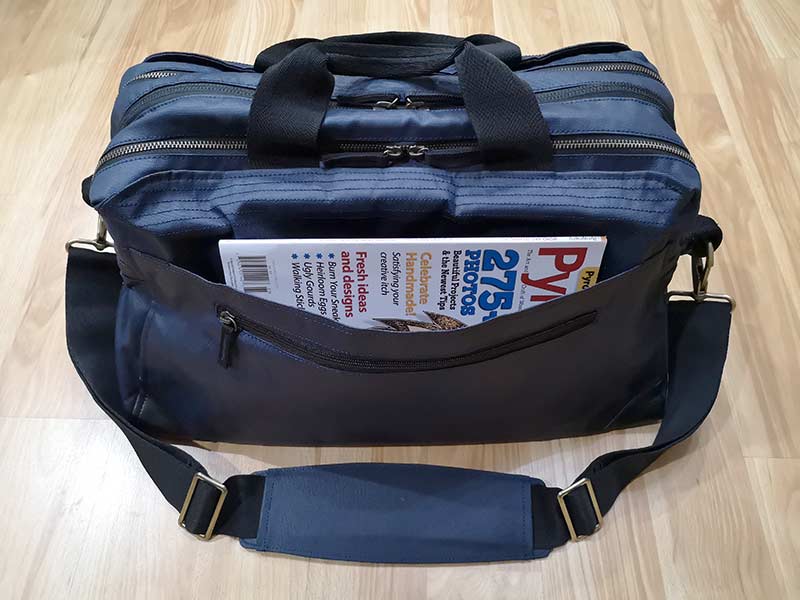 The open-topped 14″ x 8″ pocket is roomy enough to hold magazines and other papers.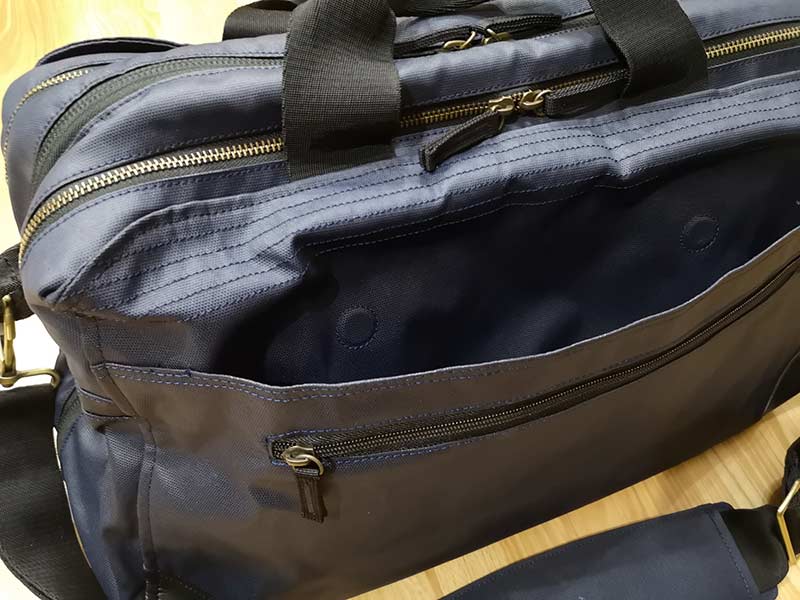 This pocket is held closed with two magnets on either end. The magnets aren't super strong, but enough to hold the top of the pocket closed as long as you store thin items in that pocket.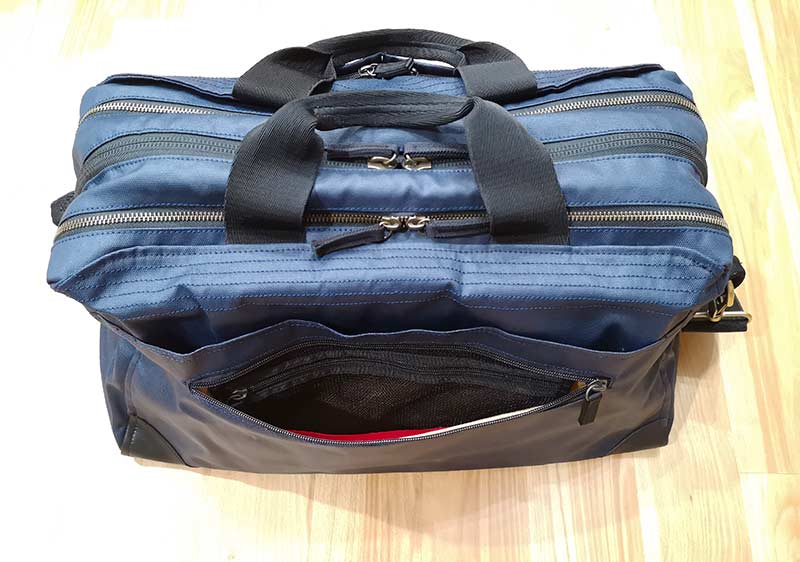 The zippered pocket holds a special mesh pocket inside it.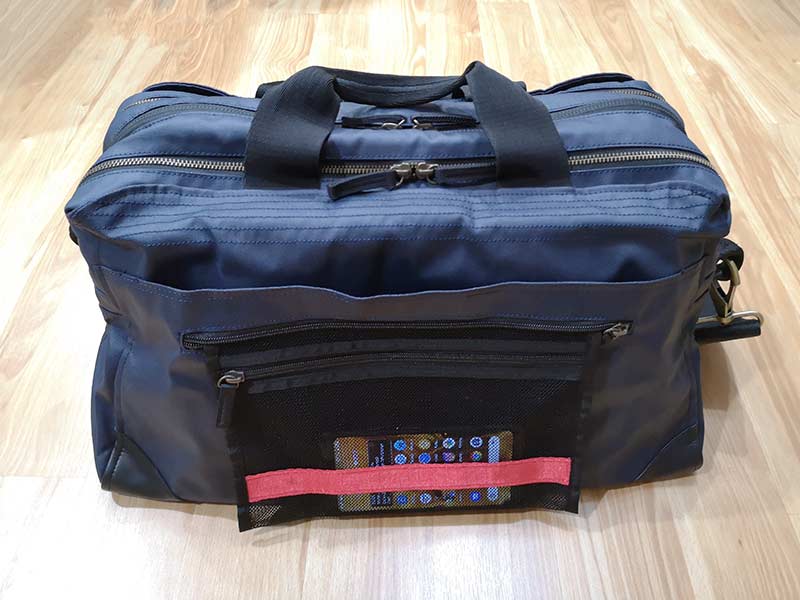 The mesh pocket is designed to hold some of the small items that you usually put in a bowl when you send your belongings through the scanner at the airport. There's even a red strip on the mesh pocket to remind you to retrieve those items when you're done navigating through the checkpoint.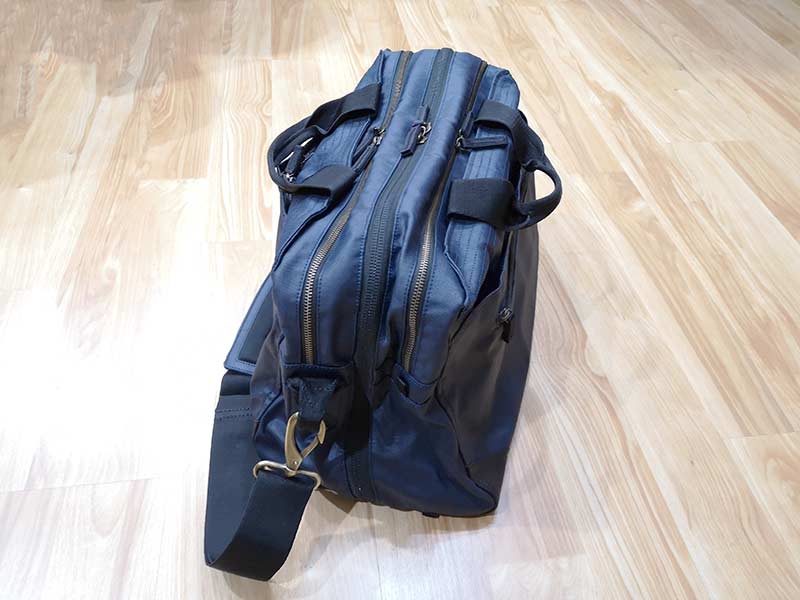 On each end of the bag is a canvas loop that you can use to attach the included shoulder strap. There is also a small accessory loop on each end of the bag that you can use to attach other items. Speaking of the shoulder strap, it is adjustable and has durable brass (the navy bag), pewter (the grey bag), or black hardware on the black version of the bag.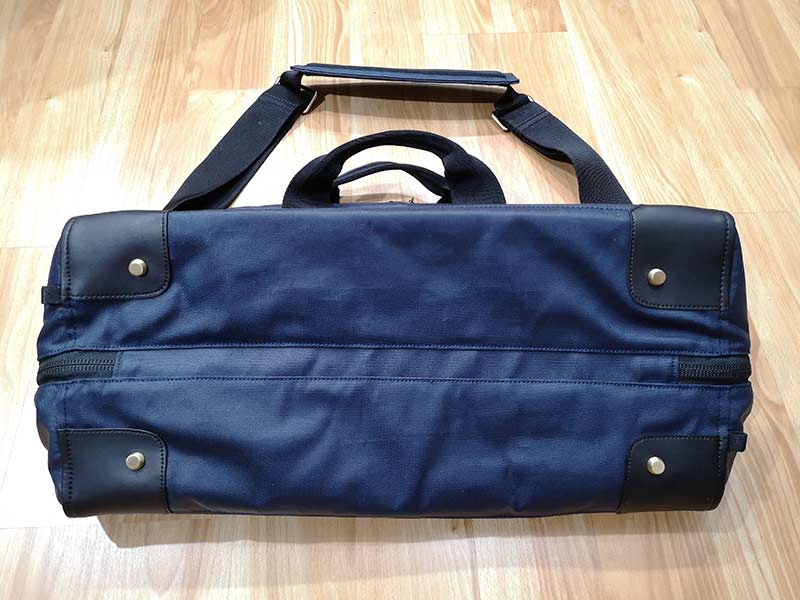 The bottom of the bag has metal feet and protected corners.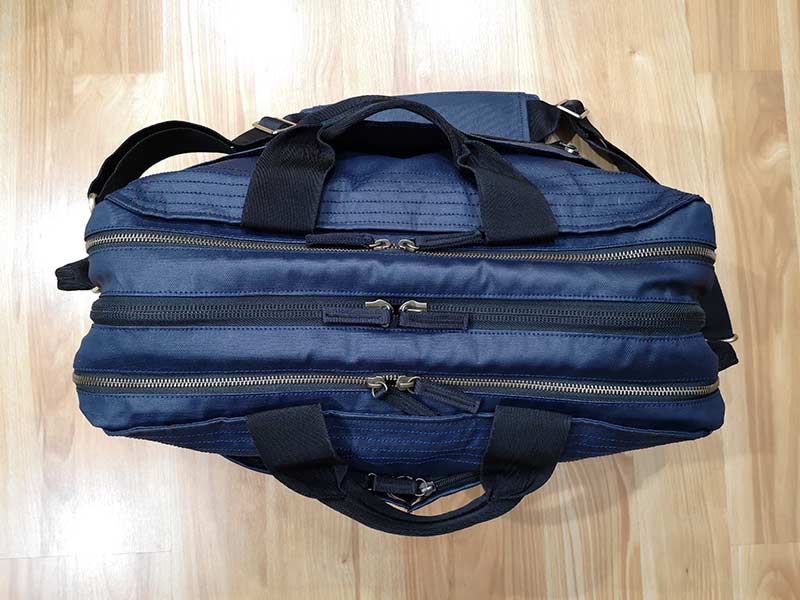 All of the zippers on the Pakt One bag have canvas zipper pulls which I think is a nice touch. In this top-down view of the bag, you can see that there are 2 canvas handles and 3 dual zippers that you can use to gain access to the main interior compartments of the bag.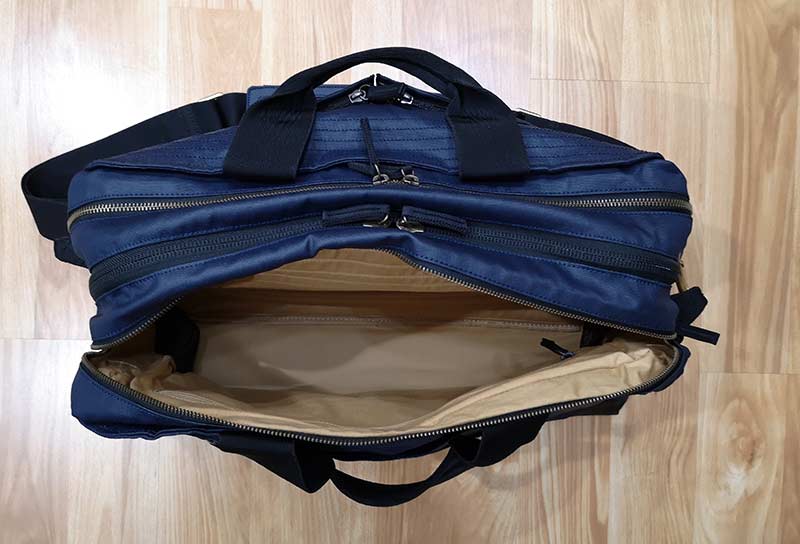 One of the compartments opens into a roomy storage area that has a light tan clothlining. In each side of this compartment is a mesh pocket that can hold a water bottle, lotion bottle, etc.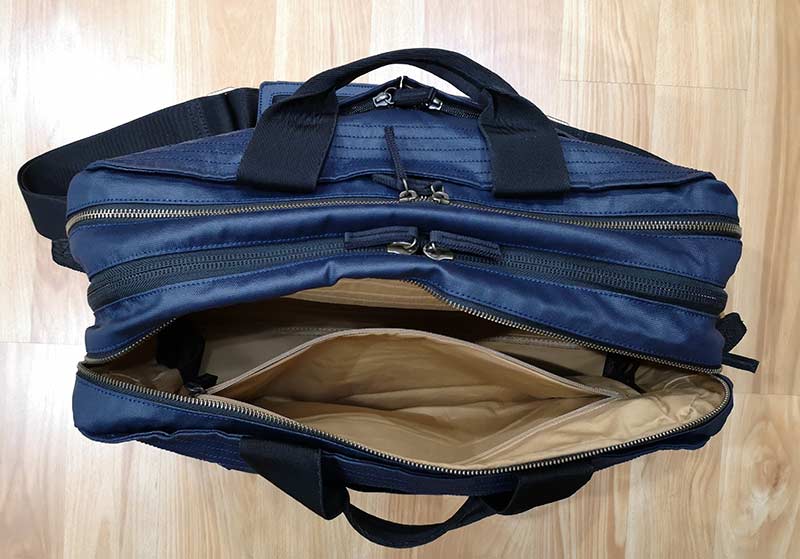 The exterior wall of the storage area has a large zippered pocket that's approximately 13″ x 8″.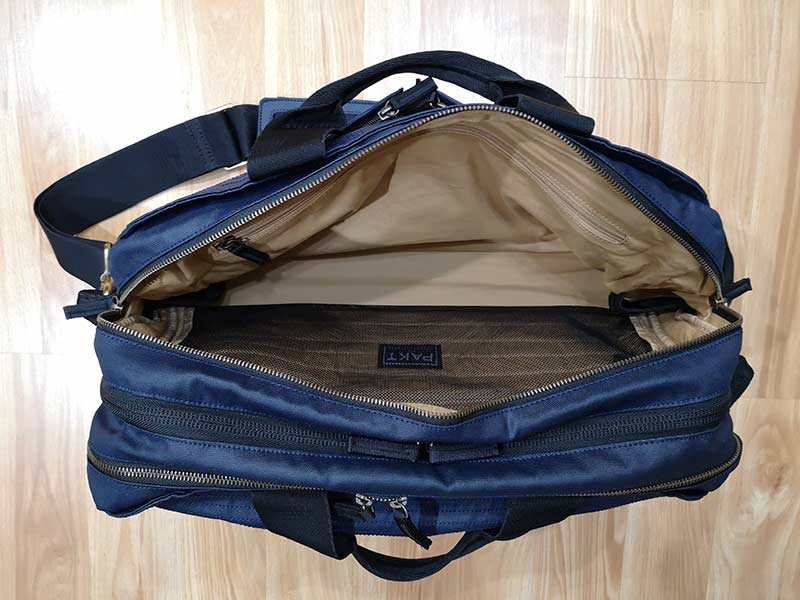 If we flip the bag around to the other side and open that storage area, it has a similar layout with side mesh pockets.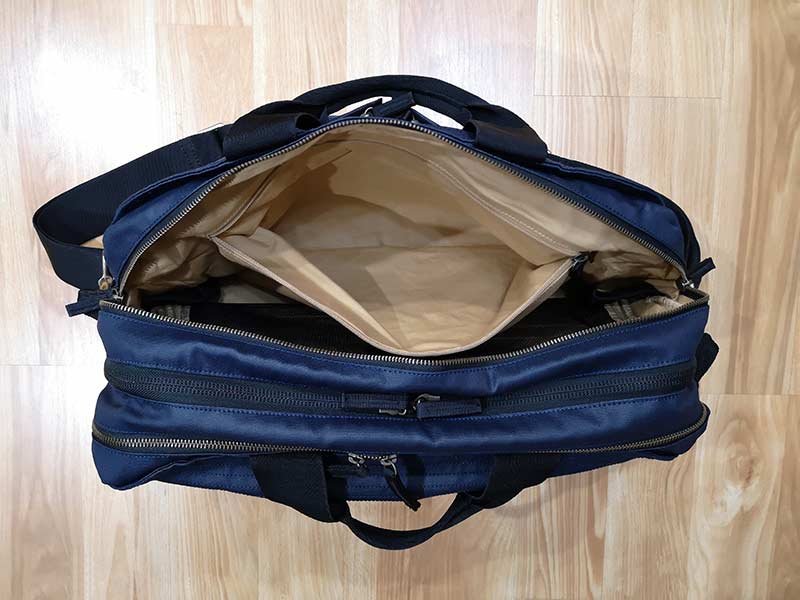 It also has a zippered pocket on the exterior wall of the storage compartment. There is one thing different about this compartment though, it has a zippered mesh window.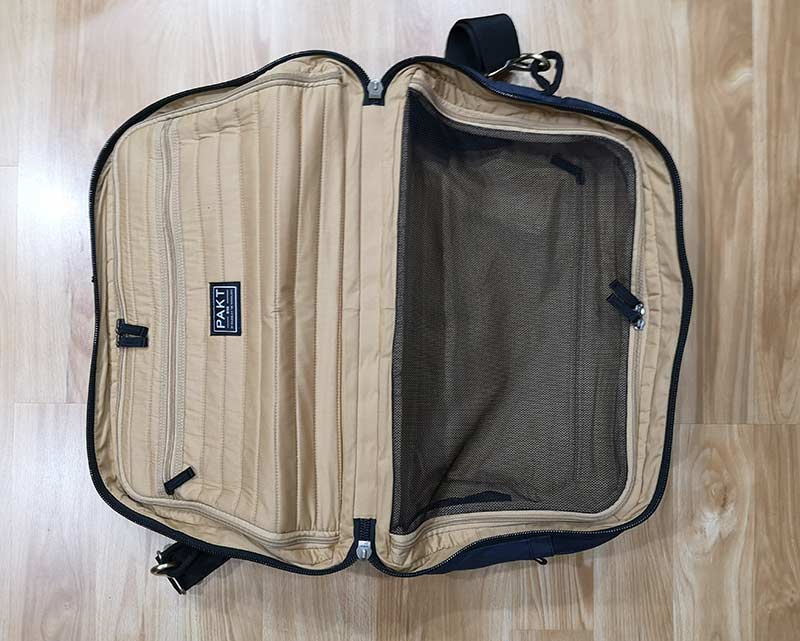 You can see this mesh "window" when you unzip the center zippers. The bag is able to open into two halves that fold flat to give you access to the main compartments like you can when you open a suitcase.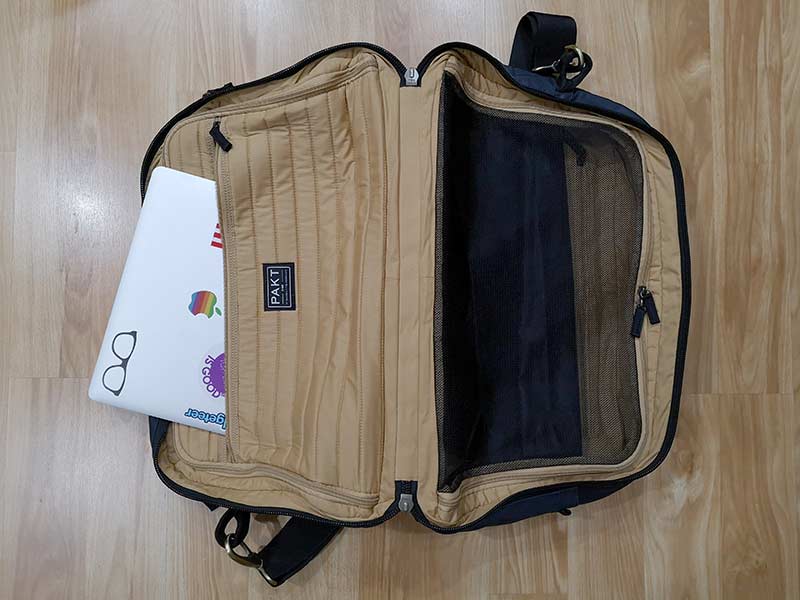 The left side has a padded zippered pocket that can hold up to a 15″ laptop. Here I show my little 12-inch MacBook to give you an idea of the overall size of the Pakt One bag.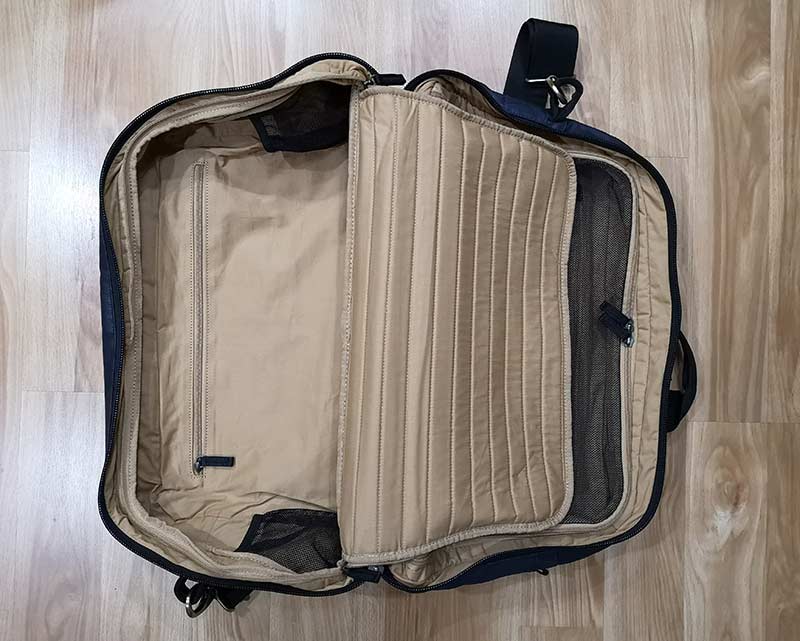 The divider can be unzipped to give you access to the left storage area.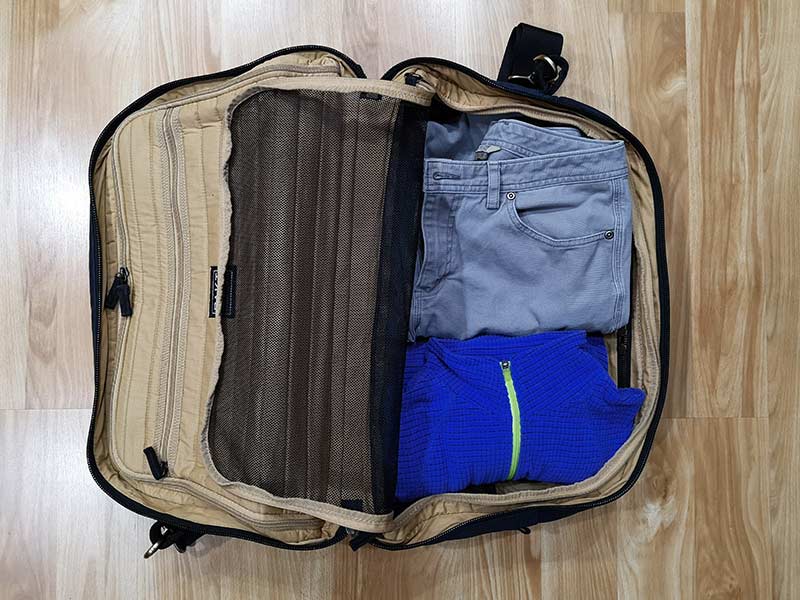 The mesh window also unzips to provide access to the right storage area. Both sides can be used to hold your clothes and gear. Then the flaps can be zipped back in place to keep everything neat and tidy. If you're wondering why there's a mesh window, it's so you can easily differentiate the sides so you'll know where your gear is.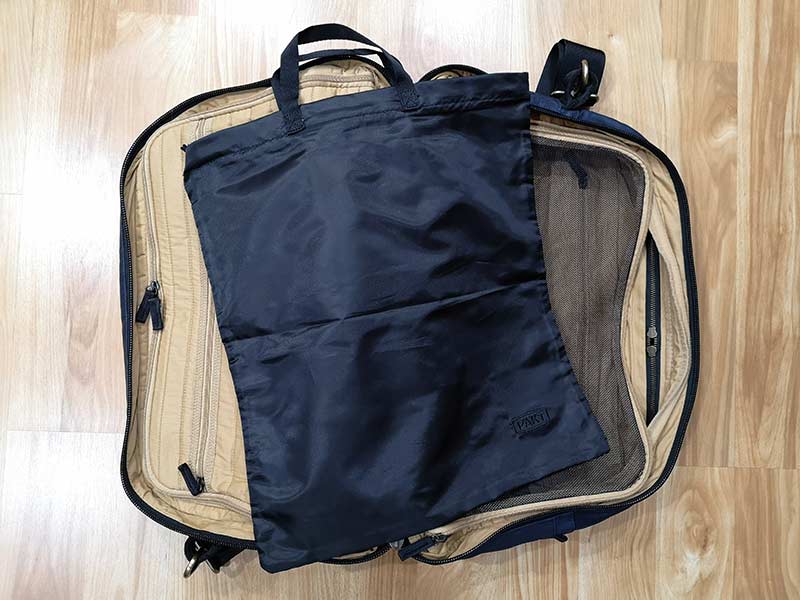 They even include a dirty clothes bag with the Pakt One bag so you can keep your cruddy clothes from touching your clean clothes.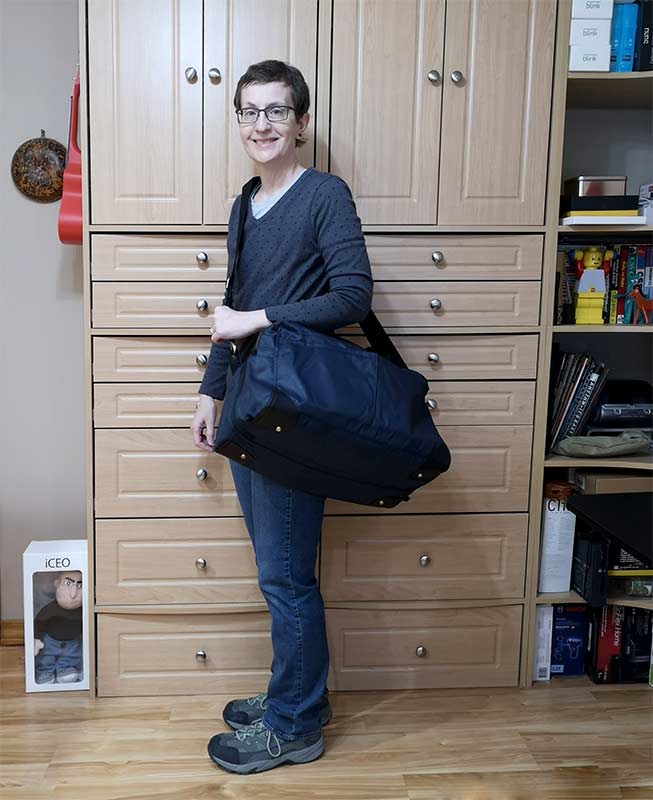 Here I am with carrying the Pakt One bag. Size wise, I stand 5'6″ tall. The bag looks pretty big on me in this picture and yes, it is a large bag. But keep in mind that the Pakt One bag is not supposed to be an everyday gear bag, it's a duffle style travel bag and it fits the approved size requirements for carry-on bags for all major airlines.
Loading this bag down with your clothes and gear and then running through an airport to catch your flight with the bag swinging from your shoulder will probably NOT be a comfortable experience, but the two grab handles on top can help with that and the bag is pretty comfy for short walks.
What I like
Roomy with lots of organization
No gaudy branding on the exterior
Well made
What needs to be improved
Pricey (Update 5/9/19 – Price has been lowered $50. It's still expensive, but not quite as expensive as before)
Final thoughts
The Pakt One bag has a lot going for it. The design is great with lots of pockets and storage compartments and the ability to open flat for easy access to your clothes. The bag is very well made and feels like an old friend from the minute you get it. It doesn't need a breaking in period for it to feel like a well-used bag and will probably become your favorite travel bag from day one. If you prefer a shoulder bag to a backpack when it comes to one-bag travel, the Pakt One bag is definitely one to check out.
Update 6/30/21
I posted this review back in January of 2019 and only had a chance to take it on one trip that year to Red River Gorge, Kentucky. It worked out great for that trip, but since then, it has been sitting in a closet until a few weeks ago when we were able to go on our first real vacation since COVID. This time we drove up north to Indiana Dunes and stayed in a house right on Lake Michigan. The Pakt One was a fantastic travel bag for that trip. I think it really shines as a road trip bag.
Price: $275.00
Where to buy: Pakt
Source: The sample for this review was provided by Pakt.