We use affiliate links. If you buy something through the links on this page, we may earn a commission at no cost to you. Learn more.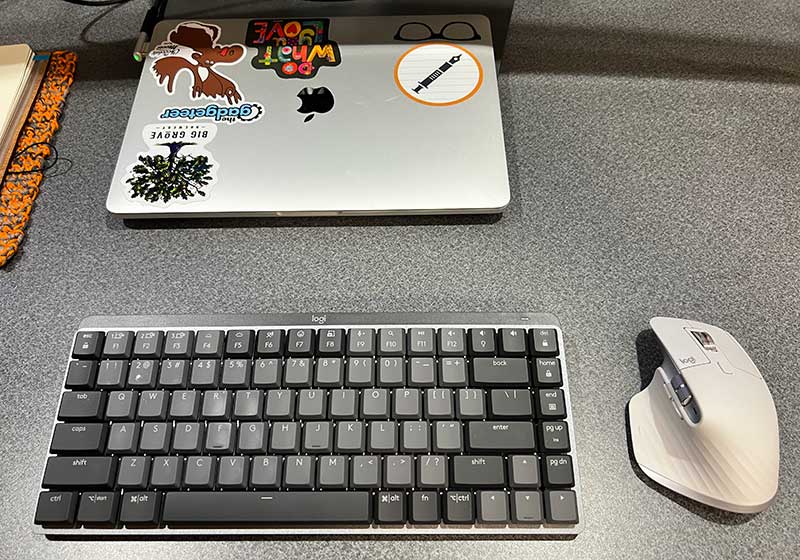 REVIEW – I have been using a Logitech MX Keys keyboard and a Logitech MX Master mouse for several years. Even after reviewing many mechanical keyboards and other mice, I always go back to Logitech because the keyboard feels great under my fingers and I love the built-in media keys. The MS 2 Master mouse is my all-time favorite mouse due to the scroll wheel that can change from a free roll to a ratchet-style roll. I always keep it set to the free roll because it just feels great spinning it with my finger to scroll through pages. If any mechanical keyboard could replace my Logitech MX Master keyboard, it would be a mechanical keyboard from Logitech and as luck would have it, they just came out with one and I have been testing it along with their latest mouse. Let's take a look at the Logitech MX Mechanical Mini keyboard and Logitech MX Master 3S mouse.
What are they?
The Logitech MX Mechanical Mini keyboard and Logitech MX Master 3S mouse are two of Logitech's latest input devices. The MX Mechanical Mini is Logitech's newest mechanical keyboard and the MX Master 3S is the updated version of Logitech's MX Master mouse.
What's in the Logitech MX Mechanical Mini keyboard box?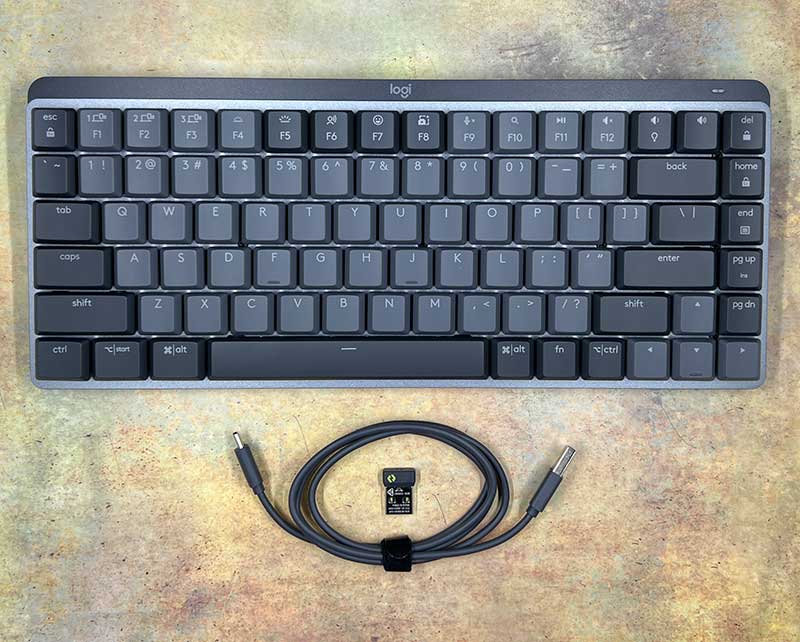 Logitech MX Mechanical Mini keyboard (with linear switches)
USB-C charging cable
USB Logi receiver dongle
Logitech MX Mechanical Mini keyboard design and features
The Logitech MX Mechanical Mini keyboard is Logitech's first mechanical keyboard and is available in two sizes. I was sent the Mini version of the keyboard (12.30 x 5.17 in/312.60 x 131.55 mm), but there's a full-sized version (17.08 x 5.17 in/433.85 x 131.55 mm) that has a dedicated number pad. Both types come with your choice of three switch types: tactile quiet, linear, and clicky. I chose the linear version. What's the difference?
Tactile Quiet – Mechanical key switches with a satisfying tactile bump you feel – for precise feedback, reactive key reset, and less noise so your typing doesn't disturb those around you.
Linear – Mechanical key switches with uninterrupted key travel and minimal spring force – for fast reactivity and an ultra-smooth typing feeling.
Clicky – Mechanical key switches with a gratifying, audible click and tactile feedback with every keystroke – for a familiar mechanical feel and sound.
If you check Logitech's product page for the MX Mechanical keyboard, you can actually listen to the differences between the switches. I also have a hear-it-in-action video below for the linear switch version sent to me.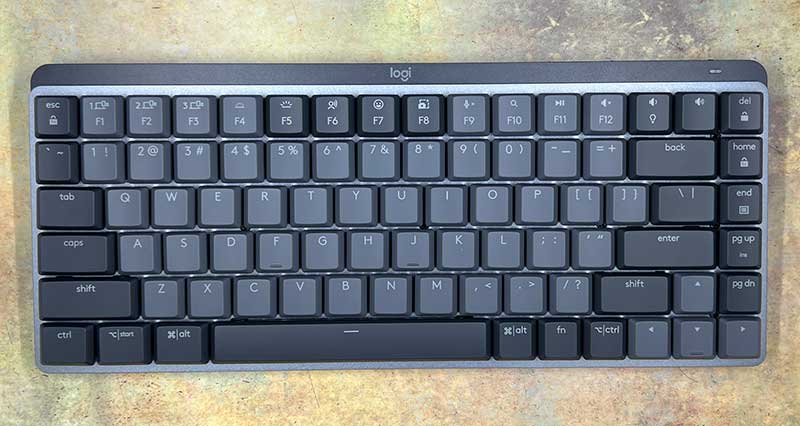 The keyboard features construction made of 47% post-consumer recycled material. It has an aluminum top case in a gun metal grey. Besides the keys, there is a charging status/battery LED on the top right corner.
This keyboard is compatible with Windows, macOS, Linus, and Chrome OS and features a dedicated number row and function key row which I really appreciate. I also like the special functions that control device pairing/switching, key backlight, dictation, emoji picker, screenshot, microphone mute, spotlight search, media play/pause, speaker mute, and volume. All these keys/functions work great with my 13″ MacBook Pro M1.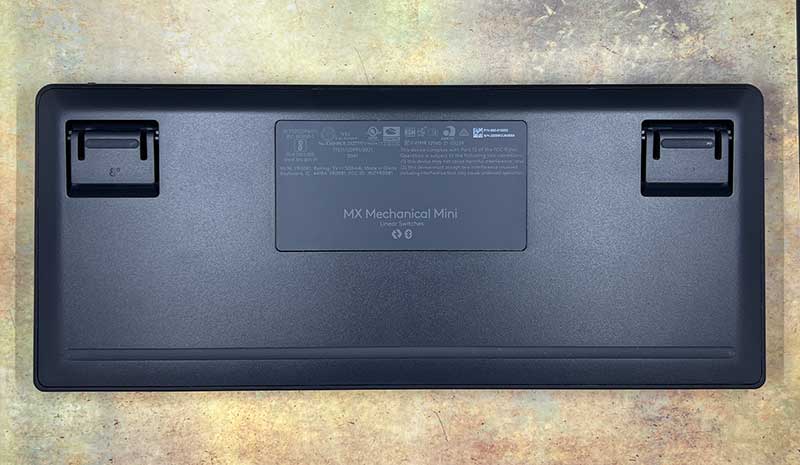 On the bottom of the Logitech MX Mechanical Mini keyboard are flip-out feet that provide a slight angle to the keyboard to improve ergonomics.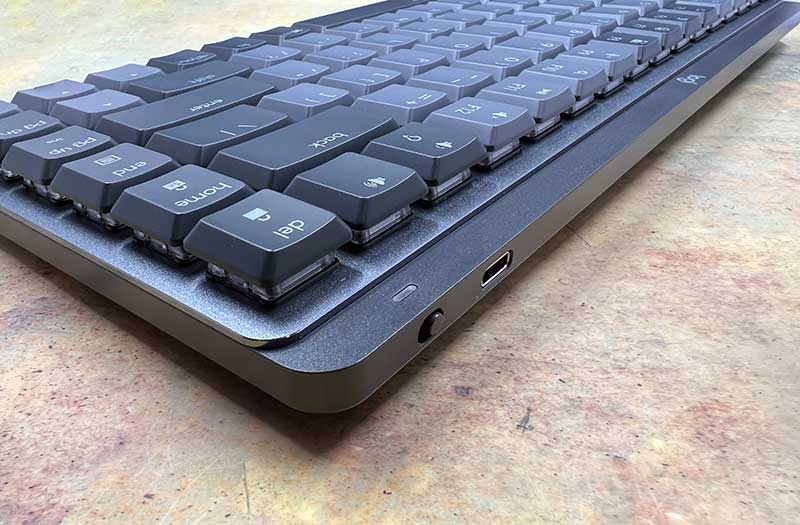 The top right corner has a battery status LED on top and a power switch on the front edge along with a USB-C charging port. With backlighting on, the keyboard will work for up to 15 days, but if you leave the backlighting turned off, the keyboard will work for up to 10 months.
Note that the Logitech MX Mechanical Mini keyboard is a wireless keyboard that you can connect to your computer using Bluetooth or the included USB Logi Bolt receiver that you plug into your computer.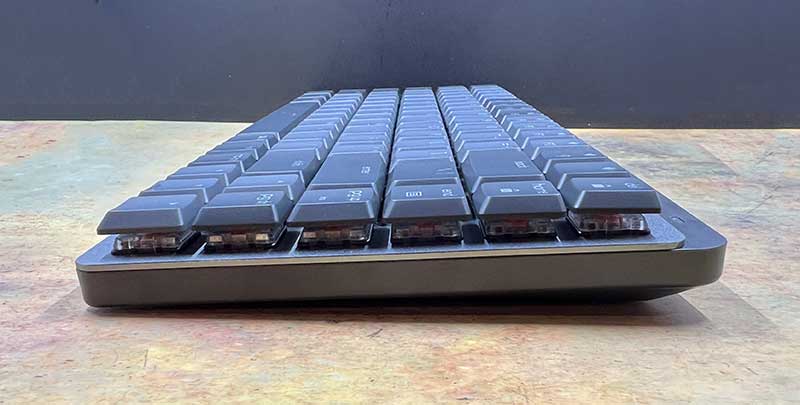 The keys are low profile but not as flat as the Logitech MX Keys keyboard which I have been using exclusively since reviewing it in 2019.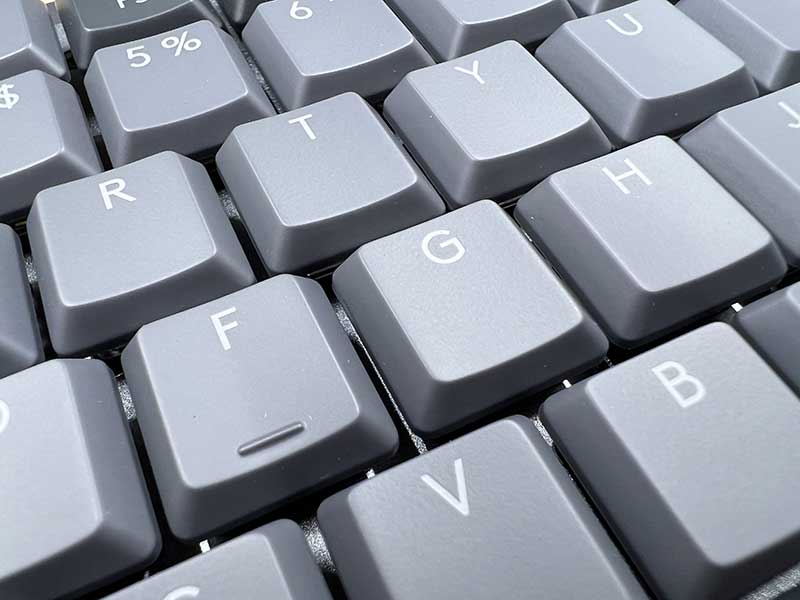 The switches themselves are not hot-swappable but the keycaps on the MX Mechanical and MX Mechanical Mini are easy to remove and replace with third-party keycaps because the switches feature a cross-stem design that is widely used in the market.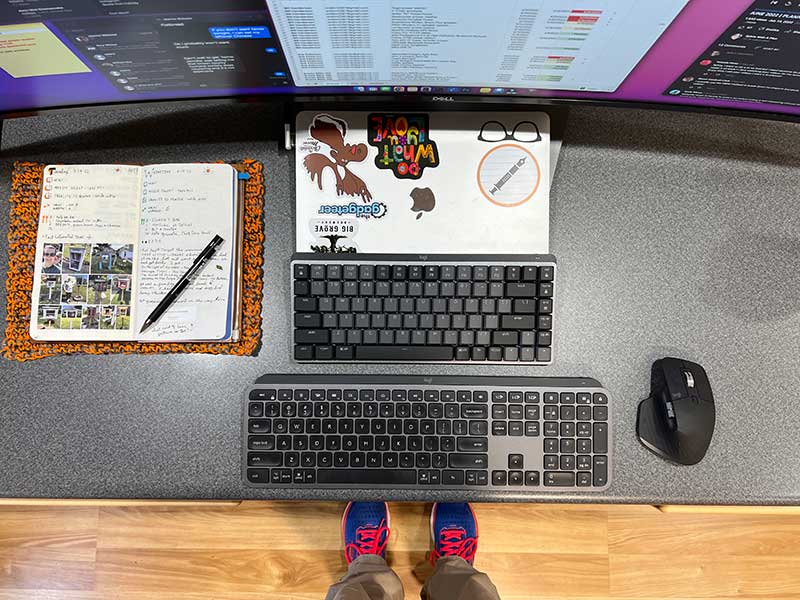 Here's a picture showing the size difference between the MX Mechanical Mini and the MX Keys keyboard. The Mini saves a lot of space on your desktop while offering everything that the MX Keys offers minus a dedicated number pad which I never used anyway.
Typing on the Logitech MX Mechanical Mini keyboard is super enjoyable. I like the mechanical switch feel with the extra travel and sound.
The linear switches are not as loud as many clicky style switches, but the sound is just klonky enough to be fun and enjoyable without being annoying or distracting. Actually, I don't really care if the sound of me typing is annoying because I work from home and only my new bobtail kitten Ozzy is here with me during the day to complain and so far he hasn't. 😁
Hear it in action
After using the new Logitech MX Mechanical Mini keyboard for the past couple of weeks, I can say that I like it just fine. But I do find that it sometimes takes multiple keypresses to wake it up after my computer has been idle for several hours or overnight. Is this a reason not to buy this keyboard? No. However, I'm still trying to make up my mind if I like the MX Mechanical Mini more than my MX Keys keyboard…
What's in the Logitech MX Master 3S Mouse box?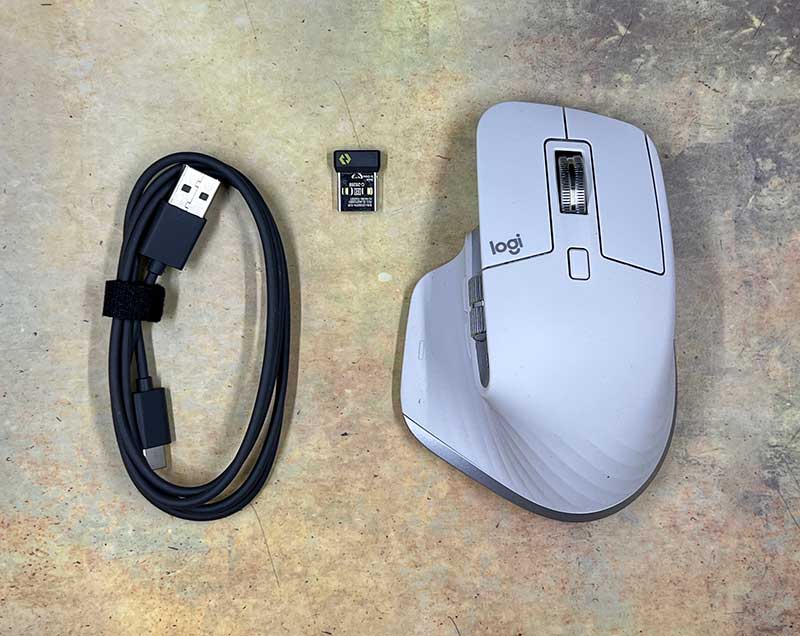 Logitech MX Master 3S Mouse
USB-C charging cable
USB Logi receiver dongle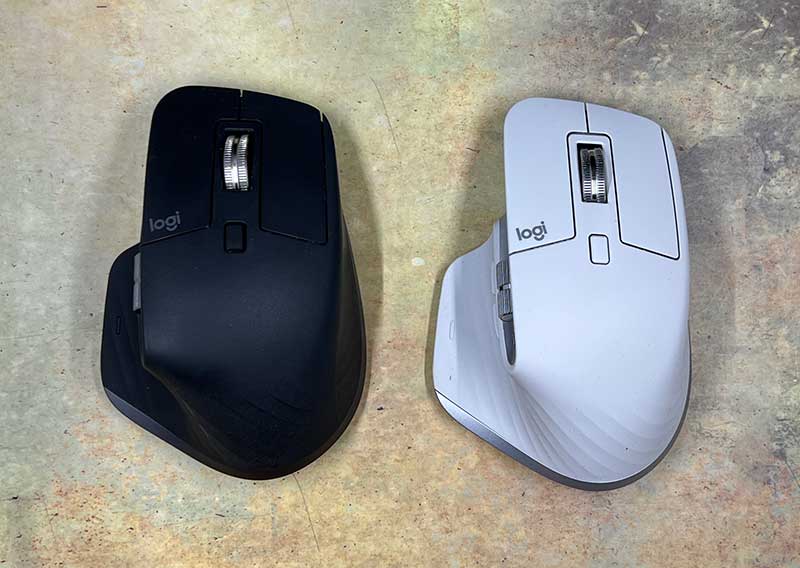 At first glance, my MX Master 3 mouse and the new MX Master 3S mouse look identical except for the new pale gray version (it's also available in black and graphite). I asked Logitech how the 3S has been updated and was told:
The MX Master 3S is a remastered version of the iconic MX Master 3. The new mouse improves upon its predecessor with features such as quiet click, increased DPI up to 8,000 for speed and precision even on glass, multiple connection options via Logi Bolt and Bluetooth, compatibility with Logi Options+, improved sustainability, and a new pale gray colorway.
Logitech MX Master 3S Mouse design and features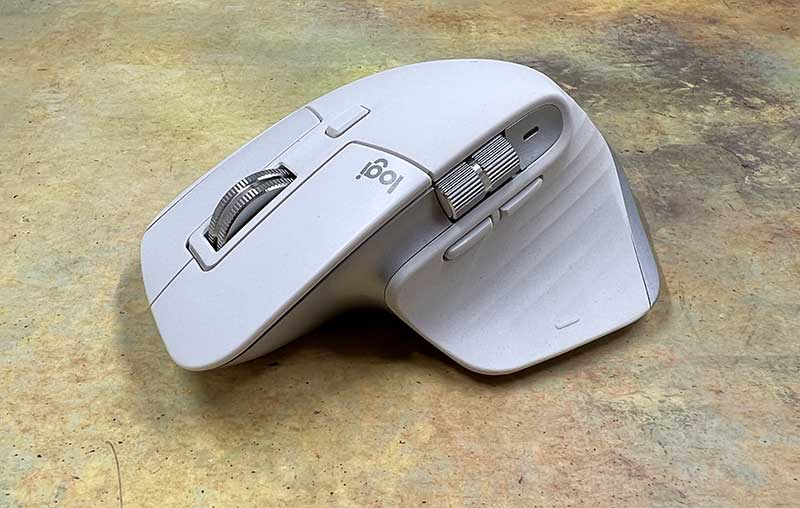 The MX Master 3S mouse has a soft rubbery texture on the sides and palm area, while the left and right main mouse buttons are plain smooth plastic.
This mouse has 7 buttons, so let's count them. I've already mentioned the left and right main mouse buttons where your index and middle fingers rest, so that's 2. Let's add the metal scroll wheel between the buttons, which can double as a select/left mouse click (that's 3 buttons). Below the scroll wheel is scroll type toggle button that switches between a ratchet type scroll and a smooth free spinning type of scroll (we're up to 4 buttons now).
On the left side of the mouse, you'll find a thumb wheel for horizontal scrolling next to it is a status LED for charging. Below the thumb wheel are two buttons that by default, travel forward and backward through webpages (That's 6 buttons).
The 7th button is on the bottom of the thumb rest. It's the gesture button. On the Mac, holding it down brings up the app switcher.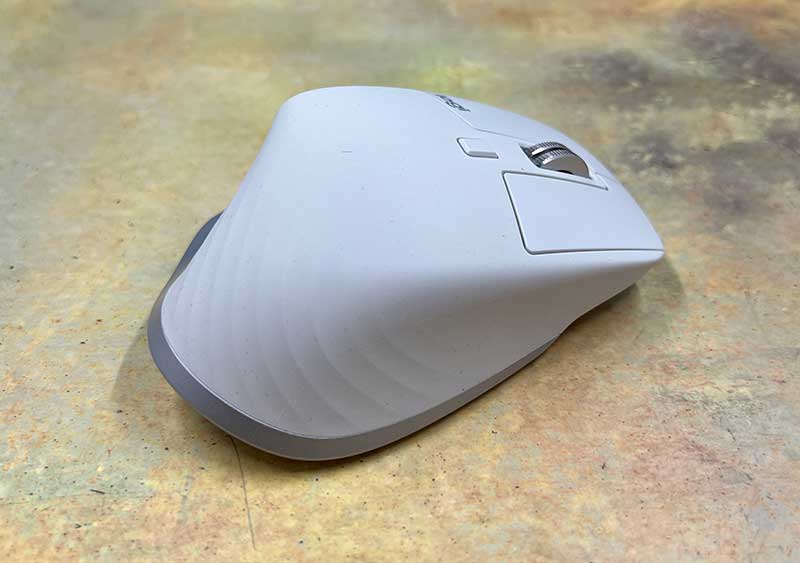 The mouse is more on the large size which I like and has a nice shape that makes it comfortable to use for long periods of surfing and working.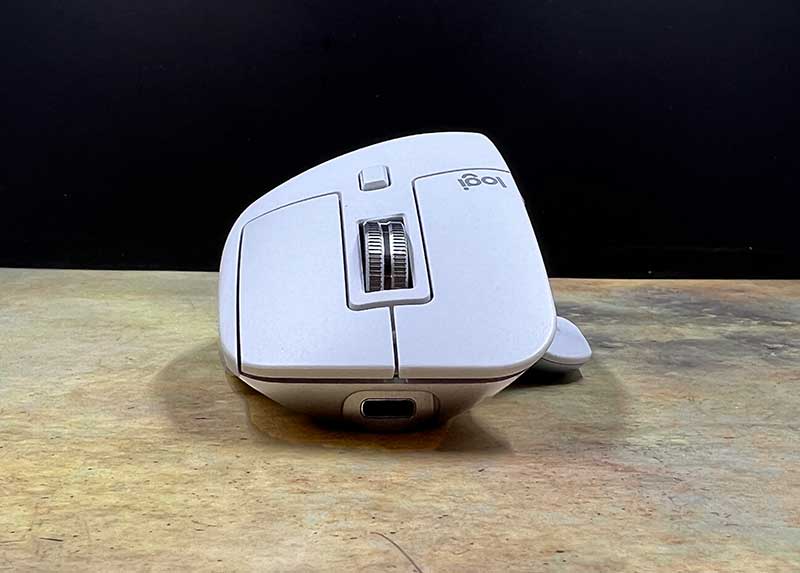 On the front of the Logitech MS Master 3S mouse is a USB-C charging port.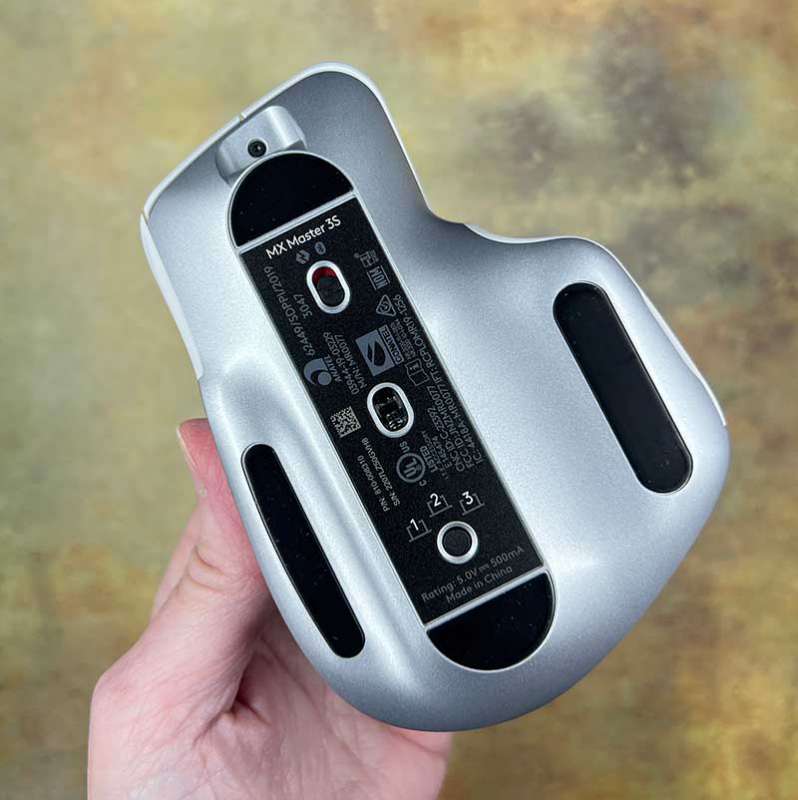 And on the bottom is a power switch, optical "eye", and a multiple device selector switch that will let you switch between 3 paired devices. The mouse can pair with multiple computers, an iPad, Android, Chrome OS, Linux, or Windows via Bluetooth or you can use the included Logi Bolt USB receiver.
I've been using a Logitech MX Master 3 mouse for almost 3 years, and found the MX Master 3S mouse to feel so similar that I would not have been able to tell the difference just by touch. That is until I started using it and then the notable difference was the feel of clicking the left and right buttons. The MX Master 3 has a definite click to the buttons, whereas the new 3S is much quieter. I also think that the button travel is more shallow with the 3S but that might be just my perception of it because the audible click is so quiet.
Hear it in action
Other than the sound and feel of the mouse buttons, the Logitech MX Master 3S is a terrific mouse just like the MX Master 3. I find it to be comfortable to use even for hours at a time.
What I like
Well-made, quality gear that looks as good as it performs
Ability to pair with 3 devices and easily switch between them
What I'd change
MX Mechanical keyboard – allow switches to be changed/replaced
Final thoughts
The new Logitech MX Mechanical Mini keyboard and Logitech MX Master 3S mouse are just as nice as other Logitech input devices that I've used for the past few years. They are well made and allow you to use them via Bluetooth or with a USB receiver. Other than having the ability to change the switches, the MX Mechanical keyboard is a very nice compact mechanical keyboard from a company that has been in business for many years and offers great support and features. The MX Master 3S mouse is a nice update to the MX Master 3 as long as you don't end up missing the audible mouse click.
Update 10/6/22
I'm still using the MX Mechanical Mini keyboard but I'll be switching soon either back to the Logitech MX Keys keyboard or something completely different. Why? Because this keyboard keeps inserting weird characters/symbols while I'm typing. The characters that are inserted are ones that I've definitely not typed. It doesn't happen all the time and I can't reproduce it on command, but it has been happening many times throughout the day and is annoying enough that I'll be switching to a different keyboard soon.
Price: $249.98 (for keyboard and mouse bundle)
Where to buy: Logitech and Amazon
Source: The sample for this review was provided by Logitech.