We use affiliate links. If you buy something through the links on this page, we may earn a commission at no cost to you. Learn more.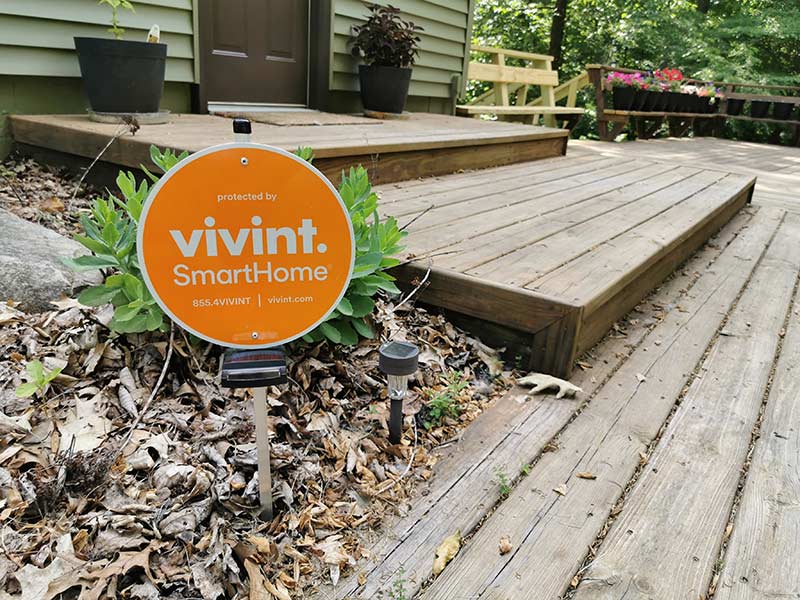 REVIEW – I've enjoyed testing and writing about many smart home gadgets, home automation devices, security systems, and dozens of security cameras, over the years. One thing that I've always found to be a problem is that each device I've continued to use has required its own separate app which means you have to search in different apps for different data, settings, etc. When I was recently approached by Vivint, who has been in the smart home security system business for over 15 years, to try their combination smart home security system, I figured one ecosystem with one app had to be a better solution, so I was happy to accept their offer. Let's check it out.
What is it?
Vivint allows you to customize a home automation/security system to fit your budget and control everything from a single app. Unlike do-it-yourself systems that you install on your own, Vivint is a professional system that is installed and set up by dedicated technicians who come to your house to do the installation, setup the devices, and teach you how to use them. Their system also includes 24/7 monitoring and emergency dispatch.
What's in the box?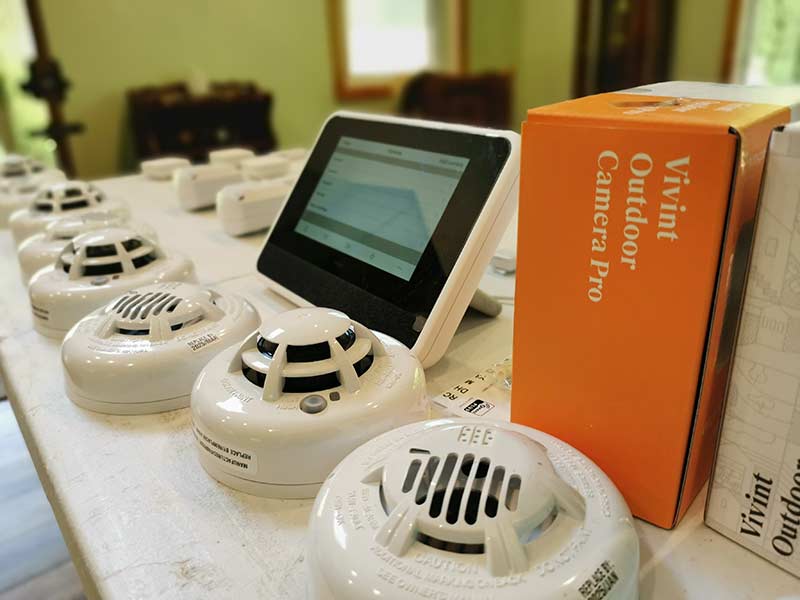 Vivint offers 3 different security cameras, a DVR for 24/7 video storage, a variety of sensors, and a large touch screen smart hub. Here's a list of all the devices and sensors that are available to add to a smart home security system.
Smart Hub
Outdoor camera pro
Indoor Ping camera
Doorbell camera pro
Car Guard
Smart door lock
Element thermostat
Water leak sensors
Motion sensors
Glass break sensors
Window and door opening sensors
Smoke detector
Carbon Monoxide detector
Garage door sensor/opener/closer module
Each person's system will be different depending on their needs, size of their home, budget, etc.
Pre-Install
The first thing that happened was that I had an introductory call with one of the Vivint representatives and he asked me all kinds of questions about my house. How many levels, how many doors, windows, bathrooms, etc. From that info, he made suggestions on the sensors he thought I should go with. But in my case, since I was doing a review of the Vivint system, they gave me everything but the kitchen sink so I could see how it all works together.
Installation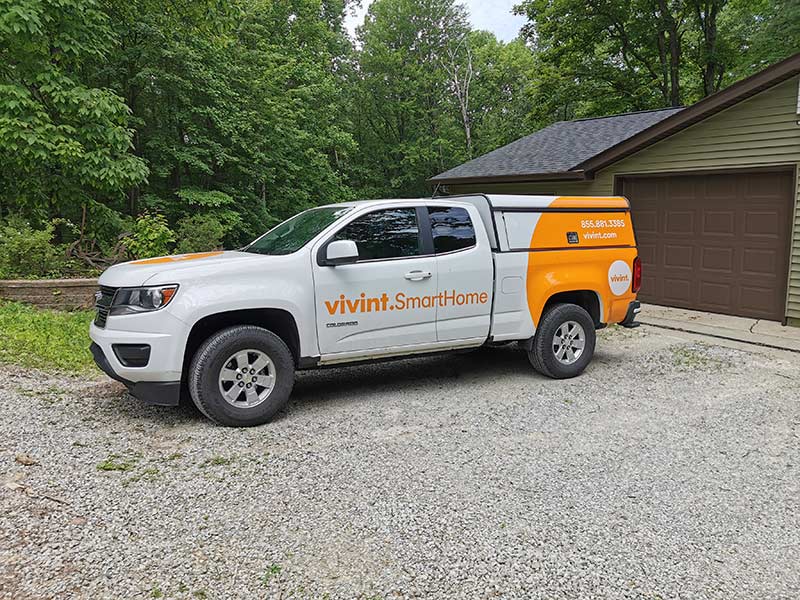 The day before the installation, I received a text message asking if everything was still on for the next day. Then the day of the install, I received a call to let me know that the installer was on his way and shortly after, he arrived right on time as expected.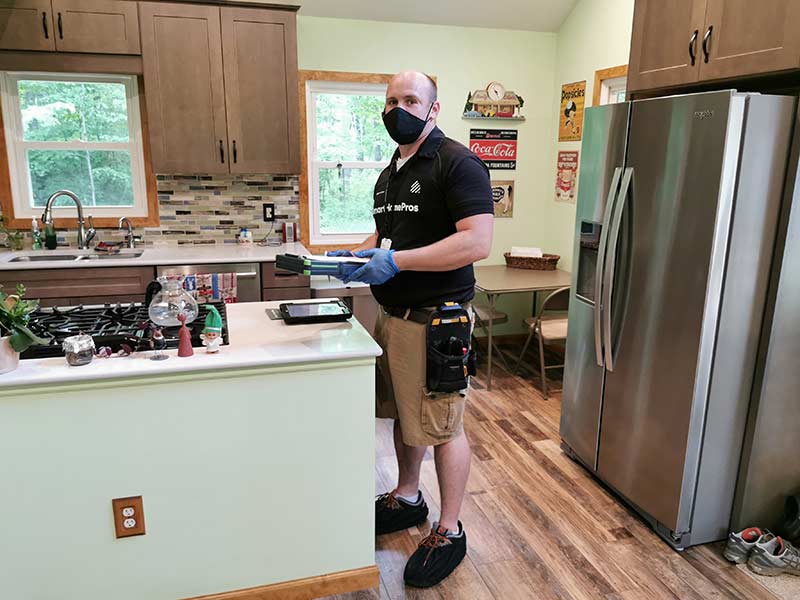 I was a little worried about having someone in my home due to the COVID-19 concerns, but the installer wore a mask the entire time. As you can see, he also wore shoe protectors every time he came into the house.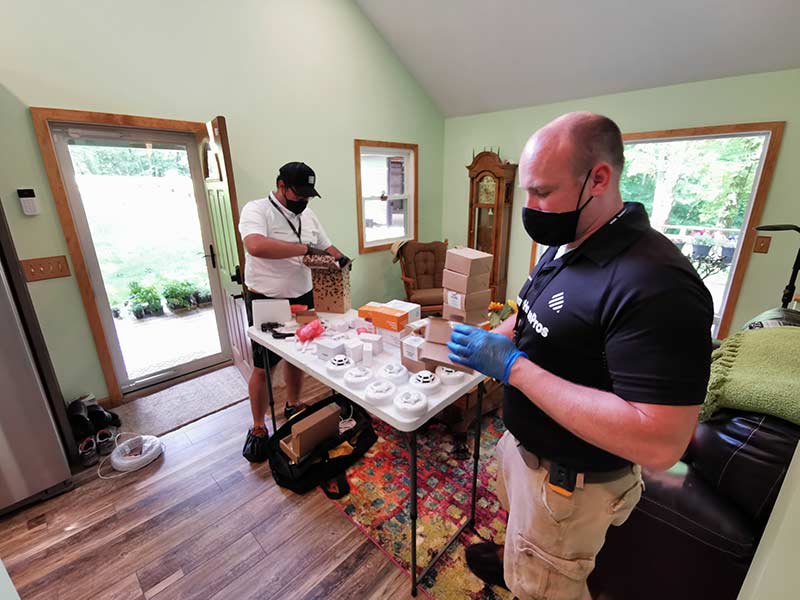 Vivint even sent the regional manager to help out with my installation. This isn't a normal occurrence, but it was probably nice to have 2 people because the install took most of the day given all the cameras, sensors, and other devices that were installed throughout my home both inside and outside.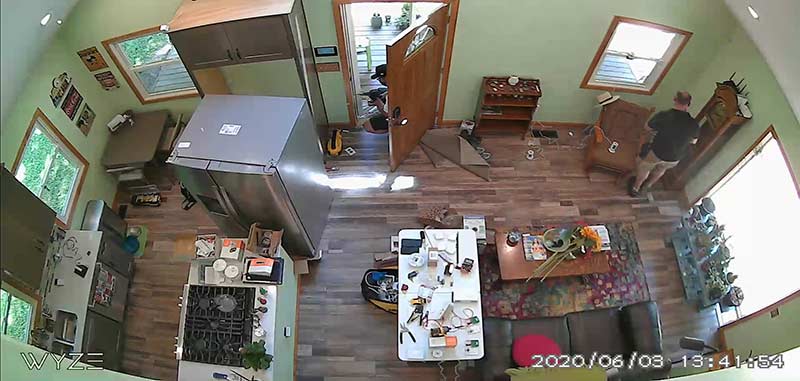 They brought in a table to use as their base of operations, where they set all install components and their tools.
I was very impressed with their workmanship, professionalism, and all-around great attitude and friendliness. They did a fantastic job installing everything and cleaning everything up. After they left, I didn't have any cleaning to do which is not typical with other installs I've had in the past where contractors will leave drywall/sawdust on the floor, trash in the yard, etc. Vivint installers left everything neat and clean like they hadn't been there at all.
Now let's check out the individual devices and sensors…
The cameras
Doorbell Camera Pro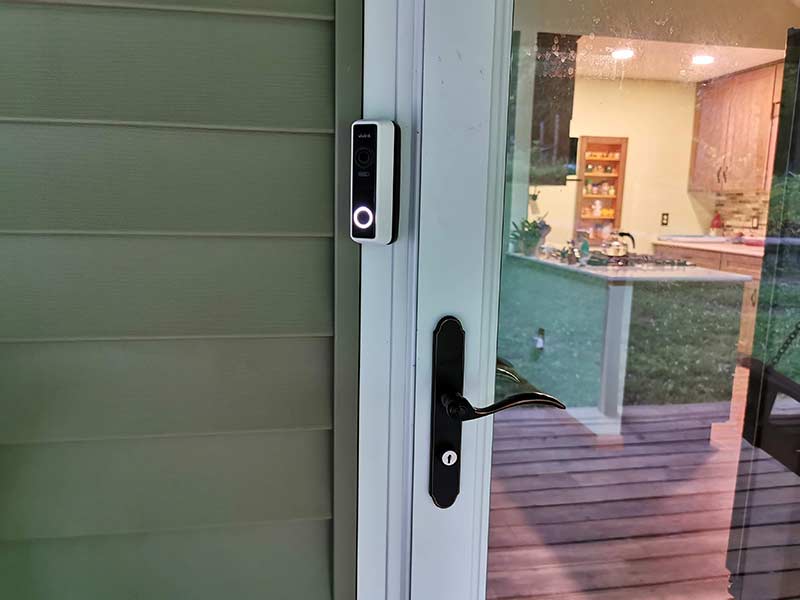 The doorbell camera is designed to be installed next to your door so that your visitors can press the lighted button to play a chime (you can choose from several different tones) so that you'll know you have someone at the door.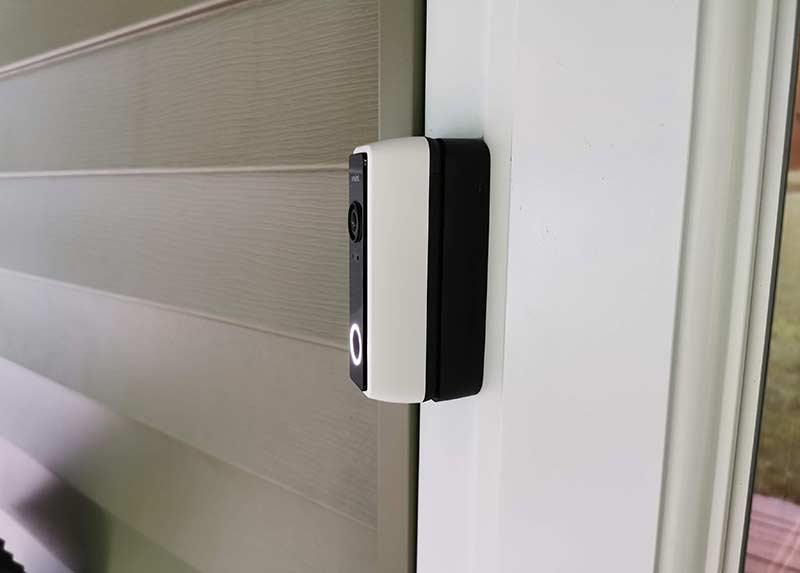 The 1080P HDR camera has a 180° x 180° wide-angle lens so it doubles as a security camera that you can check to see what's going on at the front of your home. When my installer installed this camera, he decided to add a wedge behind it to adjust the angle of the camera in order to get a better view of my front yard and even the door of my detached garage.
The live view of the doorbell camera gives you a few options that include rewinding the live footage, going to the door lock screen, 2-way talk through the camera, and snapping a photo. You can also go to the events list which will show a scrolling list of all the motion detections for that camera with video clips that you can watch. As you will notice, the clips are all different lengths. That's because the camera records for as long as there's movement and not some pre-determined length of time that can cause you miss important details.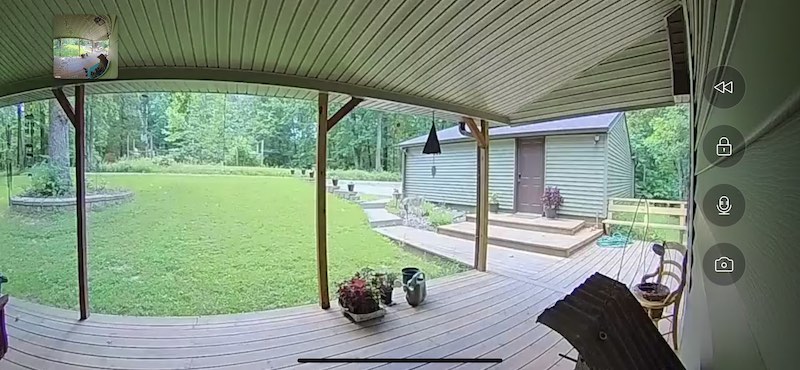 You will notice that when watching the live view of the doorbell camera while holding your phone in portrait orientation, the view has a slight fisheye look to it. But you can rotate your phone horizontally to get a more natural view without warped edges. Just realize that in this orientation, the image is chopped at the bottom so you won't get the full view.
The doorbell camera has another cool feature that uses Vivint's Proprietary Smart Sentry™ AI technology to automatically alert you when it sees someone come to the door with a package. You'll get a notification that will ask if you want to protect the package, which will turn on the deter mode. In this mode, the ring around the doorbell button will turn from white to red and it will play a yoohoo whistle and then a voice will say "you're being recorded" if someone comes up to the package. This feature lets porch pirates know that they better take a hike because they are being recorded!
Outdoor Camera Pro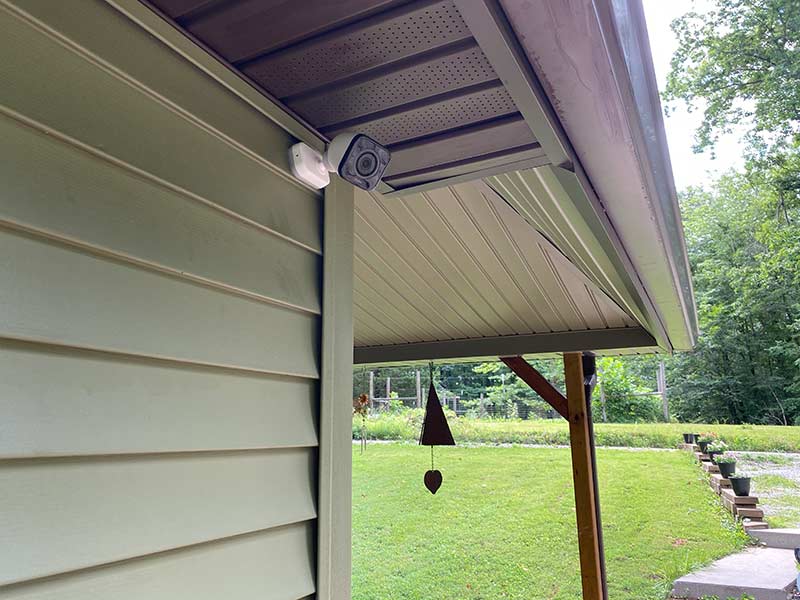 The Vivint outdoor cameras are 1080P 140° cameras that are wired. The installer put the wiring behind my existing siding so the finished look is seamless and neat. The runs through the wall into the house where it's plugged into a POE adapter.
These cameras have an IP65 weatherproof rating and have some of the same features as the doorbell camera which includes 2-way communication, …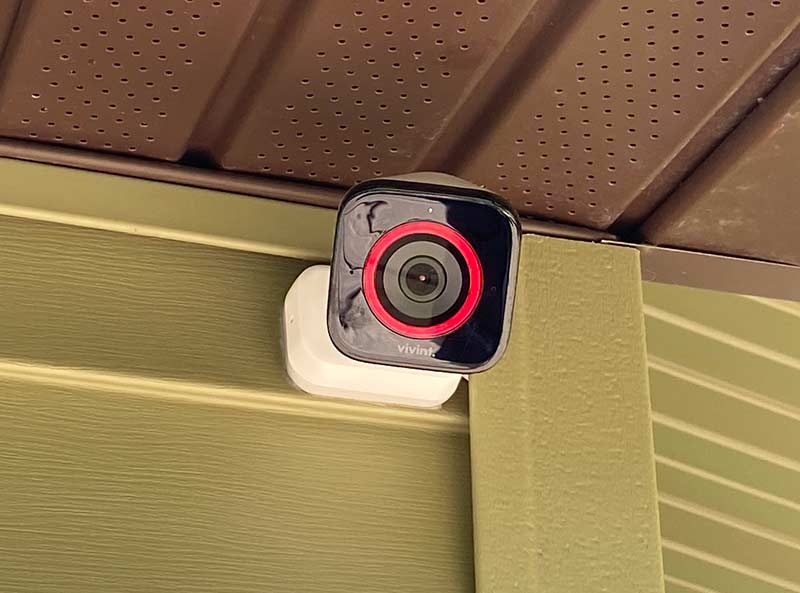 … automatic deter tones and an LED ring around the lens that lights up in red when motion is detected due to someone lingering in the area.
Like all of Vivint's cameras, by default, you'll receive an immediate notification on your phone when motion has been detected. You can also define detection areas for the outdoor and doorbell cameras so that it will only detect motion in those defined areas.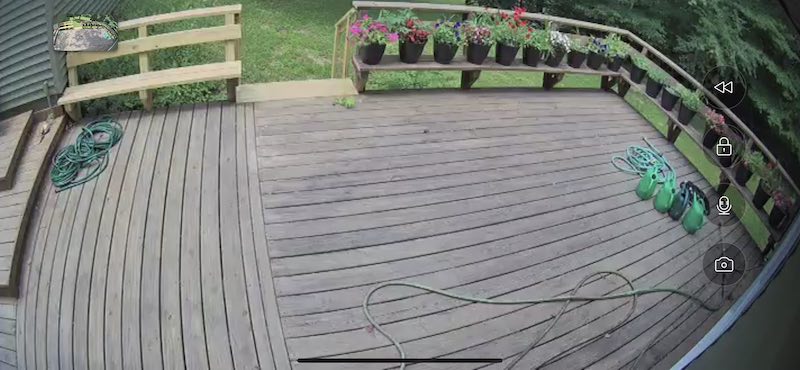 Daylight image from Outdoor Camera Pro.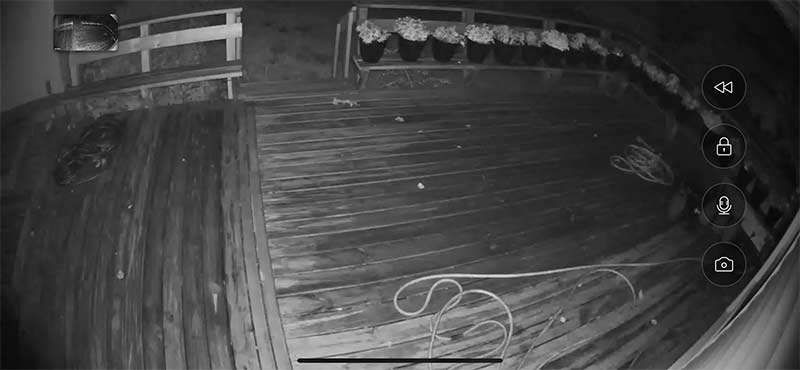 Night vision image from Outdoor Camera Pro. The camera has a 55′ night vision range according to the specs.
Indoor Ping camera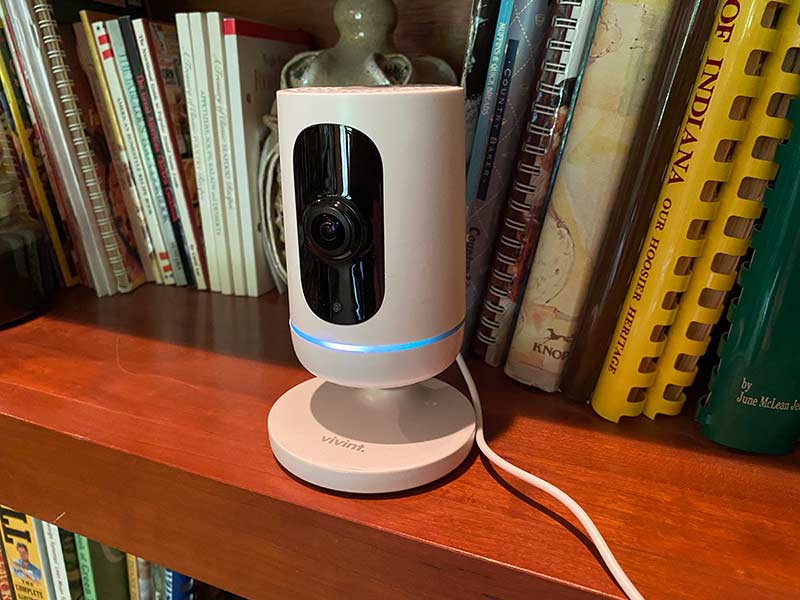 The indoor cameras require access to a power outlet. They have a status LED ring around the bottom of the camera that glows white while the camera is active, however, you can turn that off if you like.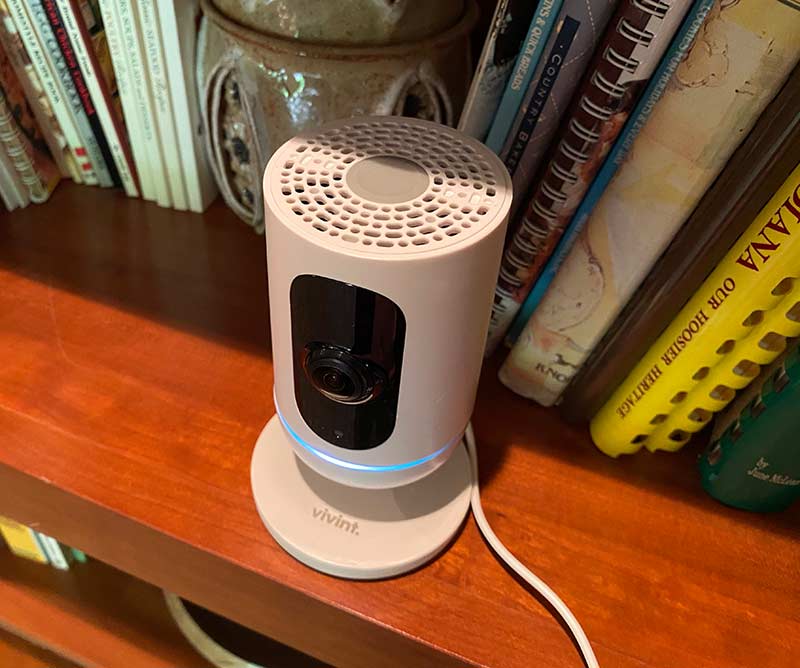 The status LED will also pulse in blue if you press the button on the top of the camera which initiates a video call. That way your family members at home can "call" you for a quick video chat directly through the Vivint indoor camera. You can also use these cameras like an intercom from the Smart Hub.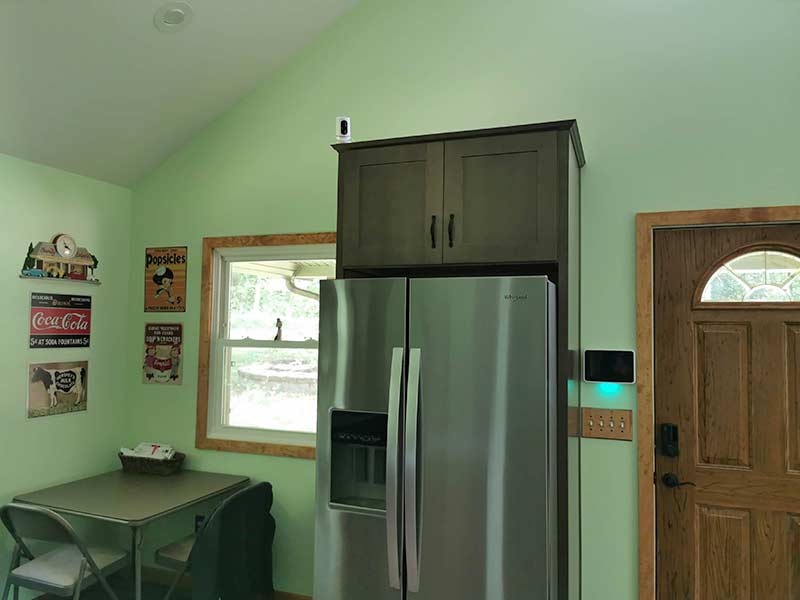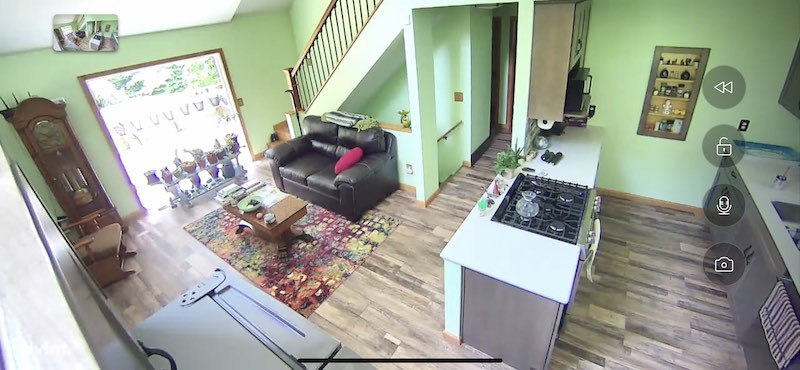 Day view from the Indoor Ping Camera.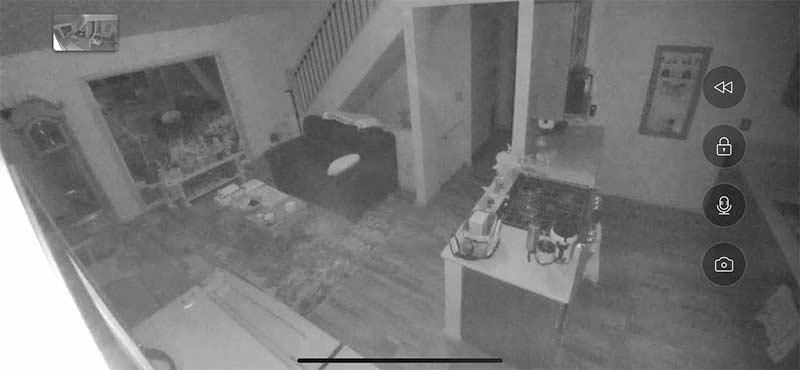 Night vision view from the Indoor Ping Camera.
Another cool feature of all the cameras is that they can be used as a chime extender for the doorbell camera's chime. This is great for our house because we spend most of our time in the basement and it's sometimes tough to hear the doorbell (any doorbell, I'm not singling out the Vivint doorbell cam) if we're watching TV. But since I have one of the Vivint Indoor Ping cameras in the basement, I can enable the chime extender feature and never miss when someone's at the door again.
Smart Drive DVR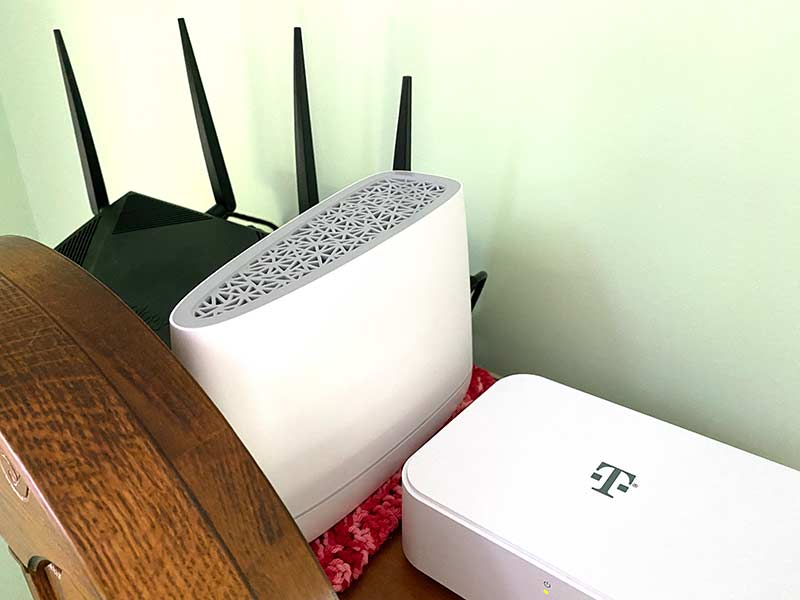 The Smart Drive is a DVR that you can use with up to 4 of your Vivint cameras (including the doorbell, indoor, and outdoor cameras) to save 24/7 video footage to an internal 1TB drive for 30 days. This footage can be accessed through the Vivint app. Note that the Smart Drive is not a NAS device and you can't connect this device to a computer to save recordings. You can only access/view the video footage through the Vivint app. That said, you can use the Vivint app to save a 30 second to 5 minute video to your phone.
The Smart Drive is NOT a mandatory addition to your Vivint system. Without it, you will still have access to the video clips from motion detection events. The Smart Drive expands the system to provide continuous 24/7 video capture.
Note that the Smart Drive has a physical hard drive inside it, so you can hear it accessing the drive. It makes a low rumbling noise that can be annoying if it's in a really quiet room. That's why I have it sitting on a soft pad on top of my grandfather clock next to my Synology router and T-Mobile Home internet router to help absorb some of the noise.
The sensors
Window and door opener sensors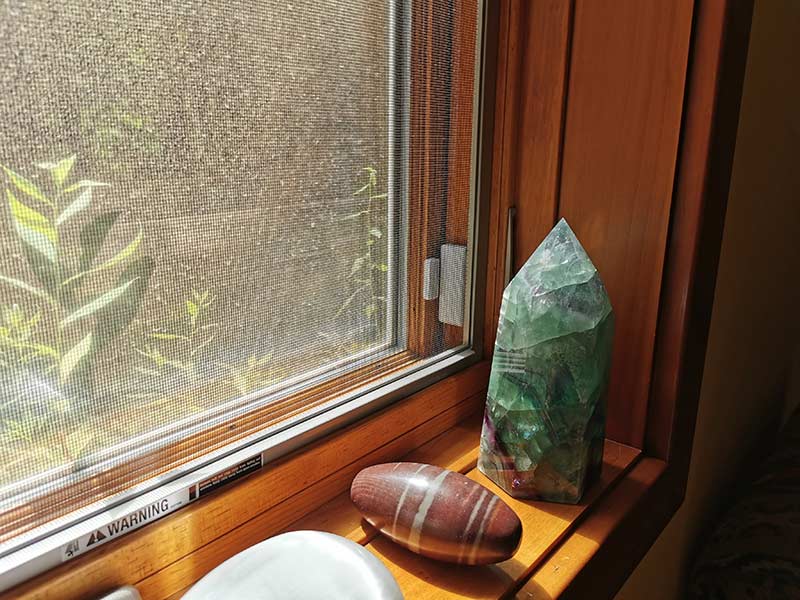 The window sensors have two pieces that use magnets to know when the connection has been broken, which means the window had been opened.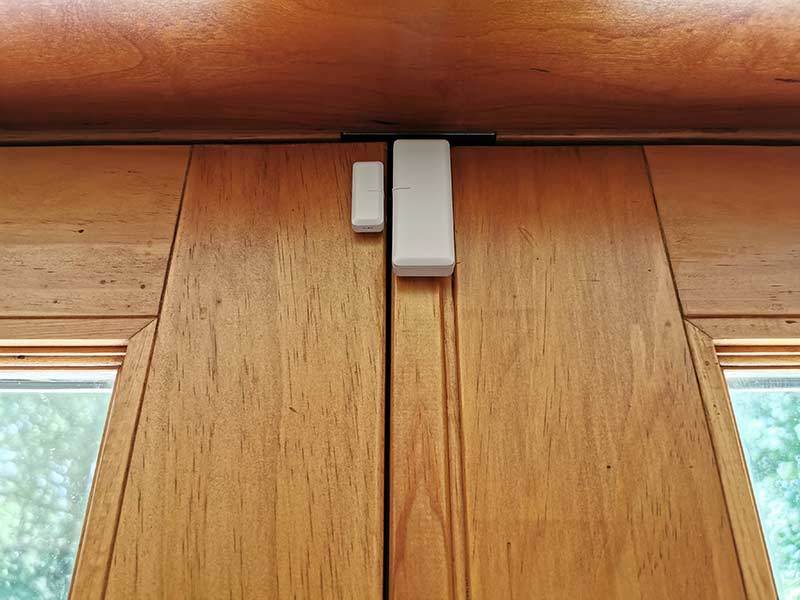 They can also be used for doors if you have a door that can't be drilled to insert the hidden sensor like the ones below.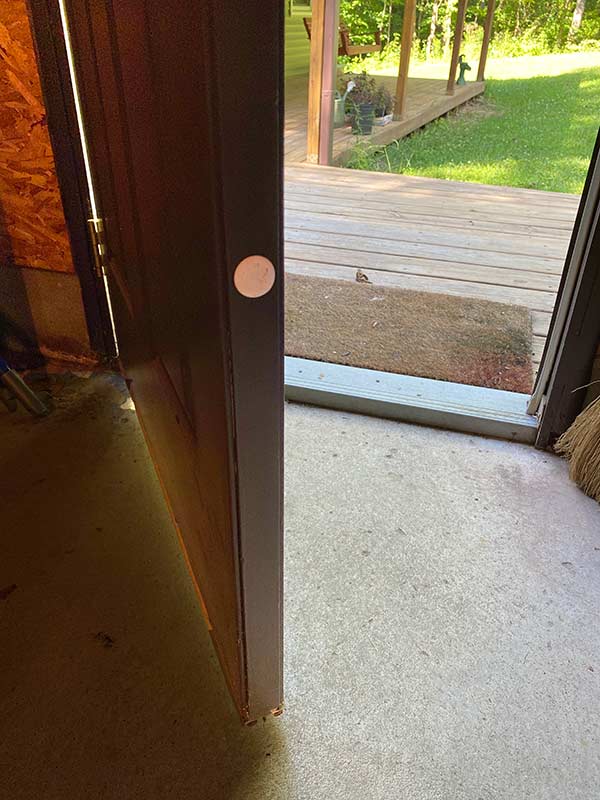 The hidden door opener sensors fit right into the edge of the door and …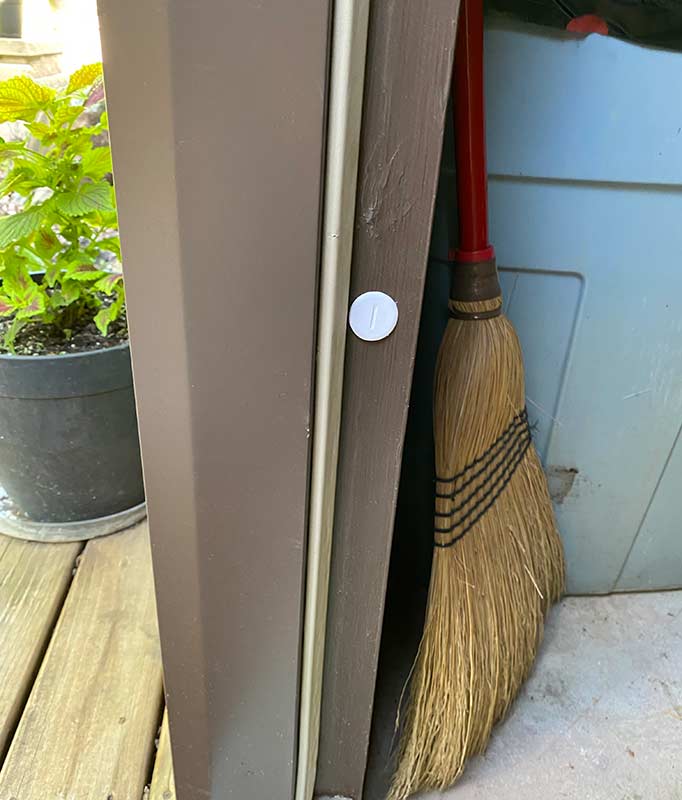 … the door frame like you see above. I really like this type of sensor because they don't stick out like a sore thumb.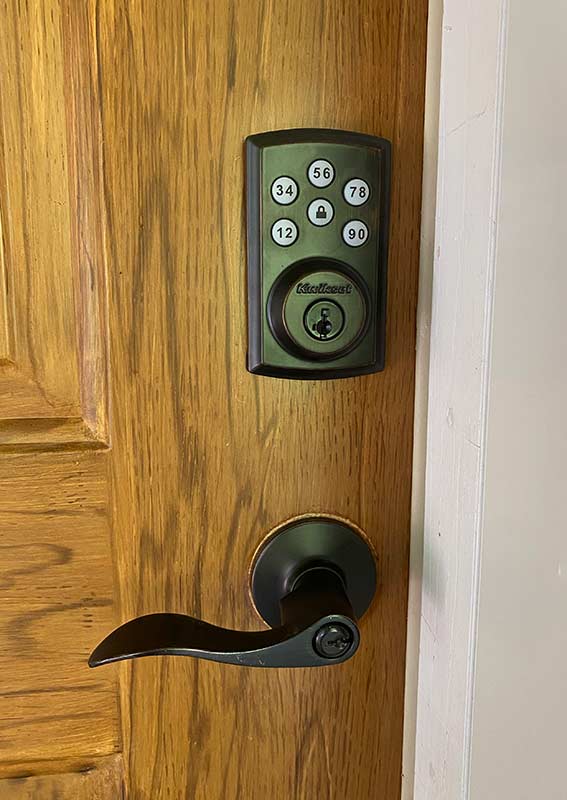 Speaking of doors, Vivint also supplies electronic locks for exterior doors. For my house, they installed the Kwikset smart lock that you see above that has a keypad on the exterior and …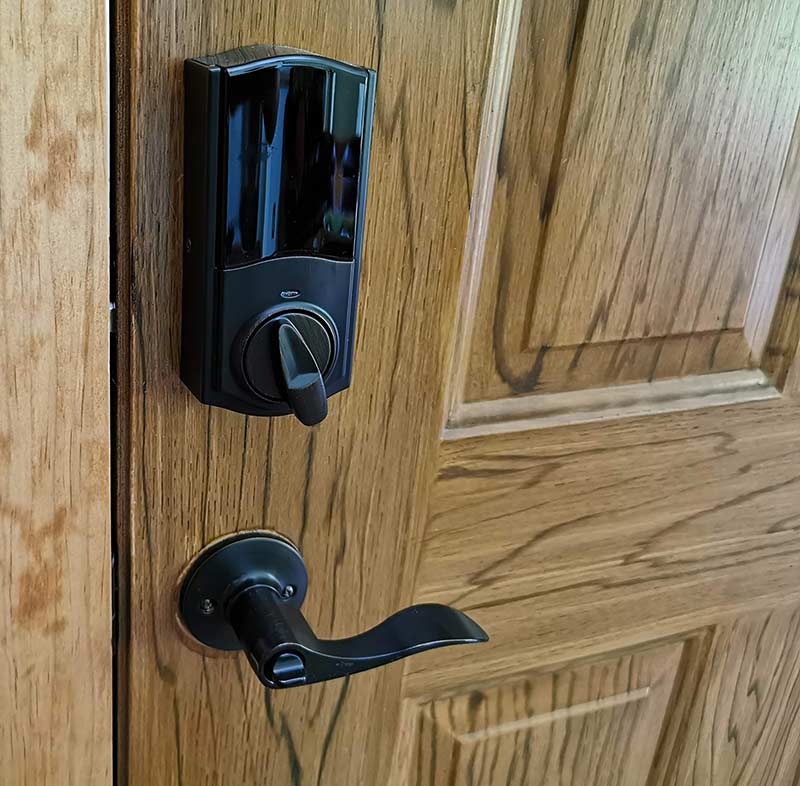 … a deadbolt on the inside. These locks run on batteries, but the really cool part is that you can configure your system to automatically lock all your doors when you arm the system or even lock all the locks after 9 pm (or any time you like) if they haven't already been locked.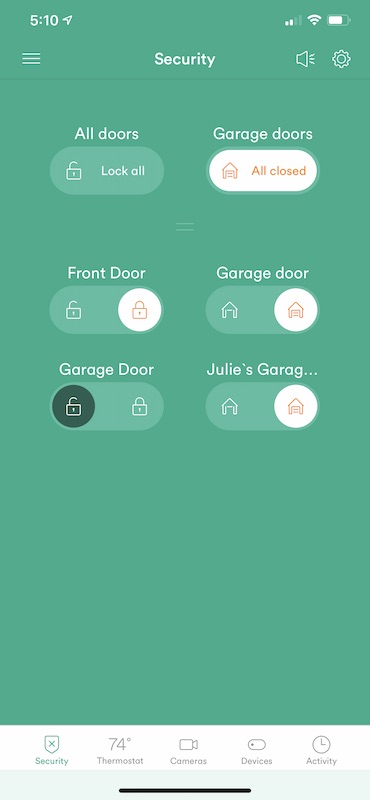 Using the Vivint app or the Smart Hub, you can always see a live status of all of the locks and lock/unlock them directly from the app/hub.
When you enter the code to unlock the lock from outside, the deadbolt turns and Vivint disarms the system automatically.
Glass break sensor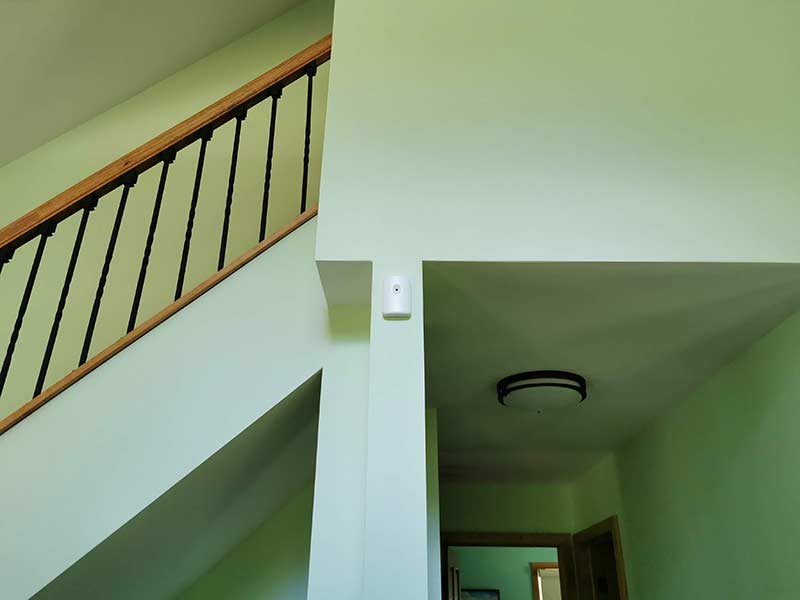 Vivint installed a glass break sensor on both floors of my home. It should be obvious, but these sensors will trigger when they detect the sound of broken glass. The idea is if someone is trying to break into your home by busting a window when you're not there, you'll be notified.
Motion detectors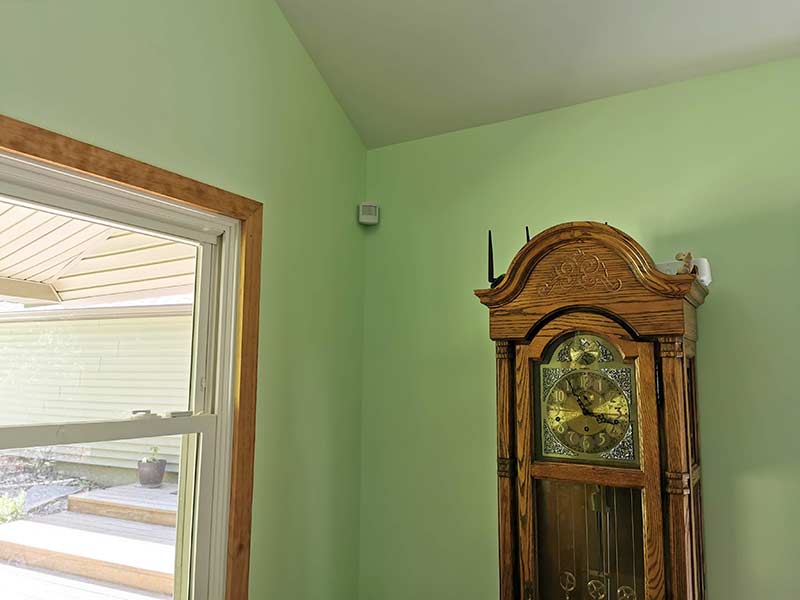 These sensors will detect motion from humans, but not small or medium-sized pets. I have a big cat that did not trip the motion detection sensor which is a good thing as you don't want Fluffy or Fido to cause the police to be sent to your house while you're away and the system is armed.
Smoke and carbon monoxide detectors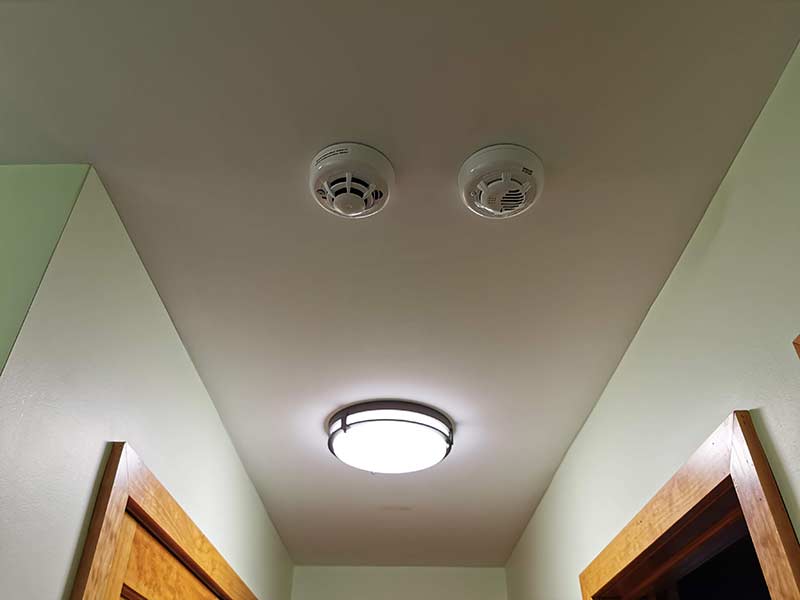 The smoke detector uses photoelectric sensors to detect smoke and excessive heat in a 35-foot radius from the detector and then communicates back to the Smart Hub. It's also good to know that it works even in a power outage since it's battery-powered. If a smoke alarm is triggered, your smart thermostat will cut off airflow to your furnace/AC to slow the spread of fire and the smart door locks will open automatically so you can get to safety as quickly as possible.
The CO detector uses electrochemical sensors to detect deadly carbon monoxide gas that is colorless and odorless. If the CO detector is triggered, the smart locks will automatically unlock, window sensors will be disarmed, and the fan on the furnace will start blowing to help ventilate your home and start clearing the dangerous CO gas.
In both instances, the system will automatically notify Vivint who will contact you to make sure everything is ok or if emergency responders need to be sent to your home.
Water leak sensor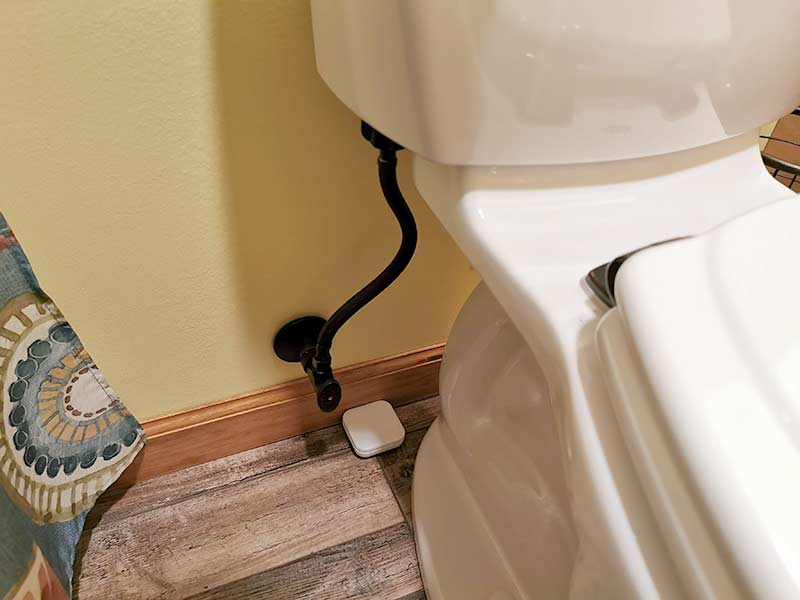 The water sensor will detect leaks, standing water, and even freezing temps. The battery (CR123A 3V lithium battery) lasts for 3-5 years before needing to be replaced. I have several of these throughout my house. I have one behind each toilet, under the kitchen sink, near the hot water heater, and near a condensation pump for my air conditioning unit.
Outlet modules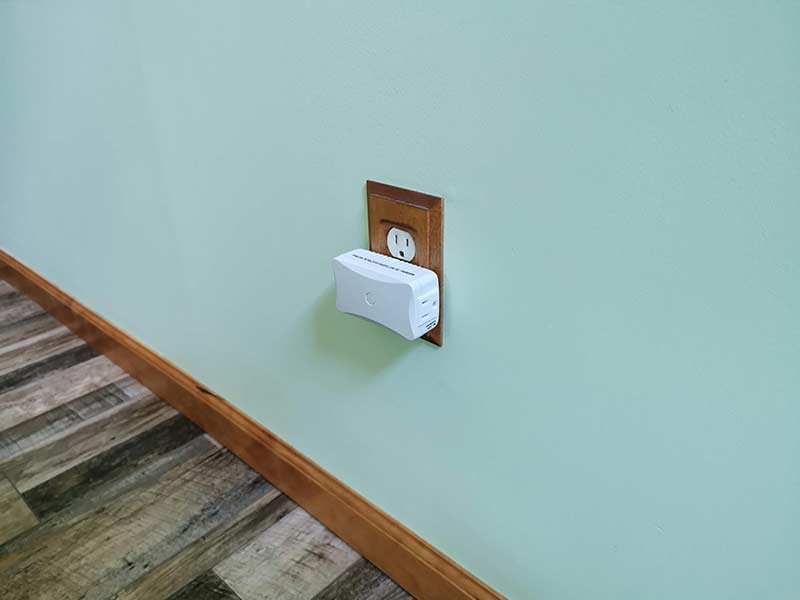 These outlet modules can be used with custom actions to turn on based on other actions like when your system is disarmed. For example, you could connect a lamp to one of the modules to have the lamp turn on when you unarm the system so you won't have to walk into a dark house.
FYI: Philips Hue bulbs will sync with your Vivint system.
Element Thermostat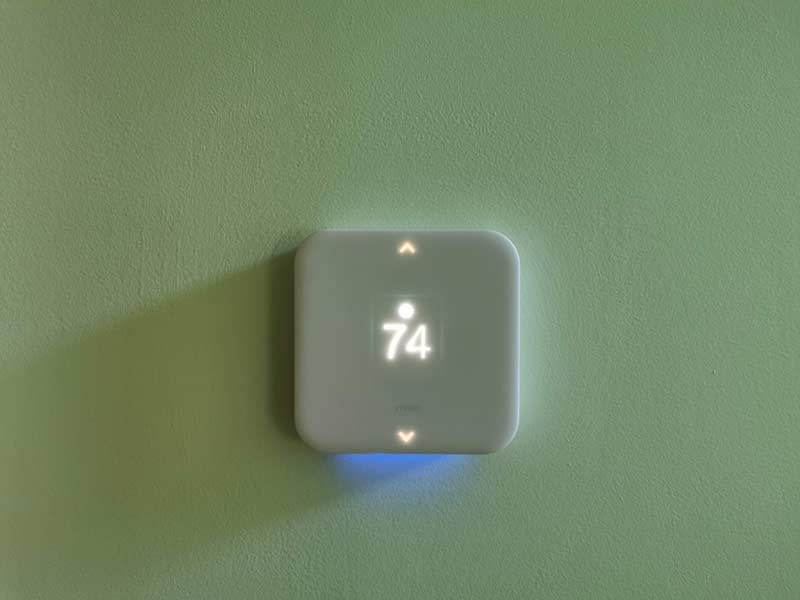 The Vivint smart home system works with Google Nest or Vivint's own Element Thermostat. I already had an older 2nd generation Nest thermostat but had the Vivint installer replace it with the Element thermostat so I could see how it worked.
Although the Element thermostat works fine, I think I prefer a Nest thermostat only because it has more flexibility with setting up schedules. With the Element, you have two ways to control the thermostat. You can use the smart assistant which adjusts the temperature based on your daily routines, or you can set up a manual schedule which is something that I prefer to do. But with the manual schedule, you only get 4 settings per day that you can adjust, and you can't rename them.
You can also use the app to adjust the temperature and you can use a voice assistant like Alexa or Google to do the same.
Garage door control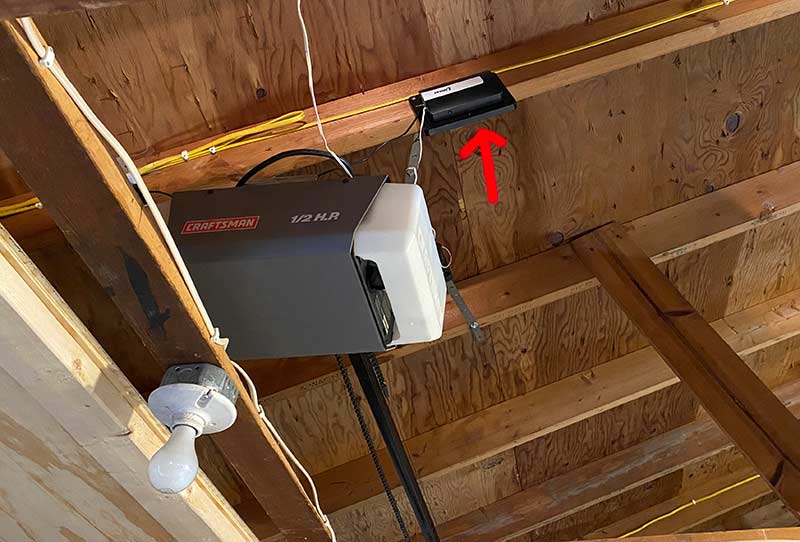 Vivint offers a box that installs on your existing garage door opener like the old Craftsman opener that I have on one side of my garage. Vivint also has a software integration in their app that integrates with MyQ garage door openers like the LiftMaster WLED Garage Door Opener that I reviewed and have installed on the other side of my two-car garage. If you want to use the MyQ integration instead of the physical box from Vivint, it will be a one time fee of $49 for that integration.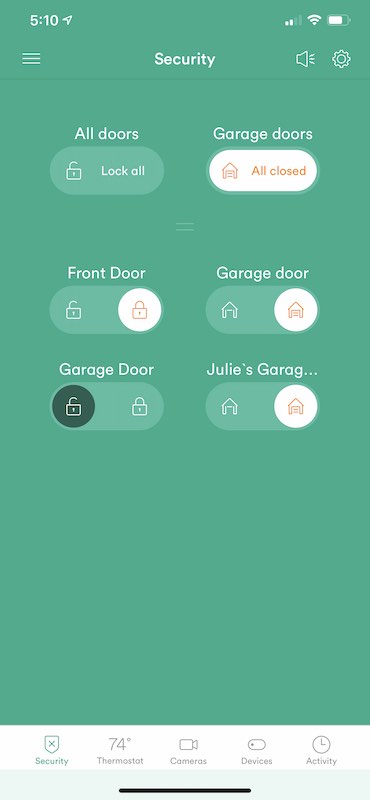 The Vivint installer installed the physical box on Craftsman opener and I set up the integration in the app for the MyQ integration on the other opener. Both options work great. The physical box doesn't come with a new opener button/fob. You use your existing opener with it and you can also control the door with the Vivint app and Smart Hub. The same goes for the MyQ software integration solution.
See 11/18/20 update below.
The Smart Hub
The Smart Hub is a 7″ touch screen central control panel that you can use to interact and manage the entire Vivint smart home system. The Vivint Smart Hub uses LTE cellular-connected and also uses encrypted WiFi. It has a backup battery so it works for up to 24 hours even if the power goes out and it provides its own wireless network for all the Vivint cameras and sensors.
Some of the features of the Smart Hub include an LED that provides a quick visual indicator that the system is armed or disarmed by glowing green (disarmed) or red (armed).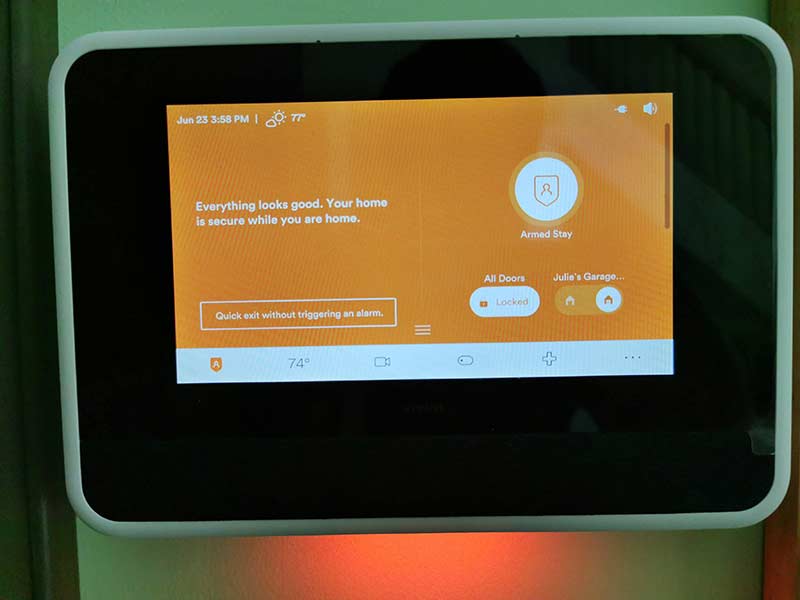 The hub has an easy to understand user interface with touch-friendly buttons for arming and disarming the system, as well as unlocking, and locking doors.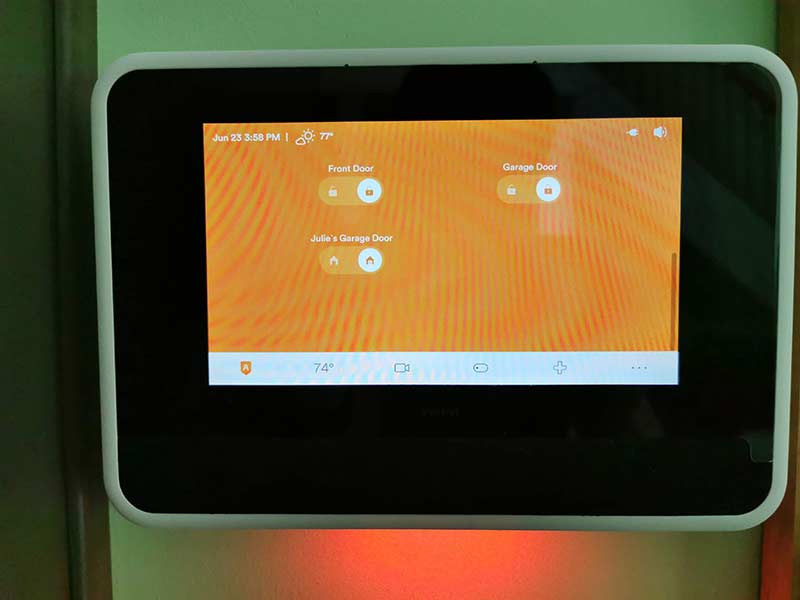 It's also a great way to check the status of locks as it provides a live view that shows the lock status of all the doors and garage doors.
One feature that I love is the tone and voice alerts when a door or window has been opened. I have a detached garage with a smart lock installed on the walkthrough door. When someone opens that door, the Smart Hub will announce it with the assigned lock name. That way I always know when someone comes home because Vivint will say "garage door".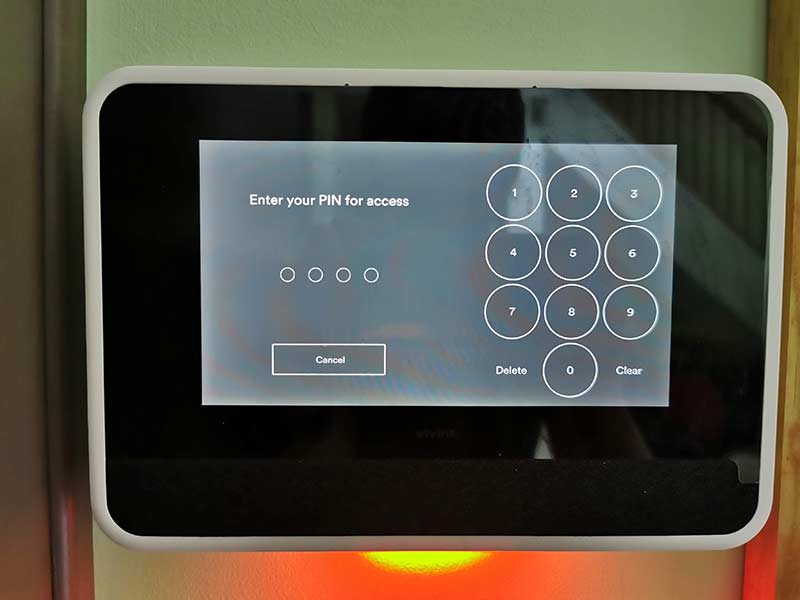 Unarming the system will require you to enter a PIN number through the onscreen keypad. You can also set up a duress PIN number that when entered will automatically send an alert to the Vivint 24/7 monitoring service.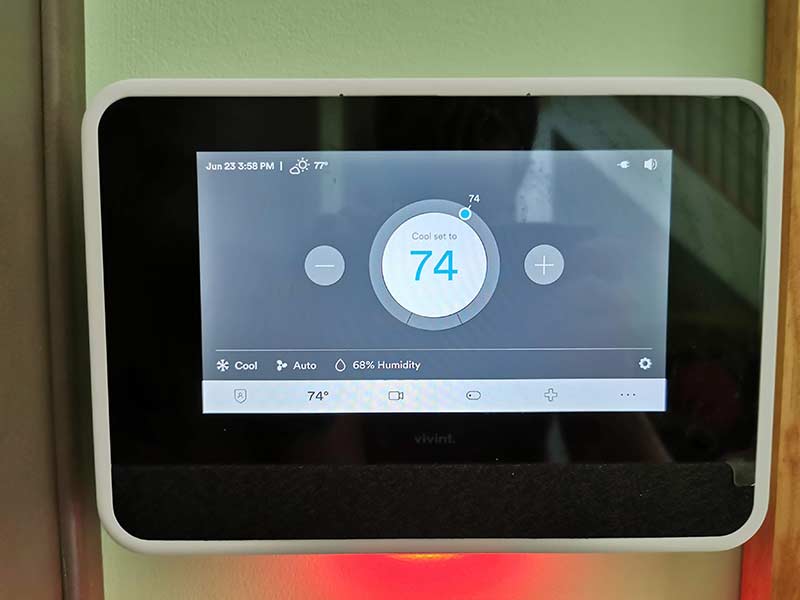 You can also use the Smart Hub to adjust the thermostat.
And check the status of all of the cameras.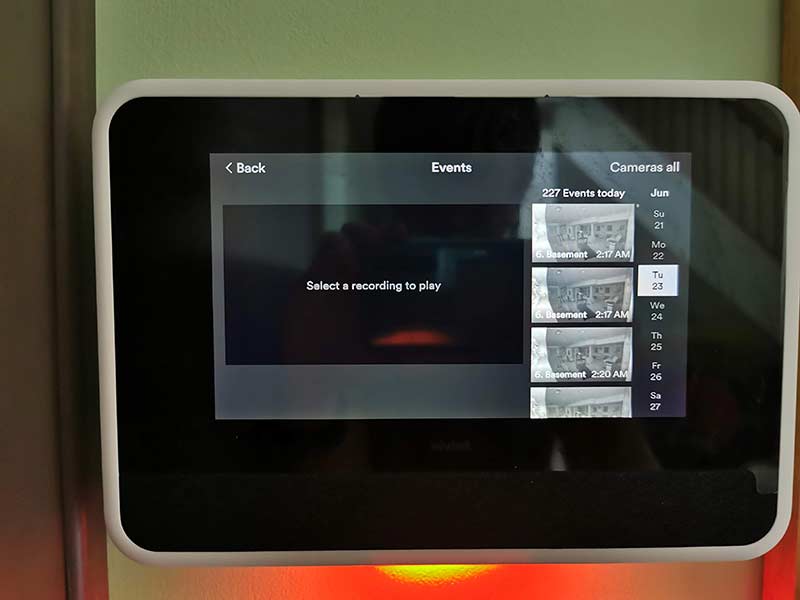 You can even watch each camera's motion clips right through the hub.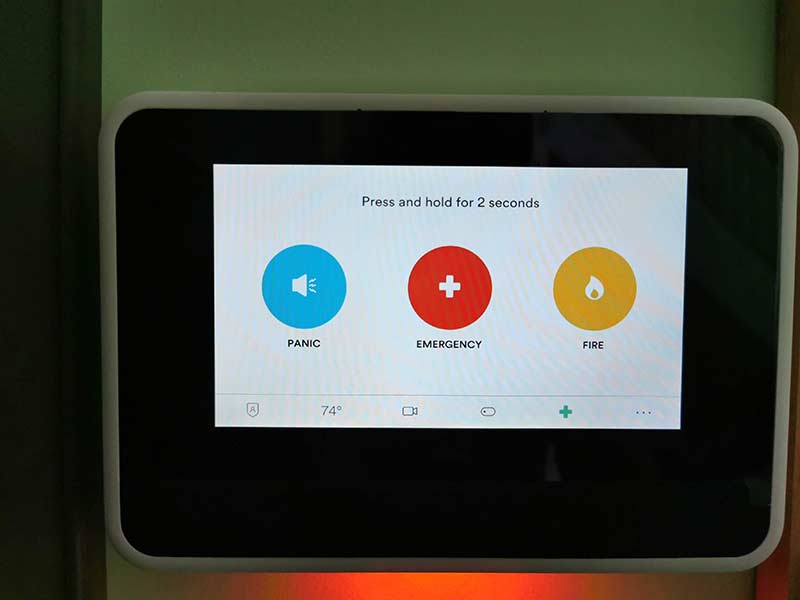 There's also a quick way to immediately blast an alarm sound and start instant communication with Vivint's 24/7 security monitoring service directly through the Smart Hub.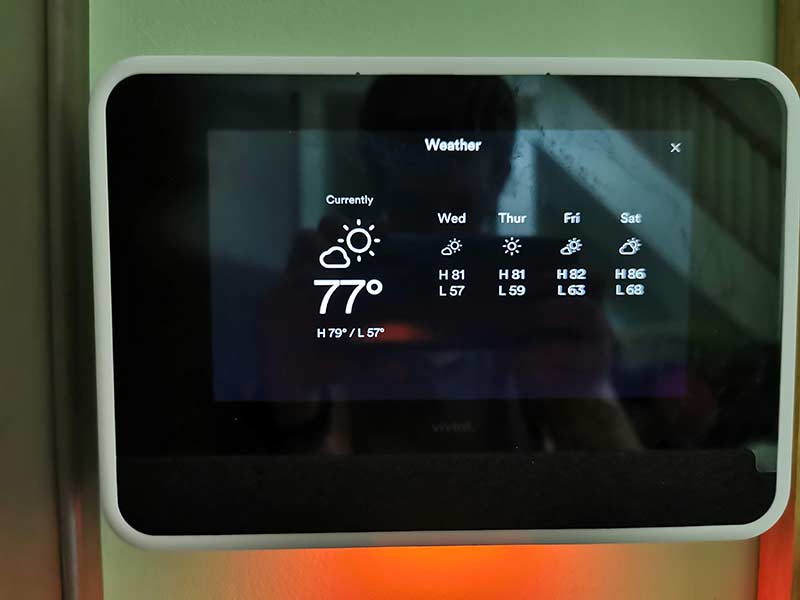 Or even use it just to check the local weather forecast.
The Vivint app
Using the Vivint app is liking having a smaller version of the Smart Hub right in your pocket. Just like with the hub, you can use the app to arm and disarm the system, check the lock status of the doors, view live and recorded footage from the cameras, adjust the temperature of the thermostat, and more.
Vivint also has a powerful Custom Actions feature that you can set up to perform certain actions of locks, lights, etc based on events. The ability to customize notifications and create custom actions really takes the Vivint SmartHome system to another level.
Pricing
Starter Kit: The Vivint Starter Kit for $599 includes a touchscreen Vivint Smart Hub, two door/window sensors, one motion sensor, one water sensor, and $100 toward additional sensors.
Products: You can add products a la carte, including smart door locks, lighting, Vivint Element thermostat, Vivint Ping indoor camera, Vivint Doorbell Camera Pro, Vivint Outdoor Camera Pro, garage door control and a variety of sensors. You can pay for products at the time of purchase or with a zero-percent interest loan through Citizens Bank. Vivint is the only smart home company to offer product financing so customers can get a comprehensive smart home without having to pay for everything upfront. Product pricing ranges from $35 for smart sensors to $399 for a Vivint Outdoor Camera Pro (includes installation).
Installation: One-time cost of $99; often waved depending on active promotions.
Monthly service plan: $39 (each camera is an additional $5)
No-contract option: Customers who pay upfront get a month-to-month subscription service, e.g., no contract required. Customers who finance their system have a service contract equal to the timing of their loan.
Third-party products: The Vivint suite integrates with popular smart speakers, e.g., Amazon Echo and Google Home devices, for a comprehensive voice-controlled smart home. The Vivint smart home system also integrates
with Kwikset locks, Nest thermostats, Philips Hue lighting, Linear garage door controllers, and other Z-Wave devices.
The Vivint Smart Home service plan includes:
Remote access/control via the Vivint Smart Home app to smart locks, cameras, thermostat, security, etc.
24/7 professional monitoring (burglary, fire, CO, and medical alerts).
24/7 customer support (both phone and online).
In-home technician service.
Equipment warranty (All Vivint equipment is under warranty for the first 120 days after installation and any needed service calls are no charge. After 120 days, service calls are $49. After 120 days, equipment is also warranted for 30 days after any service ticket.).
14-day storage of 10-90-second variable length video clips for each camera. Also includes 30 days of continuous DVR recording with the purchase of a Vivint Smart Drive for $249.
What I like
Professional installation
Not just a security system, it's a whole smart home system
One app for all of your smart devices
Custom actions
What I'd change
Allow copy/backup of the Smart Drive footage to another device/computer
Monthly service can get pricey if you have a lot of cameras
Final thoughts
So far my experience with the Vivint SmartHome system has been all positive. All the devices and sensors have been working flawlessly including the time I accidentally opened a basement door with the system armed and the entry/exit delay was turned off. The alarm immediately sounded and WOW was it loud! I sprinted up the stairs to punch in the code as fast as I could to turn it off. I was so startled by the siren that I forgot that I could disable it with my phone! Ha! This experience taught me that there's no way I'd sleep through an alarm from this system.
I really love having multiple cameras around the perimeter of my home and the lurking alerts that scare people away if they hang around too long when the system is armed. I also like the Smart Drive DVR that allows me to rewind to watch footage if something interesting was captured.
Having everything in one app/location makes this smart home security system easier to use and customize than having multiple apps installed on my phone. Add in the custom actions and this is the smartest and safest that my home has ever been in the 20 years that I've lived here.
Update 9/27/20
So far, I absolutely love the Vivint system, but about a month ago, I noticed that the smart drive was no longer working. When I would try to rewind camera footage, it would say that the playback was offline and the status light on the drive was red. I when to the Vivint webpage and started a chat with their online support and after they ran me through some troubleshooting steps they determined that the drive was dead. They sent me a brand new drive and a paid label to return the faulty one. I was back up and running within a couple of days. Note that I did not tell them that I was a reviewer. I just contacted them like a regular customer.
I've also been experiencing problems with one of my door sensors going offline and plan to contact their customer service and see if they will send a new sensor for that as well since it's not very old. I'll report back…
Update 10/18/20
Vivint saved me from what could have been a HUGE mess last week. I was working at my desk when the alarm went off. I ran upstairs and looked at the panel where it showed that the water sensor in the basement was triggered. So I ran back downstairs to the utility room where I found our whole house humidifier was dripping water all over the floor. I thought that I had turned off the humidifier for the summer, but I had forgotten to turn off the water line going to it and the dry weather had triggered it to start running again and for some reason, water was dripping out of the unit onto the floor. If I had not had the water sensor, I might not have known about the leak for hours or even days and I shudder to think of the mess that it could have created. Thanks again Vivint!
Also, as mentioned in my last update, I was having issues with one of the door/window sensors intermittently going offline. Vivint has replaced that sensor and I'll continue to monitor it.
Update 11/18/20
I'm back with update #3. First of all, I'm still enjoying the Vivint smarthome security system even when things go a little wonky. A couple of weeks ago we had a power outage which isn't uncommon where I live and that is why I invested in a Generac whole home generator almost 10yrs ago. That was a fantastic investment but it doesn't help remove a sudden power flicker or power toggle. It just kicks in and powers the whole house if the power has been out for more than 15 seconds. So anyway, we had a power flicker or outage a week or so ago and the next morning when I went out to the garage, I was greeted with an annoying beeping noise coming from the garage door sensor that Vivint installed on my old Craftsman garage door lifter. My garage has its own fuse box, so I flipped that on and off and it didn't fix the problem. So I contacted Vivint through their webpage and they walked me through some troubleshooting steps and determined that the sensor was bad and scheduled a repair person to come out to replace it. A couple of days later, the Vivint service person arrived and replaced it with a MyQ sensor like one we have reviewed in the past. He told me that the one I had was notorious for dying from power spikes and that Vivint was no longer using that sensor.
While the service person was there, I asked him to replace my basement door sensor which had been giving me issues.
All I can say is that Vivint has FANTASTIC customer service. The new sensors and the service call didn't cost me a penny and they had no idea that I had received the system for a product review.
Price: System price depends on components, Monthly service is $39.00/mo. (cameras are an additional $5/mo.)
Where to buy: Vivint
Source: The devices and system installation for this review were provided by Vivint.