We use affiliate links. If you buy something through the links on this page, we may earn a commission at no cost to you. Learn more.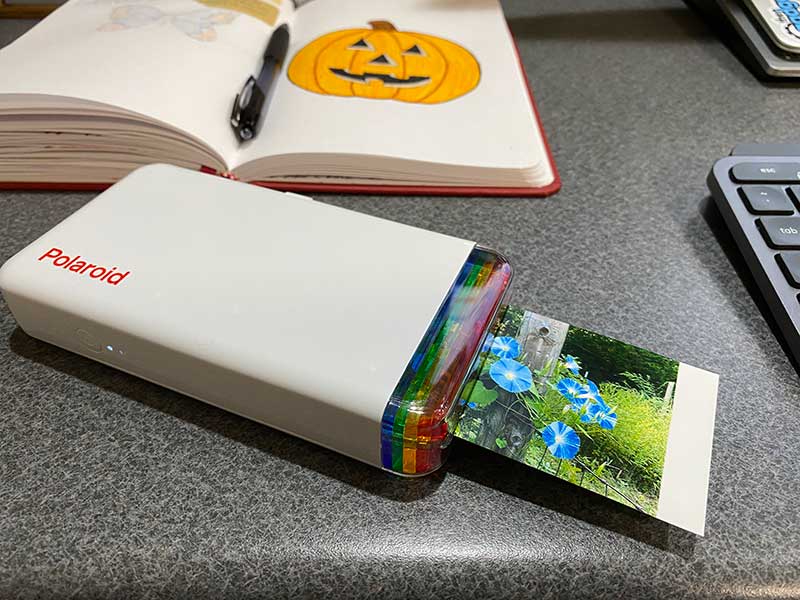 REVIEW – Like many people, I take a lot of pictures with my smartphone. I enjoy my photos by adding them to my (analog) journal and to do that, I have used small photo printers that print 2 x 3 inch photo stickers. I've been using printers like the Polaroid Zip and the HP Sprocket for several years. I've always wondered if there were better pocket printers out there and as luck would have it, I was recently offered the Polaroid Hi-Print. Let's check it out.
What is it?
The Polaroid Hi-Print is a pocket photo printer that prints peel and stick photos using dye-sublimation technology.
What's in the box?
Polaroid Hi Print
2 printer cartridges (total of 20 photos)
micro USB cable
Quick start guide
Design and features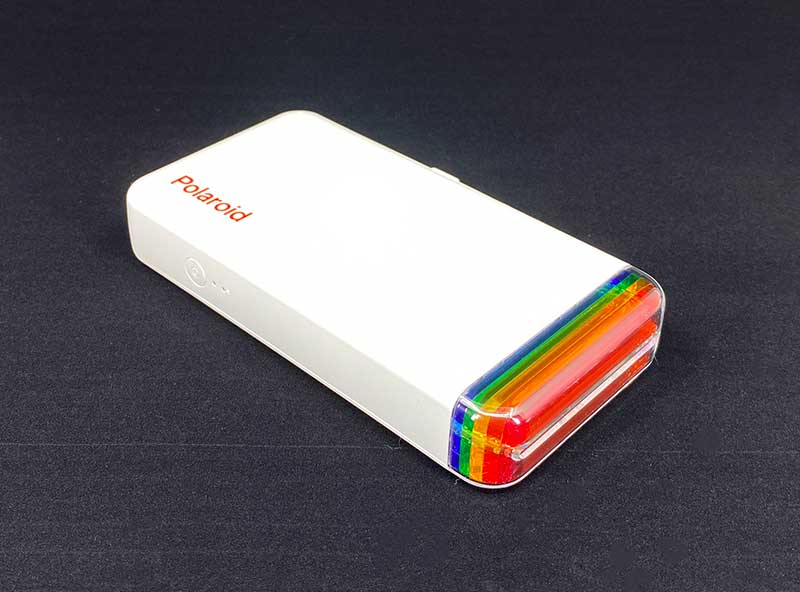 At only 6.88 x 3.97 x 1.81 in (17.50 x 10.10 x 4.60cm), the Polaroid Hi-Print printer is small enough that you can carry it in your bag or backpack.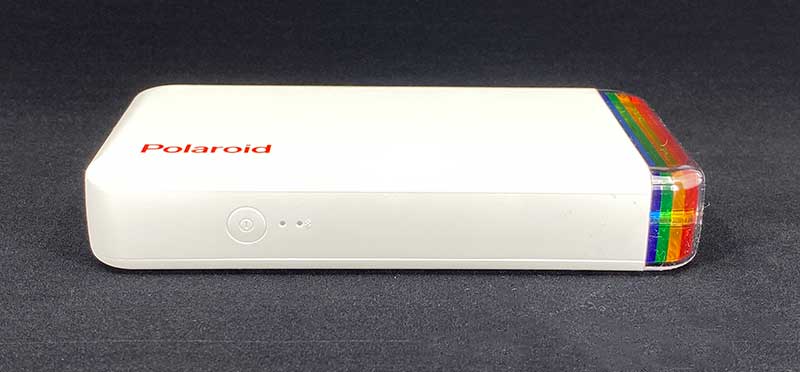 The printer has a shiny white plastic body with a rainbow on the end where the prints come out. One one side is the power button and status LEDs for power and Bluetooth.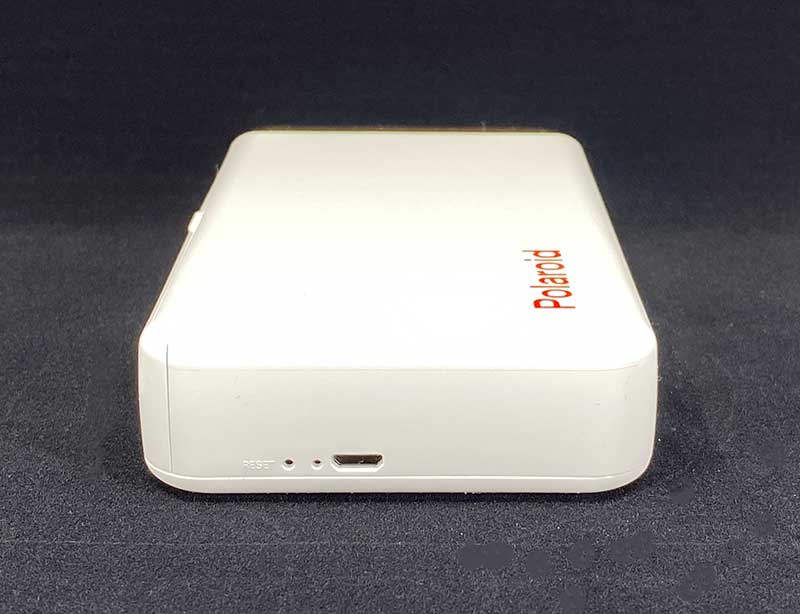 On the back is a micro USB connector for charging the internal lithium-ion battery. There's also a reset switch near that port.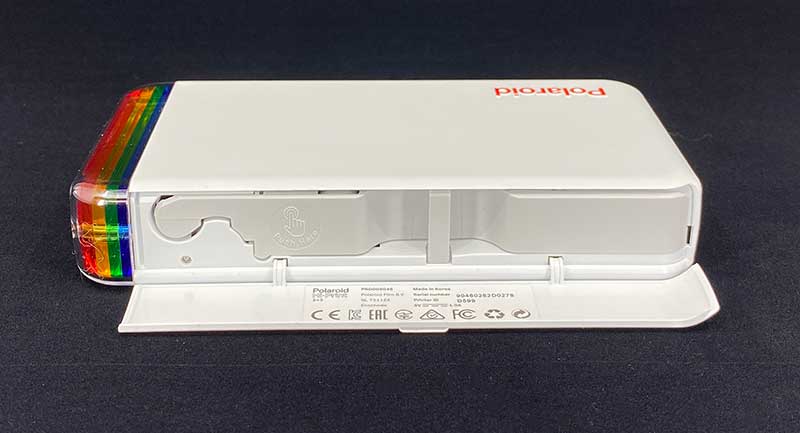 On the other side of the Hi-Print printer is a door that gives you access to the printer cartridge slot. Unlike the Polaroid Zip and HP Sprocket printers, the Polaroid Hi-Print does not use Zink thermal paper. The Hi-Print prints using a 4 pass dye diffusion thermal transfer process.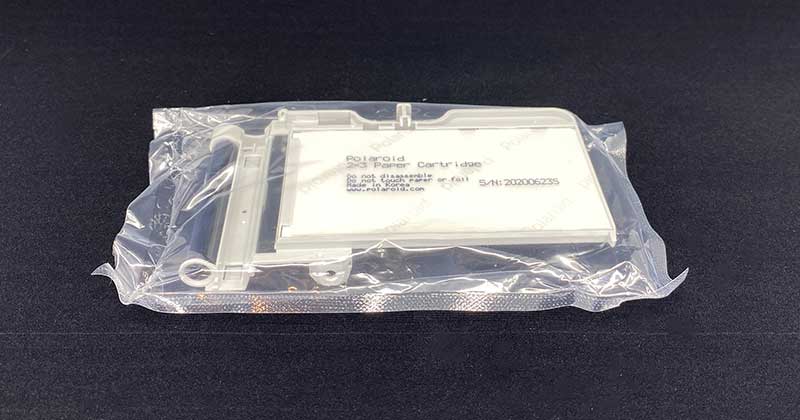 This printing process requires a special cartridge that holds 10 sheets of paper and the dye ("ink"). The Polaroid Hi-Print printer comes with one box that has 2 cartridges for a total of 20 photo paper sheets. Installing the cartridges is simple. Just ope the door, pull out the used cartridge, slide in the new one, close the door and you're done.
The app
Before you can print your awesome snaps, you have to install the Polaroid Hi-Print app on your iPhone or Android phone. The app hooks into your photo library so that you can choose an image to print. From there, you have options to edit the images by applying filters and text.
You can also add a frame around the image and stickers if that's your thing. Me, I prefer plain old pics like the one you see above that I took of a Morning Glory climbing up the fence that surrounds our garden. Once the image is selected, you can choose how many to print and then when you're ready, you can press the print button.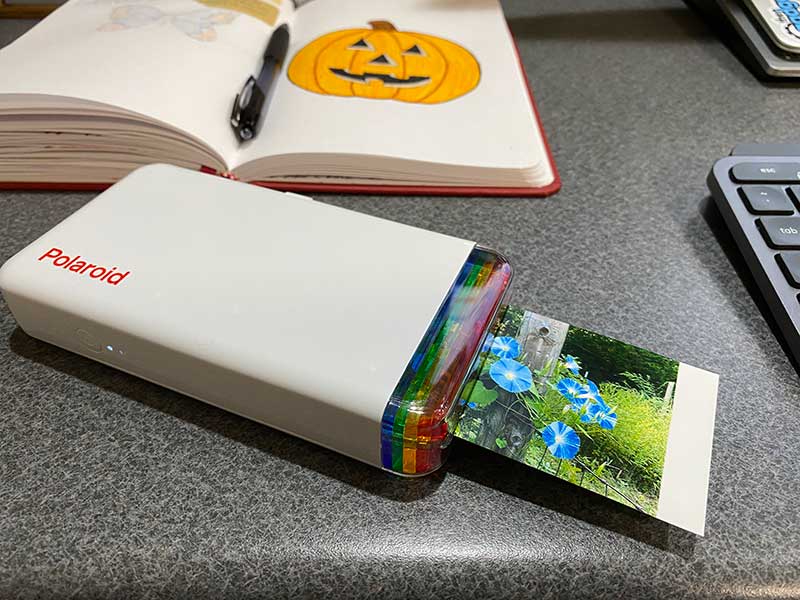 Unlike the printers I've used before, the Hi-Print takes 4 passes to print each photo. During the first pass, it just prints yellow, then it pulls the photo back into the printer and then prints red. Then it pulls it in again and prints cyan, and then it pulls it in one last time and adds a protective coating on top of the finished print.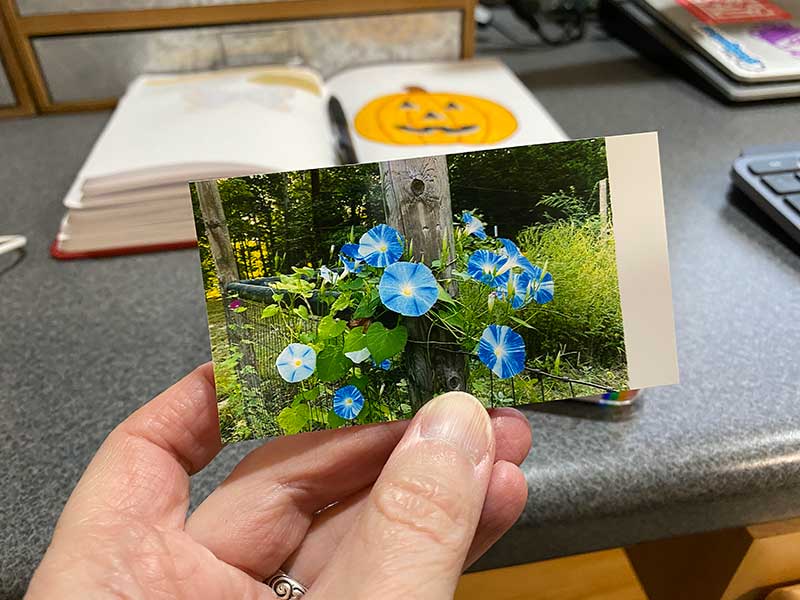 The finished prints from the Polaroid Hi-Print are noticeably crisp and more vivid than other Zink printers which produce prints with more muted colors.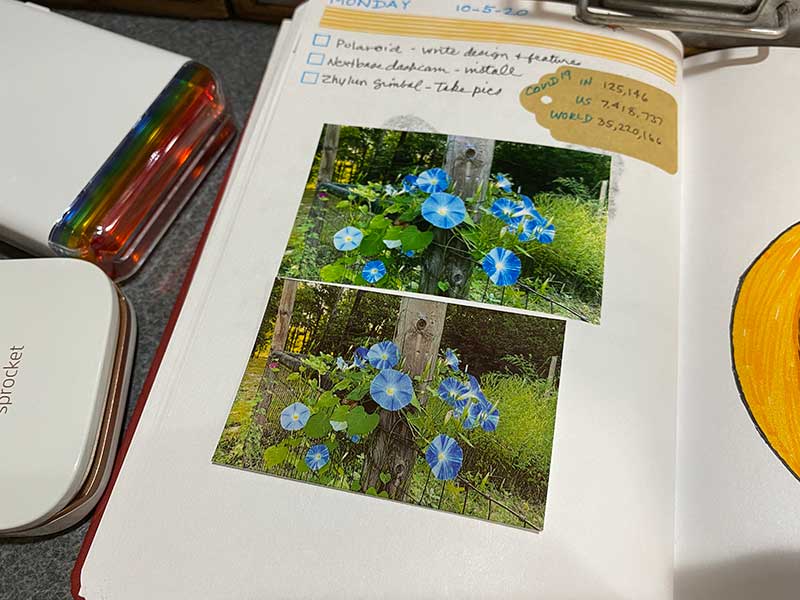 The Hi-Print prints are also sticker prints, but they are thinner than the Zink stickers. I'm liking the Hi-Print prints better in that respect because they don't make my journal pages as bulky. Do you also notice that the Hi-Print prints are larger than the Zink prints? Polaroid claims that this printer prints 2 x 3 inch prints, but as you can see, it's actually larger at 2.1 x 3.4 in (54 x 86mm).
See it in action
What I like
Vibrant sharp pictures
Thin stickers don't make your journal bulky
Photos will not fade over time
What I'd change
Paper cartridges are expensive
Final thoughts
The Polaroid Hi-Print is truly a step above the HP Sprocket type of Zink printer. The printed photos are sharper, more vibrant, and will not fade over time. The only downside is that the price per print is significantly more money. With the current price of Hi-Print cartridges at $16.99 for 20 prints, that works out to 85 cents a print. When you compare that to buying a box of 100 Zink photo sheets for $32.70 from Amazon, the price per print for that printer is only 33 cents. Quite a difference. BUT, the prints don't look as good as those from the Hi-Print, so there's that. I really hope that Polaroid can offer some deals on the Hi-Print cartridges because I really love this little pocket photo printer.
Update 3/13/21
I am thoroughly enjoying using this little printer. Yes, the print cartridges are expensive, but the prints are so much better than other printers which use Zink paper like the HP Sprocket pocket printer (my previous favorite). Another great feature of the prints is that they are repositionable stickers. The sticker prints are also thinner than comparable printers which means that if you're using them regularly in your journals, they won't bulk things up as much.
Price: $99.99 for the printer and $16.99 for 2 cartridges (20 photo sheets)
Where to buy: Amazon
Source: The sample for this review was provided by Polaroid.