We use affiliate links. If you buy something through the links on this page, we may earn a commission at no cost to you. Learn more.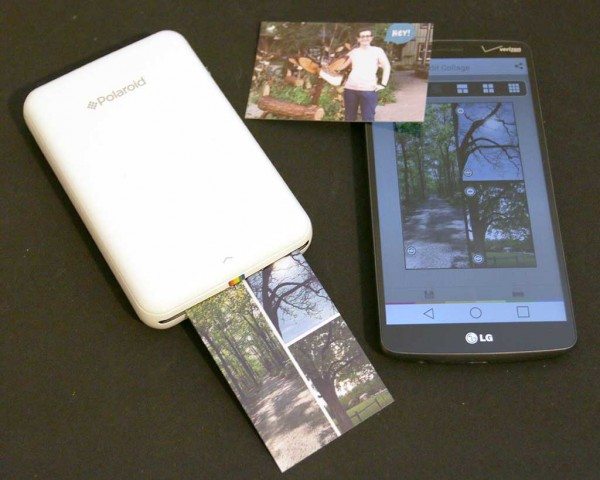 I take more pictures with my smartphone than I make calls with it. I rarely take a stand alone camera with me on vacations, parties or family events. The majority of the pictures I take stay on my phone and don't get shared with friends or family. Sure, I can go home and print the images with my Epson Artisan 800 ink jet printer, but I rarely do that because, by the time I get home, I've forgotten all about it. One way to have instant printing gratification where ever you are is with a mobile printer like the Polaroid ZIP Instant Photoprinter. This printer a little larger than a deck of playing cards and doesn't even use ink or toner. Let's check it out.
Note: Images can be clicked to view a larger size.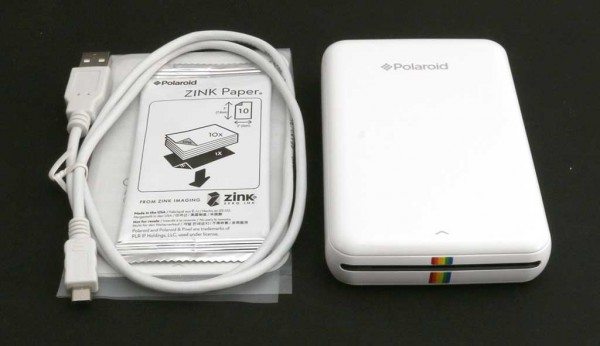 What's in the box?
Polaroid ZIP Instant Photoprinter
micro USB charging cable
10 sheets of ZINK photo paper
Quick start guide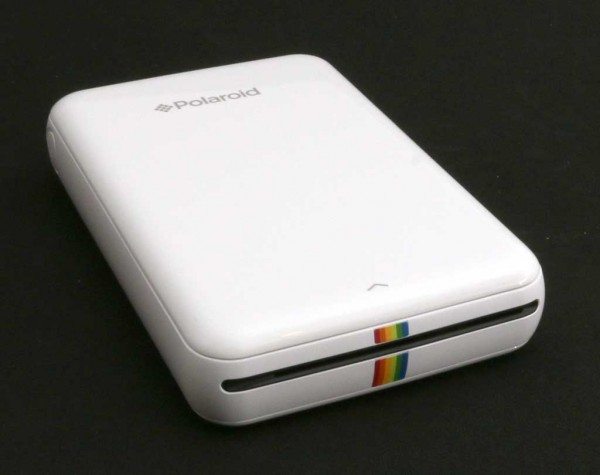 Do you remember the Polaroid cameras of your childhood which had a photo printer built right into the base of the camera? You could snap a picture and the self-developing print would pop out of the camera, ready to view and share a few minutes later. The Polaroid ZIP Instant Photoprinter is a modern take on those cameras. The ZIP printer is available in four colors, including the white version that you see here. It's very compact (2.91″ x 4.72″) and weights only .41 lbs.
There's a narrow slot in the front where the 2 x 3 inch prints are ejected.

You'll find a power button on one side.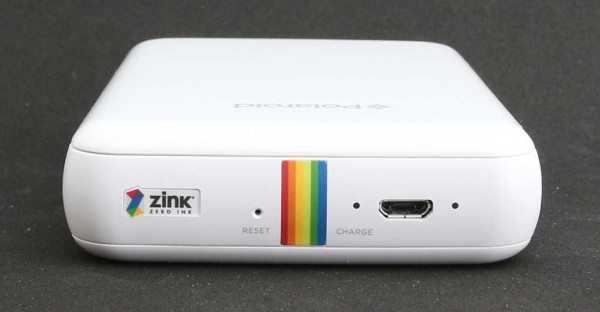 On the back is a reset switch, charging status LED, micro USB port and a power status LED.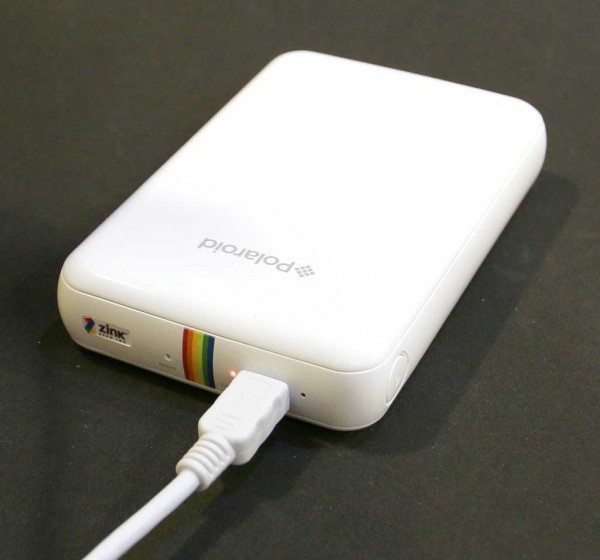 The ZIP printer has to be charged before you can begin using it. You can use the included USB cable and plug it into a free port on your computer, or you can use a USB AC adapter if you have one. A full charge takes about 1.5 hours.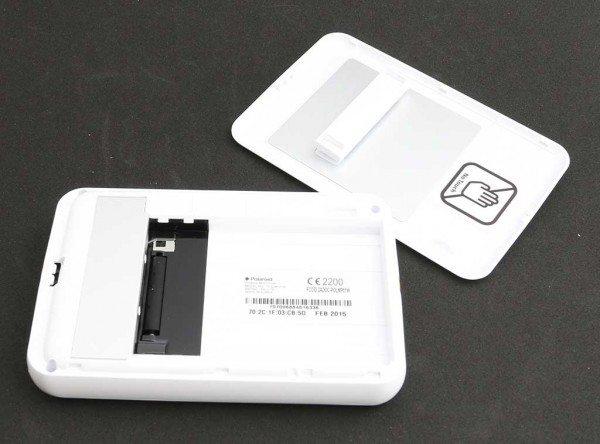 Next you will need to load the photo paper. Included with the ZIP printer is a pack of ten 2×3 inch ZINK photo sheets that will produce full-color smudge-proof photos.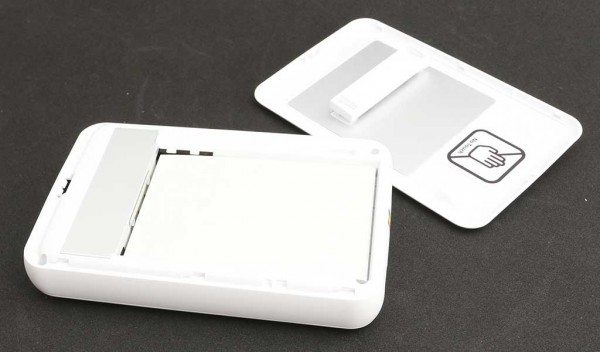 The stack of photo paper loads in to the printer by sliding off the top cover.
The Polaroid ZIP Instant Photoprinter uses ZINK zero ink printing to produce full-color prints without using ink cartridges, ribbons, or toner. The only consumable with this printer is the ZINK paper.
The next step requires you to install the free Polaroid ZIP app on your iOS or Android device. If you have an NFC enabled Android device, you can just tap the device on the printer and it will prompt you to install the app.
The printing app is easy to use and offers some basic features for editing images before you print them. You can choose an existing image from your phone's gallery, or the app can launch the camera app so you can snap a new image. After you choose the image, you can immediately print it by pressing the printer icon at the bottom of the screen.
Other options let you apply filters, drawn on the image, add stickers, and a collage feature where you can combine multiple images into one image.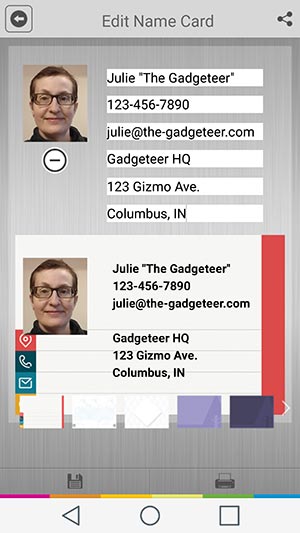 The ZIP printer can also be used to print name tags.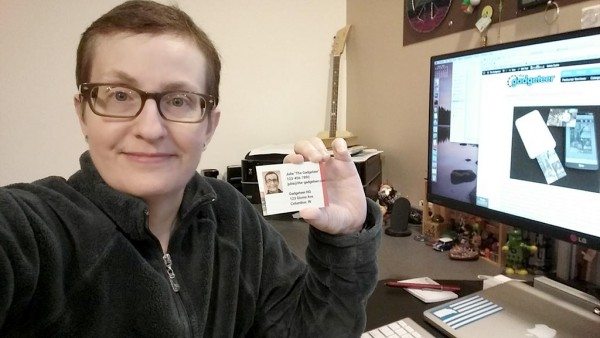 The 2 x 3 inch size makes the name tags the perfect size for special events, etc.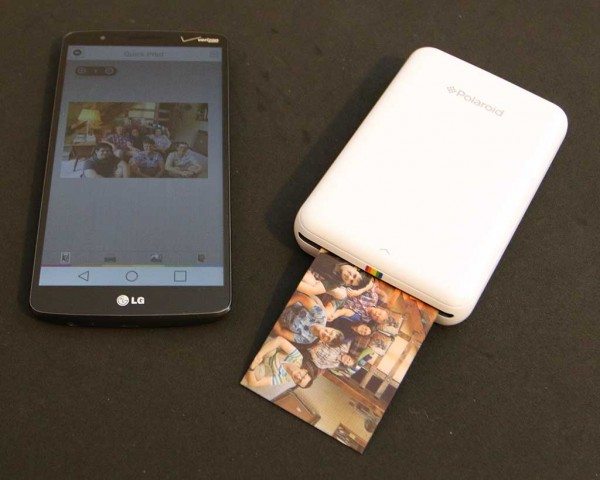 When you're done fiddling with the image, you can press the print button in the app and in a few seconds, the printer will begin printing.  The prints come out completely dry and ready to handle.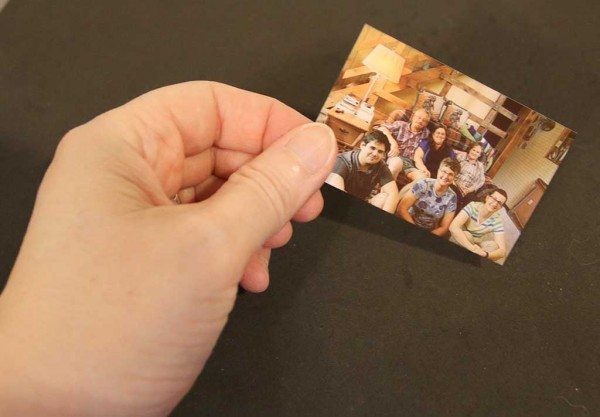 The ZINK paper has a smooth glossy finish.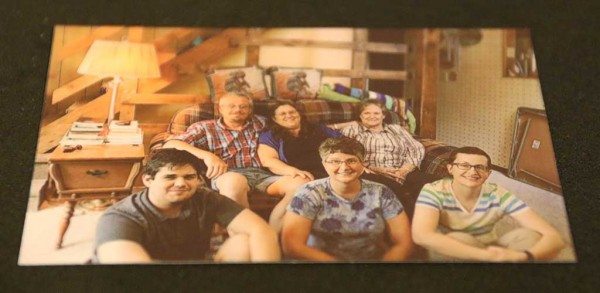 Do the ZIP prints look as good as prints from a traditional photo printer? No, not even close. But they are crisp enough and colorful enough that they can be the next best thing to a real print. Also, you have to admit that it's pretty tough to tote around a full sized printer so that you'll be able to share images where ever you go. It's much easier to carry this little printer in your bag or pocket.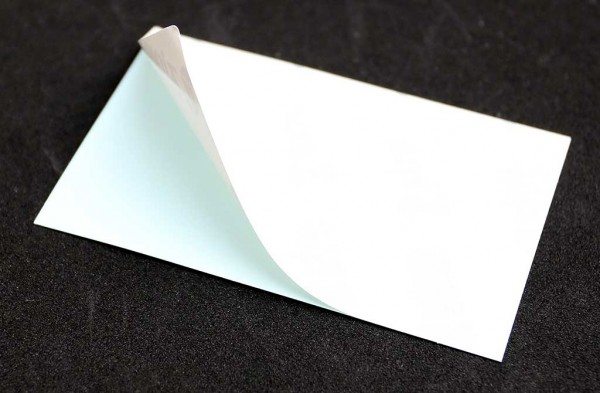 Another bonus is that these prints are peel and stick. I bought the older version of this printer (Polaroid ZINK) years ago and still use it to print pictures so I can stick them in my journal as an easy way to remember things that I've seen and done.
Although you don't need to worry about running out of ink with this printer, you will have to stock up on ZINK paper which isn't very cheap. A quick look on Amazon and eBay will find the best prices, but packs of 30 sheets will set you back about $15 give or take. Combine that with the $129.99 price of the printer itself and it might be cost prohibitive for you.
If the price of the printer and the consumables don't bother you, the Polaroid ZIP Instant Photoprinter is a fun way to share pictures at parties and events with friends, family or people who don't have a smartphone, or even a computer. This little pocket sized printer might not produce professional quality prints, but the ones it does produce are good enough to keep the memories fresh.
Update 10/18/16
I have still been using this little printer mainly to add pictures to my journal. Unfortunately, it has been acting wonky for awhile now. It intermittently won't print from my Nexus 6P. I brought it with me on vacation so I could update my journal with pictures of my travel adventures. I was really bummed when the printer refused to print more than one image. The mobile app showed that the image was sent to the printer and the printer would make noise like it was trying to print, but the print never appeared. I had brought a new pack of paper with me and installed that and was able to print 4 images before the printer did the exact same behavior and stopped printing. I think it's time to find a more reliable alternative.
Update 10/23/16
After I posted about the problems that I've been having with this printer, it was suggested that cleaning the rollers with alcohol might solve the problem with the printer paper not rolling through the printer. I tried that and it didn't help. But, I knew the issue was that the paper wasn't sliding under the roller because the roller wasn't grabbing it. What I needed was some weight on the paper. My solution: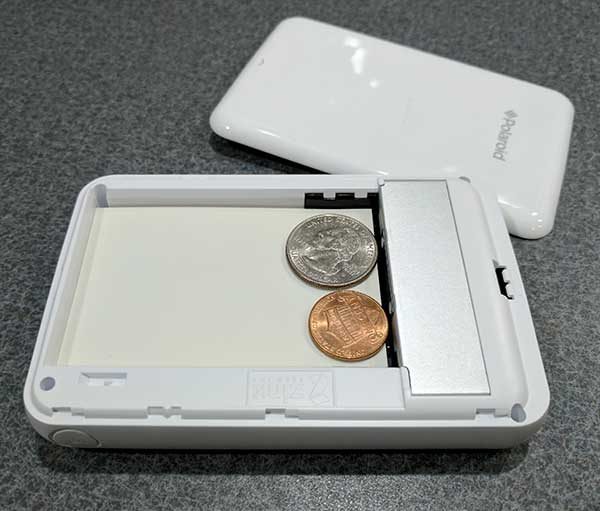 Yes, a quarter and a penny placed on the edge of the paper stack near the roller fixes the issue. I'm now able to print with no issues. Yay!
Source: The sample for this review was provided by Polaroid. Please visit their site for more info or Amazon to order.