We use affiliate links. If you buy something through the links on this page, we may earn a commission at no cost to you. Learn more.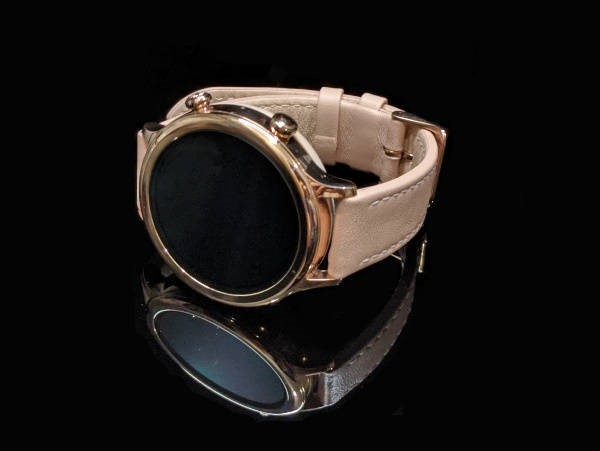 REVIEW – I've always liked the look and features of Apple watches but they only work with iPhones and I'm an Android user. So, my foray into wearable tech started years ago with fitness watches like Polar to keep track of my workout details. However, I quickly grew dissatisfied with the rubbery/plastic athletic watch look, so I transitioned to the more attractive Fossil Q Venture HR Gen 4 smartwatch (a Wear OS watch). I've been using the Fossil watch for two years now and like the look but it's painfully slow and has poor battery life.
Recently, Mobvoi released the TicWatch C2+ (a Wear OS smartwatch), which is a modified version of the TicWatch C2. The new TicWatch C2+ has 1 GB RAM instead of 512 MB. I got the chance to review it and found that the 1 GB RAM is truly important in increasing the performance of smartwatches (it's faster). This watch also has a larger battery (400 mAh) than my Fossil watch (300 mAh) and therefore lasted 15 hours+ with ~30%–40% battery left on a given day.
Unfortunately, it has a few drawbacks. It has the older Qualcomm Snapdragon Wear 2100 chipset, I couldn't get TicMotion to work even after setting it up (TicMotion automatically detects your workout and tracks exercise data), this smartwatch does not have an ambient light sensor, there's no speaker, and it doesn't track your sleep patterns (you'll need a third-party app for that).
What is it?
The Mobvoi TicWatch C2+ is a smart Wear OS device that is worn around your wrist and connects to your mobile phone via Bluetooth (it also will connect to WiFi). It provides you with your phone's notifications and messages and helps you to keep track of your time, health, and fitness data. It has a responsive touchscreen, you can switch watch faces (new faces from Mobvoi or download watch faces from Google Play), and you can download apps from the Google Play store.
What's in the box?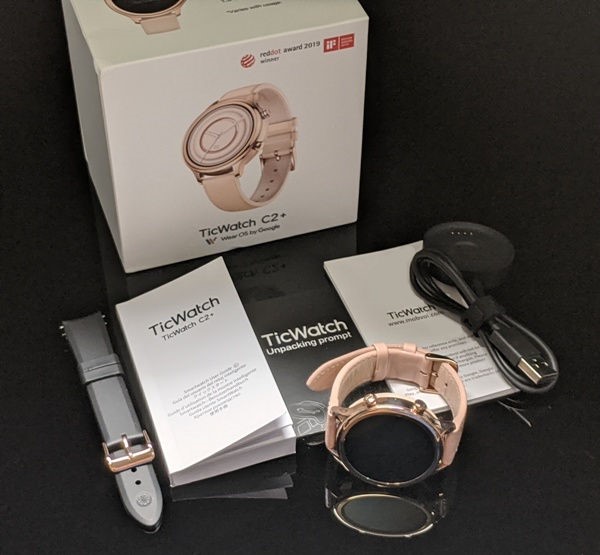 Rose Gold TicWatch C2+ with genuine leather strap
Magnetic contact charging base
Additional 18 mm black silicone strap
TicWatch C2+ User Guide, contact information, Quick Start User Guide
Hardware specs
Dimensions (mm): 42.8 x 42.8 x 12.7
Colors: Onyx, Platinum, Rose Gold
Watch case: Polyamide & glass fiber, stainless-steel bezel, aluminum back cover
Watch strap: Genuine leather (interchangeable) 20mm (Onyx, Platinum), 18mm (Rose Gold)
Operating system: Wear OS by Google
Memory/storage: 1GB RAM; 4GB ROM
Phone compatibility: Android™, iPhone
Platform: Qualcomm® Snapdragon Wear™ 2100
Display: 1.3" AMOLED (360 x 360 px)
Connectivity: Bluetooth v4.1, WiFi 802.11 b/g/n
GPS: GPS + GLONASS + Beidou
Sensors Accelerometer, gyroscope, heart-rate sensor
NFC Payments: Google Pay via NFC
Battery Capacity: 400 mAh (up to 2 days*)
Waterproof rating: IP68
Design and features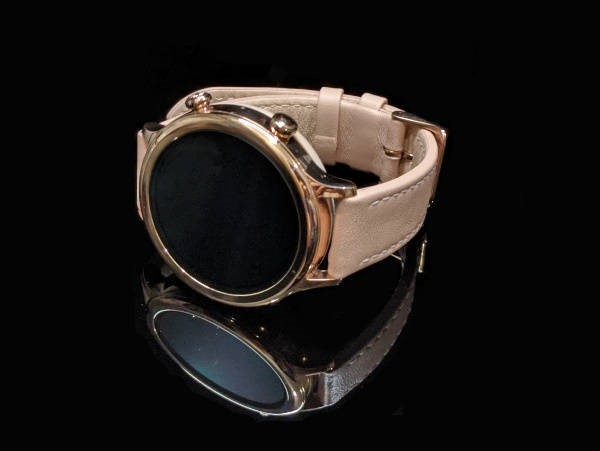 The Rose Gold Mobvoi TicWatch C2+ is an attractive smartwatch. It has a stainless steel watch case and a genuine leather strap (18mm watch strap for the Rose Gold watch, 20mm watch straps for the Onyx and Platinum watch). It also came with a black silicone strap.
Most of the specs on this watch are nothing to write home about. It runs on Qualcomm's Snapdragon Wear 2100 chipset (why didn't it come with the Snapdragon Wear 3100?), has 1 GB RAM and 4 GB storage, has a 400 mAh battery, and has Bluetooth 4.1. The 1 GB RAM is the notable spec here (more on this later).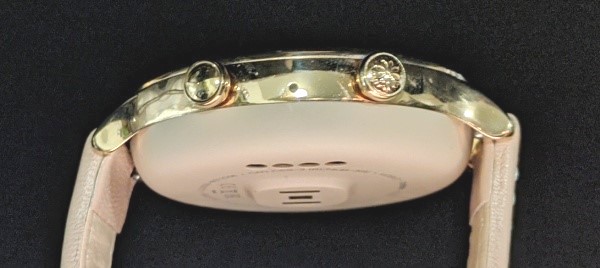 The watch has two physical buttons and a microphone as shown above but no speaker.
The button on the left (the Lower button) is the Function button which is programmable, and by default is set to open the TicHealth app with a single short press of the button. A double press of this button will launch Google Pay.
The button on the right (the Upper button) is the Power button. If the watch is off, a long press of this button will power-on the watch. If the watch is on, a long press of this button will launch the Google Assistant, but if you continue to hold this button beyond the Google Assistant, it will allow you to power-off or restart the watch. A short press of this button while the watch is on, will give you the app list.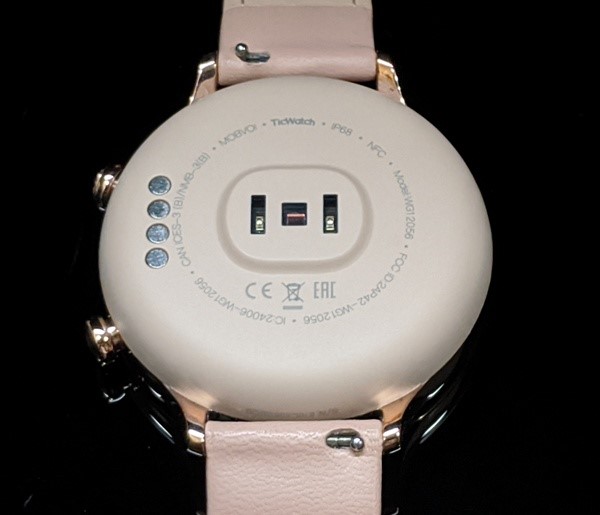 The underside of the watch shows the four charging contacts on the left side in the photo above, the heart rate sensor in the center of the watch, and the quick-release latches for the watchband.
Setup
I already had the Wear OS app on my phone, but if you don't, you would need to download this app from the Google Play store to connect the TicWatch C2+ with your phone.
To set up my TicWatch, I launched the Wear OS app, tapped on the drop-down menu located at the top left corner of the app, and selected "Add a new watch". It took me through a series of steps which included agreeing to the terms of service for Google Fit data, connecting the watch to my phone, and copying my Google account to the watch.
Performance
Everyday use impressions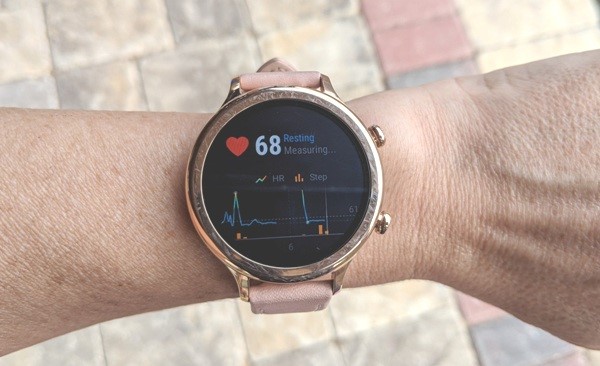 Faster watch and better battery life (compared to my Fossil watch): The TicWatch C2+ worked much better than my Fossil Q Venture HR Gen 4 smartwatch, but not because of a better chipset (they both have the Snapdragon Wear 2100). The better performance was due to the increase in RAM. I was surprised to see just what a difference 1 GB of RAM makes. The C2+ watch was quicker to respond to my selections. Each tap was met with a snappy response. Swipes were fluid and fast, though sometimes my TicWatch wanted to hold onto my notifications and not let them go when trying to swipe them away. The watch immediately detected that I was swiping on them, it just didn't dismiss some of them until after two or three tries (separation anxiety, perhaps?).
The 400 mAh battery on the TicWatch is an upgrade from the 300 mAh battery on my Fossil watch. At the end of a 15 hour day of normal use (checking notifications and the time), I generally had about ~30%–40% battery left on the TicWatch while my Fossil watch was spent.
One time I used the watch to do several things simultaneously: I had the TicWatch tracking my workout while listening to music on one of my Pandora stations using my Bluetooth headphones that were connected to the watch. This decreased the battery quite a bit, but the watch ran until early evening and then needed to be charged. I can't wait for the day when we can get several days out of our smartwatches without having to turn off all the wonderful features that make them fun to use.
Lightweight: I also noticed how much lighter the C2+ watch is compared to my Fossil watch. That's good and not-so-good. It's good in that I like having a lighter weigh watch to wear, but not-so-good because it feels less robust than my Fossil watch. The Fossil watch has a more premium feel and appears to have been made using thicker stainless steel.
Proprietary charger: The TicWatch C2+ comes with a proprietary charger that requires you to line up the watch's charging contacts with the charger's contacts. Initially, finding the proper orientation was a minor inconvenience but now I barely even think about it. This is a bit different from my Fossil watch which allows me to magnetically attach the watch to its charger using any orientation.
Watch faces and notifications: TicWatch has some nice looking watch faces. The above screenshot on the left was one of my favorites because it shows all the data that I want to see at a glance especially the date and the weather.
At the bottom of the watch face, the white dot with a red ring around it indicates that you have some new notifications. The second screenshot is an example of the typical types of notifications that I receive in a day.
The TicHealth app also sends you periodic notifications to remind you to get up and walk around a bit (shown in the third screenshot above).
Google Assistant: I was able to long-press the Power button (the upper button) to launch the Google Assistant to do things for me, but I was unable to get "Ok Google" to work (I set the watch to listen for this prompt in the Personalization settings). This may be a problem with Wear OS.
No ambient light sensor: The C2+ doesn't have an ambient light sensor and that fact can render the watch unusable during a bright sunny day if you don't remember to turn up the brightness on the display before you go outside. This happened to me a couple of times. During the previous night when lights were low, I had decreased the brightness of the display, and the next day, I forgot to increase the brightness before leaving the house to run some errands. Because I couldn't see the watch display, I couldn't use it.
No sleep tracking: Those of you interested in this smartwatch should know that the C2+ watch doesn't have sleep tracking. This isn't important to me so I wasn't at all bothered by its absence.
TicWatch C2+ Health and Fitness Data
The TicWatch C2+ comes with TicHealth, TicExercise, and TicPulse apps. I found that I thoroughly enjoyed using these apps and all the data they provide.
TicHealth app: The first screenshot above shows the TicHealth app home screen. The green arc shows the number of hours that you have been active during the day (I think the watch looks to see if you have some steps accumulated during each hour of the day; if you are active during 10 hours out of a day, it fills the green arc). The red arc tracks the number of steps you've taken during the day and the blue arc shows your total workout minutes during the day.
The TicHealth app also reports your current calorie burn, heart rate info (resting heart rate, minimum and maximum heart rate), and your activity over the current week. Tapping on any of these metrics provides you with more information (I love me some more information!).
TicExercise app and TicMotion: The TicExercise app allows you to choose from a list of eight exercises: Outdoor Run, Outdoor Walk, Indoor Run, Cycling, Indoor Cycling, FreeStyle, Rowing Machine, and Pool Swimming. The list of workouts didn't include a High-Intensity Interval Training (HIIT) workout, so I selected "Indoor Run".
One of the things that I was looking forward to using on the TicWatch was TicMotion. This is "Mobvoi's suite of proprietary AI algorithms to proactively detect your motion and provide your fitness records, all click-free". In other words, it is supposed to detect when you start exercising and track your workout information automatically.
Unfortunately, I could never get this to work even after activating TicMotion (short-press the Power button on the watch to get to the list of apps > launch TicExercise app > swipe to the left twice > tap on "TicMotion, Auto Recognize Sport"). I tried several times to get it to work and even went through an entire hour-long workout without success. Instead of tracking my exercise data, it gave me a couple of resting heart-rate warnings (apparently it was worried about my resting heart rate going from 50 bpm to 140 bpm in an instant). This was very disappointing.
So, to get the watch to track my workout data, I needed to manually launch the TicExercise app and select the type of workout I wanted to do. I programmed the Lower Function button to launch the TicExercise app instead of the TicHealth app to make this process easier.
TicPulse app: I like using the TicPulse app. When you launch it, it reports your resting heart rate, and scrolling down the app gives you the amount of time that you spent during the day in different heart-rate zones (resting, warm-up, fat burn, cardio, and anaerobic zones). It also provides you with a graph of your average daily resting heart over seven days. This is also the area where it would report any abnormal heart rates detected.
Even though smartwatches have optical heart rate sensors, I've found that they have a difficult time accurately sensing my correct heart rate. The TicWatch's optical heart rate sensors are the same – it had difficulty capturing an accurate reading of my pulse. That's why I still keep my Polar M400 GPS Smart Sports Watch around. It works with my H7 Polar Bluetooth Heart Rate Sensor chest strap which can more accurately determine my heart rate. I use it to compare to all others.
Mobvoi app: If you install the Mobvoi app on your phone, you can view on your phone all the health and fitness data on your watch.
What I like
The TicWatch C2+ is faster (1 GB RAM) than my Fossil Q Venture HR Gen 4 smartwatch (512 MB RAM).
It has a longer battery life (400 mAh) than my Fossil watch (300 mAh), which really isn't saying that much.
It's lighter weight than my Fossil watch.
What I'd change
It comes with the rather old Snapdragon Wear 2100 chipset.
TicMotion (the algorithm that automatically detects your exercise and tracks your data) didn't work for me.
There's no ambient light sensor.
There's no speaker.
It doesn't track sleep patterns (you need a third-party app for that).
Final thoughts
I enjoyed using the TicWatch C2+ smartwatch more than my Fossil Q Venture HR Gen 4 smartwatch. Simply increasing the RAM from 512 MB to 1 GB seems to make quite a difference in the performance of a smartwatch. It's faster when responding to tasks. It also has better battery life (400 mAh) when compared to my Fossil watch (300 mAh), though I have to admit that's not saying much. It's also attractive and lighter weight than my Fossil watch.
There were a few disappointing things. The watch didn't come with the Snapdragon Wear 3100 chipset. The Snapdragon Wear 2100 is rather old now and thus, it was a little surprising that Mobvoi would release a new smartwatch without upgrading the chipset.
Additionally, I couldn't get TicMotion to work for me to automatically detect and track my workout data. I was also a bit frustrated that the watch doesn't have an ambient light sensor to automatically adjust the brightness of the display when going outdoors, thus potentially rendering it useless on a bright sunny day depending on the setting. Moreover, I wish it had a speaker so that I could hear Google Assistant responses. The smartwatch is also missing sleep tracking, which may matter to many of you but doesn't bother me.
Even though I enjoy using this watch more than my Fossil watch, it seems a little expensive given most of its specs. At this point, it may be worth waiting for the next set of Wear OS watches that will use the latest Qualcomm Snapdragon 4100 or 4100+ chipset.
Price: $209.99
Where to buy: Amazon or Mobvoi
Source: The sample of this product was provided by Mobvoi.