We use affiliate links. If you buy something through the links on this page, we may earn a commission at no cost to you. Learn more.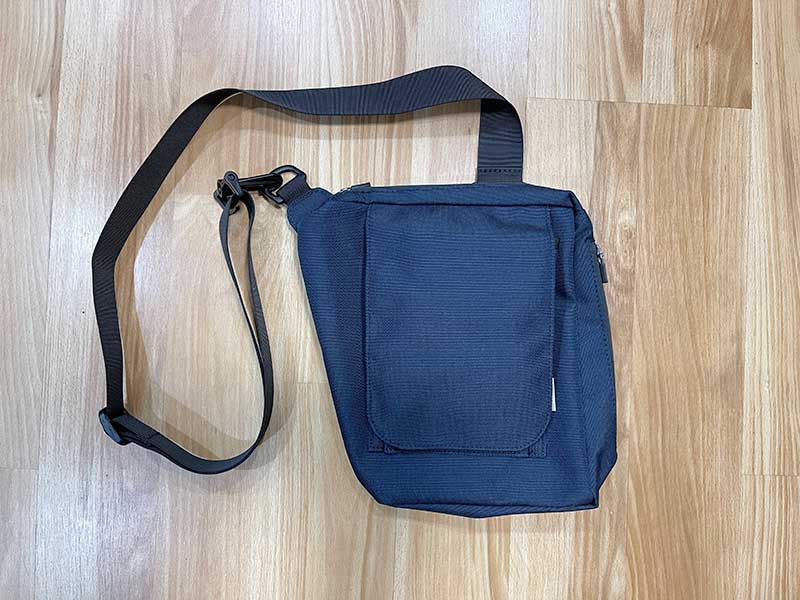 REVIEW – I just returned from my first "away" vacation since May 2019! To say that it was a long time coming is an understatement. Before we left, I had to deal with the age-old question – which bag do I take on the trip? As luck would have it, I had an easy answer to the question (this time) because I was sent 2 new bags from Bolstr to review and the trip would be a perfect real-world test for them.  So let's take a look at the Small Carry 3.0 and the Aux Pocket and find out if these bags were worthy companions on my vacation.
What is it?
The Bolstr Small Carry 3.0 and Aux Pocket are small canvas gear bags that are designed to carry the bare essentials.
Bolstr Small Carry 3.0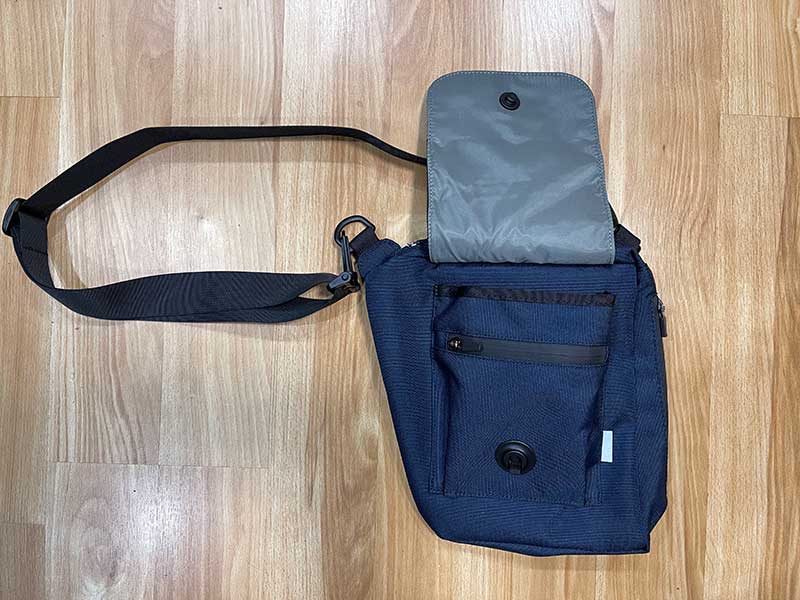 Let's start with the Small Carry 3.0 which is the larger of the two new Bolstr bags. The Small Carry is a shoulder bag that is available in either military-grade nylon canvas in Stealth (black), Disruptive Cammo, and Lunar Blue, or in Dyneema in White. As you can see, I was sent the Lunar Blue version.
The Small Carry bag is small with a unique shape that might not be attractive to people who want their carry accessories to be symmetrical. You will not be using it to carry your laptop or full-sized tablet. It can hold an iPad Mini or comparably sized tablet along with your daily EDC items like your wallet, phone, keys, notebook, pens, sunglasses, etc.
On the front is a flap that covers a roomy open-topped pocket that has a smaller flatter and more shallow zippered pocket in front of it.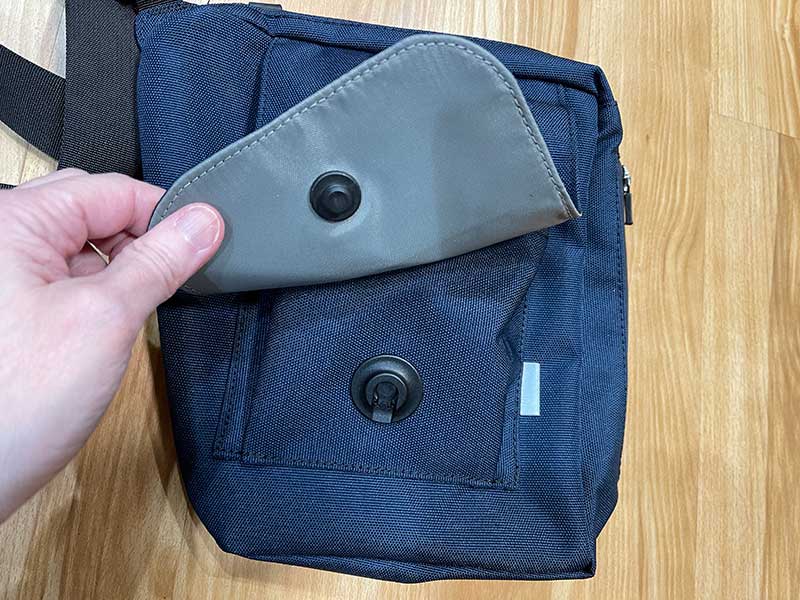 The flap features a Fidlock closure that is so much nicer to use than Velcro. Fidlocks use a magnet to make it super easy to open and secure the flap. The flap is opened by pulling the edge down so that the clasp is released from the slot. Then when you bring the flap back down to the clasp, the magnets pull it into place almost automatically.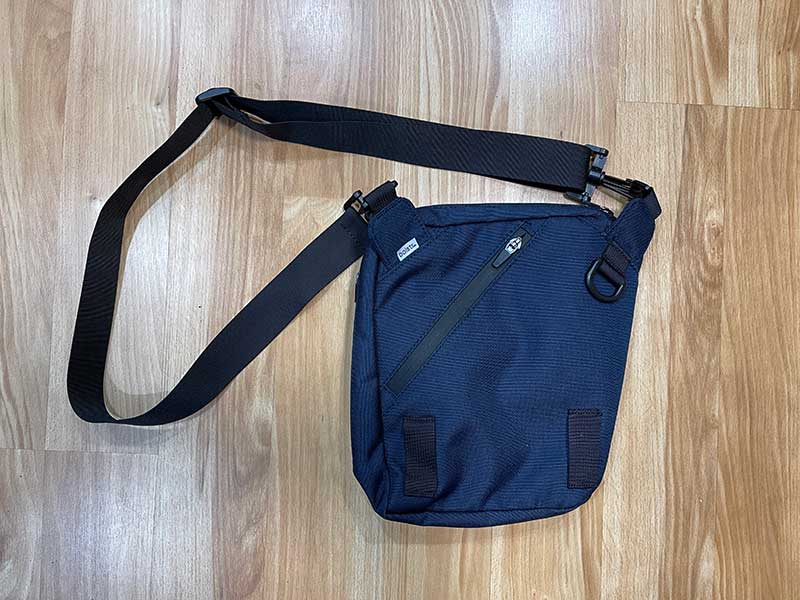 Before we check out the interior of the Bolstr Small Carry 3.0 bag, let's check out the back of the bag. There's a large diagonal zippered pocket that is lined in soft microfiber which makes it perfect as a pocket for your phone or sunglasses. You'll notice that there's a D ring on the upper corner of the bag that you can use to attach small items like your keys. On the bottom edge of the bag are two loops that can be used with the optional waist strap.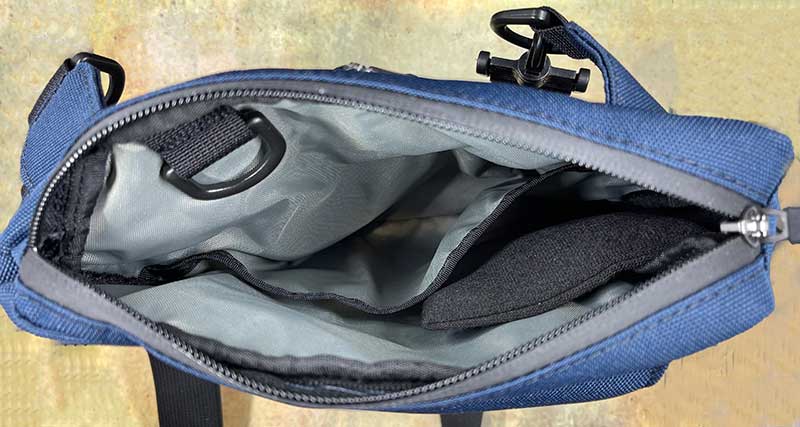 When you unzip the main compartment of the Small Carry 3.0 bag, you'll find a light grey interior that has another D-ring and a roomy area that is separated into two sections.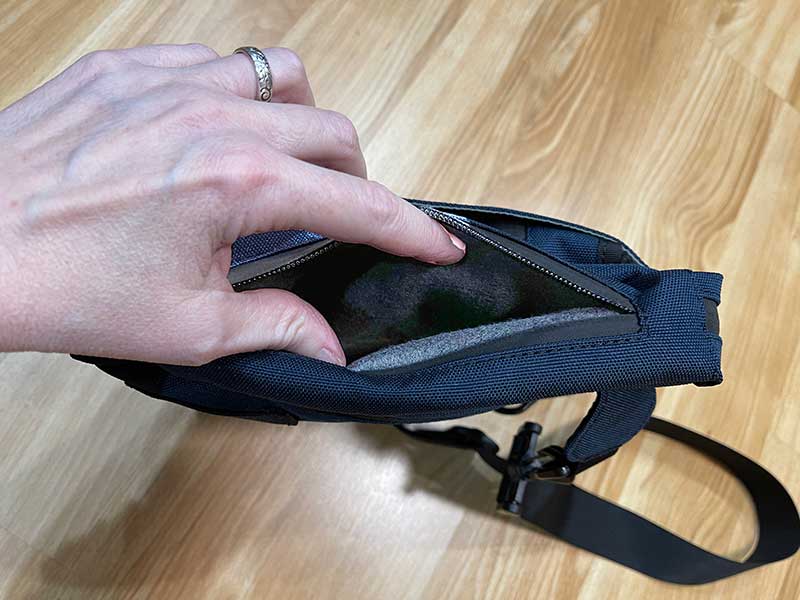 One side of the Bolstr Small Carry 3.0 bag has another microfiber-lined zippered pocket. This pocket is much too small for my iPhone 12 Pro Max, but it would work for sunglasses.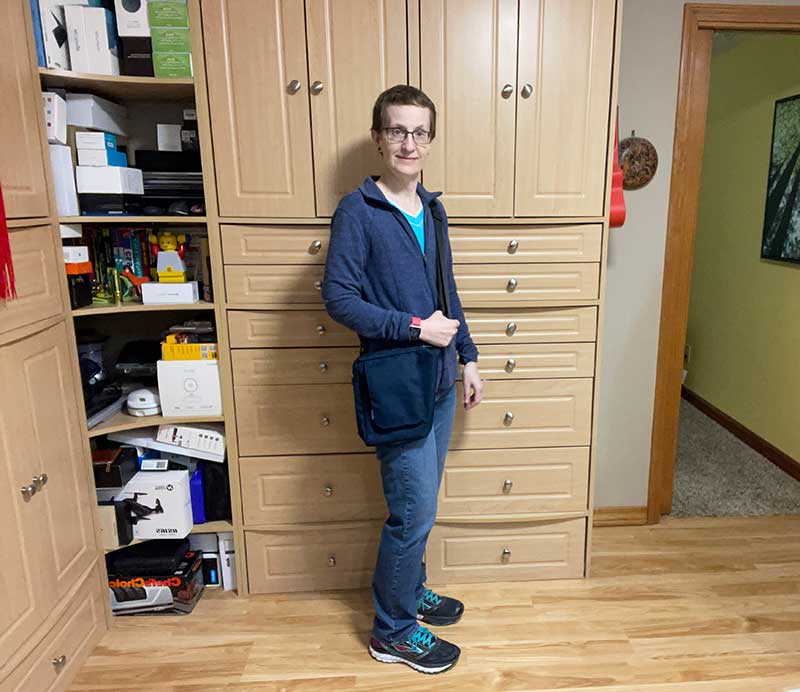 Here I am wearing the Bolstr Small Carry 3.0 crossbody style. For reference, I'm 5'6″.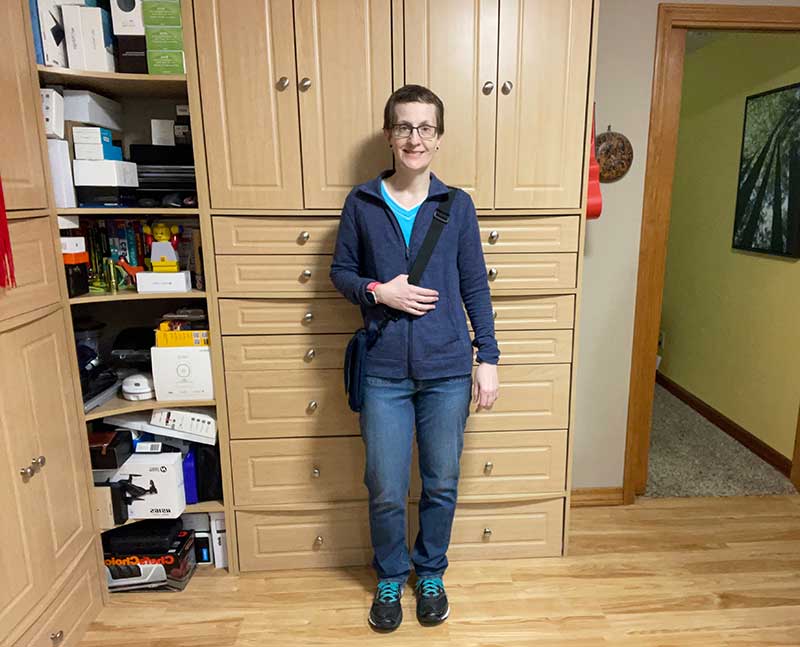 Here's another view. The wide adjustable shoulder strap makes the bag comfortable to wear.
Bolstr Aux Pocket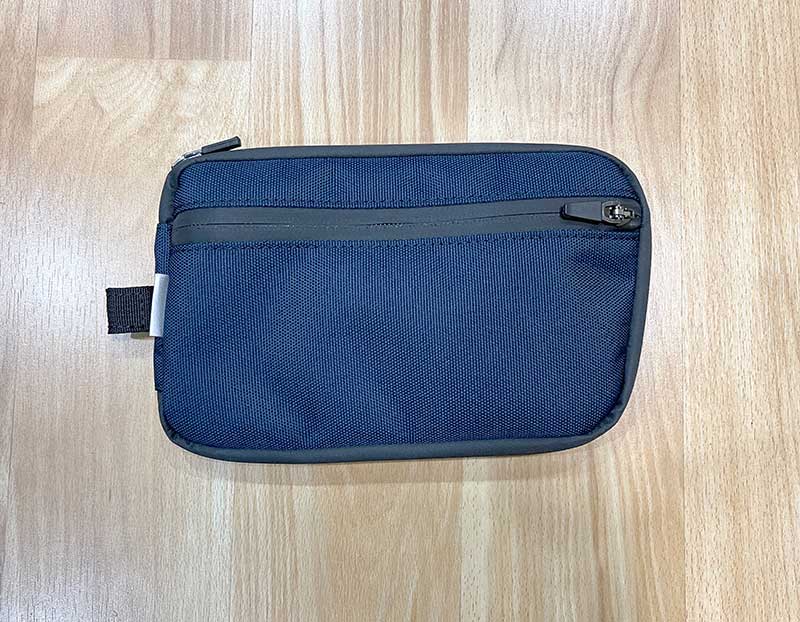 The Bolstr Aux Pocket is a minimalist zippered pouch that will only hold the bare essentials like your wallet, phone, a small notebook, pen, and car keys.
It's available in the same colors and materials as the Small Carry 3.0 bag and features a flat zippered pocket on the outside of the bag.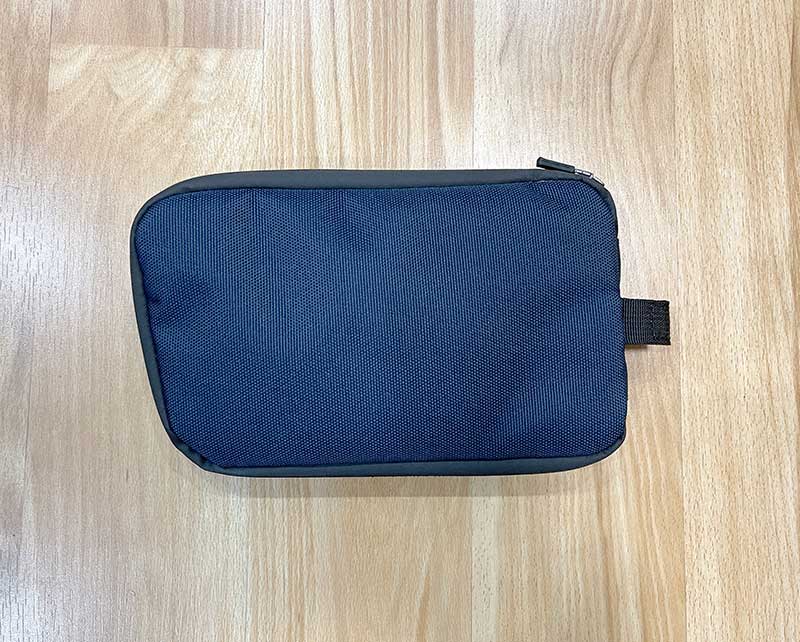 The Aux Pocket's shape (like the Small Carry bag) is asymmetrical.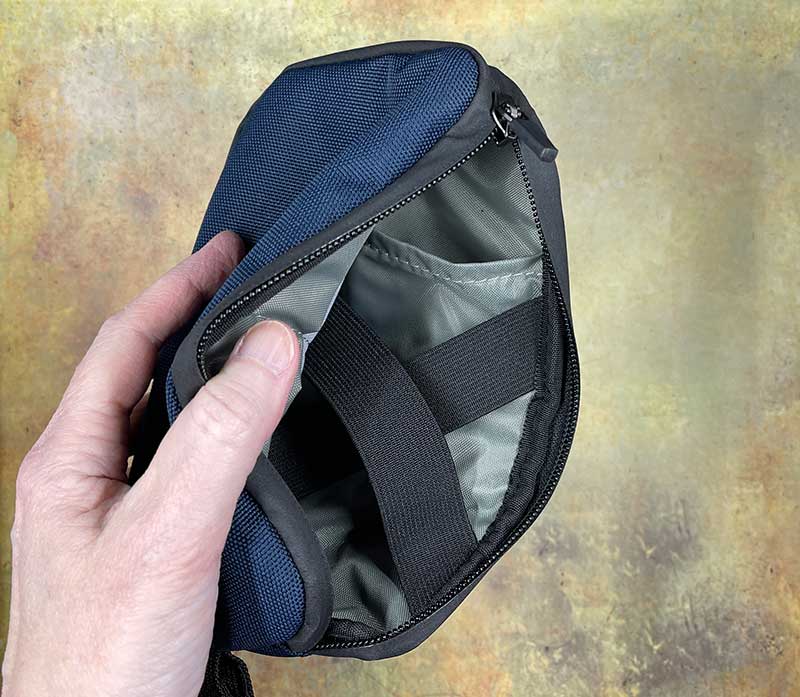 The interior of the bag is accessed by the zipper that is around 4 sides of the bag. That means you can unzip it partially just to gain quick access…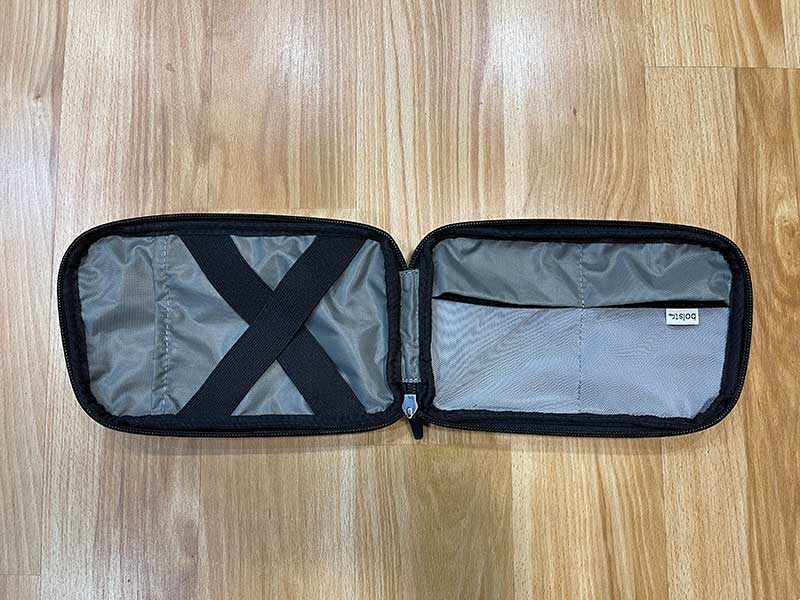 … or you can completely unzip it as you see above. On the left side is an open-topped pocket with elastic bands above it.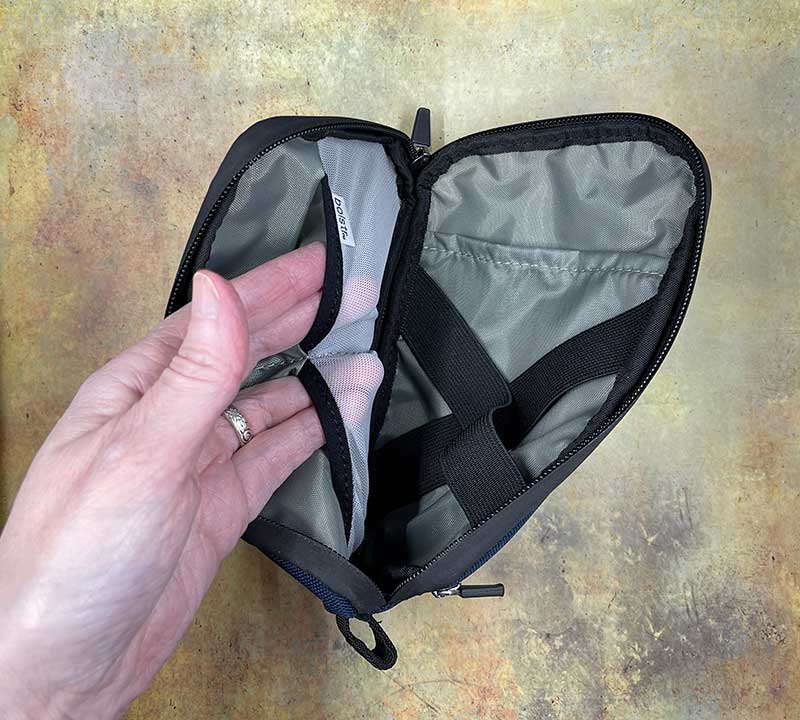 On the other side are two small stretchy mesh pockets for small items. The pockets are see-thru which makes it easier to see your gear.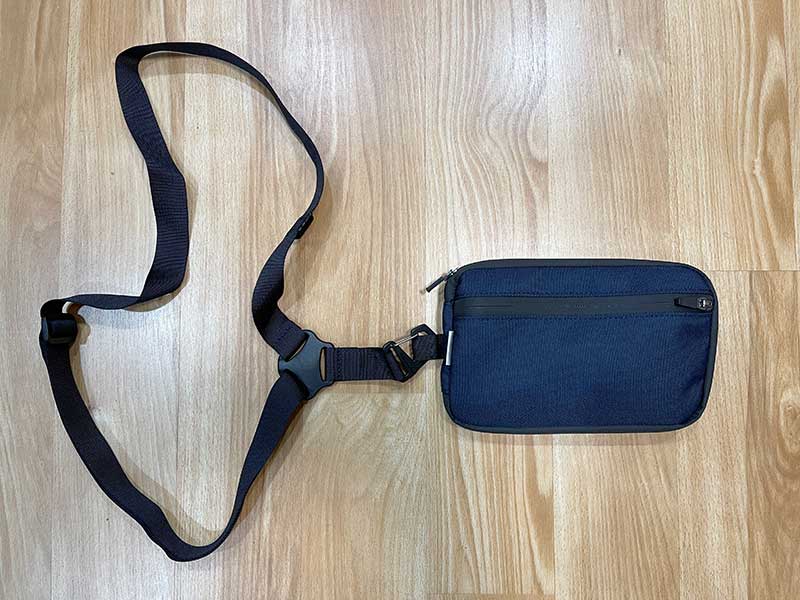 What makes the Aux Pocket stand out from other small EDC bags is the shoulder strap that you see above. The strap attaches to the Pocket on only one end instead of both ends like a typical bag.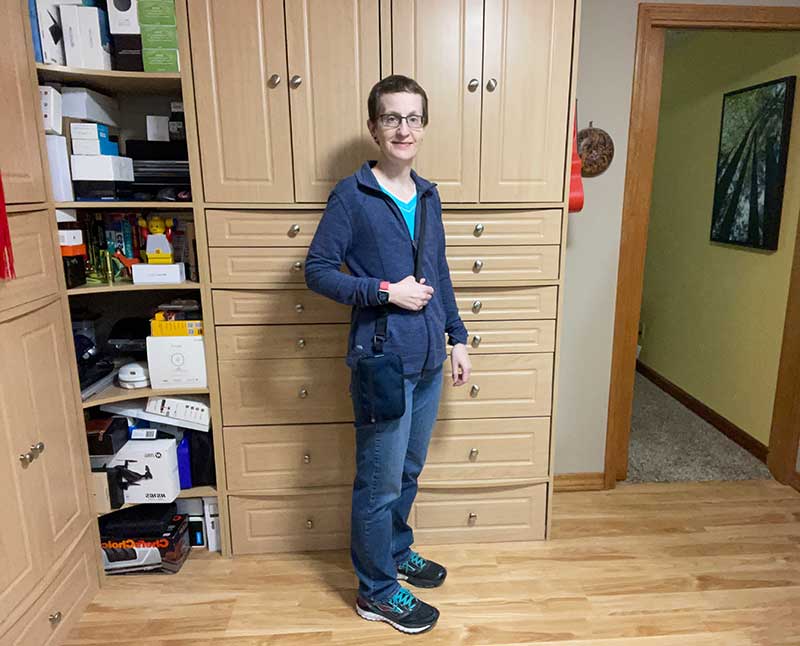 Again, here I am wearing the bag crossbody-style.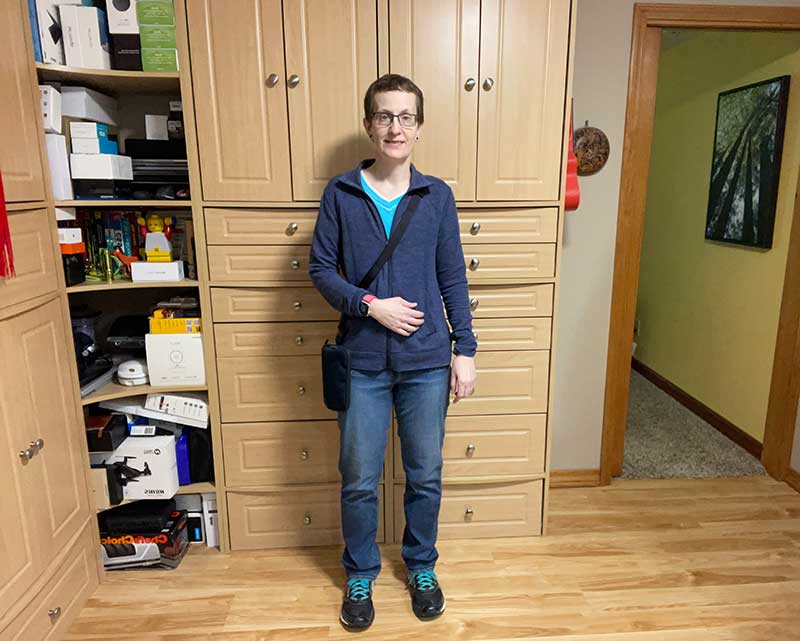 I really liked the Aux Pocket. I barely felt like I was carrying a bag and unlike other bags, I didn't even take it off when I would get back in the car. I just left it on and it didn't get in the way.
What I like
Both bags are well made
Decent gear storage as long as you don't want to carry too much gear
What I'd change
The regular non-Indiegogo Indemand price for both bags is overpriced in my opinion
Final thoughts
Did the bags work out on our vacation? Yes! I really enjoyed using the Bolstr Aux Pocket and Jeanne liked the Small Carry 3.0 bag. As far as minimalist gear bags are concerned, I think the Bolstr knows what they are doing and I plan to continue using the Aux Pocket when the need arises. Hint: It's going to be added to my Julie's Favorite Gear page very soon.
The only concern that I have is the regular non-Indiegogo price which is $85 – $139 for the Aux Pocket and $135 – $199 for the Small Carry 3.0. Ouch! If you want one of these bags, I suggest that you hurry up and order one on the Indiegogo Indemand page to save quite a bit of money. They are going to ship next month (July) so there's not that long of a wait.
Price: $81 for the Small Carry 3.0 / $51 for the Aux Pocket
Where to buy: Indiegogo Indemand
Source: The sample for this review was provided by Bolstr.