We use affiliate links. If you buy something through the links on this page, we may earn a commission at no cost to you. Learn more.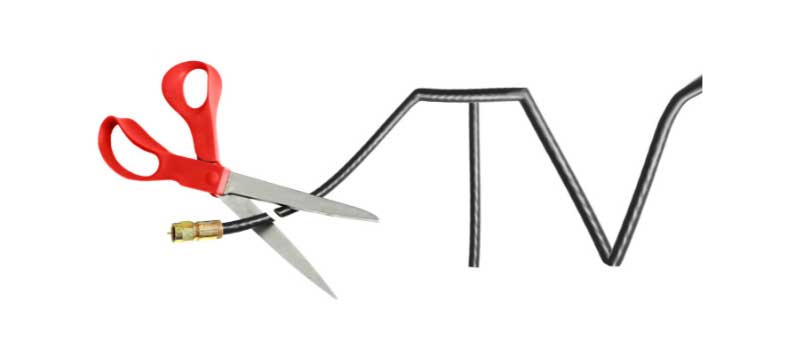 ARTICLE – I've been a DirecTV customer for close to 30 years but earlier this week I called them up and asked for a divorce. Why did I break up with DirecTV and what did I replace it with? Let me give you a little history before I answer those questions.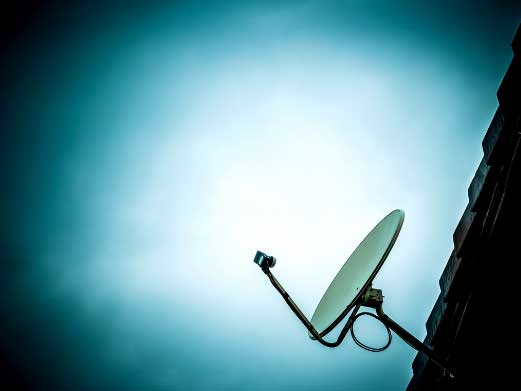 First of all, I have always lived in Southern Indiana rural areas that are not serviced by any cable TV services. When I was growing up, we had a TV tower with a large antenna and I had something similar when I bought my first house and then again with my second house which I'm in now. With both my first and second houses, we installed DirecTV for a better selection of channels. When DirecTV started offering network channels like CBS, ABC, NBC, and FOX, we took down the TV tower and were all in with DirecTV.
We've been relatively happy with DirecTV over the years except when there were network channel outages due to contract disputes. Then more recently, we've been annoyed by bugs in their DVR user interface and more importantly the fact that we have been paying almost $150 a month for programming that didn't include any premium channels. When I heard that DirecTV was planning to increases prices early this year, I told Jeanne it was time for us to do a trial run of cutting the cord. She said ok, so I made the call a couple of weeks ago to put a pause on my account.
Let's take a DirecTV break
During that call with the DirecTV rep, they actually offered to give me a $50 discount on my bill for 1 year which would bring my monthly bill down to around $100. I said I'd think about it but I wanted to go ahead pause my account. I've done this several times throughout the years when we've done home remodels and were unable to use the equipment for an extended period of time. This option is a great way to save money by not paying for something you're not using so I thought it would be a good way to do the cord-cutting experiment.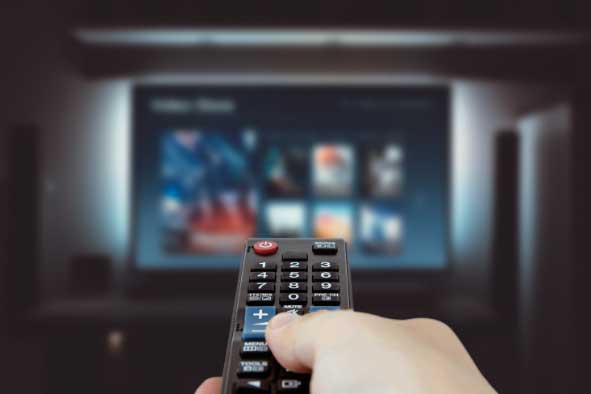 With our DirecTV account paused, we started our first evening of TV watching by streaming a show while we ate our dinner. Our typical nightly habit had been watching a pre-recorded show on the DirecTV DVR, so it felt normal to stream one of those same shows on Hulu. It was after that show ended that things felt different. I asked Jeanne what she wanted to watch next and she said "put it on HGTV". I said we can't, we don't have DirecTV anymore…
The rest of the night we went back and forth with "what do you want to watch?" met with "I don't know, what do you want to watch?" Finally, I asked her if she wanted me to call DirecTV back the next day to take their $50 monthly discount and she said yes. So much for the cord-cutting experiment.
DirecTV has crazy policies that make zero sense
So the next day, I called DirecTV and explained the situation and that I wanted to take them up on their offer from the previous day, unpause the account, and take their offered $50 discount for the next year. They told me that they COULD NOT turn the account back on. That it had to be off for a full 30 days. I couldn't believe they didn't want to unpause it back on so I could start paying them again. It made no sense at all to me. So I said ok and hung up.
Hardware and software that helped us cut the cord
Back to the experiment… At first, I tried to use the Smartcast apps built into my Vizio TV (model V705x-H1) to stream all of our shows but my Vizio TV has lost its mind in the last few months due to firmware updates that have made the reliability of this TV just plain terrible. I decided to switch to an Apple TV 4K which is a million times better but we're still having weird issues with the Vizio TV and am seriously considering buying a new TV (probably Samsung or LG) really soon.
As far as software and streaming services, I'm lucky that Netflix is free from my cellular provider T-Mobile, but I pay for Hulu, Discovery+, Paramount+, and Apple TV+. I also found that my cellular provider T-Mobile was offering a deal on the streaming service Philo. This service has some of our favorite channels like History, HGTV, AMC, and others and even lets you watch Live TV and record your favorite shows.
Once we had no choice but to figure things out and only use streaming services, we got used to it quickly. And when I say "we", I really mean my spouse Jeanne. When it comes to using tech, she has a superpower that causes electronics to get glitchy. But even she's getting used to using the Apple TV to find shows that she likes to watch. She still yells for me to fix the Vizio TV when it's having one of its weird issues, but otherwise, it's been pretty easy and painless.
I was a little worried that I'd have some issues with my T-Mobile Home Internet since we tend to put shows on as background noise while we're both surfing on laptops and even streaming video on those laptops at the same time as the Apple TV 4K is also streaming. But so far that's been a non-issue so yay!
A couple of days ago I asked Jeanne what she thought about canceling DirecTV altogether instead of turning it back on in a few days. Jeanne gave me the thumbs up to truly cut the cord and that's exactly what I did yesterday.
Before cutting the cord and after cutting the cord payments
I was paying $147.84 per month for DirecTV service and now I'm paying about $35.65 per month if you break everything down as follows:
Netflix (free with my T-Mobile account)
Paramount+ (free with my T-Mobile account)
Discovery+ $29.99 for 1 year ($2.50 per month)
Hulu $12.99 / month
AppleTV+ $49.99 for 1 year ($4.17 per month)
Philo $15 per month deal with T-Mobile
That's a savings of more than $100 per month. I am not including my $40 T-Mobile Home Internet monthly internet bill because I would be paying for that regardless. Now I just need to start researching for a new TV purchase! 🙂
Update 2/24/22
It has been a little over a month ago since I cut the cord with DirecTV and I wish I would have done it years ago! There was a short adjustment period but now it feels normal to find all the new episodes of our favorite shows in individual streaming apps. Do I wish there was one interface that shows all those episodes on one screen? Sure. But honestly, the Apple TV catches most of them so it's not that big of a deal. It's just a matter of remembering that we're watching Show X and need to go to App Z to watch the latest episode if it doesn't show up on the Apple TV's row of shows to watch.
I talked about being annoyed with my 70″ Vizio TV and the problems got even worse so I finally took the plunge and purchased a new TV. It's been years since I bought a TV just because I've been so fortunate to have vendors send me review units over the years. I narrowed the brands down to LG and Samsung and after quite a bit of research and firsthand accounts from people who own both brands, I ended up going with a SAMSUNG 65″ QN85 from Best Buy. It was definitely a splurge at $1599. But it's been so worth it. The picture is phenomenal! Many of our favorite shows that we watch look completely different now. Like the people are behind clear glass. It's crazy. I'm also so happy that it works perfectly compared to the Vizio.
Shortly after I posted this article, the folks at Antennas Direct reached out to ask if they could send me one of the ClearStream Max HDTV antennas. I happily accepted their offer and the ClearStream 2MAX antenna showed up a couple of days later.
I hired my favorite handyman to remove the old DirecTV dish on my roof and he was able to install the Clearstream on the same mount and even was able to use the existing coax. Installation was pretty easy from what I observed. The ClearStream 2Max is ready to go right out of the box. All you have to do other than mount it (indoors OR outdoors) is to extend the two dipoles that click in place.
Russ (Mr. Handyman) didn't think the antenna would work that well, but he pointed it north where the closest network stations were located to me in Indy, I then connected the other end of the coax that had been connected to the DirecTV DVR into the antenna input on the Samsung TV and within seconds it was bringing in a variety of stations like magic. And many of them looked awesome.
I now have the ability to watch live network TV when I need local news and weather. There are also lots of other stations to explore that aren't included in my streaming apps.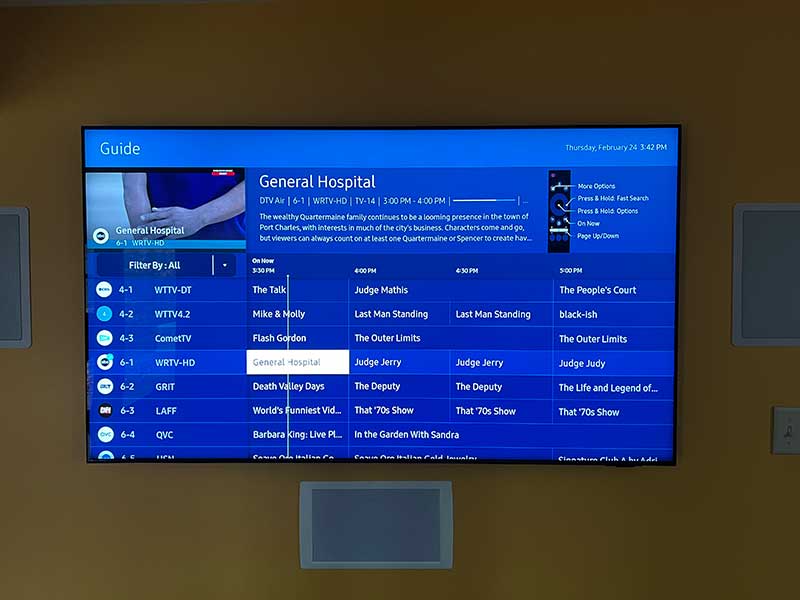 Today I even discovered that there's a channel/show guide for the antenna that's built into the Samsung TV interface. Now if only there was a DVR too! I'm considering creating a DIY DVR at some point just for the fun of it. If I do, I'll do another update to this article.
If you're on the fence about cutting the cord, my advice is to just do it 🙂
Also, please check out part two of this story – I almost fell for a DirecTV phone scam! – Julie's gadget diary