We use affiliate links. If you buy something through the links on this page, we may earn a commission at no cost to you. Learn more.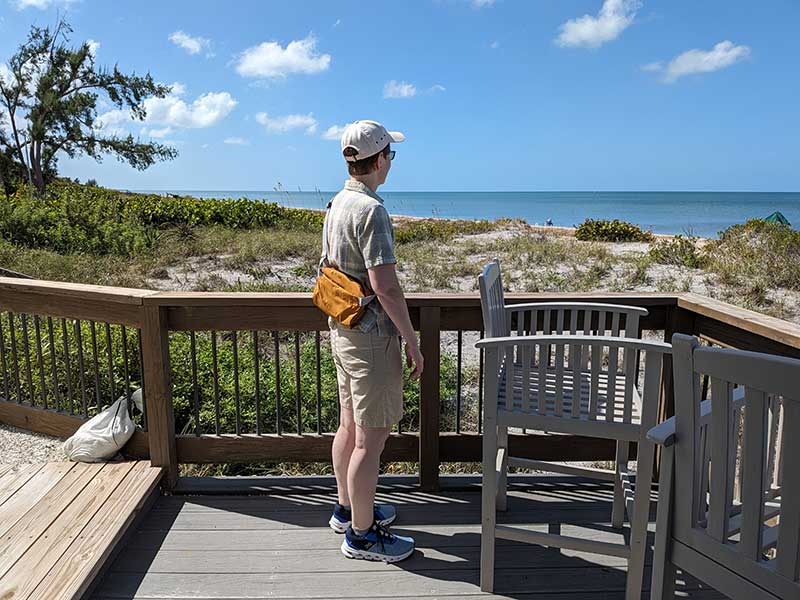 REVIEW – Even though I'm female, I don't regularly carry a purse/bag when I go out of the house. I usually put my wallet in my pocket along with my car fob and my phone. Although that works, it's not exactly comfortable. And if I need to carry something else, forget it. So, I have been looking for something small and functional, while also looking cool and I think I've found it in the Bellroy Lite Sling Mini. Let's take a closer look.
What is it?
The Bellroy Lite Sling Mini is a small leather-free ripstop nylon bag that's the perfect size for your EDC.
What's in the box?
Specs
Measures 170mm x 200mm x 70mm / 6.7 inches x 7.9 inches x 2.7 inches; made from durable, water-resistant fabric made from 100% recycled PET plastic bottles
Design and features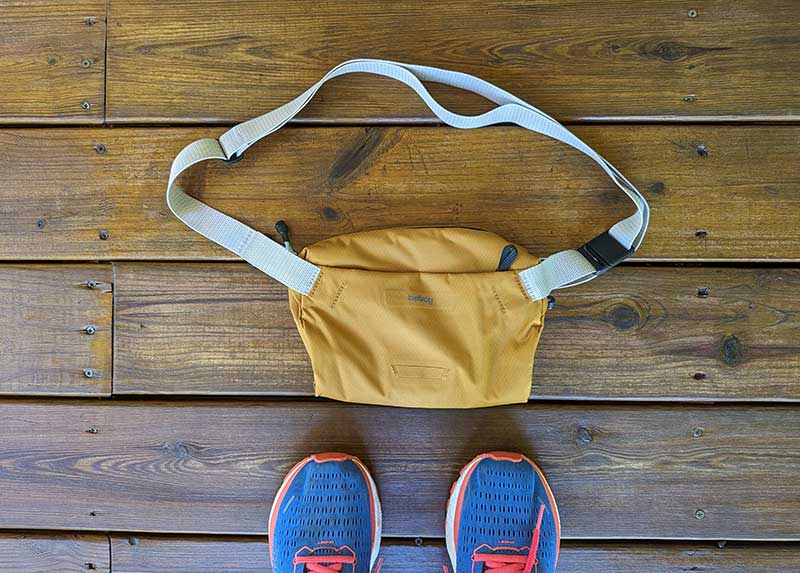 The Lite Sling Mini from Bellroy is a small leather-free bag that you sling across your back or front for easy and simple access to your EDC items like your wallet, phone, keys, lip balm, pen, etc. The Bellroy Lite Sling Mini is available in 5 colors including the Copper color that you see here.
The bag is made of ripstop nylon which is soft and lightweight. The Lite Sling Mini is comfortable to carry because it feels like a pillow due to the light padding between the layers.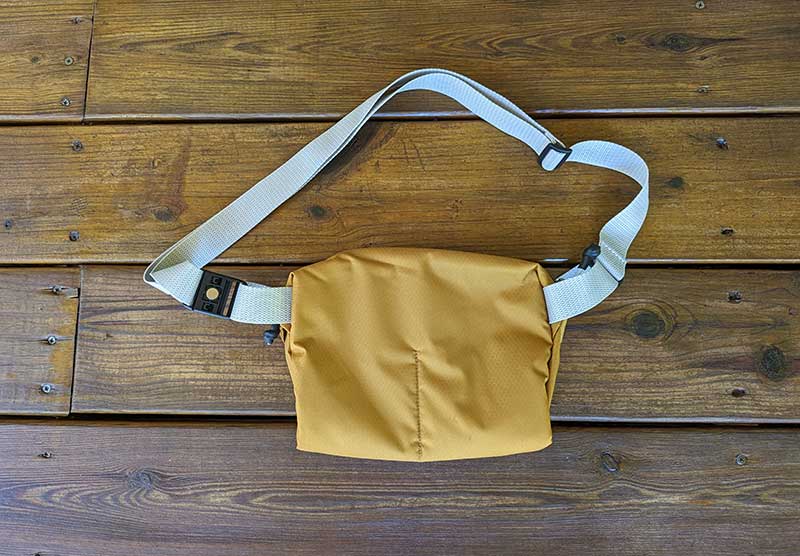 The front of the bag has a zippered pocket and a small bike light loop while the back side does not have any pockets.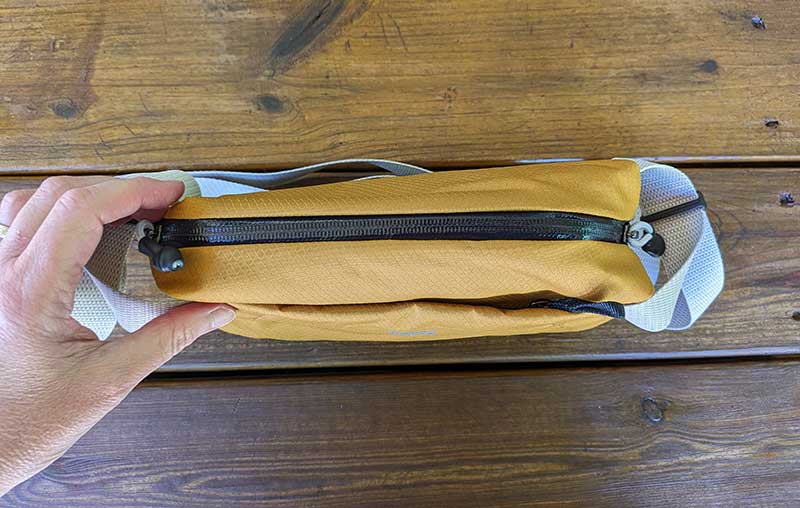 From the top edge, you see the main dual-zippered compartment and the smaller front pocket below it.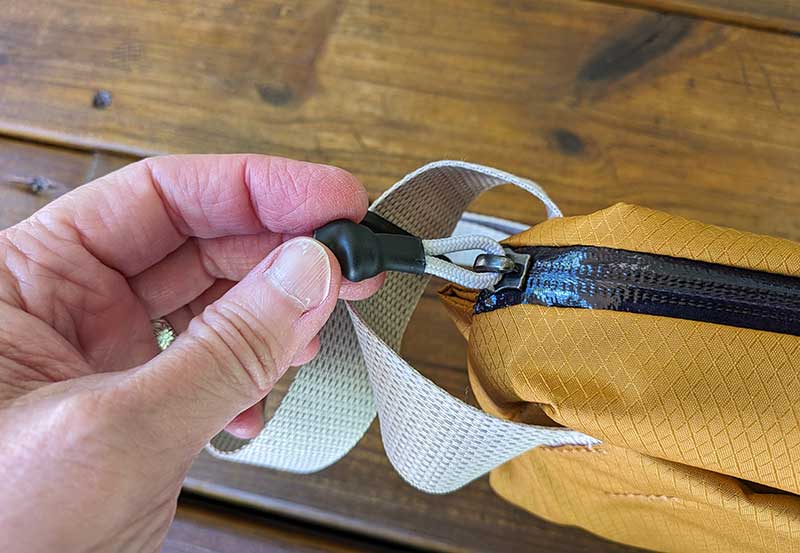 The water-resistant zippers have great easy-grab pulls.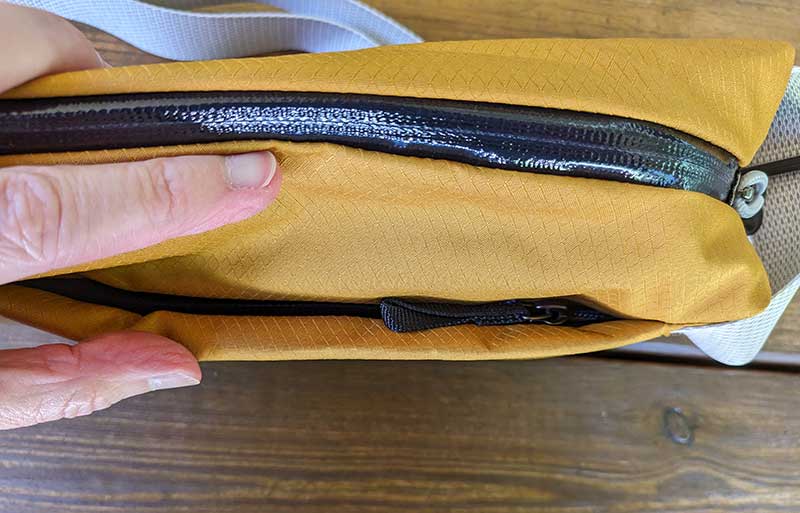 Let's check out that small compartment on the front of the bag.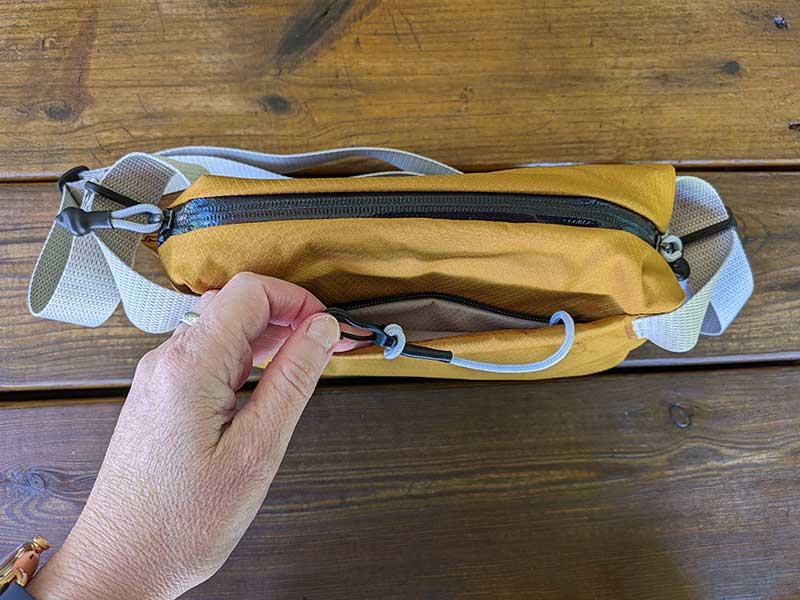 When opened, you have access to a built-in key clip to secure your keys so that you'll know exactly where they are without having to dig around in the other compartments.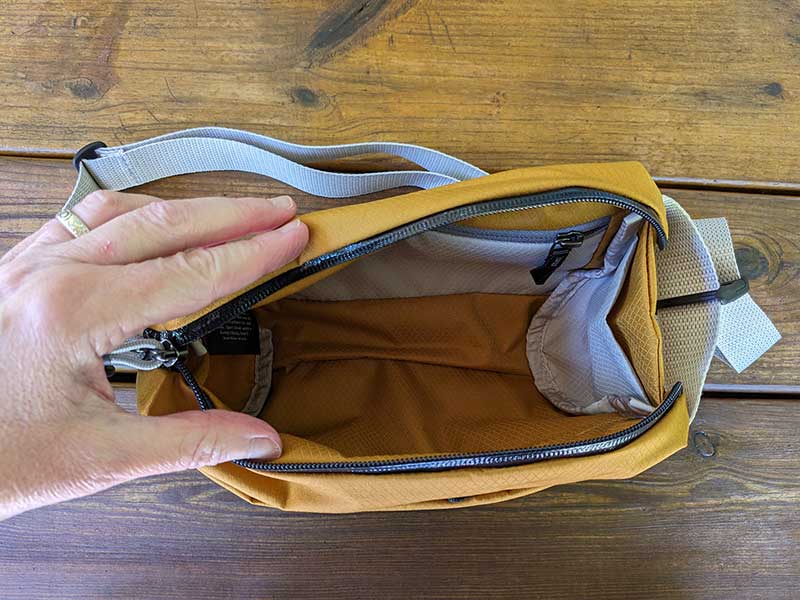 Speaking of other compartments, let's check out the Bellroy Lite Sling Mini's main compartment.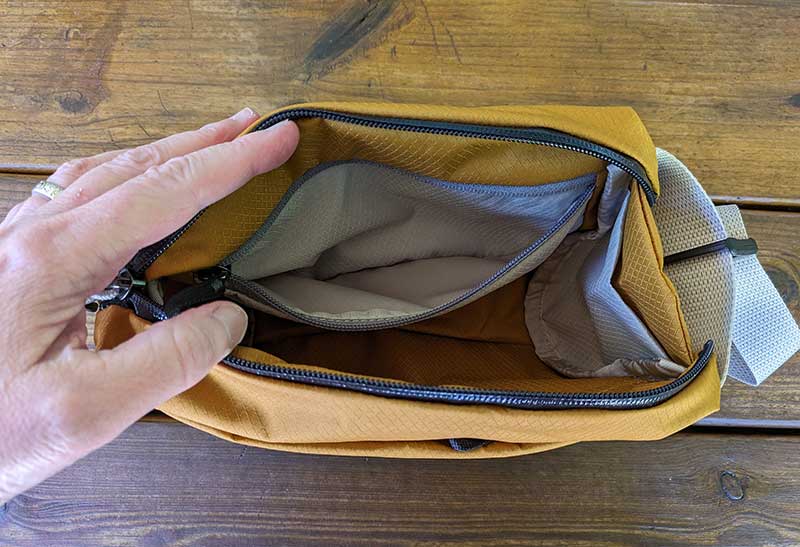 The compartment is lined in the same color as the exterior except for the two pockets, one of which is on the back panel and the other is on the side.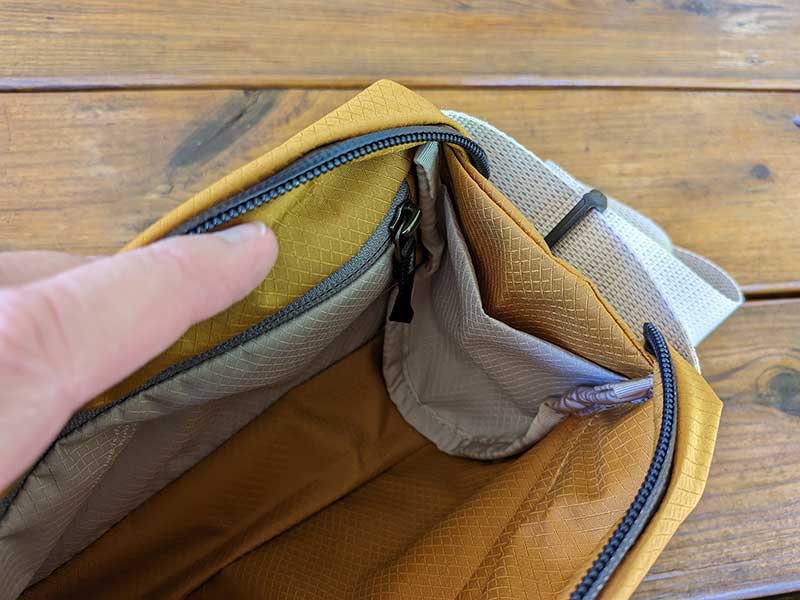 The larger pocket is zippered, while the side pocket is open. although the side pocket is small, I found it to be perfect for holding a tube of lip balm or my car fob.
Although I don't show it, there's a hidden feature inside the bag. The Bellroy tag sewn into the seam inside the bag is actually a small pocket that can hold an Apple AirTag. Clever!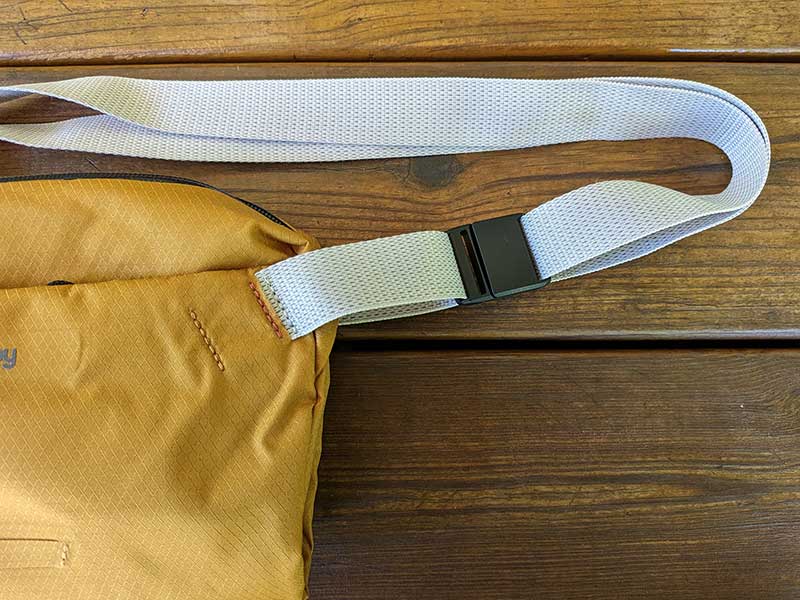 The Bellroy Lite Sling Mini's shoulder strap is not removable/replaceable, but that didn't bother me because I found the strap to be easily adjustable and comfortable. It's made of woven nylon and is a little over 1 inch wide.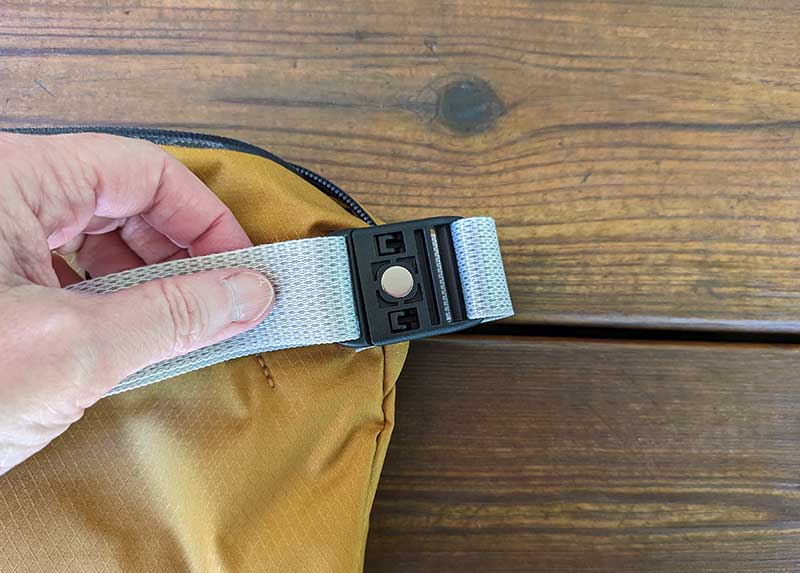 The coolest feature of the strap is the magnetic clasp that makes it very easy to put the bag on and take it off.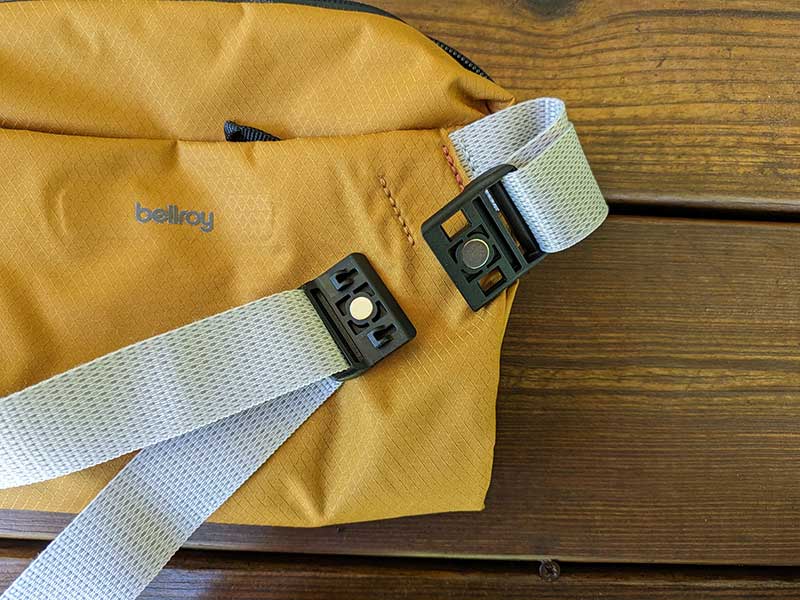 Here's a quick video showing how the magnetic clasp works.
The strap clasps make a great fidget toy if you're obsessed with magnets like I am 😉
As mentioned, I don't normally carry a bag but I almost always take one with me when I travel. As luck would have it, the Bellroy Lite Sling Mini arrived just in time to take with me on vacation to Manasota Key, Florida.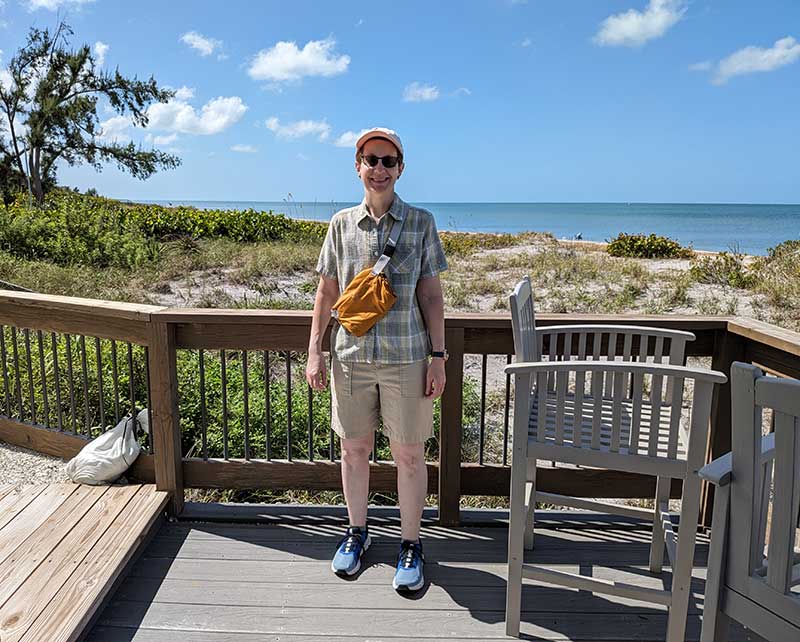 The Bellroy Lite Sling Mini was very comfortable to carry crossbody style while shopping and driving from place to place. It was so comfortable that I rarely took it off when I got in the car.
The bag was roomy enough to hold my Google Pixel Fold, a pen, my AKEENi XSTO minimalist wallet, lip balm, a Field Notes notebook, some LifeSavers Wint-O-Green mints, Soundpeats Air4 earbuds that I'm reviewing, with lots of room to spare. If you like the look of this bag but think it's too small for all of your gear, Bellroy has 3 larger versions. There's the Venture Sling 6L version, 9L version, and the Venture Sling 10L version.
What I like
Very comfortable
Cool colors
Magnetic strap clasp
What I'd change
Final thoughts
I enjoyed using/wearing the Bellroy Lite Sling Mini bag so much while I was on vacation, that I've been taking it with me on my daily errands now that I'm back home. Having a small bag like this one that I can easily sling on my shoulder is infinitely more comfortable than cramming all my EDC in my pockets. The Bellroy Lite Sling Mini is well made, looks great, and is roomy enough that it can carry everything I need. And it's not crazy expensive either! Thanks Bellroy!
Price: $79.00
Where to buy: Amazon
Source: The sample for this review was provided by Bellroy.