We use affiliate links. If you buy something through the links on this page, we may earn a commission at no cost to you. Learn more.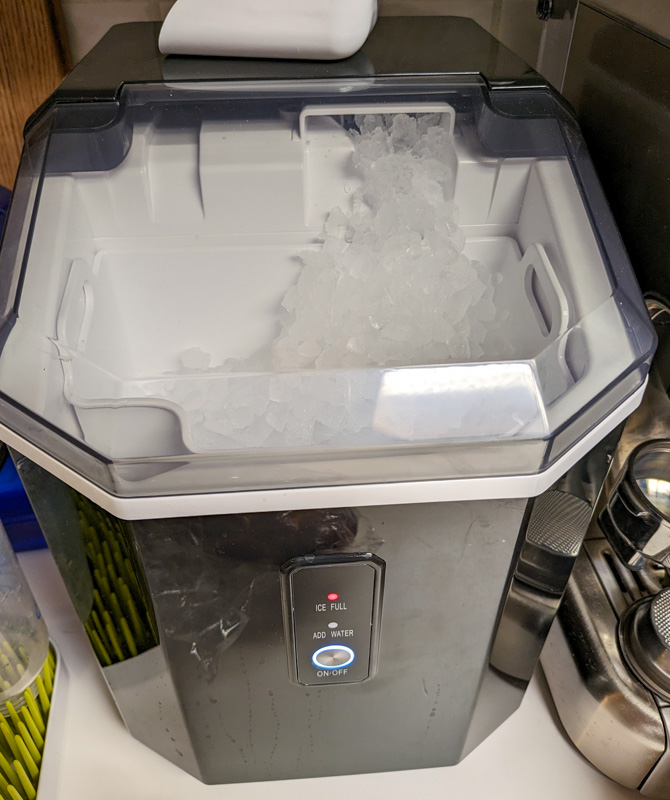 REVIEW – Most people I informally surveyed while reviewing the Joy Pebble countertop ice maker prefer nugget/pebble  ice to other larger forms of ice. I've personally always enjoyed pebble ice but hadn't previously sought it out, but now that the pebble ice maker has been sitting on our countertop for a few weeks, I'm feeling a bit of an addiction setting in.
What is it?
The Joy Pebble countertop ice maker is a nugget or pebble ice maker. These types of ice makers create ice pebbles from loose flaked ice squeezed into small nuggets using an auger, rather than filling compartments with water and then freezing those cubes solid. The end result is a chewable ice that comes out in tiny nugget form.
What's in the box?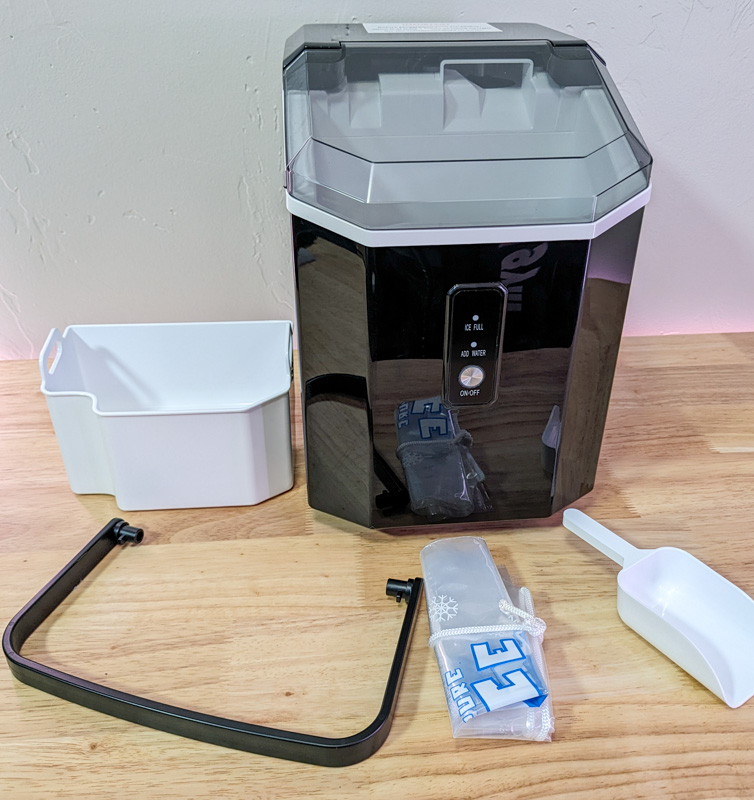 Joy Pebble countertop ice maker
Carrying handle
Ice tray (to catch the ice in the machine)
Reusable ice bag
Ice scoop
Design and features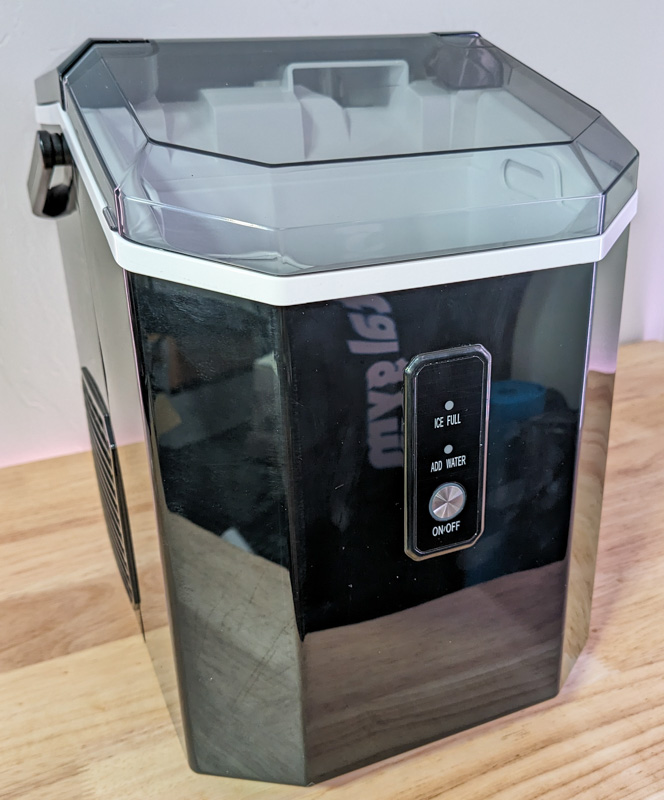 The Joy Pebble countertop ice maker will take up roughly a cubic foot of countertop space ( 11.2″D x 8.6″W x 12.6″H). It's basically a square with a button on the front, a transparent lid and opaque cover on top, and a carrying handle. A single button with a ring light and two LED indicator lights above show status.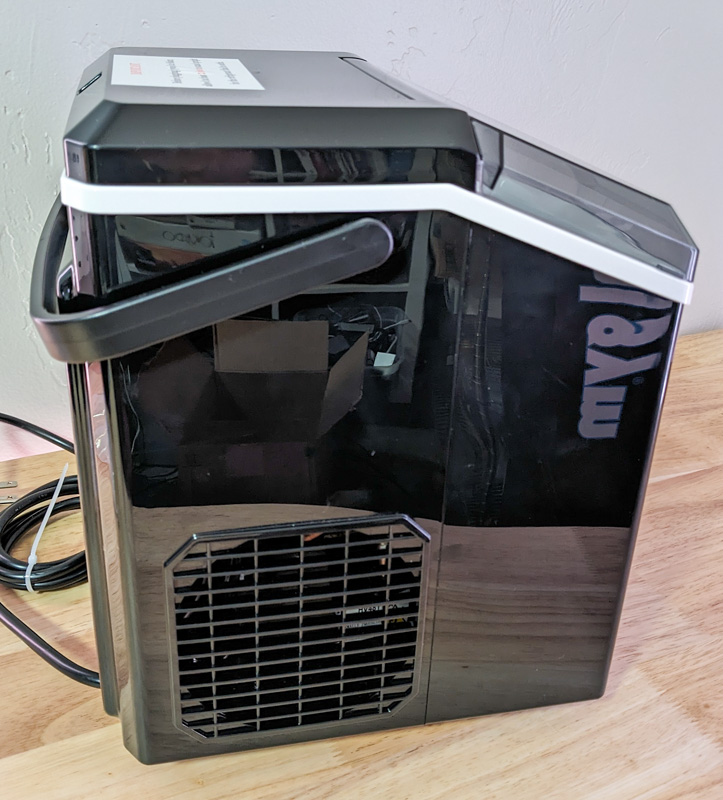 On the left side, you can see a fan grill for the freezer fan.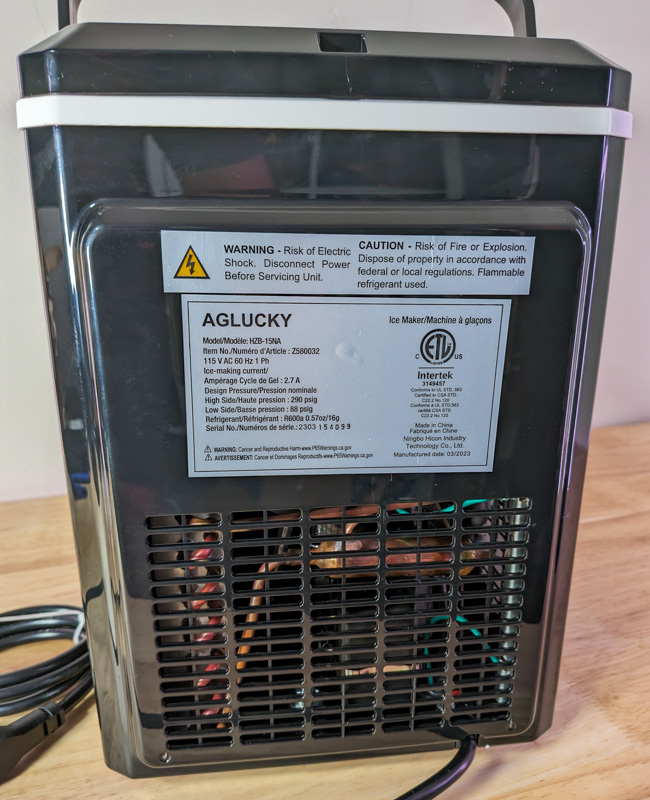 Around the back is more ventilation, and you can see a bit of the freezer's innards.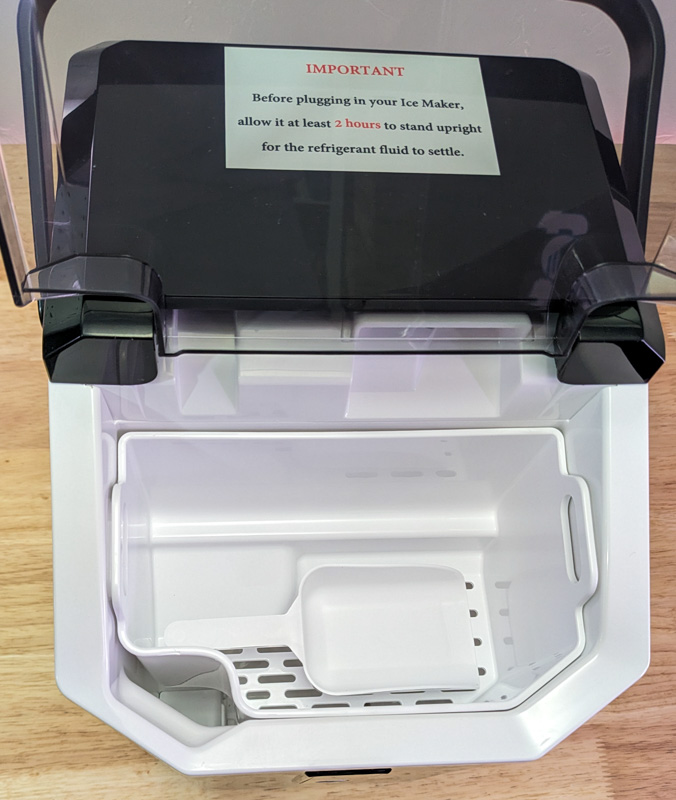 Looking down from the top with the lid lifted you can see the ice tray with the ice scooper inside. I stored the scooper on top so it didn't get covered with ice while testing.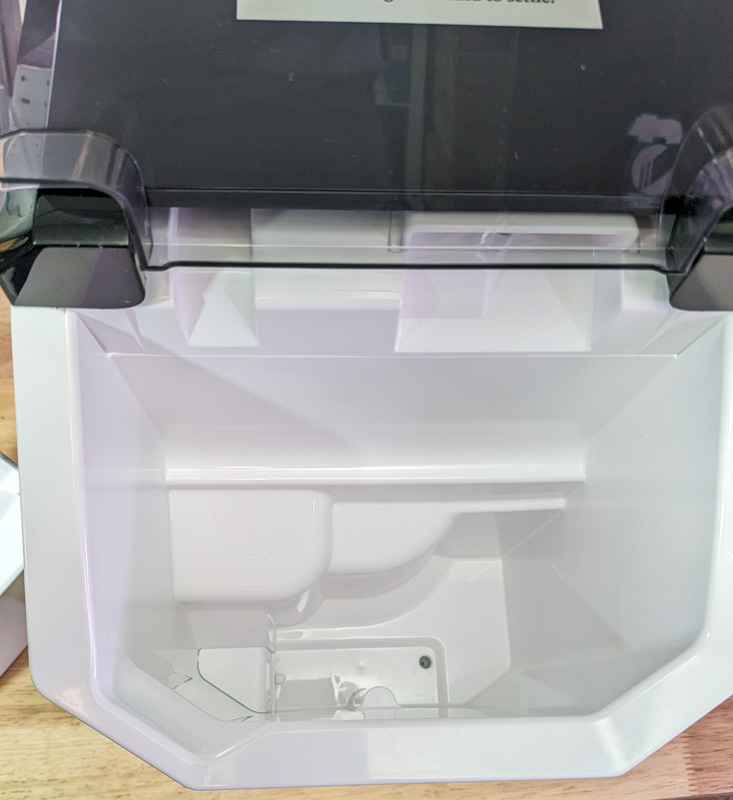 If you remove the Joy Pebble countertop ice maker's tray and scoop, you can see the lower half of the unit which is where water is poured/stored until the unit is turned on. Over time, the pebble ice will melt and simply flow back into this reservoir, so you only need to refill it as you use ice (or if you leave it a long time and have water evaporate). The Add Water indicator reliably helps me remember to add more water, and does so before you're fully out.
Setup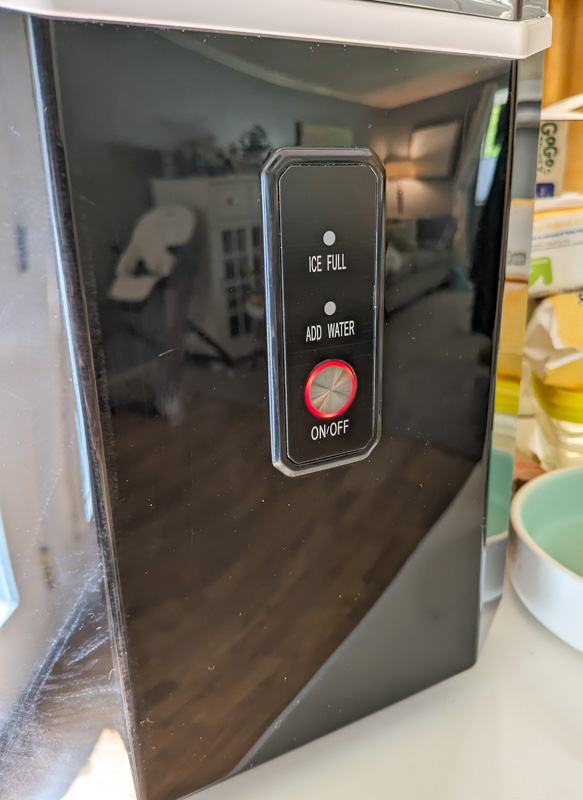 Setup is as simple as plugging in the Joy Pebble countertop ice maker and putting about 4 cups of water in. There's a max fill line visible if you remove the ice tray, or you can simply fill it until you can just see the water under the tray nearly touching. Then you press the On/Off button and the machine does its thing. It's shocking how quickly ice starts spilling out of the ice chute at the top right, and Joy Pebble says about 100 nuggets will be created in 14 minutes, which seems true based on my extensive tests.
Performance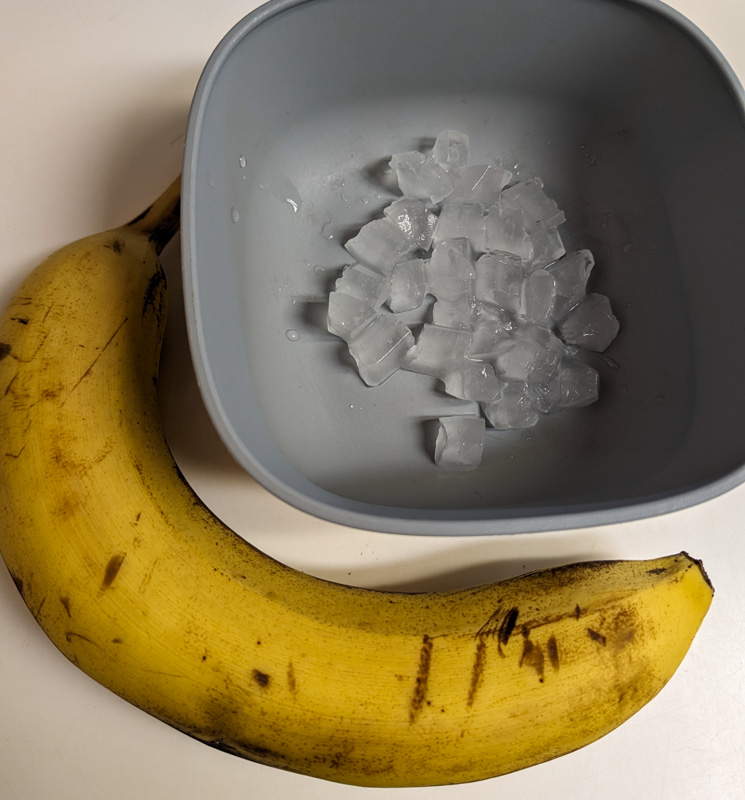 The ice that comes out of the Joy Pebble countertop ice maker is easily chewable, and cools drinks much more rapidly than our conventional large ice cubes from our fridge/freezer's ice maker. Because the nuggets are so small, the cumulative surface area of cold ice is much higher than an equivalent scoop of traditional ice. I included a helpful banana in the image above for reference.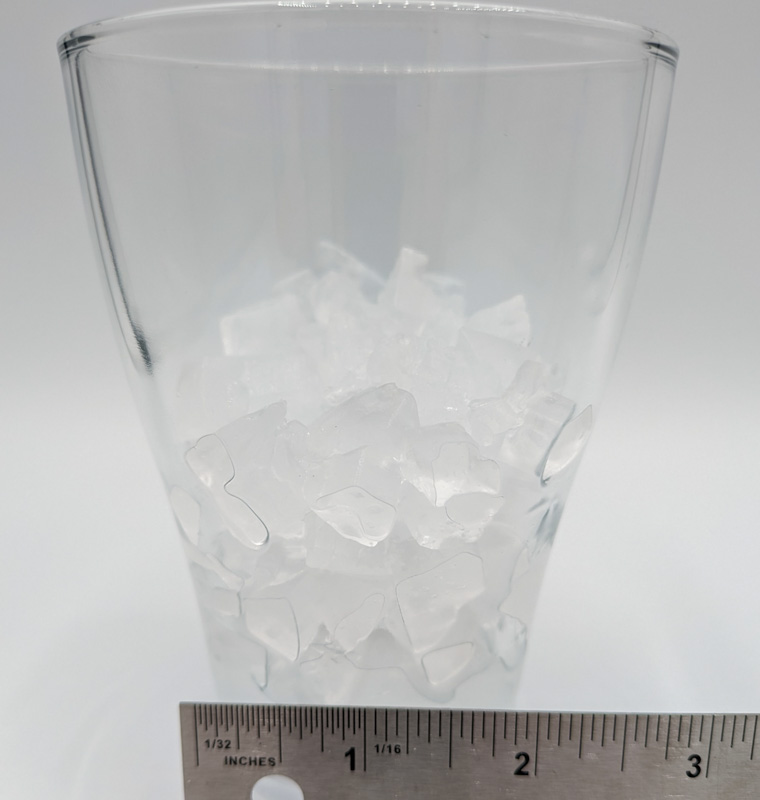 If you want to get more technical, the average pebble ice size was about 1/4 to 1/3″.
What I like
The machine makes delightful chewable pebble ice
Ice production is fast – in about 10-15 minutes after turning on you have enough for a tall glass
What I'd change
The ice scooper can be a tiny bit hard to scoop with, I wonder if a soup-ladle style scoop might work better?
My soda consumption habit has spiked, which can't be good for my general health
Final thoughts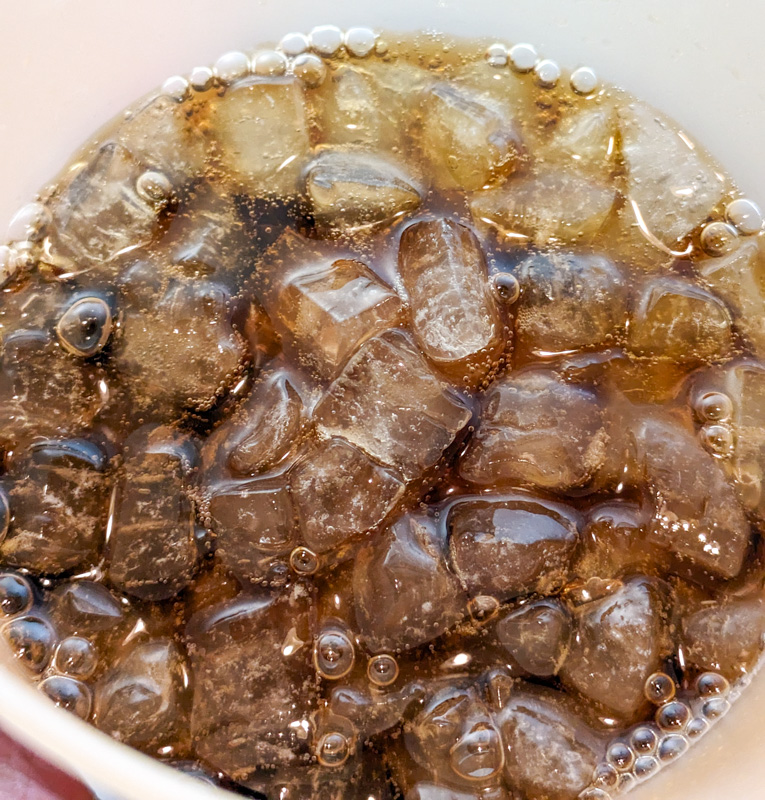 I'm not sure if any other product I've reviewed so far at the Gadgeteer has immediately become such an instant part of my daily routine (besides maybe the Casabrews espresso maker that I use nearly every day). After a few weeks of reviews, I have a routine entrenched where I turn on the machine 3 times a day to fill my Stanley water cup (though I'm usually filling it with soda). I was originally leaving the machine on all day, and it would cycle every 10 or 15 minute to add a bit more ice as the bottom layer melted, but with how fast it produces ice I realized it's not necessary as long as you're ok planning on a 10 minute lead time each time you want ice. If someone robbed us and took this Joy Pebble countertop ice maker, I would be replacing it immediately without a second thought.
Price: $249.99
Where to buy: Amazon (Save $37.50 with code: Y56AVXMY expires 10/19/2023)
Source: The sample of this product was provided by Joy Pebble