We use affiliate links. If you buy something through the links on this page, we may earn a commission at no cost to you. Learn more.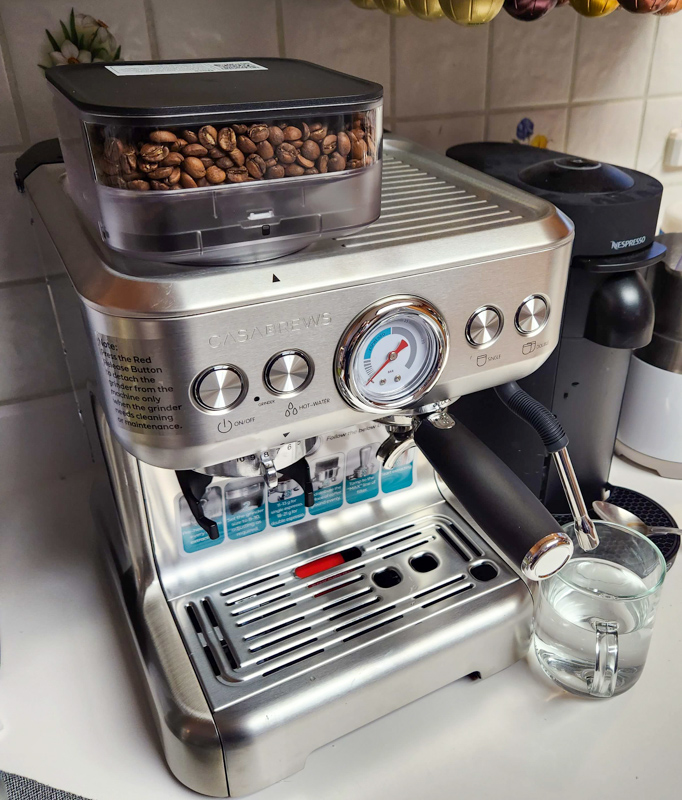 REVIEW – Coffee is life. While I'm not addicted to the point where I can't function without it, I sure do enjoy a cup or two each day, and some of my top travel memories are discovering new coffee shops around the world. I'm fine with a standard drip-brew cup, but a well-made espresso just delights my tastebuds in a way that not many other things can. I've owned at least 10 different types of coffee machines from drip-brew to fully manual espresso to super-automatic espresso machines (as well as a couple of pod-based options) over the years. My favorite so far previously was the super-automatic espresso machine which I bought refurbished, but unfortunately it didn't last much longer than a year before giving up the ghost. I was excited to try out the CASABREWS 5700 Gense All-in-One Espresso Machine with Auto Grinding, and I've made an average of 1.5 cups per day for nearly a month before writing this review.
What is it?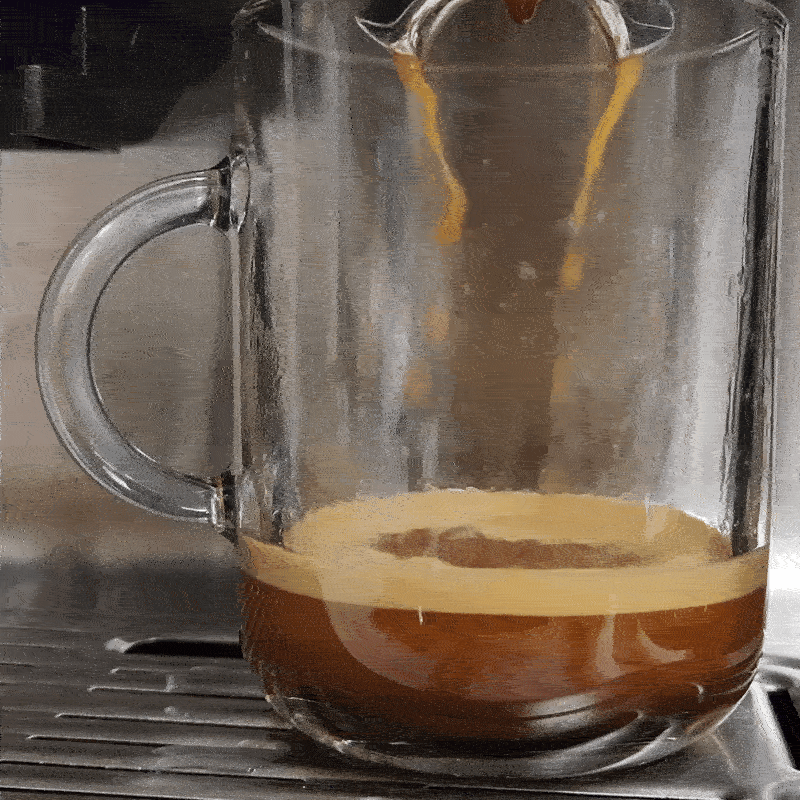 The CASABREWS 5700 Gense All-in-One Espresso Machine with Auto Grinding is an espresso machine that also includes a built-in auto-grinder and all the accessories you'll need to make great espresso. It has a 20-bar Italian pressure pump, PID temperature control system, steam wand, professional style portafilter with single and double shot filters.  All you'll need to add are your favorite coffee beans, and learn how to properly tamp the ground coffee (and froth milk using the steam wand, if desired).
What's in the box?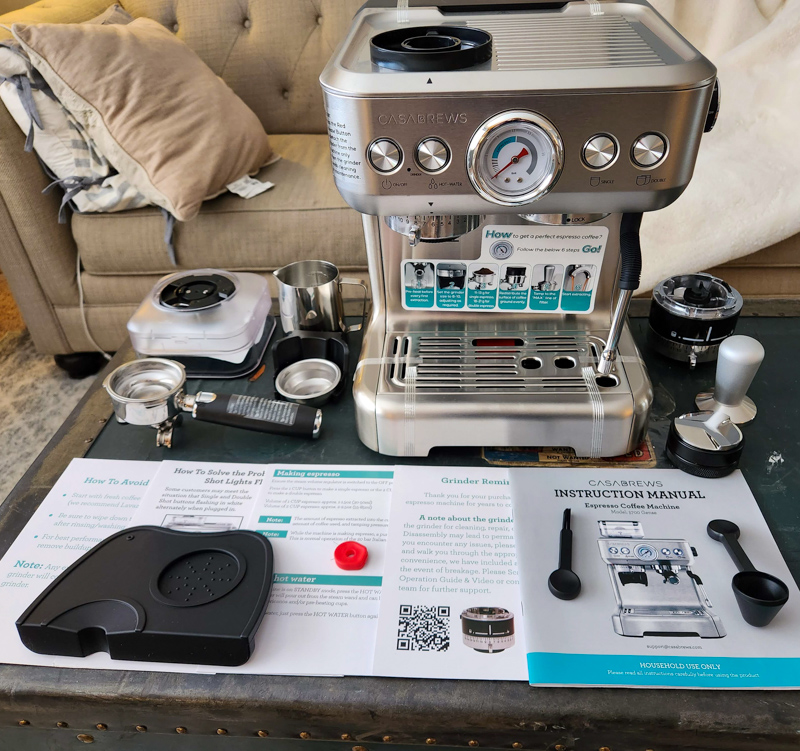 CASABREWS 5700 Gense All-in-One Espresso Machine
58mm Stainless Steel Portafilter
single- and double-shot filter baskets
Coffee measuring scoop
Stainless Steel Tamper
Cleaning Brush
Cleaning Needle
Manual
Coffee Distributor
Milk frothing pitcher
Tamping Mat
Decorating pen
Extra Grinder
Hardware specs
Dimensions: 11.2″ W x 12.8″ D x 16.5″ H
Materials: Brushed stainless steel and plastic
Brewing system: 20 Bar Italian Pump, PID Temperature Control, 1500W Thermocoil-Integrated Stainless Steel Water Path
0.4 Gallons Bean Hopper capacity
91 Oz Water tank
Adjustable Grinder: 15 precision Grind Settings, Steel Conical Burrs, Memory function
4 button control system with built-in LED status lights and side knob+LED for steam wand
Extraction Pressure feedback gauge
Design and features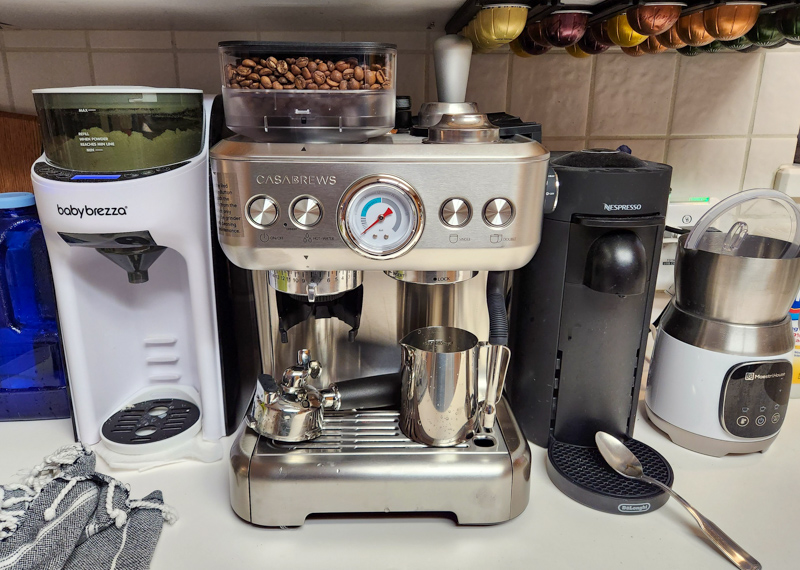 The CASABREWS 5700 Gense All-in-One Espresso Machine with Auto Grinding is an imposing machine, but I'm impressed with how much they packed into the form factor. With a footprint of roughly a foot by a foot and just 16.5 inches high, the machine fits easily under our standard-height cabinets (and looks great while doing it). The bean hopper is easily access up top, which also doubles as a convenient storage area for accessories (and gets warm during operation so you can preheat mugs if desired). 4 large buttons and a pressure dial decorate the front, with a twist-knob on the right side to control the pressure wand.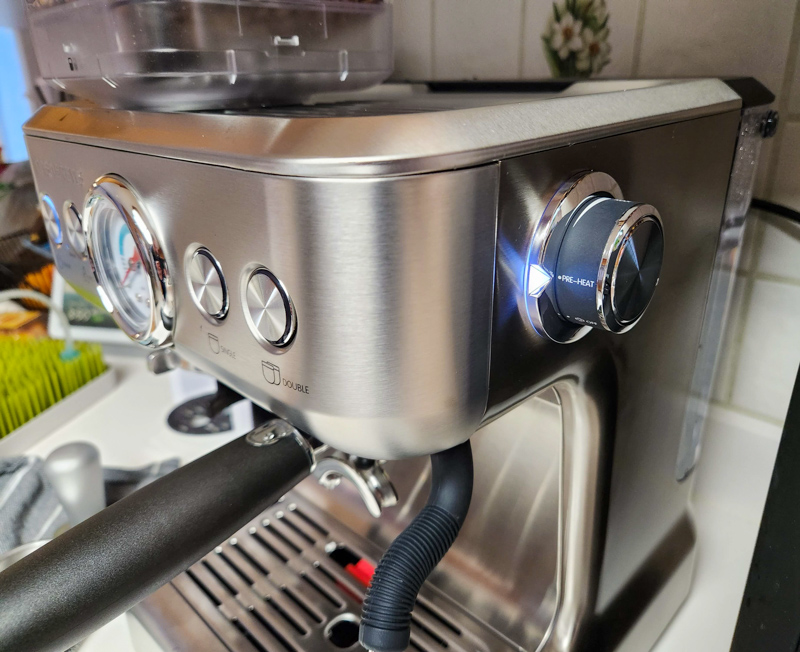 Above you can see the pressure wand pre-heating (the white LED light flashes while heating and then stays solid when it's ready to go. Twisting this will then start the steam with varying levels of pressure (and a consistent 266°F). On the backside of the machine is the water tank: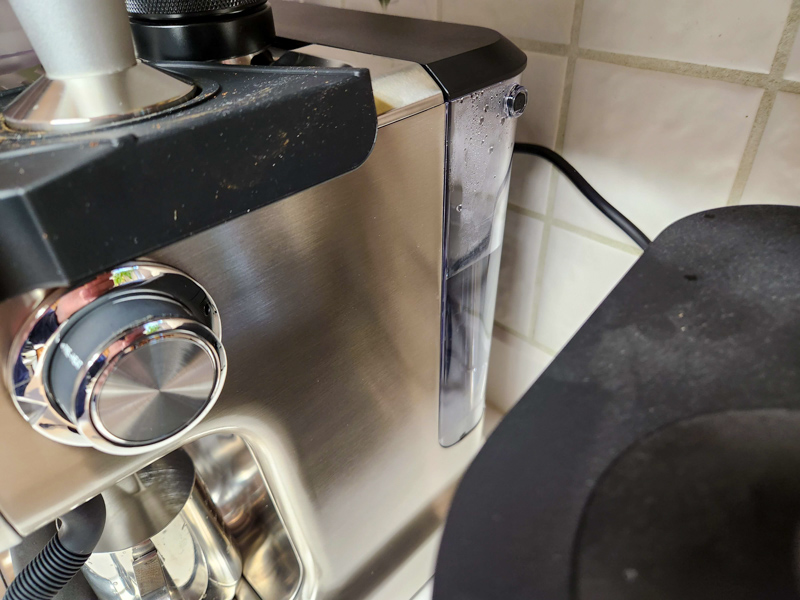 I lik that the water storage tank is transparent and visible from both sides so you can easily look to see how full it is.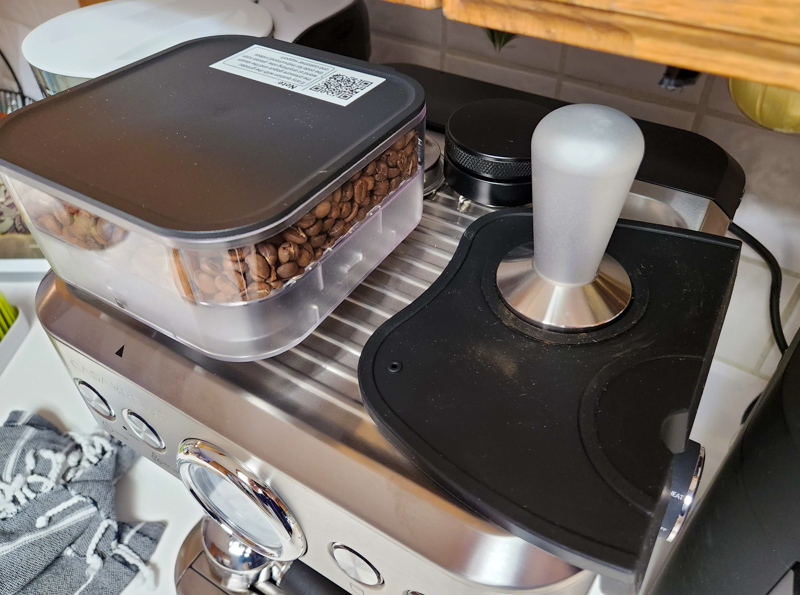 Above is a shot looking down at the machine, the ridged silver area is the mug-heating surface which I found to be a great spot to store the tamping mat and tamper. The black plastic at the back lifts up to pour water into the tank at the back. The water tank is also removable if you need to carry it to a faucet,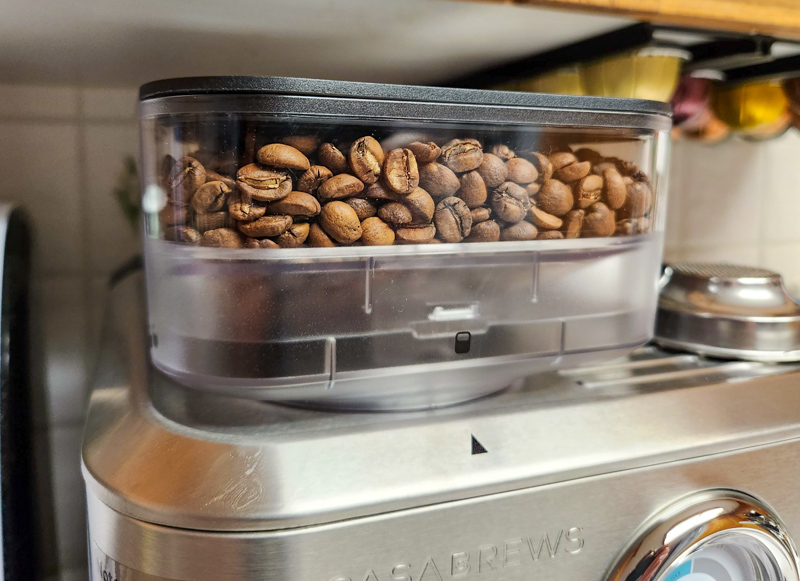 The beans hopper feeds directly to the grinder, and was remarkably consistent. I didn't have any issues with beans not feeding and you can clearly see when you're getting low.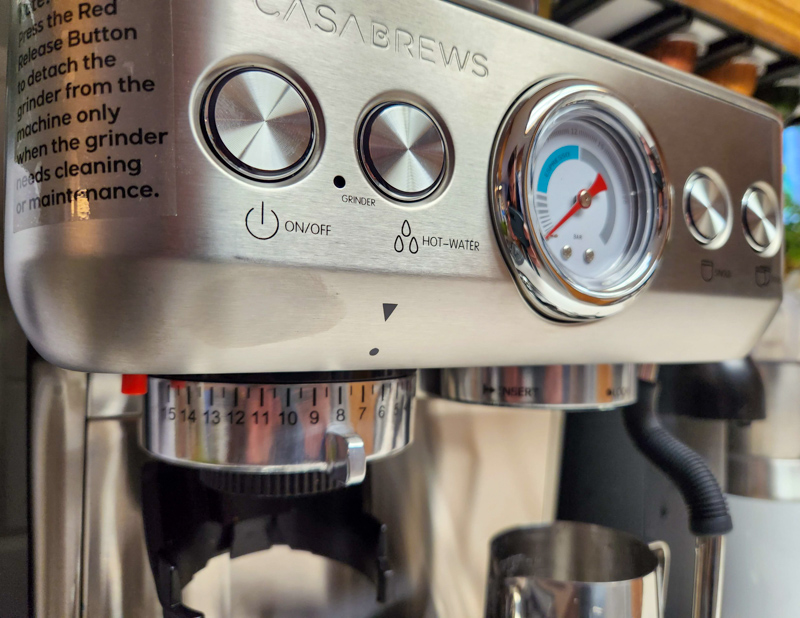 The bean grinder itself has 15 settings for how coarse or fine you want the grind. The manual recommends settings 8-10 as a starting point, but for me I found 6-7 to be much better with the various beans I tried. Pushing the portafilter into the sensor at the back then releasing initiates the saved memory grind function, or you can hold the portafilter against the back to set a new saved memory timer. If you do this, each future quick press results in a timed grind with consistent output. This took me many tries to get it just right (weighing the ground coffee each time and using a stop watch to go up or down by a few seconds as needed). Be ready to either drink a lot of non-ideal shots or be tossing some coffee while you calibrate.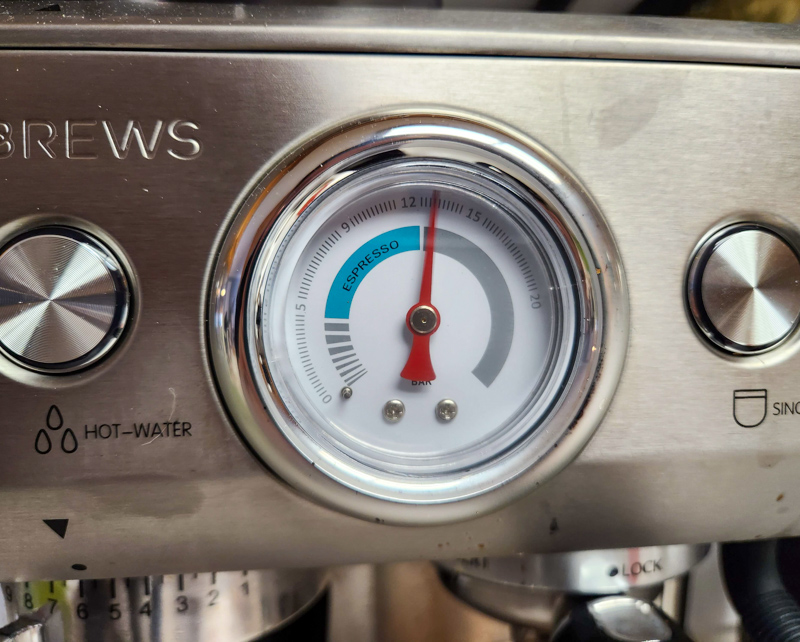 The pressure gauge was essential in getting good espresso out of this machine. With past espresso machines, I had to rely on flavor or timing the shot with a timer to dial in good shots, but with the pressure gauge it was very easy to visually see what different settings and techniques were doing to the shot. For my taste and the beans I was using, getting the pressure to 13-14 bars was the sweet spot to a supremely velvety and mellow shot. Any higher and things got bitter and even burnt-tire flavored, and anything lower resulted in weaker flavors. The machine also has hot water output (for Americanos) and the ability to tweak the brew time for the single and double shot functions. The manual and quick start guides were easy to follow, and video guides on their website helped as well.
Performance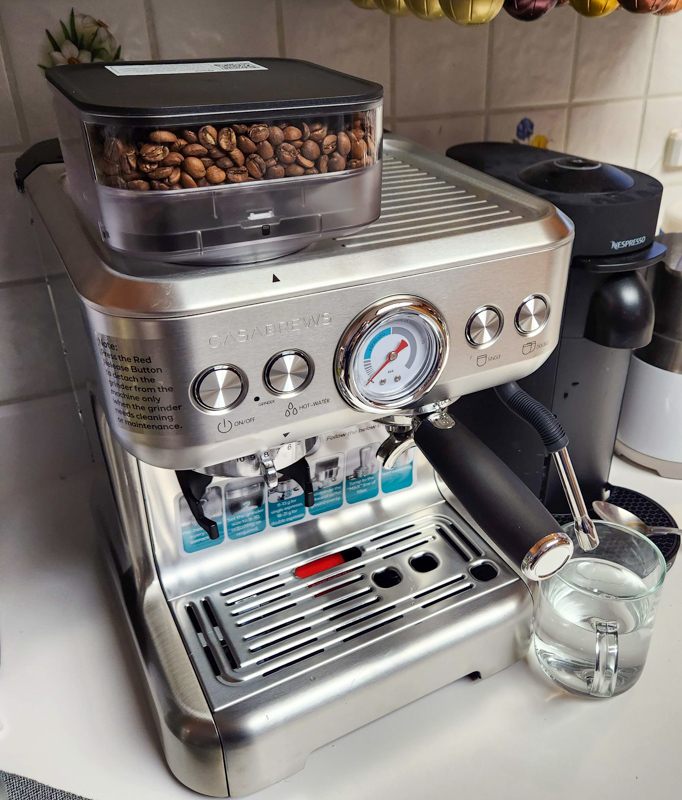 Setting up the CASABREWS 5700 Gense All-in-One Espresso Machine with Auto Grinding was pretty easy – wipe and clean everything first, then run water through it (following the manual's instructions) to rinse out the internals, then you're ready to go!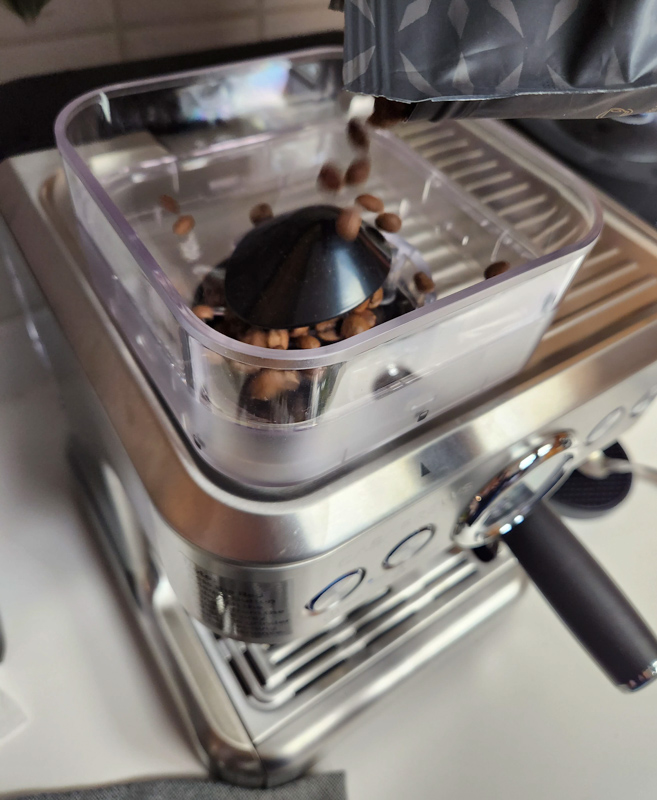 I started with some mid-range beans from Target with matching expectations: I hoped for a decent cup of Joe, nothing more. It took a solid 6-8 test shots of varying grind settings and tamping technique and pressure to get things where I wanted them. When I tasted the first shot that held a consistent 12 bars of pressure through the whole shot, it was heavenly. Memories of hole-in-the-wall coffee shops in New York City, Boston, and San Francisco instantly came to mind. I had no idea you could make something like this at home (and with nothing-special coffee beans, no less!). I'm no connoisseur, and after several weeks of constant practice I'm still improving, but it's been a delight each morning and something I definitely look forward to each day. The video below shows the entire brew and froth process for a latte (you can make anything from straight single espresso shots to creamy lattes and everything between with this system):
I only edited about 20 seconds out of the above video, and this was early in my test period, I've gotten better at tamping and milk frothing, so don't judge me too harshly. Each morning it takes around 5 minutes to make a latte or flat white.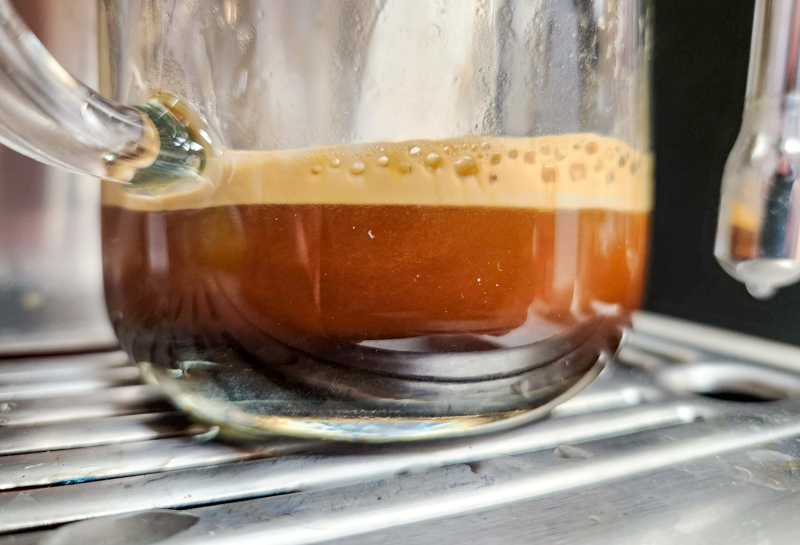 The picture above shows one of my better shots right after brewing, the crema from most of the beans I tested was delicious, even darker roasts come out mellow and nuanced.
What I like
Capable of stellar espresso shots
Easy to use
Includes all the accessories you'll need, and even an extra grinder!
What I'd change
If it was possible to get the machine quieter with the same end results, it would be nice. It's not crazy loud, but you can definitely hear it downstairs when it's going.
Final thoughts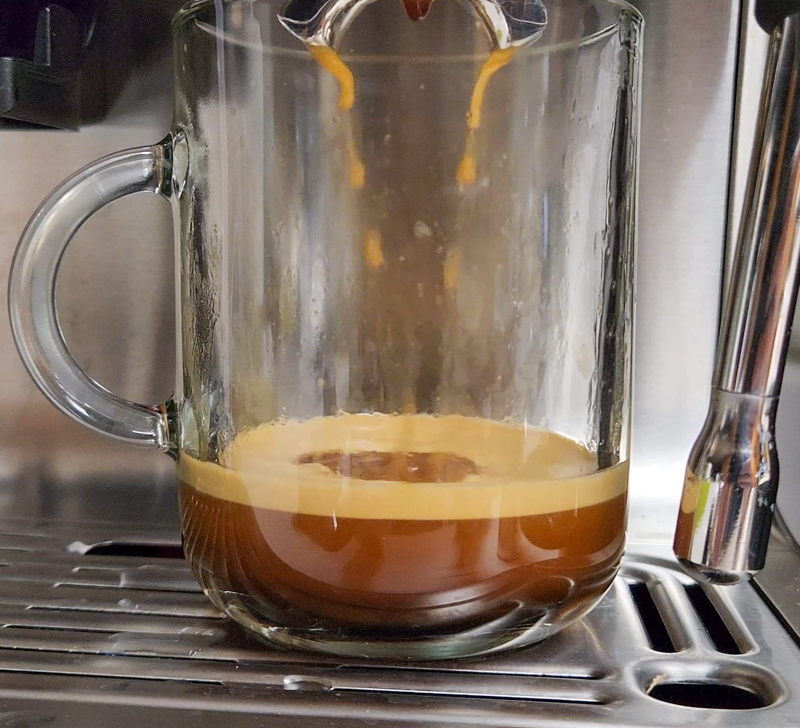 For a machine like the CASABREWS 5700 Gense All-in-One Espresso Machine with Auto Grinding to take me from near-zero barista experience to making delicious coffee creations in a few short weeks is fantastic. I look forward to my morning ritual each day in a way that I haven't in years, and it brings a smile to my face each time I take that first sip. If I didn't get to keep this review unit after testing it, I'd be buying it out of my own pocket without hesitation.
Price: $699.99 ($469.99 on sale at the time of review)
Where to buy: CASABREWS or Amazon
Source: The sample of this product was provided by CASABREWS