We use affiliate links. If you buy something through the links on this page, we may earn a commission at no cost to you. Learn more.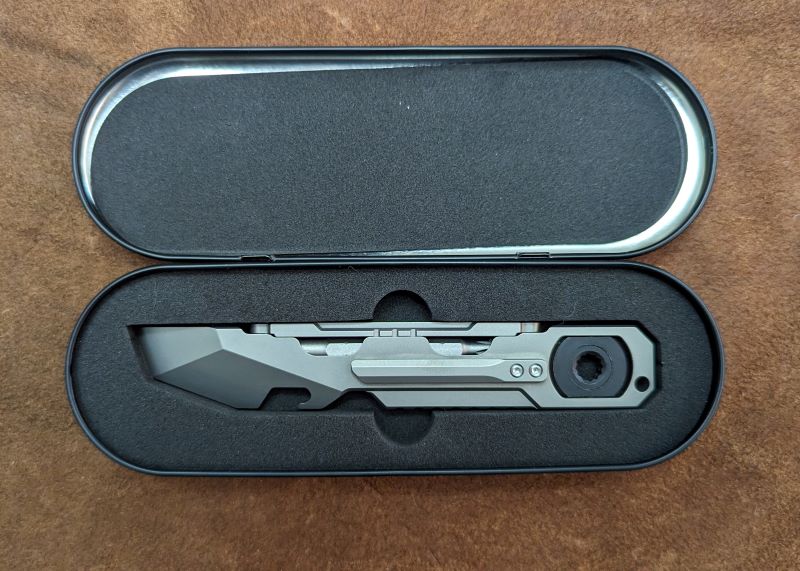 REVIEW – Well, what do we have here? Funny you should ask. This pocketable multi-tool behemoth is the EDC Monster multifunction titanium pry bar. It's a MacGyver-worthy slab of metal with more functions than you can shake a stick at. What on earth would I do with that, you might ask. As soon as I saw it, I knew I wanted to get my hands on it to answer that question.
What is it?
The EDC Monster multifunction pry bar is a CNC machined slab of titanium that incorporates several tools into a single, hand-held multi-tool.
Price: $139.00 | Where to buy: Indiegogo Indemand
What's in the box?
EDC Monster pry bar multi-tool
1- 1/4″ flathead insert bit
1- 1/4″ phillips insert bit
Mini forever pen
Hardware specs
Gr5 Titanium
Forever Pen
Ratchet driver
2- bit slots
Pocket clip
Window breaker
Tritium slots
Lanyard hole
Design and features
The EDC Monster multifunction pry bar is a slab of Gr5 titanium with lots of coolness machined into it. Seeing as it's a pry bar, let's look at the business end first. The head of the pry bar has three separate beveled areas on it to perform as the actual pry bar as well as a nail puller, scraper, box opener, or whatever else you may want to poke with it.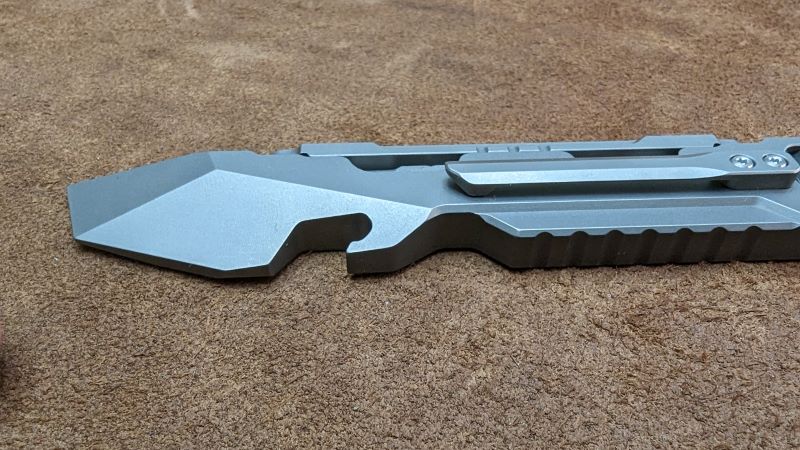 The third bevel is on the reverse side.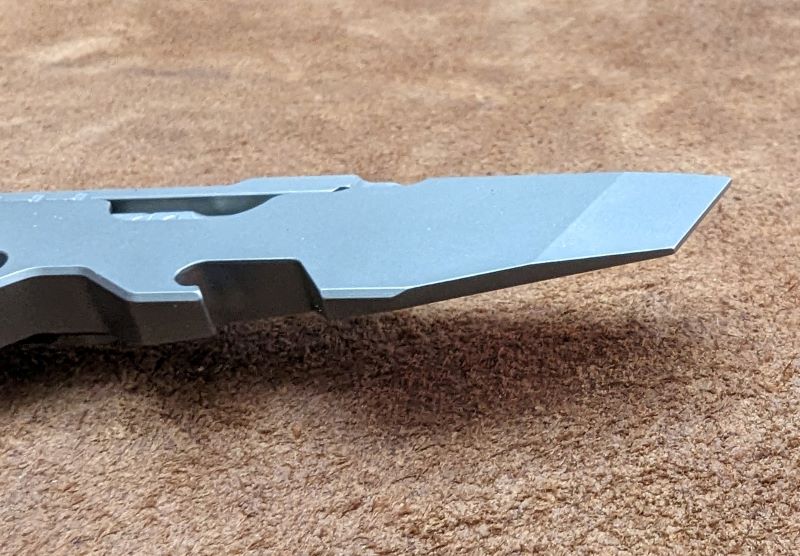 That's followed by the ever-ubiquitous bottle opener. Everyone needs a bottle opener, right? And right behind that is a generously sized finger choil.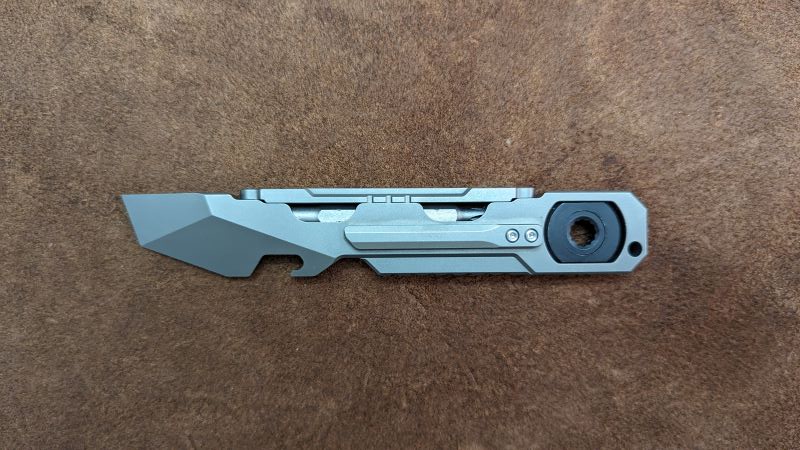 Behind that is some chunky jimping ensuring you can get a good purchase on the pry bar while using it.
On the spine of the pry bar are two bit storage slots for the included flathead and Phillips bits. The cool thing about the bit storage slot though is the bar covering it. Push one end with your thumb and that bar spins out of the way so you can gain access. I'm not sure if EDC Monster intended this or not, but I found spinning it made for a great fidget spinner. So you can add another function to the list.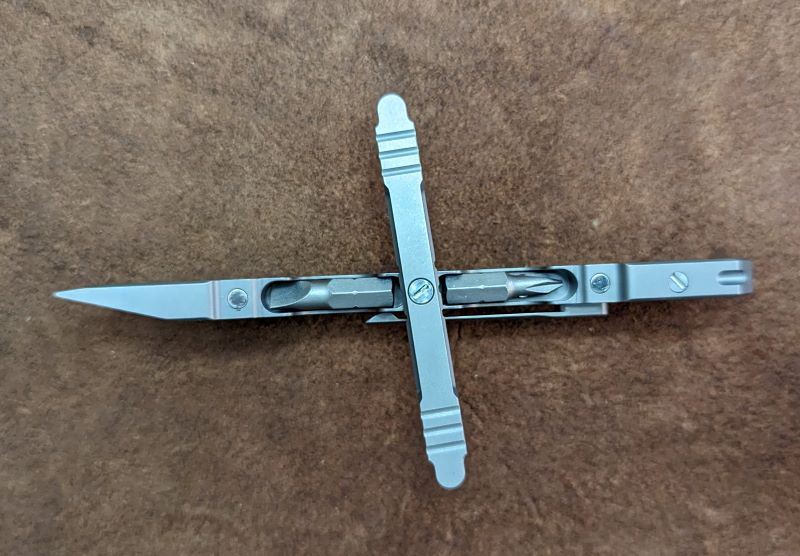 You'll also notice those silver discs under it. Those are magnets so the bar snaps back into place once you're done.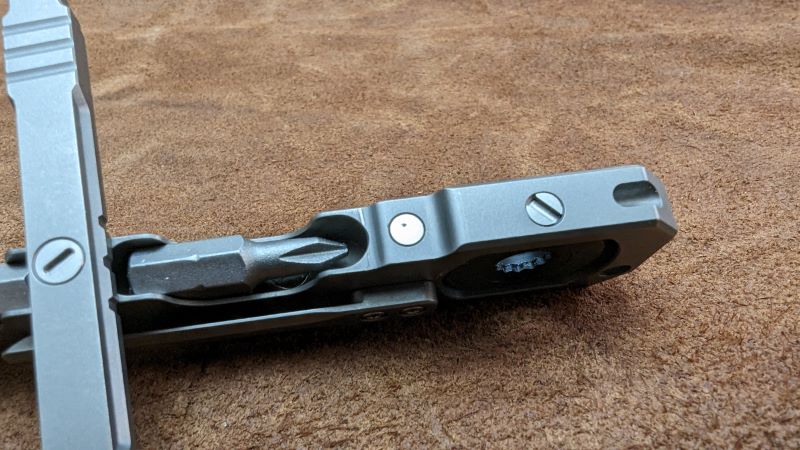 Next, there's a clip. EDC Monster calls it a back clip. It looks like a pocket clip to me. Either way, it's also titanium and removable should decide you want to. Its design is good. No multiple bends to make it look like a deformed duck's bill. It's simple and straight with a beveled tip that makes it easy to slide into your pocket.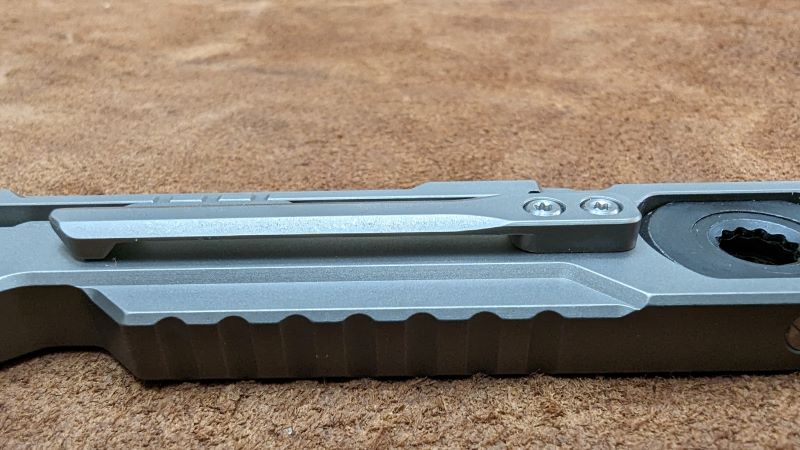 On the reverse side is the forever pen. It rests in a milled slot and is also held in with magnets. The folks at EDC Monster machined a nice little nail pull into the pen that makes it easy to extract it. No, you won't be writing the next great American novel with it, but you'll have it if you need it in a pinch and it'll never be out of ink. By accident, I discovered the tip will actually unscrew, so maybe there are plans for replacements should you need one?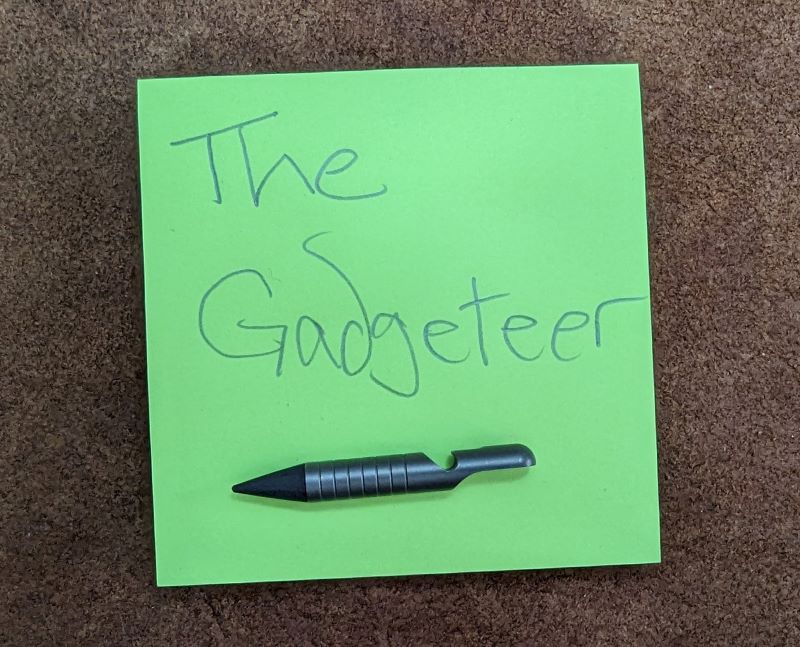 And what good with insert bits be without a driver to use them? EDC Monster has you covered with the ratcheting driver.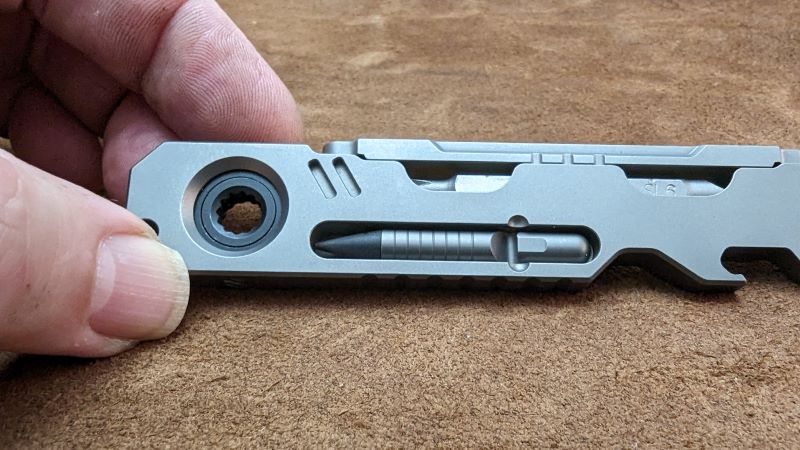 It seems to be pretty good in that there doesn't seem to be a lot of play in it when ratcheting, maybe a 1/8th of a turn before it clicks.  There's no crunchy or gritty feel to it when spinning it like I've experienced with cheap ratchets in the past. It spins nicely with positive clicks at each turn.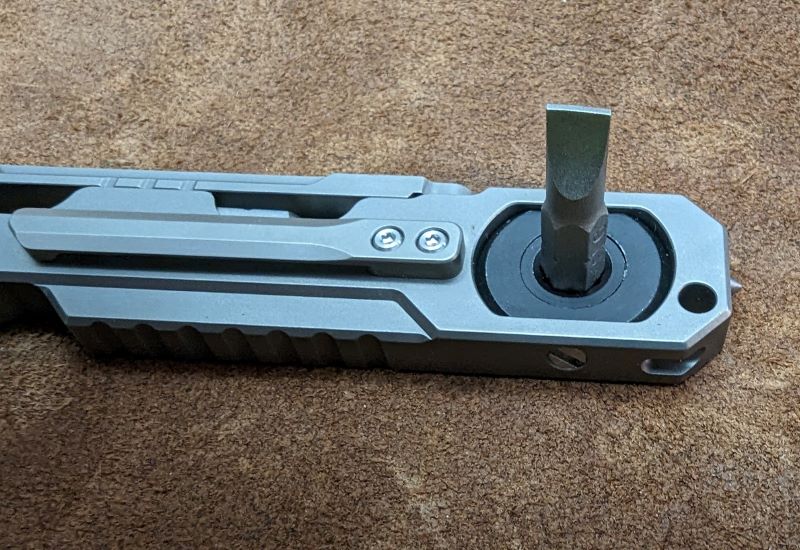 Finally, there's the glass breaker. What can you say? It breaks glass. Although most others I've seen were rounded where this one is pointed quite sharply.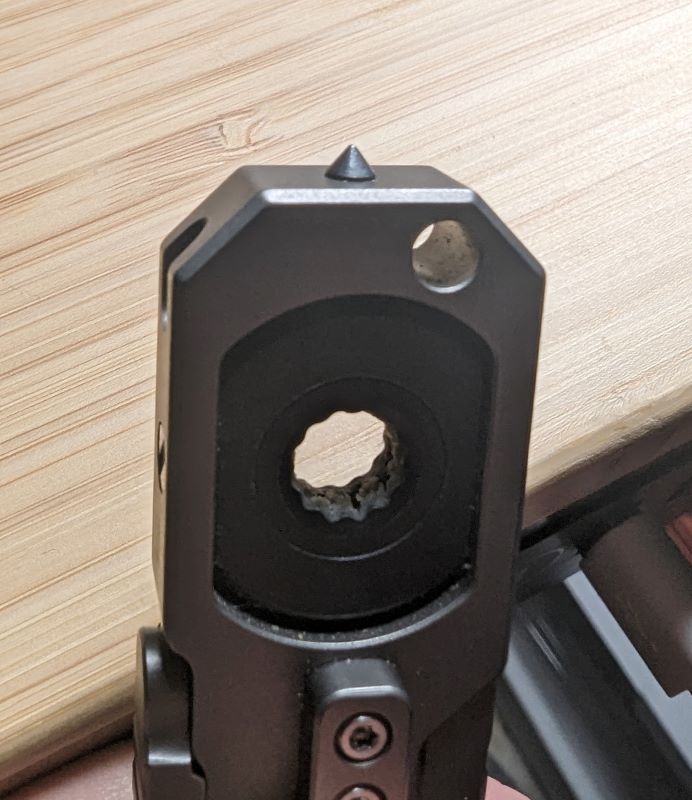 Performance
I almost always have a pocket knife on me and yes I have been guilty of using one to pry something. That's why I wanted an EDC pry bar. I can use it and spare my knife blade. I mean, who likes to clean tape goop off of their pocket knife, or who wants to chip a knife blade because you don't have any other way to open a bottle? So I had high hopes for the EDC Monster multifunction pry bar. When I first received it, I was surprised to see how big it really was. It's about 5 3/4″ long which may not sound like much until you put it in your pocket. And when you do put it in your pocket using the clip, the entire ratchet head sticks out the top. Then there's the pry bar end. I would think if EDC Monster expects someone to carry this in their pocket, there would be some sort of sheath. I'm going to assume it's meant to be carried in some sort of pack with the clip keeping it accessible.
As its main function, the EDC Monster works great as a pry bar, although I do wish they would've added a thinner edge to the end. It's hard to get the thick edge under a nail to try to pry it out. Using it as a scraper would also benefit from a thinner edge, although I'm not certain how fine an edge you can get with titanium and not chip it. It would also help when opening boxes. Every time I tried to open or break down a box, the EDC Monster pry bar would just sort of tear the cardboard and not really cut all the way through. I even had trouble with packing tape. I mean, yes it would tear tape but you couldn't just use the tip and slide it across. I had to first puncture the tape and then slide. Am I being too nitpicky?  Maybe, but I'll stick with my pocket knife.
The bottle opener works fine. I opened several of my favorite adult beverages with it. The forever pen is definitely a "nice to have" should you need it and I really like how EDC Monster incorporated it into the design.
Remember how I said I like the fidget spinner aspect of the bit storage bar? Well, guess what becomes a problem when you go to pry something? That same bar. Now this may just be a hang-up of mine, but every time I went to pry something, my thumb would press on the side of it and it would disengage from the magnets. Did that prevent me from using the pry bar? No, but I found it annoying.  I want the pry bar to be solid when I use it.
The next gripe I have is the ratchet driver. There's no way to actually secure the bit into it. There are magnets all over the pry bar but nothing to keep the bit in. They just slide right out which means you have to concentrate on keeping the dang bit in the ratchet as much as you do while tightening or loosening a screw. I don't want to have to worry about trying to keep the tool together while using it.
The last thing I have an issue with is the glass breaker. Like I said most I've seen are rounded or at least rounder than this one. You can see here where it poked through the tin it was shipped in.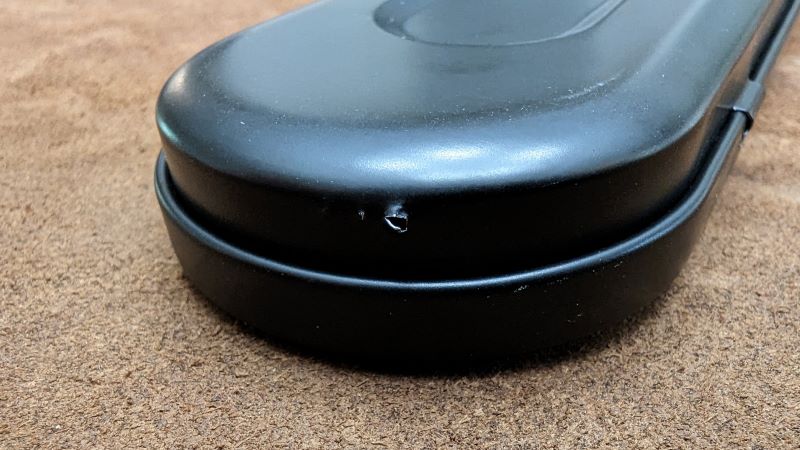 Granted it's not very big but I feel like, if you forget about what you're doing, place your thumb over the end of the pry bar, and then slam down on something you might draw blood. Of course, you'd only ever do it once. It just seems like the glass breaker could've been executed a little differently.
What I like
Titanium
Makes for a cool fidget toy
The Forever pen is pretty cool
What I'd change
Thinner edge on the pry tip
Glass breaker bead
Some way to secure the bit slot bar so it doesn't move when prying
Some way to secure the bits in the ratchet driver
Final thoughts
I wanted to like the EDC Monster multifunction pry bar, but I just have too many issues with it.  Maybe I'm not who this was designed for. It's too big for comfortable pocket carry. The bit storage bar moves when trying to pry with it. I worry I'm going to poke myself with the glass breaker, and the bits fall out when I'm trying to use the ratchet driver. I haven't seen another pry bar out there with this many functions built into it, but I think maybe they got a little too ambitious with this one. It's not for me. But, hey, if you want to add it to your EDC gear collection, go for it.
Price: $139.00
Where to buy: Indiegogo Indemand
Source: The sample of this product was provided by EDC Monster.