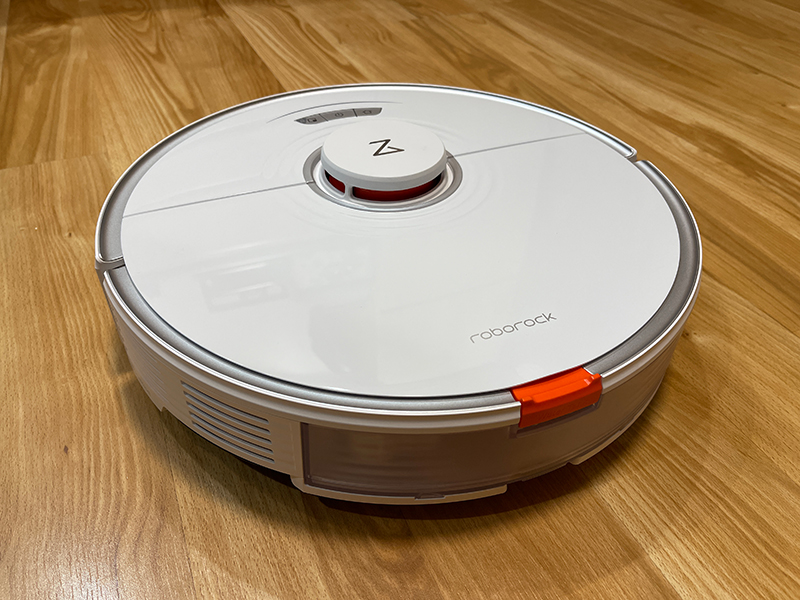 REVIEWS – I want my house to be clean, but I don't want to be the one to clean it. Am I lazy? Well yeah, I guess I am. At least I'm lazy when it comes to cleaning the house. That's why I have robots that will do my bidding. Robot vacuums to be exact. How did we survive before the age of robot vacuums? We lived like animals, that's what! Today I want to show you the latest from Roborock. It's their S7. Let's see if it sucks – in a good way.
What is it?
The Roborock S7 is a robot vacuum that works on carpets and hard floors to vacuum up dirt and dust. It also mops hard surfaces with a mopping pad that uses sonic vibration technology and auto-detection of rugs and carpets.
What's in the box?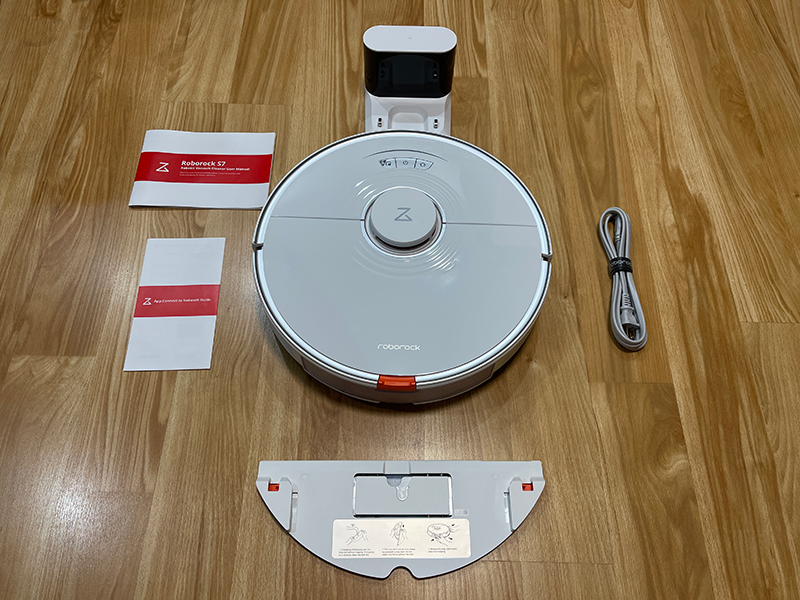 Roborock S7 robot vacuum
Mopping pad
Power cord
User guide
Design and features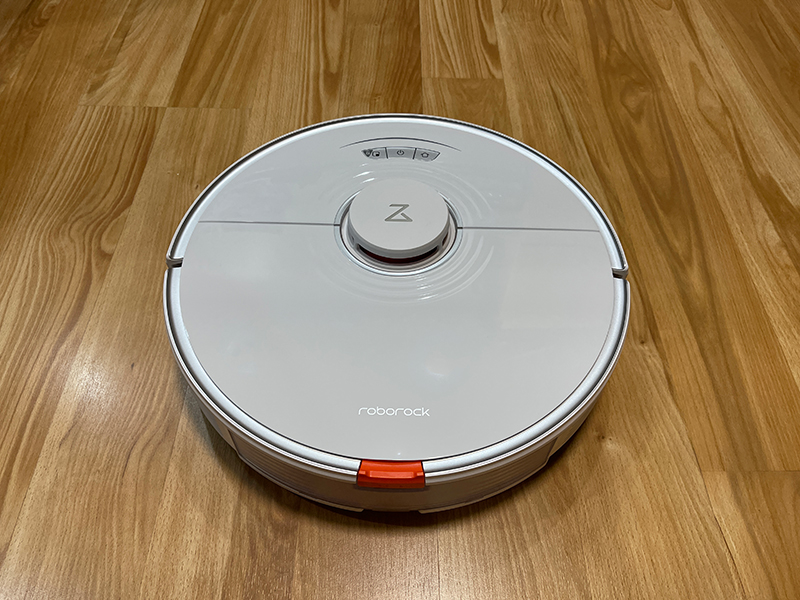 When it comes to the look/design of the new Roborock S7 vacuum, it's not much different than other robot vacuums. It's circular, is made of plastic, and comes in a white or black version. It's very similar to the Roborock S5 Max that I reviewed last year. Is that a bad thing that it doesn't look different than prior versions of Roborock vacuums or other vacuums on the market? No, I don't think so. It's a tried and true form factor and all the updates are under the hood so to speak.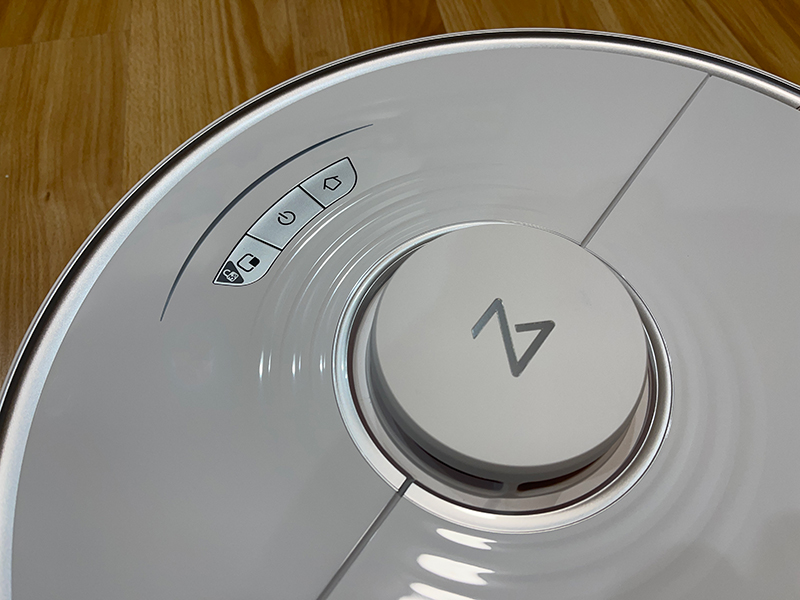 Speaking of the "hood", the top of the vacuum has a large curved LED that glows while it's on the charging base. There are also buttons to manually control the vacuum if you don't want to use the mobile app – which I recommend that you use because it unlocks all the best features of this robot vacuum. The buttons toggle power, starts a cleaning session, sends the S7 back to the charging base, and can tottle the child lock.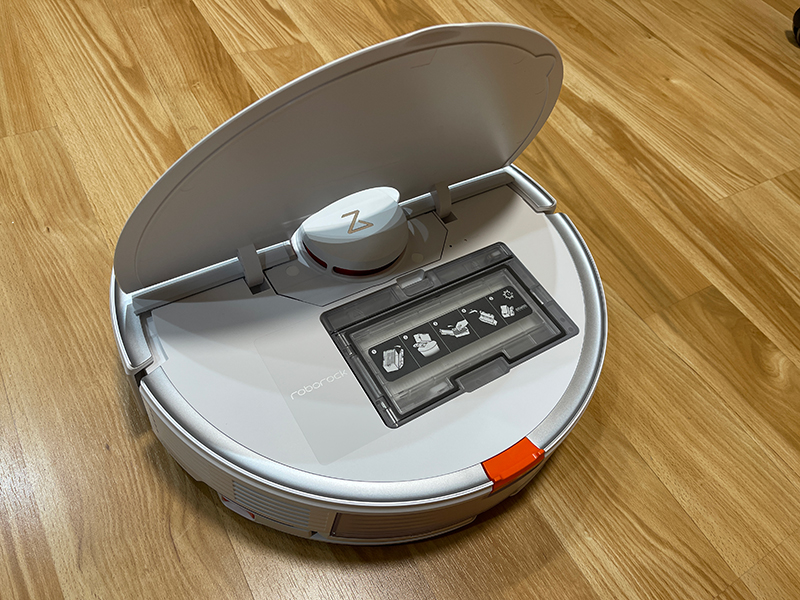 Lifting the lid provides access to the WiFi reset switch and the removable dirt bin.
The dirt bin features a flip-open door and a removable/replaceable filter. The Roborock S7 only comes with one filter which is slightly disappointing given the price of this device. I would have liked to have seen at least one extra filter included in the box. That said, the filter can be washed.
Now it's time to see where all the magic happens… on the bottom.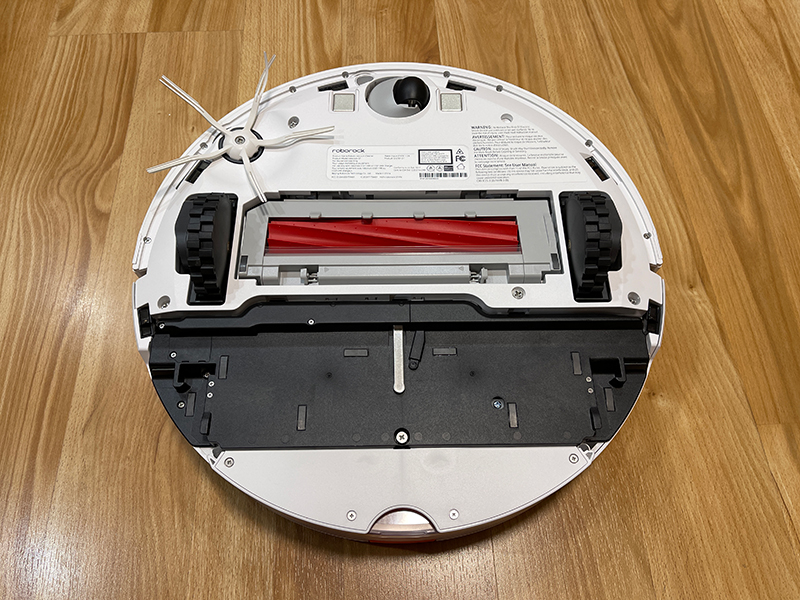 The S7 has a 5-whisker brush attached to the edge, which helps to clean dirt around furniture or edges like baseboards.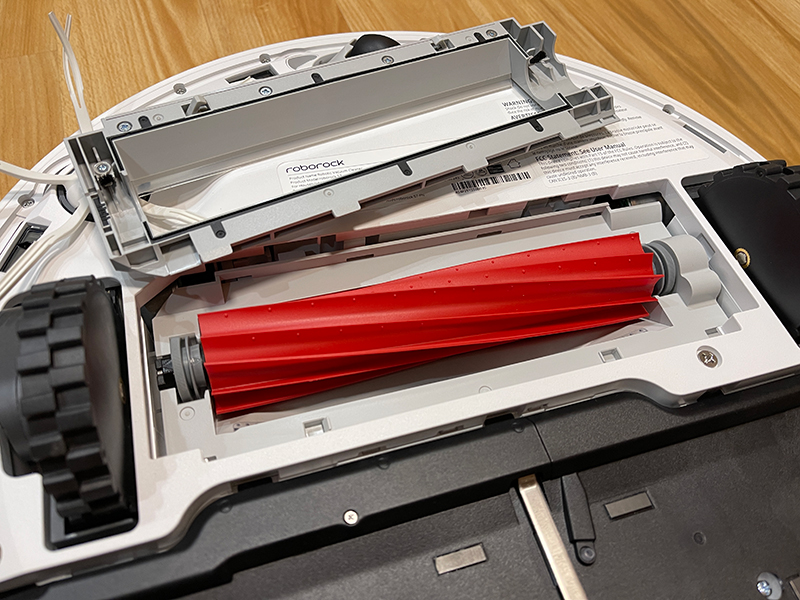 The brush that is included with this vacuum is different than other robot vacuum brushes. It doesn't have bristles which might worry you. How can a vacuum clean floors if it doesn't brush up the dirt right? Well, the S7's all-rubber brush features soft flexible fins and a floating design that helps it "stick" to the floor for better suction and cleaning. The design is also great if you have pets because hair doesn't tangle as traditional brushes.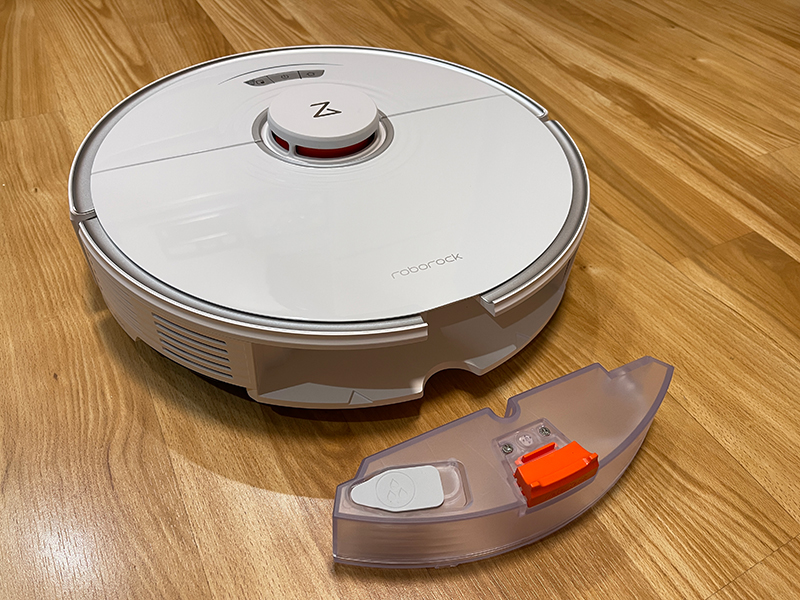 The Roborock S7 not only vacuums up dirt from hard surfaces, carpets, and runs, but it can also mop hard surfaces. The front of the vacuum has a slide-out water reservoir that is easy to fill. Note that you should only fill it with warm water and should not add any type of cleaning detergents to the water tank.
In addition to filling up the water reservoir, you will also need to attach the included mopping pad to the bottom of the S7. The soft terry cloth mopping pad is easy to install and remove when it needs to be washed.
Where the Roborock S7 is different than other automatic robot vacuums that also mop is that the mopping pad has a lifting mechanism that lifts the mop 5 mm off the ground when it detects that it is on a rug or carpet. It also lifts the mopping pad when it goes back to the dock to charge. This is a game-changer because it means that you don't need to set up special zones to block out areas with rugs and carpets for fear that the mop will damage them. It also means that you don't have to remove the mopping pad when the vacuum goes back to the dock to charge because the pad won't rest on your floor. I was very eager to see if these claims would turn out to be true.
Ready, set, clean!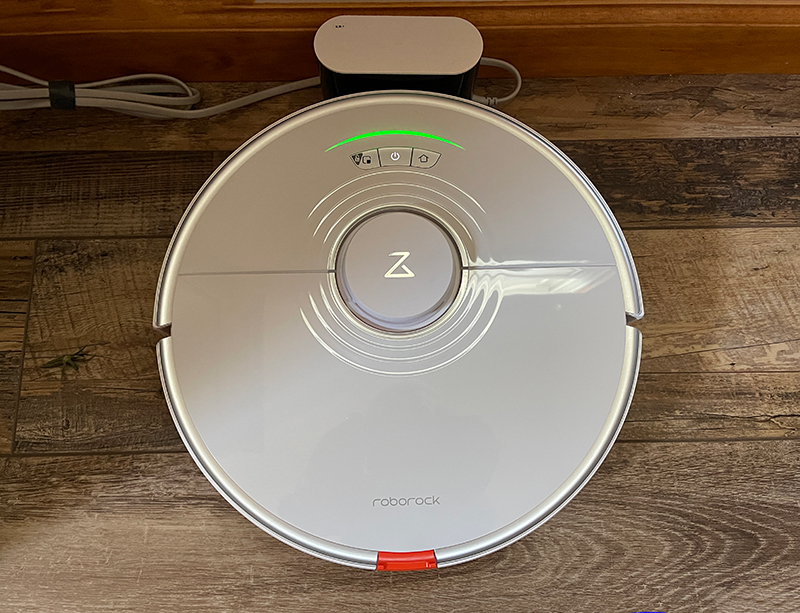 The first steps you will need to do before your first Roborock S7 cleaning session is to charge the battery using the included base station, install the app on your mobile device, customize the settings, fill the water reservoir and start a cleaning session.
Roborock App
The Roborock app allows you to create maps and zones of your home so that you can set no clean zones and create rooms for customized cleaning sessions.
You can also use the app to set scheduled cleanings and set up the ability to use voice commands to control the vacuum using Siri and Alexa.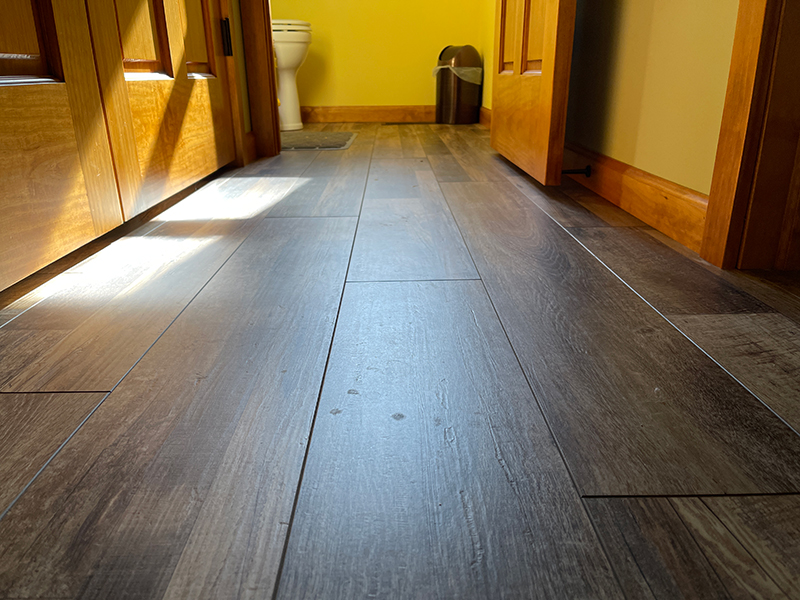 The main floor of my home is 95% luxury vinyl planks like you see above. I also have a large area rug and two small rugs in each bathroom. One is a regular rug and the other one is a special cat litter rug that helps prevent the scattering of litter.
In the image above, you can see some dried water spots in the hallway between our two bathrooms. I was curious to see if Roborock's special sonic vibration cleaning tech could remove these water spots while mopping without getting the rugs wet in the process.
See it in action
Be sure to watch the video at the 2:15 mark where you can see the mopping pad automatically lower back down after it had been vacuuming over a rug.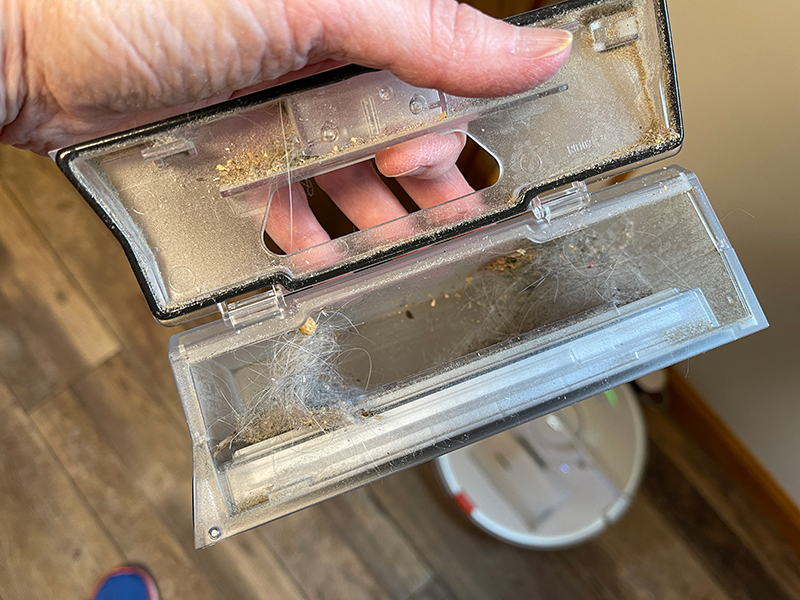 It's always amazing to see what these robot vacuums suck up when I think my floors are clean. Look at that cat hair and other gunk. I do wish that the dirt holder was a little larger had had a one button open and dump mechanism. As it is, you have to pull it open and I find that pet hair can stick inside so that I have to pull it out with my fingers which is icky.
I did several real-world tests to see what the S7 could suck up. It worked great on pet hair (see above) and cat litter. We use pine pellets which are bigger and heavier than traditional litter and the S7 didn't have any problems vacuuming it up. I have been extremely happy that my long-haired cat's fur isn't wrapping around the brush. This newer designed brush is much better than bristled brushes. I'm not sure how much better it is on carpets though as I did my testing on hard wood. However, I didn't notice any dirt/pet hair left on the large area rug that the S7 did clean.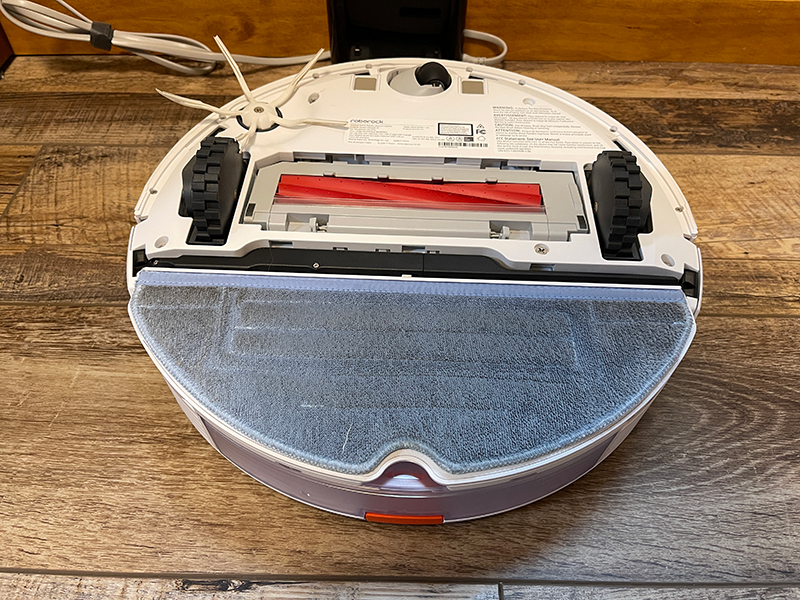 And again, I thought my floors were clean but the mopping pad tells a different story. But was the S7 able to remove those water spots in the hallway? Not using the next to highest (Moderate) mop scrub setting. So I tried again with the mop scrub setting set to intense and the results were…
I had mentioned that I was curious to see if the S7 would be able to remove the dried water spots in my hallway. I'm afraid that it wasn't. I did multiple tests using cold water, warm water, and the different mopping intensity settings but the dried water spots remained. Is that a deal-breaker? No. Although I wish this robot vac would be able to grant that wish, it didn't surprise me. Matte-finished luxury vinyl planks are notorious for this problem. The only way I am able to remove water spots is to use a regular mop (with a similar cleaning pad as the S7) with water and vinegar. I have to mop the area in one direction and then go over it again crossways to remove the spots. I have sent an email to Roborock asking if it's ok to add a little vinegar to the water reservoir and will report back if that's an option and if it actually works to remove the spots.
Even without being able to remove water spots, I do like that the mop is able to provide a good measure of cleaning between my manual deep cleaning sessions. I think this mop does a great job of keeping the dust off the floors cleaning up any spills.
What I like
Auto mopping pad lift over carpets and rugs
Mop uses sonic vibration
Great vacuum suction
What I'd change
Final thoughts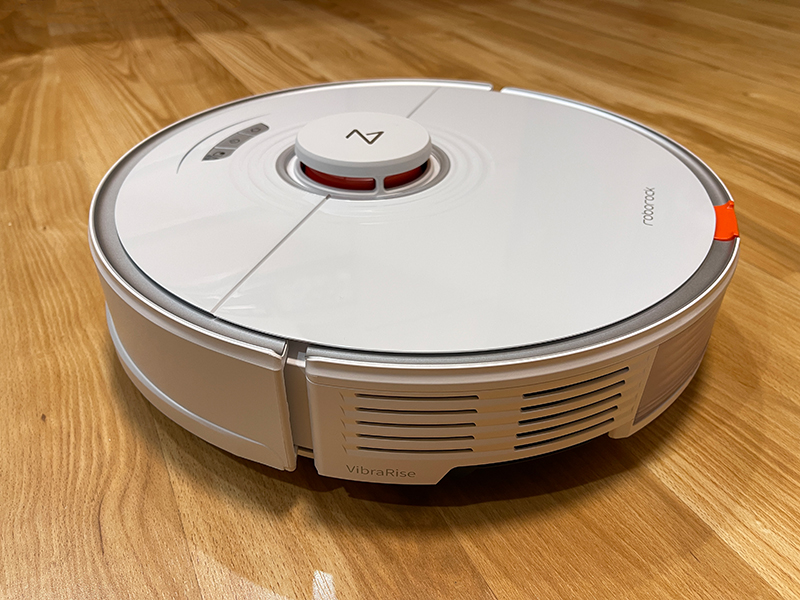 Roborock continues to impress me. They have are my current favorite brand of robot vacuums and I currently use 2 of them on 2 of the 3 floors of my home. I love the mopping feature on the Roborock S7. I think it provides the best mopping action of all the robot mops that I've reviewed so far (even though it failed to remove dried water spots on my floors). The fact that it detects when it's going over carpet or rugs and automatically lifts the mopping pad is fantastic. The Roborock S7 gets 2 thumbs up from me. Now I just need a Roborock robot that will do my laundry, fold it, and put it away. Oh, and I need one that will cook for me and dust the furniture too. Hey Roborock, are you listening? Seriously though, when it comes to robot vacuums, look no further than Roborock.
Price: $649.99
Where to buy: Amazon
Source: The sample for this review was provided by Roborock.
Support The Gadgeteer
:
We may earn a small affiliate commission from purchases made from buying through links on our site. As an Amazon Associate I earn from qualifying purchases. Learn more.