We use affiliate links. If you buy something through the links on this page, we may earn a commission at no cost to you. Learn more.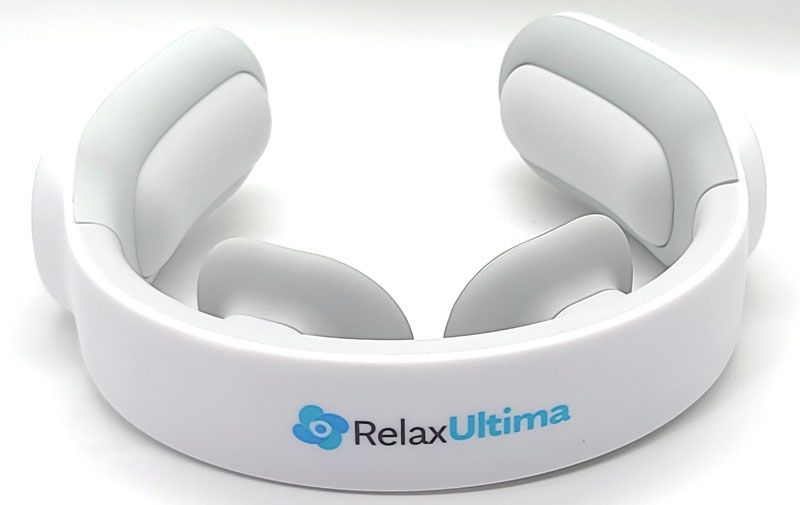 REVIEW – Many of us suffer from sore muscles or tension.  Do you know what helps?  A good neck massage.  But having a cooperative partner that is willing to give you that massage is a rarity.  Hiring a masseuse can be expensive.  RelaxUltima could be the answer with their neck massager. So yes, I am willing to get some regular neck massages to keep you, our faithful readers informed.  I'm a team player.
What is it?
The RelaxUltima neck massager is a TENS-based massager designed specifically to work on the muscles in your neck. TENS (transcutaneous electrical nerve stimulation) is a method of pain relief involving the use of a mild electrical current. Typically small, battery-operated devices, TENS units use electrodes to introduce electrical pulses that can release endorphins and other substances to stop pain signals in the brain.
What's in the box?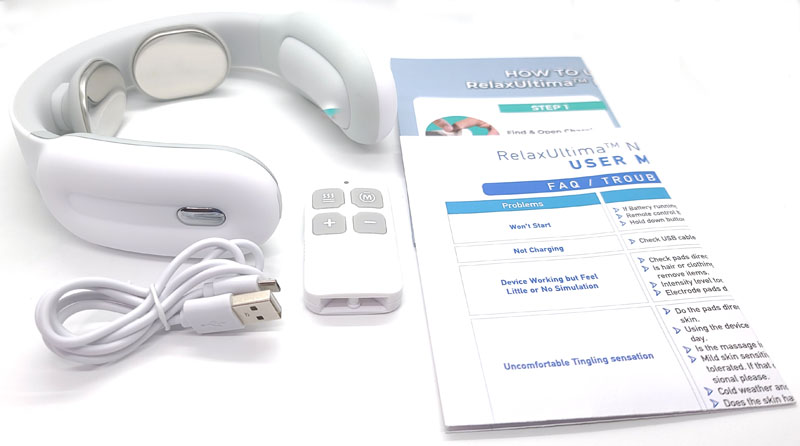 Massager
USB-A to micro-USB charging cord
Remote control (with CR2032 battery installed)
Quick start guide
User guide
Hardware specs
Weight: 5.6 ounces
Main materials: ABS plastic and silicone
Battery life: About 30 15-minute sessions between charges
Charging: micro-USB – cable supplied, use your own charger
Optional heat: 107 degrees F
Massage modes: Three
Auto shutoff timer: 15-minutes
Remote: 4-button (heat, mode, intensity +, intensity -), CR2032 battery
Design and features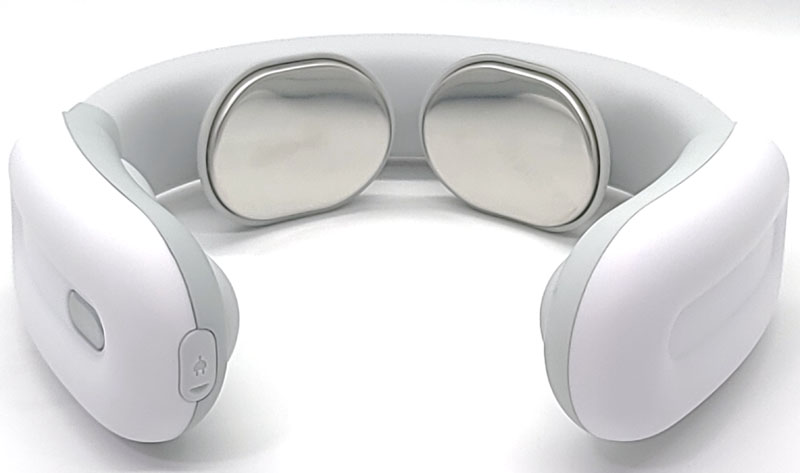 The massager is a U-shaped device that is designed to fit around the back of your neck. The pads along the inside rest on the sides of your neck, cushioning it as well as keeping it in place.
In the photo above, you can see the charge port on the left end.  To open it, you dig a fingernail into the slot in the cover and pry it out.  Behind the cover, we see the micro-USB port.  Can anyone say "USB-C"?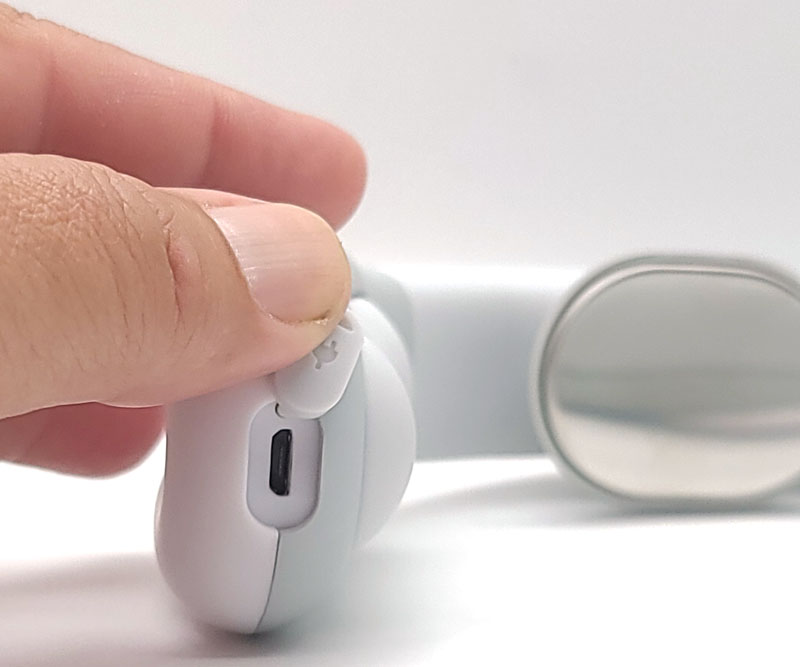 The shiny disks on the back are the electrodes.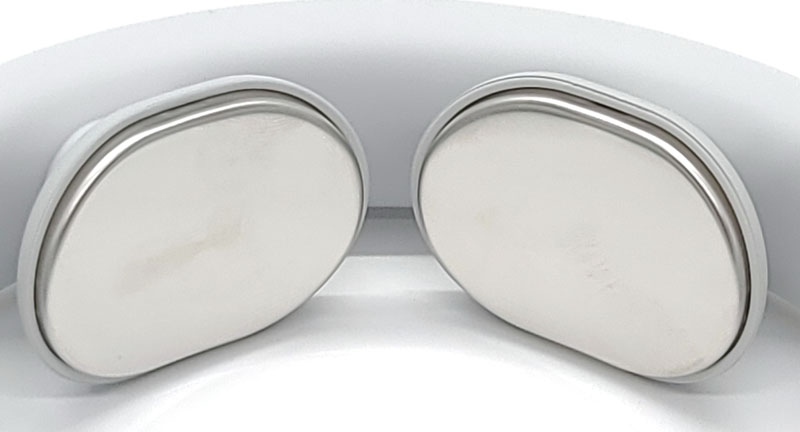 These rest on the back of your neck. They introduce the mild electric current that does the actual work.
Speaking of electricity, let's talk about the cautions. From their website:
People with the following medical conditions should NOT use this product:
pacemaker or any other implanted medical device
artificial heart, lungs, or any other life-saving electric devices
metal implants
Do NOT use this product near the following:
electronic medical devices
gas, explosives, and other highly flammable material
near or around the heart
The unit turns off after 15-minutes of use, and they recommend no more than two 15-minute sessions daily.  I find this interesting, as a little Google research produced a huge number of TENS websites that say that you typically need 30-minute sessions for best results.  Not sure what to make of that. Back to the design…
There is an oval shiny silver button near the charging port.  That is both the power button and the power/charge indicator.  When on, the button glows blue.  When charging, it flashes red and then glows red steadily once fully charged.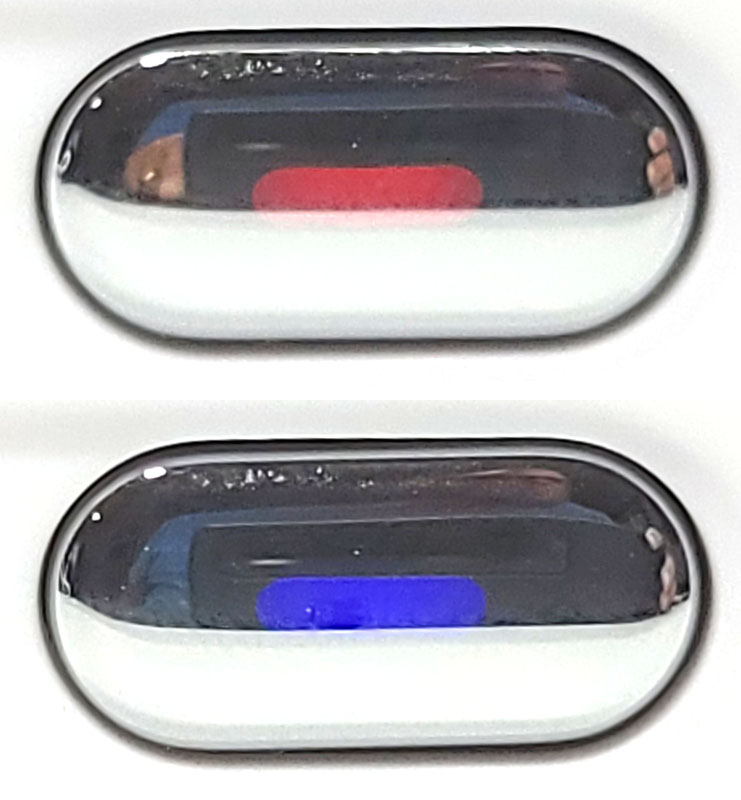 The small remote has four buttons.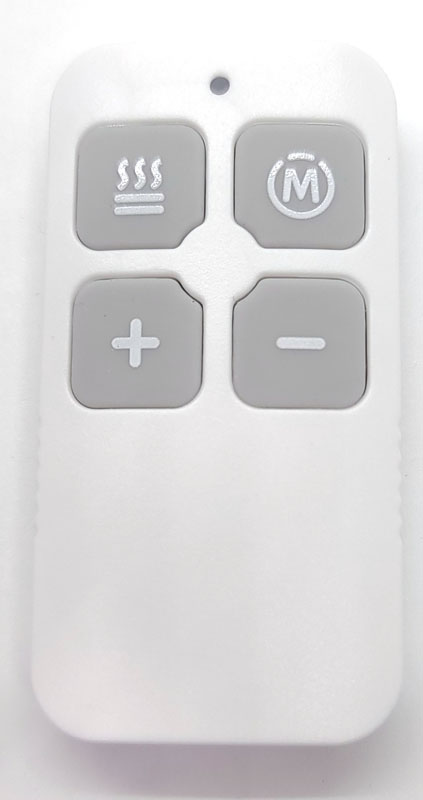 They are as follows: heat on/off, massage mode selector, intensity+, intensity-.
Setup
The unit ships partially charged.  Before use, plug it in until the red light stops flashing.
Performance
All the descriptions are fine, but the proof is in the massaging.  Let's get into it!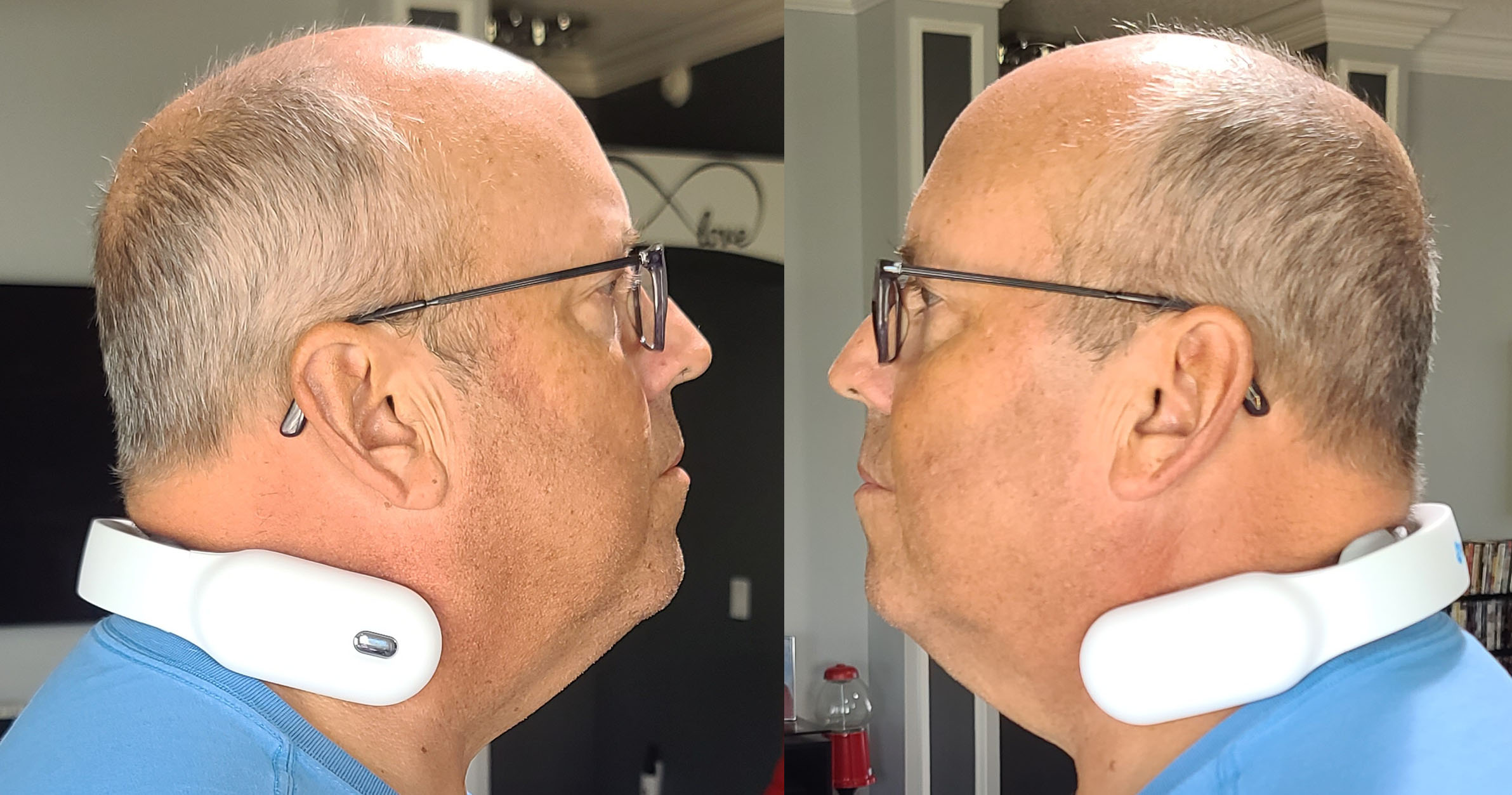 The massager is comfortable to wear.  It rests easily on the neck and stays in place well.  The instructions say to remove any metal jewelry from your neck and then slightly dampen your neck with a damp towel to improve the conductivity of the electrodes.
Once the massager is in place, you hold the power button for three seconds.  The massager beeps to indicate power is on and the button glows blue.  For me, the massager didn't do anything when turned on.  Pressing the + button to increase the intensity got things happening.
To be clear, this is not a traditional massager where pressure is applied to muscles.  The TENS system applies a mild electric current that helps your body produce endorphins that help to block pain.  If you've never used a TENS system, the sensation is a little weird.  While there is no physical pressure being applied, there is a distinct massage-like feeling.  It's more of a tapping and vibrating feeling than a rubbing and pressing feeling.  Still, it feels pretty good.
The heat button on the remote turns on the 107-degree F heat.  I thought that 107 was perhaps a little bit of overkill, but was pleasantly surprised.  It seemed just right – not overly hot.  The heat is nearly instantaneous when you press the button.
The three massage modes aren't described in the documentation. My best interpretation of the modes are:
Mostly tapping with some vibration
Balanced tapping and vibration
Mostly vibration with some tapping
I prefer more vibration than tapping, so that mode was my favorite.
There are 15 intensity levels available.  I didn't like anything above level five or six as it gets quite intense.  At level three or four, I sat and watched TV for 15 minutes until the self-timer shute the massager off with a beep. In the end, my neck felt pretty good.
My wife tried it out and said that it felt "OK". Our daughter was visiting so she tried it out as well.  Her reaction was interesting.  She said it felt unlike anything else she had felt, and that she wasn't sure how she felt about it.  But the longer she used the massager, the more she liked it.  In the end, she was a fan.
When my daughter was using it, I closely watched the back of her neck. For the most part, I couldn't detect any movement even though she felt a distinct massage motion. It's really pretty interesting experiencing the TENS massage. In fact, putting my finger on my neck between the pads, I felt nothing, even though my neck was getting vigorously vibrated.
What I like
Comfortable
Silent
Heat felt great
With 15 intensity levels and three modes, just about anyone should find something they like
What I'd change
Standardize on UBS-C charging
Include some documentation on the different massage modes
The charging port is a little difficult to open
Clarify the usage limits as they seem to disagree with the general consensus on TENS usage
Final thoughts
I wasn't sure what to expect from the RelaxUltima as I had never experienced a TENS unit before. Sometimes, when I'm writing reviews, my neck does get a little still from looking down at my laptop.  As I'm writing these final thoughts, my neck is getting heated, tapped, and vibrated by the RelaxUltima, and it feels pretty good.
Of course, if you have any of the conditions listed in their list of caution conditions, you should look elsewhere for a solution.  With the combination of the physical vibration sensation, heat, and endorphin-releasing TENS process, RelaxUltima offers a nice solution for neck pain and stiffness.
Price: $79.97
Where to buy: RelaxUltima (save 10% with coupon code: GADGETEER)
Source: The sample of this product was provided by RelaxUltima.