We use affiliate links. If you buy something through the links on this page, we may earn a commission at no cost to you. Learn more.
The Palm m505… Wow, people have been dreaming about this device for a couple years now. I know, because I was one of them. When my main PDA was the Palm V, I used to imagine what it would be like to have a color unit in that same form factor. That was in 1999 and now 2 years later, we have the answer to our dreams. Or do we? Let's find out.
Having just reviewed the m500, which I was only minimally excited about, the m505 review really was the one I was looking forward to most.
The m505 is VERY similar to the m500 though. So this review is really going to
focus mainly on their differences.
Hardware Specs:
Operating System: Palm OS version 4.0
Processor: 33 MHz Motorola Dragonball VZ
Memory: 8 MB (4MB Flash + 8MB RAM)
Display: 160×160 pixel color display (65,000+ colors)
Size: 4.48 x 3.03 x 0.50 in. (11.38 x 7.70 x 1.27cm)
Weight: 4.8 oz (136g)
IrDA port
Expansion Slot compatible with SD and MMC cards
Battery: Internal Lithium Polymer Rechargeable; 2hr recharge time when empty
AC Adapter: Input: 120VAC 60Hz 11W, Output: 5.0VDC 1.0A
What jumped out at me the second I unwrapped the PDA was its silver buttons. I guess I hadn't noticed them when looking at the pictures on the Palm site. The buttons which appear to be metal (but I'm not sure if they are), really make the m505 look very techno. The buttons have good tactile feedback which I like.
The previously one piece scroll button, is now two small dimpled buttons. These buttons might be hard to press for people with large fingers. I don't have a problem with them though.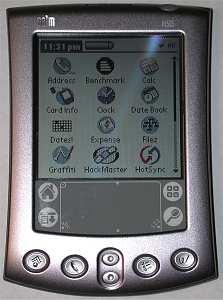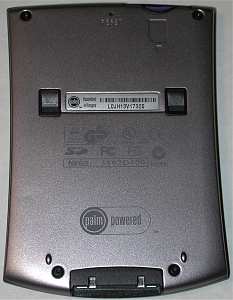 The next thing that caught my eye was the silkscreen area. It is white and gray
instead of black and greenish. The cool thing is that the white portions light up when the backlight is turned on. This is really
great for using the m505 in the dark. You can see the whole graffiti area
which helps quite a bit.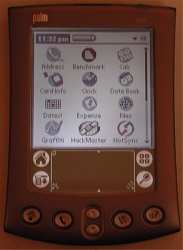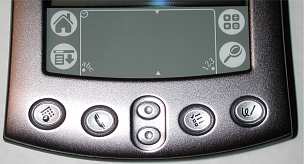 The m505 like the m500 has a new translucent power button that doubles as a
battery charger indicator and a silent alarm indicator. The LED is green and is
very easy to see when activated. The only thing I don't like about it is that
when charging in the cradle, the LED never turns off. So you aren't given any
clue as to the status of the battery.
The m505 introduces a new alert feature that no other Palm device on the
market has. A vibrate feature. The vibration strength isn't super strong, but I
think it would get your attention if you had the m505 in your shirt pocket close
to your body. You probably won't notice it if you have it in a jacket pocket or
a thick case though.
The speaker on the m505 seems to be as loud as my m100 which in turn is a bit
louder than my Palm V. The speaker is still only capable of anemic beeps and
boops. Still no DTMF tone generating capabilities unfortunately.
There are silos on both sides of the m505. But unlike the Palm V series, they
both are not for styli. The left silo is quite a bit skinnier and is used as an
attachment location for covers and cases such as the simple cover included with
the PDA. The right side silo is still designated for styli. A metal bodied
stylus with plastic ends is included with the m505. It is annoying that Palm
decided to make this change. It makes all the Palm V cases that use the left
silo rendered useless to the m505. And most Palm V styli will now not fit in the
m505 due to the shorter length.
The back casing of the m505 appears to be metal instead of plastic like that
of the m500. You'll also notice that the case is not glued together like the
Palm V series. Instead, there are 4 screws that hold the case together.
Unfortunately, the screws require a T5 Torx driver to remove them. That size is
very hard to come by. The back also has a few classier looking touches with the black plastic
accents around the hotsync port, peripheral slits and expansion card slot.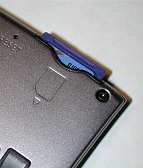 The card slot is spring loaded. You slide the card in and it clicks into
place. It is possible to use your fingernail to remove the card which is a big
no-no. It is very easy to break the loading mechanism. I had no idea the slots
were spring loaded and was using my fingernail to remove the cards for several
days. I'm just lucky I didn't break it.
The expansion card slot will interface with SD (Secure Digital) cards or MMC
(MultiMediaCard) cards. These small postage stamp sized cards will give you a
method of adding additional storage and backup capabilities to your device. They
can also be used to add software such as games, dictionaries and other reference
materials that you can access / execute directly from the card. At this time,
that's about all this slot can be used for as there aren't any SD peripherals
like modems, digital cameras or GPS devices available and there probably won't
be for quite a while. I personally wonder if we'll ever see SD peripherals.
I say this because there's already an m505 modem, and soon to be Kodak PalmPix
camera that uses the hotsync port. Most manufacturers that have already made
devices for the Palm V series will probably be more likely to just adapt their
circuit boards to the new modem casing instead of making a totally new SD
device. But hey, I could be dead wrong. Time will tell….
The new hotsync connector isn't one of my favorite things about the new Palm
m500 series devices. I don't like the way it has to clip to the cradle at all! I
can understand that they had to switch to a new connector in order to implement
USB. It has 16 pins while the Palm V series only has 10… USB syncing is great.
It's very fast. Syncing a 1.2mb file took about 40 secs  on the m505 and
took about 1.5 mins on the Visor Prism. They both use USB so something on the
505 has been optimized I'm guessing.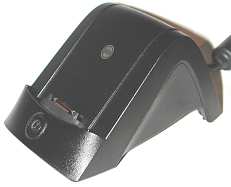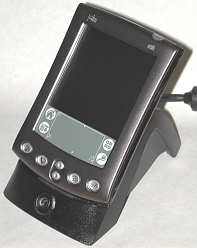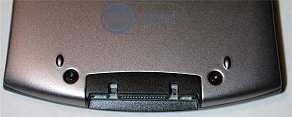 As far as the shape, size, and weight of the m505, I'd have to say that I
really like it. It is very close in size to the Palm V series and almost
identical to the m500. It is a little thicker and definitely heavier. I actually
like the extra weight. It feels good in my hand. It's like the added weight
gives it more worth somehow.
Right about now, I can hear everyone saying "ok, ok, enough about the
boring buttons, and dimensions, tell me about the color screen!"…. Well,
ok then! The m505 color display is VERY similar to the color display that the
iPAQ uses. It is also a reflective display which makes it very easy to read
outdoors in the full sunlight. Unfortunately, it also makes it hard to read in
normal indoor conditions. First of all, let me say that I own both the Visor
Prism and the Palm IIIc. Both of these units have color displays that are
non-reflective. These units are very bright and easy to see in any lighting
conditions EXCEPT outdoors in the sun. I also have an iPAQ and it took me awhile
to get used to its display because it is dimmer than the Active Matrix TFT
displays like the IIIc, and Prism have. Now that I am used to it, I'm glad for
the ability to sit out in my car on sunny days reading ebooks. Indoors, I can
turn on the backlight and have several brightness settings to choose from which
makes viewing very comfortable. I sometimes still wish for the bright IIIc /
Prism screen though. The colors are so much more vibrant than those on the iPAQ
even at its brightest setting. Ok, so why am I talking so much about the iPAQ?
Mainly because of the fact that the m505 display with no backlight turned on is
pretty much like the iPAQ display with no backlight turned on. With this setting
it works great outdoors in sunlight. But inside even under office florescent
lighting, I found myself tipping the PDA at different angles in order to catch
the light for better viewing.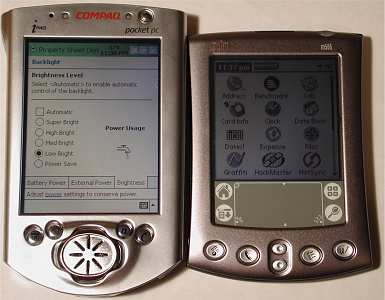 (iPAQ on low brightness, m505 with
backlight on)
By holding down the power button, you can turn the backlight on. With the
backlight on, the screen is still pretty dim. I would compare the brightness to
an iPAQ on the lowest bright setting. I typically use my iPAQ on the highest
brightness setting. The m505 only has one bright setting, on and off. When it is
on, the screen looks somewhat washed out. The colors aren't very vibrant at all.
They have more of a milky cast to them. The display isn't horrible by any means,
but it is disappointing. Actually in certain lighting conditions I would say
that the m505 with the backlight off is much harder to read than the m500 mono
screen.
If you are basing your PDA purchase on the quality of the color display, I
personally would not choose the m505. It just isn't bright enough to suit
me.
Speed-wise, the m505 doesn't feel extremely faster than my Palm V.  I
noticed something really strange according to
Neal Bridges Benchmark program (v2.0).
Check out the numbers below:
| | | | | |
| --- | --- | --- | --- | --- |
| Palm V | Visor Prism | m500 | m505 | m100 |
| 91% | 205% | 154% | 156% | 91% |
What is confusing me is that the Prism, m500 and m505 all are supposedly
using the same processor (33 MHz Motorola Dragonball VZ). If that is the case,
then what is causing the benchmarks to be so different?
Now let's take a look at the software side of m505. The m505 runs Palm OS
version 4.0 which gives you a few additions and changes over previous versions.
Some of the additions are:
Notepad
This application is linked to the rightmost hardware button. The same button that is linked to the Memo Pad on other
models. The Note Pad app allows you to scribble a note on the screen instead of using Graffiti. Each note is then time and date stamped. You can also
associate an alarm with the note and file each note in a category. The Memo Pad app is still available as a separate app.
Clock
The Clock program will let you set an alarm with your choice of 6 different alarm sounds (alarm, bumble bee, reveille, sonata, wake up and warbler).
Unfortunately, this app will only allow you to set an alarm for the current 24hr
period of time. You can't use it to set a reoccurring daily alarm.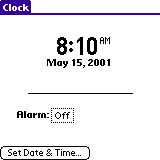 Card Info
Small application that will give you information regarding the current expansion card that is inserted in the PDA. It will tell you the type of card, size, and information relating to the contents. This app will also allow you to rename a card and format a card.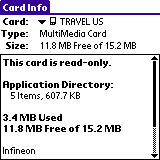 Enhanced Security
Gives you the ability to put an automatic lock on your m505. Assign a password and encrypt sensitive data
to keep information safe, then view or edit secured data easily.
Everything else is pretty much the same as other versions. The only slight
difference being that the calculator has a new look. Square buttons instead of
round. Woohoo! You'll be happy to know that the MemoPad app still has a 4k limit
per memo. Wouldn't want to change that now would we?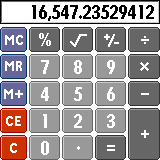 The m505 does come with a nice bundle of extra software.
Bonus Software included on CD:

AOL
Check your AOL email and send instant messages to your friends using a data
enabled mobile phone or landline modem.
AvantGo
Web channel manager that allows you to sync internet content wireless or thru
desktop sync.
DocumentsToGo
View and edit documents and spreadsheets such as Word and Excel. Also is
compatible with Lotus 123, WordPerfect, Quattro Pro and more.
Palm Reader
eBook reader (used to be Peanut Press).
PhotoSuite
This is an image (.JPG, .GIF, .BMP, .TIF, .PNG) and video viewer. The video file
formats supported are: AVI, MOV, QT, ASF, and WMV. require Apple QuickTime 4 to
be installed. ASF, and WMV video files require DirectX 8 to be installed.
Viewing movies on the m505 is much better than on the m500 which is pretty much
useless. Video on the m505 display doesn't blur.
PowerOne Calculator
An advanced calculator with some extra business functions such as tax, tips,
markup, percent change, and date calculations.
Mobile Connectivity Software CD:
Web Clipping
Access short bits of web content using your data enabled mobile phone or
landline modem.
Palm SMS
Send and receive short messages with your GSM phone.
MultiMail v1.0
Advanced email application.
In summary, the m505 is a cool device if only for the fact that it's the
smallest color PDA there is right now. It looks cool, it feels cool, and it's
made well. But, again, I'm not wowed by it. If the screen were brighter, the
colors were more vivid, and it had better audio, I think I'd be more happy with
it. But as it is, it's only $50 less than an iPAQ. I'd rather spend the bucks on the
iPAQ if I was looking to buy a slim color PDA. And if all I really wanted was a
really slim PDA, I think I'd still go with the Palm Vx right now.
Price: $449.00
Pros:

Expansion card slot
Smallest color PDA

Same small Palm V series form factor
Vibration and silent alarm features
Cons:
Expensive
Screen is dim, colors are milky

New hotsync connector makes Palm V accessories incompatible
Palm V styli not compatible
Product Information
Price:
$449.00
Manufacturer:
Palm
Pros:

Expansion card slot
Smallest color PDA
Same small Palm V series form factor
Vibration and silent alarm features

Cons:

Expensive
Screen is dim, colors are milky
New hotsync connector makes Palm V accessories incompatible
Palm V styli not compatible