The award for sexiest Palm PDA has long been held by the Palm V/Vx. Well, now there are 2 new Palm Vx replacements available that might get people excited all over again. There's the m500 for people who don't want color (are they insane?!) and the m505 for those that do. This review is for the m500 with the m505 review to follow soon. As is customary, let's take a look at the hardware specifications first.
Hardware Specs:

Operating System: Palm OS version 4.0
Processor: 33 MHz Motorola Dragonball VZ
Memory: 8 MB
Display: 160×160 pixel, High-Res B&W, 4-bit (16 shades of gray)
Size: 4.49 x 3.02 x .46 in. (11.41 x 7.67 x 1.17cm)
Weight: 4.162 oz (118g)
IrDA port
Expansion Slot compatible with SD and MMC cards
Battery: Internal Lithium Polymer Rechargeable; 2hr recharge time when empty
AC Adapter: Input: 120V 60Hz 10W, Output: 5.0VDC 1000mA
Upon first glance, the normal observer would probably mistake the m500 for a Palm V
maybe 9 times out of 10. The shape of the m500 does differ slightly from the Palm V but this is a very subtle difference. The sides of the m500 have a curve that runs the length of the PDA instead of the slight flare the bottom that the Palm V has. The top of the m500 is also curved more than the Palm V. Size-wise, the new model isn't as long or as wide. But, it is just a bit thicker. All of these size differences were found using calipers. To the eye and hand, they look pretty much identical.
And as far as weight, they are exactly the same.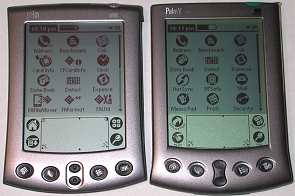 The front of the m500 has the application buttons and power button. The application buttons are actually a bit larger than the Palm V buttons which makes them easier to press. They also have better tactile feedback. The tops of the buttons sit flush with the casing so it's hard to
accidentally activate them. The one piece scroll button has been replaced by two small dimpled scroll buttons. These buttons are recessed into the case which helps to keep them from being
accidentally activated by covers and cases. The new buttons are pretty small so
a person with big fingers may have problems pressing them.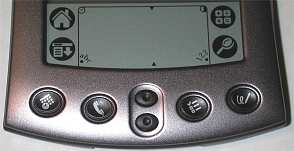 The power button is in the same location as the Palm V, but is now an translucent button that has a nice bulge to it making it easy to press. This button which is also an LED doubles as the battery charging indicator as well as an alarm indicator.
You can now turn off the alarm sounds and just have the LED blink when you have
an appointment. This is great for meetings when you don't want to disturb
everyone. The LED is bright green and very easy to see. One strange thing that I
noticed is that the when charging, the LED never turns off to let you know that
the battery is full.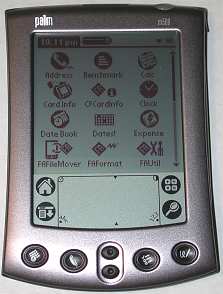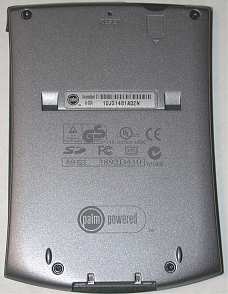 The m500 introduces a new alert feature that no other Palm device on the
market has. A vibrate feature. The vibration strength isn't super strong, but I
think it would get your attention if you had the m500 in your shirt pocket close
to your body. You probably won't notice it if you have it in a jacket pocket or
a thick case though.
The speaker on the m500 seems to be as loud as my m100 which in turn is a bit
louder than my Palm V. The speaker is still only capable of anemic beeps and
boops. Still no DTMF tone generating capabilities unfortunately.
The case color is very similar to the Palm V series but is ever so slightly a lighter shade. Again, most people wouldn't notice this.
The m500 display quality is very similar to my Palm V. The background color
of the screen might be just a bit lighter or more gray in color than the
greenish color of the Palm V. As for the backlight, Palm continues to use the
annoying reverse backlight which I hate.
Both sides of the m500 have silos. But unlike the Palm V series, they both are not for styli. The left silo is quite a bit skinnier and is used as an attachment location for covers and cases such as the simple cover included with the PDA. The right side silo is still designated for styli.
A metal bodied stylus with plastic ends is included with the m500. Because the m500 is slightly shorter than the Palm V, most Palm V series specific styli will not fit properly. Although they
do fit, they will stick out just enough so that if the stylus uses little
plastic bumps to hold it in, they won't make contact. However, m500 styli fit the Palm V just fine. I'm not sure why Palm decided to change the size and length of the silos. Since the difference really isn't that big, they should have just left it the same. Because of
this change, it now makes most if not all of the Palm V styli incompatible with it. And all the covers and cases that utilized the left silo are now off
limits as well.
The top of the m500 has the IR port and the expansion card slot. I tested the
range of the IR port and was able to beam an address to a Palm V at a max
distance of 5ft (1.5m) consistently.

The expansion card slot will interface with SD (Secure Digital) cards or MMC (MultiMediaCard) cards. These small postage stamp sized cards will give you a method of adding additional storage capabilities to your Palm. They can also be used to add software such as games, dictionaries and other reference materials. At this time, that's about all this slot can be used for as there aren't any SD
peripherals like modems, digital cameras and GPS devices available and there probably won't be for quite a while.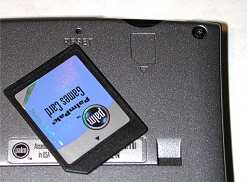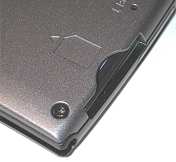 I was able to test the Games Card and the 16mb Expansion Card with the m500. The
small cards fit easily into the card slot. The slot is spring loaded and the
cards click into place. As soon as you slide a card in, the PDA will turn on and
show the new files available to you. As with the Games Card, several games show up
in the application launcher screen. You can tap on an icon and are then
presented with a PLEASE WAIT popup as it loads the program. This wait was
minimal… maybe 5-6 seconds. When you remove the card, the applications
are also removed from the launcher menu. High scores are saved to the PDA
internal memory.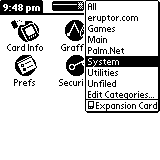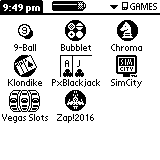 Same goes for memory expansion cards. I tested the 16mb card and was able to
copy applications on to it and run them from the card. Again, there is a short
wait for the applications to start, but once they do, they run seemingly at full
speed. I copied quite a few programs to the 16mb card and didn't have any
problems running them. I have heard that some apps don't like to run from
the SD slot. To help remedy this problem, there are two freeware programs
that you can use called MSMount and McFile. You should be able to find
these at your favorite Palm Software archive site.
The back of the m500 is made of plastic and not metal. Even though it is
plastic, the m500 still feels really solid. The casing doesn't flex, creak or
crack when you squeeze it. You'll also notice that the case is not glued
together like the Palm V series. Instead, there are 4 screws that hold the case
together. Unfortunately, the screws require a T5 Torx driver to remove them.
That size is very hard to come by. The back has two slits that serial port sled-type peripherals
can attach to. No, you can't use the Palm V modem, GPS or other devices with the m500. They won't fit those slits and more importantly, they won't fit the new hotsync port connector. Yes, you guessed it, the m500 connector is NOT compatible with the Palm V series connector.
This new connector is smaller and has more pins. It also allows peripherals to
clip to it. I really don't like this new connector…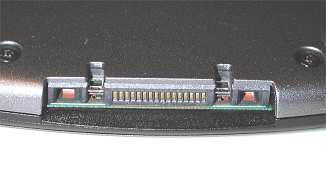 The main reason for my dislike at the moment is the hotsync cradle. The
connector that mates to the PDA has little hooks that clip to it. As a result,
you have to snap the m500 into the cradle and then to remove it, you have to
pull it forward to unhook it (which makes a horrible sound like you're breaking
something) and then pull it out. that would be fine if you
could just grab the top of the PDA, pull it forward and out of the cradle with
one hand…. but noooooooooooooooo. You have to hold on to the blasted cradle in
order extract the PDA out of it… And that drives me nuts! Sorry, but I like to
be able to insert and remove the PDA from the cradle without manhandling it. The
Palm V cradle was MUCH better in this regard.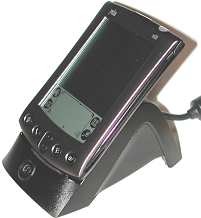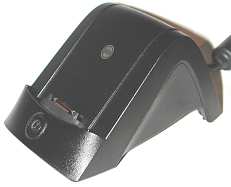 The cradle itself is the typical cradle. However, it is slightly larger than
I think necessary. It does have a good weight but not enough to keep you from
having to hold on to it when removing the m500. The cradle is USB. If your
computer doesn't utilize USB, you will be forced to purchase a serial cable. One
unusual thing that I noticed was that the m500 would beep when you insert it or
remove it from the cradle.
Even though I'm complaining about the cradle and new connector, I will
say that hotsync speed seems to be quite a bit faster than previous
versions.
Speed-wise, the m500 feels about the same speed as my Palm V but according to
Neal Bridges Benchmark program (v2.0), my
Palm V rates a 91 and the m500 rates a 154. I couldn't feel a big speed
difference between them with launch apps and flipping between screens.
Now let's take a look at the software side of m500. The m500 runs Palm OS
version 4.0 which gives you a few additions and changes over previous versions.
Some of the additions are:
Notepad
This application is linked to the rightmost hardware button. The same button that is linked to the Memo Pad on other
models. The Note Pad app allows you to scribble a note on the screen instead of using Graffiti. Each note is then time and date stamped. You can also
associate an alarm with the note and file each note in a category. The Memo Pad app is still available as a separate app.
Clock
The Clock program will let you set an alarm with your choice of 6 different alarm sounds (alarm, bumble bee, reveille, sonata, wake up and warbler).
Unfortunately, this app will only allow you to set an alarm for the current 24hr
period of time. You can't use it to set a reoccurring daily alarm.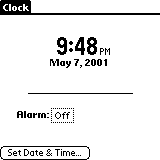 Card Info
Small application that will give you information regarding the current expansion card that is inserted in the PDA. It will tell you the type of card, size, and information relating to the contents. This app will also allow you to rename a card and format a card.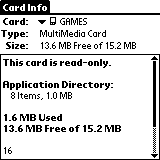 Enhanced Security
Gives you the ability to put an automatic lock on your m500. Assign a password and encrypt sensitive data
to keep information safe, then view or edit secured data easily.
Everything else is pretty much the same as other versions. The only slight
difference being that the calculator has a new look. Square buttons instead of
round. Woohoo! You'll be happy to know that the MemoPad app still has a 4k limit
per memo. Wouldn't want to change that now would we?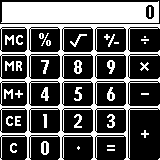 The m500 does come with a nice bundle of extra software.
Bonus Software included on CD:

AOL
Check your AOL email and send instant messages to your friends using a data
enabled mobile phone or landline modem.
AvantGo
Web channel manager that allows you to sync internet content wireless or thru
desktop sync.
DocumentsToGo
View and edit documents and spreadsheets such as Word and Excel. Also is
compatible with Lotus 123, WordPerfect, Quattro Pro and more.
Palm Reader
eBook reader (used to be Peanut Press).
PhotoSuite
This is an image (.JPG, .GIF, .BMP, .TIF, .PNG) and video viewer. The video file
formats supported are: AVI, MOV, QT, ASF, and WMV. require Apple QuickTime 4 to
be installed. ASF, and WMV video files require DirectX 8 to be installed.
Viewing movies on the m500 is pretty much useless as they blur across the
screen. Viewing pictures isn't as bad.
PowerOne Calculator
An advanced calculator with some extra business functions such as tax, tips,
markup, percent change, and date calculations.
Mobile Connectivity Software CD:
Web Clipping
Access short bits of web content using your data enabled mobile phone or
landline modem.
Palm SMS
Send and receive short messages with your GSM phone.
MultiMail v1.0
Advanced email application.
Bottom line, what do I really think of the m500? I think it's WAY over priced.
It's a Palm Vx with an expansion slot and a vibrate feature. If I was shopping for an ultra thin Palm
OS PDA, I would buy a $299 Palm Vx first. I'd skip the m500 and the Handspring Edge
which although
thin, is still over priced in my opinion. Why go with the Palm Vx? First of all, it's $100 cheaper
than the m500 and Edge.
And second of all, there are already quite a few accessories available for it
such as styli, GPS, Omnisky, Stowaway Keyboard, etc. If you are going to spend $399 on
the m500, then you really should save up $50 extra and get the m505. At least
it's color.
Once again, I'm disappointed in the latest Palm offering. It's just the same
ole thing in a shiny, new (not so different) package. Where's the innovation?
The Expansion card slot is slightly interesting, but it's not grandslamtastic. What
is it about the Palm that keeps me wanting more? I wonder if the Color Sony Clie or
the Handera 330 will be more satisfying? Time will tell….
Price: $399.00
Pros:

Expansion card slot
Same small Palm V series form factor
Vibration and silent alarm features
Cons:
Expensive
New hotsync connector makes Palm V accessories incompatible
Palm V styli not compatible
Support The Gadgeteer
:
We may earn a small affiliate commission from purchases made from buying through links on our site. As an Amazon Associate I earn from qualifying purchases. Learn more.
Product Information
Price:
$399.00
Manufacturer:
Palm
Requirements:

Windows 98, ME or 2000; USB port (Win 95, NT can use
serial cradle: sold separately)
Macintosh Power PC; OS 8.5.1 thru OS 9, USB port, CDrom

Pros:

Expansion card slot
Same small Palm V series form factor
Vibration and silent alarm features

Cons:

Expensive
New hotsync connector makes Palm V accessories incompatible
Palm V styli not compatible