We use affiliate links. If you buy something through the links on this page, we may earn a commission at no cost to you. Learn more.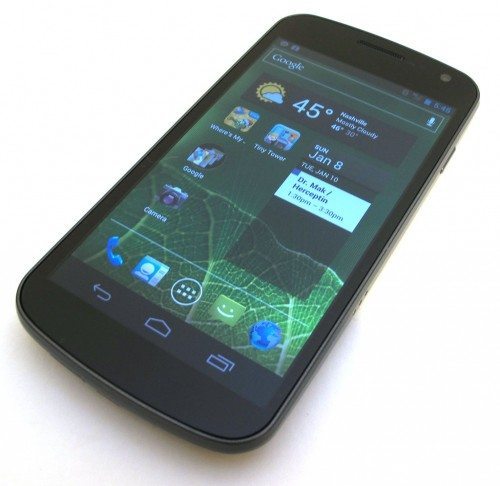 Android fans have been eagerly waiting for the Samsung Galaxy Nexus because it is the first device on the market powered by Android 4.0. Otherwise known as Ice Cream Sandwich, this new version of Android merges the tablet (Honeycomb) and smartphone (Gingerbread) versions of Google's popular OS into one version that will be used across both types of devices. I was lucky enough to get my hands on this phone for a few days, so let's take a look at one of Verizon's latest Android smartphone.
Note: Click the images in this review to see a larger view.
Before I begin, I will mention that I do not live in or very close to an area with 4G LTE coverage. I was only able to test the phone with a 3G connection.
Hardware Specs
OS: Android 4.0, Ice Cream Sandwich
CPU: 1.2GHz Dual-Core Processor
Memory Internal: 32GB
Carrier: Verizon
Network: CDMA/PCS/1xEVDO Rev. A: 800/1900 MHz,LTE: 700 MHz
Data Speed: LTE, EVDO Rev. A
Display: HD Super AMOLED™ 4.65" contoured display, 1280×720 pixels
Rear-facing Camera: 5.0 MP
Front-facing Camera: 1.3 MP
Bluetooth
WiFi
Battery: Lithium Ion, 1850mAh
Battery Standby 150 hours (6.25 days), Talk Time (hours) Up to 12 hours
Dimensions: 5.33" x 2.67" x 0.37" inches
Weight: 5.1 ounces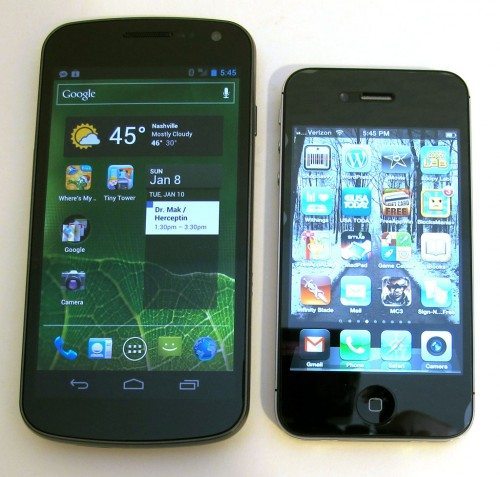 As you can see from the image above, the Nexus is a big boy when you compare it to an iPhone 4S. Although it is a large device, it doesn't feel or look out of place when used as a phone.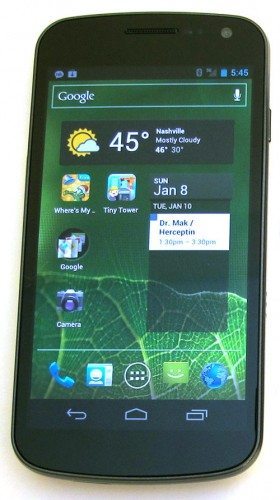 The Nexus has a gorgeous 1280×720 resolution display that is bright and crisp. It has vivid colors but isn't cartoonish like other Samsung Android phones that we've seen in the past. The 4.65 inch display takes up almost the entire front surface of the phone. A strip at the bottom of the display is devoted to 3 (and sometimes 4) touch sensitive buttons. From Left to Right, the buttons are Back, Home and Task Switcher. When appropriate, a 4th button will appear on the Right that has three small vertical square blocks. This is the Menu button.
While the phone is in idle with the display turned off, there is a status LED that will slowly pulse when there's a new email, text message or you've missed a call.
Above the display is the front facing camera.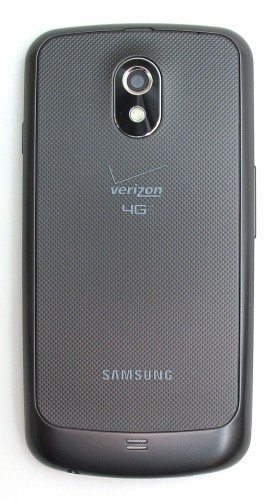 The back of the Nexus has the camera lens and LED flash. It's a little disappointing that Samsung opted to use a 5mp camera instead of an 8mp camera which seems to be the norm these days. That said, the camera captures decent pics and is crazy fast with no shutter lag whatsoever.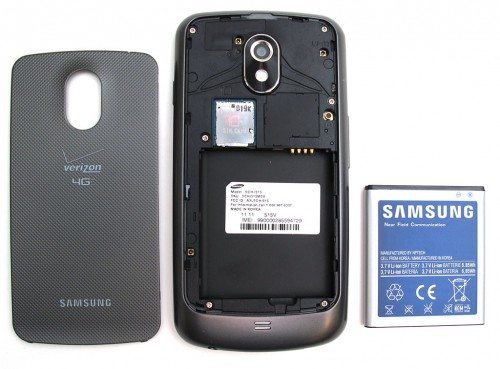 The back of the phone has a thin piece of flexible plastic that is easily removed to reveal the battery compartment and 4G LTE SIM card slot. In my short time with this phone, I found battery life to typical in that I would need to charge the phone once a day with light to normal use. It's tough for me to offer concrete data about battery life since I've only been using this phone in an area with 3G and absolutely no 4G coverage. In my experience with other smartphones, I would say that the Nexus used power slightly quicker than HTC Rezound that I tested last.
You'll notice that the Nexus does not have a microSD card slot. That's a bit of a bummer, but the phone does have 32GB of storage, which makes the lack of a flash card slot less painful.

If you look closely at the side of the Nexus, you'll see that the display is slightly curved. Samsung claims that this will make the phone more comfortable against your cheek when you're on a call. Hmmm… I don't know about you, but I've never noticed my flat phones as being uncomfortable against my face. 🙂
The Left side of the phone has the volume rocker button which has good tactile feedback and sticks up high enough that your thumb tip can easily find it when you're on a phone call.

On the opposite side you'll find the Power button and electrical contacts for an optional dock.

On the bottom edge is a micro USB connector for charging and connecting to your computer. You'll also find the microphone and headphone jack.
I had a rude awakening when I plugged the Nexus into my iMac to transfer some files and found that the phone does not support the USB mass storage feature that I've been accustomed to using with every Android phone that I've owned over the years. At first I thought it was Android 4.0's fault because it uses the MTP (Media Transfer Protocol) file transfer standard which is plug and play compatible with Windows machines, but not OS X machines.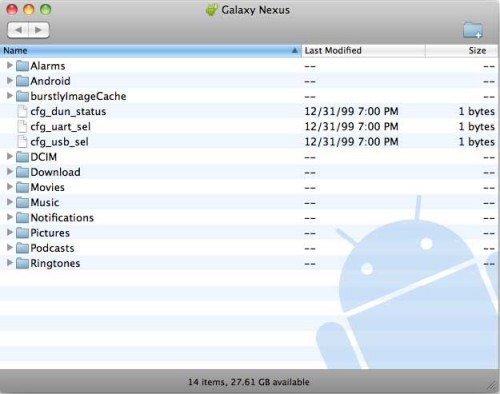 In order to transfer files to and from the Nexus with my iMac, I had to install a special file manager app. Bleh! After a bit of research, I came to learn that it's not exactly Android 4.0's fault. Other 4.0 devices will support USB mass storage. The reason that the Galaxy Nexus does not support USB mass storage is because it does not include a microSD slot. As long as an Android 4.0 device has a removable flash card, it will support USB mass storage.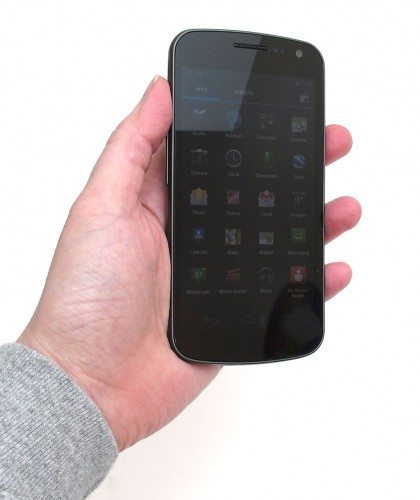 In hand, the Galaxy Nexus is comfortable to hold due to the rounded sides. Although the phone is light weight, it is solid and easily passes my patent pending gadgeteer squeeze test with no flexing, creaking or cracking. It's a big phone though, so it's not really pocket friendly.
Performance wise, this phone is very snappy. That shouldn't come as a surprise since one of the best things about the Nexus is that it hasn't been "polluted" with a lot of carrier bloatware and interface special sauce like HTC's Sense and Motorola Blur.
Let's take a look at a few of the new features that Android 4.0 offers.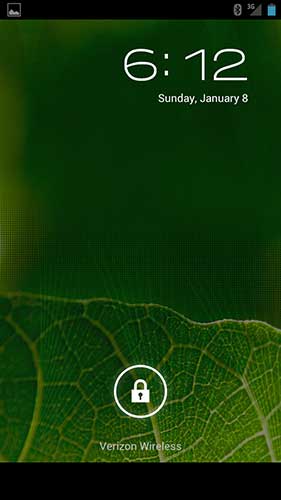 The default lock screen isn't too different, but you do have the option to use the front facing camera and your own face to unlock the phone. It's kind of fun to play with and worked well for me. It falls back to a pattern matching unlock screen if the stored face isn't recognized.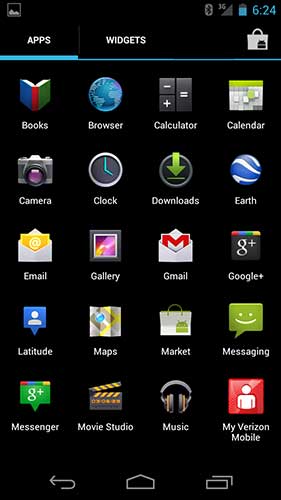 The app view scrolls left to right instead of up and down. In the image above you can see all the stock apps.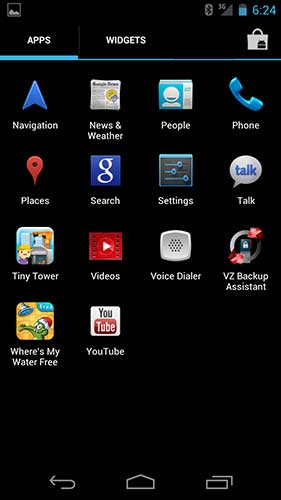 Here is the 2nd page of apps minus the Tiny Tower and Where's My Water games that I installed. There are only two apps that have been added by Verizon and if you don't want to see them you can actually disable them. Disabling does NOT uninstall them though, it just removes them from the app view. But, I was happy to see that Android 4.0 offers easier app removal now. Instead of having to go into the settings/applications area to uninstall an app, you can just tap and hold the icon for the uninstall option.
Also added to the app view are your available widgets. You can scroll through them just like you can your apps.
There is also a button in the top right corner for quick access to the App Market.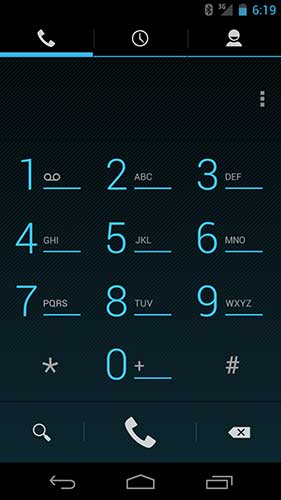 Here we see the dialer interface.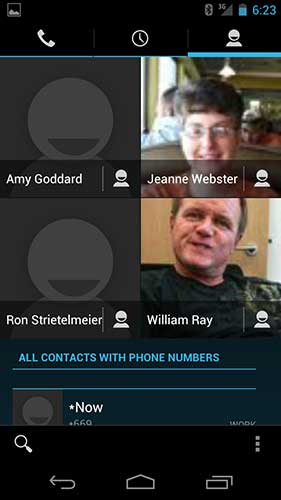 Your favorites dialing screen reminds me of the Windows 7 phone interface.
I didn't have any issues using the Galaxy Nexus to make and receive calls. I've read that it can have problems with 3G connectivity, but I didn't find that to be the case during the time I've been using the phone. In my area, 3G coverage is very good, so I rarely experience problems with dropped calls and the Nexus was no different in that regard. Call audio was clear and volume was very good even when I made calls from my basement with only 1 bar signal strength.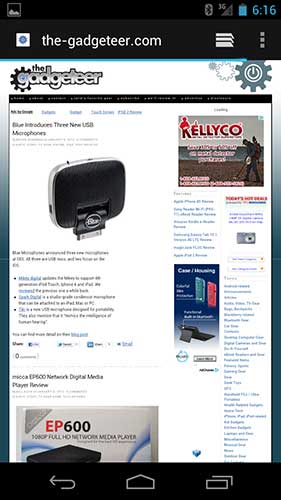 Browsing the web on the Nexus is a joy. My iPhone feels pretty cramped after using the Nexus! The browser feels pretty snappy too… even under 3G.
Another cool feature that I haven't been able to test because I don't know anyone else with a Nexus is the new Beam feature.  It will let you easily share contacts, websites, apps, maps, directions and YouTube videos with other people close by. The phone has NFC (near field communication) and when held near another NFC enabled Android 4.0 phone you can touch to beam and share. It kind of reminds me of the good old days when you could beam contacts and even apps back and forth to Palm OS devices.
All in all, I like the Samsung Galaxy Nexus quite a bit. If I were in the market for an Android phone right now, it would be the one I would probably buy even though it lacks a microSD card and I would have to deal with the annoying lack of the USB mass storage feature. Except for those 2 things, I love the huge display, snappy performance and quick camera. It's definitely the phone to have right now due to the latest version of the OS and pure Android goodness.
Product Information
Price:
$299.99 with 2yr contract, $649.99 without contract
Manufacturer:
Samsung
Retailer:
Verizon Wireless
Pros:
Cons:

Does not support USB mass storage mode
Macs require a file manager app to browse files via USB
No microSD card