We use affiliate links. If you buy something through the links on this page, we may earn a commission at no cost to you. Learn more.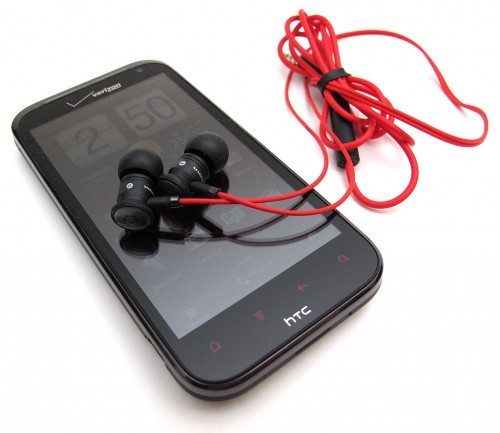 When it comes to Android powered smartphones, it seems like there is a new phone released every month or so. At this point, there isn't a lot that can be added to a smartphone to make it different than every other smartphone on the market. There are only so many cores you can add to the processor to make it faster, so much memory you can add for apps, and so many megapixels you can add for better pictures. The HTC Rezound from Verizon Wireless finds another way to stand out by offering a better audio experience with their Beats Audio technology and included Monster Beats Audio headphones. Let's see if it improves your music listening experience while still performing well as a phone.
Note: Click the images in this review to see a larger view.
Hardware Specs
Operating System: Android Gingerbread + HTC Sense
Processor: Qualcomm® MSM8660 1.5 GHz, Qualcomm MDM9600
Internal memory: 16 GB onboard memory, 1 GB DDR2 RAM
Network: LTE 700MHz (band 13); CDMA 800/1900MHz
Display: 4.3″ super LCD screen, 1280 x 720, HD 720p
Memory card: 16 GB microSD™ pre-installed
Camera: 8 MP with auto focus, f/2.2, 28mm wide-angle lens, 2 x LED flash; 2 MP front-facing camera, 1080p video recorder
Bluetooth v3.0
Battery: Rechargeable lithium–ion battery 1620 mAh Usage: 404 minutes (typical), Standby: 261 hours (typical)
Dimensions: 5.08" x 2.58" x .54"
Weight: 6oz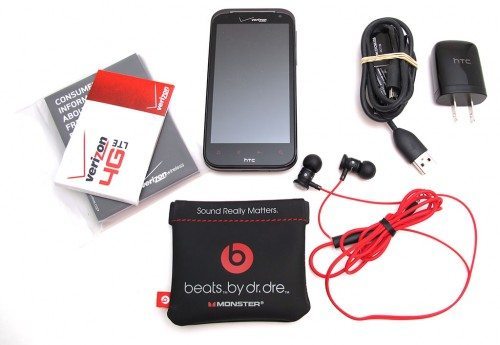 Package Contents
HTC Rezound smartphone
Monster Beats Audio headphones with 5 different sized ear tips
Headphones pouch
AC adapter with USB micro cable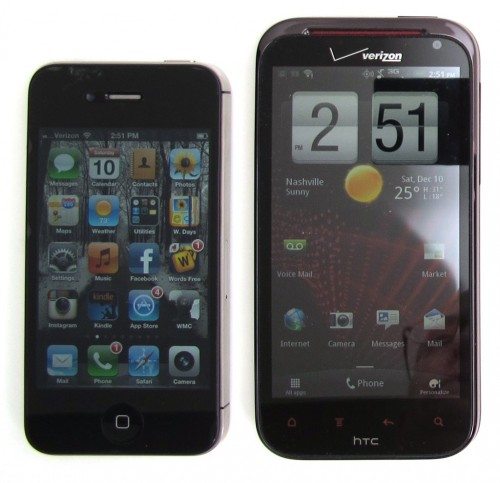 Let me start out by comparing the HTC Rezound to an iPhone 4S so you can get an idea of how large it is. This phone is a handful, but it's not uncomfortable to hold or use as a phone. It's about the same size as my original Motorola Droid X, so it's not crazy huge… The back is nicely rounded, so it feels good in your hand.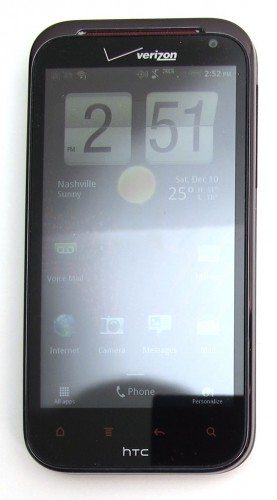 The Rezound has a large 4.3 inch capacitive display with no physical buttons on the face of the device. At the top there is a status LED and the front facing 2MP camera.
The display is gorgeous without looking cartoony like Samsung phones. With 1280 x 720 pixels, this is the first 720p phone.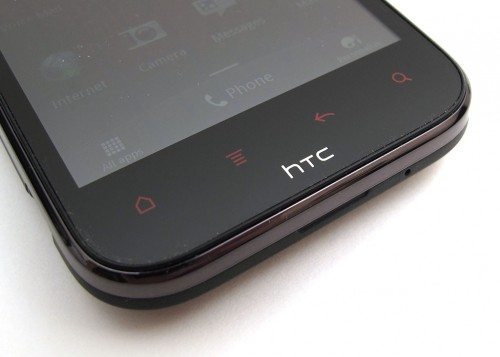 Below the display are 4 touch sensitive buttons for Home, Menu, Back and Search. These touch buttons have a red backlight when you're in a dim area, and they have haptic feedback, which will cause the device to vibrate when touched. This is a setting that can be turned off if desired. I always turn off the haptic feedback on my devices because I fear that it negatively affects battery life. I'm not sure how much it really does though…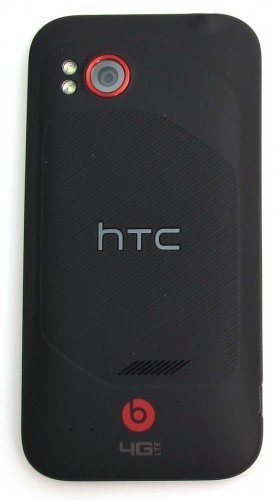 The back of the phone has the 8MP camera lens and dual LED flash.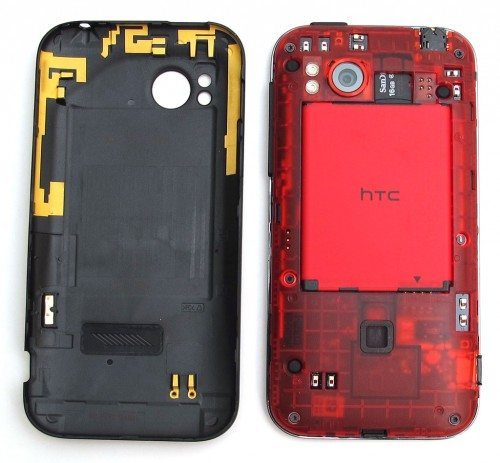 The soft touch plastic cover is easily removed to access the battery compartment and 16GB microSD card which is included with the phone.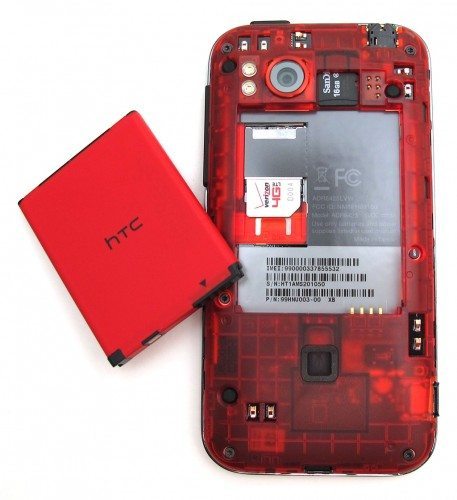 Removing the 1620 mAh battery reveals the 4G LTE SIM card. Since 4G has not yet made it to bustling metropolis of Columbus, Indiana, I have not been able to test 4G performance with this phone. Of course, it works just fine on 3G too.

The left side has the charge port which looks like a proprietary connector, but it's really an ordinary micro USB connector.

The opposite side has a volume rocker switch. This switch is narrow and flush with the casing and has very little tactile feedback.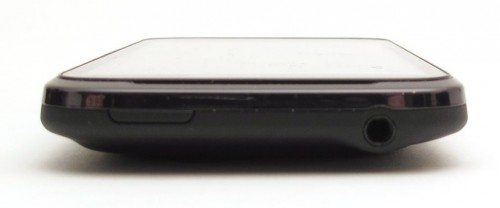 The same goes for the power switch on the top of the phone. 50% of the time I have to press this button 2 times for it to turn the device on or off because I either pressed in the wrong area or not hard enough. Grrr…
I love the large bright crystal clear display on this phone, but the rest of the physical design is nothing special in my opinion. It doesn't look much different than other Android smartphones currently available. Black shiny plastic. Yay… But it feels solid and doesn't have any issues with flexing or cracking when I try to crush it in my super human gadgeteer grip of steel, otherwise known as the gadgeteer squeeze test.
Camera
If you read The Gadgeteer, you will know that I'm a big fan of the iPhone's camera. It's one of the biggest reasons why I switched back to the iPhone from the Droid X months ago. Well guess what? I am really impressed by the HTC Rezound's camera!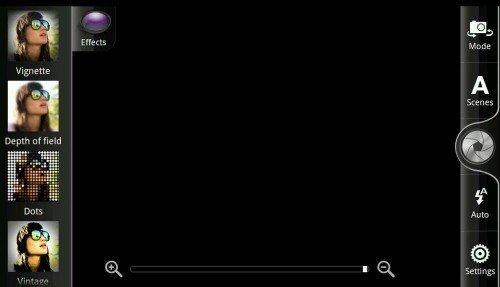 The camera app has a lot of features including a collection of effects that are applied in real time so that you can see what you're going to get before you snap the picture. Unfortunately the screen capture feature doesn't show this.
Here are a few sample images:
The camera actually captures better macro shots than the iPhone and can focus at a slightly closer distance. Dim shots do seem to have a bit of a yellow cast though. But all in all, this phone has a really nice 8MP camera.
Music
The main selling point for the Rezound is the special Beats Audio technology that enhances audio through the included Monster Beats earbuds.
If you use the included Monster Beats earbuds, you will a notice significant boost in bass and over-all fullness of the sound. If you're not a big fan of in-ear type earbuds (like me), you'll be happy to know that using your favorite buds will also sound great.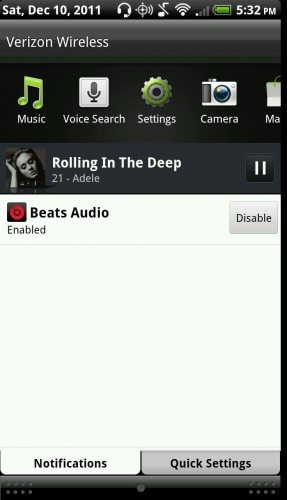 I listened to the same song on a Motorola Droid X and the HTC Rezound with stock Apple earbuds (don't kill me…) and the Monster Beats earbuds. The Rezound with the Monster Beats earbuds sounded great and very good with the Apple earbuds, too. The Droid X sounded anemic in comparison, even with the Monster Beats earbuds. Whatever special sauce has been added with the Beats Technology, is a great improvement.
Included Software and other HTC Sense Interface Goodies
The Rezound includes HTC's ever popular Sense UI enhancements.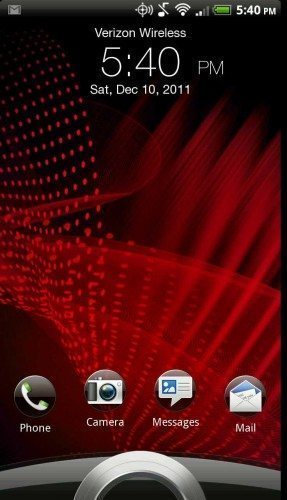 Some of the extras includes cool lock screen styles. The default is shown above. To unlock, you just push the ring at the bottom of the display upwards. But, if you want to unlock the phone and go right into your favorite app, you can drag the icon into the ring. Nifty.
The notification screen has a horizontal scrolling bar with apps recently opened so that you can access them easily. There's also a quick-settings tab that can be accessed from this screen too, which is a nice touch.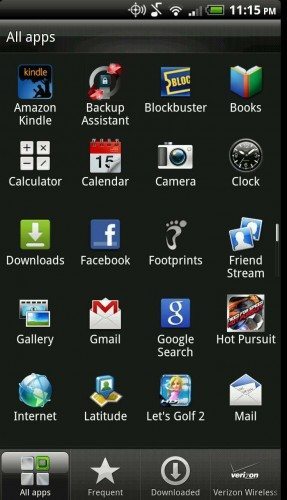 The app view has some nice touches as well. There are buttons at the bottom to access frequent apps, your downloaded apps, and Verizon's own apps.
The animated weather app, which is powered by Accuweather.com, has a nice helping of eye candy.
Also included are a handy task manager task killer, Footprints, Hot Pursuit racing game (demo), Let's Golf 2 golf game (demo), Polaris Office (Microsoft Excel and Word document editor), Scan barcode scanner / price checker app, and Slacker Radio music streaming app.
But can it make phone calls?
Do people still use their smartphones to call people these days? 😉 If you prefer talking over texting, the Rezound has no problems making and receiving calls… at least on the 3G network which I tested.
One cool feature that I like is that you can use the number pad to either enter part of a phone number or use it to spell the first or last name of someone you want to call. As you type on the number pad, your list of contacts will filter based on matches.
Of the handful of calls that I placed, they sounded clear on both sides of the connection and I had no problems with reception or dropped calls and was very happy with the audio quality / volume.
Battery Life
Since I'm not in an area with 4G reception of any kind, my experiences with battery life probably aren't very useful. All I can say is that with normal use of a few calls, some video recording, text messages, some game play, music listening through headphones and surfing, I'm getting 1-2 days between charges. It doesn't seem better or worse than what I remembered of my Droid X. Charging often is just a tradeoff that we have to deal with when we use smartphones.
Conclusion
I didn't think I'd care all that much about the HTC Rezound, but I am surprised at just how much I like it and wish I didn't have to return it to my Verizon rep. My two favorite things about it are the display and the camera. Better audio through headphones is a plus too. If I were looking to switch back to Android from my iPhone, I would definitely consider this phone. Go check it out at your local Verzion store and let me know what you think of it.
Product Information
Price:
$299.99 with 2yr contract, $649.99 without contract
Manufacturer:
HTC
Retailer:
Verizon Wireless
Pros:

Great 4.3in display
Snappy performance
Enhanced audio
High quality earbuds
Excellent camera

Cons:

Volume and power buttons are small and hard to press