We use affiliate links. If you buy something through the links on this page, we may earn a commission at no cost to you. Learn more.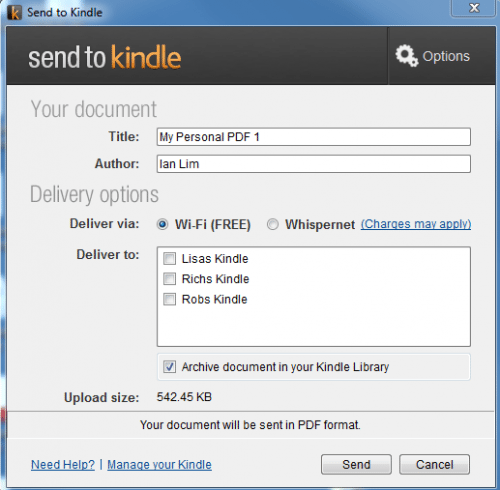 Send a lot of personal documents to your Kindle but sick of mucking around with emails to get them there?  Amazon has just released the free Send to Kindle for PC  application. Using Windows Explorer, right click on any supported file format (.doc, .docx, .txt, .rtf,.jpeg, .jpg, .gif, .png, .gmp, .pdf) , and Send to Kindle will send your document to your Kindle Personal Documents ready to be downloaded to your Kindle device and supported Kindle reading application. You can also "Send to Kindle" from any Microsoft application that can Print and documents will be delivered in PDF format.
The application gives you the option to send to select Kindles if you've set your account up that way; however, it appears that there's no convert option.  Be warned though, if you download this document to your Kindle using 3G (if you have the option), standard Whispernet charges will apply.
Available soon for Mac as well.