We use affiliate links. If you buy something through the links on this page, we may earn a commission at no cost to you. Learn more.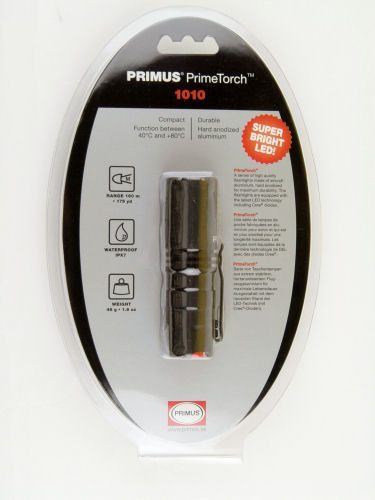 One thing you can never be without is a good flashlight, especially one that has a bright brilliant light. But for me a flashlight is just a flashlight. That is unless it has something about it that gives it a unique characteristic. And the PrimeTorch 1010 by Primus is one such flashlight.
One thing I really liked about this flashlight is its small size. I have other pocket-sized flashlights but none with the output that the PrimeTorch has. This little sucker has a strong output thanks to the Cree Q4 LED diode that emits 130 Lumens.  Keep in mind that Lumen is a measurement of light output while wattage is a measurement of power output. It is hard to compare Lumens to Wattage so it is hard for me to compare and contrast the two but I would say that the PrimeTorch's light is just as bright as a medium sized Mag light. The light from the PrimeTorch is definitely blinding. I made the mistake of looking at the reflected light on my desk  and I can tell you that when I jerked my head away all I could see was a bright white light in my vision for a long while.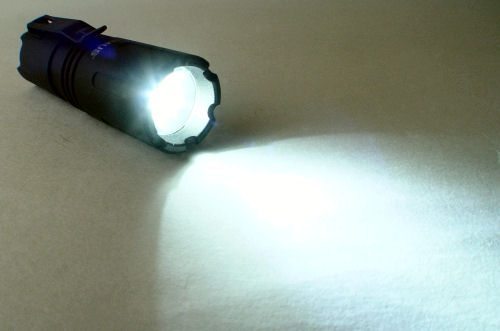 The PrimeTorch is made from an aluminum material. It has a metal clip on its body and has a dimension of 1 in. x 3.3 in. and is powered by one(1) Lithium CR-123 battery allowing it to have a 3 hour burn time.  It has a weight of  1.6 ounces.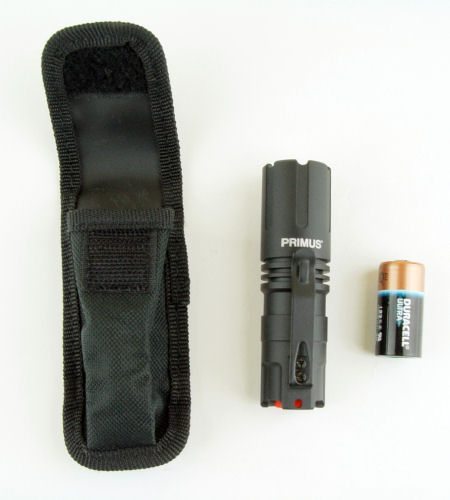 The Lithium battery, not unlike a camera battery, is supplied along with a case with a belt loop.
According to the Primus website, the PrimeTorch "has  a "tactical switch", which means that it is perfect for signaling with and can also easily be switched on and off".  I'm not really sure if I quite understand what this is. However, I think it's just a marketing term for "power button."
In the back of the PrimeTorch is where this "tactical switch" is placed much like any flashlight this size. It has a normal tailcap click switch which has what I call a "half-way" button". It is  kind of like pushing the shutter button on a camera half way down so it can get a focus on the subject.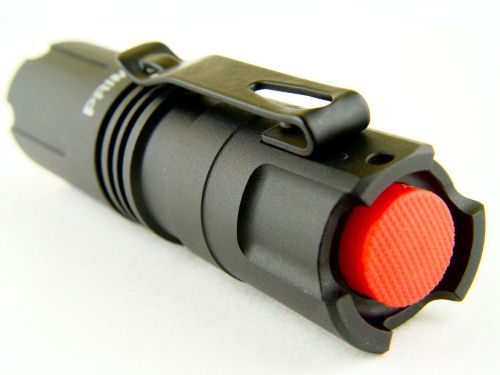 Pressing the red button on the back halfway down turns it on but turns off the moment you let it go. It is handy when you just have to shine the light for a  brief second and not have to bother with constantly clicking the button on and off.
A great thing about this little flashlight is that it is waterproof.  That's a plus in my book of flashlights. It's perfect for having when you're camping or fishing or any outdoor activity where the flashlight may get wet. Several times, I've found myself using a flashlight at night when it was raining so one never knows when they will need a waterproof flashlight.
As bright as this flashlight is, I would have like to have seen a second output for a lower Lumen like the Modus 2 from Icon. I like the option of having a low and high output for specific situations. You can check out my review on the Modus 2 to see a flashlight with  dual output .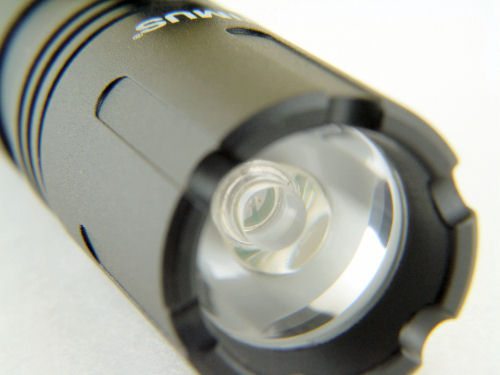 As many times as I use a flashlight and how long I keep it running, not to mention the cost of the Lithium batteries, a supplied rechargeable battery would have been nice to have with this flashlight. I have seen some really nice Cree flashlights that come with rechargeable batteries and you can just plug the charger right to the side of the flashlight.  Now that's convenience and easy on the wallet.
All in all, this is a compact and durable flashlight. It is waterproof and comes with a clip to attach to your belt, pocket or anywhere that it can clip on to. And thanks to the Cree Q4 diode technology this flashlight is super bright.
Update 02/19/15
I love the Prime Torch because of its small size and portability. It's small in size but has the perfect light output that I need. I throw this flashlight in my Serbag messenger bag as part of my standard gear. It's part of my essentials when I go on a photo shoot at a music show/concert or backstage at a club. It's nice to have the light for myself or if I have to lend a little light to a band member or sound guy when they are setting up. Although, the Prime Torch uses the infamous CR123 lithium photo batteries, that isn't a problem for me anymore since my local dollar store started carrying the battery. Needless to say, I bought a whole bunch of batteries for myself so I should plenty of batteries for awhile.
Source: The sample for this review was provided by Primus. Please visit their site for more info.
Product Information
Price:
$66.00
Manufacturer:
Primus
Pros:

Strong aluminum body casing.
Super bright Cree LED light.
Waterproof.
Metal clip.

Cons:

No dual output.
No rechargeable batteries.