We use affiliate links. If you buy something through the links on this page, we may earn a commission at no cost to you. Learn more.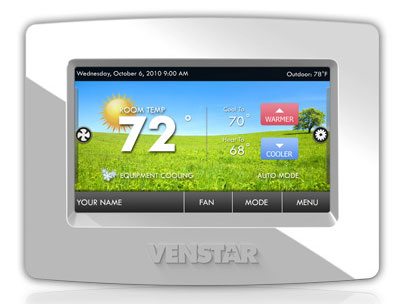 The Venstar ColorTouch Thermostat (model T5800) is a replacement for your current heating and air conditioner controller for your gas, electric or heat pump system. It adds a great set of features that will help you save money on your energy bills while also giving you more control than your current "dumb" thermostat.

Note: Images can be clicked to view a larger size.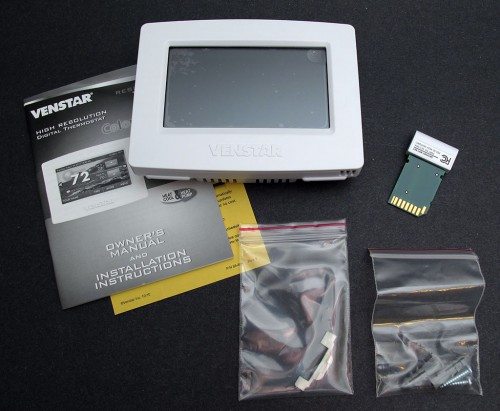 The ColorTouch Thermostat is typically sold by HVAC dealers, but you can also find them online if you're a do it yourself type of person. I swamped out my old style round mercury switch thermostat a couple years ago, for a digital / programmable unit. It was a relatively simple project, so I didn't have any anxiety when Venstar asked if I would like to review the ColorTouch.
Package Contents
ColorTouch Thermostat
Mounting screws
Installation and operation manual
Optional WiFi module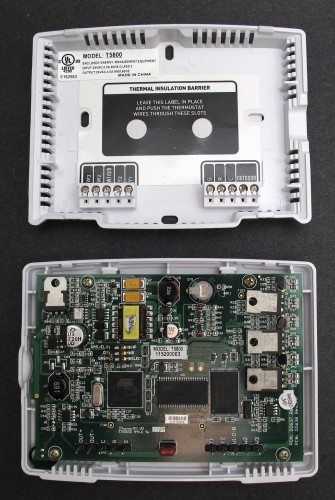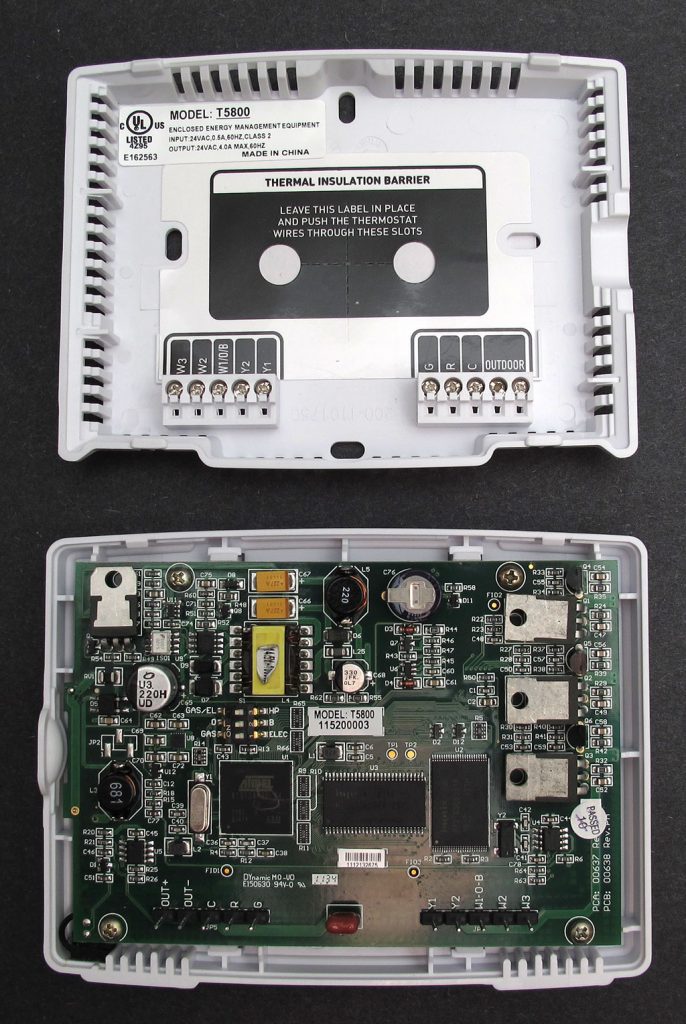 Installation should be a simple matter of removing your existing thermostat, mounting the ColorTouch backplate on the wall with the existing wires poking through the provided holes. The included instructions are simple and easy to understand, they explain how connect the wires to the appropriate terminals on the backplate. Then all that's left is to snap the LCD on top. Done.
My experience with the installation turned out to be a little more complex than I had anticipated due to the fact that my existing system lacked an important wire needed for the ColorTouch Thermostat to operate correctly. I thought I was going to be out of luck and not able to test / review this product, but a quick call to Venstart's tech support had me up and working in no time. Venstar's tech support is great. Mike was patient, answered all my questions and told me step by step what to do. I even had to do a little wiring at the furnace itself, but Mike made it easy.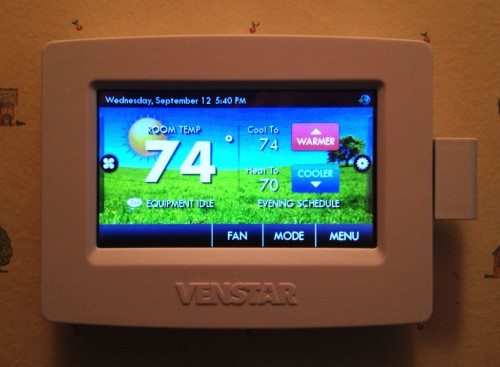 After connecting all the wires, flipping the power back on, the ColorTouch boots up to a colorful touch screen interface which you see here. The next step is to configure the thermostat. This is done by downloading and installing the ColorTouch Assistant application for your PC or Mac.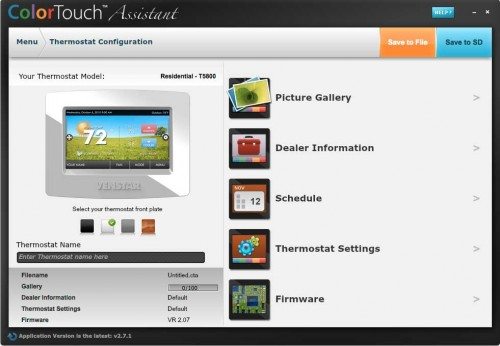 With the ColorTouch Assistant, you can customize the thermostat's heating and cooling schedule. You can  upload up to 100 images for the touch display's wallpaper, or to be used as a screensaver slideshow. If you don't want to upload your own images, you can choose from a selection of themes that even include holiday images. Other customizable settings include the ability to set the night time display dimming schedule, notification alerts and more. After you've set everything up, you can save the information to an SD card. That SD card then plugs into the slot on the right side of the thermostat to load the settings.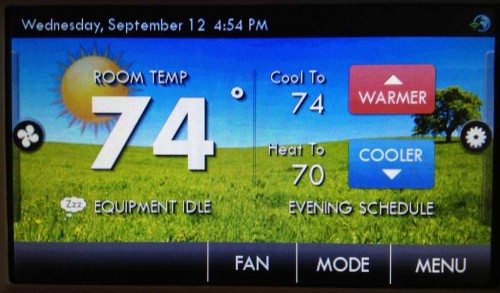 You can also make changes on the thermostat itself. The touch screen interface is easy to navigate with decent sized buttons. The main screen displays the current room temperature and the current schedule's heating/cooling set temps. If you happen to also have an outdoors sensor, you can have that temperature displayed on this screen too.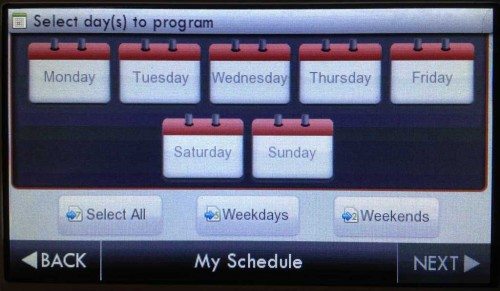 I like that you can customize the schedules by individual day, weekdays and weekends.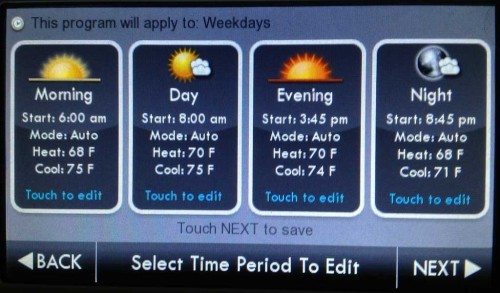 Each day has 4 separate programs. Morning, Day, Evening and Night. For each program, you are able to set the mode (heat or cool) and the temperature set points for each.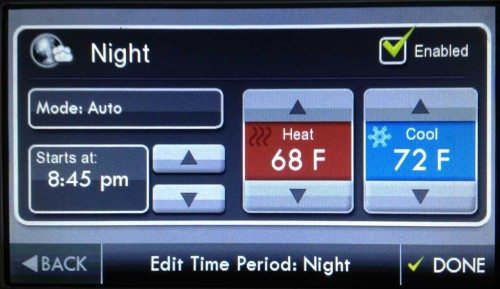 You also set the time each program starts. For example, my night schedule starts at 8:45pm, where I cool the house down to 72 degrees.
There's also a vacation schedule that you can toggle with its own program. This is handy for keeping the house at a warmer or cooler than normal temp when you're not going to be there for an extended period of time.
I love the ability to set up these programs. I do wish that there was an additional schedule set that could be toggled. I think there needs to be a Summer set, a Winter set and a Vacation set. As is, I'll need to go in and reprogram the settings when the weather starts turning cooler.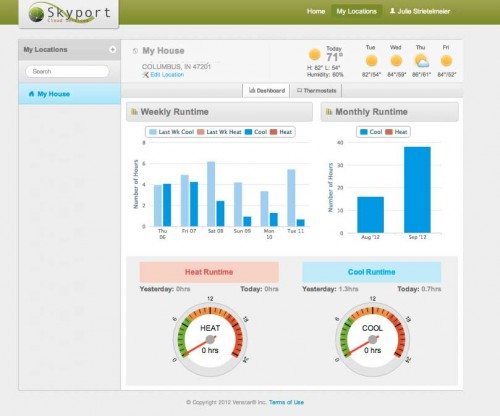 If you're wanting to control the thermostat with your smartphone or the web, you will need to purchase the optional wifi module. This is a small module that plugs into the SD card slot on the right side of the thermostat. Once installed, you'll be able to login to a dashboard with any web browser to view the current temperature in your house, a graph of heating and cooling hours for the current and past month, as well as toggle into vacation mode.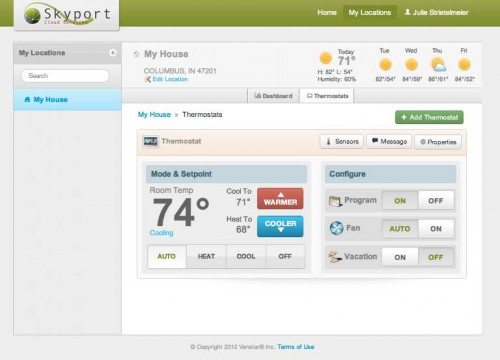 You can also adjust the temperature by clicking the warmer and cooler buttons.
If you have an iOS or Android device, you can install the free Venstar app and control your thermostat that way as well.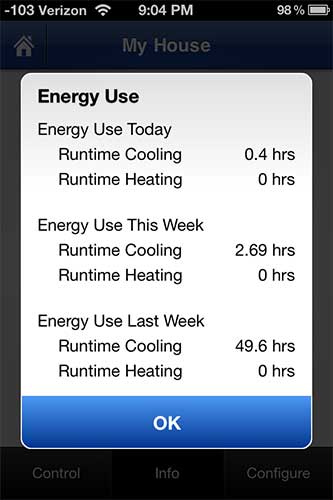 It's very cool to be able to kick on the air conditioner from your phone. The other day, Jeanne and I were sitting on the couch surfing the web with our respective laptops, and she mentioned that it felt warm. So I whipped out my phone, pressed the cooler button and the AC automatically started running instantly. I said "there you go!", with an air of superiority. Jeanne just rolled her eyes. She just doesn't get it. I thought it was pretty impressive that I didn't have to get up off the couch to walk down the hall to make the adjustment. Hmmm, maybe that just means I'm lazy… 😉
The only thing missing from the web and mobile apps is a way to adjust the programs. Right now you have to do that either through the ColorTouch Assistant PC/Mac app, or through the thermostat itself. The folks at Venstar assure me that this feature is coming, but haven't given any idea how soon. Since most people don't need to change programs that often, it's not a big deal. But I will be glad to see that feature added.
This thermostat also offers a few alert notifications since as filter change and service reminders, high and low temp notifications and even the ability to send a text message to the thermostat so that you could use it as a sort of note board.
I am really enjoying using the Venstar ColorTouch Thermostat. Having the ability to set heating and cooling programs based on day and time allows me to save money on energy. Being able to see how many hours the AC or heat provides some insight on my energy bill. And being able to kick on the heat or AC from the comfort of the couch is just plain cool.
Updates 07/25/16
I've been using this thermostat for almost six years since I posted the review. I had not had any trouble with it but there was one thing always bugged me. They never added the ability to change the heating / cooling schedule through the mobile app. I always had to make any changes through the thermostat itself. Just a few days ago I removed this thermostat and installed a Nest Learning Thermostat which I'm currently reviewing. After just a couple of days, I already know that I won't be going back to the Venstar.
Source: The sample for this review was provided by Venstar. Please visit their site for more info and Amazon to check prices / order.