The Gadgeteer is supported by readers like you! If you buy something through links on our site, we may earn an affiliate commission at no cost to you. Thank you! Learn more.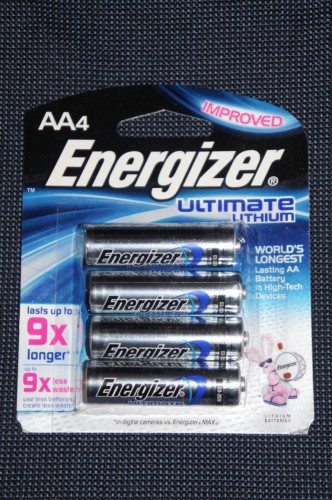 As a gadget lover, we all know that most of our gadgets require batteries.  The problem is that most of the batteries out there doesn't last as long as you wanted.  That's why Energizer has created the Ultimate Lithium Batteries in AA & AAA.  Do they last longer than other batteries?The packaging on these batteries is similar to any other battery packaging you've seen.  Energizer says these batteries are the "World's Longest Lasting AA Battery in High-Tech Devices".  They also say that it lasts 9 times longer in digital cameras versus Energizer Max.
These Energizer batteries are made out of lithium.  And the fine print on these batteries show something different from the other batteries that I have.  These Energizer Ultimate Lithium Batteries are Made in USA.  Most of the batteries that I have are either Made in Japan or Germany.  So it's nice knowing these "bunnies" are born in America. Energizer states that these batteries are "33% lighter than ordinary alkaline batteries".  I don't have a scale to test their claim, but they do feel lighter when compared with the batteries that I own.  These batteries also have a shelf life of 15 years – which I'll take their word for it.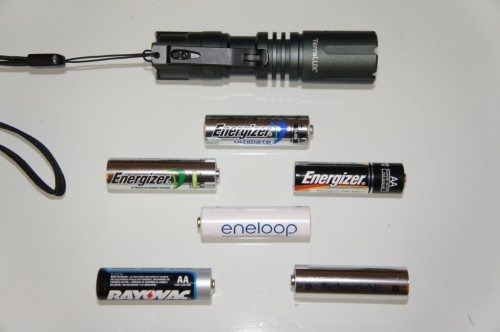 So how does the Energizer Ultimate Lithium Batteries stand up against the other competitors?  I tested it against 3 different rechargeable batteries and 2 different standard batteries.  I used 2 of each type and did a battery drain test on a TerraLUX Lightstar 100 flashlight which takes one AA battery.  The LED flashlight is set to high at 100 lumens and left on until completely turned off.  Manufacturer's approximate run time on high is listed as 2 hours.
| | | |
| --- | --- | --- |
| Energizer Ultimate Lithium | 6 hr 5 min | 6 hr 27 min |
| Energizer Rechargeable Ni-MH 2300 mAH | 3 hr 44 min | 3 hr 32 min |
| Sanyo Eneloop Rechargeable Ni-MH 2000 mAH | 2 hr 43 min | 2 hr 41 min |
| Energizer Alkaline Battery | 3 hr 52 min | 4 hr 10 min |
| Rayovac Alkaline Battery 3 hr 24 min | 3 hr 24 min | 3 hr 5 min |
From the battery drain test, these new Energizer Ultimate Lithium batteries definitely last considerably longer than the others.  I understand that I didn't test it against other lithium batteries.  But I will definitely choose the Energizer Ultimate Lithium batteries for my next battery purchase.  MSRP for a 4-pack AA Energizer Ultimate Lithium is $9.99.
Product Information
Price:
$9.99
Manufacturer:
Energizer
Pros:

Long lasting
15 year storage life
Lightweight

Cons: