We use affiliate links. If you buy something through the links on this page, we may earn a commission at no cost to you. Learn more.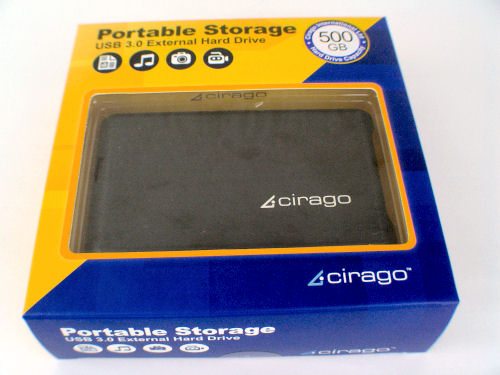 If you have a need to move files around from computer to computer or just need an external storage drive for your numerous  files then you know having an external drive is a must. And having an external hard drive that is durable, slim, fast and portable isn't so bad either. Introducing Cirago's USB 3.0 500 GB external hard drive, the CST6000.
This hard drive is a nice sleek, durable portable storage drive. Thanks to the aluminum housing, this hard drive can withstand heat better than the plastic ones. However, I did not encounter any overheating while using this hard drive. But it's a nice feature too have if it ever does get to the point of overheating. It has an Active LED Power Indicator and supports PC, MAC, and Linux operating systems.
This hard drive measures 3.25″ x 5.3″ x 0.5″ so it's a nice size to tuck away in your purse, laptop bag or backpack without causing any bulk. It is nice and slim also. This is nice compared to other portable externals I have which are almost 2″ thick.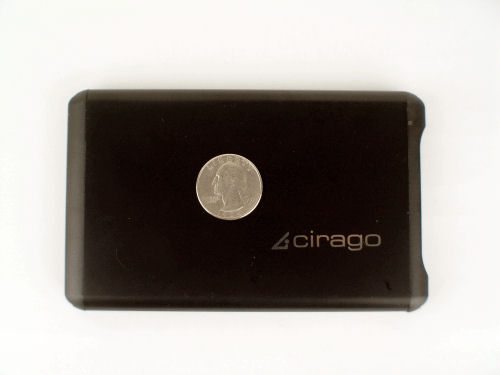 This hard drive is excellent for holding all kinds of data such as pictures, videos, music, and documents. I have many video files stored on mine and playback seems to run smoothly.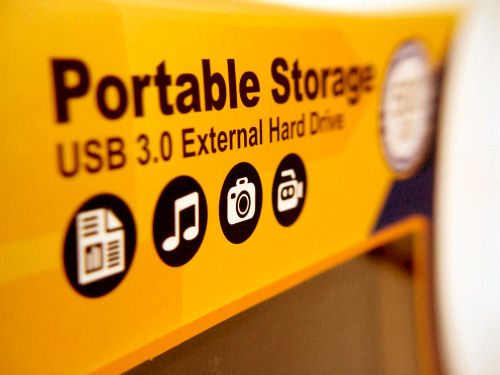 A nice feature the Cirago has is that it is backwards compatible with 2.0 and 1.1 USB. It is comforting to know that you can back up files from an older computer or laptop to this hard drive. The company claims that it has a high performance transfer speed of up to 5GB. I don't have a 3.0 USB port so I didn't have a chance to try out the 5GB speed. However, with just a normal 2.0 USB it seemed pretty snappy.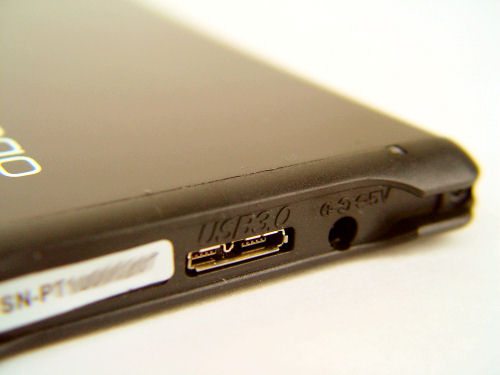 The hard drive supports Windows 7, Vista and XP. Naturally, the hard drive is plug and play so there is no need for an installation CD. The system requirements are 500 MHZ or higher, 128 MB of Ram or higher, and a USB port.
It comes with a blue USB 3.0 cable, an auxiliary USB power cable, and a soft black carrying pouch.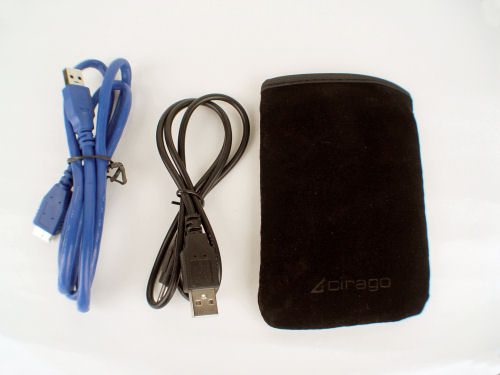 The USB power cable is there in case your computer's USB port can't provide enough power to support the Cirago hard drive. Just plug it in for added power. However, just be sure you have an extra open USB port if you should need that extra power.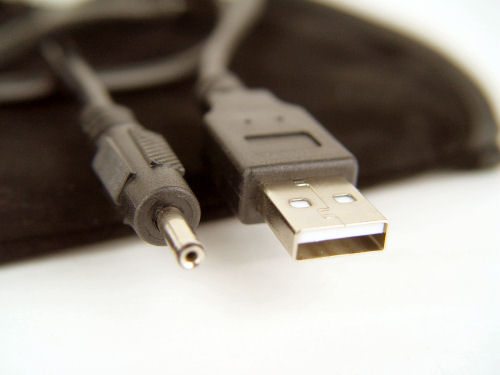 This hard drive is also available in other capacities: 250 GB, 320 GB, and 640 GB. So if you are looking to expand your storage then this light-weight and portable hard drive is a perfect addition.
The CST6000 goes for $89.99. The other models range from $69.99 to $99.00.
Product Information
Price:
$89.99
Manufacturer:
Cirago
Pros:

Aluminum housing
Fast data transfer
Portable and light-weight
Comes with carrying pouch

Cons:

Black only color.
Could come in different colors.