We use affiliate links. If you buy something through the links on this page, we may earn a commission at no cost to you. Learn more.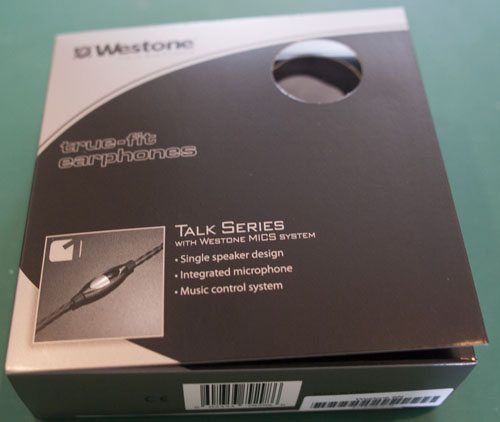 Earphone Solutions recently provided a pair Westone Westone TS-1 earphones for review here on the Gadgeteer. Bill Henderson did an excellent review on the Westone 4 headphones, and I looked forward to giving these a spin. The TS-1 has a single driver, rather than the quad-drive of the Westone 4, but it adds a microphone so that you can use these with your phone to take calls. The headphones are in-the-ear style and sport a standard 3.5 mm plug. One wrinkle is that there are currently issues with an echo effect when using these with the iPhone 4/4s. This issue does not present itself on other phones, and since I don't have an iPhone, this was not an issue for me.
This would be my first exposure to a balanced armature earphone, and my first time using an earphone that either was not included with a device I bought, or one of the cheaper ones available. Would I notice a difference?
What's in the Box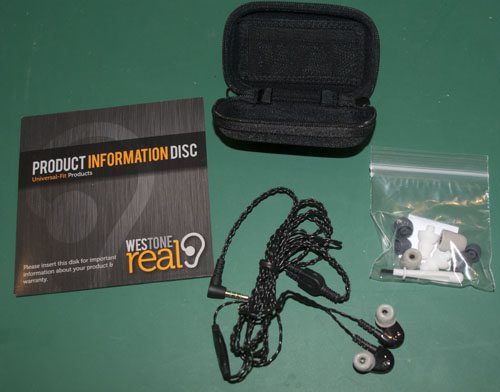 The TS-1 comes with the earphones, 5 different eartips, a cleaning tool, CD, and a zipper case. Right from the start these are noticeably different from the headphones I am accustomed to. The cable is a braided cable, and the eartips have some options I had not seen in other earphones.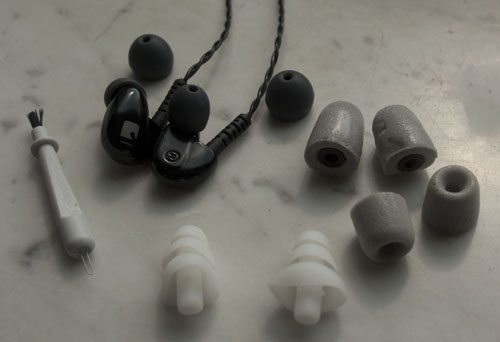 There are three different styles of eartips. There is a foam style that I am familiar with from visiting plants that require sound protection. You roll these between your fingers, then insert in your ear, and they expand for a custom fit. These provide an excellent seal for noise isolation. This style is provided in two sizes and are the grey ones to the right in the pictures. The smaller size was pre-installed on the earphones.
Next up are one pair of white eartips that have a triple flange. I am also familiar with this style of ear plug for noise safety. The triple-flange helps them be close to one size fits all (at 6′ 3″ I am not a believer in one-size-fits-all). The final style are simple domes that come in two sizes. I found this style to be preferable, but it likely provides less noise isolation than the others.
The headphones also have a button that can be used to answer an incoming call or to pause the music playing. It also serves as an aid for getting the right earphone in the right ear.
Specifications
Sensitivity: 114 dB SPL @1Mw
Frequency response: 20 Hz-16 kHz
Impedance: 25 ohms @1kHz
Driver: Balanced armature, full range
Cable: EPIC MICS cable
The specs are similar to the Westone 1 earphones with the single driver. The clarity of the earphones was impressive for someone who has never paid over $20 for headphones. I was unfamiliar with what a Balanced Armature was, so I went to Wikipedia. This style is known for efficiency. I can see that. I found the range acceptable for my use, which is playing music on my phone, and talking on the phone.
Performance
Overall, I was very impressed with the sound quality. Comparing these to a number of earphones I have collected over the years, I can easily hear the difference. I also compared the sound quality of the microphone by leaving messages on my answering machine with multiple headsets, and the TS-1 performed quite well.  The sound is a little light on the bass, though getting a good seal on the earphones helps. The low-end was right in line with what I would expect from earphones, but I am intrigued by Bill's experience with the Westone 4.
I have not had an opportunity to use a multiple-driver balanced armature earphone, but for the use I would put these earphones to I am very satisfied.
I also really like the design. They are easy to put on, and the braided cable creates a very flexible connection to my phone. The carrying case is a nice addition. It is a great place to store your earphones, and it's an aid in digging them out of my laptop case.
I would wholeheartedly recommend this, but they are definitely a splurge item at that price point.
Product Information
Price:
$129.00
Manufacturer:
Westone
Retailer:
Earphone Solutions
Pros:

Excellent sound quality
Multiple eartip options

Cons: