We use affiliate links. If you buy something through the links on this page, we may earn a commission at no cost to you. Learn more.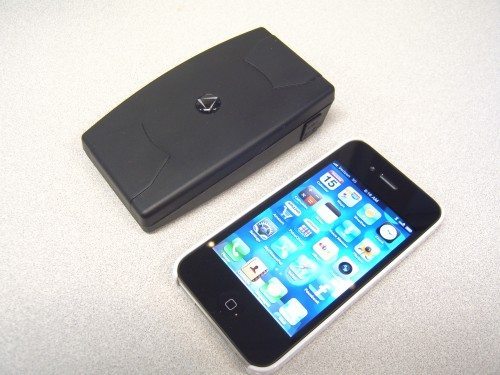 I've been playing with several different kinds of GPS tracking devices for a while, including the nu.m8 GPS Child Locator Watch. The nu.m8 GPS tracking system used a GPS receiver to determine location, and would "report" it's location when "pinged" via SMS or computer to give the latest position.  So for the most part, it wouldn't give a "James Bond/secret agent" style blinking dot on a map, moving in real-time like you'd see in the movies.  However, when I was told the SilverCloud Real-Time GPS Tracking System from LandAirSea gave updates every 3 seconds, I got excited.
Types of GPS tracking
Today, there are three main kinds of GPS tracking gizmos available to consumers.  I'll try to sum them up:
"Passive/track now, report later":  This kind of device quietly records GPS position and must be plugged into something like a computer to retrieve data at a later time.
"Ping to get position":  A GPS receiver determines position, and a remote user sends a request for position via the cellular network (SMS, for example).  You get a single "breadcrumb" showing the tracked device at the last recorded moment.
"Real-Time":  Same as above, but an on-board cellular device is in constant communication to the service provider to relay real-time position to the user.
As you can imagine, real-time GPS tracking is more complicated and consumes more resources, such as power and data.  So how does the LandAirSea SilverCloud Real-Time GPS achieve this?
Out of the box, I got the GPS unit, a USB charger and cable, 12V vehicle charger and cable, and a magnetic attachment base.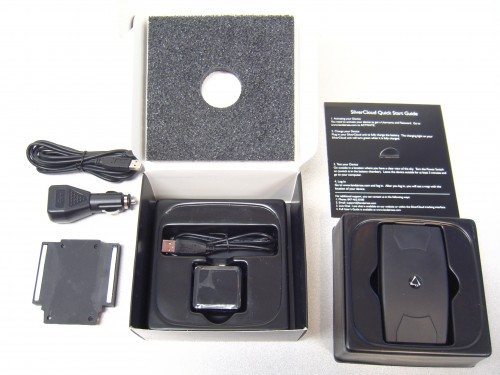 Dimensions
2.28″ wide; 3.90″ long; 0.90″ deep
Operating Temperature
-30°C to 70°C (-22°F to 158°F)
Power Source
3.7 volt, 1340 mAh rechargeable lithium-ion battery, wall charger, and USB charger
Optional:

12-volt cigarette-lighter adapter.
Hardwire Kit

Typical full-power current
150mA during transmission; less than 1mA at rest
GSM Channels
850/1900 (United States) 900/1800 (Europe, Australia, Asia and the Middle East)
Communication Protocol
TCP/UP, UDP, SMS
Update Frequency
Based on service plan:

3 second updates
5 second updates
10 second updates
1 min updates
5 min updates

Antenna
Quad-band GSM/GPRS and GPS, integrated into device
Historical Playback
Unlimited historical playback stored at server
Reporting
Individual vehicle report, enhanced vehicle report, start/stop report, mileage and more
Diagnostics
Blinking LED, SMS or TCP diagnostic messages
In my nu.m8 GPS review, I was asked in the comments if the thing worked overseas.  LandAirSea has a list of countries and rate plans for international use.
Other optional accessories are also available, such as extended-run batteries, 12V hardwire kits, waterproof boxes, and bundles.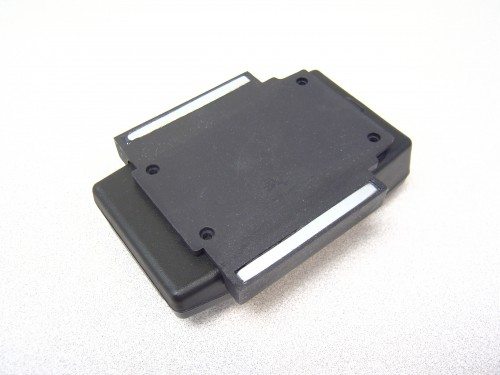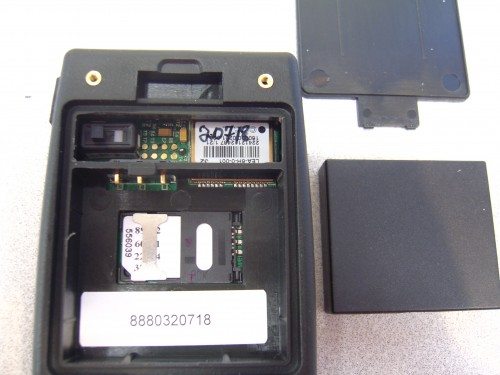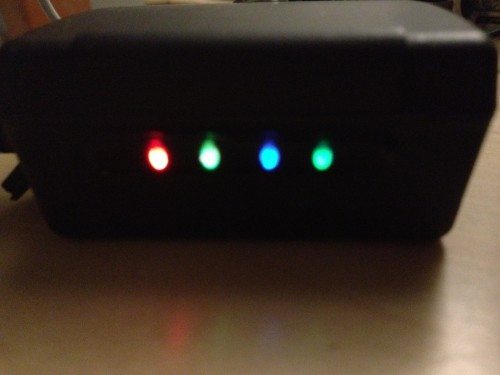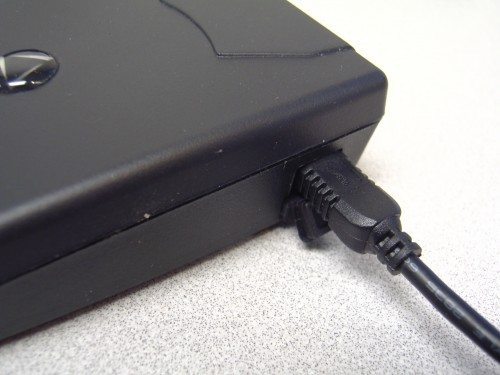 Installation
Charge it up, turn it on, and let it go.  That's it.
It's small enough to put on a person (pocket, purse, backpack) but I decided to test it on a vehicle. But wait, don't GPS devices need a clear line-of-sight to the sky?
So on my car, I tried installing this in some pretty out of the way places, as if I were trying to hide it from the bad guys who might want to steal my ride.
I tried:
Inside the glovebox
In the center arm rest
Under a floor mat
In the trunk in the spare tire well under the carpet
Guess what?  I got a signal in all of those locations.  I was impressed.
As for power, I used the included 12V adapter to feed the GPS unit with a steady supply of juice when the car was on.  This gives several advantages:  I'd never run out of power while driving, and the GPS would have a built-in battery back-up in case of a mishap, such as a car accident, car battery stolen, car being towed, etc.
Now it was time to log in.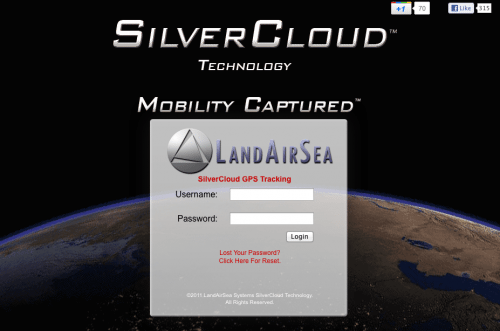 Once logged in, your GPS unit (shown with a blue van icon on the map, below) is shown on the familiar Google Maps interface.  You can even use the satellite imagery and Google Earth (with plugin).
If the GPS unit is in motion, the maps are updated in almost real-time.  LandAirSea offers tracking options of 5 minute, 1 minute, 10 second, 5 second, and 3 second intervals.  The smaller the interval, the "smoother" the refresh rate.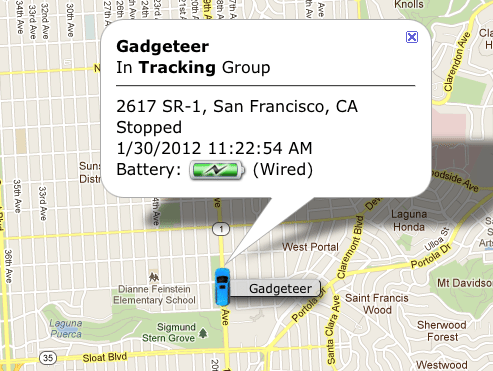 Another feature is the Geofence Alert.  You can draw a rectangle or circle and give it a name (School, Home, etc), and like an email filter, set up rules:  send a custom canned email or text message upon entering and/or exiting the zone, and even set up a schedule when the rule is active.
One thing I learned is that the alerts only work if the system has a lock on your GPS unit.  The GPS unit gets a satellite fix pretty quickly after the initial startup out of the box (like any GPS unit).  I park in an underground garage, so I don't get any signal until I'm out on the street.  If I set an alert to let me know the GPS unit has left the garage, I may not know until the unit is perhaps a block or two away.  For this reason, I set the Geofence Alert borders a little wider, as in this example.  (No, I don't live there)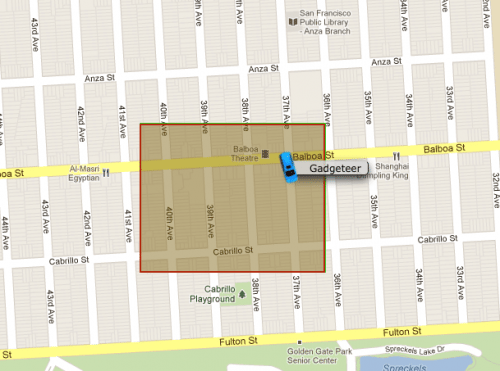 Here's a screen capture of the action as it happens.  (I only windowed in a small portion of the screen for recording.)  You can see my mouse moving around… sorry about that!  I click on the "car" and the pop-up window appears.  Halfway through the video clip I switch the background to satellite view.
The web interface also offers a historical playback feature, which sort of works like Tivo or a DVR.  Missed something earlier?  Not a problem!
But what if I'm not near a computer and I want to see where the GPS unit is?  I tried surfing to the tracking website on my iPhone and logged in.  It worked!  No Flash required.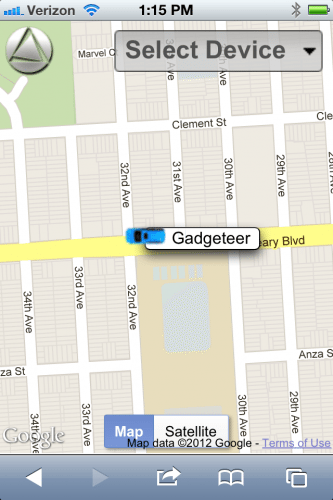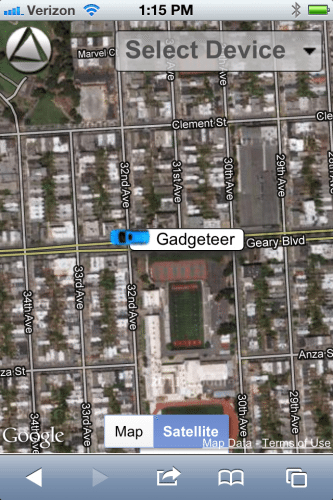 Since this has a cellular data device, you have to subscribe to a rate plan.  As of this writing, they are as follows:
SilverCloud Data Plans
SilverCloud Pay as You Go, no contract. One time activation fee of $29.95 will be applied.
| Update interval | 5-min | 1-min | 10-second | 5-second | 3-second |
| --- | --- | --- | --- | --- | --- |
| Data | unlimited | unlimited | unlimited | unlimited | unlimited |
| Price | $19.95/mo | $29.95/mo | $39.95/mo | $49.95/mo | $59.95/mo |
Prepaid plans are also available that give up to a 12% discount.
The rates may seem steep, but keep in mind that you get UNLIMITED data.  This means you can keep your browser window open all day to watch your tracked device and no incur any other fees.
The LandAirSea SilverCloud Real-Time GPS Tracking System works exactly as advertised.  The ability to run off battery and off external power (via mini-USB plug) in a vehicle is like having a built-in battery backup – plus you don't have to worry about keeping the battery charged.  I was surprised how well it worked hidden in places in the car, although for best results, you should probably mount it where it gets a good GPS signal (not under metal).  LandAirSea's 3-second interval is the fastest I know of at the time of this writing, and the ability to track via iPhone without Flash or a separate app is a nice bonus.
Update 01/22/15
Still tracking!  The iOS app has since been updated and plays nice even with the larger iPhone 6 Plus.
Source: The sample for this review was provided by LandAirSea. Please visit their site for more info.

Product Information
Price:
Starts at $469 ($519 as tested)
Manufacturer:
LandAirSea
Requirements:

A GPS signal and GSM coverage.

Pros:

Unit works even when hidden in a trunk (my trunk, anyway).
Fast 3-second tracking updates available.
Real-time tracking means you can watch the GPS unit move along your screen as it happens.
Run off the battery and/or external power.
Tiered monthly service rates for different tracking update intervals.
Unlimited tracking means no overage fees or "pay by the ping".

Cons:

Included battery may not run long enough for long-term tracking (extended batteries available).
High initial cost plus a monthly service plan.