We use affiliate links. If you buy something through the links on this page, we may earn a commission at no cost to you. Learn more.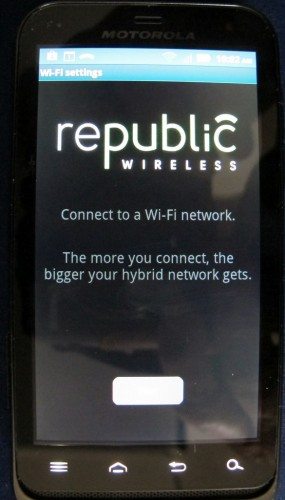 When I saw that you could get a non-contract phone plan with unlimited calling, data and texts for $19/month, it was an easy decision to jump in.  republic wireless can offer this deal because it uses both the cellular network and WiFi, something they call hybrid calling, to route your calls and data.   This is perfect for me because I have poor to no cellular coverage at my home. There is also a pretty big catch in that this is in beta phase and not everything works as advertised.  You are also limited to one phone model that you must purchase from them.  They however, do offer a 30 money back guarantee, which should offset some of my concerns.  If you read on, I'll share my experiences as a paying beta tester for the service.This is a review of the republic wireless cell phone plan and not a phone device review.  They offer only one device and it's a Motorola Defy XT, modified to work on their network and with WiFi.  You cannot use this phone on another service, nor can you bring your own phone and modify it for use with republic wireless.
I came across republic about a year ago and put my name into the hat to become a user.  At that time their open spots filled up fast, and I was put on a waiting list.  Because of the demand, they came up with a concept called waves, and I was added to wave E, which came up for purchase in alphabetical order.  So, in late September I got the email and with credit card in hand, I signed up for the beta.  The cost was $249 for the phone, $29 startup fee including the first month service and $3.37 NH phone tax for a total of $281.37.
In two days I received the phone and was excited about activating the service.  Coincidentally, I had a  one week trip scheduled that would take me to Florida from New Hampshire via Amtrak.  This would allow me to check out the service over several states.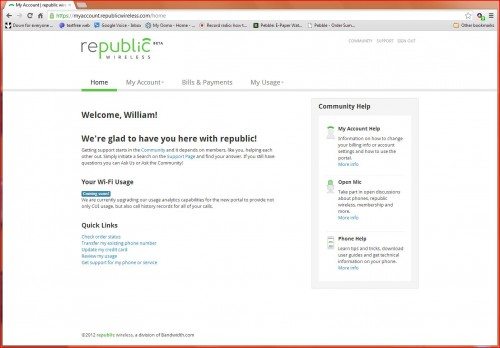 To activate, I had to go online and establish an account at their website.  This is where I got to pick my new telephone number and enter other data.  At this point I should have started to worry.  There were no numbers available for New Hampshire.  I picked one in New York, for no other reason than they had them available.  The next step was to take the charged phone and turn it on to begin the activation.
Now, one would think that as the service is billed as WiFi capable, you could activate over the WiFi.  This is not the case.  You must use the cellular network to get the phone started and as republic is a mobile virtual network operator (MVNO) of Sprint, I needed Sprint coverage in my area.  Well, I don't have Sprint or any other cellular coverage in my area, so I hopped in the car and drove to a spot 5 miles away that had Sprint service and activated the phone.
After returning home, I enabled the WiFi capability on the phone, which worked flawlessly.  Once you enter a network's particulars the phone remembers them for future use and automatically logs in.  Now I'm ready to make my first calls over WiFi and there's a problem.  Apparently, republic made some changes to their back-end in previous months and some users were experiencing no audio from the called or calling party after 20-30 seconds.  This was my case and it seemed to only affect users with certain routers.  After much discussion on the republic community website,  republic acknowledged the problem and after 2 weeks had a fix.  Which brings up an interesting point.  The only way to contact republic is via the website using the forums.  There is no telephone number, email address or human you can verbally contact.  So no WiFi telephone calls for me for 2 weeks on the Defy.
Even though I had no WiFi phone call capability, I could use the device in a Sprint coverage area to make cell calls.  There was no problem except, you are limited to Sprint and roaming coverage in the 1900Mhz spectrum.  Evidently, republic procured a single antenna phone and at least in my area, most of the roaming partners use 800Mhz.  Again, republic acknowledges this issue and has said they will replace the single antenna phones with a dual antenna model before the end of the year.
Even though I couldn't make calls from my house, I figured I could send text messages.  I was wrong.  Texts are only sent over the cellular network, not WiFi and because I had no cell coverage, the messages were in a sending state until I found cell coverage down the road.
On the positive note, the android apps worked very well both over WiFi and cellular, when I had coverage.  It was now time to see how the service performed while traveling down the East Coast from New Hampshire to Florida on the train.
While waiting for the bus to the train station, I connected to the WiFi in the terminal.  After the screen indicated a connection was established to the network I selected, I was presented with the station's splash screen.  After accepting the terms, an icon on the phone turned green to indicate I would be calling using WiFi.  The phone will remember all successful connections and will connect automatically the next time they're in range, but it does not remember the answers to the splash screens.  Those have to be entered each time.  I made some calls and checked my email.  All worked well.   I should point out that a call started on WiFi does NOT transition to the cellular network if you're out of WiFi range.  It will redial the number you were connected to.  Supposedly, the folks at republic will be working on an automatic transition feature in the future.
My travel down to Orlando on the train was a disappointment as far as the phone was concerned.  The Amtrakconnect WiFi network could not be used with the DEFY and the only place I had cell coverage was near the major cities.  The area between Washington DC and Jacksonville Florida were Sprint free.  My Verizon and T-mobile phones worked well in those areas.
Upon arrival at the resort, I attempted to latch onto the local WiFi net and was advised via the splash screen I would need to pay $9.95 per day.  I opted out and used the 3G cell network until about three days in when I got a text from Sprint saying my phone was re-provisioned.   From that point on I had 1x cell coverage.  After about 24 hours of frustration I gave in and paid the daily fee for WiFi and was running at a better speed.  Interestingly, after being on WiFi for several hours, my cell service jumped back to 3G.
When I returned home I decided to cancel the republic service.  There are too many issues and I'm very concerned that this turns out to be another Peek case, where they have to replace devices and eventually the industry overtakes them and provides a cheaper alternative.  The $19 per month seems attractive until you look at the limitations such as no automatic transition from WiFi to cell; no texts on WiFi; limited roaming and no MMS.  I also wonder why I should pay republic to fix problems.  I've participated in several beta tests, and this is the first one where I had to pay the product provider.  If I don't cancel and the republic service goes belly up, I'd be stuck with a $281 dollar paperweight.
Upon cancelling the service I received an email from republic with another big surprise.   They have additional detailed conditions for return of the phone that were not mentioned on their website.  Besides deducting dollars for missing parts (which is understandable), they now have a service charge of $50 for minor wear and tear and they define minor wear and tear with their decision being final.  Had I known this up front, I would never have entered the beta test to begin with.
My advice is the same as I gave in my Peek9 review.  Wait until there is more stability in the service and check their website and discussion boards to gauge whether they'll be in business over the long-term.
Product Information
Price:
$278 for the phone plus a month of service; then $19 per month for the service
Manufacturer:
republic wireless
Requirements:

Sprint Coverage
WiFi
Web access for account maintenance

Pros:

No contract
Low monthly service fee
Unlimited calling, texts and data

Cons:

High initial cost
In Beta test
No texting using WiFi
No MMS
Single band phone
Limited cell coverage