We use affiliate links. If you buy something through the links on this page, we may earn a commission at no cost to you. Learn more.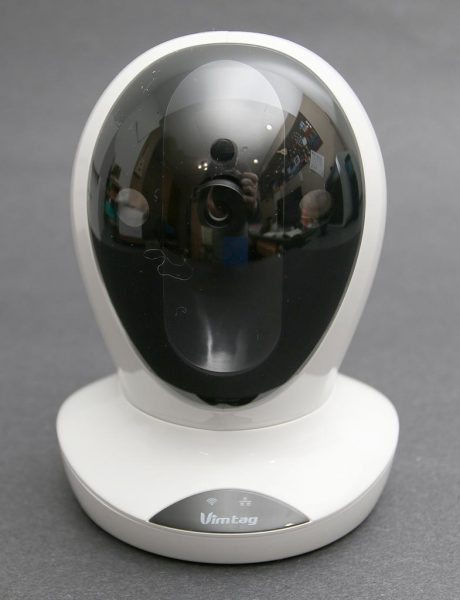 I've reviewed a LOT of wireless cameras, IP cameras, home security cameras, whatever you want to call them and have a specific set of features and criteria that I use to judge these types of cameras. #1 is image quality, #2 is viewing angle, #3 mobile viewing application usage and features, and #4 camera needs pan, tilt, zoom features. Is that a lot to ask? I don't think so… Let's find out how the Vimtag P1 Smart Cloud IP Camera stacks up to my list.
Camera specs
Video Compression: H.264
Light Frequency: 50Hz, 60Hz
Image frame rate: 25fps
Image resolution: HD720P (1280*720), 640*360, 320*180, 160*90
Image adjustment: Brightness, Contrast, Saturation, Sharpness
White Balance BLC: Automatically
Night Vision: Two 940nm infrared lamp, irradiation distance:8 meters
Viewing distance: Level: 350°, Vertical:90°, Horizontal:70°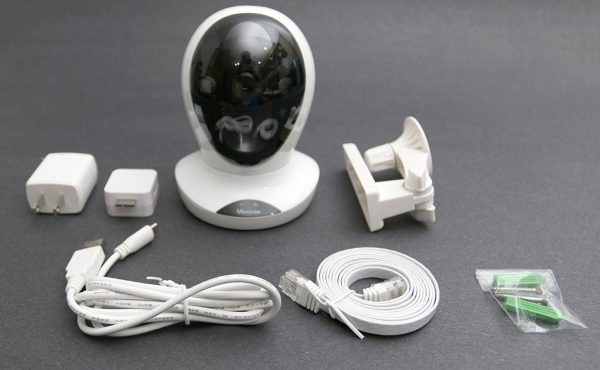 What's in the box?
Vimtag P1 Smart Cloud IP Camera
Mounting bracket and hardware
Power cord
AC adapter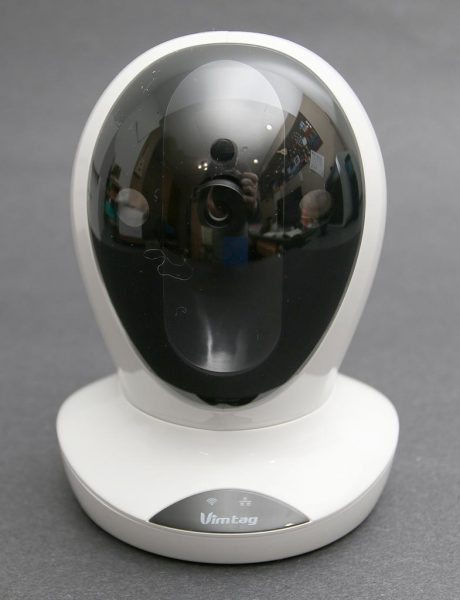 When I first pulled the Vimtag camera out of the box, I thought it looked like a Sony Asimo robot head. There's something about this camera that kind of creeps me out. It's like there are eyes in there watching me… ok there is an eye… an eye that records in HD720P 1280×720 resolution. The camera has a shiny white plastic housing with a black shield over the camera lens. There are two LEDs on the base of the camera that provide status for wireless network and wired network connectivity.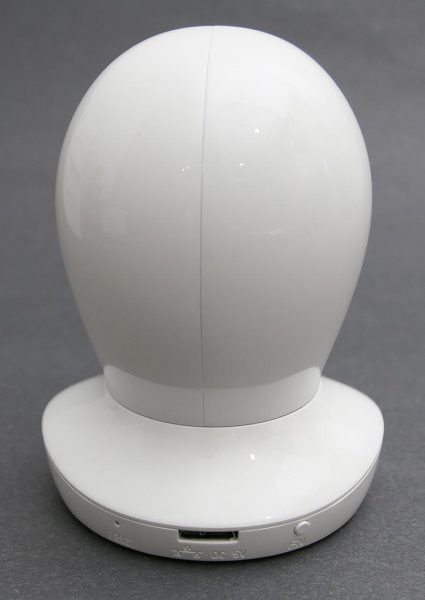 On the back of the camera is a reset switch, Ethernet / power connector, and a function button that currently has no function.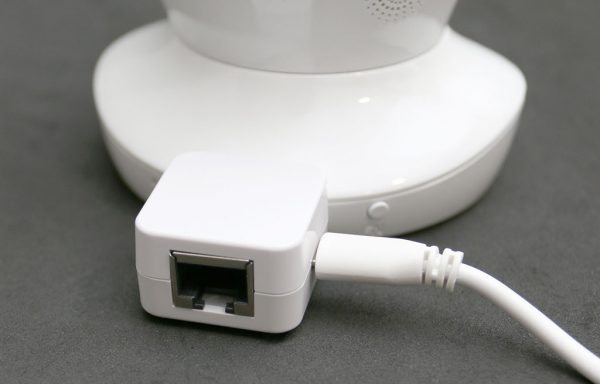 Instead of having a power connection and an Ethernet port built into the base of the camera, the Vimtag P1 camera uses an odd adapter that combines an Ethernet jack and a power connection. However, you really only need to use this adapter if you plan to hard-wire the camera to your network. Otherwise, you can plug the power cable into one side of the connector on the base of the camera.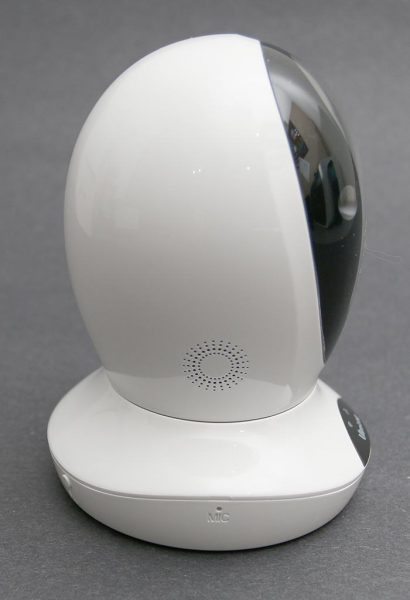 On the left side of the camera is a microphone and speaker for the 2-way audio feature.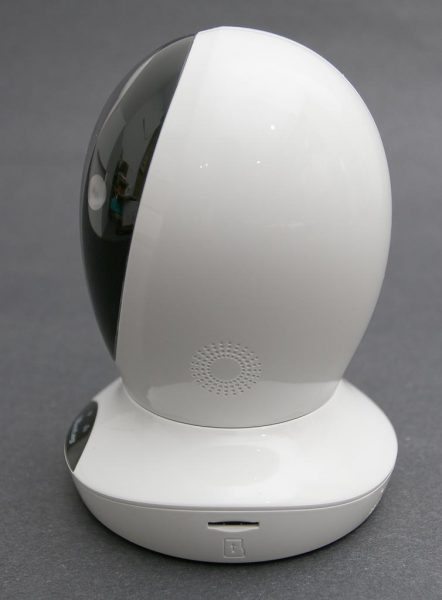 The opposite side is another speaker and a micro SD card slot (supports up to 64GB).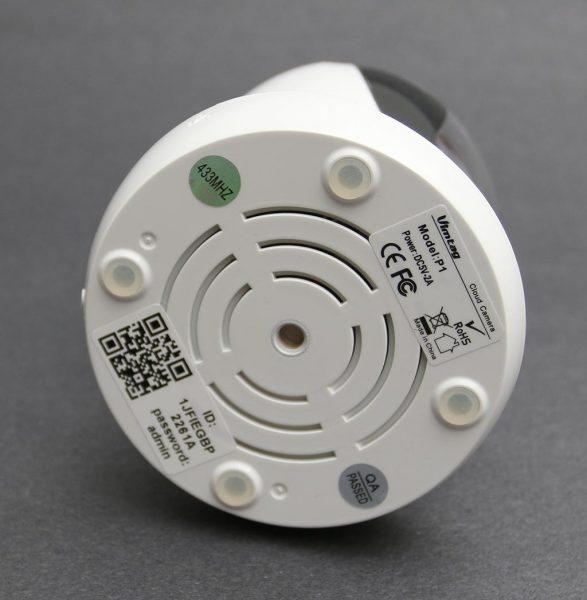 Setting up the camera is quick and painless using the Vimtag app for iOS or Android. The app will prompt you to scan the QR code on the bottom of the camera and from there it will configure everything automatically.
The application interface is pretty spartan. It has buttons to start a recording, snap a picture and start a two-way audio conversation.
You can also change the resolution of the live stream, adjust various image settings and setup schedules for motion monitoring, and recording.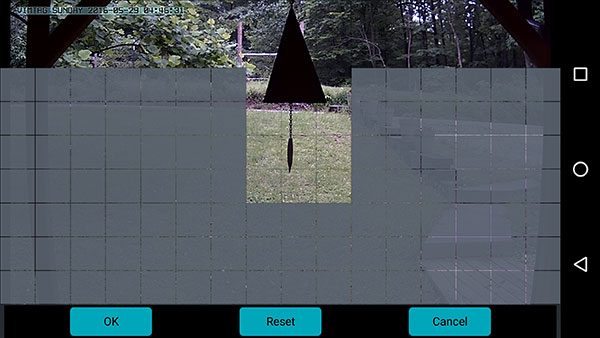 You can also mask off part of the image to avoid motion detection in certain parts of the view.
When motion is detected, you receive a notification (a cryptic one…) on your mobile device. If you tap that notification it just takes you to the camera's live view. But from there you can click the clock button at the top of the screen to view the captured video clips. These clips are all stored in the cloud and I have found that it can sometimes be slow loading them for viewing. There's also no way to delete them. They pile up until for whatever reason that is unknown to me, they disappear and then start piling up again. There are no built-in sharing features, but you can save the videos to your mobile device.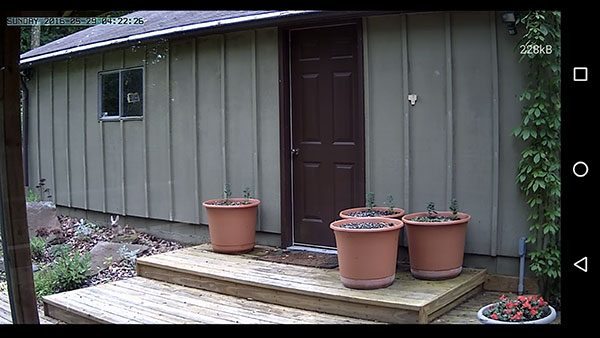 Video quality is really crisp and clear, but the viewing angle is pretty narrow compared to other recent cameras that I've reviewed.
The P1 can tilt, pan and zoom by using your finger to swipe across the screen. But unlike with other PTZ cameras that I've tested, there are no built-in presets to quickly go from one view to another.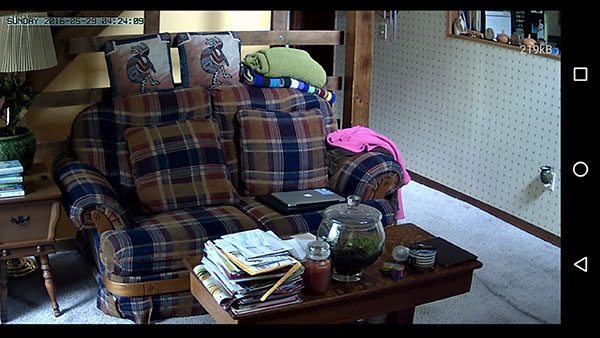 Night vision is also pretty good. Here's a day time view.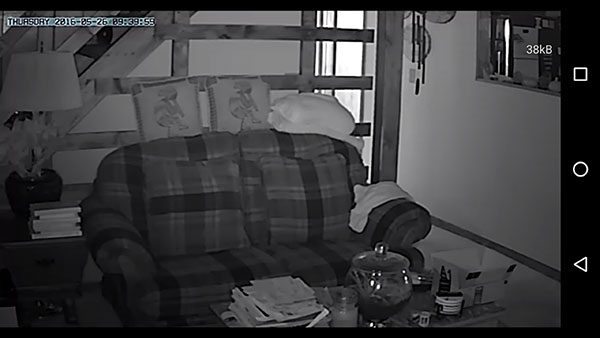 And here's the same view using night vision.
I've been using the Vimtag P1 Smart Cloud IP Camera for a few weeks and find that there is a mix of things I like and don't like about this camera. First, let's see how it does with my criteria list:
#1 Image quality – The Vimtag P1 passes when set to the highest resolution (960). The picture is sharp and the colors are pretty accurate. Night vision is also good.
#2 Viewing angle – The Vimtag P1 falls short in this area. It only has a 70° viewing angle, which is pretty narrow compared to other cameras that I've reviewed.
#3 Mobile viewing application usage and features – The Vimtag app is pretty basic. You can also use a desktop web browser to view the live stream. Both the app and the web viewer can be slow to respond.
#4 Camera needs pan, tilt, zoom features – The Vimtag P1 has this feature. It would be nice if there was a way to create presets so you could tap a button to change automatically rotate the camera to a certain spot.
When it comes down to it, the Vimtag P1 is a decent IP camera and does everything it says it can do. But having said that, I would spend $10 extra and go with the Foscam R2. It has all the same features, but it has a wider viewing angle, presets for the PTZ and a more robust app.
Source: The sample for this review was provided by Vimtag. Please visit their site for more info and Amazon to order.