We use affiliate links. If you buy something through the links on this page, we may earn a commission at no cost to you. Learn more.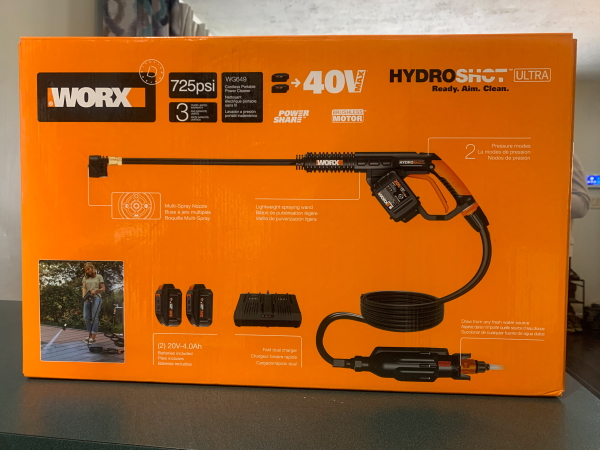 REVIEW – Once I purchased my new home a few months ago, I started working on obtaining the tools that are necessary to keep the DIY projects going and the cost to pay the PROs down. A pressure washer is a great tool for jobs around the house. I got the opportunity to test the WORX Hydroshot Ultra WG649 High-Pressure Hand Held Cleaner. Let's see if it is capable to be a regular go-to tool.
What is it?
The WORX Hydroshot Ultra WG649 High-Pressure Hand Held Cleaner produces 725 psi using a brushless motor and new pressure hose with pump and cable for a hyper-efficient stream that draws just 1.1 GPM (gallons per minute) of water. The Hydroshot ULTRA is ultra-portable and weighs only 9.1 lbs. It is powered by two 20V Power Share batteries that are included along with a 4-Amp dual charger.
What's in the box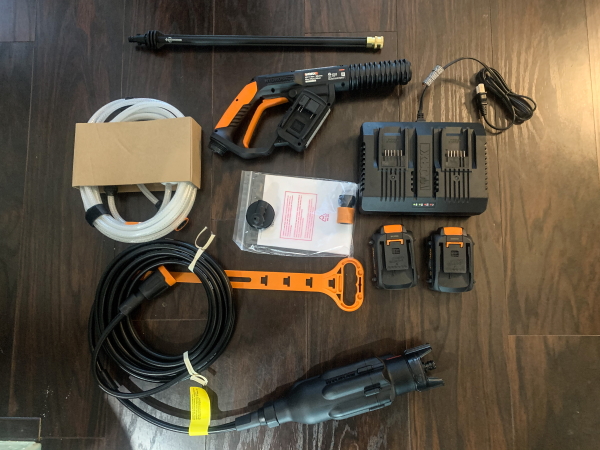 (1) – 40V Hyrdoshot Portable Power Cleaner
(1) – Quick Connect Adapter
Design and features
Features
DRAWS FROM ANY FRESHWATER SOURCE: Lakes, pools, buckets, just drop in the 20-foot hose and start spraying
11x MORE FORCE THAN A HOSE: That's right, 725 psi is up to 11x more water pressure than a garden hose with a nozzle attached
CHARGE TWO BATTERIES AT ONCE: On-board battery charge level indicator,dual port charger can charge 2 batteries at the same time
SAME BATTERY, EXPANDABLE POWER: Worx Power Share is compatible with all Worx 20v and 40v tools, outdoor power, and lifestyle products
INCLUDED COMPONENTS: 1pc WA3884 20V 4A dual charger, 2pc WA3578 4Ah battery, 6m hose, Quick Connect Adapter(WA4017), High-Pressure Hose (6m), Long lance(526.5mm), Multi-Spray nozzle, Hook up
Specifications
Voltage: 40V MAX (2x20V)
Capacity: 4.0Ah (2)
Rated Pressure: 725 PSI
Flow Rate: 1.1 GPM
Nozzle: 4-in-1 (0°, 15°, 25°, 40°)
Unit Weight: 9.1 lbs
The handle of the wand is designed to hold 2 batteries with one plugged in on each side. On the left side of the handle, there is a safety button that must first be depressed before squeezing the lever to use the washer. There is an adjustable nozzle that allows you to select the type of spray and the pressure. On the other end of the hose that connects to the wand, there is a motor/pump.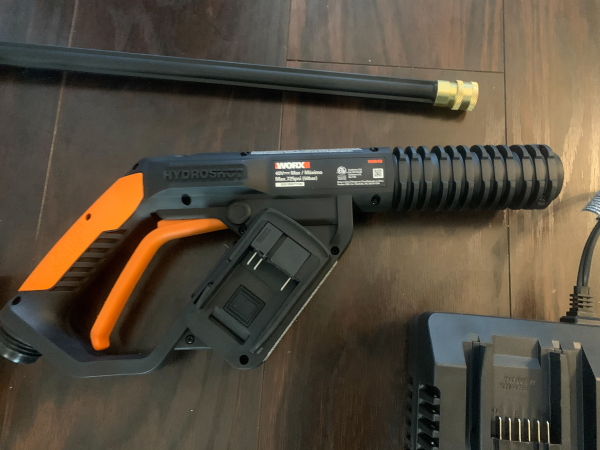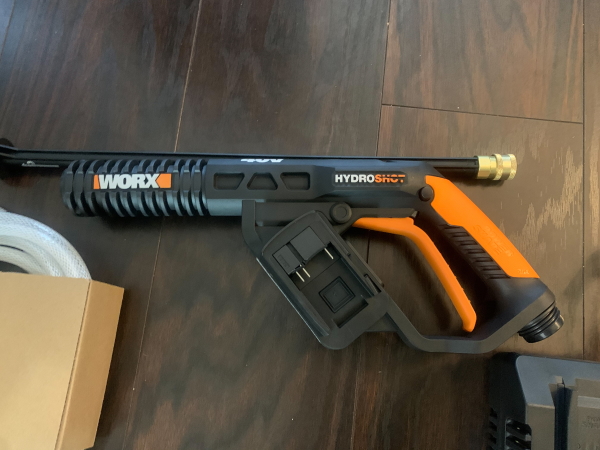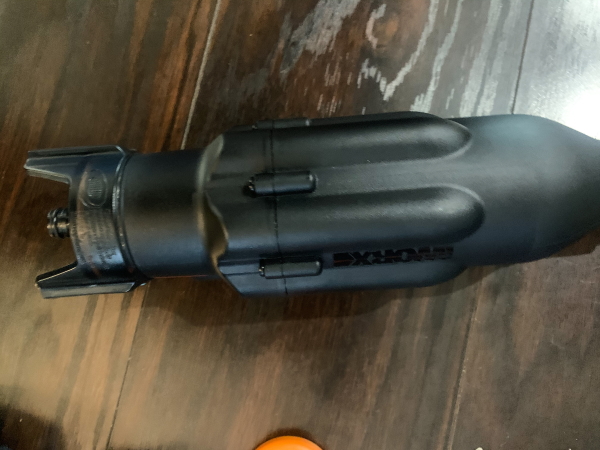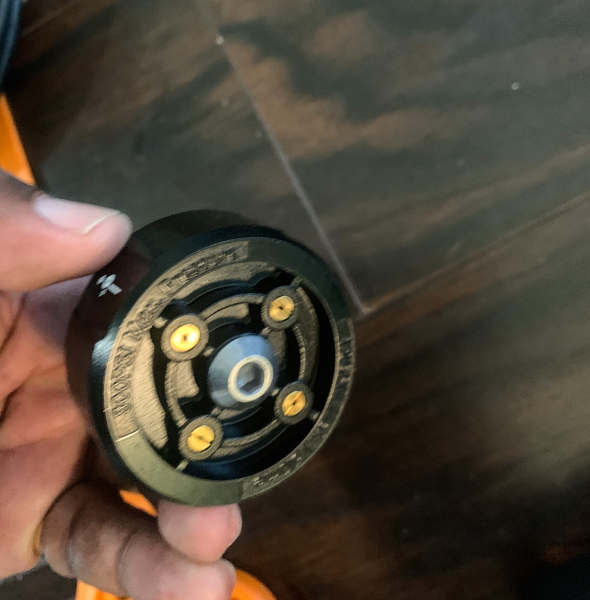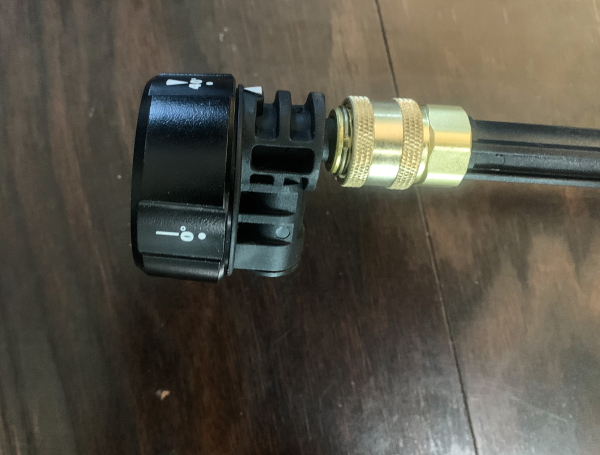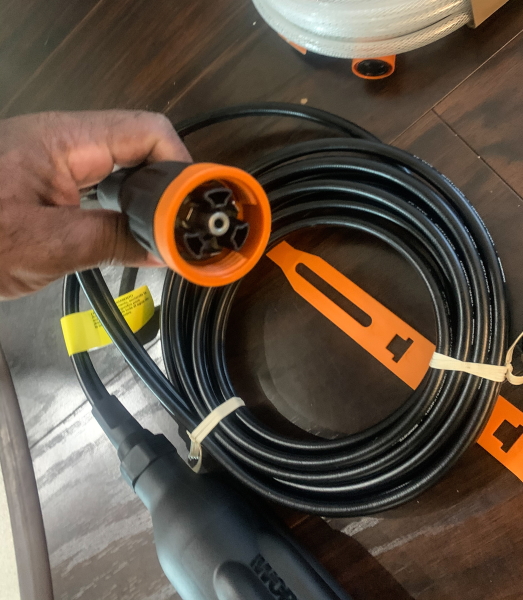 WORX includes a draw hose to allows the wand to be used for multiple water sources and a carrying/hanging strap for the hoses. A dual battery charger is also included.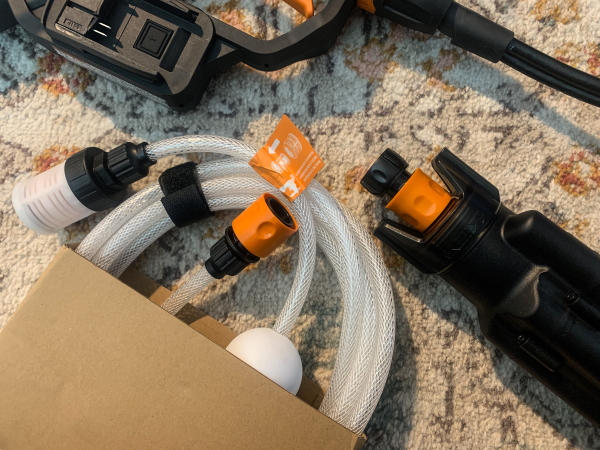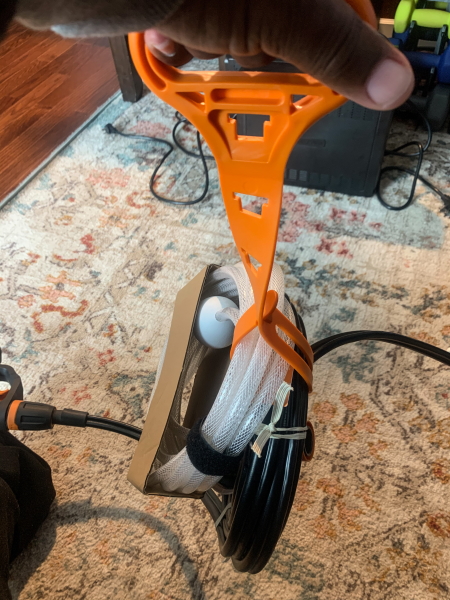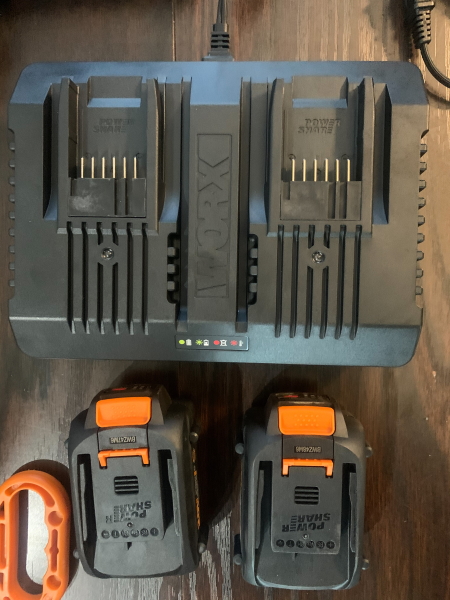 Performance
Setting up and using this pressure washer is very easy. Although Worx calls it a Hand Cleaner, I call it a pressure washer. The first thing that I did was charge the 2 batteries using the included battery charger.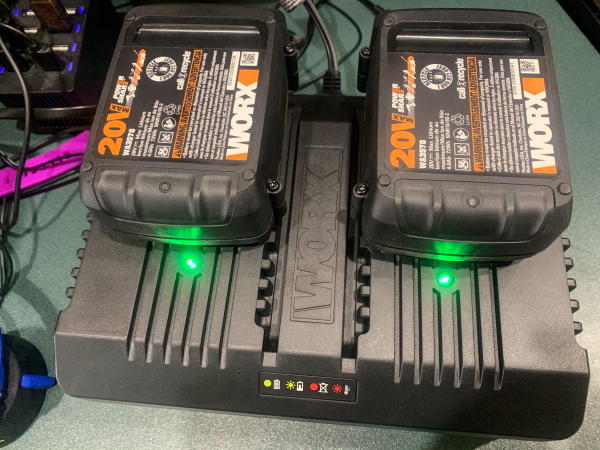 Once the batteries were charged, I inserted them into battery slots on the handle of the wand and connected the hose with the motor to my hose which in turn was connected to the faucet. My goal was to test it out on my deck shown below.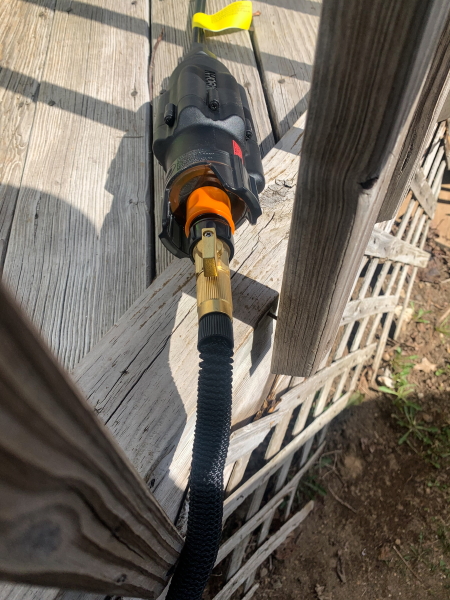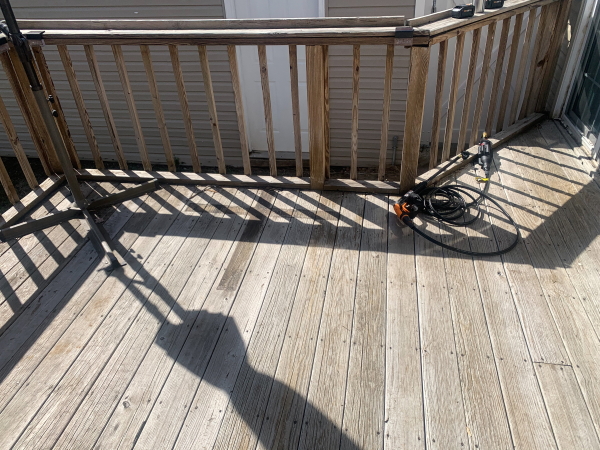 The following video shows me using the pressure washer on my deck which is connected to the water faucet:
This next video shows me testing using a bucked of water and the draw hose:
This pressure washer did a good job washing my deck and the battery lasted approximately 30 minutes at full power. It is easy to use but can be a bit tiring since the wand is much heavier because of the 2 batteries that are attached. Regardless I am very pleased with its performance and the adjustable nozzle works great.
What I like
The build quality
The ability to use multiple water sources
The adjustable nozzle
The available accessories
The portability
What I'd change
Although it works well as a portable device, I would not mind it being a hybrid and offering the option to plug into electricity as well when that option is available and making it use full for much longer jobs.
Final thoughts
I was very intrigued when I stumbled across this pressure washer while surfing the internet. I read reviews on the previous model and they were good except for one shortcoming that most reviewers mentioned and that was the lack of power/pressure for it to be widely useful. This model of the WORX pressure washer solves that problem with a maximum of 725 psi that in my test makes it very capable of many regular power washing jobs. The ability to use it with a bucket of water or a lake or any other water source other than a hose is great. The dull batteries give is a cycle life of approximately 30 minutes at full power. IMHO, I am giving this pressure washer a well done and two thumbs up!!
Price: $299.99
Where to buy: WORX website and Amazon
Source: The sample for this review was provided by WORX.