We use affiliate links. If you buy something through the links on this page, we may earn a commission at no cost to you. Learn more.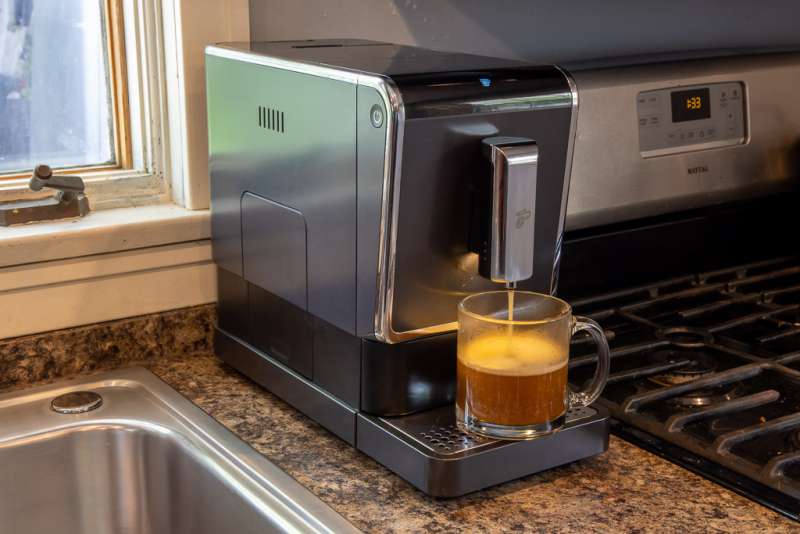 REVIEW – As I've mentioned in my previous reviews, I'm a coffee addict. I saw an ad on Facebook for the Tchibo single-serve coffee machine that caught my eye, and I just had to have one. Why? Well, read on and find out!
What is it?
The Tchibo is a German-engineered single-serve coffee machine that grinds and brews your coffee in one seamless step without pods and without requiring you to empty the grounds between cups.
What's in the box?
Tchibo single-serve coffee machine
Instruction manual
Coffee bean hopper extension
Cleaning brush
Hardware specs
Dimensions: 7″ x 15.6″ x 12.4″
Weight: 17.2 lbs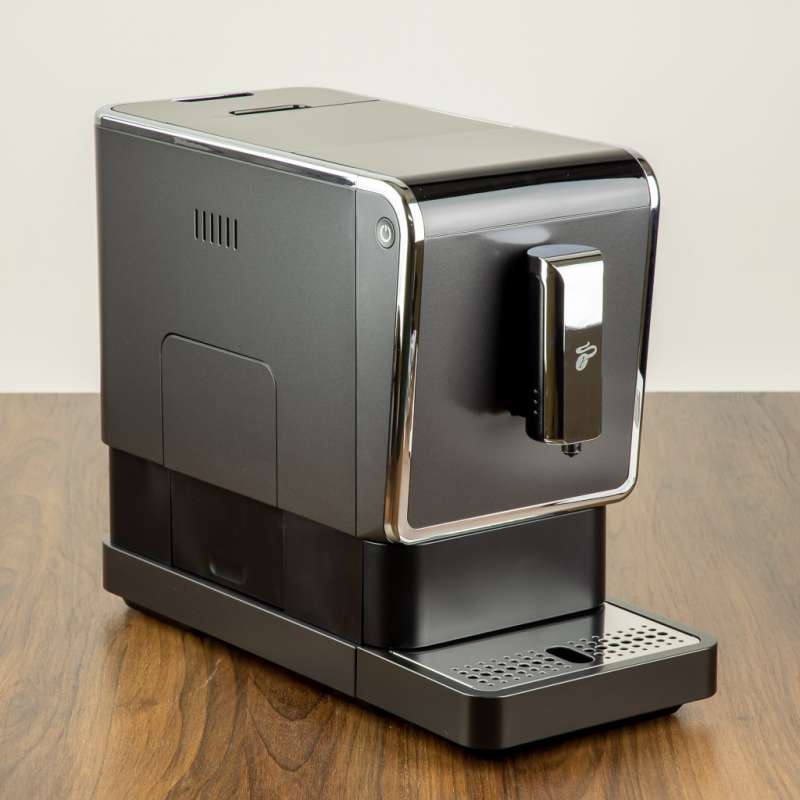 Design and features
Coffee, coffee, coffee! All day, every day. I love my coffee. However, I was always dreading the process of scooping grounds and emptying used grounds from my Keurig coffee machine. I loved the coffee, but I was not too fond of the process. It got tired of doing it ten times a day.
I've built and fabricated a lot of stuff in my life. I dreamed of building a machine that would do it all automatically, but I just never got around to it. Now I don't have to. After seeing the Facebook ad, I reached out to the Tchibo company, and they were kind enough to send a review item for me to test out.
The Tchibo single-serve coffee machine does almost everything at the push of a button. You place your cup under the spout, press the button, and fresh, just ground coffee comes out. Every few cups (37 oz.), you add water, and every 10 cups or so, you dump out the used coffee ground pucks from the internal container.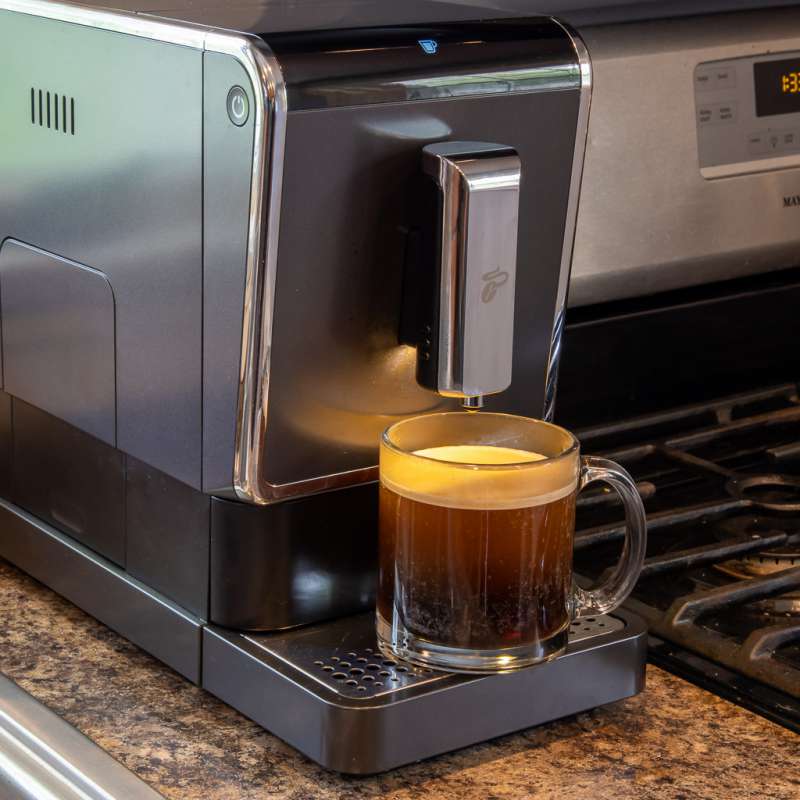 So how does it work? First, it grinds the beans. There's a knob for adjusting the strength of the grind. Next, it places the grounds in an internal chamber, brews the coffee, then automatically dumps a compressed "puck" of coffee grounds into the internal receptacle.
Never miss one of our posts again. Sent MON, WED, and FRI with the latest gadget reviews and news!
There are three brewing sizes (2, 6, and 8 oz) and an option for "strong." Holding the button down while brewing will customize the amount of water for each cup size (maximum 10 oz), which the machine will then remember. If you want more, just press a button again!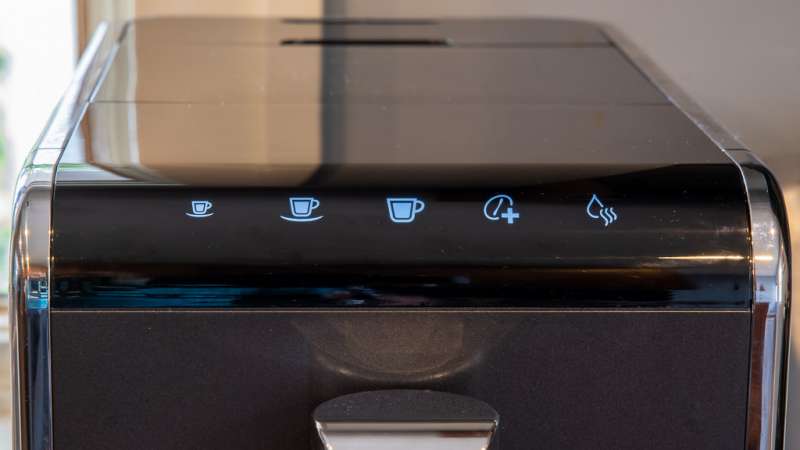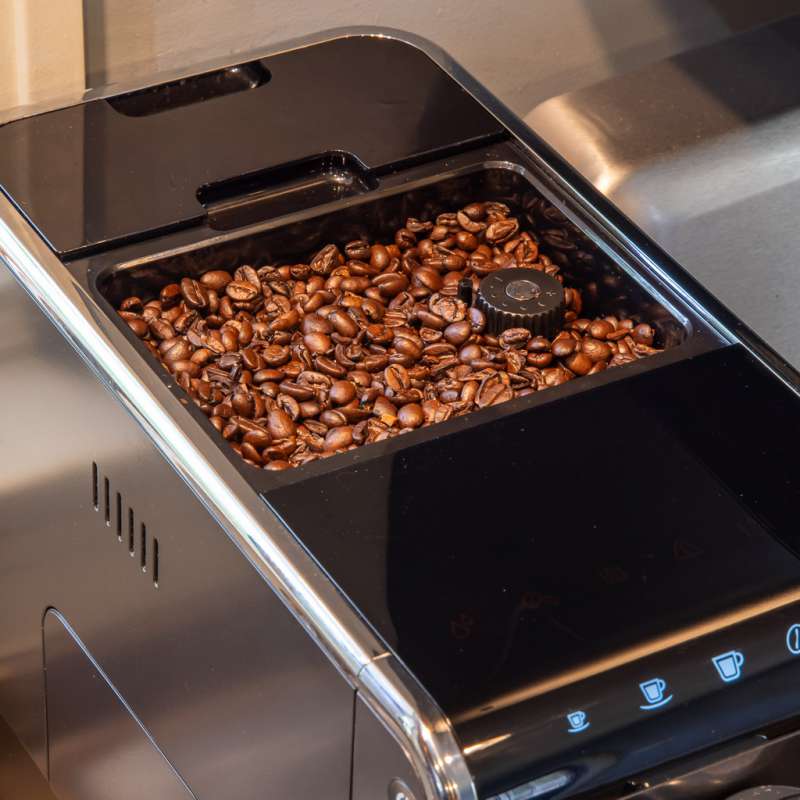 There's also a button for rinsing, and the machine will auto-rinse when it is first warmed up. The auto-rinse dispenses about 1.5 oz. of water. The water is relatively clean from the rinse cycle, so I never do it manually.
I usually brew the largest cup size, but I occasionally press the small button to add an espresso-sized "shot" to my coffee to make it even stronger or top off or warm up a partial cup.
The Tchibo they sent me also included two 30oz bags of beans, the classic blend, and a dark roast. Both were fabulous, but I preferred the dark roast. I found myself using a little less creamer than with my previous machine. It's also very affordable at just $17.49 for a 30-ounce bag.
I found that with three people in the house that drink coffee, I filled the bean hopper about once a day (5 oz.), and that's without the bean hopper extension, which doubles the holding capability to 10 oz.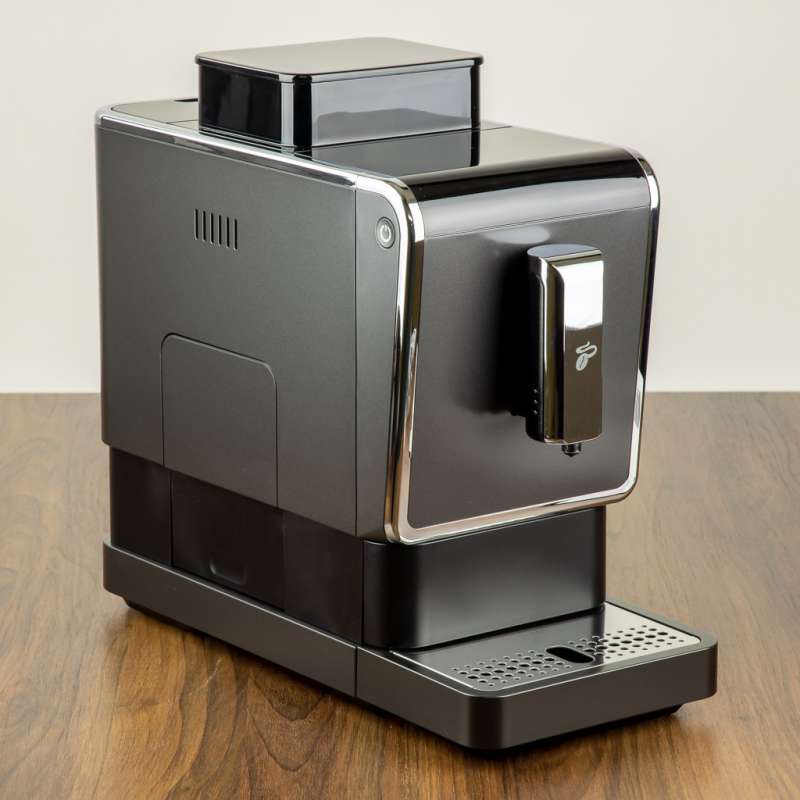 Occasionally, a small amount of condensation would build up on the surface above the grounds receptacle, and the "empty bin" light would come on prematurely. A simple quick wiped clears that problem right up.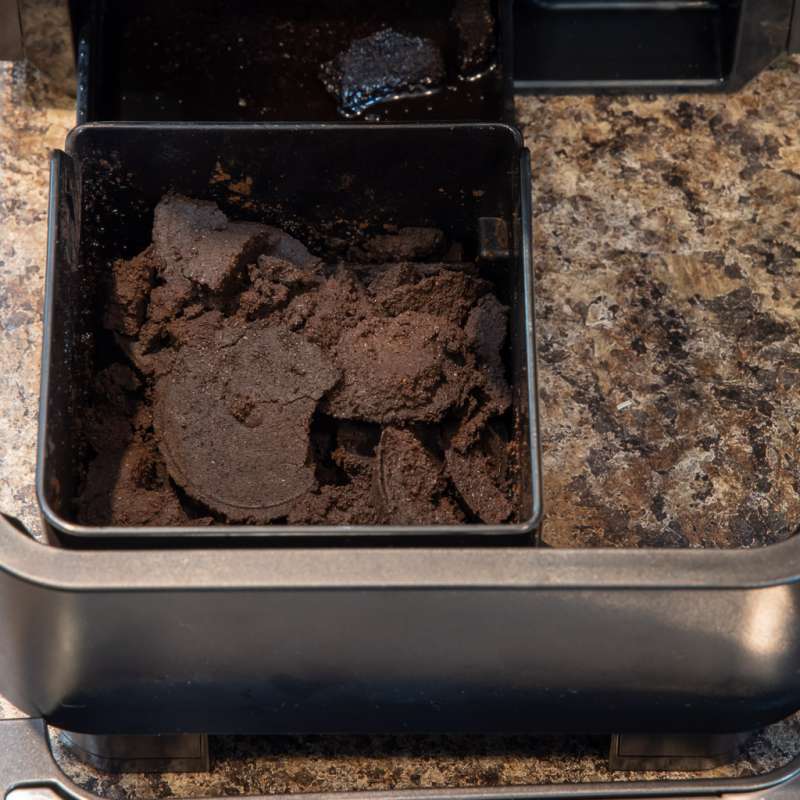 The descale light will come on when the machine needs to be descaled. I followed the instructions in the manual, which was very easy. I liked this feature because you simply put the descaling liquid in the reservoir and start the descaling feature. The machine automatically starts and pauses as needed until the entire container is dispensed. Next, you put in clean water, press the button, and when the process is finished, it is done. Instead of placing a catch container under the spout, I simply rotated the machine over my sink.
The main part of the machine that rotates and holds the grounds is easy to remove and clean. I have not needed to clean it in the month that I've used the machine, but I have removed the unit and cleaned it anyway.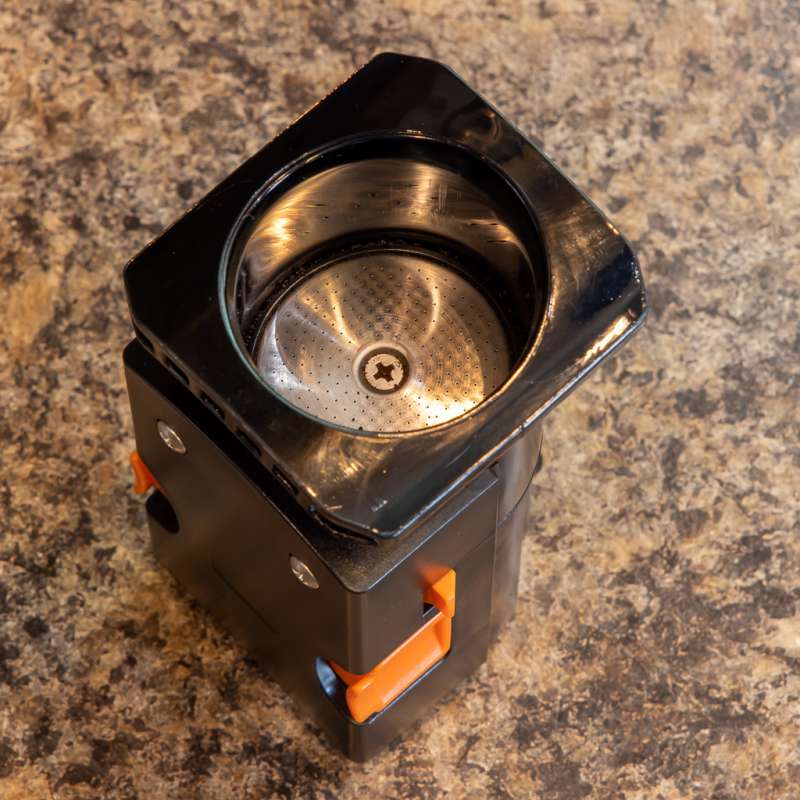 What I like
No Pods!
Easy to empty grounds receptacle
Excellent semi-automated descaling feature
Is capable of continuing after refilling water container
What I'd change
A larger water reservoir would be nice
Final thoughts
I absolutely love the Tchibo single-serve coffee machine. It has performed flawlessly for the month that I've been using it. I think that it also uses fewer grounds than my previous machine, so that's a bonus. You will need a space that allows you to remove the water container from the top, though, so below a cupboard might be a tight fit.
Price: $299, $319.00 with two 30oz bags of beans, which I highly recommend.
Where to buy: Tchibo
Source: The sample of this product was provided by Tchibo.