We use affiliate links. If you buy something through the links on this page, we may earn a commission at no cost to you. Learn more.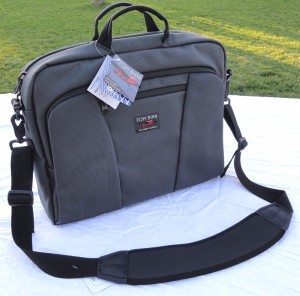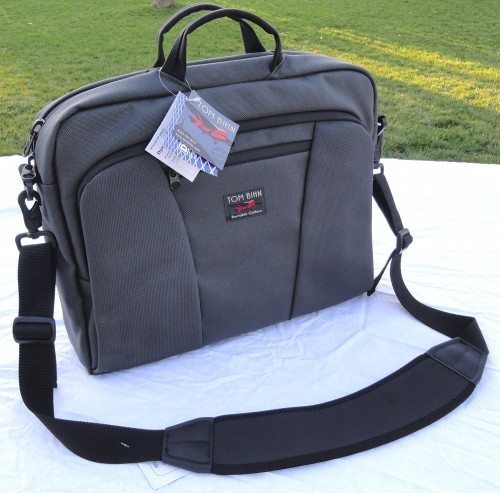 In my mind's eye, I am the protagonist in an adventure serial entitled Indiana Jacobs and the Quest for the Perfect Gear-Hauling Bag. Of course, that I'm from Indiana ("Hoosier by Birth; Boilermaker by the Grace of God," as the saying goes) aids in spinning this yarn, but so does my very real quest.  The latest chapter was my opportunity to try out the new Cadet Laptop Bag by Tom Bihn.  The Cadet is intended to be a "minimalist" laptop bag, meaning it was designed to carry just the essentials and nothing more.  Will it meet my Holy Grail of Bags criteria?  Let's check it out!
NOTE: All images in this review have been enabled with clickable enlargeability for your viewing pleasure.  😉
Background
As stated above, I'm one one of those people. You may know one of us. We're on a quest for the perfect bag to carry our gear.  My criteria to meet this challenge is a bit of a nebulous, "I'll know it when I see it" combination of features, but it is basically a mix of style, organizational features and capacity that seems right for my needs and tastes.  Several years ago, I spent about eight months researching before I purchased my first "real" gear bag, the Timbuk2 Commute messenger.  It was during this extensive research period that I first found myself at The Gadgeteer, reading a review of the Tom Bihn Super Ego Messenger Bag (of which I have since become I delighted owner).  I've always been partial to messenger-style bags, and the Timbuk2 Commute and Tom Bihn Super Ego are about the closest I've come to "perfect" for me.  Will the Cadet be my Holy Grail of bags?
Options
When ordering the Cadet from the Tom Bihn site, there are several options from which you can select: size, color, laptop insert and shoulder strap.
Size – The Cadet is currently available in a 15/13 Cadet for 15-inch or 13-inch laptops, or 11/iPad Cadet for 11-inch laptops, netbooks or tablets.
Color – Currently available color combinations (these can change periodically) are Black/Iberian, Black/Steel, Steel/Solar, Forest/Steel, Cardinal/Steel and Navy/Solar.
Laptop Insert –  These are available in 15-inch MacBook Pro, 13-inch MacBook/MacBook Pro, 13-inch MacBook Air, 11-inch MacBook Air and iPad/iPad 2.  Note that if you do not want a laptop insert, you can specify this and it will deduct $30 from the price of the bag.
Shoulder Strap – Standard or Absolute.  Selecting Absolute instead of Standard Strap adds $20 to the  price of the bag.
As Reviewed – The configuration of the Cadet I reviewed was a 15/13 size in Steel exterior (sort of a very stately slate gray) with Solar interior (a bright lemonish yellow with a grid pattern), a 15-inch MacBook Pro laptop insert and an Absolute Shoulder Strap.
Specs
From the Tom Bihn site:
Location of manufacture: TOM BIHN Factory in Seattle, Washington, U.S.A.
Exterior made of U.S. 1050 denier Ballistic nylon
Interior lined with ultra-light yet super-tough Japanese Dyeema/nylon ripstop fabric
0.25 in / 8 mm closed cell foam on the front, back and bottom
YKK Uretech® splash-proof zippers on main compartment (#10) and exterior pockets (#8)
Volume, without laptop or Cadet Cache (ASTM Standard Measure):
| | | |
| --- | --- | --- |
| | 15/13 Cadet (reviewed model) | 11/iPad Cadet |
| Total Volume | 13.5 liters (825 cu.in.) | 10.2 liters (620 cu.in.) |
| Main Compartment Volume | 11.0 liters (670 cu.in.) |   8.0 liters (490 cu.in) |
| Front Compartment Volume |   2.5 liters (150 cu.in.) |   2.2 liters (135 cu.in.) |
| Overall Dimensions | 16.25×2.5×4.5in (410x320x115mm) | 13.5×10.5×4.5in (345x270x115mm) |
Packaging
Tom Bihn's packaging is minimalist and functional with a bit of fun thrown in.  Clamshell-style folding cardboard box.  Pretty standard.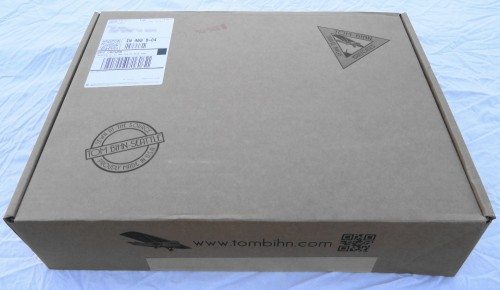 Retro-style Tom Bihn logos on the outside of the box.  I dig their retro plane flying over the Eiffel Tower logo.  Simple, but conveys a sense of nostalgia, harkening back to the early days of air travel, when every flight seemed to hold the possibility of intrigue and adventure.  In fairness, I wasn't around in those days, but that's the feeling this logo give me anyway.

Nostalgic plane again, this time with QR matrix.

And finally, as allude to above, Tom Bihn has taken steps to be environmentally responsible in its packaging.

Unboxing
Pop open the cardboard box and the Cadet is presented front and center.  No foam peanuts, no bubble wrap.  Enviro-friendly and no mess.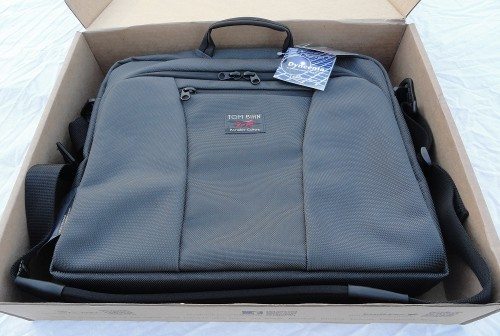 Right out of the box, the Cadet has a nice, clean look.  Understated yet handsome.  Front…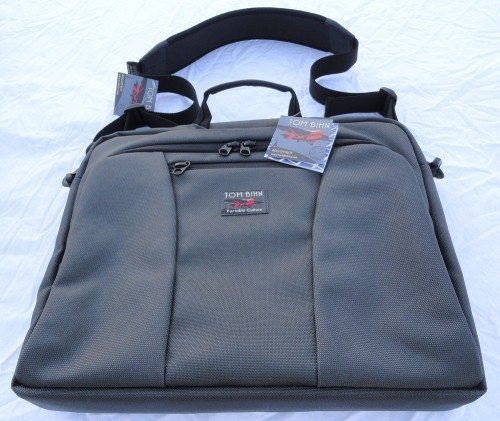 …and back.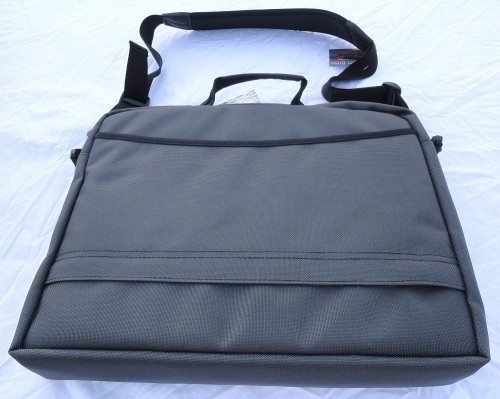 Organizer Pouches
We'll get into the nitty-gritty of the Cadet itself shortly.  For now, let's check out the extras.  Along with the Cadet bag itself, the thoughtful folks at Tom Bihn sent a few other items that help round out the whole ensemble and really complete the Cadet.  First up, two organizer pouches.  Tom Bihn sells these in lots of shapes, sizes, colors, materials and prices.  Each one features a plastic zipper closure to avoid  scratching the contents and a swivel snap-hook that allows it to attach to the O-ring features built into Tom Bihn's bags.  They not only help with organizing small items, but also give an extra layer of protection against dings, spills and the like.  Neither of these come with standard with the Cadet.  In the two pics below, the pouch above is a size Small Clear Organizer Pouch in Steel color ($10).  The bottom one is a size Mini Padded Organizer Pouch in Black color ($9).  A shot of them from the front…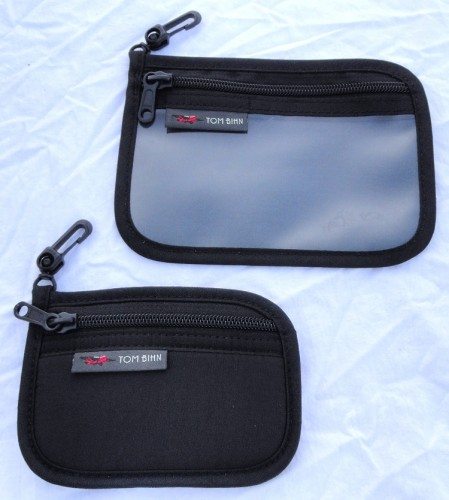 …and from the back.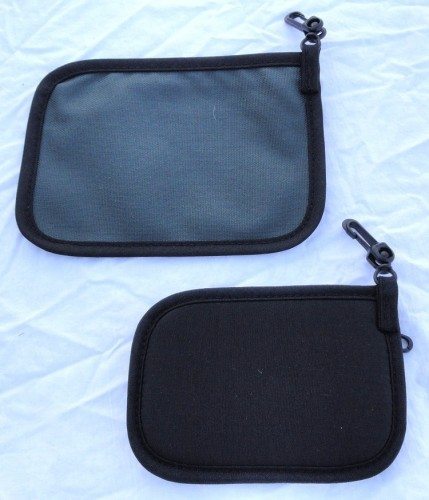 Padded Pouch for Magic Mouse
Let's take a closer look at the size Mini Padded Organizer Pouch.  These Padded Organizer Pouches are intended to protect small electronic gadgets. In fact, this particular size also happens to fit the Apple Magic Mouse perfectly, which is why Tom Bihn also calls this particular size the Padded Pouch for Magic Mouse.  All Padded Organizer Pouches feature a light layer of padding to protect against external bumps and dings as well as an interior of soft brushed tricot and a zipper with plastic slider to prevent scratching the contents.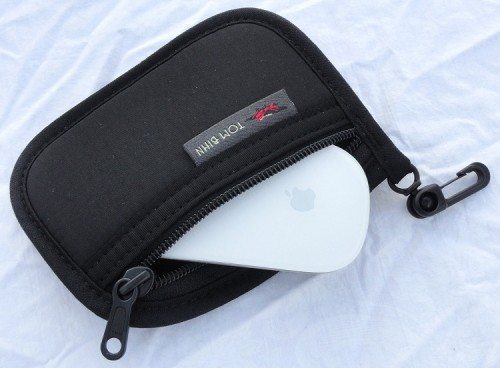 Snug fit…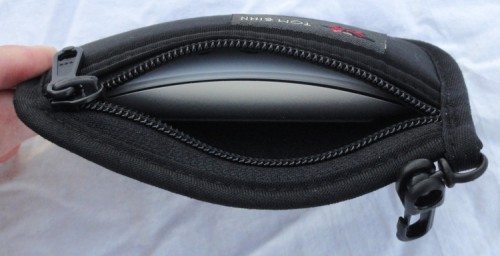 …but solidly protected.

Ultrasuede Screen Cloth
Tom Bihn's peeps also included an Ultrasuede® Screen Cloth.  These are made from genuine Ultrasuede material, not a knock-off, and they are extremely soft.  Great for cleaning grubby fingerprints and smudges from your device's display after you've told your significant other or youngling not to touch it for the umpteenth time.  It is washable (hand wash recommended) and even comes in its own logo-branded envelope.  There's that plane again, beckoning wistfully toward your next travel adventure.  Note that the Ultrasuede Screen Cloth is not included with the Cadet, and is an additional $7.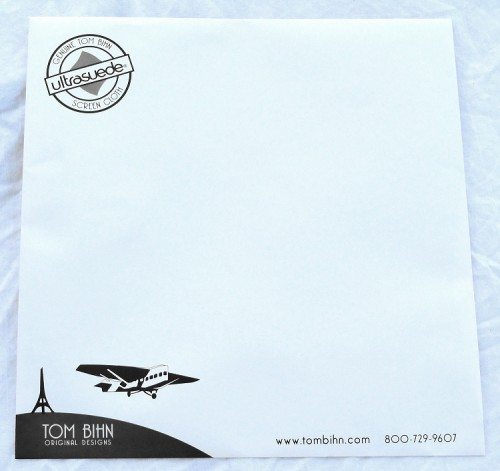 The Ultrasuede Screen Cloth I received is in the Lapis Blue color.  What the heck is a lapis?  Lapis, or more properly lapis lazuli is a blue-colored semi-precious stone that, not so coincidentally, is very similar in color to the one pictured below.  Didn't know that?  Neither did I—I had to look it up!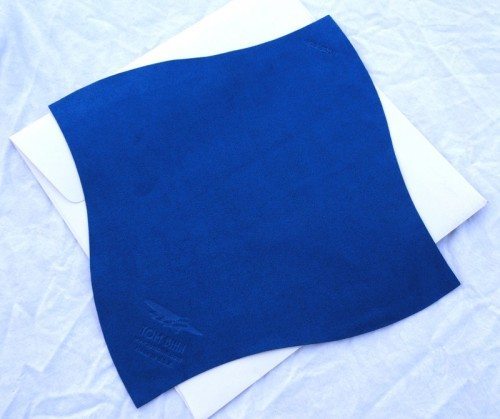 Tom Bihn's classic logo, complete with the nostalgic plane, is embossed into one corner of the Cloth.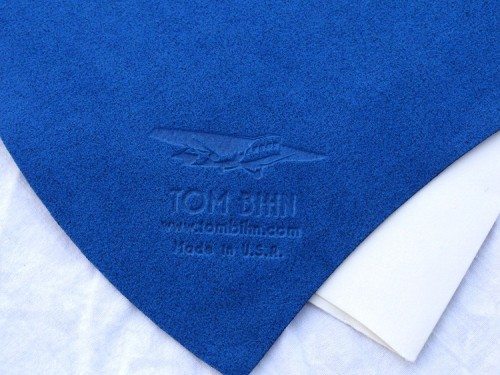 Absolute Shoulder Strap
Ever had to hump a laptop bag from one end of Chicago O'Hare to the other?  Or through a week long trade show or conference?  Even the lightest bags can start to cut into your shoulder like a cinder block hanging from a length of kite string.   One of the gems among Tom Bihn's accessories is the Absolute Shoulder Strap.  The main feature is its "unique, patented internal control-stretch system" that combines a soft, durable neoprene pad with comfortable stretch backing that elongates under load and helps dampen the weight on your shoulder.  However, keep in mind that if you want to swap the Cadet's Standard Shoulder Strap for the the Absolute Shoulder Strap, it will add $20 to the price of the Cadet.  That's a nice discount, because the Absolute Shoulder Strap is $30 when purchased separately.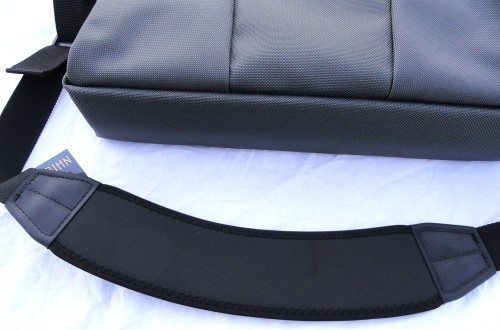 Like all Tom Bihn products, the Absolute Shoulder Strap is very well built, with durable materials and solid construction.  This thing just feels solid when you pick it up and attach it to your bag.  It also include two adjustment sliders, one on either side, for extra customization.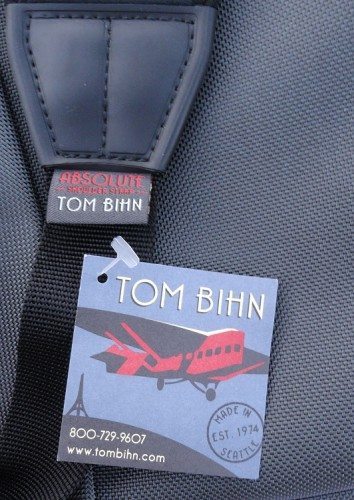 Very heavy-duty metal spring-hooks connect the strap to the bag.  The springs snap into place with a commanding click, and you actually have to apply a fair amount of pressure to compress them enough to release them.  So you don't have to worry about these things coming off accidentally.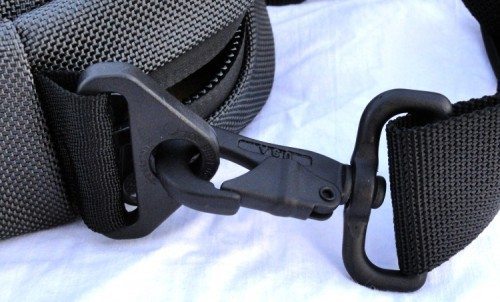 Even the strap attachment points on the Cadet are thick, chunky, solid slabs of plastic.  They were apparently designed by Tom Bihn himself and are made from DuPont™ Delrin® polymer "tested to 260 pounds each."  Look closely and you'll see little "Tom Bihn Designs" and "Made in U.S.A." molded into the plastic.  I was a bit disappointed not to see a tiny version of the nostalgic plane here.  Total miss, Tom.  Just kidding.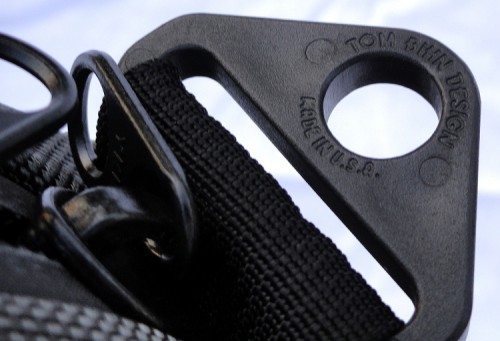 Cadet Cache Laptop Insert
As mentioned above, one of the options you will select when ordering your Cadet is a laptop insert appropriately sized for your laptop.  The Cadet Cache is essentially the Cache, a basic laptop sleeve available separately from Tom Bihn.  It has 1/4 inch thick padding laminated with an exterior of four-ply Taslan and an interior of brushed tricot that cradles your laptop.   If for some reason you don't need or want a laptop insert, you can indicate this when ordering and $30 will be deducted from the price of the Cadet.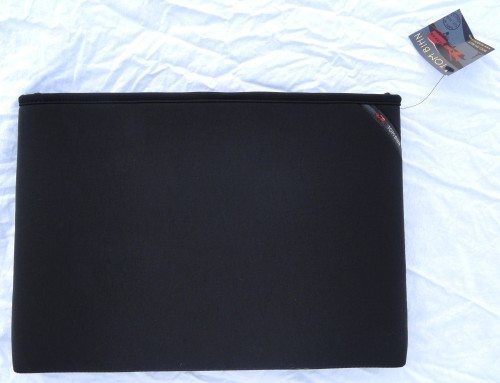 The Cadet Cache differs from the standard Cache by the addition of two Gatekeeper clips at the bottom rear.  These attach to two vertical strips of webbing in the main compartment of the Cadet (more on this further down).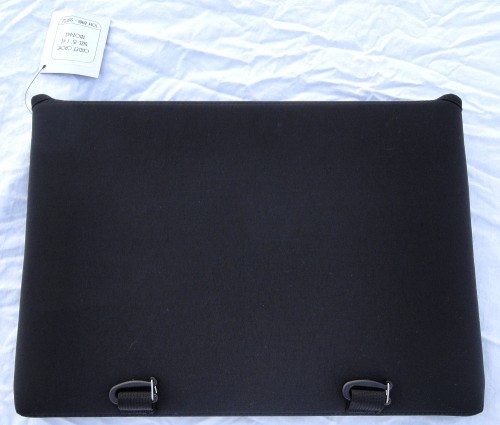 Closeup of the Gatekeeper clips.  Easy to open but secure once closed.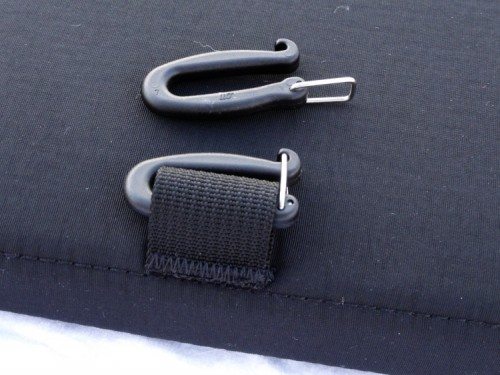 A shot of my 15 inch MacBook Pro inserted into the Cadet Cache.  Fits perfectly.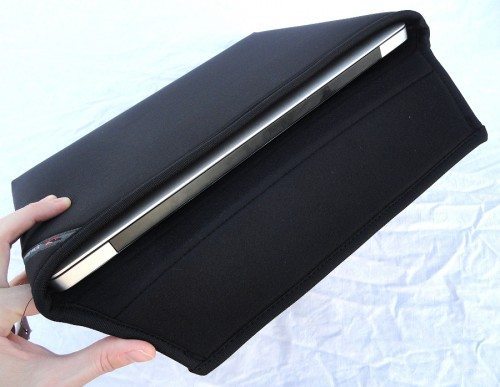 The Cadet Cache has no closure features—no Velcro®, snaps, buckles or others.  Just a simple flap that tucks down over the laptop.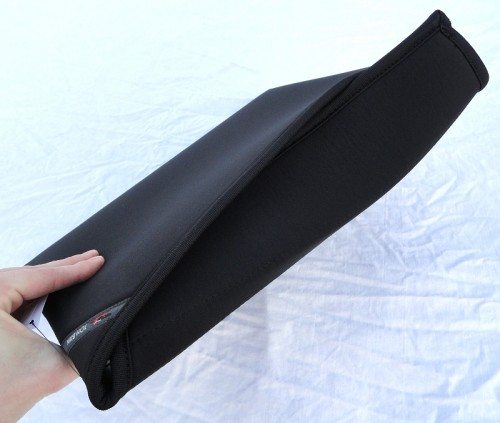 Cadet Bag
Now that we've warmed up a bit on some of the accessories, let's move on to the item itself.  I've already mentioned its understated handsomeness, but indulge me while I expound further.  If this review happens to be your first exposure to Tom Bihn's products, and you like what you see with the Cadet, then you are in for a treat when you view the rest of the product lines.  Since the early days, Tom Bihn's designs have been all about three things: understated style, smart functionality, and durability.  I feel that they've hit the grand slam in combining these three aspects, and this is very apparent with the Cadet as well.
First, the understated style.  Tom Bihn's bags have been consistently designed with a certain appearance and style.  To me, it is clean and simple, yet with an almost dignified touch.  Very appropriate for a business environment, but eye-catching enough that people might even ask you about it.  Second, the smart functionality.  All of Tom Bihn's products, but especially their bags, have been designed by people who have a real sense of what is useful to a traveler, and maybe more importantly, what is not.  Third, the durability.  Tom Bihn uses extremely high quality materials in all of its products, and designs and builds them (in the USA) for maximum durability.
Combining all three aspects into one product does not come cheaply: these are some of the most expensively-priced travels bags you will find.  And not just because they have a "known" brand name, like Tumi or others, but in my view—and I've studied a few bags throughout my quest—they are among the absolute best.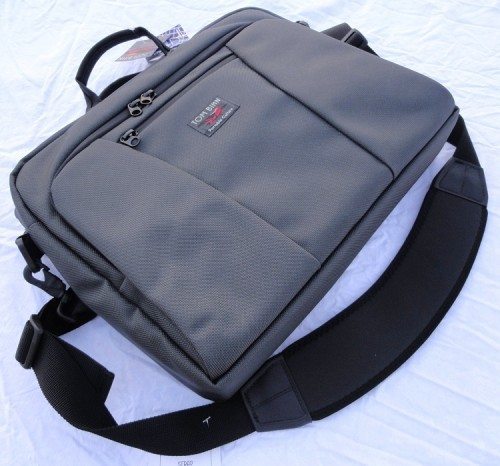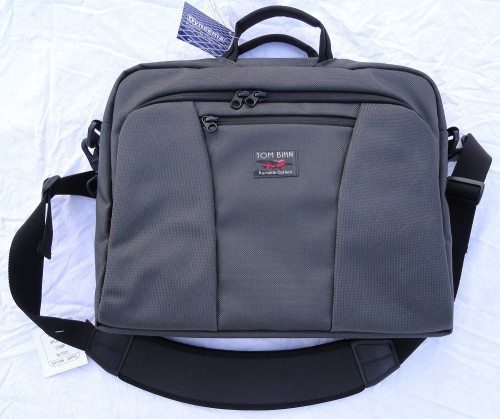 The Cadet's basic design is a "brief" style bag.  A descendant of the classic briefcase that your dad or granddad carried into the office with a newspaper under his arm and cup o' joe in his hand, the Cadet is shaped to carry objects that are roughly 8.5 x 11 inches in size.  This style of bag typically has an opening on top to slide items into it, a couple of handles for hand carry and a shoulder strap.  The Cadet does indeed share these basic features with its venerable ancestors.
Closeup of the front of the Cadet.  Prolific Tom Bihn nostalgic plane logo visible throughout on multiple tags and labels.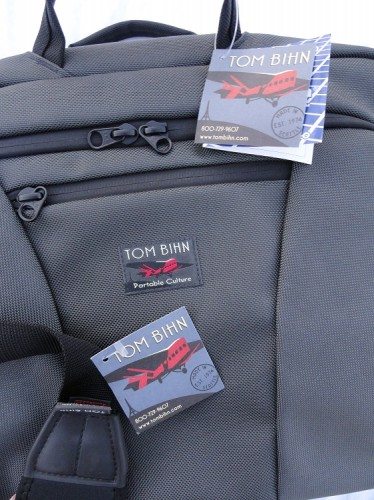 As mentioned above, the Cadet has two handles, one on each side of the zipper opening on top.  The handles are internally padded, but very basic and no-nonsense.  Yet they are thick enough to feel comfortable and solid enough to lift an elephant.  That is, if you could fit an elephant in the Cadet.  Or maybe just a smallish object with the density of an elephant.  But I digress.  I've used bags with handles that are a bit more comfortable, but many times they are complicated contraptions and as a result they just don't feel that solid.  These do.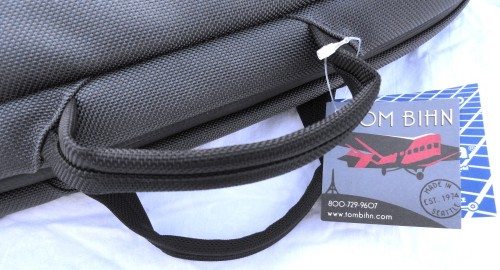 This might be a good point to describe the materials from which the exterior of the Cadet is made (interior materials will be described a bit further down).  As mentioned above, the Cadet is made from U.S. 1050 denier ballistic nylon.  Sounds impressive, but so what?  Originally developed for flak jackets in World War II, "ballistic" nylon was intended to help protect the wearer from flying fragmentation-type debris.  However, it was not intended to protect against bullets directly (this would come later with the development of Kevlar material).  Further, denier refers to the weight of the fabric.  As the Tom Bihn site states, "our Ballistic has twice the abrasion resistance of 1680 denier fabric."  So this is genuinely tough stuff and will definitely wear well, to say the least, though everything from your everyday commute to globe-trekking adventures.  In addition, the Cadet has 1/4 inch thick closed cell foam between the interior and exterior on the front, back and bottom, which gives added protection and also helps the bag retain its shape.
There are a lot of bags out there that are made from some unspecified type of "nylon" material.  But 1050 denier is the good stuff.  And I don't know what it is about the 1050 denier that Tom Bihn uses in their bags, but not only does it have a very solid and protective feel, it also feels relatively soft and supple, not rigid and scratchy like you might find with many of the tactical or military-styled bags that also use 1050 denier.  This may have something to do with Tom Bihn using a U.S. supplier of the material and being able to help specify the properties.  A quick anecdote on this.  My wife and daughter took the Cadet to the library to do some research recently.  Our daughter was carrying the Cadet and by the time she got home, the side of the bag was covered with brown fuzz that had presumably been removed from her pants leg as she carried the Cadet.  Admittedly, the pants she was wearing had sort of a soft, felt-like texture, so not much abrasion resistance, but something to keep in mind.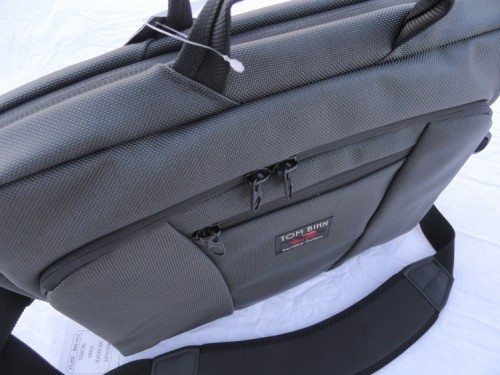 The Cadet, like most of Tom Bihn's bags, utilizes YKK Uretech® splash-proof zippers on the main compartment (#10) and exterior pockets (#8).  If you've never seen or used these before, they are quite amazing.  The exterior of the zipper has two strips of urethane over each set of teeth which neatly separate during unzipping and then just as neatly join back together again when zipping to create a water-resistant seal.  I don't know how many products use these babies (I've not seen them anywhere except on Tom Bihn's stuff), but I was amazed the first time I saw them.  The urethane strips don't impede the zipperin' action in any way, and the seal they create is very uniform.  Now, these things aren't going to enable you to throw your Cadet over your should and go snorkeling, but if you're caught in a monsoon, or at ground zero of a drive-by curb splashing, your bag's contents have a pretty good chance of staying moisture-free.
This is also a good time to mention that, to my knowledge, Tom Bihn does not use Velcro* in any of their products.  I suspect that this is because Velcro can be noisy and wears out over time, both of which would detract from the aesthetic and durability that are hallmarks of Tom Bihn's products.
*[Update: Tom Bihn does use Velcro, or "Velcro-like material" in a handful of their products.  A Velcro-like material is used to affix the customizable Strips onto the front of their Ego and Super Ego Messenger Bags.  Their Strapeez are basically a strip of Velcro-like material used to assist in cable management.  And their Horizontal and Vertical Brain Cells utilize a Velcro-like material for the closures.]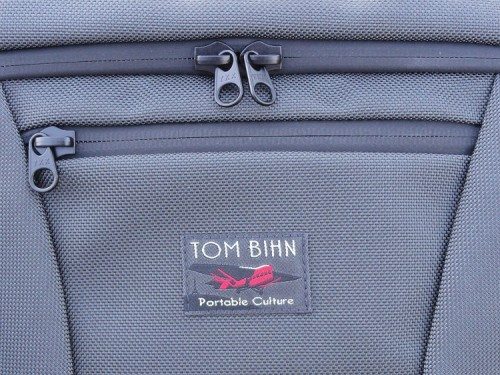 Closeup of the small pocket on the front of the Cadet.  The interior is lined with Ultrasuede, the same super-soft stuff that Tom Bihn's Ultrasuede Screen Cloth is made from–yep, same stuff as up above.  Placement and size of this pocket are perfect for quick external access to a phone or other small objects.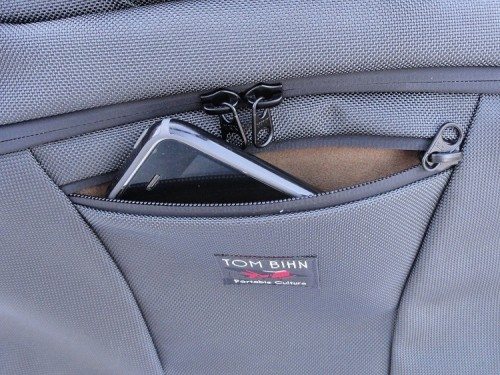 My old iPhone 3GS in Speck Candyshell case fits with a room to spare.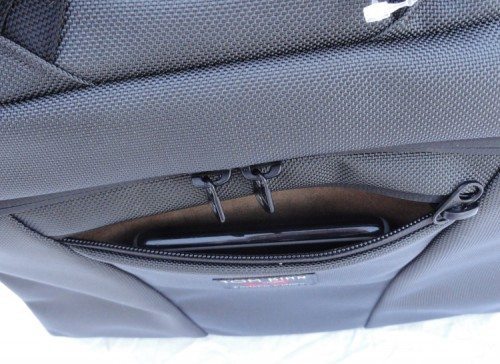 The rear of the Cadet, simple-looking though it may be, has some stuff going on as well.  Yep, there's a pocket; pretty standard for bags such as this.  It's big enough for a magazine or newspaper (so you don't have to tuck it under your arm like Dad did).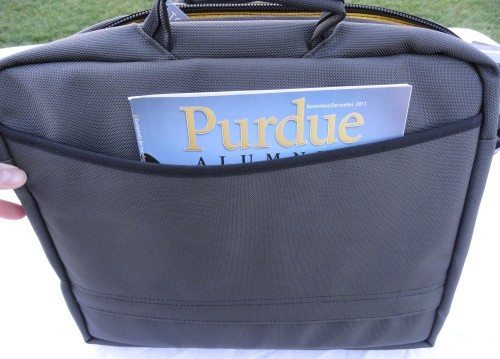 Just another shot, this time looking down into the rear pocket.  It's fairly deep and actually goes all the way to the bottom of the bag.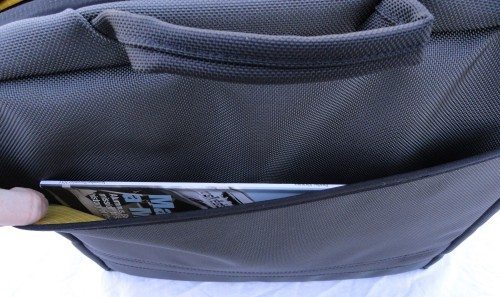 But that's not all.  The rear pocket has a secret.  Under a little flap near the bottom rear of the Cadet is a concealed zipper.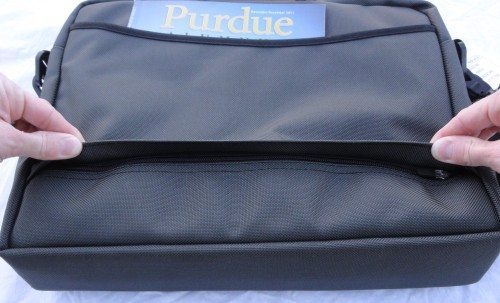 Lifting the flap and unzipping the super-secret zipper turns the rear pocket into a band that can be slid over the handle of a rolling bag.  Tom Bihn calls this a "dual-function 'roll-aboard'/magazine pocket"…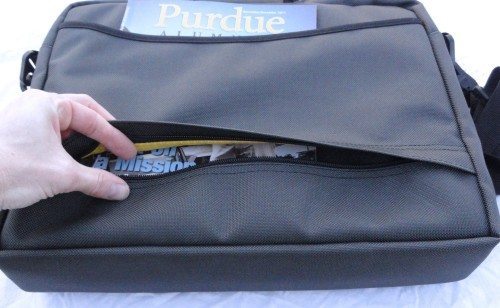 …as I shall now demonstrate, with my arm playing the part of a rolling bag's handle.  I really wish that Tom Bihn would have included this feature in all of their messenger bags that include a rear pocket like this—especially in my Super Ego Messenger Bag.  Hint, hint, Tom Bihn folks!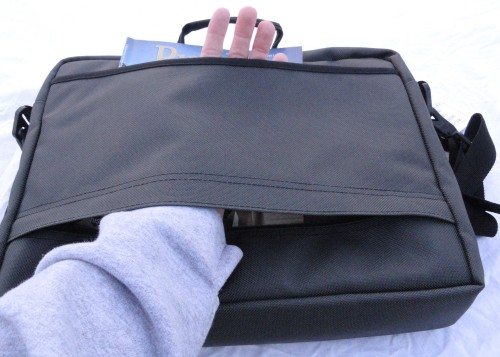 The interior of the Cadet is Dyneema® fabric.  What the heck is Dyneema?  No, it's not Wonder Woman's real name.  Dyneema is an Ultra High Molecular Weight Polyethylene (UHMwPE) fiber that is billed as the "strongest fiber in the world."  It has extremely high strength-to-weight ratio, chemical and moisture resistance and durability.  Tom Bihn uses Dyneema in several of its products (for both external and internal applications), including the Cadet: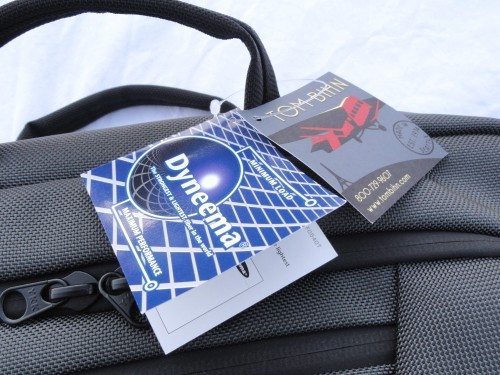 Inside the Dyneema tag.   Looks like marketing-ized scientific-type info, but it makes the case for Dyneema's strength and durability compared to other materials.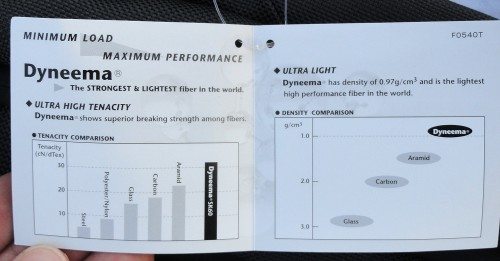 Unzipping the larger of the two zippers on the front of the Cadet reveals an organizer compartment.  The bright yellow grid-pattern interior material is the Dyneema fabric.  The brightly-colored interior is an advantage when you are in dimly-lit surroundings and need to search for something small at the bottom of the bag.  Let's walk through the organizer compartment's features.  Starting at the top are two plastic O-rings, one on each side.  Below the O-rings are a row of pockets in various sizes.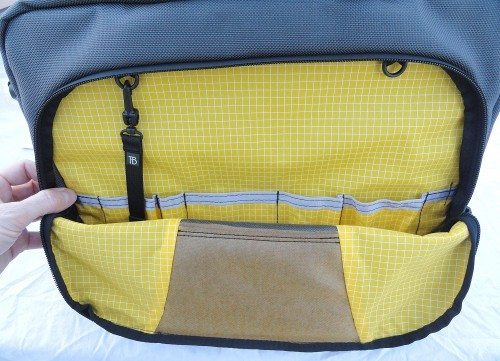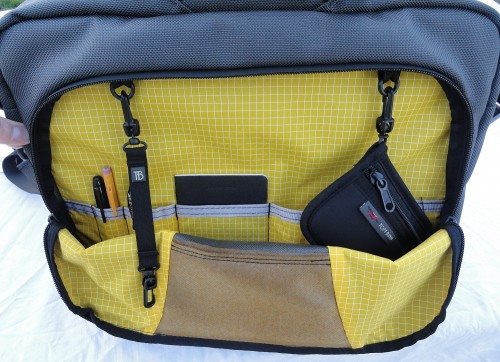 Here, I've placed a few items that I normally carry with me in the Cadet.  Starting at the top, I've attached to the left O-ring one of  Tom Bihn's Key Straps, which is included with the Cadet.  These are available in 8-inch or 16-inch lengths and are $2 each if you'd like to get additional ones.  These straps have many uses, one of which is to complement Tom Bihn's organizer pouches (see above).  Depicted is one of Tom Bihn's 8-inch Key Straps to which I'll attach my car keys and toss them into the bottom of this organizer compartment, then easily retrieve them by grabbing the strap.  On the top right O-ring I've attached the Padded Pouch for Magic Mouse (see above).  In the organizer pockets below, I've placed a Sharpie, Paper Mate mechanical pencil, Pilot gel pen, small Moleskine notebook and the Ultrasuede Screen Cloth (folded and hidden behind the Pouch), and there is room for more.  What you put in here is up to you, but as someone who likes lots of organization features, I find this to be just about the right amount for a bag of this type—you're not going to carry your whole office in here, or even as much as you would in a cavernous messenger bag, so you can just stick to the essentials and keep it simple and lightweight.  There is also sufficient room in this organizer compartment to toss in your power supply or other similarly-sized items.
The only criticism I have here is that at the far left and right of the organizer pockets there are two things that look like pockets at first glance, but only when you try to stick something into them to you realize that they are actually sewn shut.  I don't know why Tom Bihn does this, but it is also this way on my Tom Bihn Super Ego Messenger Bag.  I suspect it may have something to do with strength and durability, but in any case it's a bit frustrating to see what looks like two additional pockets that are in fact useless.
Now let's dive into the Cadet's main compartment.  I found it to be simple, but with just about the right amount of features.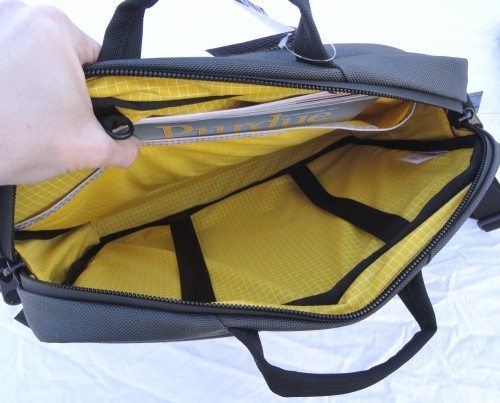 The "front" of the interior (the side where the organizer compartment resides on the exterior) has a large pocket.  This could be used for papers, folders, magazines and the like.  Above it are two more O-rings that you can use however you'd like.  The "back" of the interior has two strips of webbing that run top to bottom.  These straps serve as the points for attaching the Cadet Cache laptop insert into the Cadet.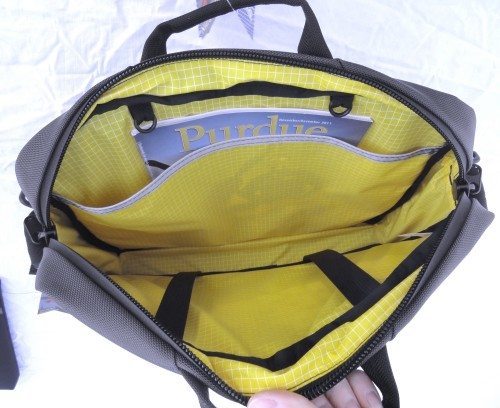 Here, I've placed the Cadet Cache down into the Cadet's main compartment.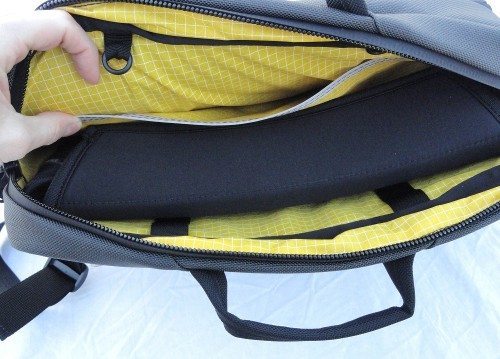 Looking down into the Cadet Cache.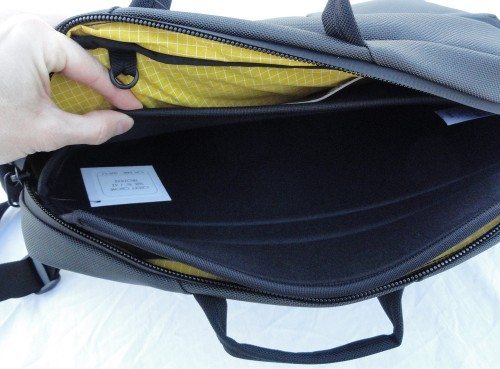 In the photo below, you can just barely make out the Gatekeeper clips at the bottom of the Cadet Cache, which have been attached to the two vertical webbing strips.  Because the Gatekeeper clips can slide along the webbing strips, this allows the Cadet Cache—with laptop inside—to be slid out of the Cadet with the laptop still inside.  This feature is intended to be "TSA checkpoint friendly" and to comply with current TSA regulations which stipulate that you can leave your laptop in a sleeve when going through the X-ray machine at the airport.  Once through X-ray, just slide the Cadet Cache back into into the Cadet.  Quick and easy.  Two things to note.  First is that, because the main compartment must be unzipped for it to function in this way, it does leave the contents of the bag free to fall or slide out either when you pull out the Cadet Cache or place it on the X-ray belt, or even to pilfering in the security process.  I haven't had this happen, but it does seem like a possibility.  Second is that, in my travels I have yet to encounter a TSA agent that actually allowed me to do this.  Every one yet has forced me to remove my laptop from my bag, despite pointing out that the regs have changed.  Frustrating.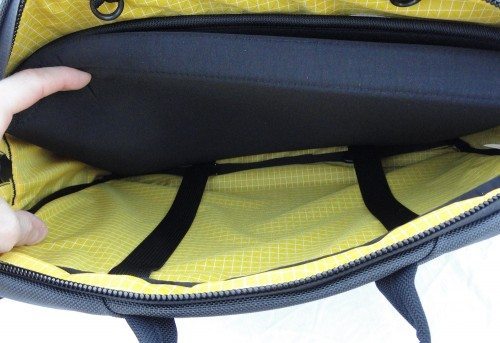 A shot of my 15 inch MacBook Pro inserted into the Cadet Cache inside the Cadet.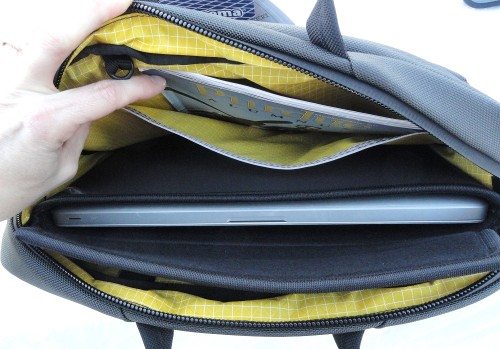 Here, I've moved the Magic Mouse Pouch from the front organizer section and clipped to one of the two O-rings in the Cadet's interior.  The O-rings and clips on various Tom Bihn accessories give the Cadet a lot of organizational versatility and customization.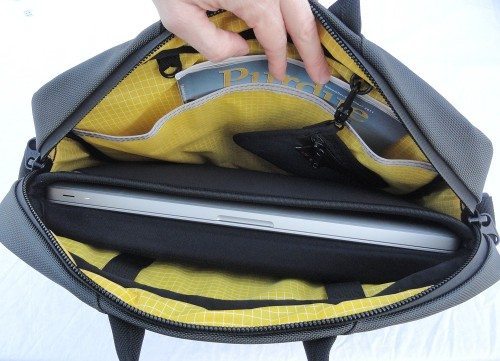 Front view of the Cadet.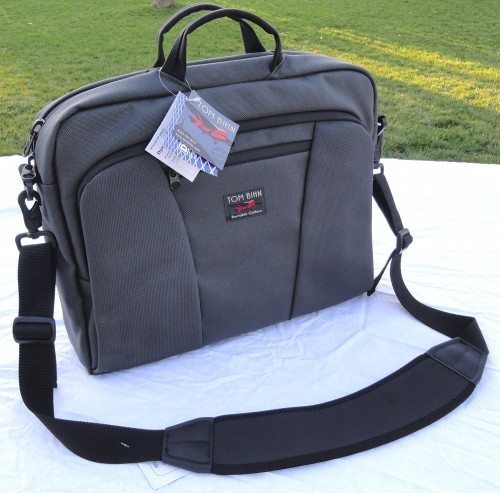 Rear view of the Cadet.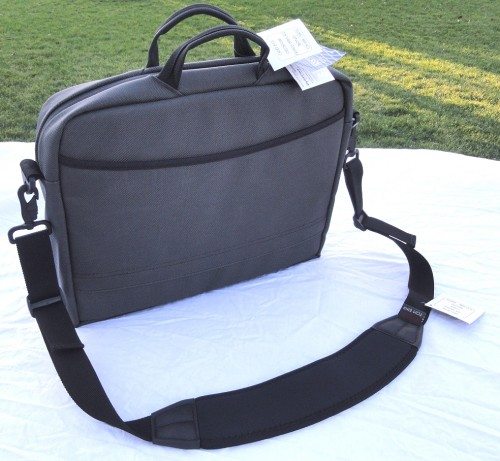 Below are two of the three ways of carrying the Cadet: over the shoulder like a shoulder bag and across the chest like a messenger bag.  Of course, the Cadet can also be carried by the handles, but I forgot to get a shot of this.  The Cadet's minimalist design helps minimize the weight, and its slim profile makes it a comfortable bag to carry.  With the addition of the Absolute Shoulder Strap, it becomes almost effortless—I almost forget I am carrying it.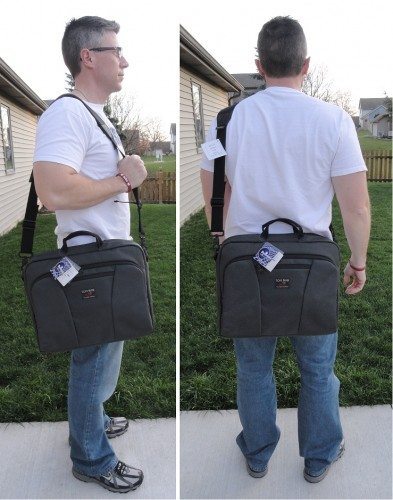 Price
OK, let's talk price.  The total price of the Cadet and all accessories as configured above, if I've figured everything correctly, is about $216.  $200+ for a simple, minimalist laptop bag?  Yeah, that seems ridiculous to me as well.  But as I'm sure you've surmised by now, though the Cadet may at first glance appear to be ordinary and simple, it is anything but.  As I've stated above, the Cadet, like all of Tom Bihn's products, is very high quality in design and materials—some of the best travel bags and accessories you can buy.  And this doesn't come cheaply.  This is not a laptop bag like you would find on the clearance rack at Walmart.  These are investments, and should be treated as such.  If your needs are lower-demand, if you don't travel that often or don't need such durability, then Tom Bihn's products may not be worth the price to you.  But if you travel frequently, or to exotic locations, or don't want to have to replace your bag every year, then I would encourage you to consider Tom Bihn's products.  There is a Forums area at the Tom Bihn site in which fellow owners tell tales of their travels, what abuse their bags have endured, how long they've had their bags, suggestions for improvements and so forth.  Many of those who have committed to purchasing a Tom Bihn product have only one lament: that the darn things last so long.  Because they can't justify buying another one until their current one wears out!  That is a satisfied customer and brand loyalty.
Conclusion
As far as my Holy Grail of Bags quest, the Cadet does more or less meet many of my criteria, including understated looks, hard core durability and a decent amount of organizational features. However, for my daily commute bag I personally need something with a bit more organization and quite a bit more capacity, so my quest continues.  But that's just me.  The Tom Bihn Cadet is a minimalist laptop bag that is designed to protect your laptop while also carrying your mobile computing essentials.  Like all Tom Bihn products, its features have been very thoughtfully designed, it has been built with the highest quality, most durable materials, and the styling is simple yet elegant and looks great.  The price is a bit steep, but with travel gear you really do get what you pay for, and Tom Bihn makes some of the best products on the market.  If a minimalist laptop bag is what you're looking for, I highly recommend the Tom Bihn Cadet.
Update 03/26/2015
Like every Tom Bihn bag I have ever tried, this is a great bag. We still use it to transport our family's MacBook Pro and I don't see getting rid of this bag any time soon, if ever.
Source: The sample for this review was provided by Tom Bihn. Please visit their site for more info.
Product Information
Price:
$170 (as reviewed $216)
Manufacturer:
Tom Bihn
Requirements:

Laptop with 15-inch display or smaller

Pros:

+ Very high-quality materials
+ Extremely solid construction
+ Minimal, yet smart design

Cons:

- Price (but you get what you pay for)
- Doesn't hold more than just your laptop essentials