We use affiliate links. If you buy something through the links on this page, we may earn a commission at no cost to you. Learn more.
It is one of the biggest ironies of the current digital age. While our information may effortlessly reside in a persistent data cloud accessible from anywhere, all the mobile stuff we need to access that cloud needs an earthly place to stay while we are out and about.
The proliferation of electronic gadgetry has also given rise to a veritable explosion in the number and kinds of bags we can choose from to organize this stuff for the road. At least this has been the case in my closet, which is stuffed full of promising bags of all description – ranging from backpacks to messenger bags to folding contraptions intended to make easy the task of hauling electronic stuff (and collateral paperwork) around while traveling. There is no simple answer to the persistent question of the digital age: What kind of bag do I need?
Last year I had the opportunity to try out the Tom Bihn Archetype case. I loved the Archetype, which is a very well-made case constructed of cork, designed to carry your Apple laptop and nothing else. That's the minimalist genius of the Archetype, and it's perfect for many, but not all, situations. But what if you want to carry other material with you, or think you'll need to recharge your MacBook before returning to home base? Under those circumstances, another solution is probably better suited.
Just in time for holiday travel this past December, I had the opportunity to try one of Tom Bihn's other solutions: the Super Ego messenger bag. The Super Ego is Tom Bihn's biggest messenger-style bag, and by big I mean roomy. Around the house here was a good deal of amazement and skepticism about the practicality of such a large bag (I wasn't kidding about my closet), which was quickly replaced by a bit of envy – that's really nice, but do they make a smaller one? At that time the answer to that question was in fact, no, which was shaping up to be my primary complaint about the Super Ego. Recently, however, Tom Bihn has added a new, smaller version – the Ego – to it's line. This has not only rectified that limitation, it has resolved tensions around the house and now allows for a comparative review. Thus, this really is the tale of two Egos.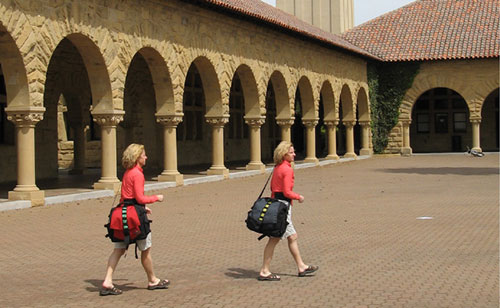 When I took the Super Ego on its first outing to visit family around the holidays, I stuffed it silly not only with gadgetry, but also with overflow from the small roller-bag I brought to avoid checking luggage. After doing so, I was dreading the initial heft of the Super Ego onto my shoulder as I knew it was going to be heavy, but I was pleasantly surprised. The design of the bag itself and the shoulder strap are such that the load – which was not light – was very nicely distributed. In contrast to other bags I've owned where this load might have felt like a dead weight dead set on separating my arm from my shoulder, the structure of the bag helped carry the large load very comfortably.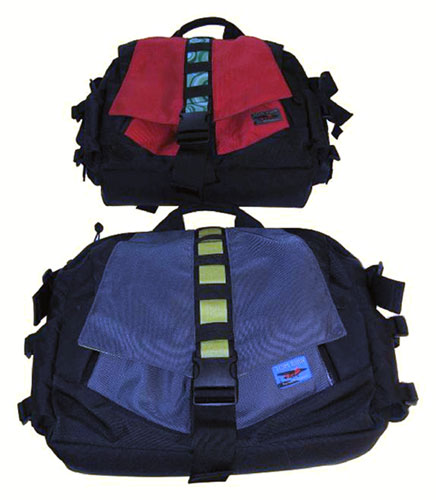 I also learned on this first trip that the Super Ego is extraordinarily well-designed to keep things organized. In addition to an external water-bottle holder on each side and a magazine pocket on the back, there are two main compartments (one intended for laptop, the other for smaller stuff which also has a built-in organizer panel) and 6 smaller pockets (two of which are zippered) on the flap covered front panel. The open pockets are nicely sized for items needing quick access, such as PDAs, phones, and smaller digital phones. The Ego shares all these design elements.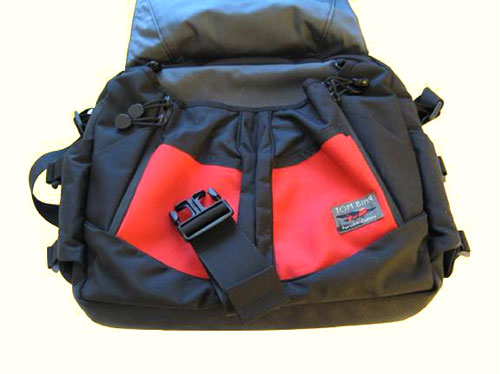 Never miss one of our posts again. Sent MON, WED, and FRI with the latest gadget reviews and news!
The smaller of the two main compartments in both bags is shaped like a expandable pouch and seems perfect to accommodate small, but oddly shaped items such a digital cameras, power bricks, and the like. It also contains a useful organizer panel, as well as two attachment points to further organize the space. A lanyard for keys is an obvious use of one of the attachment points, while the other can be used to accommodate optional Tom Bihn Organizer pouches of various sizes (ranging from $5-$11 each) so that smaller items don't find themselves lost at the bottom of the compartment.

The other main compartment is designed to accommodate an optional Horizontal Brain Cell sleeve (various sizes to accommodate different laptop models and different colors to accommodate preferences; $50), also from Tom Bihn. Two clips sewn into the back wall of the compartment clip into the Brain Cell to make the two components work together seamlessly. Not only does the Brain Cell offer tremendous protection for a laptop (and random eggs being dropped from shoulder height, as demonstrated by a video on the Tom Bihn site), it provides a bonus feature when the bag is stuffed full. In protecting the laptop itself, the Brain Cell also effectively protects the space around the laptop, which is important when you have to unload the laptop for the purpose of passing through airport security. Rather than having to repack your back while dressing and slipping on your shoes, your laptop will effortlessly find its way back into the safety of the Brain Cell and your Ego of choice. With the Brain Cell installed there is still sufficient space for books and a lot of paperwork, though the Ego is clearly less accommodating than the Super Ego on this front. The space in this compartment of the Super Ego is cavernous, and sufficient to hold a second sleeved laptop if you really want to go overboard.

As you may have gathered from the options described above, one thing that makes the Ego line stand out is the degree to which the bags can be customized to your liking. That is true not only of the features, but to a great extent also the look of the bag. This can be accomplished by swapping the interchangeable highlight strip with another. These strips are available in about 2 dozen different colors and materials, as well as method used to secure the front flap (standard clip or an automobile seat-belt clip if you desire). The base colors are a bit more limited than those in the strips, but the combinations are wide ranging. Our red Ego bag is currently sporting a mod-green print, while the grey Super Ego is enjoying one the color of wasabi, though contemplating the next one to try. Since I've been doing a good deal of bike commuting, it may be time to try out the reflective strip shown on the right hand side of the picture below.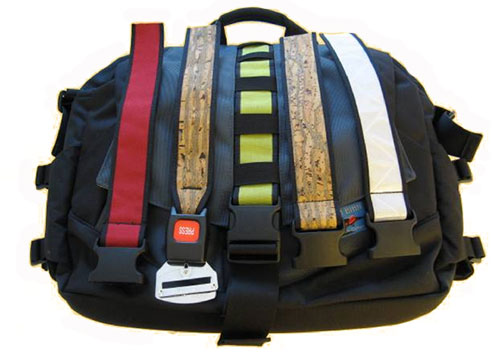 The Egos are really finely made bags – systems, really – and Tom Bihn's customer service is first-rate, which makes them very attractive as candidates for giving your gadgets a place to live while on the road. How do they look in use? Is the size difference between the two really that substantial? In terms of usability they are both fabulous bags. In terms of looks, you can judge for yourself, but I think the Rodin sculptures look a bit jealous of Casey as she models both bags, as do the totems eyeing me (as a point of reference, I'm a foot taller than her 5 foot 2). While the bags are clearly differently sized, neither one appears to be too large or too small when worn.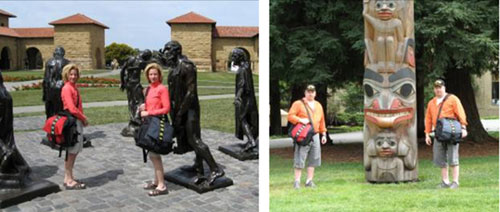 In sum, I can recommend either of the Ego bags without reservation. I think the choice of Super Ego or Ego is really one of personal preference, though smaller framed people may feel a bit overwhelmed by the sheer size of the Super Ego. Either way you chose you will find that they are superbly designed and constructed with high-quality materials. This means, of course, that they are not inexpensive – if you are looking for a low cost bag then don't look at Bihn's bags. However, these bags are great values, even outfitted with the optional items described above. Be sure to get a color you like as you will likely live with it for a long time, as you will likely not be in the market for a new bag any time soon – that's been my experience, which is a relief to both Casey and my overstuffed closet.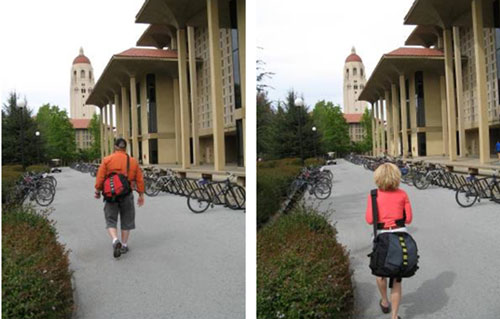 Price: Ego — $130; Super Ego — $140.
Product Information
Price:
Manufacturer:
Tom Bihn
Retailer:
Tom Bihn
Pros:

Basic design is well thought out yet allows further customization
Carries large loads easily while nicely protecting your gadgets
High quality materials and construction produce a great value
Excellent customer service

Cons:

Additional accessories can make the total cost expensive
Eliminates most excuses to buy other bags