We use affiliate links. If you buy something through the links on this page, we may earn a commission at no cost to you. Learn more.
Current and potential Sprint customers will be interested in Palm's latest Smartphone. The Palm Treo 755p is an updated version of their Treo 700p which was released last summer. Running Palm OS, the 755p includes the same physical restyling that came with the 750 and 680 GSM phones which were released last fall. Is the smaller form factor and various software changes enough for 700p owners to justify an upgrade to this new model? Hopefully this review will help answer that question…
Hardware Specs
Operating System: Palm OS 5.4.9
Memory: 128MB (60MB persistent user storage)
Processor: Intel 312 MHz processor
Display: 320 x 320 pixel TFT touchscreen with support for over 65,000 colors
Wireless: Dual-band CDMA2000 1xEvDO, 1XRTT, Bluetooth 1.2, Infrared (IR)
Digital Camera: 1.3 megapixels with 1280×1024 resolution and 2x zoom
Expansion Slot: miniSD card
Battery: 1600 mAh Rechargeable lithium-ion, Talk time: up to 4.2 hours, Standby time: up to 240 hours
Size: 4.4 x 2.3 x 0.84 in (113 x 59.3 x 21.3 mm)
Weight: 5.64 ounces (160 grams)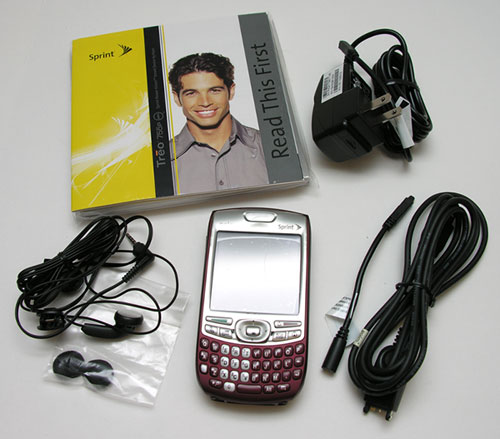 Package Contents
Palm Treo 755p smartphone
Rechargeable battery
AC power charger
USB sync cable
Headset
Stylus
Palm Software installation CD (with User Guide and desktop synchronization software for Windows and Mac)
User documentation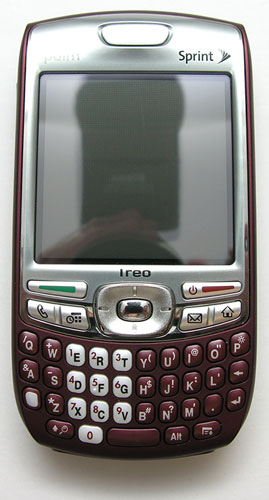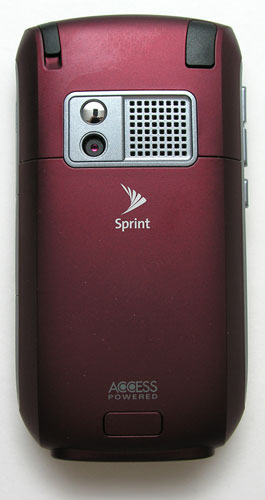 This new model is available in both Blue (like the 750) and Burgundy. I was sent the Burgundy version for review. Like the 750, the 755p has a slightly rubberized coating over the case which really helps you keep a grip on the phone.
Do you notice anything missing on the face of this phone? You don't see a status LED for battery charging. Don't worry, it's there, you just don't notice it until you actually apply power to the Treo for charging. Then it lights up. It also blinks Green when you have a notification or alarm.
Never miss one of our posts again. Sent MON, WED, and FRI with the latest gadget reviews and news!
In hand, I feel no difference between this phone and my 750v. Same weight, same size and it passes my now famous Gadgeteer creak test. If you're new here, the Gadgeteer creak test is where I squeeze a gadget to see if the casing flexs, creaks, or cracks. I also like to give it a shake to see if it rattles. Yes, it's these types of highly scientific tests that have made The Gadgeteer one of the most popular review sites on the net ;o)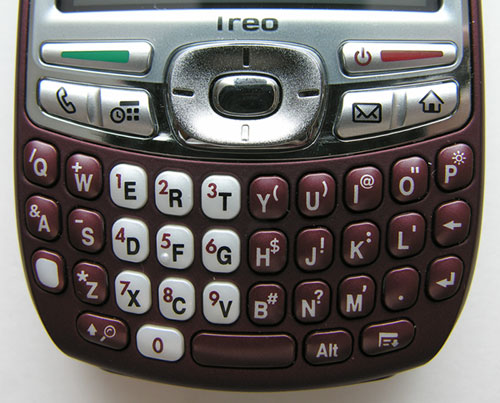 Screen and button layout is identical to the 680. The keys are also the same size and all have the same good tactile feedback. Flip the phone over and you'll see the speaker grill, camera and self portrait mirror that you also find on the 680 and 750.

Volume up/down buttons are located on the Left side of the phone along with a user customizable button below them.

On the opposite side of the phone, you'll find the IR port and a miniSD card slot. The 755p matches the 750 (Windows Mobile Smartphone) with this configuration instead of the 680 which has a full sized SD slot. miniSD cards are pretty popular and as cheap as regular full sized SD cards these days, so I don't see this as an issue as far as program and data storage.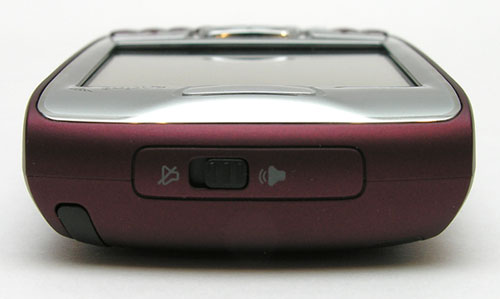 If you look at the top edge of the phone, you'll find the handy speaker mute switch. I use this all the time on all my Treos and feel lost when I happen to be using another phone that doesn't have this convenient feature.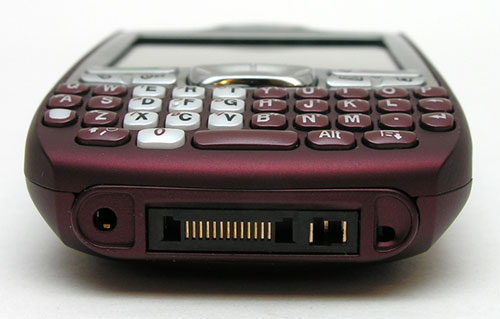 On the bottom edge there's the 2.5mm earphone jack, charge / sync port and microphone. Nothing new here.
Also not new is the lack of WiFi. Web surfing, emailing and similar activities will have to be accomplished using a data package and EVDO or 1XRTT. A lot of people complain that Treos lack WiFi, but I've never found this to be a problem for me as I almost never find myself in an area with a hotspot anyway. Surfing using 1XRTT (EVDO isn't in my area yet) doesn't feel that painful to me as it is about the same as EDGE on my 680. I conducted a speed test using http://www.dslreports.com/mspeed. The 200k test yielded the following results in 3 back to back tests:
| | |
| --- | --- |
| Treo 755p Tests | Treo 680 Tests |
| 113 kbit/sec, 1.721s latency | 91 kbit/sec, 1.397s latency |
| 100 kbit/sec, 1.216s latency | 91 kbit/sec, 1.698s latency |
| 89 kbit/sec, 1.33s latency | 90 kbit/sec, 1.41s latency |
As far as hardware goes, not a whole lot has changed between the previous model (700p) and the new 755p. Same OS version, same processor, same amount of RAM, same camera resolution and Bluetooth version. The main physical changes are a smaller form factor, no antenna and a smaller battery. Yes, you read that right. The 755p has a smaller capacity battery than the 700p. This new model has a 1600 mAh, while the 700p has an 1800 mAh. That's still better than my 680 which only has a 1200 mAh battery, so I'm not complaining!
Let's check out what's new on the software side of the equation…
Software
Installed in ROM
Blazer Web Browser
Bluetooth Manager
Calculator
Calendar
Camcorder
Camera
Card info
Contacts
Documents To Go 8.0
Google Maps

HotSync Manager
Memos
Messaging
MyTreo
On-Demand
Phone
Pictures and Videos
PocketTunes
QuickTour
Sprint TV
Tasks
VersaMail v3.5.4
Voice Memo
World Clock
Software on CD-ROM
Audible
Bejeweled 1.0
Documents To Go (desktop version)
eReader
Hotsync Manager
Palm Desktop software
Palm Files
Remote File Access
Solitaire
Traffic for Treo smartphones
Treo Voice Dialing – Trial version
Hmmmm, not a whole heck of a lot is new here either, but let's go over the highlights.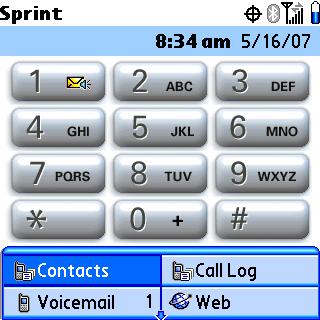 First of all, let me say Yay that Palm didn't go with the new tabbed calling interface like on the 680. They have stuck with the same interface that the 700p had. Some might say that it's old and tired, but it's easy to use and gets the job done.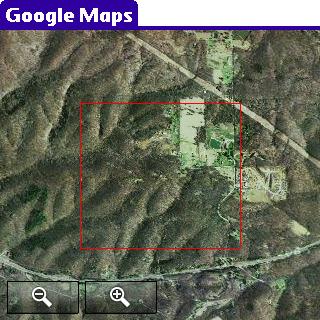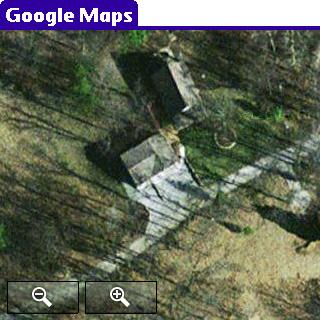 Google Maps is in ROM which is cool. Oh look, there's my house. Let's zoom in!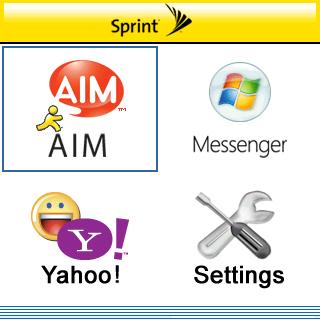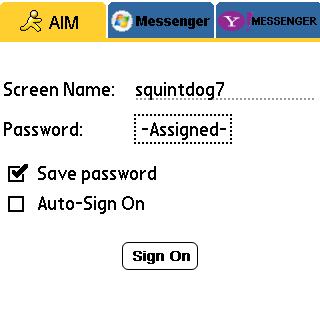 Like to chat via AIM, MSN Messenger and/or Yahoo Messenger? If so, you can now keep track of all your buddies right on your phone even when in other applications.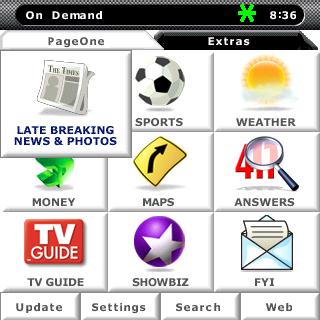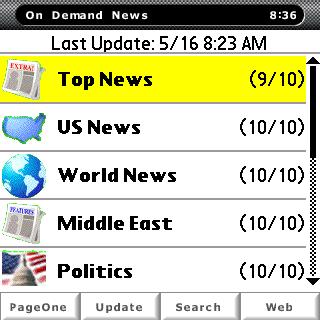 Remember Handmark's Pocket Express? It's called On Demand now, but does all the same things. It's an easy to use finger friendly portal for news, weather, sports, etc.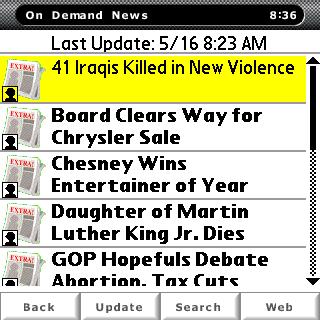 I actually like using this application better than the built in web browser.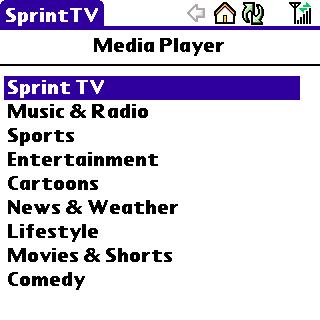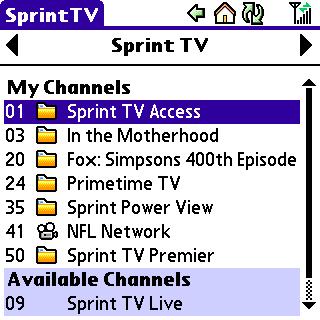 If you're a TV addict, you'll love that the 755p has SprintTV built into it. You can view all kinds of video clips from entertainment to news and weather.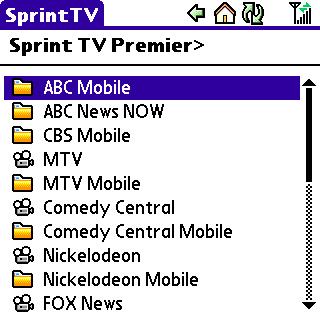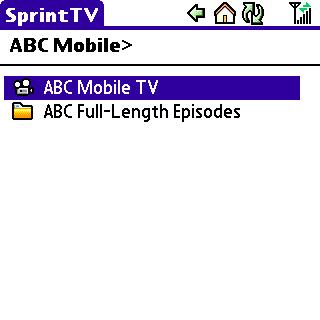 There are tons of free choices as well as some premium content that will prompt you for payment.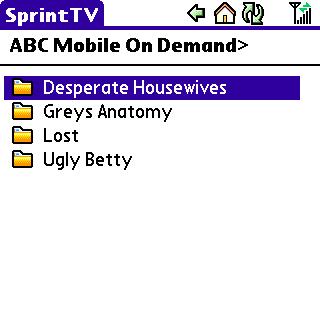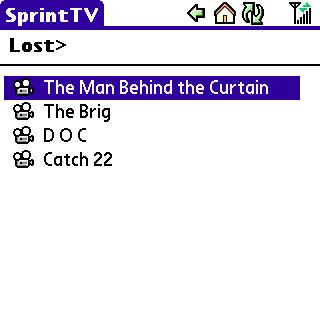 Check it out, you can watch full length episodes of shows like Lost and Ugly Betty. Two of my faves. :o) I tried to get screen shots, but my screen shot software just captured solid black images when I tried… Quality is so-so with non-EVDO access. Sometimes I would have timeout errors while the Treo was trying to buffer the content. But if you have a fast connection, this feature could totally make waiting in line at the grocery or doctor's office a lot more fun!
Another new software feature that I didn't test is the new Outlook email Microsoft Direct Push Technology. Think Blackberry…
And that's about it for software… So like hardware, there really isn't THAT much new here. Seems to be the norm these years with Palm. Some might say that they don't need to mess with a good thing as Treos are probably the most popular smartphones on the market. But for gadgeteers like us, I can't help but feel a little disappointed with the 755p. It's another good product from Palm, but it's not going to make you drool. Sprint folks already owning a perfectly good 700p, might want to pass on this new model. But, if you're new to Sprint or looking for a new phone, then sure, go for the Palm Treo 755p as it's a solid phone with all the great Palm features we've come to appreciate.