We use affiliate links. If you buy something through the links on this page, we may earn a commission at no cost to you. Learn more.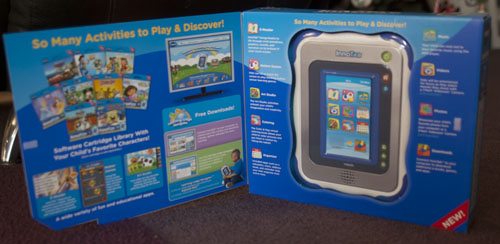 As any self-respecting gadgeteer parent, I put a lot of thought towards the appropriate gadgets for my son. As Christmas approached last year I had decided to get him a tablet, and had my list down to the V-Tech and LeapPad Tablets when V-Tech offered one for a review. Unfortunately (for me) last Christmas was a hot season for this gadget, and they were unable to get a review unit to us until well after the first of the year, so I actually had to brave the stores and buy one myself. I still ended up with the InnoTab, and this has been a main stay in our house since Christmas. With all the tablets out there, is there really a need for a kid's tablet? Let's explore.
In The Box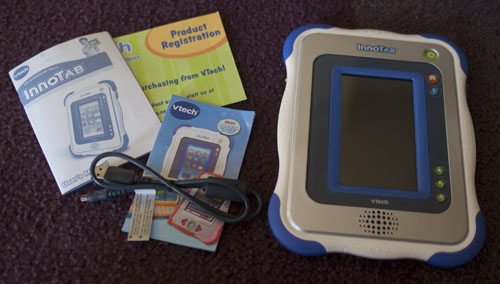 Specs
5″ color touch screen
Tilt-sensor
Cartridge slot for additional cartridges
64MB onboard memory and SD card slot for memory expansion (SD memory card not included. InnoTab supports SD/SDHC memory cards between the sizes of 2GB and 16GB.)
4 different media players: E-Book reader, MP3 music player, photo viewer and video player
Mini-USB connector (cable included)
Speaker and Headphone Jack
Requires 4 AA batteries or AC Adapter (not included)
I liked that it supports an SD card, and quickly added one I had so that I could download applications and photos. I also like that it uses a standard USB cable, but at this stage in the gadget world, I wish they used micro-USB instead of Mini. Not a difference in function, but I have a lot of Micro-USB cables for gadgets now, and have to dig up the mini every time I want to connect. I was disappointed that it did not come with rechargeable batteries that could be recharged in the tablet, but there is always the trade off of being able to quickly buy some AA batteries in a pinch. I bought 8 rechargeable AAs, and keep them in a cycle.
Expectation Management
When looking at a kid's gadget you need to keep in mind what is important for this use. I consider the following:
Safety. No hard edges, no small pieces.
Durability. This goes hand in hand with #1. If it easily breaks, those pieces could cause harm. Also, kids are not the most careful with their toys, so it needs to absorb some abuse.
Ease of Use. This is somewhat subjective, but if it is not accessible to the kid, it's going to end up gathering dust.
Low maintenance. What I mean by that is how much time you as a parent need to change batteries, update software, or get the child started.
Notice, I did not include fast processor, tons of storage, high-resolution screen, or many other things I would look for in a tablet. If you go into this review seeing how this stacks up performance wise against the iPad, or the Nexus tablet, or any other mainstream tablet you can stop right now. It doesn't. Not in the performance we as adults care about. But on the four items I listed, it stands a chance.
Quick Tour
The tablet is nicely designed with a kid in mind. The corners are rubberized for the inevitable fall, and while I like my gadgets with less and less bezel, but this is a kids' tablet, and  it had a nice bezel for them to grab.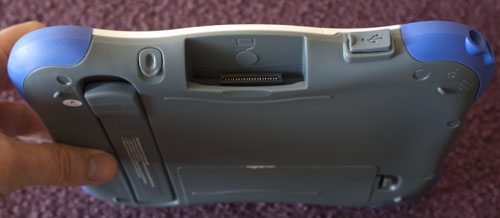 On one side, you have a slot for cartridges. There is also a stylus and a USB port. I was suspicious of the stylus. How useful would my son find it, and how soon would he lose it were top of mind. Turns out, he liked it and has never misplaced it. He doesn't use it every time, but does enjoy using it with the drawing application. I have not bought any cartridges. You will find a number of branded games and activities, including Disney titles, but I stick with the downloaded applications. Many of those applications can be as little as $1.99. The cartridges are typically $20-25.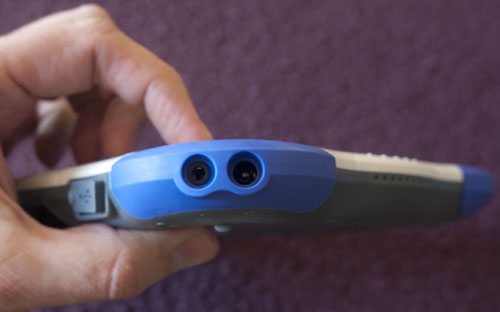 The corner contains the headphone and AC Adapter ports. I have used the headphone jack for testing, but I am still a little concerned with getting my son plugged into headphones. The AC Adapter does not come with the tablet, so I did not test that. It won't recharge the batteries, as they are standard AA cells.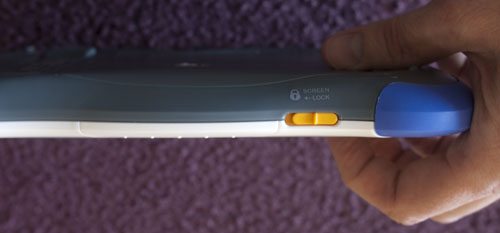 On the other side you the screen lock button.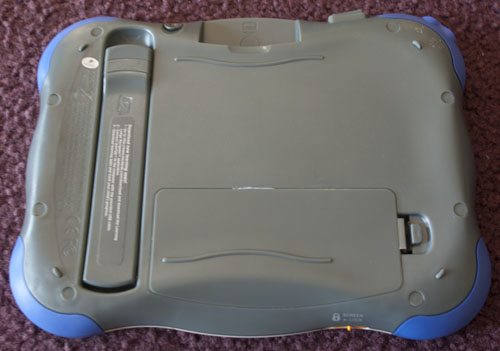 The back of the device has the cover for the batteries and a pull out stand.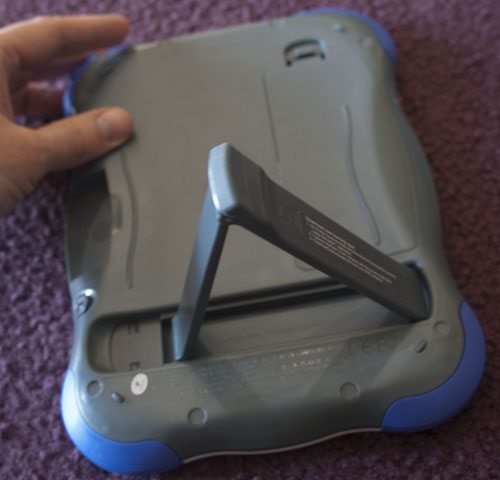 The stand is easy to pull out and collapse. My son uses it periodically, without any prompting, or much demonstration from dad.
Inside the battery compartment, you have spots for the 4 AA cells, a standard watch battery to retain settings between battery changes, and a slot for a standard SD card.
Usability
This tablet quickly became one of my son's favorite things. He brings it many places, and it is fun to watch him explain its use to other kids. I am not crazy about the response of the touch screen (being used to capacitive touch screens), but my son has no issues, and I have even watched him suggest to a friend how to use his fingernail to get a better response – a technique I long ago forgot with newer touch screens. There is a pleasant voice that guides your child through the use of the tablet. Instead of a simple dialog that simply asks "are you sure?", you get a voice asking your child if they are sure they want to do something (like delete a picture) and what the implication is.
The tablet also lets you set up multiple users, not an issue for our 1-child household, but helpful for tablets that will be shared. When I finally received the unit for testing, I gave it to some friends that conveniently have four children in the 3-9 range. I'm told it is quite the hot item in the household. She did observe that with her youngest, she thought adding an avatar to the name list would be an aid in sharing the tablet.
Applications
The tablet comes with a number of nice applications. The e-reader application is really nice; my son loved the book What's That Noise. Again, the tablet walks them through how to use the application, and there are a number of hot spots they can tap and explore. There is the Art Studio application with lots of tools and colors to explore as well as a very cool Color & Pop application that lets them color a picture. We have downloaded a couple of e-books and games to add the tablet, and they have been mostly high quality and engaging. It can be difficult to determine the quality ahead of time, but I have only downloaded two bad ones, and they are very inexpensive. You can download applications by loading the Windows or OSX application on your PC and hooking the tablet up. It is a very simple process. If, however, you don't want to go that route, you can always purchase cartridges.
Batteries
I understand the cost savings involved in using standard AA batteries over some sort of rechargeable system, but I would have liked that as an option. Also, the ability to check the charge would be an added benefit. It does warn you when it is getting low, but heading off on a car trip it would be nice to do a quick check to see if you are better off changing now. In a one child household, I find the battery life very acceptable. From my friend, I hear they go through batteries fairly quick. I think and investment in rechargeables would yield a nice payback on this.
Conclusion
Whenever I review a product, whether I paid for it, or received review copy, I have to ask myself if it is worth it or not. I can unequivocally say that this is worth it, and I would buy it again.
This exact model has been discontinued, but I can still use the InnoTab applications. They have upgraded the tablet with a camera, and a model with Wi-Fi for this season. I can see no reason why those updates won't improve on the experience. If you don't care about the camera and Wi-Fi, you may find the original on clearance.
Product Information
Price:
69.95 for 2 (with Camera), 99.95 for 2S (with Camera and Wi-Fi)
Manufacturer:
VTech
Pros:

Durable, Kid-Friendly Design
Nicely designed applications
Downloadable apps

Cons:

No built-in rechargeable batteries