We use affiliate links. If you buy something through the links on this page, we may earn a commission at no cost to you. Learn more.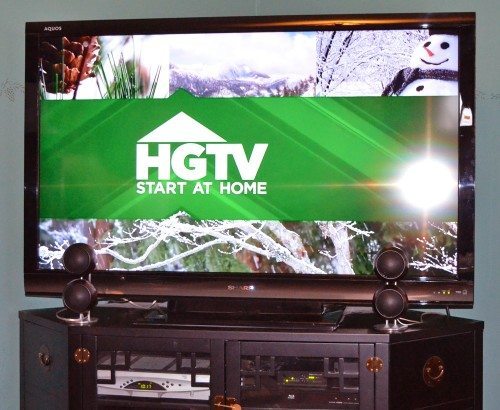 The picture above is dominated by my giant 65″ TV, but you'll notice two little speakers sitting in front of the screen (click for a larger view).  These little beauties are Mod 2 speakers from Orb Audio, a US-based "high-end speaker manufacturer who has proven that price does not equate to quality in the home audio industry."  You'll also see the Orb Audio Booster Amplifier in the right side of the TV cabinet (green lights identify it).  What you can't see is the Super 8 subwoofer sitting on the floor behind the cabinet.  Orb Audio has added a couple of amplifiers to their offerings, and they offered The Gadgeteer the opportunity to review their Booster Mini Amplifier.  I was very excited to be selected to do the review, as it had been a few years since I had any sort of audio setup in my house.  I'd been making do with the wimpy built-in speakers in my TV and in my computer.  How do the Orb Audio Booster Mini Amplifier and Orb Audio speakers perform?  As a hint, we'll find out their beauty is more than skin deep.
Most images can be clicked for an enlargement.
Orb Audio states their goal has always been "to turn the normal practices of many speaker manufacturers upside down, and to deliver speaker systems with the finest quality components, an attractive, upscale design and an affordable price.  The only way to accomplish all of this was to be different from the other players in the industry, make our speakers in the United States, and to sell them to our clients directly to avoid substantial (and totally unnecessary) markups."  You won't see Orb Audio products in a local store, unless you happen to be in New York City or Los Angeles.  If you wonder how you buy speakers without hearing them first, don't worry.  You'll get 30 days to try them out in your home before you commit to the purchase.
I've lusted for the Orb Audio speakers since Julie reviewed them with her own amp back in 2008.  I live in a small house with my family, and space is at a premium here.  The small size of these speakers is just what I needed, and I loved the sleek, round metal design.  I didn't have an amplifier at the time, and I was paralyzed by the prospect of finding just the right amp to go with the speakers.  In 2008, I had a big rear-projection TV that had decent speakers, and I could listen to music with headphones, so I forgot about buying any A/V equipment at the time.
When I replaced my old TV with a flat-screen TV, I started thinking about home theater systems.  I didn't want to buy one of those boxed systems.  I didn't want a cheap system, but I didn't want to buy a huge, expensive system, either. In the years since Julie's review, Orb Audio has started offering some third-party home theater amplifiers that they have tested and determined to work well with their speaker systems.  I didn't want to start with something as expensive as those amps, but I was intrigued by their own Booster Mini Amplifier.
The Booster Mini amp has entry-level home theater features.  You can use it with your TV, but you'll only have left/right front channels.  There's no surround sound with the Booster.  It was designed for use with computers, TVs, and MP3 players.  Just like with its bigger, more expensive cousins, you can hook up multiple sources and control playback with the included remote control.  You can add a subwoofer for fuller sound.  The Booster is great in the living room, bedroom, or anywhere you want music without investing a huge amount of money and needing a lot of space.
When I was selected to review the Booster Mini amp, I went to the Orb Audio website and ordered a Quick Pack set of Mod 1 speakers in hammered earth color to use with the amp. The beauty of the Orb Audio system is its modularity.  You can start small, like I planned to do, with just an amp and one pair of single orb speakers.  As you desire, you can build your system by adding a subwoofer, converting the Mod 1 speakers to Mod 2 or even Mod 4 speakers, adding a center channel speaker, or rear surround-sound speakers (with amps that have these other channels, at least).  I was going to start small with just one pair of Mod 1 speakers, and I planned to add a subwoofer later.
Imagine my surprise when a couple of big boxes arrived; Orb Audio had sent along some speakers and a subwoofer, too.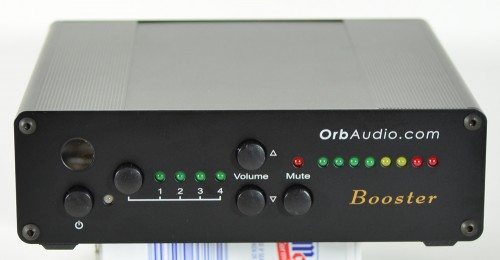 The Booster Mini amp is small, and it's constructed of black aluminum.  It measures about 6″ wide X 6″ deep X 1.75″ tall.  The sides, bottom, and top are all solid metal with no grids or grills.  The front is simple with no gauges or dials.  You can see the power button at the far left (bottom) with a large IR sensor located above it.  Next is a status light (red when off, green when on), a button to select the input source, and four lights to indicate which source is currently selected.  There are two volume buttons, a mute button, and finally, indicator lights to show volume level (green, orange, red).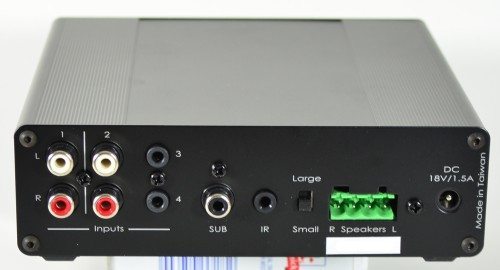 On the back, you can see there are four inputs: two sets of left/right RCA connectors and two headphone-style 3.5mm audio inputs.   With the Booster, you can connect a TV, DVD player, cable box, game console, or MP3 player, just like you can with larger amps.  Orb Audio says many people won't even use 90% of the capabilities of bigger amps, so they created a small amp with the most essential features: multiple inputs, subwoofer support, remote control, and the like.  There's also a connector for an IR blaster (not included) next to the subwoofer connector.  There's a switch that lets you indicate if you are using the Booster with large speakers or small ones like the Orb Audio orbs.
You don't connect the speakers to the Booster with RCA plugs.  You use bare speaker wire inserted into professional-quality speaker connectors.  Because it can be hard to connect speakers when the amp is installed in your equipment cabinet, Orb Audio uses a wiring harness that can be removed to connect the wires.  Once they are connected, you just snap the harness into the green connector seen above.
The Orb Audio website didn't list technical specifications for the amp, but it does say the Booster produces 20W per channel.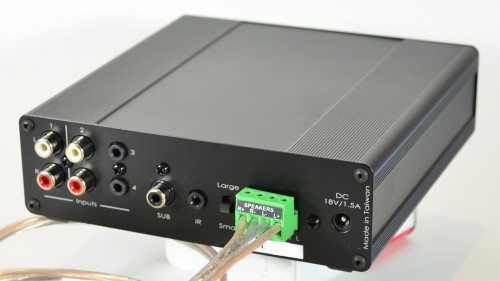 You see the harness, complete with speaker wires, plugged in the back of the Booster here.  You'll also see the DC power connector to the right of the harness.
There are only connectors for two speakers, left and right channels only.  There are no connections for a center channel speaker nor for rear surround-sound speakers.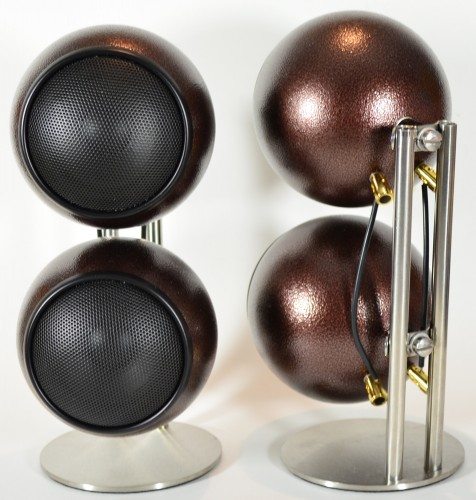 This picture shows the beautiful Mod 2 speakers in hammered earth.  I had purchased a pair of hammered earth Mod 1 speakers, and Orb Audio included a pair of Mod 1 speakers in hammered earth in the kit they sent me.  They had also included a pair of Mod 2 speakers in bronze already installed on the optional stainless steel BOSS tabletop stands.  The bronze speakers are beautiful, but I had wanted the hammered earth in my living room.  I was able to captialize on the modular system, and I converted my two sets of Mod 1 hammered earth speakers into a pair of hammered earth Mod 2 speakers.
Technical Specifications for Mod 1 and Mod 2 Speakers
Speaker type: Magnetically shielded full-range satellite speaker.  Crossover-free design for coherent, lifelike sound.
Driver: Advanced high-excursion 3″ full range polypropylene driver cone with Santoprene surround.  These materials maintain their sonic characteristics over long periods of time and also through a broad range of temperatures and operating environments.
Magnet assembly: Fully shielded, high-density neodymium magnet with proprietary voice coil in high tolerance gap to create strong, highly focused magnetic field.  Compact magnet design allows for maximum free internal volume and extension of low midrange performance.
Binding posts: Custom gold-plated brass binding posts (fits up to 14 Ga. wire)
Frequency response: 80Hz – 20,000Hz (120Hz-18,000Hz optimal)
Efficiency:  89dB
Impedance: Mod1:  8 ohms nominal; Mod2:  4 ohms nominal. (Mod2 is compatible with all popular receivers & amps rated at 6-8 ohms)
Power handling: 15 – 115W (also compatible with most higher wattage receivers, max. recommended volume setting of about 3/4 will be LOUD!)
Speaker dimensions: 4 3/16″ W x 4 3/16″ H x 4 7/8″ D
Construction: American carbon steel, assembled in USA
Finishes: metallic black, pearl white, hammered earth, polished steel, antiqued bronze, antiqued copper
Included accessories: 16 gauge American steel adjustable desk stands (available in black and white)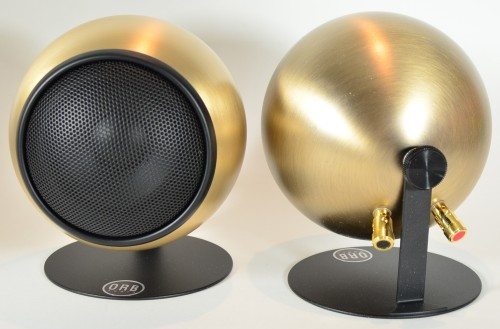 This is a pair of Mod 1 speakers in bronze on the standard black tabletop stands.
I was worried about the magnets in these speakers, because I was going to set them on the TV cabinet in front of my TV.  Because of the strange shape of my cabinet, the speakers couldn't be placed beside the TV.  The tech specifications say that the  neodymium magnets are fully shielded and have a very focused field.  I tried testing the magnets by seeing if a hairpin would stick to the speakers anywhere.  The same hairpin that stuck to the magnets in the Smart Cover on my iPad 2 didn't stick at all to these Orb speakers.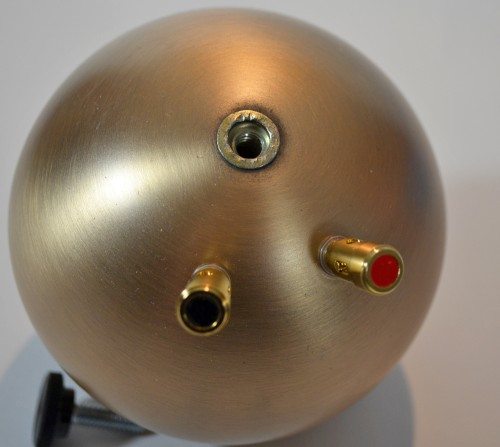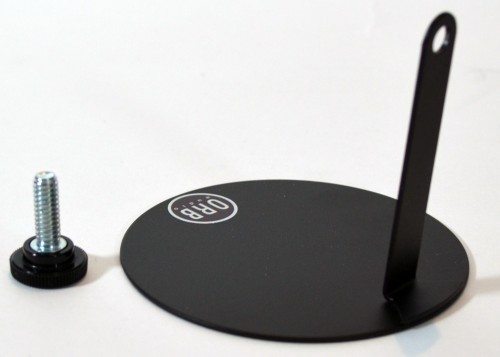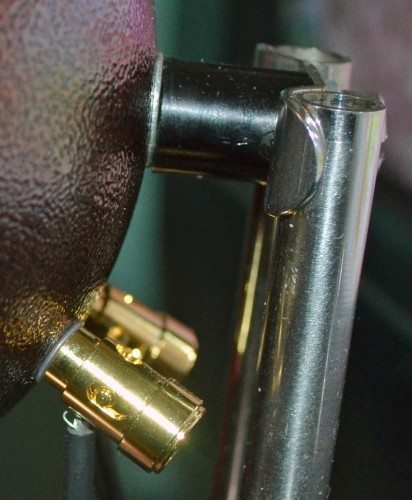 The back of the speakers are threaded; you attach the speaker stands here.  The standard tabletop stands and the plastic-capped attachment screws are shown in the middle photo.  The speakers attach to the BOSS steel stands using screws and a plastic spacer.  You'll need a Phillips-head screwdriver to assemble the Mod 2s on the BOSS stands.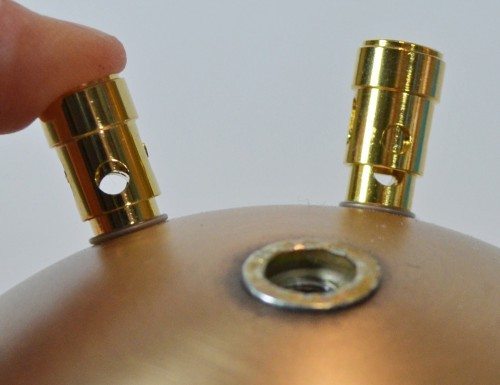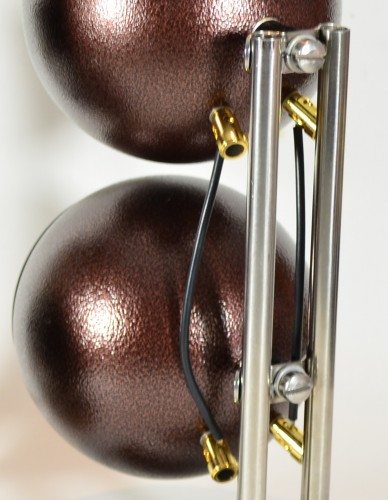 These gold-plated posts are the speaker wire attachments.  For Mod 1 speakers, you simply push down on the top and insert the speaker wires to make the connection.  The posts are marked red or black on the top.  To prevent damage to the speakers or the system, be sure you check out the online installation guides before hooking things up.  Mod 2 speakers require an extra step.  You have to use jumper wires (included) to connect the two speakers together.  Again, follow the directions found at the Orb Audio site.
I guess it goes without saying, but the difference between Mod 1 and Mod 2 setups is that you get more volume from more speakers.  There's also a slightly extended frequency range with the Mod 2s.
And speaking of extended frequency ranges, you probably noticed in the technical specifications for the speakers that the lower end starts at 80Hz.  If you use only orb speakers and no subwoofer, you'll probably still get better sound than you get from your computer or TV speakers, but it will be missing the thumping bottom end.  To be sure that I got to hear the Booster Mini at its best, Orb Audio also sent along their Super Eight Custom subwoofer.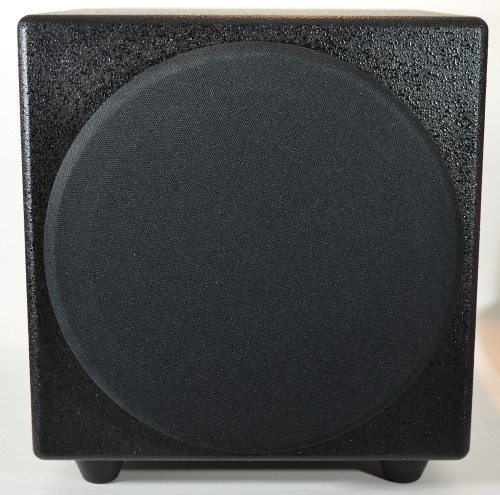 Technical Specifications for Super Eight Custom Subwoofer
Speaker type: High-performance ported bass-reflex design.
Port type: Precision-tuned flared snorkel port.
Amplifier type and power:  Custom high-power BASH digital hybrid amplifier with digital switching power supply for enhanced peak power output.  200W (continuous), 450W+ (peak)
Amplifier THD: <.05% (100hz at full power)
Amplifier S/N: >95dB
Driver: Super long-throw 8″ high-performance driver with composite paper/high density ABS cone.  This yields rigid, lightweight design with excellent low frequency performance and increased detail and musicality.
Magnet assembly: 30 oz. ferrite magnet
Frequency response: 28-180hz.  Adjustable Crossover (40-160hz)
Max. SPL peak: 111dB
Max. long-term SPL: 107dB
Dimensions: 12″ H x 11 3/4″ D x 11 1/2″ W (optional 1″ feet); 26 pounds
Features
Adjustable phase (0-180)
Adjustable crossover (40-160hz)
Temperature protect circuitry
Auto/On/Off Power
RCA gold-plated stereo line level inputs
High level gold-plated inputs and outputs
12dB/Octave hi-pass circuit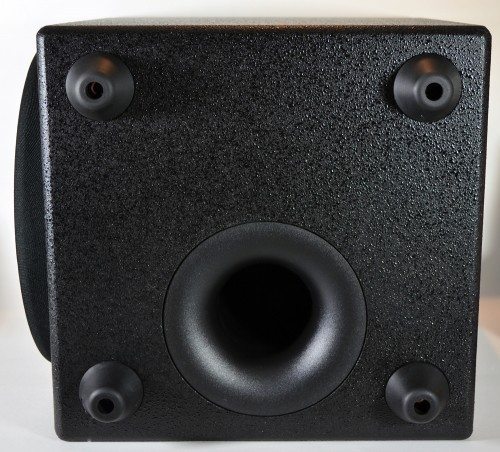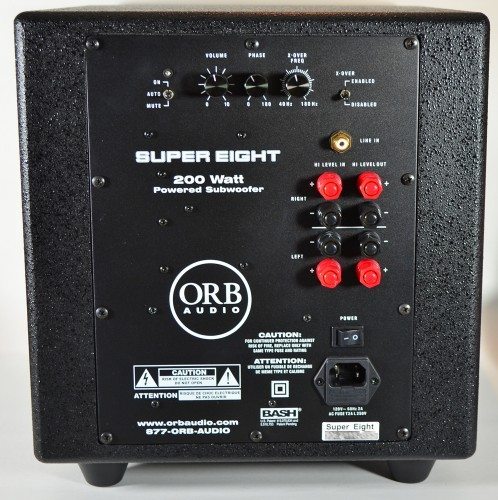 The back of the Super Eight has a multitude of controls.  Refer to the installation booklet, available on the Orb Audio website, for instructions.  You'll also notice that the subwoofer has its own 200W amp inside, so you don't have to wonder how a 20W Booster is going to drive a big subwoofer.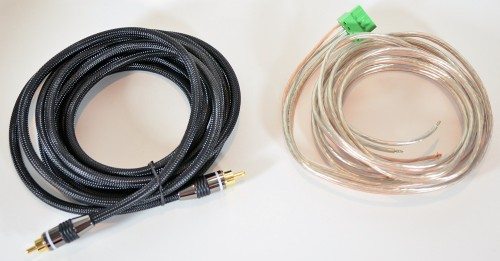 The thick black cable on the left connects the subwoofer to the Booster amp.  The cables on the right are speaker cables for the Mod 2 speakers.  I don't know if they always come attached to the wiring harness, or if Orb Audio sent them that way to be sure they were hooked up properly for the review.  😉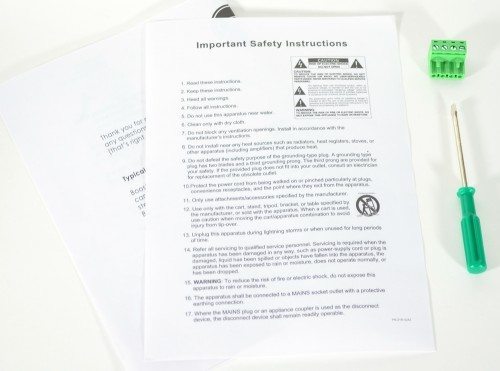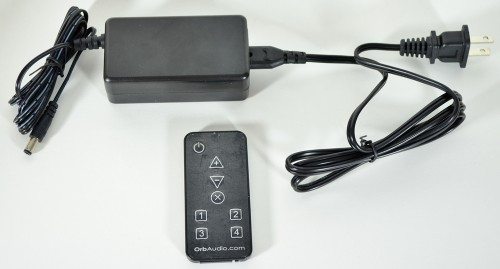 I'm thinking it was the latter, since the Booster box had another wiring harness in it, along with a screwdriver sized to fit the screws on the harness.  There were also two booklets, the power supply for the amp, and a remote for the amp.  (Not pictured: power cord for the subwoofer.)
This system will be used in my living room as the sound system for my HDTV.  I connected the audio out from my TV to one of the Booster's inputs using RCA cables.
I'd also like to use it for my music library in iTunes on my computer.  Unfortunately, my desk is on the opposite side of the room from my TV, and I don't want to have to drape a 15-foot audio cable across the room.  I also don't want to have to take my computer over and connect it to the amp while I'm listening to music.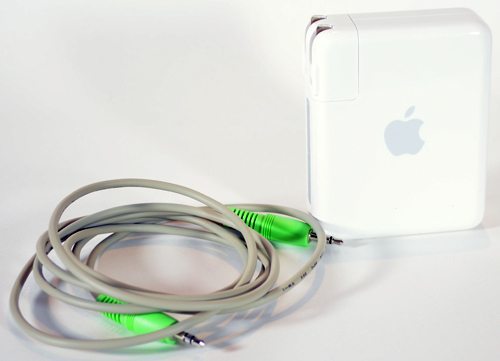 I got an Apple Airport Express Base Station so that I could stream music wirelessly from iTunes to the Orb Audio system.  I plugged the Airport Express into a power outlet and spent about a minute connecting it to my wireless network.  I then connected it to the Booster amp using a audio cable.
I still have one RCA connector and one audio connector free on the Booster for future expansion.  🙂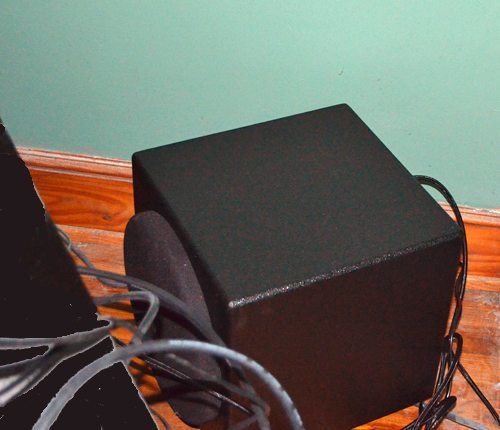 I put the Super Eight subwoofer on the floor behind my TV cabinet.  (Please excuse the dust.)  My cabinet fits catercorner across one corner of my living room.  The Super Eight is small enough that I'll be able to push the cabinet back into place in the corner.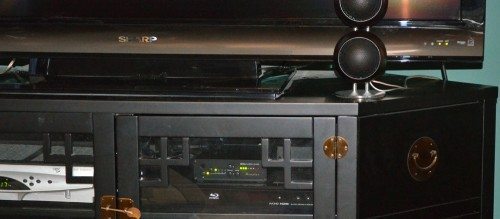 Because of the elongated diamond shape of my cabinet, you can see that the Mod 2 speakers block a bit of the screen.  I have ordered some floor stands from Orb Audio, so I'll be able to place the speakers to either side of my TV.  I'll try to add a picture of the speakers on their new stands later.
You can see the Booster amp in its new home in my cabinet.  Luckily, I don't need an IR blaster for this setup.  The remote works well with the amplifier behind the glass doors of the cabinet.
Okay, I've written books about this system – now how does it sound?  It sounds just as good as it looks – and it looks gorgeous.  I don't know all the fancy audiophile terms to describe performance, but I'll try to tell you how the system sounds.  I've tried playing back music from iTunes, I've watched TV shows, and I've watched DVDs.  Everything sounds wonderful.  As I listened, I tried a couple of different settings for the subwoofer to get the bass to the volume level I preferred.  I tried listening to the music with the subwoofer turned off, too.  The Mod 2 s sounded good by themselves, but the subwoofer adds a whole new dimension to the music.
I listened to classical music, rock music, live music, and vocal music.  It all sounds rich and warm.  Even at a moderate volume for both the speakers and the subwoofer, I get room-filling sound.  (For reference, my living room is 17′ X 13.5′.)  Next I raised the volume until the indicator lights on the front of the Booster went into the orange range, then I backed it off one click into the green range.  (It was loud enough that I sent my husband outside to see if we were blasting the neighbors.)  I never heard any distortion from the speakers at this level.
Between songs, the speakers were quiet as death – no hiss or hum at all.  Music was clean and clear and bright, but never shrill.  Acoustic guitars sounded like someone was sitting in front of me playing.  Vocals were rich.  Both Josh Groban and Israel Kamakawiwo'ole's voices were deep and resonant enough that I could feel their lower notes. I heard things in live music that I had forgotten were even there.
The balance between the Mod 2 speakers and the subwoofer was perfect.  The bass was full and thumping, but it never overpowered the mid and high ranges.  I could feel the bass notes, but they never caused any rattling or buzzing.  It's been a long time since I've heard music played back on really good speakers, and it was wonderful to experience it again.
The stereo separation is limited right now by the placement of my speakers, but I'll be able to move them a bit once I get the floor stands.
The speakers also worked well with my TV and DVD player.  As I mentioned, the Booster doesn't do surround sound, but the Booster amp and Orb speakers sound worlds better than the built-in TV speakers.  Action sequences have more excitement to them with the added clarity, volume, and bass.  Dialogue is clearer and easier to understand, too.
I think the Booster amp is a great entry-level amp for your home theater and audio system setup.  It has plenty of power to produce room-filling sound that improves on anything you'll get from your standard TV or computer speakers.  Paired with the Orb Audio speakers and subwoofer, you'll hardly notice it's missing middle and rear channels.  It works well enough that I doubt I'll ever be tempted to "upgrade" to another amp.  I love the speakers.  I love the way they look, I love the sound, and I love the size.  I've never had a subwoofer before, and I'll admit I was a bit worried it would be too loud.  It's amazing how much dimension it adds to the overall sound of the music.  I like the Booster Mini Amplifier and the Orb speaker system.  It brings a whole new level to my enjoyment of music and movies.
And I didn't want to waste the Mod 1 speakers, so I ordered a couple of Orb Audio's Mini-T amplifiers to use in other rooms in my house.  I'll review the Mini-T soon.
Product Information
Price:
$164 for Booster amp; $98 for a pair of BOSS stands; pair of Mod 1 speakers start at $239; Mod 2 speakers and Super Eight subwoofer start at $698.00
Manufacturer:
Orb Audio
Pros:

Compact size and beautiful design
Clear, clean sound
Amp has multiple inputs and remote control
Easy to install
Modular system lets you expand your system as need and budget allow

Cons:

Booster amp doesn't have rear or middle channels