The Gadgeteer is supported by readers like you! If you buy something through links on our site, we may earn an affiliate commission. Thank you! Learn more.
Do you enjoy going to the theater to watch movies, or do you prefer to stay home? For myself, I'd much rather just stay home for several reasons. One reason is that gas prices are crazy and the nearest theater is approximately 16 miles away from where I live. Then there's the fact that my Lazy Boy recliner is much more comfortable than any seat in a theater… and, I don't have to worry about a tall person blocking my view. Another reason I prefer to stay home, is the big screen movie feel that I get from my 65″ RPTV. Orb Audio just gave me another reason to never leave my house again. They sent me their Mod2 Home Theater System to review. Let's check it out…
Hardware Specifications
Satellite speakers:
Speaker Type: Magnetically shielded full-range satellite speaker
Driver: Advanced high-excursion 3″ full range polypropylene driver cone with Santoprene surround
Magnet Assembly: Fully shielded, high-density neodymium magnet with proprietary voice coil in high tolerance gap to create strong, highly focused magnetic field
Frequency Response: 80Hz – 20,000Hz (120Hz-18,000Hz optimal)
Efficiency: 89dB
Impedance: 4 ohms nominal. Compatible with all popular receivers & amps rated at 6-8 ohms
Power Handling: 15 – 110 watts
Dimensions: 4 3/16″ W x 9 1/2″ H x 4 7/8″ D (on included desk stand)
Super Eight Subwoofer:
Speaker Type: High-performance ported bass-reflex design

Port Type: Precision-tuned flared snorkel port
Amplifier Type & Power: Custom high-power BASH digital hybrid amplifier with digital switching power supply for enhanced peak power output, 200W (continuous) / 450W+ (peak)
Amplifier THD: Amplifier S/N: >95dB
Driver: Super long-throw 8″ high-performance driver with composite paper/high density ABS cone
Magnet Assembly: 30 oz. ferrite magnet
Frequency Response: 28-180hz
Adjustable Crossover: (40-160hz)
Max SPL Peak: 111dB
Max SPL Long-Term: 107dB
Weight: 26 lbs
Dimensions: 12″ H x 11 3/4″ D x 11 1/2″ W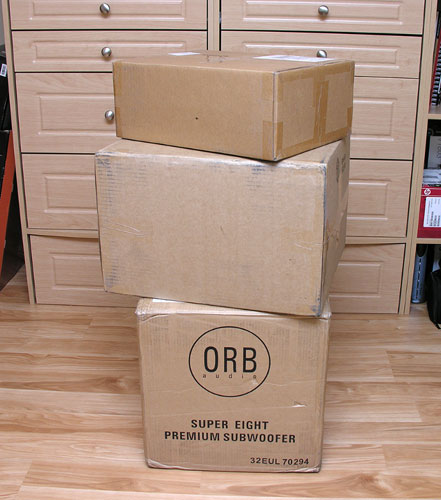 Arriving in three big boxes, I felt just like a kid at Christmas when Mr. UPS man stopped at my home a few weeks ago.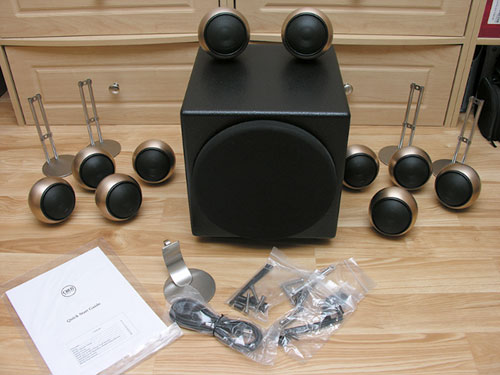 One box contained ten satellite speakers with stands and hardware, another held the Super Eight subwoofer and Quick Start guide, and the last box contained a couple spools of speaker wire and a subwoofer cable to connect to my A/V receiver. Some of these items (special stands and speaker wire) are not part of the actual Mod2 package and are optional purchase items.

Available in five colors: Pearl White Gloss, Hand Antiqued Bronze ($300 option), Metallic Black Gloss, Hand Antiqued Copper ($300 option), and Hand Polished Steel ($200 option, not shown) these little 13 ounce grapefruit sized satellite speakers are what I am guessing prompted the Orb Audio company name.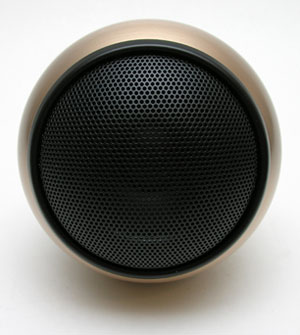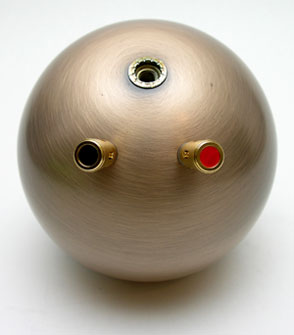 I was sent 10 hand antiqued Bronze satellites as part of the Mod2 system. These little speakers are just gorgeous. I love their simple design as they have no gaudy logos or writing of any kind on them. They feel like a solid sphere of smooth metal in your hand. That's because they are made of American carbon steel. The front grill is finished in Black (except for the Pearl White version, which is … White) and is made of metal as well. In the center of the back side, is a threaded screw hole for connection to various mounting and stand hardware. There are also two color coded speaker wire binding posts on the back of each satellite.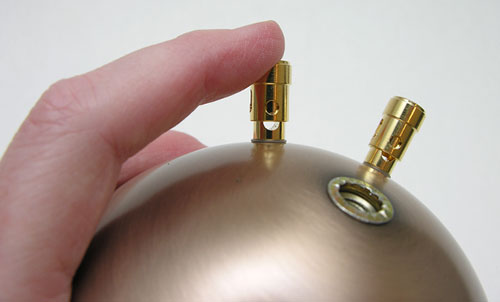 The posts are made of gold plated brass and are spring loaded to allow for easy attachment of up to 14 gauge speaker wire.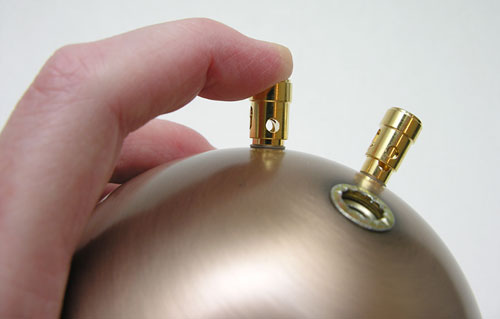 When you press them completely down, you will see a hole in which to feed the stripped end of the speaker wire.
In case you haven't already guessed by the pictures and the system name of Mod2, everything that you purchase from Orb Audio is modular by design. This allows you to build your sound system slowly and upgrade it over time, which is great for those of us that can't afford to buy the top of the line system right away. The way it works is that the satellite speakers can be used individually, in pairs (Mod2) and in fours (Mod4). Since I was sent the Mod2 system to review, I will have 5 sets of 2 speakers, for a 5.1 surround sound system.
It's interesting to note that all the satellites are the same. So instead of having special front channel speakers, special rear channel speakers and center channel speakers, they are all interchangeable. That means that you can mix and match colors if you want to be unique. You could go with Black front channel satellites, White rear channels to mount on your White walls and then go nuts and have Copper finished center channel.
There are several options available for mounting the satellite speakers. The least expensive (free) option is their basic metal desk stand.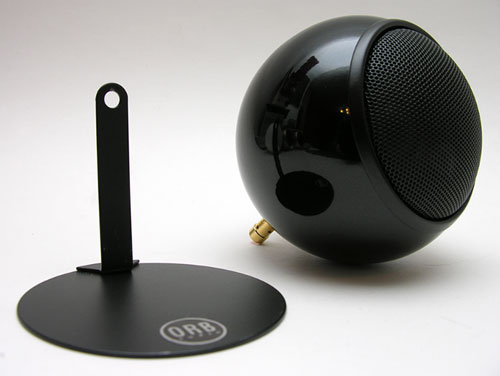 This stand is available in Black and White, with a round Orb Audio decal on the base.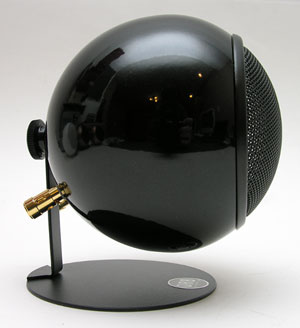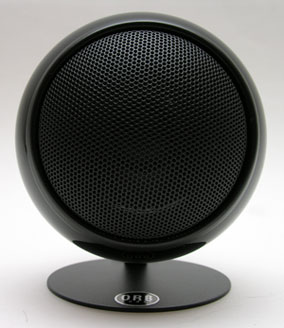 No tools are required to attach the satellite to the stand as thumbscrews are included. Extra brackets are also included to allow the attachment of a second satellite to the desk stand.
Other mounting options and stands include various wall brackets and gorgeous handmade floor stands called HOSS (Hunk Of Solid Steel).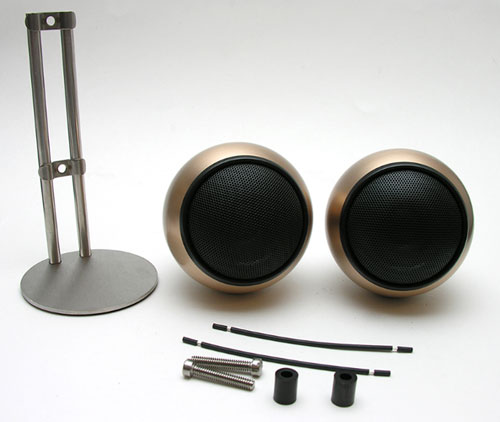 With my Mod2 package, I was sent the stainless steel BOSS desk stands. These are a $49 (each) option. With each stand comes two speaker jumper cables, bolts and spacers.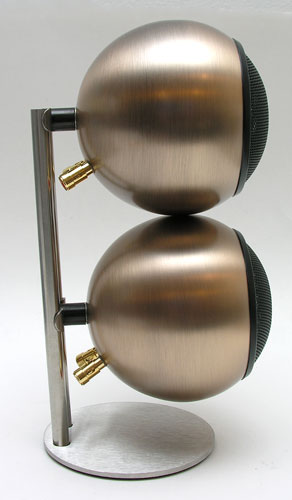 Assembling two satellites and a BOSS stand is simple. You just screw in one of the include bolts with a spacer. A flat screwdriver is the only tool needed. In my opinion, these stands look terrific. I really like the contrast of the Silver and Bronze. They also don't take up much space at all. In the BOSS stands, they are approximately 9.5 inches tall x 5 inches wide. It's hard t measure something that is round :o)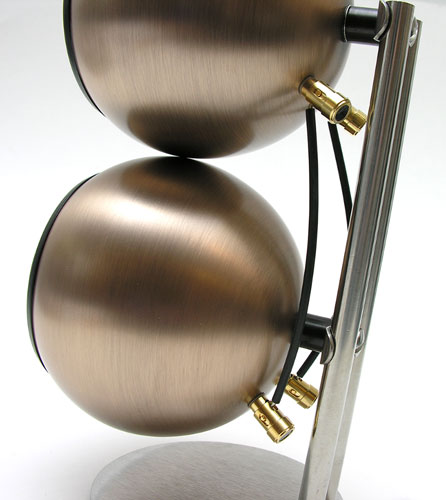 Once the satellites are attached to the stand, you can then connect them together using the speaker jumper wires. Red to Red, Black to Black. Not difficult at all. The only problem that you might have is when you go to connect the speakers to your receiver. You'll need to insert a second pair of speaker wires to the bottom satellite. This can be a challenge to hold the speaker, press the spring loaded post and put the new wire in, without pushing the other one out the other side.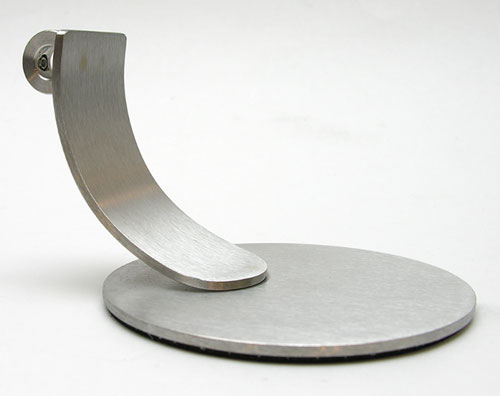 There's also a horizontal BOSS stand that you can purchase for your center channel.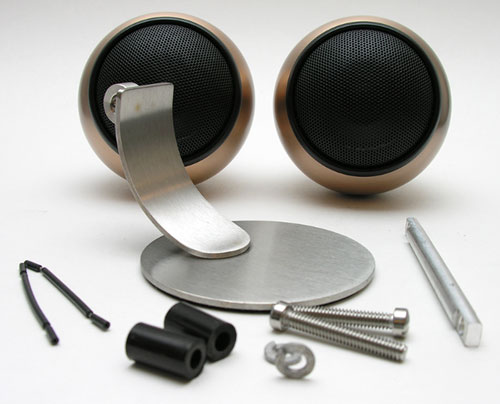 Each one includes all the hardware you need to assemble two satellites to the stand.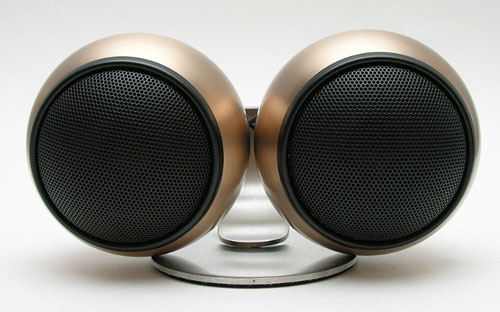 I don't know about you, but I really like the style of these speakers. Reminds me of bug eyes ;o)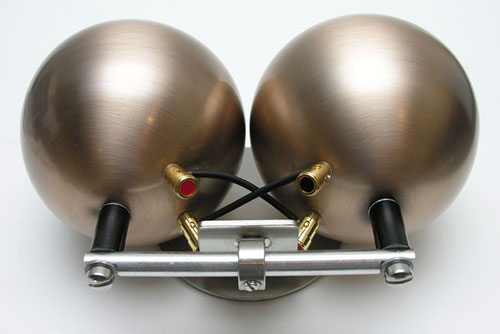 Just like the vertical BOSS stand, you have to use the speaker jumper wires to connect the two satellite speakers together.
Once you have assembled the Left and Right front speakers, Left and Right rear speakers and the center channel speakers, it's time to connect them and the Super Eight subwoofer to your receiver.
Orb Audio offers two subwoofer models. The Super Eight has a 200W hybrid BASH amplifier that can peak at over 400 watts. and the Uber Ten a proprietary 300 watt BASH hybrid amplifier (dynamic peak over 500W).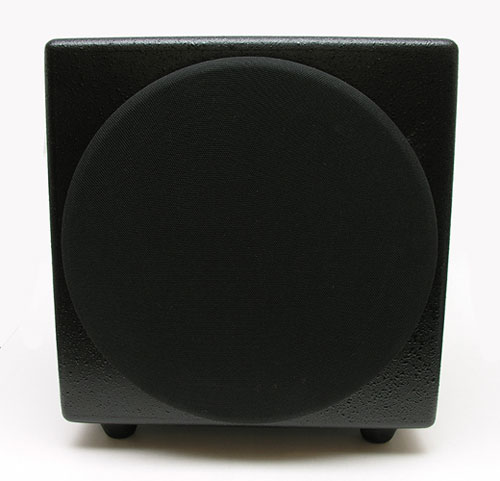 I was sent the Super Eight subwoofer with the Mod2 system. At 12″ x 12″ x 12″, it's compact and easy to locate in most rooms. It has a knit fabric grill on the front that I'm not overly in love with though. I have a cat and his hair tends to stick to materials such as this.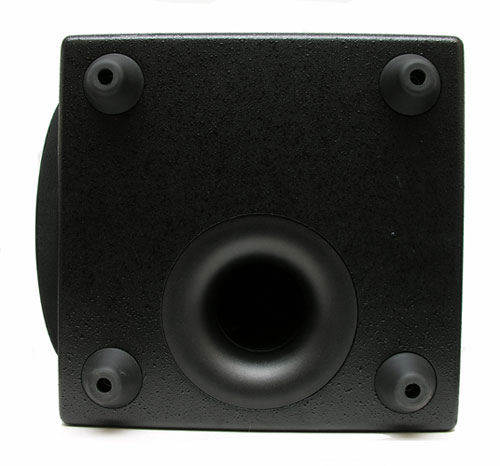 You can see the sound port on the bottom, along with the large rubber standoff feet.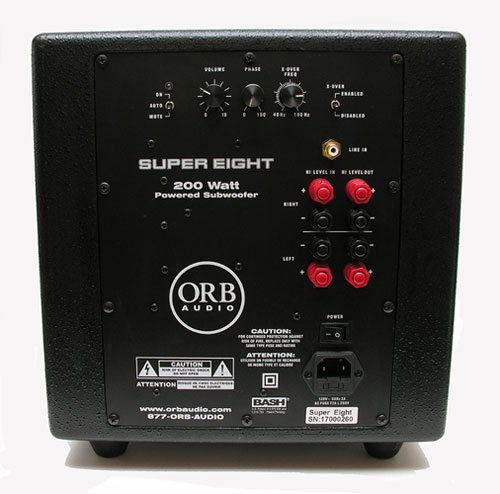 The controls and connection points are located on the back of the unit.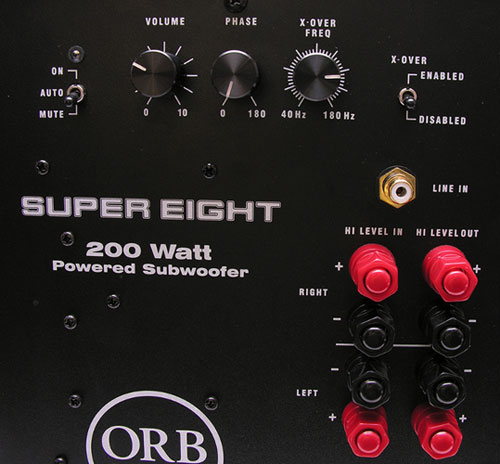 The toggle switch in the upper Left corner is for power (the master power switch isn't shown in the image above, it's right above the power cord). When set to Auto, the subwoofer will power up when it receives an audio signal. It will then go to sleep mode when no signal is received for 15 minutes.
The volume knob is next in line. The manual suggests setting it to the 12 O'clock position, which is 50%. That seems to be fine for me in my medium sized room.
The Phase knob allows you to set the location of the subwoofer. It should be set to 0 when it is in the front of the room, and 180 when it's in the back. The subwoofer has a variable phase control. Phase is the degree to which the satellite speakers and subwoofer are 'pushing' or 'pulling' at the same time. A phase setting of zero means that they are both pushing and pulling at the same time, but a setting of 180 means one is pushing while the other is pushing.
The X-Over Freq knob and X-Over toggle switch are for use when your receiver doesn't have a subwoofer output jack. If you're using the subwoofer with a surround sound system using a home theater receiver, you can just toggle it to disabled. The gold Line In jack is where you connect your subwoofer to your home theater receiver's subwoofer out / pre-out jack.
The Hi Level in and out connectors below the Line In jack probably won't be used if you're connecting the Mod2 system to your home theater receiver. You actually connect the satellite speakers directly to the receiver and not the Super Eight subwoofer.
The moment of truth came after I connected the front, rear, center and subwoofer to my Denon A/V receiver, pulled out several CDs and DVDs, and settled back to watch and listen. I work hard so that you folks can be better informed ;o)
Music through the Mod2 system sounds smooth and clear. For small speakers and a small subwoofer, this system packs a real punch! I spent quite a while listening to all types of music from smooth jazz to hard rock and country. My ears were very happy with clear highs and rumbling lows.
Next up, DVDs… I tested a couple Harry Potter, Indiana Jones movies, as well as War of the Worlds with Tom Cruise (hey, it caught my eye, so sue me…). Yet again, very happy ears… During one of the movies, my SO kept asking if it was thundering outside because the subwoofer was growling in one of the action scenes. You just don't realize how much better a movie experience can be when you have great speakers pumping out the sound. Even watching regular TV shows is more enjoyable now because the center speaker is great for dialog.
I don't know why I had never heard of Orb Audio before their PR person contacted me about conducting a review. You would think something this good would be known far and wide. Maybe it's because people are afraid to spend over $1200 on a speaker system without being able to hear them first. The great thing is that Orb Audio offers a 30 day Satisfaction Guarantee. That way if you buy them and aren't happy for any reason at all, you can return them. It's also nice to know that the satellites are backed by a five year limited warranty. When you take their quality construction, compact size, high quality sound performance and low price (when compared to similar systems), the Mod2 Home Theater system from Orb Audio is a great value. I highly recommend them.
Product Information
Price:
1289.0
Manufacturer:
Orb Audio
Pros:

Looks as good as they sound
Easy to setup
Compact
Many mounting and stand options
Competitive price

Cons:

Can be a challenge to insert two pairs of speaker wire in one post
Stands are expensive