We use affiliate links. If you buy something through the links on this page, we may earn a commission at no cost to you. Learn more.
In my ever-present quest for more power for my gadgets, I was excited about the chance to review the solar DO10-JB Pocket Charger from Juicebar when the people at CableOrganizer offered to send one. I have tried other mobile power solutions that haven't always cut the mustard, so to speak. But the price of this little device is quite attractive, so I was eager to see how it would perform and what kind of quality that price brings.  So I boldly entered the green-power space for the first time, armed with my bevy of gadgets thirsting for juice, to see if the Juicebar was just empty calories or a nutritious treat (how's that for a metaphor??).  Let's find out!
(NOTE: click the pictures to see larger versions.)
I was initially surprised at how light the Juicebar charger was. It weights only 4 oz.  The dimensions are 4 inches by 2.5 inches and a half-inch thick.  The built-in non-replaceable rechargeable battery is a 3.7 volt, 2,000mAh Li-ion battery.  The solar panel on the back side is a multi-crystalline solar panel rated at 5.5 volt, 80mAh. The majority of the outside of the Juicebar is stainless steel with black plastic on the top and bottom and thin strips along the sides.  Retail price is listed at $49.99, but I found it online several places for $39.99.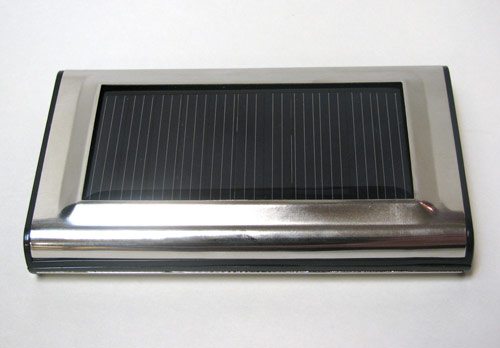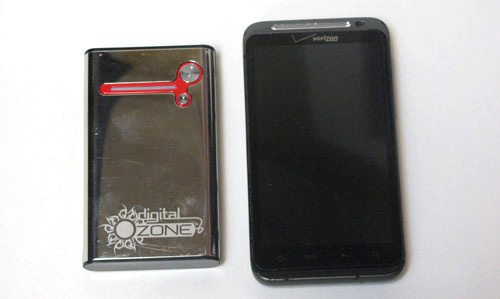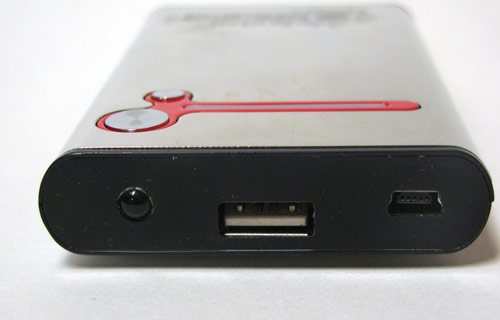 On the top of the Juicebar, you will see a standard USB port, which is used to connect the Juicebar to devices to charge them.   You will also find a mini-USB port that is used to connect the Juicebar to a PC or USB charger to charge it when direct sunlight isn't available. Finally, you will see an LED flashlight on top that is activated by pressing one of the buttons on the front of the Juicebar. The flashlight is supposed to give you 40 hrs of use when the Juicebar is fully charged.  I am puzzled why a flashlight was even included on this device. Am I missing something here?  I mean, ok, I guess it is ok that a flashlight is built-in, but couldn't they have shaved off some more cost by skipping it? Plus, it is highly possible that the flashlight button gets pressed when it is squeezed into a computer bag, using up the battery power. Maybe I just don't get it.
On the front of the Juicebar, you will see 2 buttons and an LED indicator bar that shows you how much charge is left in the Juicebar. Press the smaller button to activate the flashlight on the top.  Press the larger button to check the charge level; this is one of the negatives of the Juicebar I think.  Just about every device these days has numerical indicators to tell you how much power is left. To me, the Juicebar would be better if there was a numerical readout that showed me the exact % of power I have left instead of the colored bar, which sort of gradually fades out on the left side of the indicator. So it really is a guessing game as to how much power you have left. The closest you'll be able to guess is like 25%, 50%, 75% and 100%.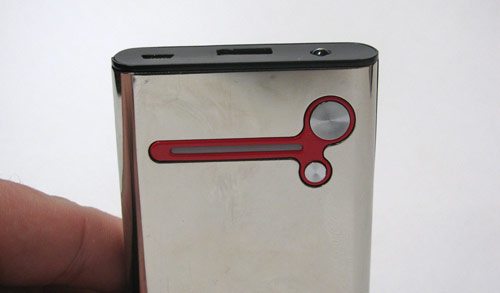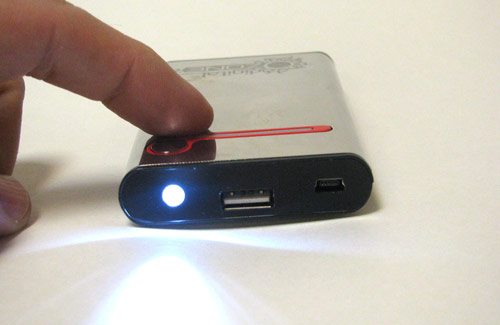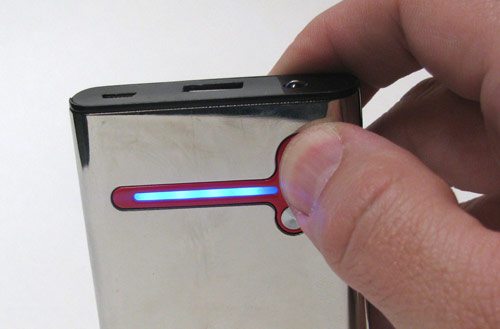 Charging the Juicebar by connecting it to a PC via the mini-USB port took me 2.5 hours. Charging the Juicebar via direct sunlight outside is supposed to take 10-12 hours, according to the included user's manual, but it only took me a little over 9 hours. But then again, as I mentioned previously, the colored indicator bar could have been fooling me.  It looked fully charged to me at just over nine hours but maybe it was only up to like 85 or 90%. Anyway, the bottom line is that to charge via the sun, you need a full day of direct sunlight. I should also mention that after siting in direct sunlight for several hours, the stainless steel was very hot, so be careful picking it up. That makes me think that perhaps a different outside material would have been smarter.
The Juicebar comes with a carrying bag, a mini-USB charging cable, a small instructional user's manual, and a USB cable with several adapters to connect to various devices.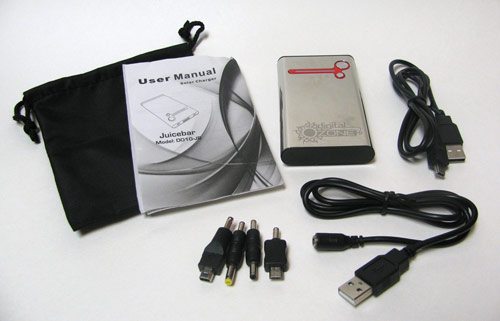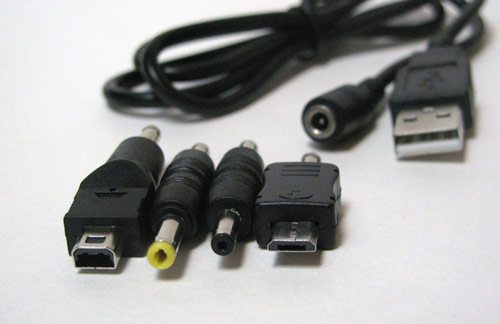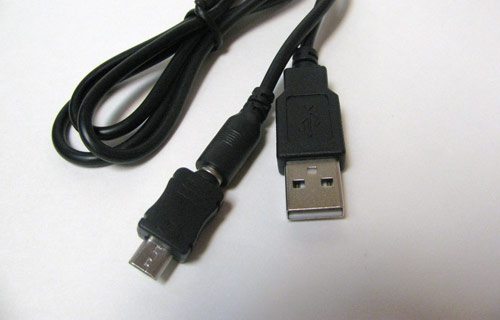 The Juicebar claims to be able to charge many devices using those adapters.  For example, Apple products, portable game players, Bluetooth headsets, GPS units, and popular cellphones from Samsung, Nokia, Apple, HTC, and Blackberry. They even claim you can charge your Kindle, although I wouldn't expect it to charge most tablets because the Juicebar battery capacity is only 2,000mAh.  If your device won't fit one of the 4 adapters included in the package, then you can use the charging cable that came with your device as long as it has a USB connection on the end of the cable.  Juicebar also claims that it can hold a full charge for 30 days, and I believe that claim.  I let the Juicebar sit for 2 weeks unused, and it still appeared to have a full charge.
You can even use your device if its battery is dead by simply connecting your device to the Juicebar and setting the Juicebar in direct sunlight.  When my HTC Thunderbolt from Verizon died, I connected it to the Juicebar and let it sit unused.  It took 3 hours to fully charge my phone (1,400 mAh battery) with the Juicebar, and the Juicebar was almost totally depleted afterward.
Conclusion
After using the Juicebar for over a month, I can honestly say that I don't go anywhere without it.  It is small enough to not take up any space at all in my computer bag, and having access to the extra power is wonderful. I have an extra cellphone battery, but it is much more convenient to connect a dead phone to the Juicebar, and the added benefit is that I can connect just about any device I have to the Juicebar to get that little bit of extra power.  I do wish they made a larger capacity version of the Juicebar because the form factor and the function are great, and I would be willing to pay more for the Juicebar if I could get a higher capacity battery. I do wish the indicator bar on the front was actually a numerical readout, but that is not a deal-breaker for me. Overall, for the price, this is a great product.

Product Information
Price:
$48.29
Manufacturer:
Juicebar
Retailer:
CableOrganizer
Pros:

Charges many devices
Great price
Great form factor

Cons:

Flashlight??
It gets really hot in the sun
Needs a digital indicator