We use affiliate links. If you buy something through the links on this page, we may earn a commission at no cost to you. Learn more.

For those of you who were not old enough to remember or alive during the '80s, how good your stereo/music system was considered was directly proportional to how big/massive/insane your speakers were. I knew a few people who had to borrow a truck to transport theirs. But with the digital age, the invention of the iPod and other tiny digital players, music systems have become much more compact and petite. Over the past few decades manufacturers like Klipsch and Bose have created very good sounding speaker systems that cater to the iDevice world in relatively minimalistic packages. While they do sound good, I find many of the smaller systems lack soul in the low end. The engineers and designers at Fluance have gone a bit 'old school' with their High Performance 2.1 Wood Tower Speaker Dock for iPod/iPhone, creating a big, bold, healthy-sounding speaker system that not only fills a room, but most of the house as well.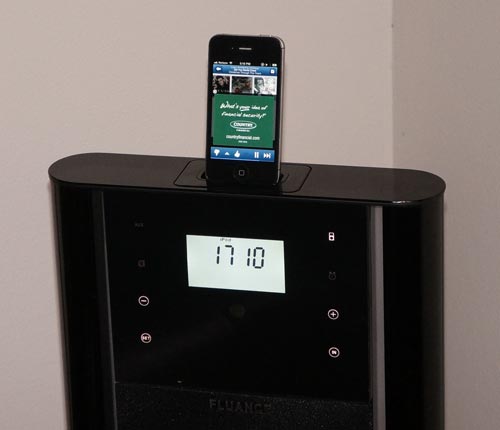 Like many systems, the FiTSD600 speaker system charges your iPod and/or iPhone while playing your music. Although, this statement comes with a qualifier, it docks/charges those (now) older iDevices with the 30-pin connector. Sadly there does not appear to be a way to swap out the built in dock connector for Apple's new Lighting connector. However, there are workarounds for those with devices without the 30-pin connector that I will discuss in a bit. 🙂
In addition to playing your docked iDevice music, the FiTSD600 has a built-in AM/FM radio receiver and auxiliary inputs as well. Fluance includes both AM/FM antennas and (at least in my location) reception was good. They also include a 4.5ft 3.5mm auxiliary-to-RCA audio composite cable for attaching your Android or other music player to their system.
Package Contents:
High Performance 2.1 Tower Speaker Music System for iPod/iPhone
Two 1″ isolation floor spikes for use on hardwood or carpeted areas
Remote Control (battery included)
6 iPod/iPhone Dock Adaptors
4.5ft 3.5mm Auxiliary to RCA Audio Composite Cable
4.5ft RCA Video Composite Cable
FM Indoor Antenna
AM Loop Antenna
2 Year Parts and Labor Warranty
Specifications:
System Type: 3-way 5 Driver Music System with Integrated Amplifier
Tweeter: Dual 0.8" Neodymium Magnet, Soft Silk Dome Ferrofluid Cooled
Midrange: Dual 3" Ferrite Magnet, Polymer Treated, Butyl Rubber Surrounds
Woofer: 6.5" Ferrite Magnet, Polymer Treated, Butyl Rubber Surrounds
Input: iPod/iPhone, Auxiliary Audio Input
Output: Composite Video, S-video
Volume: 40dB
Frequency Response: Left/Right: 200 Hz~20k Hz (+1/-3 dB), Subwoofer: 30 Hz~200 Hz (+1/-3 dB)
Crossover Frequency: 200Hz
Amplifier Power (RMS): 36 Watts Continuous Average Output
Dimensions: 13.0 x 11.8 x 43.7 inches (33.0 x 30.2 x 110.9 cm)
Weight: 38 lbs (17.5 kg)
Enclosure: Tuned Bass Reflex Design Vented via Flared Port
Cabinet: Precision Crafted MDF Internally Braced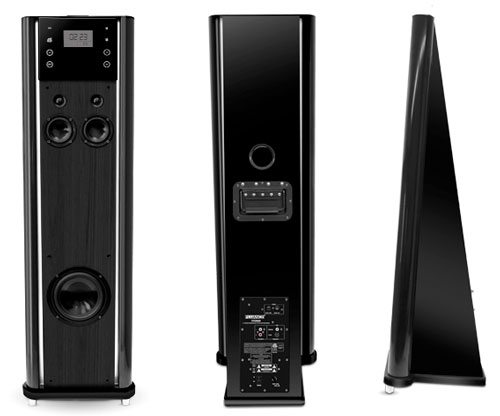 The FiTSD600 really does sound great from the detailed highs to the well pronounced lows. It fills a majority of our home with little to no distortion. The system has a "3 Way 5 Driver Music System with Integrated Amplifier" producing its sound.
This includes:
Dual 0.8″ Tweeters (Neodymium Magnet, Soft Silk Dome Ferrofluid Cooled)
Dual 3″ Midrange (Ferrite Magnet, Polymer Treated, Butyl Rubber Surrounds)
A single 6.5″ Woofer (Ferrite Magnet, Polymer Treated, Butyl Rubber Surrounds)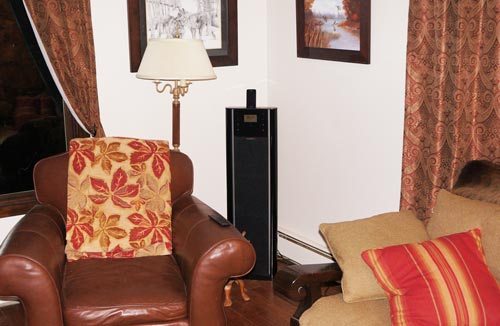 Being 6,700 cubic inches (approx.4 cubic ft) in volume and weighing nearly 40 pounds, this speaker system could also be considered a piece of furniture – a fact that needs to be considered in your decision. The build quality and overall stylish design are very nice, definitely worthy enough for a living room or office.  However, if you have limited space, the FiTSD600 may not be the system for you.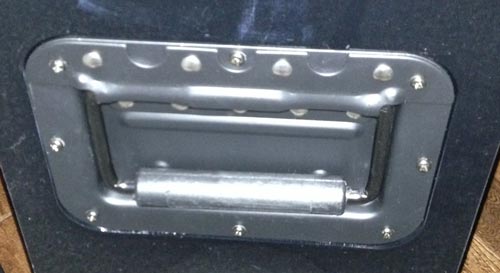 It is so hefty, the Fluance designers engineered a handle into the back of the system to make carrying easier.
A funny bit about using/having the FiTSD600 in our living room is that many of my older iPhone 4(S) owning friends definitely eye the system. Several have gone as far as to offer to 'take it off my hands' since my iPhone 5 is not compatible with its dock. They do have a disappointed look on their faces when I (remind them who they are talking to and) inform them I have Macgyver'd several ways to get music from my smartphone to the speaker system.
While there undoubtedly many other ways, here are the easiest three I have found (at least for me):
Hardwire it into audio input jacks using the included auxiliary to RCA audio composite cable.
Use a Bluetooth audio adapter to wirelessly stream from within 30 feet.
Connect a Airport Express to the audio input, enabling you to stream music from anywhere within your WiFi bubble (my preferred method).
Admittedly, there are pluses/minuses to each of these options, but overall none are that much of a hassle. To me, the AirPlay route gives you the best sound, freedom, and control, even compared to the docking option.
This quote is from the Fluance website. I have added it because I believe they are doing a good job achieving their goal:
The choice for audio enthusiasts, Fluance speakers are recognized as an outstanding performance product that delivers stunning sound performance, professional grade cabinet design and exceptional value. We have accomplished this by strictly adhering to a single goal.
Design and engineer speakers that ensure accurate sound reproduction at prices with which none can compete!
Bottom line is that I like the style, function and quality of the FiTSD600, but more importantly, really enjoy the "house-filling" sound quality it produces as well. The High Performance 2.1 Wood Tower Speaker Dock for iPod/iPhone (FiTSD600) is a great sounding system, and if you have the room, definitely worth considering (especially if you own a iDevice with 30-pin connector). The FiTSD600 is currently on sale at the Fluance website for $350.
Product Information
Price:
MSRP: $349.99
Manufacturer:
Fluance
Pros:

- Bold, rich, full-bodied sound
- Well built / quality construction
- Nice looking piece of furniture
- Built in handle
- AM/FM radio
- Auxiliary inputs

Cons:

- Uses old 30-pin iPod/iPhone connector