We use affiliate links. If you buy something through the links on this page, we may earn a commission at no cost to you. Learn more.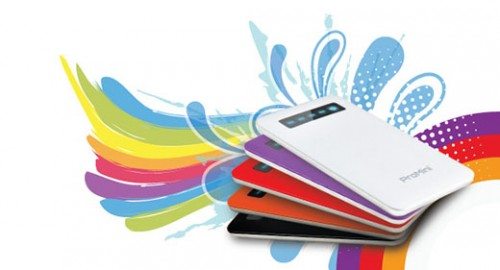 There are so many external batteries available these days that once you've sorted out what  USB amperage output you require, the decision becomes one of capacity, size, weight, shape and form factor.  Capacity, weight and size become a compromise of course; the bigger the capacity, the bigger and heavier the unit will be. Most of the backup batteries out there are pretty boxy no matter what the capacity, so when Magic Pro offered to send me a couple of their ProMini 4000 batteries, of course I  agreed. This range is slimmer and sleeker than most of the other units on the market, but will they still do the job ? Find out after the break.
Most external battery packs available out there are made up of a series of standard cylindrical lithium-ion battery cells which have a rigid metal case. Hence they're normally quite boxy to fit the cells and their casings inside. The ProMini 4000 series, however, uses Lithium Polymer technology. Li-Po are pouch cells and have a flexible foil-type case and as such are lighter and can be shaped and made much thinner.
Packaging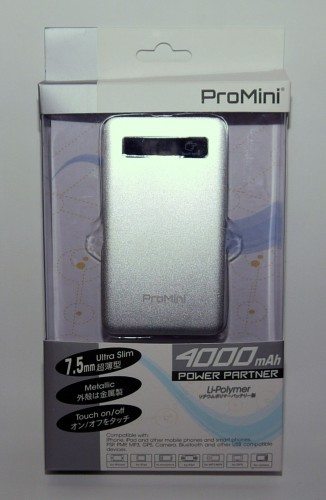 The unit comes nicely boxed with the peripherals stored in the bottom of the box.
What's in the box?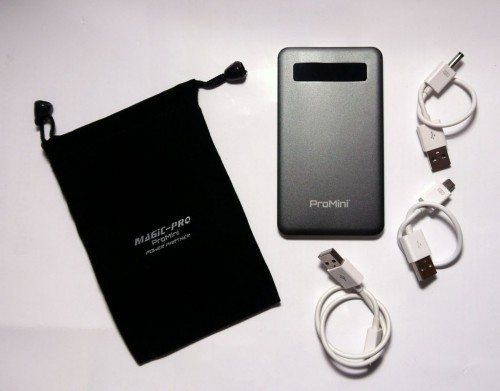 The ProMini 4000 series comes with 3 cables: mini-USB, micro-USB and PSP adapter. Strangely in this day and age, it doesn't come standard with an Apple (30 pin) connector, though Magic Pro did send me some separately with the package.  A soft bag comes to protect and conveniently carry your battery and cables together.
Size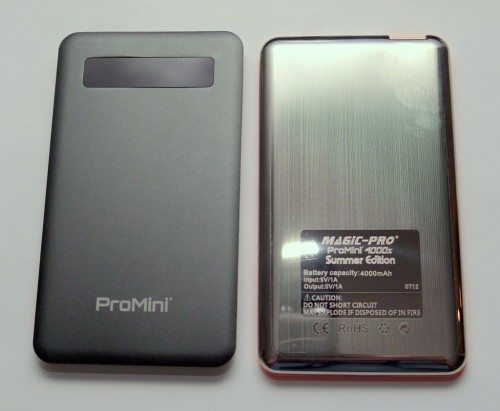 The 4000 comes in two ranges: the 4000+ and the 4000S.  The + series has a brushed aluminium top while the S (Summer Edition) series has a baked lacquer top.  The + comes in grey, black, blue, green and pink, while the S comes in white, black, red, orange and purple. Inside the casing is a 4000mAh battery.
The + series measures 116 X 65  X 7.5 mm (4.6″ X 2.6″ X 0.3″) and weighs in at 135g (4.8 oz), while the S series  is 117 X 75 X 8.4 mm (4.6″ X 3.0″ X 0.33″) and 120g (4.2 oz).  In truth, the difference in both size and weight is minimal, and it's only  because of the thickness of the plastic versus aluminium top that accounts for the very slight variation.  In terms of robustness, I suspect that the plastic top may prove to be slightly better.
The back of both units appears to be the same assembly – a shiny brushed aluminum – and you can see that it's a bit of a fingerprint magnet. Whether it will hold up and remain scratch free remains to be seen.
Size comparison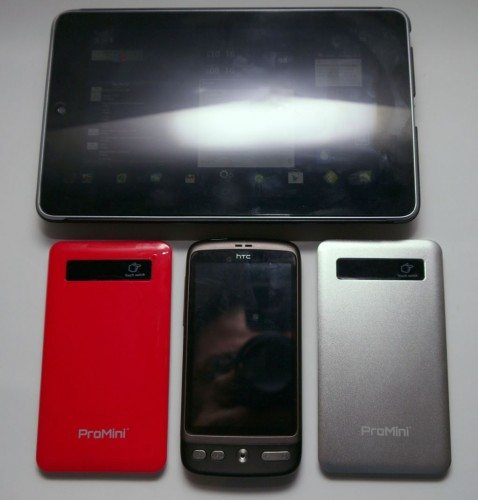 Here you see both batteries against my 3.7″ screened HTC Desire and the 7″ screened Nexus 7.  You can see that the batteries are not much bigger than a smaller smartphone or MP3 player. They will easily fit any place you'd carry your smartphone – front trouser pocket, top shirt pocket or similar.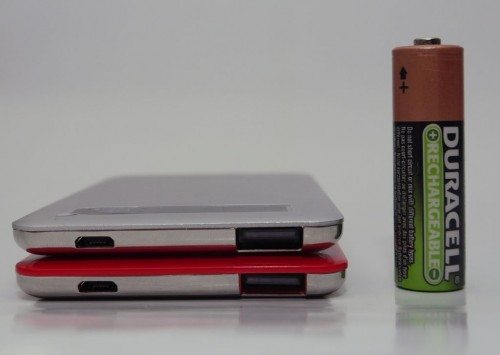 And here you can see how thin they are. At 7.5 mm for the + aluminium model and 8.4 mm for the S plastic model, a battery is no thicker (if not thinner) than most modern smartphones or MP3 players.  It appears that the back casing is exactly the same, it's just the top material that adds both height and width to the unit.  Which one you choose really depends on if you want the glossy lacquer finish or the brushed aluminium finish.  They both look good. 🙂
At the top of the unit, you can see a micro-USB port for charging the ProMini 4000, which takes around 5-6 hours. The full size USB port for charging your devices puts out 5V 1A, so not enough to power some of the bigger, more power-hungry tablets these days.   With the standard USB female connector, you can use any cable to charge your device, and you're not limited to the supplied ones.  This is really handy for things like the proprietary cable for my Jawbone.
Two things to note here: the manual suggests cycling the unit at least every three months, and there's no pass-through functionality, so you can't charge your ProMini and your device at the same time.
Lights, controls and operation
There are no physical buttons on the ProMini 4000; it uses a single touch on/off button. To check the battery power quickly, press on the on/off button and the  four blue LEDs tells you how much power you have ( 25%, 50%, 75%, 100%). Note above I've actually still got the shipping protective sticker attached that shows where the touch button is. 🙂
Holding down the power button turns the unit on.  If you don't connect it to a device, the PTC  smart chip will automatically turn itself off after one minute.  When you plug a device in, the on/off LED blinks to indicate that you are charging and the power indicators will show how much power is remaining in the pack. When your device is charged, the PTC smart chip will ensure that you don't over charge your device.
Charge my phone and Nexus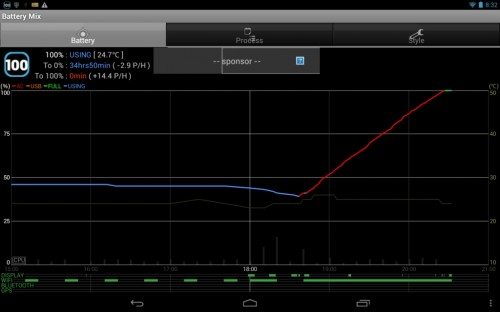 While my Nexus 7 comes with a 10W (5V 2.1A) AC  adapter, the ProMini 4000 quickly and easily charges it. You can see above that it took around  2 hours to take my Nexus 7 from 40% to 100%, and the unit still indicated one bar (25%) power left. The slimness and size of the ProMini really does compliment the slimness and size of the Nexus 7.  And while it won't supply a complete charge, it's really nice to know I've got some emergency juice on tap should I require it.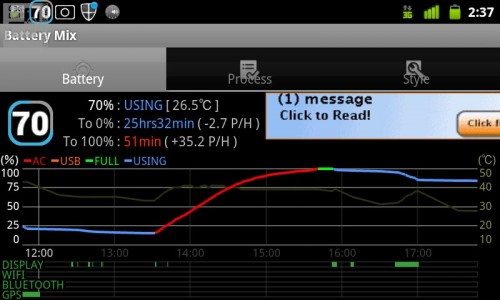 I've actually been interstate for the last 4 days, and being in a strange land, I have used my HTC Desire with Google Maps extensively.  The combination of constantly having the screen on, 3G data and GPS sucks the battery really, really quickly.  Luckily the ProMini 4000 was at hand to easily charge my phone either when I reached a destination or while on the road. Its small size meant I could easily just connect the phone and battery and throw them into the console. The above graphs shows my phone charging over about 2 hours quickly and easily. For more current smartphones, at 4000mAh, the ProMini should supply more than enough power to recharge it at least once if not more: iPhone 5 (1,150mAh), Nexus ( 1750mAh) , S3 ( 2300mAh).
Conclusion
I really like these units.  They aren't boxy like other units, and they're really slim and, dare I say it, sexy. 🙂 They are manufactured by a reputable company, something that's comforting to know especially when, because of the size, you might be carrying the battery on your person. There's so many "generic" options out there, and I'm sure we've all seen videos of batteries exploding or catching fire. 🙁
The small size, lightness and capacity of the ProMini series means that at least one of the two review units will become a permanent part of my gadget bag and travel kit. As well as charging my Nexus 7 and phone, I can use this on other devices like my GoPro, Jawbone or MP3 player.  Whether I decide to go with the + silver aluminium or the S red lacquered finish will depend on if my wife gives me the S series unit back. I've left one with her, as she's still away for another week . 🙂
For someone considering buying one, whether you buy the S or + series will come down to pure aesthetics and your preferred finish.
Updates 04/21/16
There's a huge range of external battery packs available now but I think this flat form factor still looks so much better than chunky rectangular units. On one of the units, the USB port fell apart last year however the second unit is still going strong and getting my out of that bind when I'm running out of power.
Source: The sample for this review was provided by Magic-Pro. Please visit their site for more info and Amazon to check prices and order.

Product Information
Price:
$28.99
Manufacturer:
Magic-Pro
Retailer:
Amazon
Requirements:

USB port or charger to charge

Pros:

Good compromise between capacity, weight and size
Good looking
Compact

Cons:

Easily scratched (+ series front and both series backs)
Only 1.0A output
2 output ports would make it more flexible